What can you do with BiQ? Learn all about the features you can use with this free SEO tool.
If you want to make money through online business and content marketing, you need traffic.
To do so, you've checked all the online SEO tools out there.

But there's just one problem – they're TOO EXPENSIVE!

Sure, there are some free SEO tools online too, but some of the features are limited, and you're not sure whether you're ready to invest in them or not.

Whether you need to find the best keywords for SEO, audit your website, do competitive research, or just want to see how well you rank on Google, BiQ SEO Suite is the ULTIMATE tool that you need. And it's free!
So, what can you do with a free account with BiQ?
Bonus: Create your free BiQ account here
With a free account, you can access the main features:
Keyword Intelligence
Content Intelligence
Rank Intelligence
Rank Tracking
1. Doing Keyword Research with Keyword Intelligence
Most free keyword tools for SEO will only show you the data and metrics for specific keywords. If you're a content creator, you will need more than that to deliver valuable content that users actually want and need.


With our Keyword Intelligence, you can now access to 4 reports to help you understand what people are searching for with the specific keyword:
Related keywords
Content Ideas
Popular Questions
Trending Searches
Choosing The Right Keywords Is No Longer Rocket Science With Related Keywords
If you're a marketer like me, you will understand the challenges of selecting the right keywords.

The first keyword that pops up in your head is the accurate descriptions of your company's products and services – but they also described what your competitors are offering. The competition for these keywords is high, and you will be wasting a lot of time and effort optimizing them with little to no results.

Instead, you need to identify longer, more specific keywords (called "long-tail keywords") with clearer intent. If you're new to SEO, this may sound impossible, but that's what you can do with our 'Related Keywords'.

For example, my company sells home electrical appliances to give you a clearer picture, and I want to rank one of my products, washing machines, to get more website traffic.

Here are the steps that I can do to do my keyword research using BiQ's Keyword Intelligence:

After signing in to my BiQ account, click the Keyword Intelligence tab.
Then, enter the target keyword you want to rank for in the keyword field.
You can also choose the location and language if you want to target the keyword to a specific audience.

Once BiQ finishes analyzing your keyword, you will get the results with all the related keywords, as shown in the screenshot below. You can see the trend, monthly volume, number of search results, cost per click (CPC), and competition of each related keyword.
If I'd like to focus on certain keywords, you can find options to filter your keyword suggestions based on relatedness, long tail, intent, and the advanced include and/or exclude filter.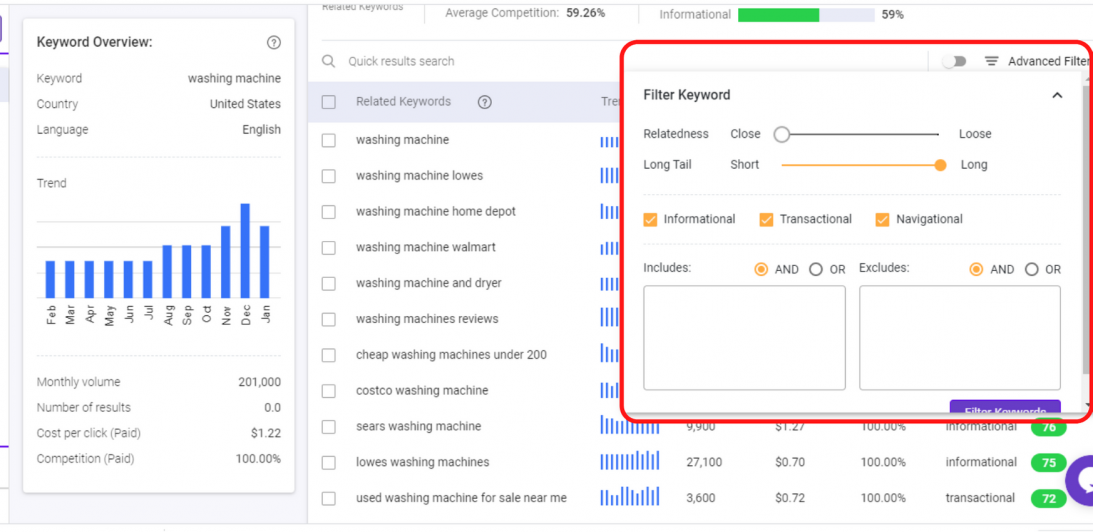 Writer's Block? Try Content Ideas!
In this new decade, your content will be all about your audience. Because when you write to the right people in the right way, your writing and content will rank higher on Google.

But you are experiencing writer's block. You don't know what will be a good topic for your users. "Content Ideas" will help you to brainstorm those ideas by giving you a list of topics your users are interested in based on the targeted keywords.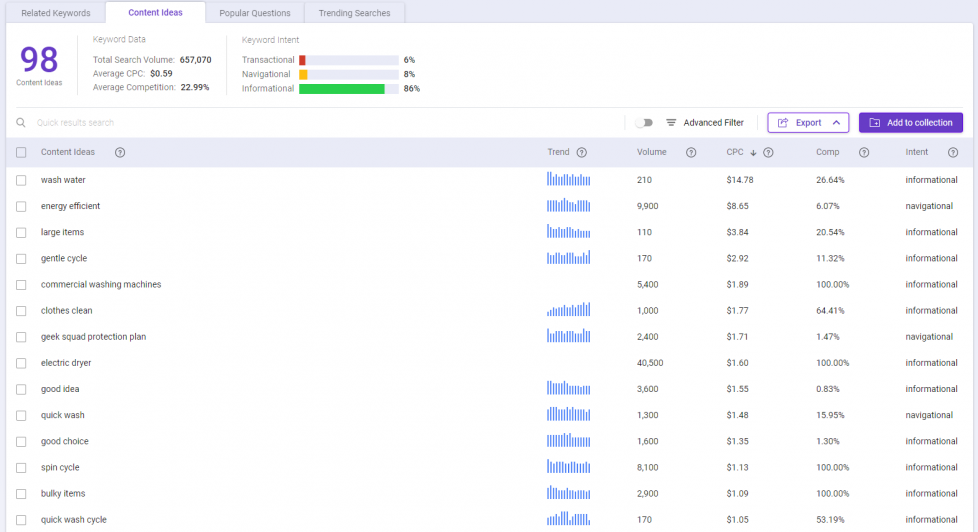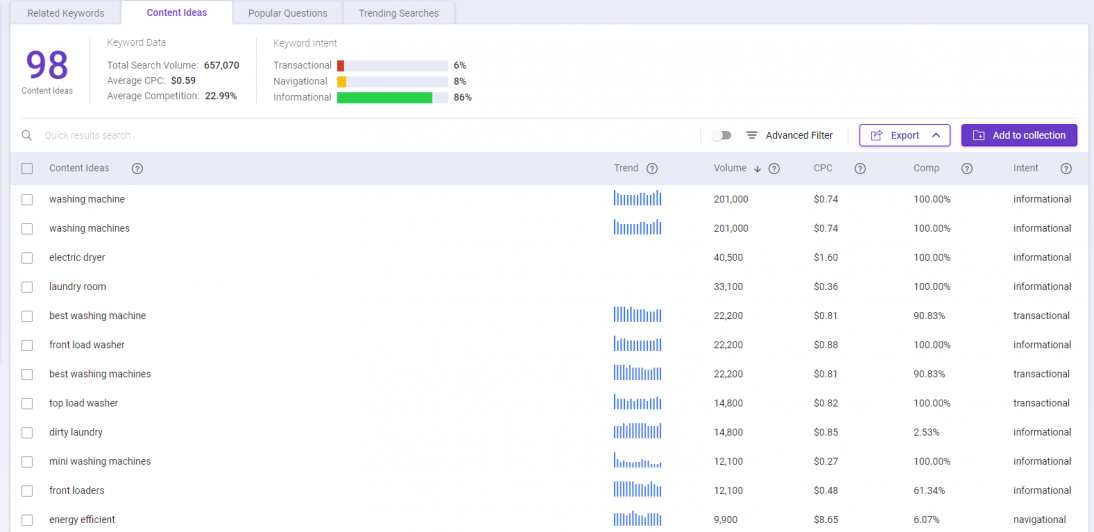 From the screenshot, the report will list out keywords that users also searched for, such as 'energy efficient,' 'gentle cycle,' 'electric dryer,' etc. This gives me an idea to create articles such as 'Top 10 Energy Efficient Washing Machines to Buy in 2020: According to Experts'.
And people will start clicking on your article and check out the washing machines that are listed there.
Know Your Customers Better with Popular Questions
Whether you know it or not, you've probably seen countless featured snippets from Google when searching for information or answers to your questions.

We often refer to the position that featured snippets give to content as "position zero."

This is because featured snippets take up the most space on a search results page. They're usually at the very top of the page, too.

Here's an example of what a snippet looked like when I searched for "best washing machine":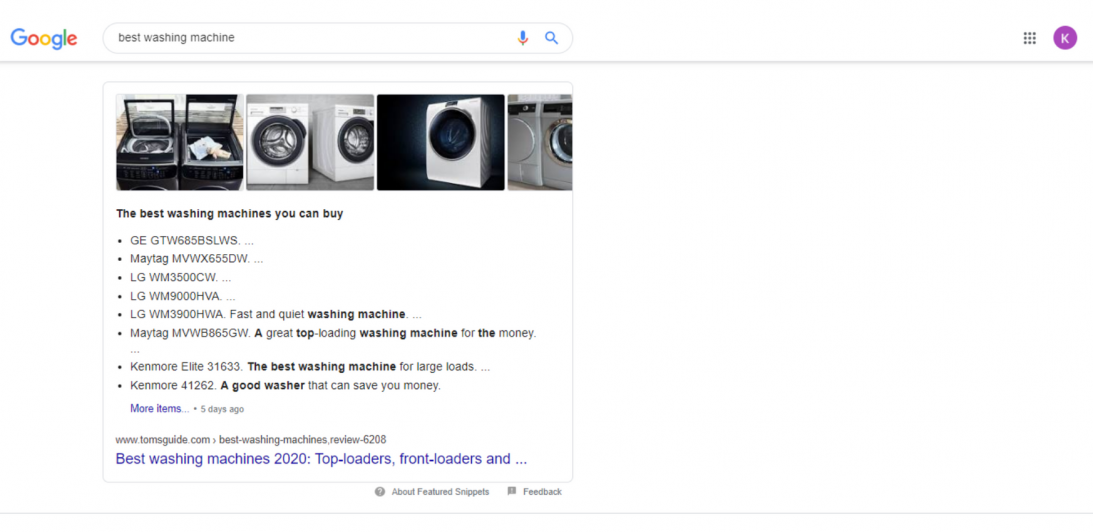 Ranking for a featured snippet helps drive visitors to your site than competing with others to rank for #1.

And you don't have to be the number one in your industry or fork out additional money to rank for them.

That's why you need to take advantage of the 'Popular Questions' report to help you to rank easily on the Search Engine Result Page (SERP).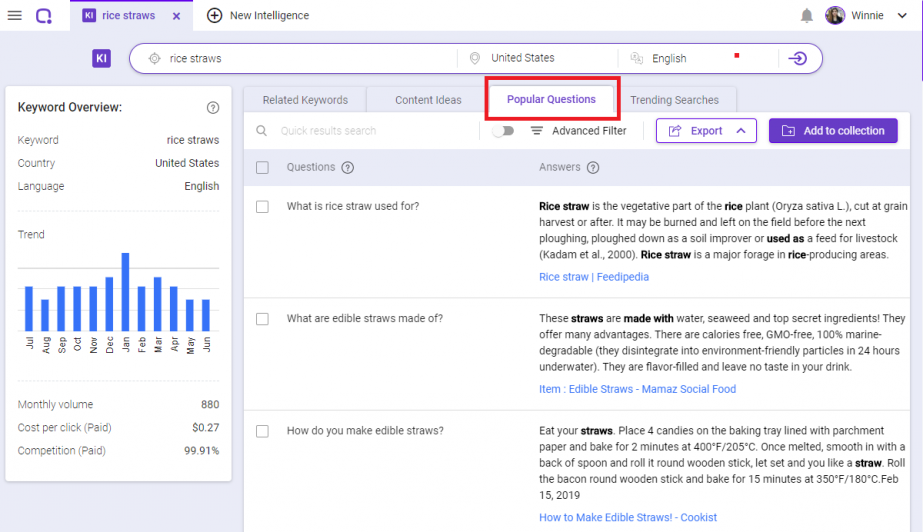 Many of the questions generated in the report are valuable to search queries that are asked by users relating to your target keyword. Provide the definitive answer to some of these questions in your content and…

VOILA!
Your content will drive a huge amount of traffic with Featured Snippet opportunities.

And that's not all. You can simply click the hyperlinked answer title and look at what your competitors are doing to make better content for your visitors.

Pretty neat, right?
Keeping up with Trending Search Report
Every day, Google receives BILLION searches and pumps out even more answers. Wouldn't it be nice to have a clear view of these search patterns and learn the population's most nagging questions and topics?

With the 'Trending Search' report, you can. The report uses AI-powered suggestions that are constantly being updated to help you uncover the latest trends related to your targeted keyword.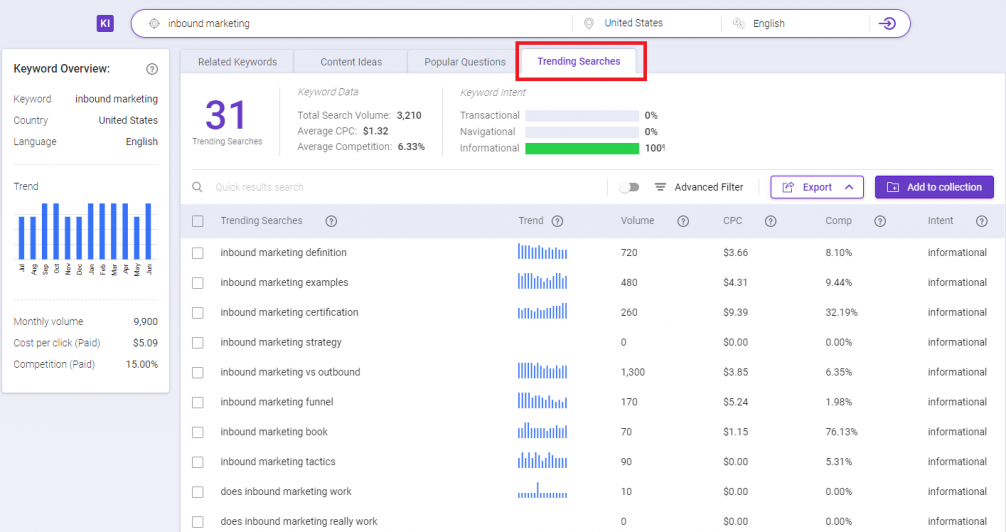 2. Fix Your Content Marketing with Content Intelligence
More than 20 years ago, Bill Gates made a bold statement, "Content is King," signaling an era in which successful digital marketing strategies would need to revolve around content as its core.

As a result? Marketers have begun pushing out massive amounts of content – creating blogs, e-books, videos, social media posts, and website content.

And if you're like many other marketers, you will notice that getting the same results you did even two or three years ago is challenging.

It shouldn't be surprising!

We are flooding the internet with massive amounts of content, and your audience is getting distracted by thousands of content out there.

Yet, this doesn't mean that content marketing as a strategy is dead. You need to change your content marketing plan to focus more on your audience instead.

When people 'content is king', it's only true IF your content is relevant to your target audience. This is where BiQ's Content Intelligence tool comes to play.

Content Intelligence helps to rank every paragraph in your content and assigns a rating based on relevance, readability, and sentiment.

Here are the few simple steps to start getting results with BiQ's Content Intelligence:
Select the Content Intelligence icon from the sidebar menu
Enter the primary target keyword of the page you are analyzing in the keyword field
Enter the URL of the page you wish to analyze in the URL field
Submit your query and give your report a few seconds to generate.

Report Overview
The screenshot below shows you what the report will look like once it is generated.
On the left panel, the Content Intelligence tool will analyze each paragraph of your content to make sure your content remains relevant, using the right sentiment and readable by your target audience.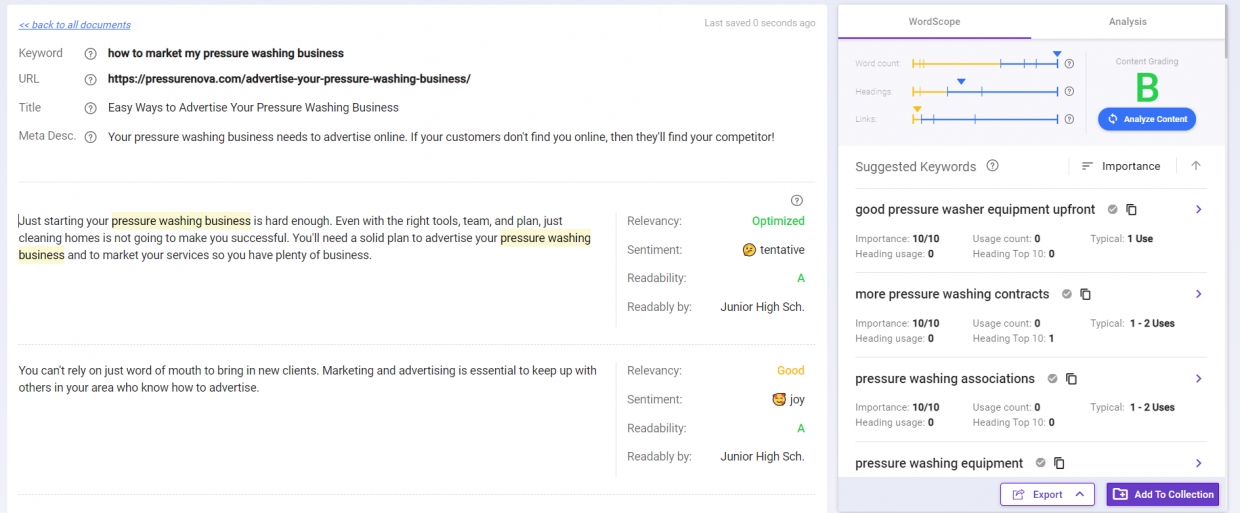 Switch to the Analysis tab, and you will see a more in-depth analysis.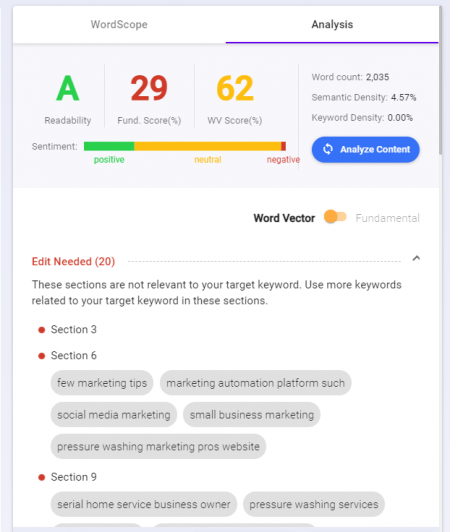 Readability Score
The readability score shows you how easy it is to understand your content.
Word Vector Score
If you're not up-to-date with Google's NLP (Natural Language Processing) research, Word Vector or Word2Vec is an AI model to learn about the relationship between words based on actual language usage.

Word Vector SEO helps to analyze your content and improve your content relevance against your top competitors.

It will analyze your current content's performance and point out all the "gaps" that you need to improve on.

Fundamental Score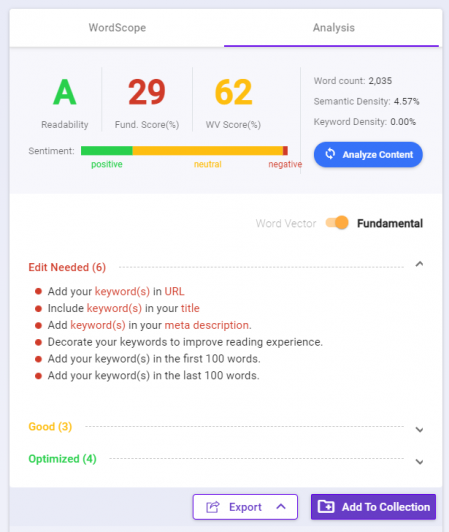 The Fundamental gives general on-page SEO suggestions that are easy to implement to boost your SERP rankings.
Start Optimizing Your Content with BiQ
Do you know that you can actually use the Content Intelligence tool to check your top competitors too?

Yes, you've heard it right!

After you've got the report from analyzing your content, you can do the same thing with other top competitors too.

Just type in the targeted keyword on Google search and copy the URL of the first few results. Enter the URL in the search box with the same target keyword, and submit to generate the report.

Now, you can analyze your competitors and find out why they are ranked higher on Google. Find out what's missing in your content and optimize it to rank up as high as they do.
And that is the SECRET of optimizing your content using BiQ's Content Intelligence Tool!
3. Track Your Keyword Ranking using Rank Intelligence
We understand.

You've spent hours researching for the right keywords and publishing content onto your website and blog. Now, you need the right keyword tracker to analyze all ranking data of your entire keyword portfolio.

With BiQ's Rank Intelligence, you can find out exactly which keywords you rank for, including keywords you didn't know you're ranked for.

Find keywords that your site already rank for
To get an overall picture of how many keywords your site is currently ranking for, just follow these steps:
Select the Rank Intelligence icon from the sidebar menu
If you don't have an existing profile to select from, click 'Create New Profile' to start creating a profile.

Fill in your domain name, language, and location. Then, click 'Create New Rank Intelligence Profile.'

BiQ's Rank Intelligence will start to analyze your domain and return with your ranking results.

You will see a summary of your ranking performance; All Top 100 Ranking, Estimated Monthly Traffic, and All Ranking Distribution.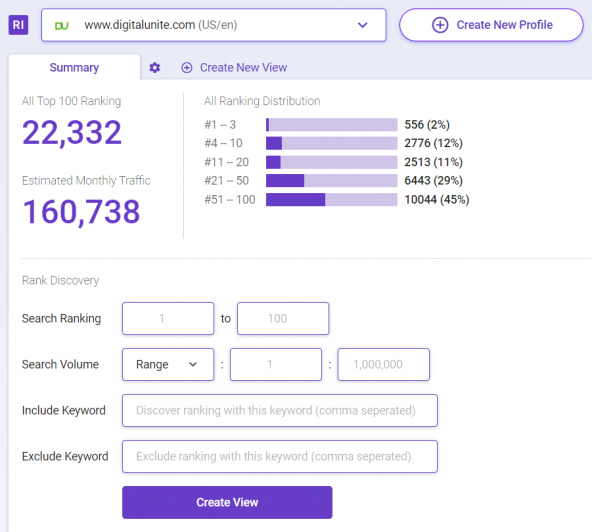 If you want to view all ranking keywords, you may proceed to click the 'Create View' button.

But if you want to view only those keywords that are ranking on the top 20, you can create a set of filter parameters. Specify your preferred Search Ranking, Search Volume, Keyword Competitiveness, Keyword Cost-Per-Click, or Keyword Filters.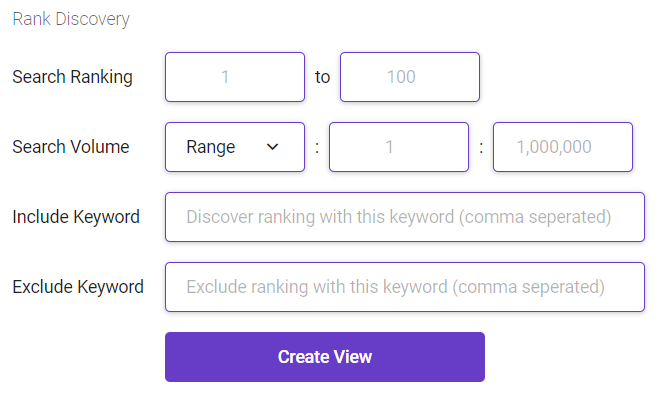 You will see the keywords that are ranking based on the filters that you have created.

Our tool will generate a report that tells you exactly what keywords you're ranking for and for which exact pages. You will be surprised to find certain keywords are ranked for other variations that you're not aware of.
Discover underperformed keywords and improve them.
At BiQ, we believe that great content deserves a great ranking.

You've spent so much time on that great article, and you find out that the keywords are not ranked as high as others.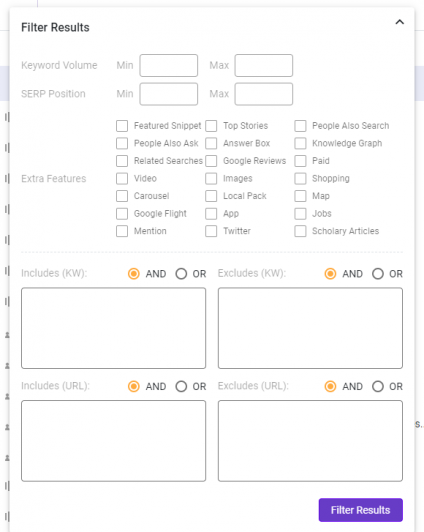 With Rank Intelligence, you can now find out which keywords aren't doing so well.
For example, if I want to check and improve which keywords are ranked at position 5 to 20 on Google. I just turned on the 'Advanced Filter' and enter min 5 and max 20 in the SERP Position field.
From there, I can see which pages you need to allocate to focus my resources and time to improve on.
4. Monitor Your Site Progress with Rank tracking
If you're running a website that relies on revenue from search engine traffic, then being able to track the performance of keywords and pages is important.

BiQ's Rank tracking gives you many benefits beyond just helping you monitor your site's performance in search engines. It helps you identify which SEO techniques work (and which don't), monitor your competitors' performance, and more. 
To monitor your site progress, just follow these steps:
Select the Rank Tracking icon from the sidebar menu
Enter the URL of the page you wish to analyze at the 'Create New Profile' tab.
Submit your query and give your report a few seconds to generate.

Monitor Site's Performance
One way to check your site's performance is to check the overall progress of the keywords you are tracking across all pages.

Using the 'Pages' tab, you can see all the pages from your site together with its number of keywords tracked.

To check the overall performance of keywords on a specific page, the app will show you a summary of any keywords gained, keyword loss, and its average position.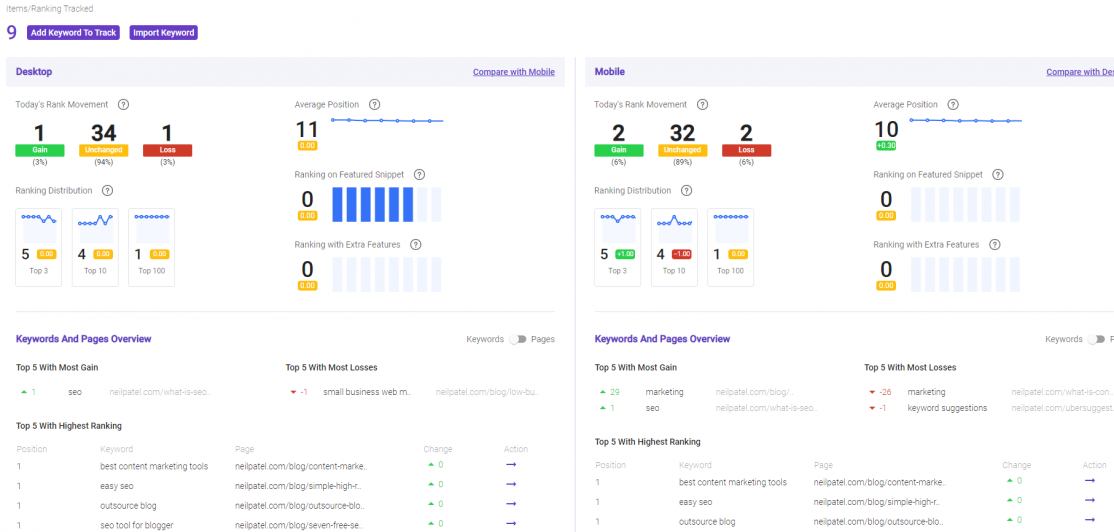 Assess Your Website's Volatility
Remember that Google sneakily rolled out the BERT algorithm back in 2019?

The results? Well, a lot of marketers and businesses were not happy because they noticed a drop in both their ranking and website traffic.

Google loves to update their algorithm because they want to deliver more relevant results to its users. And no one will know when Google updates or changes its algorithm again?

By creating your own "Rank Tracking" profile, you will get an overview of your website performance over the period of change. Select from either average position, featured snippet position, or ranking with extra features. And you will see the overview over the last few days, weeks, and months.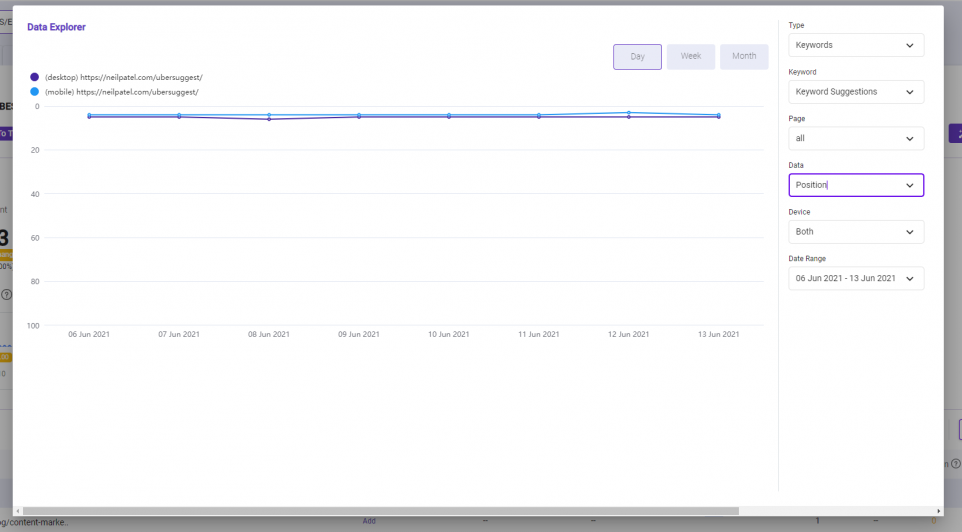 If you see high volatility on a specific day and notice that your ranking and traffic drop, it could be a sign that Google is changing its algorithm and your site has been affected.

With these insights in your hand, you can start preparing a plan to minimize the traffic drop.
Check Your Competitor's Progress
Like our other features, you can use "Rank Tracking" to monitor your competitors' progress and see what they are doing that causes their rankings to increase.
All you need to do is create a Rank Tracking profile like your website, and you can start checking their progress over time.

If you want to stay ahead of your competitors, you need to identify the keywords that they are targeting and start putting some effort to compete with them on those keywords.
Is This The Best Free SEO Tool For You?
If you want your website to be successful, using the right SEO tools is a must. But that doesn't mean you need to spend a fortune to do so.

At BiQ, we believe in our statement that users should "Pay for what you use, and don't pay for what you don't use." In other words, if you want to use BiQ for keyword research purposes, then you will be charged on the Keyword Intelligence part.

We believe that everyone deserves an opportunity to fight with SEO giants out there.

Now BiQ is open for beta users. Sign up and be the first to try BiQ to see for yourself why we are the best free SEO tool out there!