Learn the steps and strategies that you can apply in creating a great SEO content in 2021.
Ready to produce your best SEO content in 2022? Read on to learn the strategies that will help you create awesome SEO content.
What is SEO content, anyway? Just in case you are relatively new in search marketing and not sure what is 'SEO content'…
SEO content is content that is optimized to rank high in search engines to gain high user visibility.
Even before 2022, content and SEO are meant to go hand in hand. Without one, your efforts will be wasted. Now, why would I say that?
Imagine this: you are done with creating a 'bread baking course,' and you're ready to sell them online. What would the lesson description be? Generally, you may write a 'bread baking course' so that it is easier for potential customers to find you.
But without the right keyword, people may not be able to find you easily. It is only right that you help them to find your products or services as easy as ABC.
In this ultimate guide, we will cover the most important SEO content areas: how to write SEO content.
But first, let's look into WHY you should read on and apply the strategies that I will share with you.
The Importance of SEO Content
There may have been about 4.8 million Google searches since you started reading this article. Not forgetting there are already more than 4 million blog posts published today, and the number is still growing…
In fact, there were more than 2 billion blog posts published worldwide in 2018. We are looking at 4,000 blog posts per minute! That's a huge number.
Now it brings us to the cold, hard reality: if you want to be found on the search results, you have to do more than just writing. This is where search engine optimization, SEO, comes into the picture.
Google's co-founders, Larry Page and Sergey Brin, built Google with a mission to:
"Deliver the most relevant and reliable information available."
While some things are prone to changes, their mission has always been the same until today. Google's algorithms are constantly evolving to give nothing but the best for its users. Every content is ranked based on how useful and relevant it is to the searches.
That means, without optimization, your content won't rank in search engines. Optimized content will ensure your content is audience-centric and understandable by the search engines.
To make it clear, SEO is not only about search engines. Good SEO practices can improve both the user experience and usability of a website.
Next, we will look into the steps and strategies you can apply in creating SEO content.
How to Write SEO Content
You may be asking how to create SEO content? That's exactly what we will be looking into in this section. The process of creating SEO content can be broken down into the following steps:
Know your target audience
Find the right keywords
Create a content plan and publish
Track and re-optimize
Let's begin with the first step.
Know your target audience
Let's look at the fundamental elements of how to write SEO content: know who your target audience really is.
Knowing your audience's gender, age range, interests, and attributes will help you better understand what they are searching for online.
The trouble with not having a clear audience is that you can spend your entire content creation time and resources and never be found.
Just like me, I believe you are producing content because you wanted to be found. You want people to know what you are writing about; what's the best BBQ restaurant, when is your product launch date, how to boost your social media presence, and so on…
So now, how do you define your target audience for your SEO content?
One of the easiest ways to identify your target audience is by visiting your website analytics.
The Audience section provides us with useful information about the people who visit your website. This includes their age, gender, location, and interests.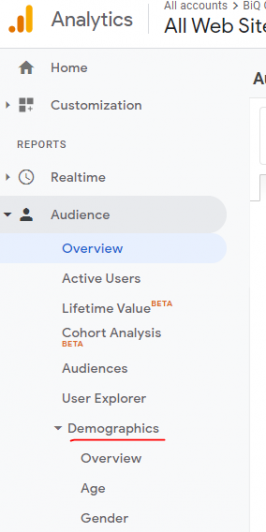 Demographics: Age and Gender
Look at 'Demographics' to gain insights into your audience's age and gender.
Knowing your audience's age range helps to identify which platforms you should focus more on posting your content.
For example, according to Big Foot Digital, the 25-34 age group seems to dominate most social media platforms, including Facebook, Google+, Twitter, Instagram, and Pinterest.
Next, identify the gender percentages of your website visitors. This will help you customize your content deliveries and, most importantly, the tone you want to use in your messages.
For example, an article is focusing its messages on men because it is the niche that they want to serve. Every line and paragraph is directed at solving the needs of their target audience.
So, if 70% of your traffic comes from females, you may want to create a more female-friendly landing page to convert better!
Geo: Language and Location
By knowing the language that your visitors use helps to see if a translation for your website is required.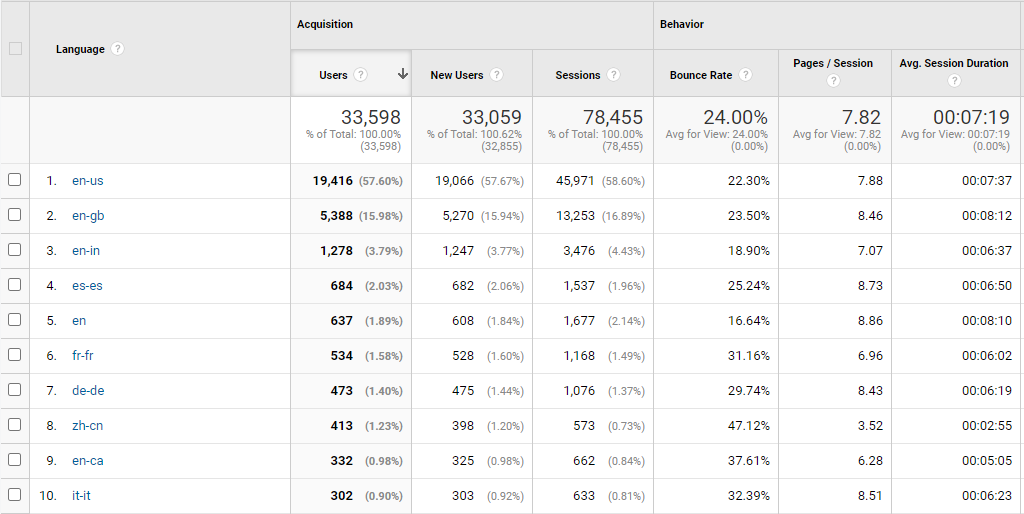 While knowing where your website visitors come from will help you to narrow down your geographic targeting, save your time, and excel in paid ad campaigns.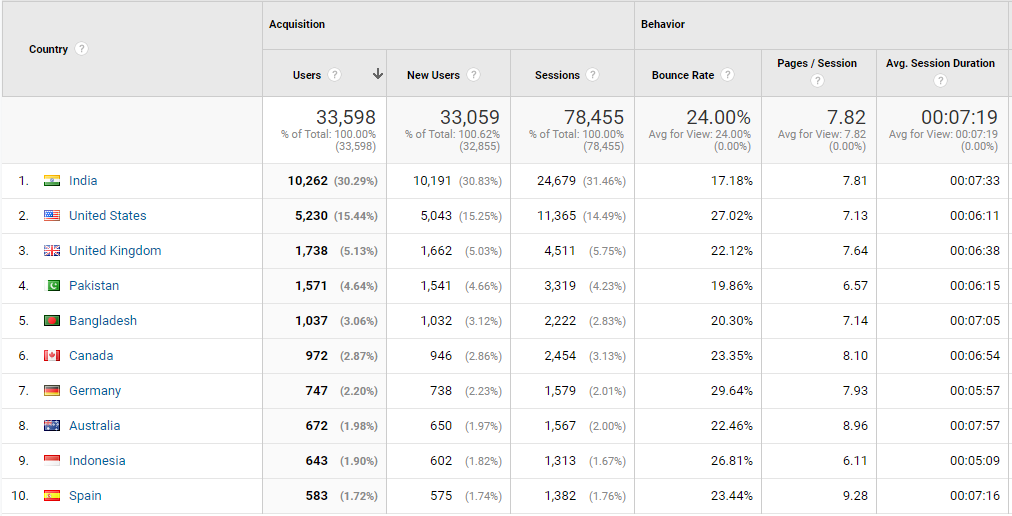 Find The Right Keywords
Let's start this step by answering this question: what is the topic or keyword you want to rank for? Try to come up with at least 3 to 5 topics you think are important to your business.
It is important to have the right keywords to target before starting your content creation. It will give you an idea of what to write, what to focus on, and how to rank those keywords.
These are the few things you may want to go through before choosing your target keywords:
Think like a customer
What do you think a user will type when they want to find your products or services? This is the first crucial question before starting the keyword research process.
There are a few ways to 'think like a customer' and discover the keywords they actually use when searching online.
One of them would be to ask the search engines themselves.

People Also Ask
You can find sets of questions that relate to the original search query. For example, when a user searches 'rice straws,' they may also have these questions in mind: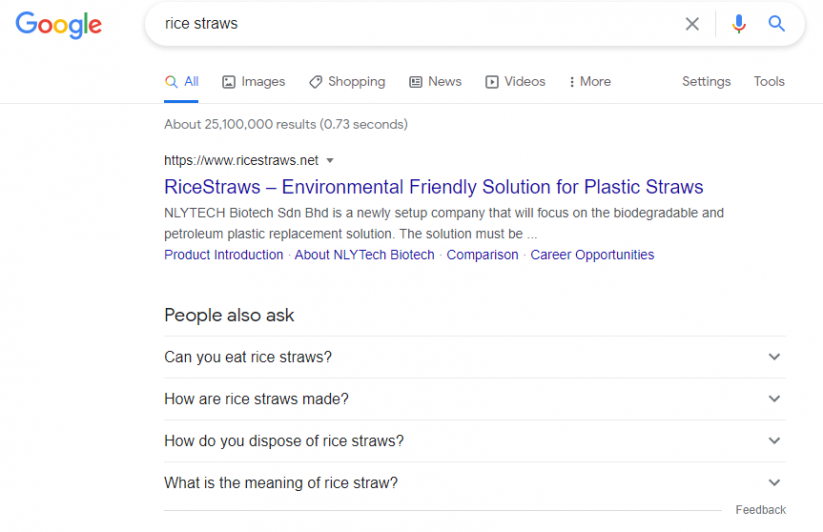 Searches Related To
Searches Related To is a useful feature that tells you exactly what people are searching for based on your targeted keywords.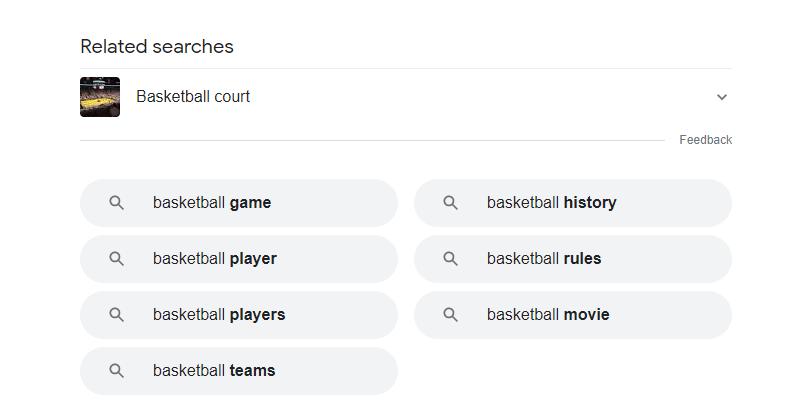 BiQ's Keyword Intelligence
I am currently using BiQ's Keyword Intelligence to discover both related keywords and popular questions.
Simply enter your topic in the search bar, and it will show you all the related keywords with the important metrics; search volume, cost per click, competition, and value.

If you hover to the 'Popular Questions,' you can discover the questions that relate to your topic and the answer!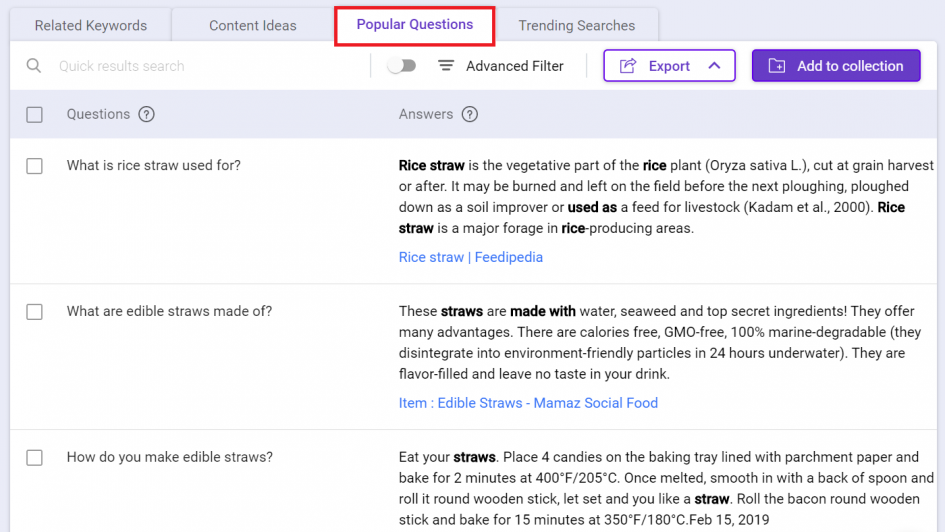 Identify long-tail keywords opportunities.
It would be great if you can rank #1 for the keyword "straws," but it is not always the case. Short tail keywords may indicate ambiguous intent when compared to long-tail keywords.
For example, when someone searches "straws," it could mean anything; why plastic straws should be banned, reusable drinking straws, plastic straws, and so on.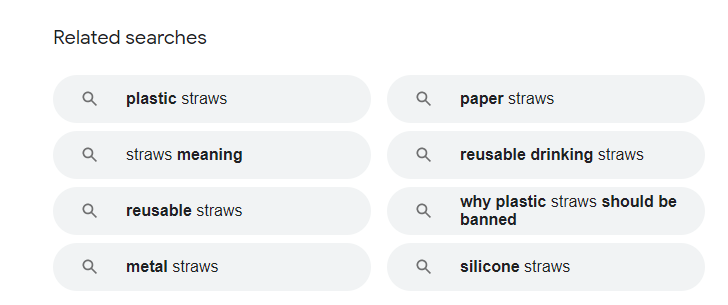 The search engine doesn't really know what the searchers are looking for, so they offer wide topic options for you to refine.
As a "rice straws" seller, those are the articles that are not related to your businesses. In other words, you don't really want to target the keyword "straws" because it doesn't match what you want.
Long-tail keywords, on the other hand, get less search traffic than short-tail keywords, but the intent of the searches will be more targeted.
For example, someone searching for "straws" is probably just browsing. Now, how about people searching for "best wholesale price rice straws"? They practically have their wallet out and are ready to click the "Buy Now" button!
Let me show you how you can find long-tail keyword opportunities easily using BiQ's Keyword Intelligence.
First, click the 'Advanced Filter.'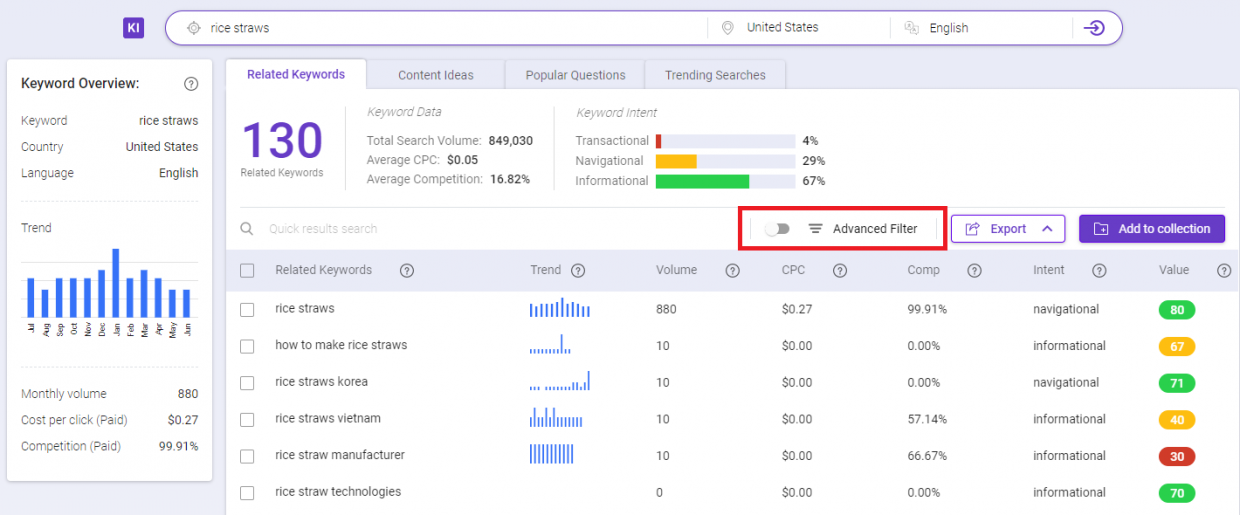 You will see the option to filter the keywords not just based on short or long-tail keywords. It also allows you to filter the level of relatedness, type of intent, and include or exclude specific keywords.
Once you click 'Filter Keywords,' you will see a list of long-tail keyword opportunities for your next SEO content.
SEO Content Writing Tips: In deciding which keywords to use, sort the 'Value' to check which keyword has the highest SEO value.
Create A Content Plan
Now that you have your keywords ready let's move on to creating a content plan.
If you want your content to be awesome; loved by readers and search engines, here's what you need to do:
Create a valuable content
Here's the thing, you can't create content and expect that everyone will love it. The truth is you don't create content for anyone.
If you are selling rice straws, you may want to target people interested in the 'go-green' environment, not people looking for cheap plastic straws.
The following questions may help you in creating valuable content for your readers:
Can the user find the content easily?
Can the user read the content?
Will the user find the content relevant to them?
Will the user take action from the content?
Now let's break them further into details.
Findable
When creating your content, consider this question: How to make sure users can find your content easily? Can you make sure your content appears on the search engine the moment your potential customer does a search?
Use your keywords at the right places to make sure you can help your searchers find you easily. Here are the places that you want to use keywords for SEO:
Page titles
Heading (H1, H2, H3)
First paragraph
Last paragraph
Images
URLs
Link anchor text
Optimizing your keywords at the right places will help searchers find your content. And that'll improve your click-through rate. Thus, the ranking will follow.
Readable
Do you remember the last time you close the browser because it's hard to read the content?
Let's be honest; most visitors won't read every word on our website. I bet you may have skipped some sentences when you are skimming through this article, too, didn't you? *wink*
Check your content readability by using BiQ's Content Intelligence. It will tell you how readable your content is.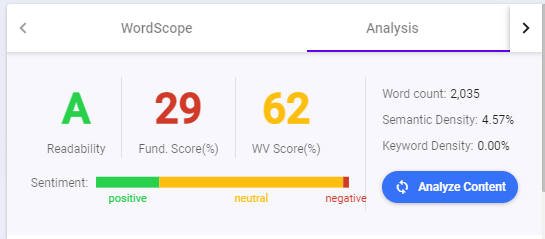 When you make your content readable, more people are likely to find and use it.
Other than the overall readability, you can also analyze your content readability paragraph by paragraph using the Content Intelligence. This is how it looks like: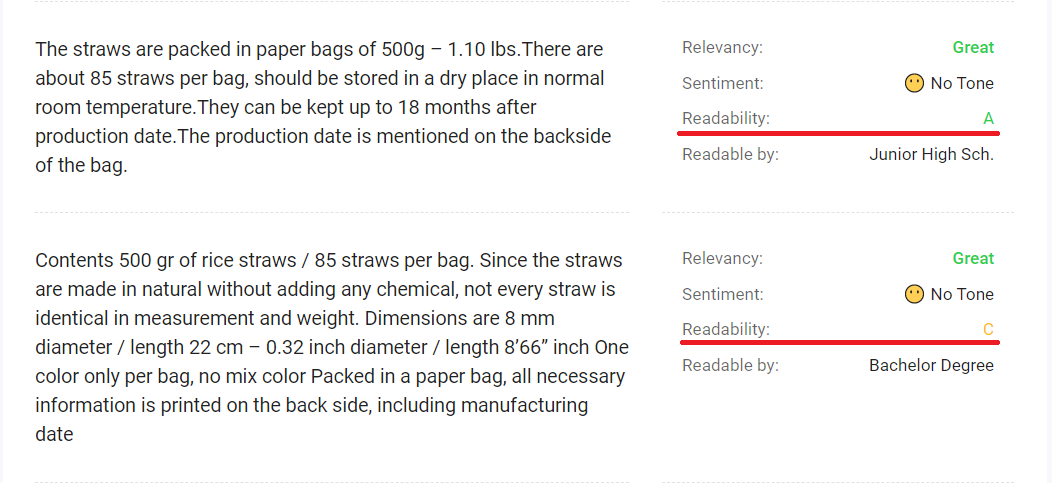 Remember, the goal is to make your content visually appealing and easy to skim. Here are some suggestions to make your content readable:
Use headings
Use bullets and numbered lists
Keep it short
Use attractive illustrations
User charts and tables
Relevant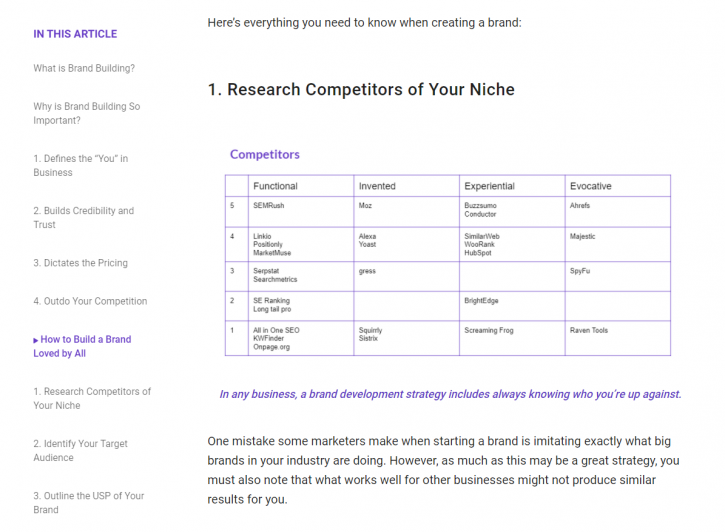 It is undeniably great to get a high click-through rate, but will the users find your content relevant to them once they visit your website?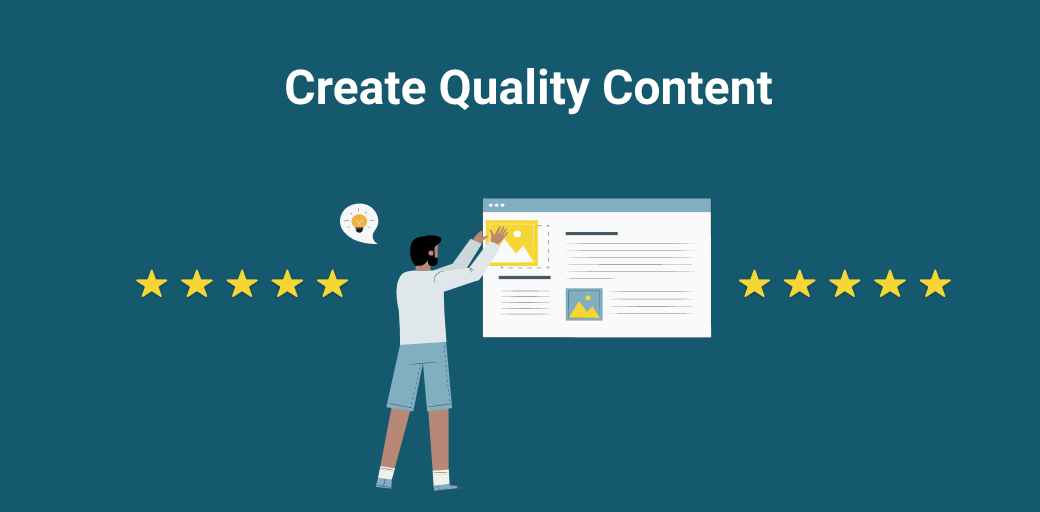 Content that is both fresh and relevant at the point of time will help make sure your readers stay and make the next action you want.
You can check your content relevancy using BiQ's Content Intelligence too. On the right side of the app, you will see the Word Vector SEO score. It tells you the content's relevancy score.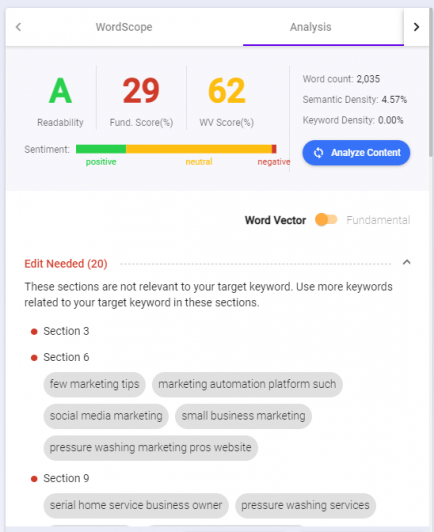 The higher the Word Vector score is, the better the relevancy is. But if the score is low, you may want to improve the relevancy by following the app's recommendations.
Actionable
You are writing content because you want your readers to take action. For example, buying your rice straws or being more aware of their purchases will impact the environment.
Valuable content should be able to convince or influence readers to take action. This, of course, has to come with a clear call-to-action in your content.
Not everyone is looking for the same thing. That is why you may want to look into the buyer journey as well. Learn how to map keywords into different buying stages.
After you've done optimizing your content, it's time to hit the 'Publish' button. Of course, it doesn't end here. Read on…
Track and Re-optimize
Once you have published your content, don't leave it at the corner. Monitor and improve your keyword performance over time.
First, head over to BiQ's Content Intelligence to check your content performance.
Once you enter your URL and target keyword, the app will analyze your content and give you an overview of how your content is performing.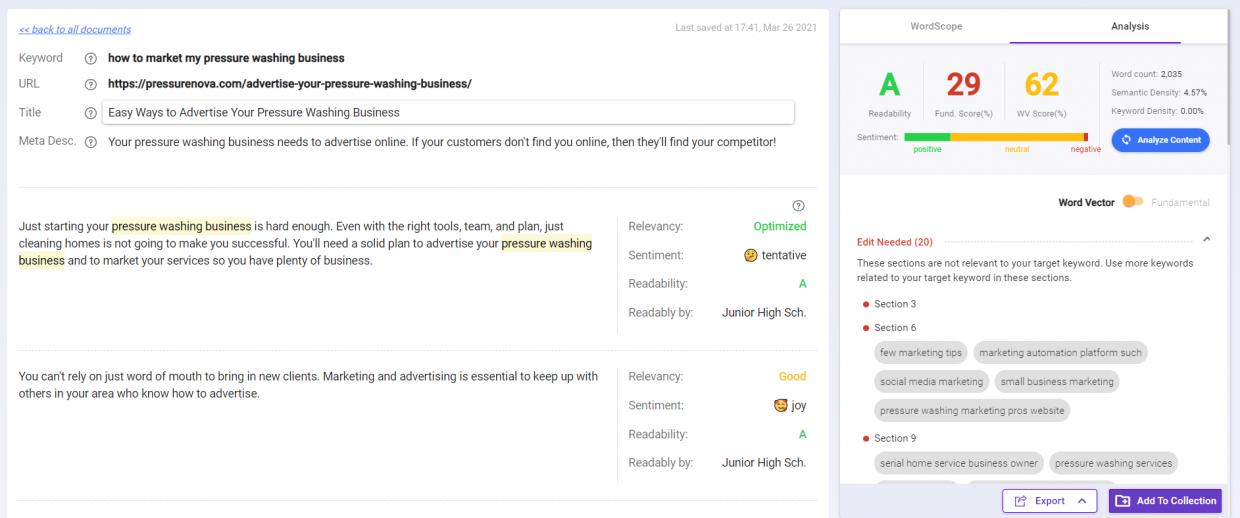 These are some of the areas that you'll need to look into and further improve:
Relevancy – If the relevancy shows 'Edit needed', it simply means that you may need to optimize the paragraph so that it will be relevant to the overall content.
Readability – It is important to make sure your content is readable for your readers and search engines. Content that is well structured and clearly written will help users to understand your message better.
Sentiment – Knowing the sentiment of each paragraph in your content will help you to understand your reader's emotions when reading your content. Optimize and align the sentiment that you want in your content.
Once you are done with optimization, track your progress over time. To do this, check out BiQ's Rank Tracking.

Once you have created your profile in Rank Tracking, it will start to detect and record any changes in your ranking performance from that day onwards.

If you want to track a specific keyword, click the 'Add Keyword To Track' button, and you will see the option to add on your keyword and page URL.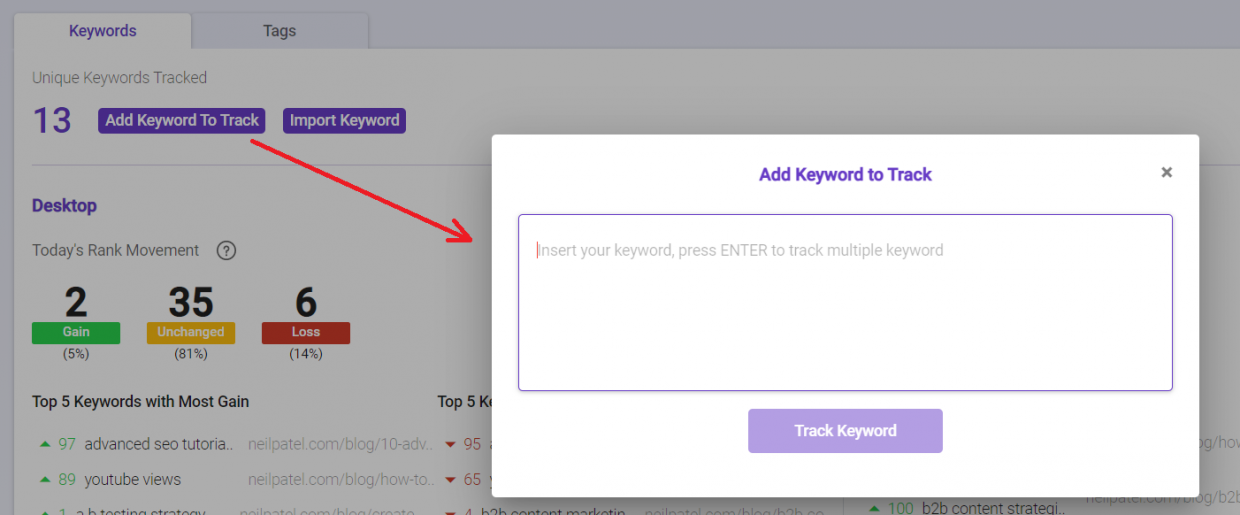 Keep it as a habit to regularly analyze your SEO content to see what's working and what isn't.
Conclusion: Work smarter, not harder
There you have it – a guide on how to write SEO content. I hope you've gotten some valuable input from this SEO content guide.
In this new decade, I urge you to work smarter in delivering your SEO content, not harder. Look for tools that can really help you produce great SEO content and, most importantly, deliver the results that you want.
If you are keen to stand out in SEO, here is the link to get free access to BiQ's Content Intelligence and Rank Tracking. Give them a try, and let me know if it works well for your content optimization and tracking.
Now back to you: do you have any other SEO tips that you are implementing in your strategy and works great? Let me know in the comments section below.