Everyone is invited to join the revolutionary SEO Suite, BiQ Cloud. Sign up for a free account and start using. You'll only have to pay for the features you use.
Get excited everyone!
Today, we're delighted to share that after eons of hard work, blood, sweat, and love, we're taking a major step forward on our commitment to provide a revolutionary tool by celebrating the launch of the BiQ SEO Suite.

If you've just discovered us, you're not late so don't you worry! Just sign up for free here and start working on your SEO today!

On a more interesting level, the team from BiQ has successfully forged a collaboration with SEOPressor, a pioneer in the SEO world that helps with on-page optimization. You might also be interested to catch a tip or two from their recent interview with our Co-founder, Ian. (He gave some good insights about BiQ!)
BiQ carries the torch of bringing an intelligent, innovative, and ambitious future to the world of SEO. The tool is packed with powerful features your growing website needs. This article will introduce you to all the unique capabilities that are set to take off using the tool.

First and foremost, allow us to thank every single one of you for your patience and anticipation towards this tool. Receiving your messages of support to this day means a lot to the team and we can't thank you enough.

We've heard your frustration towards having to pay excessively monthly, subscribing to various online tools to keep up with the ever-changing SEO world. We understand that many times we'll face situations like this without other alternatives because the market packaged it that way, right?

As common users, most of us can't do much but abide by whatever pricing these tools have set in stone.

BUT…

BiQ has completely changed the landscape of how SEO tools can go about. We know you want something DIFFERENT in the market – and we're bringing happy news to you!

The Only SEO Tool That Gives Cost Control Back To You

BiQ is the only SEO tool that provides granular cost control. It's better than the conventional SEO tools out there because you have the full flexibility in paying for the features in a cost-effective manner.

You're cutting all costs and promoting zero resource wastage by paying only for what you use.

With that said, we'll be inviting our very first supportive batch of users to try out the features for free! In this release, you will see 4 main features that constitute BiQ.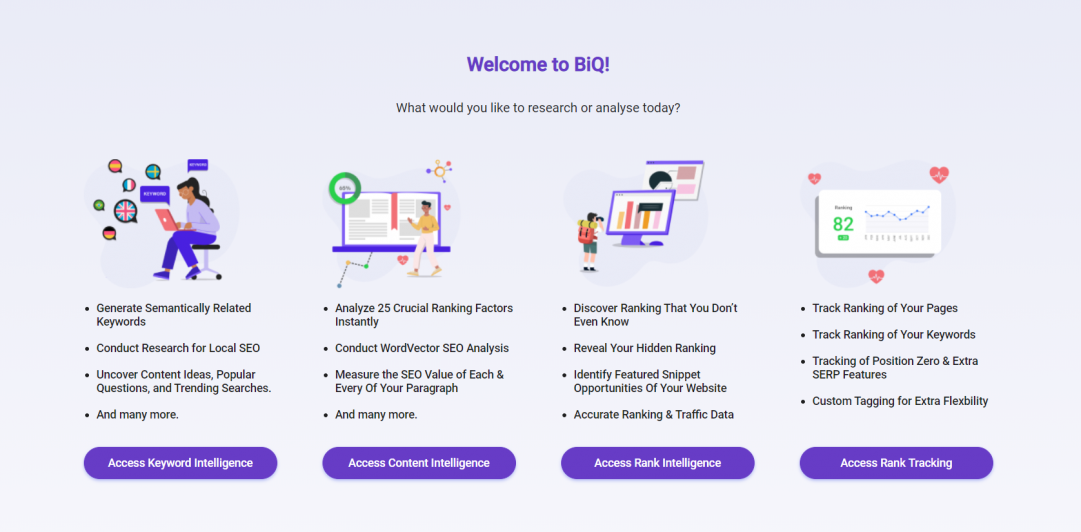 They consist of:
Keyword Intelligence
Content Intelligence
Rank Intelligence
Rank Tracking
with a special feature lined up for you too;

The next part will highlight what BiQ has that other tools don't.

What Makes BiQ Different From The Rest Of The SEO Tools?
You might be asking now – "What makes BiQ different than its competitors?"
Instead of doing a comparison or a "battle between the best SEO tool", I figured, why not showcase some of BiQ's unique features and functionalities instead?

If you're responsible for growing your website for your company, then you could most likely grow your audience – possibly pretty significantly – by using these unique features found in BiQ.

The Unique Selling Points That Drive BiQ
1. Price Democratization
Think Amazon Web Services for SEO tools, where pricing is democratized. BiQ gives cost control back to you by designing the entire tool to provide granular cost control where features get inexpensive.

When you start paying only for what you use, you directly reduce your total spending cost.

2. Experience Ultimate Flexibility & Freedom
BiQ aims to give you the ultimate flexibility and freedom to pay only for the features you need.

Want to know if your content is optimized as per the search engine's requirement? Only choose to use BiQ's Content Intelligence!

Have clients that only want a monthly report on their website's rank? Just pick BiQ's Rank Tracking and only that!
Tools in BiQ
1. Keyword Intent Analysis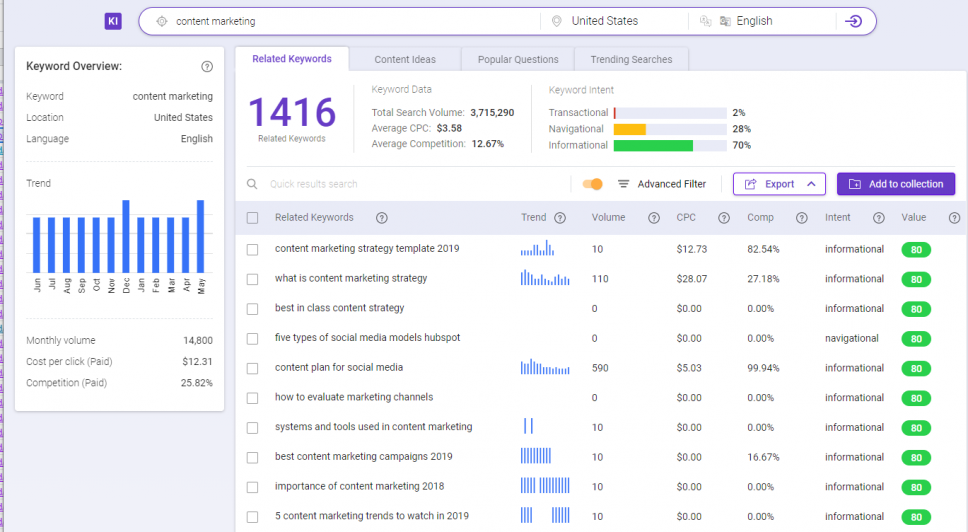 Behind every Google search, there is an intention.
To find out what type of content you should serve, you'll need to segment your keywords by the user's intent. Using the rule-based machine learning algorithm, BiQ's keyword intent analysis automatically classifies the user's intent for you; informational, navigational, or transactional.

Leverage these terms and modifiers to infer what types of results or actions your visitors are aiming for.

2. Build Content Briefs With Popular Questions
Use BiQ's Popular Questions feature to discover queries others may be interested in. It offers you a set of questions that relate to your original search query which you may build content briefs with.

Consider answering these questions or create new content starting from these questions.

3. The Total Volume of Related Keywords
Do you know that combining hundreds of related keywords could lead to a total search volume of millions in numbers? (Provided that you rank for most of the related keyword that you've targeted)

Knowing the total search volume of related keywords that BiQ provides gives you the possibility of getting untapped traffic from related keywords. Most importantly, you'll know instantly if it's worth your effort to build a content hub to win all the related keywords.

4. Find Trending Topics & Keywords
Being in trend is a matter of being caring for your visitors, introducing them to the latest news in the market.

Staying in the loop of trending content gives you an edge, which is what keyword intelligence will provide you with. Equip yourself with the most updated keywords and ideas with our app, people are more likely to follow and listen to what you have to say – you could be seen as a trend-setter.

5. Filter Long Tail or Short Tail Keywords
In the keyword intelligence, it's possible to filter by "Long Tail" allowing you to select long-tail keyword suggestions. You can also use this filter to discover only the short-tail keywords.

Make good use of them to get the type of keywords that you want; long tail or short tail in just one click.

6. Quick Search Bar & Advanced Dynamic Filter
We understand that having tools that allow quick filtering offers a fast and convenient way to bring up the best data for your specific needs.

Across every feature, BiQ's filter feature will change based on what is important to your research. According to your optimization strategy, easily filter what you want to see in the quick search bar within a single second.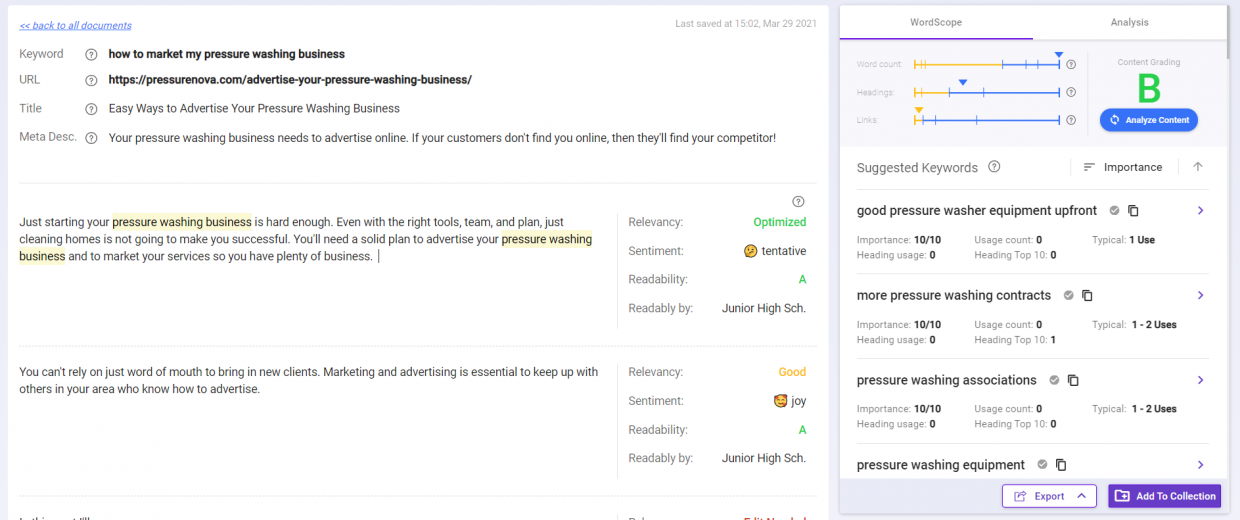 1. Content With Sentiment Analysis
Sentiment analysis involves analyzing the emotion the author is expressing through content. BiQ's sentiment analysis can be classified into 7 different categories.

It allows you to fine-tune a message or a piece of content for the greatest impact. By understanding what makes customers tick, these insights could multiply the reach and influence of any business.

2. Advanced Line-by-line Analysis
BiQ analyzes your content section by section, so you know exactly which part to work on.

With this feature, you'll be able to achieve maximum precision to know if each paragraph is contributing to the SEO of the page. Gain insights into which paragraph you can further modify, optimize or delete until your content turns from "Edit Needed" to "Great"!

3. WordVector SEO
BiQ analyzes the content gap with WordVector SEO and suggests the best keyword composition to rank your website higher, making the website optimization effort priceless.

Now, search engines will pay more attention to your content!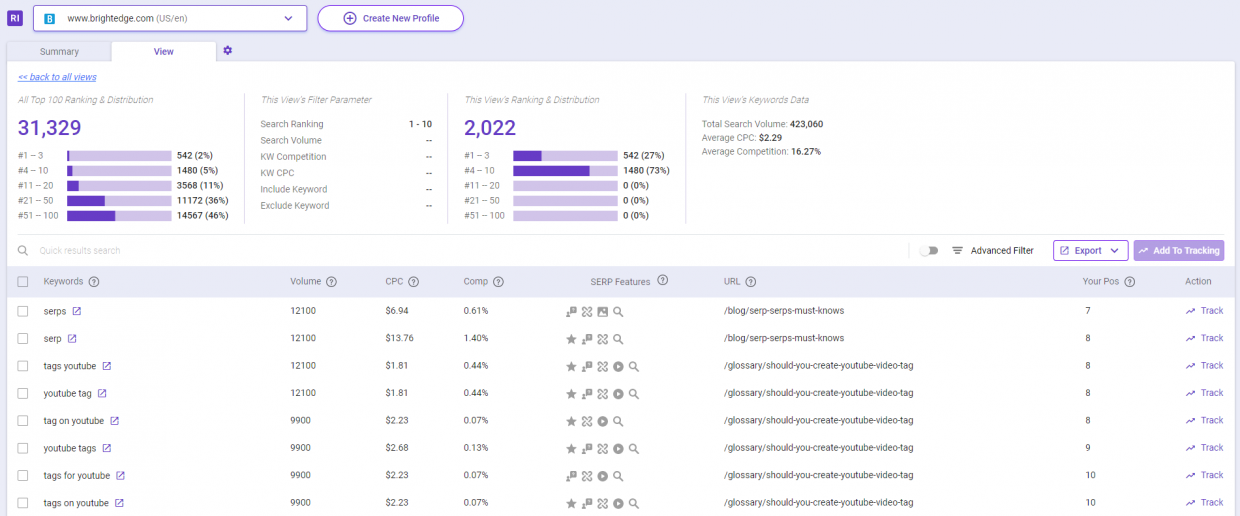 1. Position Zero
We've always heard about how we should be ranking for position zero and getting the featured snippet position on Google. Yes, we know the benefits it brings but do you really know how you could get there?

BiQ's Rank Intelligence will tell you how to capture valuable position zero spots and identify featured snippet opportunities!

2. Top 100 Ranking Opportunities

BiQ reveals keywords that are ranking for your pages you may not have known. The tool's deep neural analysis will point out hidden ranking potential, letting you know keywords and associated pages you should optimize for easy ranking.

Time to discover opportunities you never knew you could rank for!

3. Quick Search Bar & Advanced Dynamic Filter
We understand that having tools that allow quick filtering offers a fast and convenient way to bring up the best data for your specific needs.

Across every feature, BiQ's filter feature will change based on what is important to your research. According to your optimization strategy, easily filter what you want to see in the Quick Search Bar within a single second.


1. Accurate Rank Tracking from All Locations
BiQ's rank tracking feature accurately checks positions for the location of your choice. Like everything else in this rank checker – these locations are – you guessed it – unlimited.

2. Track Keywords Movement
You'll be given the chance to track your website's ranking position of both desktop and mobile devices for each keyword.

3. Focus On The Keyword Data You Care About
When you want to track your ranking for specific keywords, you can hone down your search criteria to get more accurate insights with the advanced filtering feature.
4. Target Top Performing Keywords
Capture your Top 5 keywords with the best performance and the 5 keywords with the least gains that you should work on.
5. Quick Review Of All Created Profiles
For the sake of simplicity, all profiles created are composed into an easy to comprehend table with information in the most convenient and nicest way.
6. Tagging System To Organize Your Rank Tracking
Group your pages and keywords into different segments. Need a quick view of all your blog posts? BiQ's tagging system allows you to tag them under a single tag so you can check their performance at a glance.

5. Collections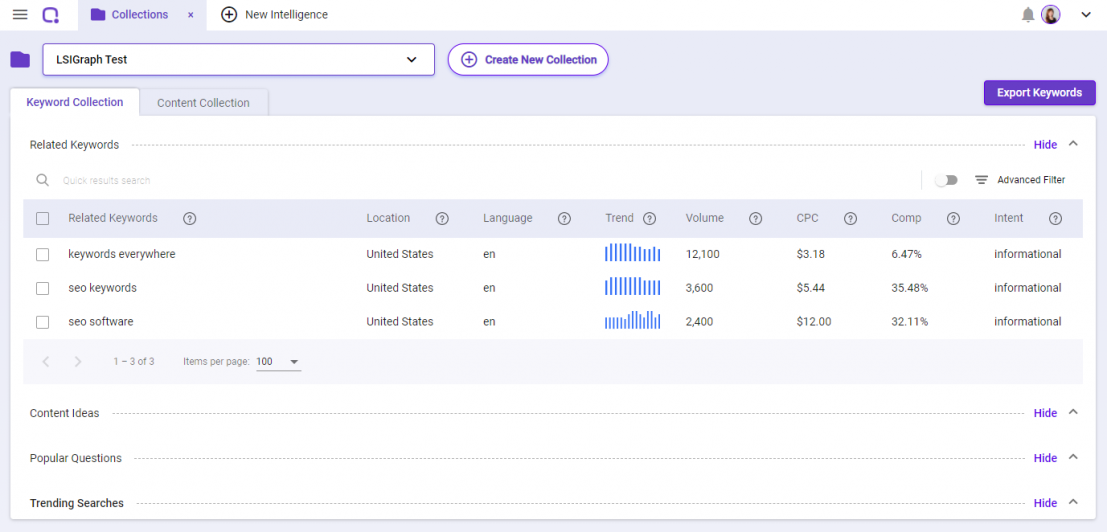 1. Neat Display Of "My Collections"
Not only will you have the ability to export your data in PDF and CSV, but you can also add them to a collection. The "My Collection" feature gives you a clear overview.

All the data you wish to specifically track will be saved according to your features so you can have quick access to them anytime. Give it a name and description for a clearer outlook and you're good to go!

That my friends are obviously not everything…

What's Next In Store For BiQ?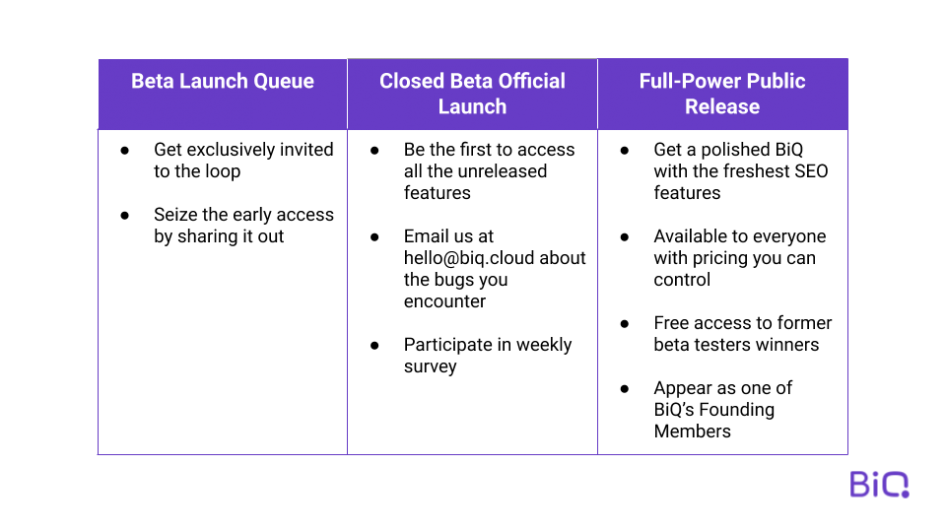 We may have successfully launched BiQ to the public but that's not all! We're only getting started because we have more awesome things in store for you!
We're excited to announce an ambitious roadmap of more features. 5 other core features are in the pipeline for the upcoming release. Just some final touches to make it a cut above – and we're good to go!
Over the coming weeks and days, there will be constant improvement and updates to BiQCloud… (there is no limit to when we're stopping!)

Constructive Feedback Is Welcomed!

In the spirit to provide what our community truly needs, the team behind BiQ whole-heartedly accepts feedback to make BiQ more useful, and to hear your feature requests and requirements.

All features are in active development, which means your input directly shapes what we're building next. You, and the entire SEO community, have the steering wheel in control.

Reach us on our email hello@biq.cloud or talk to us through live chat if you're successfully invited to BiQ!

First-Timer & Eager To Join the Revolution?

If you're wondering what's in for you after joining this revolution, here's what you can expect. As a member of the BiQ family, you'll help shape BiQ by test-driving pre-release features and telling us what you think.
So sign up today and get blown away by what BiQ'll bring you. Try all the features and most importantly, join a community of marketers shaping the future of SEO.

Finally, Refer To Your Friends & Get The Word Out!

We're excited about this new chapter and thrilled to finally share what we've been working on thus far. We look forward to your feedback and have many of you make BiQ Cloud your SEO companion for life!
Best Regards,
Winnie