Looking to achieve better SEO results for your website? Your optimization process needs the best SEO tools in order to be effective. Check out our post to see the 18 best SEO tools you should be using in 2022.
When it comes to SEO, you are only as good as your tools. As a content writer or marketer, time is of the essence.
To keep up with the workloads and meet deadlines, you need to budget your time and work productively.
Developing a content creation and marketing strategy is vital, but at the end of the day, you need practical SEO tools that get the job done.
But why would you need an array of SEO tools? Well, SEO is broad enough to make it so challenging to get everything right with one tool.
After all, Google uses over 200 factors to rank websites. Suppose there's one specific tool for optimizing each ranking factor; you would need around 200 tools. Luckily, not all factors warrant a single tool and there are great SEO tools out there that can help you manage several factors at once.
We've rounded up the best SEO tools that will help you scale up your day-to-day SEO processes. These tools will also free up your time and guide your way to uncovering new SEO opportunities and strategies, consequently increasing your earning potential.
What are the best SEO tools to use?
If you are looking to improve your on-page SEO, there's no better way of doing it than creating relevant and valuable content for your audience.
Search engines are first and foremost, used by most people to query for information and that is answered by a great content marketing strategy.
In fact, content among links (backlinks and internal links) and RankBrain are the top 3 ranking factors for Google's search results.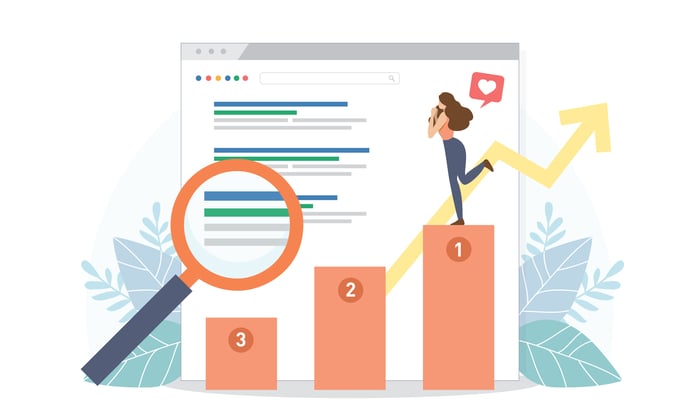 However, with the hundreds of SEO tools in the market, choosing only a few to use with your content creation and marketing can be a huge headache. Which is the best SEO tool for your business?
A solution to picking the best SEO tools often narrows down to your client's niche and business goals.
For instance, though both are highly competitive niches, eCommerce and content marketing will require a very different set of SEO tools based on your business requirements.
Likewise, a company that's focused on building brand authority will prioritize content creation and outreach tools while a business that wants to appear on the first page of the SERPs may prioritize keyword research, content creation, and competitive analysis tools.
Therefore, there's no wrong or right way of choosing the best SEO tools. It all depends on a wide range of circumstances.
The market is also equipped with all the SEO tools you can think of – from premium SEO software to small SEO tools popular among individual site owners.
Regardless of your budget, client's business goals, taste, and preference, below are the best SEO tools you need to drive traffic, increase clicks and boost sales.
Keyword research tools
Keyword optimization is one of the most crucial search engine ranking factors. According to WordStream, 50% of search queries contain four or more words.

Ahrefs estimates that over 29% of keywords with more than 10K monthly searches contain three or more words, while Moz reports that 8% of searches are phrased as a question.
To catch up with the market trends as highlighted in the stats above, here are the best SEO tools you can use for keyword research:
1. Google Search Console
Google Search Console (GSC), like Google Analytics, provides critical and actionable data about site traffic, visitors, performance, etc. – however, this tool, unlike Analytics, breaks this data down simply and more concisely.
With an intuitive dashboard, you can quickly assess the site's traffic, impressions, clicks, search queries, CTR, etc.
2. Google Trends
Google Trends platform is one of the free SEO tools that offer more than meets the eye. The tool shows popular search queries across a set of topics over a specified period.
If you want to uncover seasonal variations in search engine popularity for a given set of search terms, Google Trends is indispensable.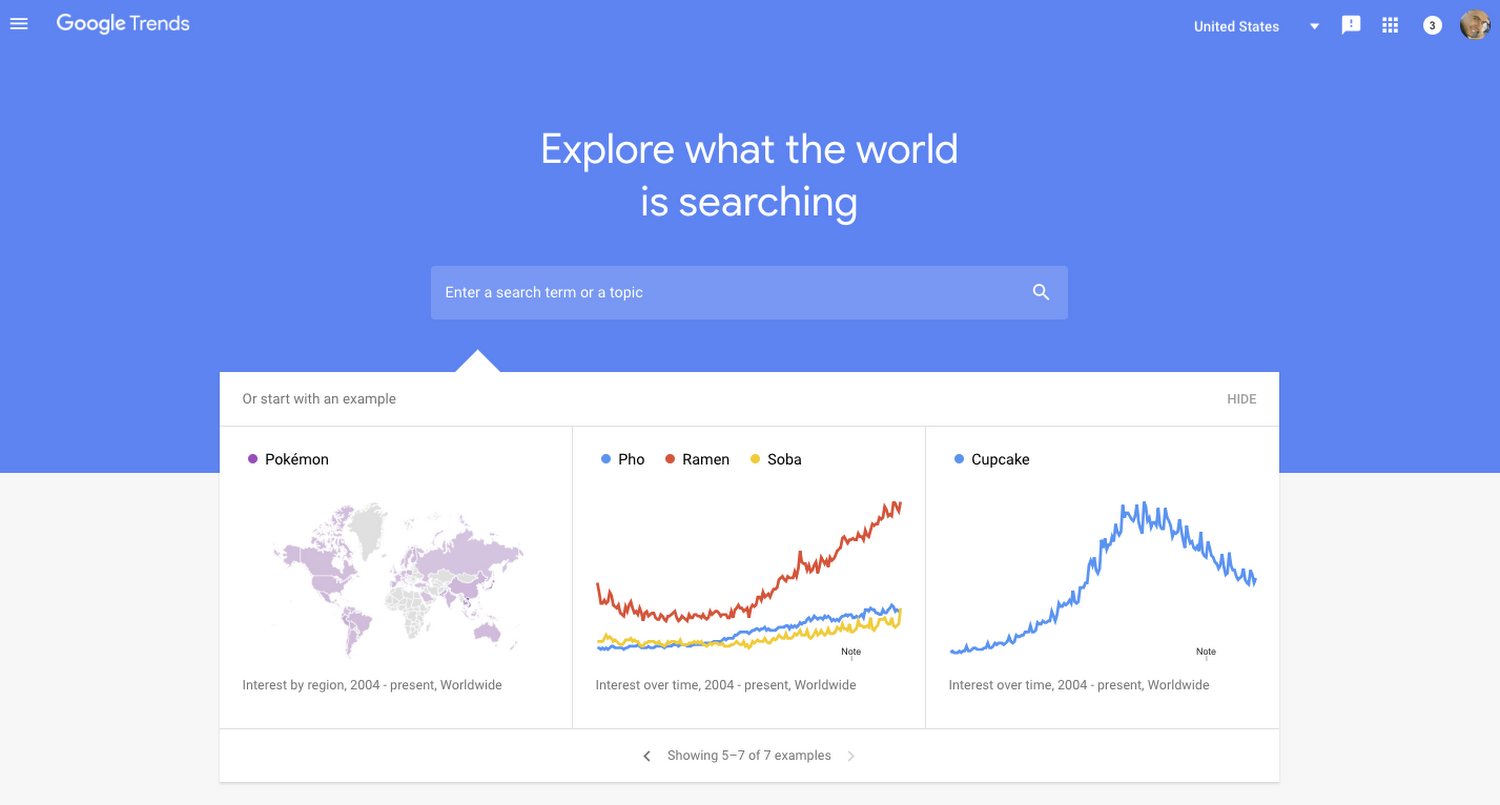 3. BiQ Keyword Intelligence
Our BiQ Keyword Intelligence is one of the four offerings under the BiQ all-in-one SEO suite. The tool helps you find high-value keywords, which will give you more traffic at a lower competition.
In other words, once you feed a target keyword to this tool, it will return a ton of related queries, their search volume, trends, CPC, competition, and the searcher's intent.
This way, you won't be second-guessing your keywords, and you can perfectly match a set of keywords to the users' search intent so you can fulfill their needs better.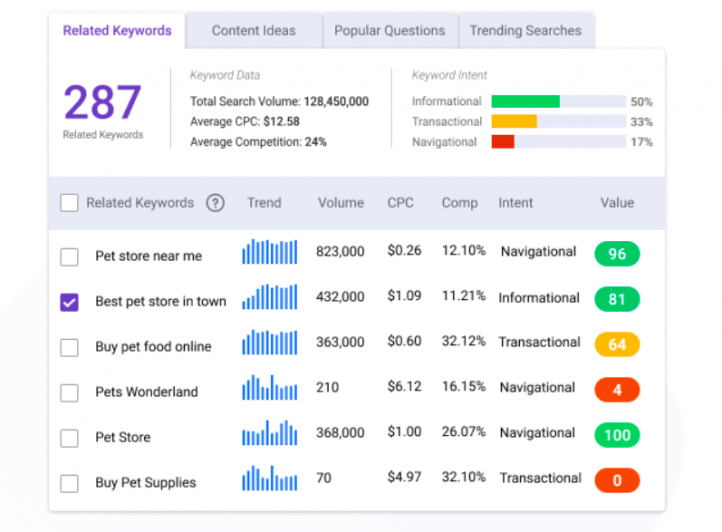 4. Ubersuggest Keyword tool
Ubersuggest is one of the best SEO tools that offer keyword research solutions from insights about your chosen keywords, such as search volume, paid difficulty, SEO difficulty, and CPC – to clear suggestions on leveraging the keywords to your advantage.
With this tool, all you need to do is type in a keyword or domain, and it will give you a comprehensive report about the selected keyword or the search query or queries associated with the domain.
From here, you can proceed to check the keyword ideas then filter your search, ready to pick those useful phrases to use when crafting your killer content.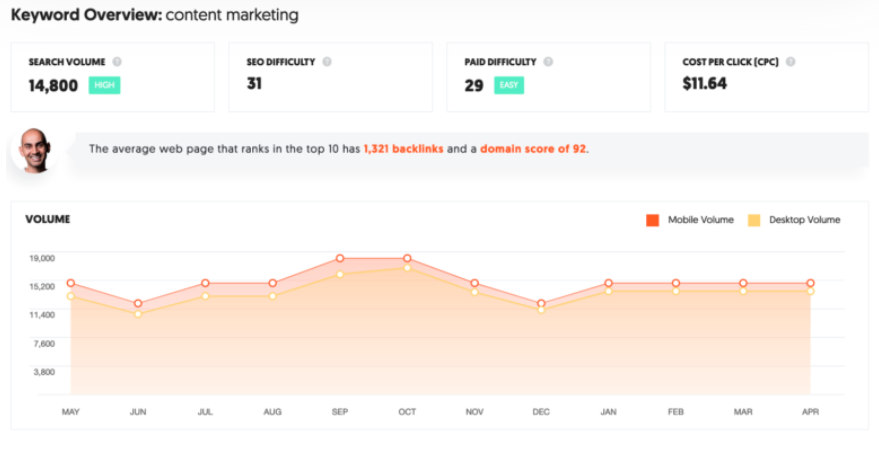 5. Ahrefs Keyword tool
While Ahrefs is an all-in-one SEO tool, its Keyword tool offers more insights you will need throughout the keyword research phase.
Whether you need to find an exact keyword's search volume or looking for viral key phrases in your niche, this tool will play a critical role. Being one of the most advanced SEO software in the market, Ahrefs is undoubtedly one of the best SEO tools.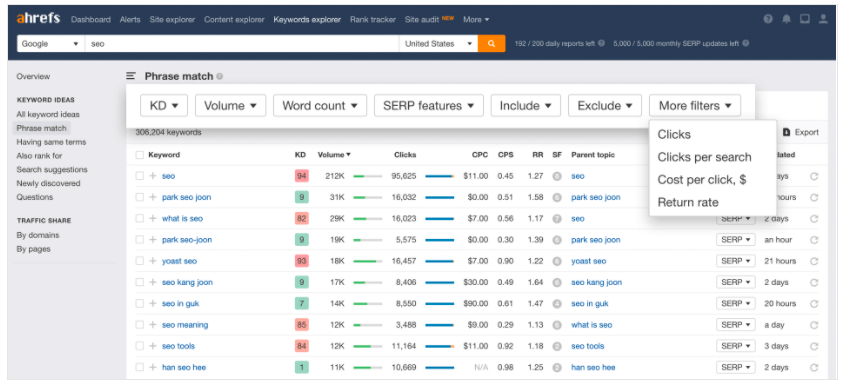 And while Ahrefs is highly competitive, it's not free, so you'll have to subscribe to one of its pricing plans.
6. Answer the Public tool
Answer the Public is one of the best SEO tools that help you identify the questions people are searching the internet in your niche. The tool crawls the web, pulling search queries from several search engines, including the Google autocomplete results.
As we saw earlier, many searches are framed as questions, meaning this tool is a great resource when conducting your keyword research. Answer the Public is a freemium SEO tool meaning you may need to subscribe to access all the premium features.
If you are looking to answer the audience's most searched questions and even give your content a chance to appear in Google's featured snippet, you got to try this tool.
If you run a search for the phrase "content marketing," you'll get 62 questions broken down into either data or a visualized image. As you can see, you can pick any topic and craft content that will "answer the public."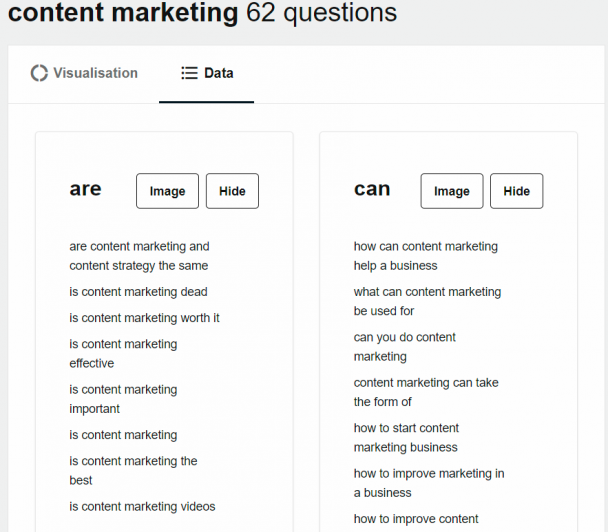 Competitive analysis tools
The goal of every business that's investing in SEO is to rank on top of the search engines. Ideally, that makes SEO all about outperforming your competition.
The need for competitive analysis is evident. HubSpot research found that 75% of searchers never go past the first page of SERP, while pages ranking 1 through 3 on the SERPs generate a 36% click-through rate, according to a survey by Search metrics.
The push to rank on top of competitors is also calling for more competitive SEO techniques, designed to win not only the search engines but also the readers, prospects, and customers.
And since nobody has the monopoly of good ideas and Google constantly updates its algorithms, it pays to monitor what your competitors are doing continually.
Sometimes you are losing traffic due to a recent Google upgrade or a change in customer behavior. Either way, you need the best competitive analysis tools to unearth these changing trends.
Below are some of the best SEO tools you can use for competitive analysis:
7. BiQ Rank Intelligence
Our BiQ Rank Intelligence helps you discover all your ranking keywords and compare them to your competitors'. This way, you can build a keyword map and choose those key phrases with the best potential of ranking on the first page.
This tool will also help you identify your ranking keyword's position and discover the content gap between your competitors and your site.
With the highly accurate ranking data, you can quickly tell everything about your keywords and then use the data to forge a winning SEO strategy.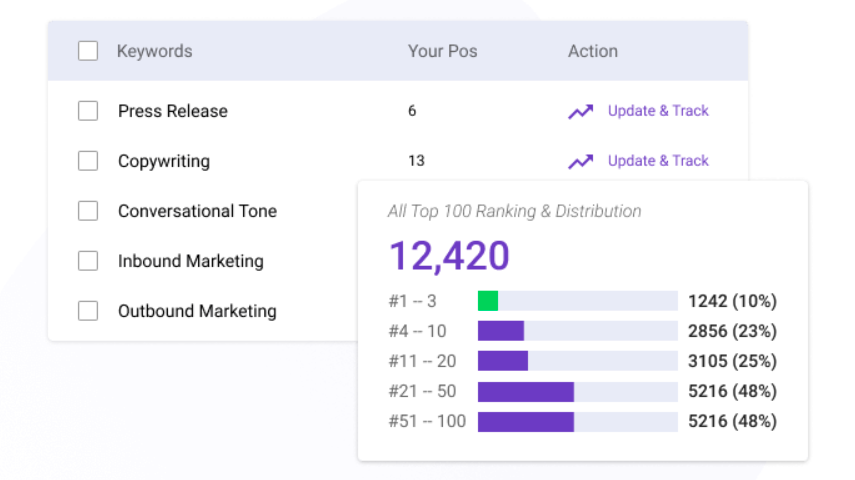 8. Spyfu SEO tool
Spyfu is an SEO competitive analysis tool that allows you to compare your site to your competitors'. You can also use this tool to keep track of every site in your niche so you can catch changes in rankings over time.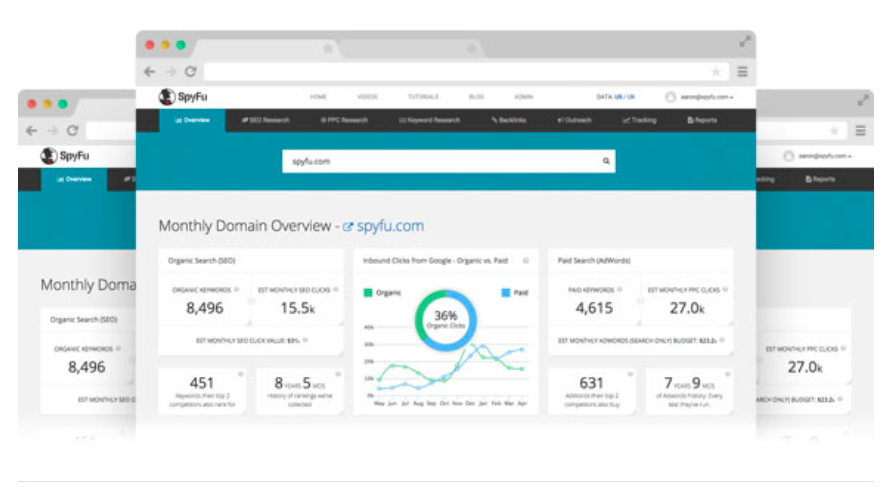 Content creation tools
Now that you have done keyword research and have the right blend of competitive analysis tools, what follows is to begin your content creation and optimization. Below are the best SEO tools you can use for content creation and optimization.
9. Google Docs
Google Docs allows you to collaborate with your client or colleagues in real-time with the option to track changes, check the edit history and other records, work offline, store and export files, auto-save, etc.
If you are on a low-budget, Google Docs will help you stay organized and quickly track your content creation progress. In other words, Google Docs is a Microsoft Word on steroids.
10. BiQ Content Intelligence
Our BiQ Content Intelligence is a one-of-a-kind SEO tool that helps you create engaging content based on your target audience's needs. This tool identifies gaps in your content strategy, and you can also use it to discover competitor's content strategies and outrank them.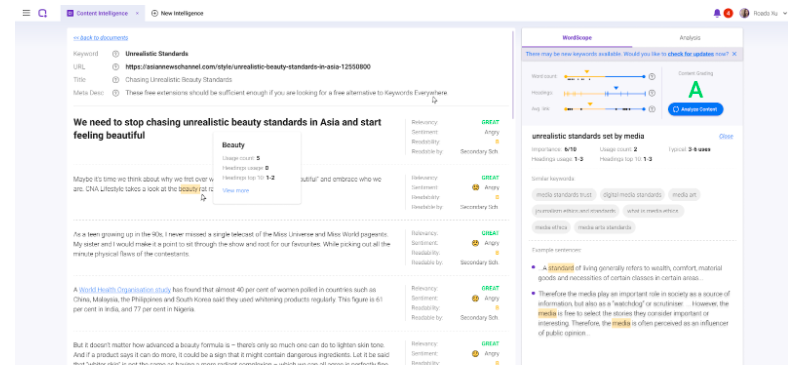 With the BiQ Content Intelligence tool, you can focus on creating content optimized for search while keeping your readers in mind. The other benefits of using our BiQ Content Intelligence includes the ability to:
Easily detect content problems.
Identify the low-hanging fruit in your SEO content marketing.
Optimize your content on the go.
11. Grammarly
Grammarly is the go-to writing assistant used by content writers, creatives, and several other professionals to proofread, edit, and optimize their documents.
As a content writer or marketer, this tool is indispensable if you are looking to create compelling content free of grammar or punctuation errors. Grammarly also offers word suggestions, so you don't become stuck if you need to make several edits.
12. Clearscope
Clearscope is one of the best SEO tools that offer unmatched content optimization. The tool features an intuitive user-interface that allows you to grade and adjust your content to fit and even exceed the competitors' standards.
Additionally, the tool will guide your content optimization, giving you clear-cut suggestions at every level – from the word count, content grade to readability.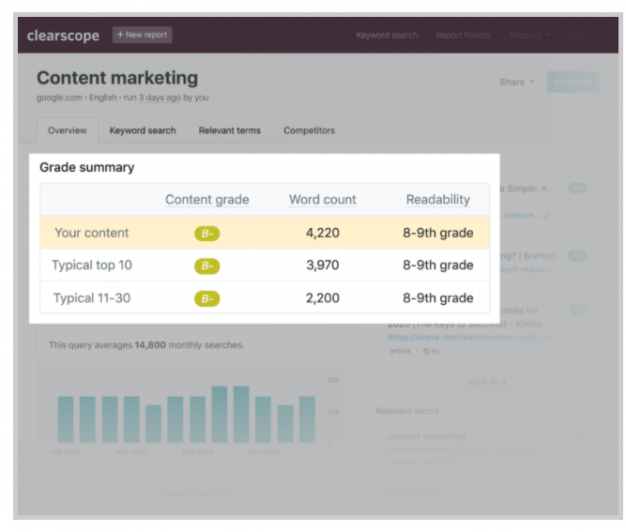 13. Hemmingway editor
Hemmingway Editor is a unique content optimization tool that qualifies as SEO software, thanks to the powerful AI-enabled editing capabilities.
Not only will this tool highlight the gray areas in your writing, but it will also make suggestions – from simple phrases to sentence structure – to make your content more engaging.
14. Funnelytics
Funnelytics is one of the best SEO tools used by digital marketers for mapping and analyzing the sales funnel for effective marketing.
With this funnel mapping tool, you can design, analyze, monitor, and improve your marketing funnels.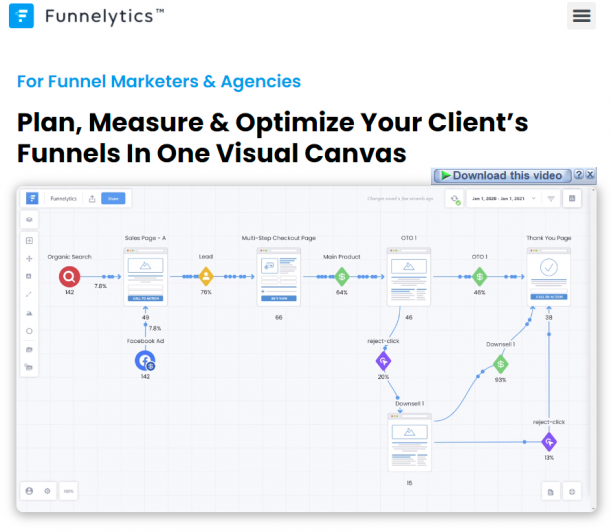 Social promotion tools
After creating engaging content that can rank on top of the search engines and that answers the searcher's intent, what's left is to share it so that more people can interact with your brand.
There are several social promotions tools in the market, some of which we've highlighted below:
15. Hootsuite
Hootsuite is a complete social media management suite that offers a little more for every social media marketing scope.
Since Hootsuite connects with over 30 platforms, you can use it to monitor all your social media progress and performance. You can also schedule posts, collect analytics and measure social media marketing ROI.
This tool is designed to be used in groups or by teammates cooperating on projects. That means you can share social media accounts without necessarily sharing passwords.
16. Buzzsumo
Buzzsumo is one of the best SEO tools used for tracking social engagements and social outreach opportunities across social media. With this tool, you can discover your content success or that of competitors', trending topics, stories, customer questions, etc.
Buzzsumo tracks every topic from your site or competitors and reports its performance so you can analyze everything quickly and conveniently. That means you won't have to spend hours scanning for the number of likes, shares, or even what people say about your content.
Rank Tracking tools
After all the hard work to get your content to rank on the search engines, you need to track and monitor your progress to improve your content marketing efforts.
Since SEO is highly competitive, your search engine rankings are never constant. Instead, they are constantly changing based on the market trends and what your competitions are doing.
Here, you want to use rank tracking tools to monitor your website rankings and take the necessary action to retain or even boost your position. Below are the best SEO tools under this category.
17. BiQ rank tracking
Our BiQ Rank Tracking tool allows you to track daily keyword and page rank movement. That way, you can quickly identify the keyword's gains or losses and act in response to secure your keyword rankings.
You can also use this tool to track only your important keywords, especially if your Google Search Console looks messy and confusing. If you need to monitor your competitor's keywords, our BiQ rank tracking will also come in handy.

18. Ahrefs Rank tracker
Ahrefs rank tracker allows you to monitor your Google rankings so you can tell how well your site ranks for a specific set of keywords. Setting up this tool is simple. All you need is to input a list of keywords, the competitors' URLs, and the keywords' target countries.
This tool will then send you regular updates with a chart performance against your competitors.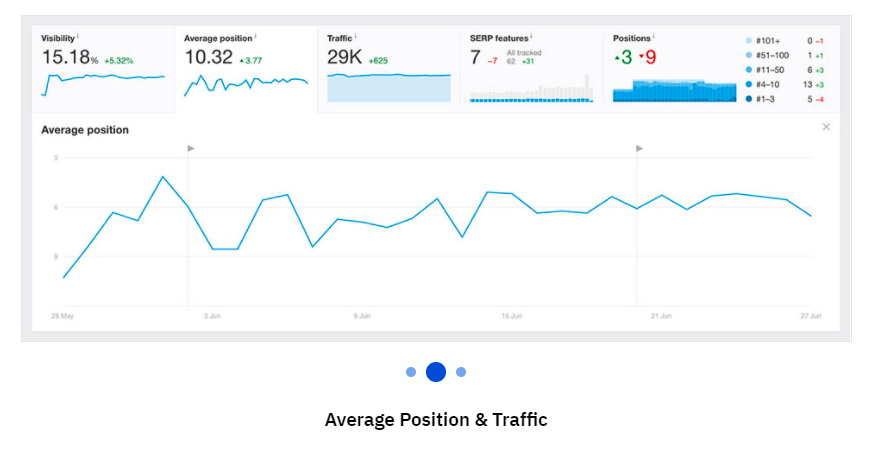 For each tracked keyword, you also get deeper insights such as the CPC, clicks, return rate, and the estimated search volume.
Conclusion
Choosing the best SEO tools is all about understanding what you need based on the market trends, business goals, and audience needs. At the end of the day, you want to create content that meets your audience's expectations while at the same time ranking on the search engines.
A winning SEO strategy begins with keyword research, content creation, organization, and optimization.
After creating high-quality and engaging content, content promotions ensure your content reaches as many people as possible.
Constant analysis and monitoring are also crucial as it tells more about your progress, what needs to change and what you should maximize to stay ahead of the curve.
That said, SEO is broad, and it takes a long-term approach to come out successful in the long run. So do make the choice to invest in the best SEO tools to help make the process easier. Try BiQ SEO Suite today!