Looking for SEO Chrome extension tools to help boost your SEO productivity? Here's 13 amazing SEO Chrome extensions that you can use to help boost your SEO effort and improve your rankings.
With more than 3.97 billion internet users worldwide, it's evident that everything, from businesses to ordinary conversations, is going online.
For marketers, this is an opportunity to penetrate potential buyers' minds and get them to take action.
However, marketing can be tedious and time-consuming, and you need the right mix of tools that will save your time and improve your SEO marketing workflow.
That said, marketers are increasingly adopting SEO browser extensions and plugins to make their day-to-day SEO tasks easier and streamlined.
There are numerous use cases of SEO extensions and plugins, like for example inspecting page rankings, crawling for dead links, etc.
SEO Chrome extensions are some of the most popular plugins in the market that offers different functionalities and flexibility for marketers. According to Statcounter, Chrome is the most widely used web browser globally, with a browser market share of 63.59%.
In this guide, we've rounded up 13 of the best SEO Chrome extensions that will help you stay ahead of the SEO curve.
Each of these powerful tools falls under a category as we've detailed below so you can jump right into the category you want.
Without further ado, let's begin.
Keyword Research Extension Tools
Keyword research is a key ingredient to building SEO dominance in any market. Aside from Google keyword planner, there are several tools that offer keyword research like Ahrefs and SEMrush.
While all these tools are great, they require that you constantly feed in some data and extract keyword insights.
For a busy marketer working on several keywords, that can be hectic and time-consuming. Here are the three SEO chrome extensions that will serve as better alternatives for you to get data on the go.
Keyword Surfer
Keyword surfer is a simple yet effective tool that works seamlessly with your chrome browser. It features an easy-to-use search bar where you can enter your target keyword and see the search volume in your location as well as globally.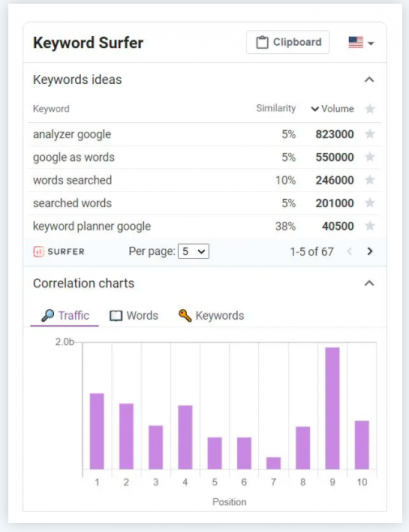 On the sidebar, this tool gives you a list of suggested keywords plus their respective search volumes.
If you scroll further down, you'll see the number of backlinks for each result. This also hints at the number of links you can add to get your content in the top-10 slot.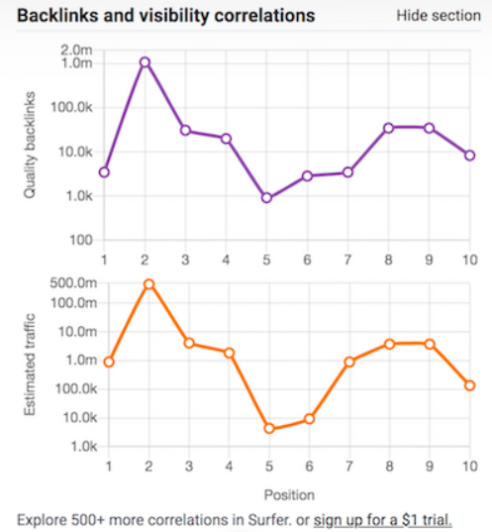 Live Keyword
This is a powerful keyword research extension tool by BiQ that gives you keyword insights as you do your search within the chrome browser.
Some of these insights include the keyword search volume, competition, CPC, and related keywords.
Live Keyword also gives you the option to export all the keyword data as a CSV file for further analysis. This is also one of the SEO chrome extensions you can use free of charge.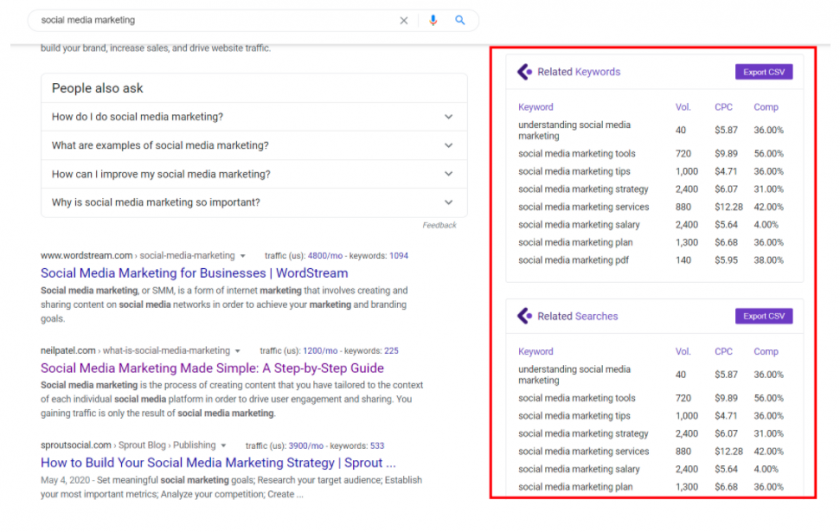 Ubersuggest Chrome
Like the SEO chrome extensions we've discussed above, Ubersuggest lets you analyze the keyword data just beside your Google search results.
Some of the keywords insights you'll get include: the keyword search volume, CPC, and SEO difficulty (SD).
Additionally, you can also export this data as a CSV file.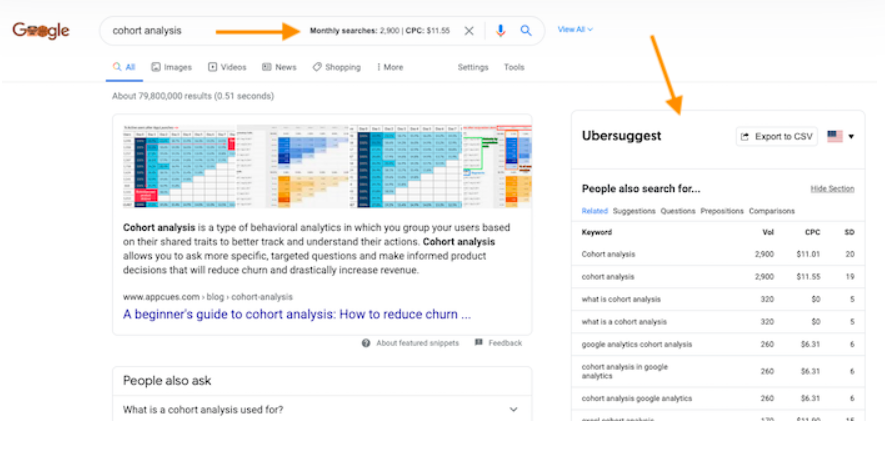 Content optimization Chrome extension
60% of marketers say inbound marketing (SEO, blog content, etc.) is their most valuable source of leads.
This explains why more marketers are now focusing on quality content to penetrate the market, set themselves as industry leaders, and win prospects and customers' trust.
Content optimization is one of the skills that differentiate the best marketers from the average.
Fixing minor yet significant things like keyword density, content flow, the relevancy of your subheadings, paragraph length, etc., is tedious; however, it can make your content more engaging.
Instead of manually optimizing your content, you want to use an SEO chrome extension to save your time. One tool you can use for content optimization is the text optimizer.
Text Optimizer
Text optimizer is more than an intelligent writing assistant. This tool analyzes your search results to check for content relevancy and intent before suggesting relevant terms you can use to craft your content.
Text optimizer is one of the SEO chrome extensions that's beginner-friendly and will help you create targeted content optimized for your readers and the search engines.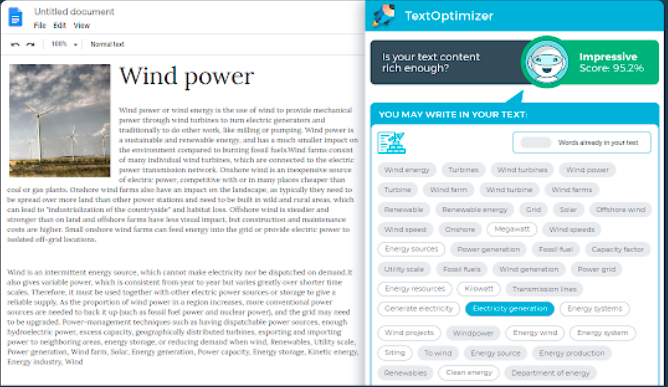 Rank Tracking Chrome extensions
The truth is that ranking on the first page of Google takes time and effort, and marketers spend considerable time tracking and analyzing their site's search engine rankings.
A slight mistake or laxity will push your page or content to rock bottom. Competition for the top keywords is high, meaning vigilance and constant tracking are necessary to stay on top.
If you were to track your site's SEO ranking manually, there are chances you will get tired along the way.
Manually tracking your tens or even hundreds of keywords isn't only tedious but also ineffective.
What you want to do is leverage SEO chrome extensions to analyze your page rank movements hourly, daily, and even weekly so you can spy on your competitors and forge a comeback.
To do this, you can use the SERPTrends chrome extension.
SERPTrends
SERPTrends SEO Chrome Extension is a smart tracking tool that checks and records a site's search engine ranking the first time you visit the site.
If you re-visit the website later, say after an hour, a day, or so, it will tell you how the page ranking has changed since you left.
SERPTrends help marketers know exactly what is happening not only on their site but also on their competitors'. But this tool doesn't stop here; it further highlights the page or site's Alexa ranking and whether it has attracted any Facebook likes.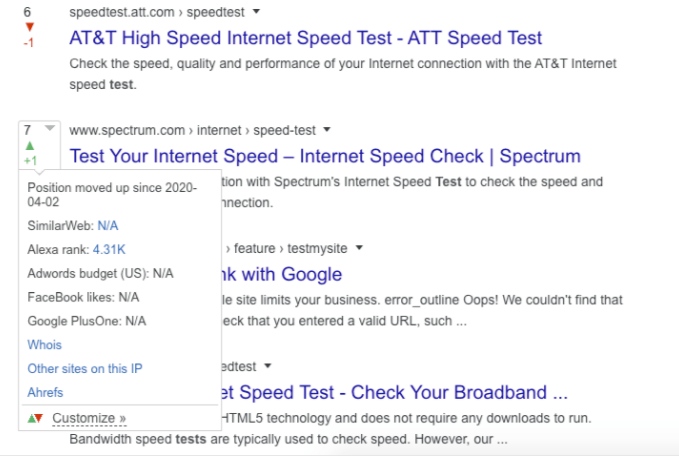 Domain Authority and Outreach
Your site's domain authority tells a lot about your position in the competitive market. Industry leaders often have high domain authority, thanks to their high-quality backlinks, great content, and well-thought-out outreach marketing campaign.
One of the mistakes most marketers make is creating high-quality content and even sharing on social channels but failing to participate in outreach and link-building campaigns.
According to Ahrefs, the more backlinks a page or site has, the more organic traffic it gets from Google.
Research has also shown that 66.31% of pages online do not have backlinks, and 73% of domains have reciprocal links – i.e., the sites they link to also link to them.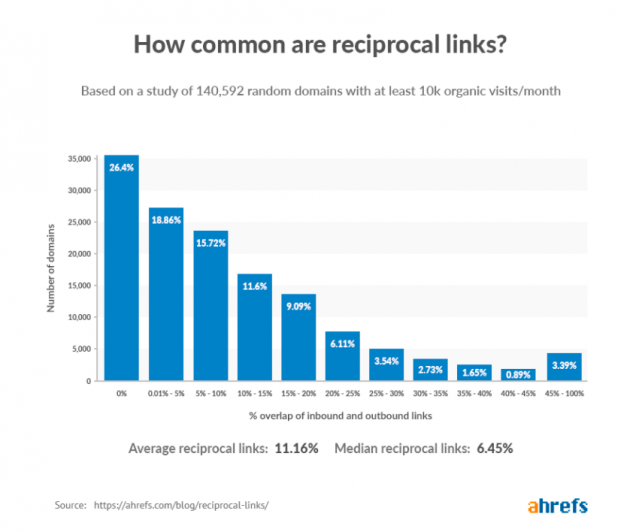 But how are you going to build your domain authority? One sure way is to work on your off-page SEO, i.e., link building, reputation management, etc.
As far as link building and outreach campaigns are concerned, below are some SEO chrome extensions you can use to build your site's relevance, authority, and trustworthiness in your niche.
Moz
MOZ is the pioneer of the SEO metric, "Domain Authority." This metric indicates the authoritativeness of your site in a specific niche. The higher the domain authority, the higher the search engine rankings.
MOZbar is one of the SEO chrome extensions that indicate the domain authority (DA) of any page across the internet. Marketers use MOZbar when they want to know the authority of a competitor site.
You can also use MOZbar to check the DA of a site before analyzing their keywords, content structure, and other SEO techniques you want to borrow. Similarly, it can help you reference or research your content from authoritative sites in the market.
SimilarWeb
If you are looking to track the traffic data from your site or that of your competitors, a SimilarWeb chrome extension will make your work easier and more convenient.
Not only is this SEO chrome extension more accurate than its competitors, but it also features several metrics and insights such as bounce rate, visits duration, and average pages per visit. However, it doesn't stop here.
SimilarWeb Chrome extension further highlights where the site traffic comes from, and the best part is that this tool has a comprehensive report of the traffic makeup.
Put it simply; this tool will sort out for you the sources of the traffic – social media, search engines, direct traffic to site, or referrals.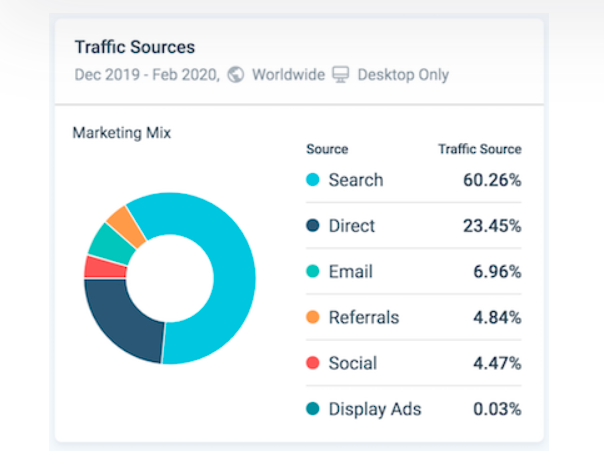 Ninja Outreach
Link building is the bread and butter of SEO, and every serious marketer must have used the Ninja Outreach tool at some point in their marketing campaigns.
While manual outreach is more accurate and perhaps more personalized than automated outreach tools, you can still leverage some SEO chrome extensions such as the Ninja
Outreach to speed up your search for email addresses associated with a given website/domain.
This tool is easy to use. You just need to navigate to the target website and click on the Ninja outreach chrome extension, and it will list all the contact information associated with the site.
Hunter
If the above outreach tool fails to deliver the desired results, you can rely on the Hunter chrome extension.
Hunter's advantage is exhaustive and deep-network it leverages to find even the most recent contact information for major websites.
This chrome extension allows you to immediately find the email address of the site you are browsing. If there're no email addresses, it will also indicate it without wasting your time.
While Hunter is one of the most consistent tools with a good track record in the market, the truth is that all outreach tools are never 100% accurate.
Sometimes the email addresses they display are obsolete or inactive. That said, you need more than one outreach tool so you can compare and contrast the results.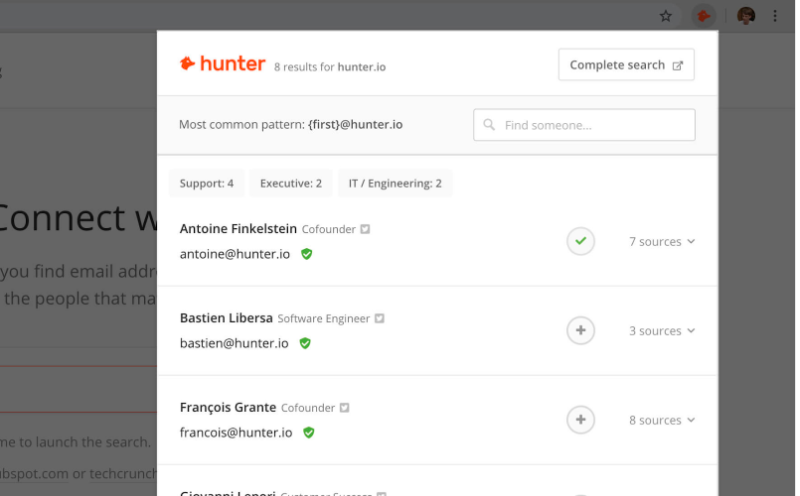 Links and URL
Another thing to keep in mind as a digital marketer is Technical SEO. Links and URLs often change over time as you restructure, delete or update your old content.
To catch links and URLs that may be broken or redirects that aren't working, you need a quick and reliable tool. An example is the Check my links SEO chrome extension.
Check my links
Check my links is one of the many SEO chrome extensions you can use to get valuable data and insights about your internal links.
This tool is easy to use as it shows you the number of links, valid redirects, and warnings, if any, of your site or that of your competitors.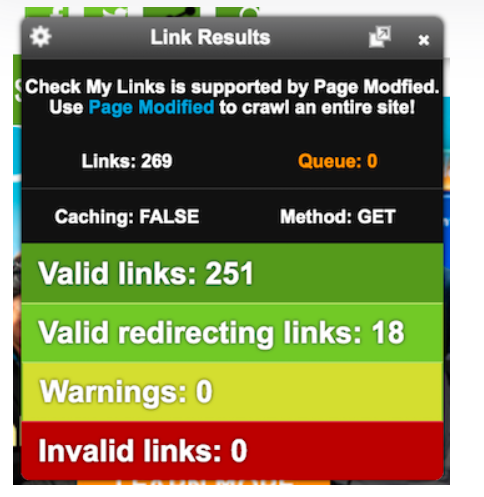 Majestic Backlink analyzer
Majestic backlink analyzer is a powerful SEO chrome extension you should use in your link-building strategy. This tool gives you a detailed overview of any site as far as backlinks are concerned.
The Majestic extension shows any site's backlink history, citation data, number of external backlinks and referring domains, as well as the trust flow, an SEO metric coined by Majestic to analyze the trustworthiness of a site based on its quality.
Majestic SEO for chrome extension is a game-changer if you are looking for a tool that will tell you more about your competitors so you can optimize your link-building strategies to emerge on top.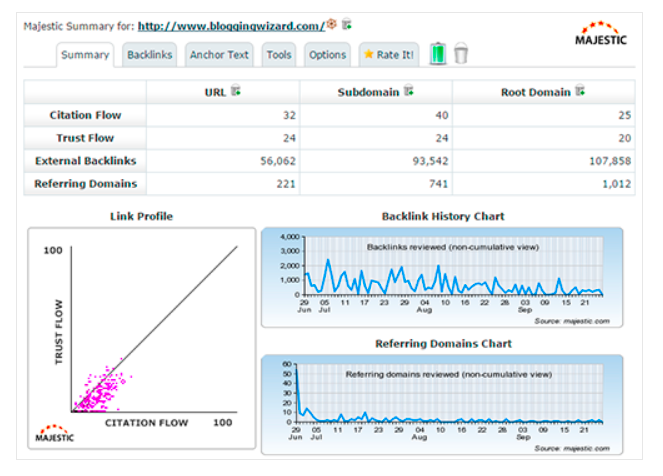 Social media
When it comes to social media marketing, there's a lot you need to keep under your watch as a digital marketer.
Trends, social engagements, likes, views, etc., are some of the insights you need to track your content and marketing efforts' performance.
Here, there's one tool that performs better than the rest – Buzzsumo.
Buzzsumo
Buzzsumo has a chrome extension that allows you to analyze any web page's real-time performance across the internet. The tool highlights everything social from Facebook engagements, Twitter shares, Pinterest pins, etc.
Buzzsumo is one of the SEO chrome extensions that are so valuable for marketers who play both offense and defense with their marketing.
For instance, you can track your competitors' content to see how their content is keeping up across the social channels. You can then go back to the drawing board and fix the minor content loopholes, republish, and share, then get back to analyze its performance.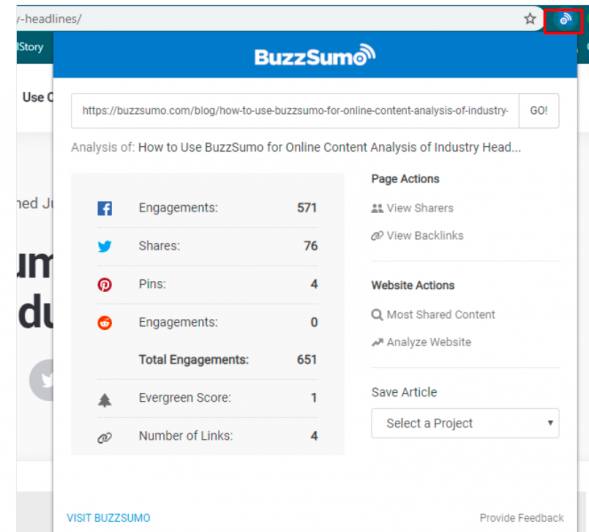 Video
If you are keen on improving your Video SEO, you need to keep up with the market trends so you can catch up with the competition.
YouTube analytics, for instance, can give you close insights on what needs to improve to get your videos to rank well. Here, there's one tool you should try, the vidIQ Vision.
vidIQ Vision for YouTube
VidIQ is one of the best video SEO chrome extensions that allows you to perform a YouTube audit while highlighting the gray areas that need improvements. This tool also gives you insights into your competitors' Video SEO strategies.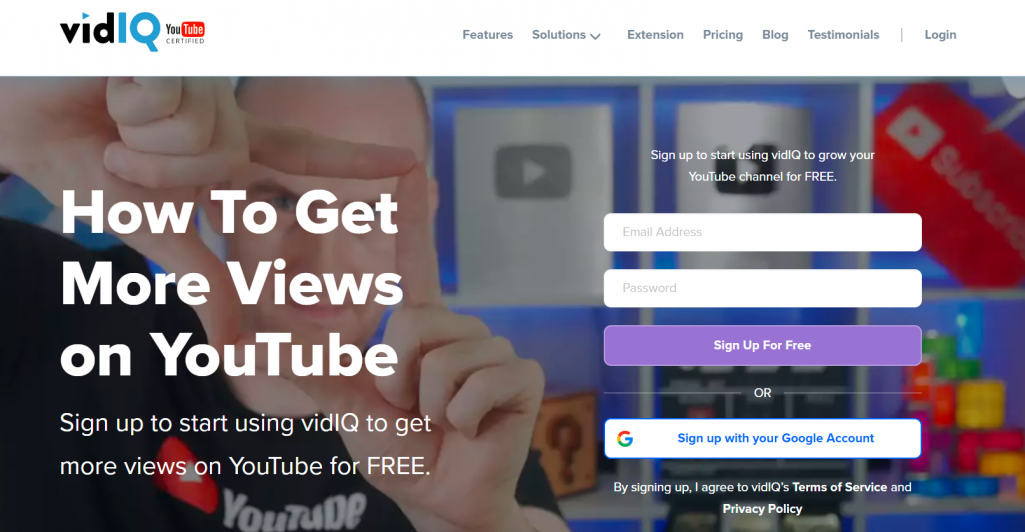 Invest in a Complete SEO Suite
Now that you've known some of the best SEO Chrome extensions that can help you access accurate and valuable data right from your browser, all you need to do is pick what works best for your business.
If you want to take your SEO game to the next level, you can go for a complete SEO suite that combines everything from keyword research, content optimization to rank tracking and more. One such tool is our BiQ Cloud SEO suite, which features four key components:
This kayword research tool will help you choose the right keywords to target in your content, from local keyword competition to high-value, long-tail keyword opportunities.
Besides that, you will also get to sort out the best keywords using metrics such as keyword value, search volume, trends, etc.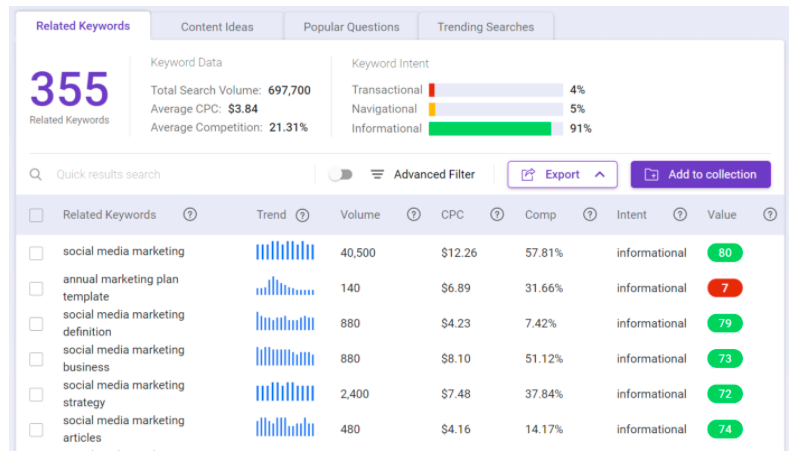 Another module in this SEO suite, the Content Intlelligence tool is all about creating high-quality and SEO-friendly content that will help you rank better on search engines.
The tool will help you better understand the topic and allow you to optimize your content by comparing your content's WordVector to the Top 10 SERPs to make sure you don't have any missing gaps.
A useful tool to discover keyword rankings, BiQ Rank Intelligence tool will allow you to reveal the the keyword postions of both your website and competitors.
You can also use it to detect potential keyword cannibalization issues, build a keyword map using competitors' data, as well as discover content gaps between your site and competitors'.
Rank tracking helps you track your daily page and keyword rank movements. You can also monitor the SERP feature for your keywords and monitor competitors' keyword rankings.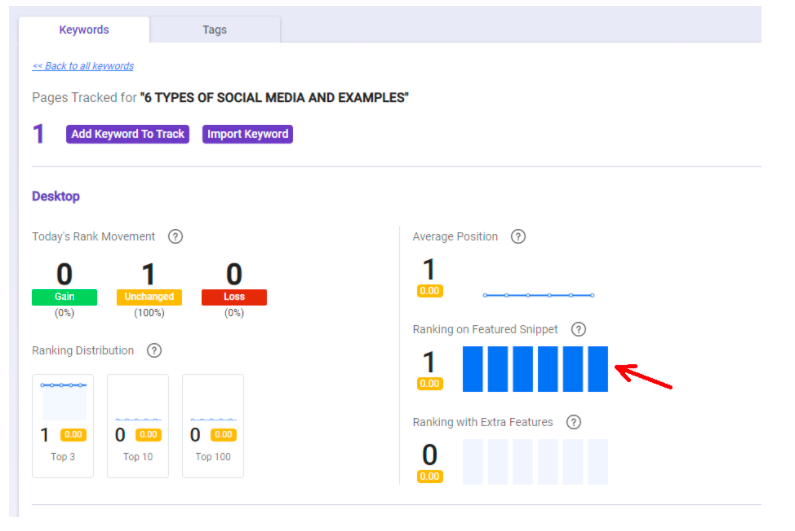 Conclusion
Boosting your SEO performance isn't as complicated as it sounds. All the SEO chrome extensions we've highlighted above will play a key role in your SEO success if you maximize them with the goal of adding value to your target audience.
Remember, marketing is a lot of work, and using smart tools like browser extensions or our BiQ SEO tool can free up much of your time so you can focus on more meaningful and productive tasks.