What is a content hub and how does it work for content marketing. In this post, we will cover content hub benefits, examples and how you can create one to boost your website traffic.
The battle for attention is getting harder and harder and it doesn't help that customers don't know what they are looking for.
They simply want information and marketers end up creating pages and pages of content hoping that they would answer the search intent to gain traction and convert them into buyers.
In content marketing, this can quickly spell disaster if you don't have the right process or place to house it.
While a company blog may seem like the place to start, it might not be enough if you are looking to rank for important industrial or niche terms which is why you need to know about the content hub.
We will get into the content hub definition in a bit, but the general idea of a content hub is that it is smaller than a website but bigger than a blog.
And the best ones help visitors find the information they would like in the form they would prefer. So, how can you use content hubs to deliver more value and generate more leads to your business?
We've detailed everything you need to know about content hubs, but first, let's define what it is and its benefits.
What is a content hub?

A content hub is a resource site or page which hosts content on a given topic meant to educate or help readers find the information they need.
In other words, a content hub can be found within your blog/website or on a dedicated microsite with the sole purpose of helping and adding value to your site visitors.
Compared to blog posts, content hubs are usually in-depth and focused on a particular topic – so content reaches higher above the competition, gaining exceptional visibility.
Ordinary blogs and websites aren't much focused, and site owners will often publish shallow content on topics they feel like without a clear strategy or order.
When readers visit such sites, they scan the topics and can quickly tell that something is missing. Hence, they look elsewhere for more comprehensive content that answers their questions with confidence and authority.
Benefits of content hubs
The competition to add value to the market and stay ahead of the rest is relatively high. Research shows that more than 4.4 Million blog posts are published every day. And 54.2% of bloggers who focus on creating long-form content claim to see higher ROI on their content marketing efforts.
But publishing such content and posting them on the various pages without order and proper synchronization may cause more harm than good.
This is why most marketers are now turning to content hubs to organize their posts into a series of resources for easy accessibility. This helps site visitors to access the information they want as fast as possible.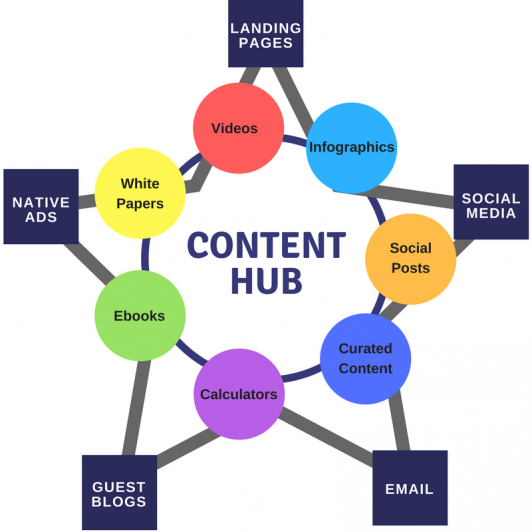 Below are the other benefits of embracing content hubs:
Build topic/ industry authority: Publishing high-quality, relevant, and trustworthy content regularly can boost your thought leadership in the topic, giving your business more authenticity in the industry.
Search Engine Optimization (SEO): By constantly creating Steller content that adds value to the readers, you'll build authority, and more people will be sharing your content and linking back to it. The results are boosted SEO and increased ranking.
Increase visibility and traffic: Since a content hub is a collection of topic-wise content relevant to a specific market, you are more likely to enjoy increased visibility on search. This results in content hub traffic, which boosts lead generations and possibly sales.
Manage digital assets: A content hub helps you manage all the blogs, infographics, and videos you create to target new readers or prospects.
Boost content engagement: Well-written content that adds direct value to the readers can build a community of consumers ready to engage by asking questions, sharing ideas, suggesting solutions, etc.
Lead generation: As much as you want to remain helpful and avoid sales pitch with your content, some prospects within the hub traffic will want to take action. You can convert these prospects and help them solve their problems, which becomes a win-win.
Types of content hubs
Before you go ahead and implement a content hub in your website, blog, or microsite, you want to understand the various types of content hubs and the roles they play in growing your business.
Only this way can you tell what best suits your business, customers, and prospects. In total, these are the five types of content hubs:
1. Classic hub & spoke
This is a popular type of content hub, often with one head page and a couple of static subpages.
Here, the topics are mostly evergreen and organized to flow systematically so the reader can quickly dive deep for additional content.
While most content doesn't change in these content hubs, updating them once in a while helps your posts stay up-to-date with the market trends. You also need to use a highly dynamic template that presents your subpages coherently.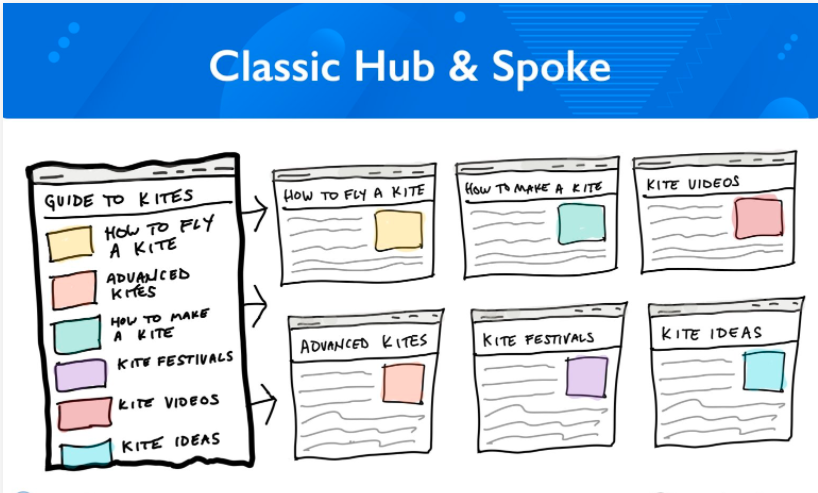 2. The content library
The content library format consists of a parent page, which lists content based on category with links to subcategory pages.
In other words, the content resides deeper in the inner pages but has been sorted out for easy access.
This content hub style works well if you have a ton of content falling in different categories. For instance, if you are in a broad niche such as content marketing, you may need to create various categories and subcategories to host many posts.
3. The topic gateway
The difference between this format and the content library is that, here, you are dealing with a more specific topic, so you have more content for each category or subcategory.
For instance, if you are creating a content hub for Tesla, you will have a dedicated page where you give a brief overview of each subcategory under the company. You can name your subcategories as; Tesla reviews, Tesla stock, Tesla Model X, etc.
The reader interested in Tesla stock (and not Tesla Reviews) will dive into the relevant subpages. This way, your site visitors will quickly navigate your content hub since they can choose what they want quickly and without clutter.
The topic gateway is perhaps the best format for displaying content about a more specific topic.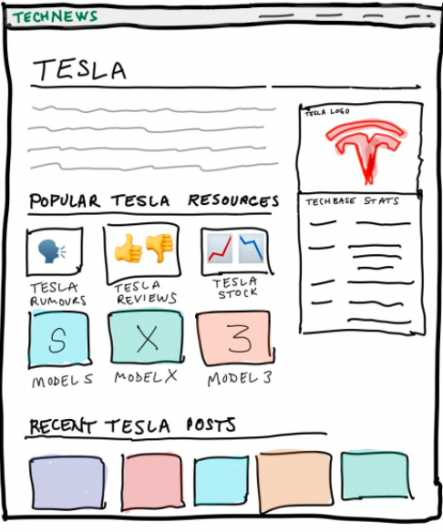 4. The content-database
The content-database represents a high-level content hub that features tons of child pages. Here, content is sorted and filtered into different classes or taxonomies.
With this format, a reader simply lands on the page, filters the content they want to be based on the available categories and subcategories, and gets specific results.
The content-database works best if you create content every day under several categories and subcategories, and you don't want your readers to feel lost every time they land on your resource page.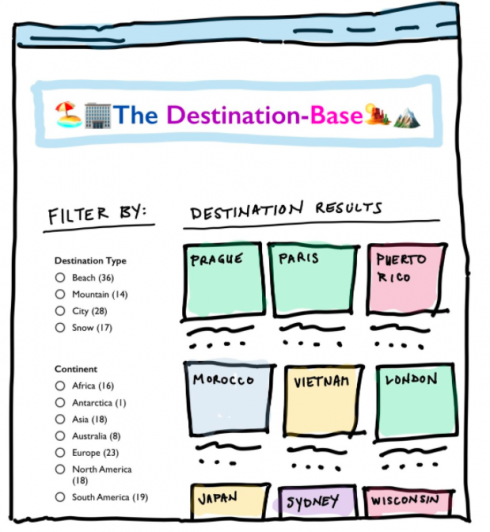 5. The topic matrix
Like the content-database, this is another high-level content hub that comprises consistent subpages across tens, hundreds, and even thousands of parent pages.
Take a look at this screenshot from Content Harmony for a clear illustration.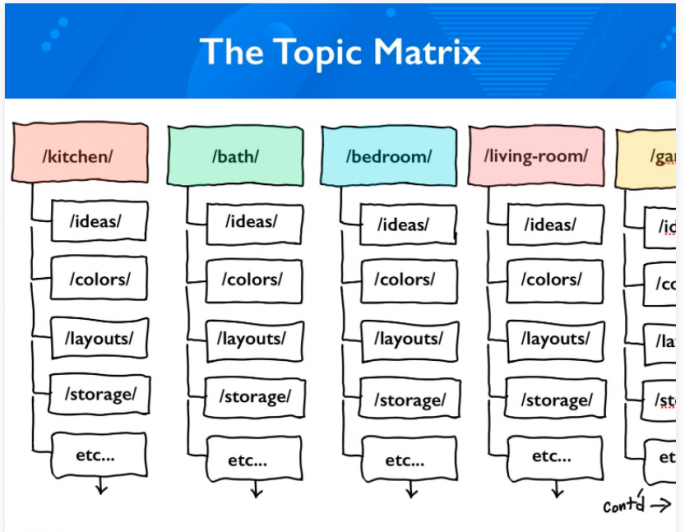 As you can see, the parent pages – kitchen, bath, bedroom, and living-room – share similar subpages (ideas, colors, layouts, and storage.)
You can quickly tell that this content structuring makes it easy for readers to find content under a given category by tracking down the subpage and the parent page.
Topic matrixes can take any shape. You can go deep with lots of subpages or wide with an extensive set of parent pages.
How to build a content hub
Now that you know the different types of content hubs, use the 4 steps below to spike your creativity and make one for your business.
1. Understand what type of hub is suitable for your business
The best way to know the content hub that works best with your business is to go deep down and understand your business, customers, and potential prospects.
Doing this will help you narrow down to what is really important for your audience – what they look for across the internet, their pain points – and how best you can offer a solution using your content hub.
2. Categorize your Content
By categorizing your content, you are literally assigning each post a category and a subcategory. This will help you design a content hub since you'll have a clearer image of your content haystack.
A quick trick to categorizing your content is to start from the topics, category, and subcategories, downwards.
This is more like a brainstorming exercise that will help you capture all the relevant pages and even child pages.
The essence is to exhaust all the relevant topics and subtopics you want to cover or have covered with your existing content and to avoid having to go back with regular corrections and updates.
When done right, this is also an opportunity to map your content strategy to your buyer journey.
The reason being, you'll have a ton of topics, subtopics, inner pages, etc.; hence you can quickly tell where you want a first-time visitor to land and learn more about your business and offerings.
Design your content hub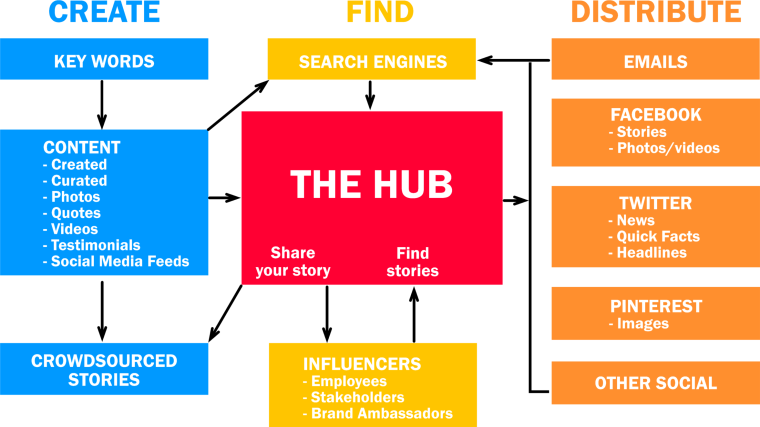 The next assignment is to actualize your research and ideas by designing a clean and visually attractive content hub.
Here, you can choose to be as creative as possible, provided you are paying attention to visuals.
Remember, the goal is to communicate with your readers in a precise and coherent manner so they can easily understand your intentions and even feel the urge to click further to the subpages.
Your brand color, design, blocks, and even font size matters the most. A rule of thumb is to develop different models or prototypes before deciding on one specific design.
When implementing the design on your site, work with a professional web designer who will optimize your site for speed and mobile. This will boost the user experience and the overall success of your content hub.
3. Keyword research and structuring of your content
Keyword research is second to none when it comes to structuring and putting up content on your hub.
The goal is to have content that reflects the searchers' intent and answers their questions without looking elsewhere again.
Here are some tips on how you can do your research around the keywords and topics you want to target.
Tip 1: Use our BiQ's Keyword Intelligence to identify the right keyword to target
Targeting those keywords your readers use to search the internet will help make your content more visible across the search.
With this tool, you can gather insights about a specific set of keywords, such as the search volume, keyword intent, competition, and value.
A rule of thumb is to choose low competition keywords with higher search volume. You should also target both short-tail and long-tail keywords.
Tip 2: Use Our BiQ's Rank Intelligence to check the competitor keywords
Before coming up with a content hub, you need to map out the keywords your strongest competitors rank for. This way, you know what set of keywords work for your target audience.
To analyze your competitors, create a profile under their website domain and discover all the keywords they rank for.
After you have identified a set of keywords, you can proceed to map them out. A rule of thumb is to filter the highlighted keywords based on the URL.
If your competitor ranks for a set of keywords relevant and essential to your industry, you can borrow to use them in your content strategy.
With proper keyword research, structuring your content becomes quick and convenient. What you need to do is use all the key phrases moderately together with their related keywords.
4. Strategically publish new content.
Updating and refreshing your content is critical to ensure your content hub stays fresh and compelling to the readers.
When publishing new content, you still need to do keyword research to know what your competitors are up to. Your content should also be optimized for search.
Tip: Use BiQ's Content Intelligence to create well-optimized content
Besides creating content that's optimized for the readers, you want to make sure the search engines can easily crawl and index it for ranking.
This tool comes with a real-time editor where you can gauge your content performance through a content grader.
Using the content grader as a guide, you can quickly edit your content to achieve an "A" grade. This means your content is well-optimized and will have better-ranking chances.
Successful content hub examples
To further illustrate how content hub marketing can transform your business, look at the five examples below.
1. Goldman Sachs – Our Thinking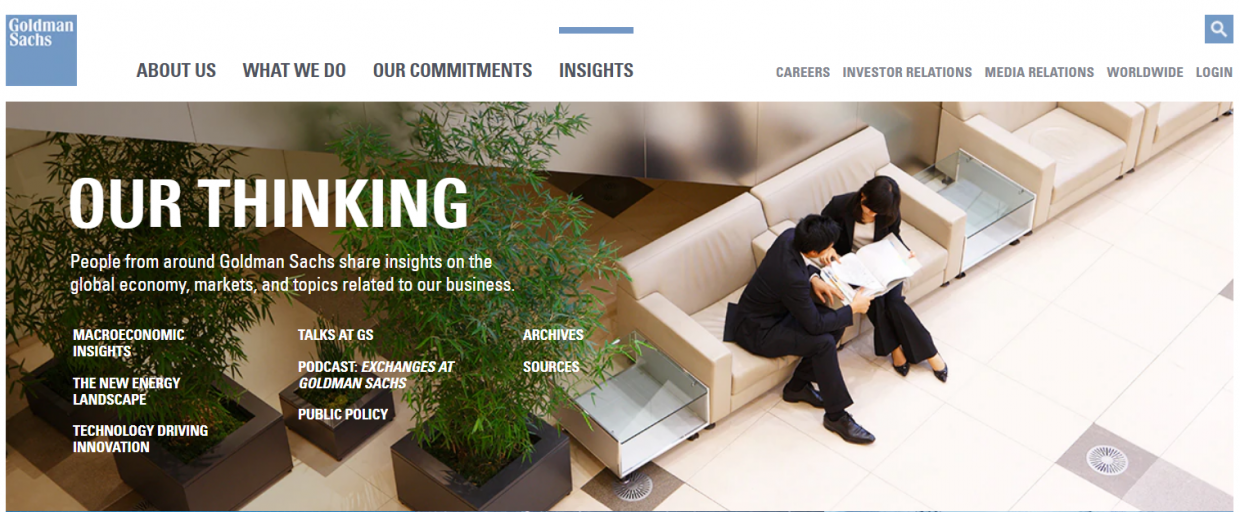 Goldman Sachs has a content hub called "Our Thinking," which contains content on various topics related to business and finance.
The company's unique and helpful content collection has made this content hub a case study for many upcoming businesses.
2. Etsy – Etsy Journal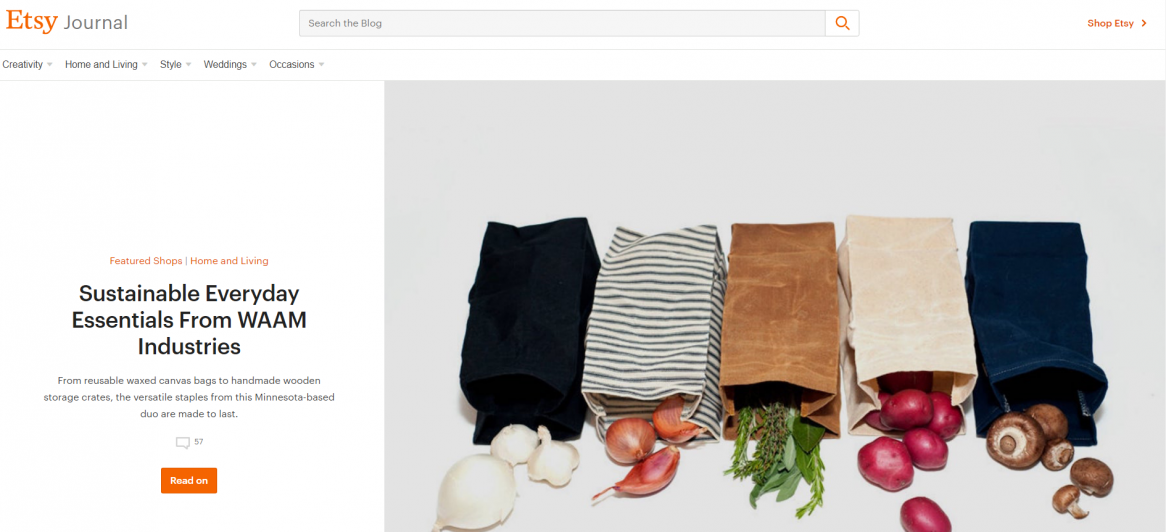 Etsy Journal is a comprehensive content hub featuring home décor, event decor, gift ideas, and fashion topics. The store highlights the best shops selling on the Etsy Marketplace, and this is one way they promote their store while adding value to the readers.
3. Unilever – All Things Hair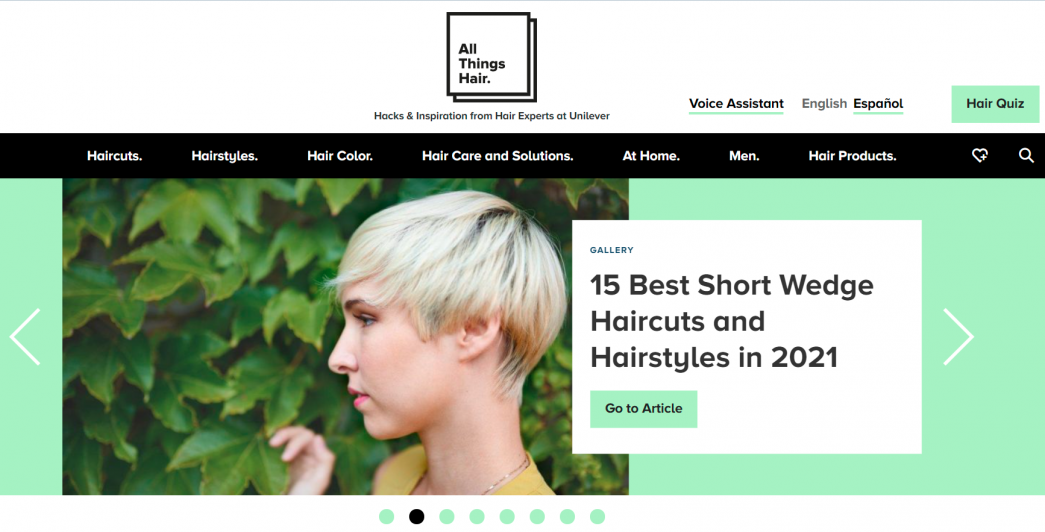 "All Things Hair" is Unilever's content hub that features content on everything beauty, from haircut tips to best shampoo reviews and hair care solutions.
"All Things Hair" won the 7th annual shorty awards in 2015, thanks to the amazing content.
4. Google – Think with Google
Google has a content hub dubbed "Think with Google" that covers all the insights marketers need to know about Google trends, their latest tools, in-depth guides, etc.
The majority of the content is curated based on reader recommendations, making it a unique and valuable resource hub.
5. HP Inc. – The Garage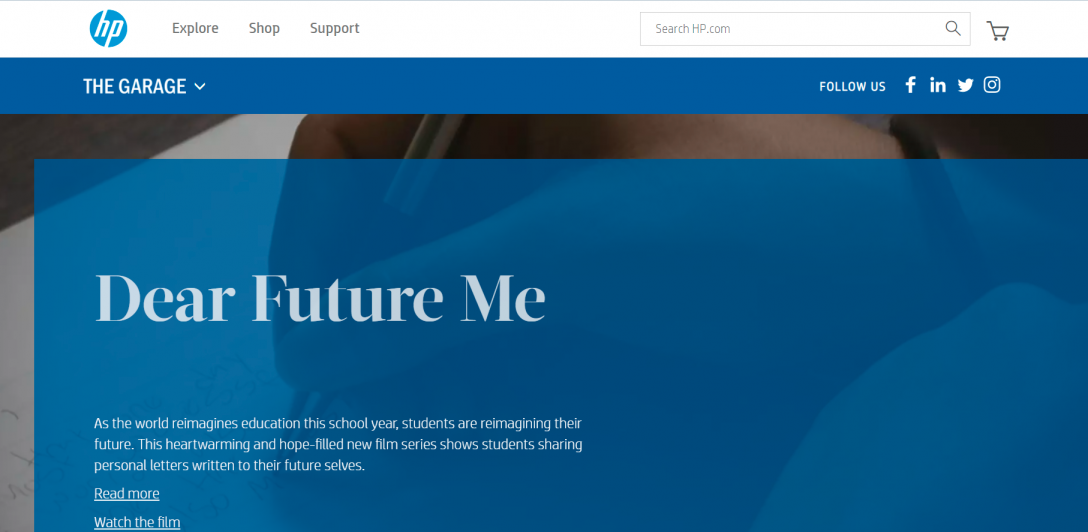 Another company that's using content hub marketing to create an impact in their niche is HP Inc., the B2C division of HP.
The company's content hub, "The Garage," aims to produce content that educates the readers on how technology can bring positive change.
The Garage is more of a storytelling platform that features insights, discoveries, and cutting-edge market trends about technology's positive impact.
Conclusion
With this, we hope you'd have understood what content hub marketing is all and is fully sold to the idea of creating one that will add value to your readers and help take your business to the next level.
That said, all the illustrations and examples above will help you reinvent your business approach to content marketing.