Want to rank your website high in the SERP? Then here are the 7 best local SEO tools to improve your local search rankings and get you ahead of your competitors.
Here are some of the best local SEO tools to use in 2021 and beyond.
SEO aims to increase your business's visibility to a targeted audience. Local SEO takes targeting even further is more important than ever today. By focusing on prospects and customers in a specific area, local SEO can drive traffic to your website and physical establishments.
An effective local SEO campaign requires geo-targeted Optimization, backlinks, business listings, and user-generated reviews. There are various local SEO tools that you can use to track, measure, and analyze your SEO efforts. These tools can help you gain a competitive advantage, especially if you are a small to medium-sized organization relying on local customers' business.
Why is Local SEO Important?
46% of all Google searches are local and 72% of consumers searching local businesses end up visiting the physical stores within five miles. If you're a local business and your local SEO isn't in order, you're missing out on opportunities every time someone searches online for your product/services.
Local SEO helps drive traffic to your physical establishment by making your information visible to your local area's online searchers. Often these are more qualified searchers. Since the leads are from consumers specifically searching for your business's products/services, the conversion rate will tend to be higher.
Local SEO may also help your business appear in Google's local 3-pack. The local 3-pack refers to the three snippets on top of Google's SERP for local searches. The snippets feature phone numbers, addresses, and direct links to the businesses.
Why is appearing in Google's local 3-pack important? According to a Moz study, 44% of users conducting a local search clicked on a 3-pack listing. This means that most consumers searching for local listings find what they're looking for in Google's local 3-pack options.
7 Local SEO Tools to Help You Stay Ahead of the Competition
1. BiQ Cloud
BiQ is a cloud-based search engine optimization suite with advanced analytical features combined with a unique usage-based price model. BiQ Cloud takes a comprehensive AI-guided approach in helping marketers improve SEO and organic search traffic all in one platform.
Its core features that comprise Keyword Intelligence, Content Intelligence, Link Intelligence, Rank Intelligence, Site Intelligence, and more can help you bolster your local SEO strategy.
BiQ's Keyword Intelligence can help you discover local keyword opportunities that are untapped.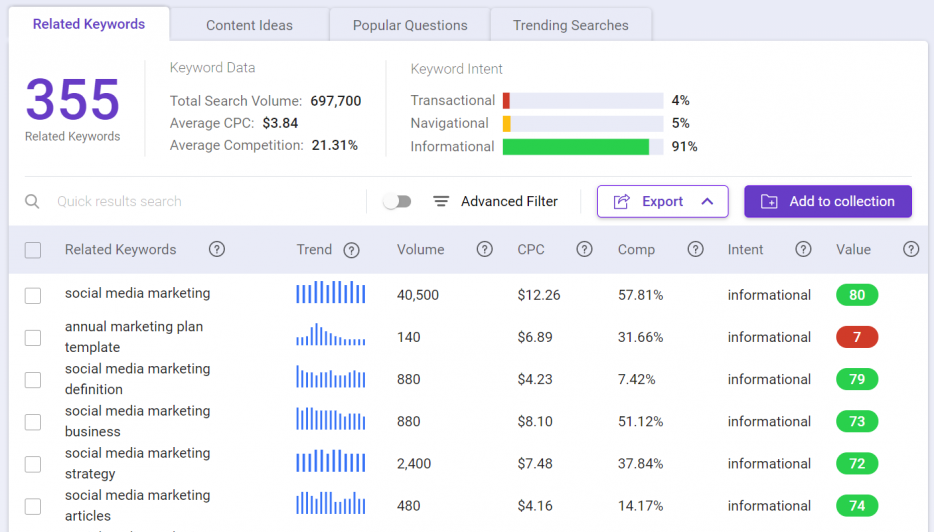 You simply key in your target keyword and select the location and languages you prefer. Keyword Intelligence will then display a list of relevant keywords used by the local people. The tool also enables you to analyze keyword search volume to inform your strategy better.
The search volume of your target keyword could be in the thousands in your preferred location. The search volume could also be in the hundreds in another location. This difference is due to different demands in different locations.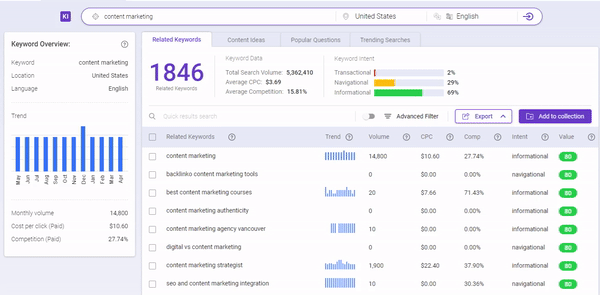 You can use this crucial insight to optimize your local SEO strategy and target the right audience. Ideally, you want to select target keywords with high search volumes and lower competition.
Choosing the right target keyword can be challenging. Keyword Intelligence comes to your aid with the keyword value feature. Keywords with higher values mean that they'll drive more traffic to your site and have lower competition.

Besides, you can also use BiQ's Keyword Intelligence to find long-tail keywords, which are an important component of local SEO and have a higher conversion rate. Enter your target keyword to view a list of related keywords with both short and long-tail keywords.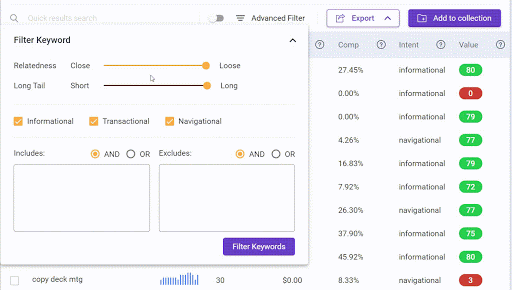 You can then click on "Advanced Filter" to view only the long-tail keyword. Keyword Intelligence also allows you to choose how related you want your long-tail keywords to be to your main keywords.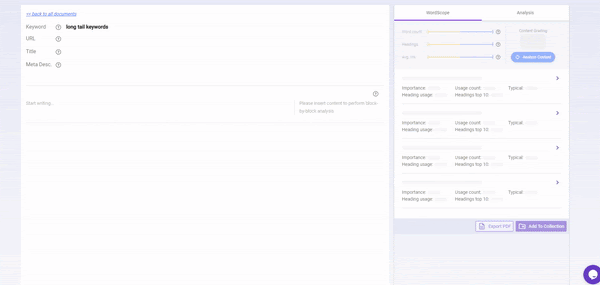 You can also use BiQ's Content Intelligence to analyze and gain an advantage over your local competitors. You type in your target keyword on the search engine and analyze the top rankings on Content Intelligence. This tool will enable you to see what your competition is doing better and the areas you can improve on.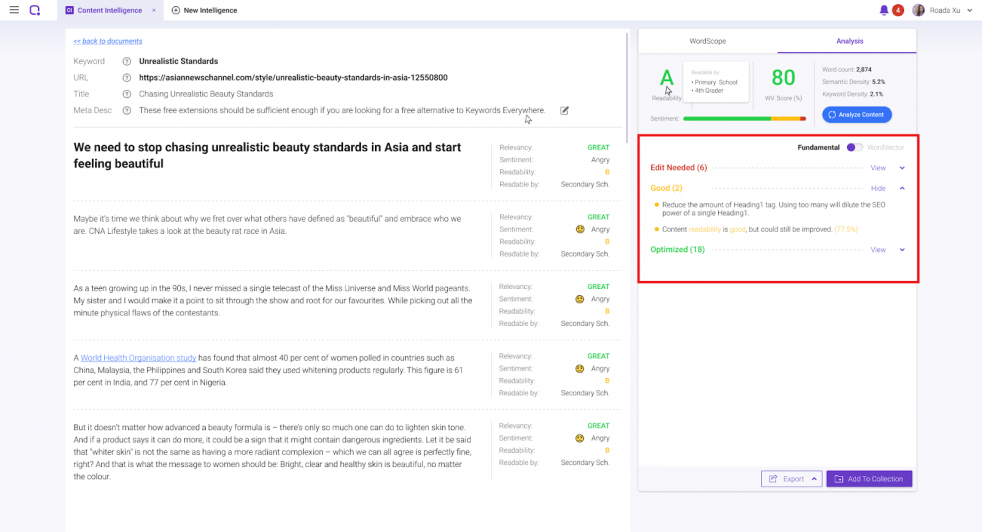 Go through all the sections in Word Vector and Fundamental SEO. The "Optimized" section contains a list of aspects your competitors have done well that improved their rankings. It's your chance to optimize your local SEO content strategy based on this insight.
Grid My Business is a grid-based local rank tracking tool that is specially designed to track and compare your Google My Business ranking performance against the top 20s in the local SERP through a specific search query.
It lets you monitor your Google My Business ranking in your local surrounding area. With these analytics, you can optimize your Google My Business listing to boost your local ranking. How you can do that is by optimizing your website, content, business description on your listing etc.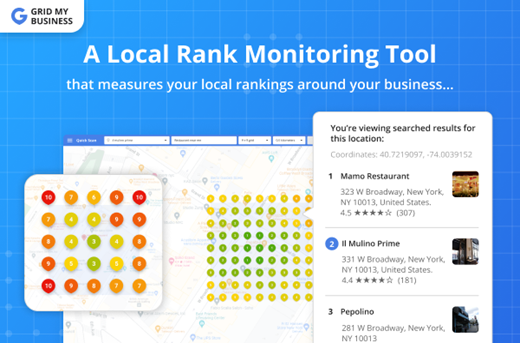 As long as your business is listed on Google Maps, Grid My Business will be able to find and gather all the relevant local ranking data on your business.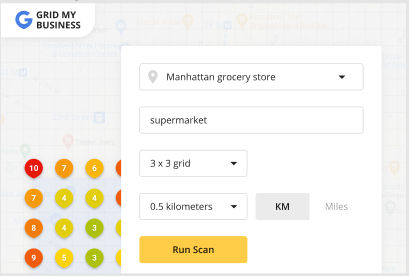 You can find your local search ranking just by entering a business or location you wish to scan and the search query of your choice. Then, set your scan parameters, run the scan and receive your report along with regular updates on your ranking.
So Grid My Business doesn't just identify your local search ranking for local search queries but also tracks and monitors them for you.
Latent Semantic Indexing (LSI) keywords can help boost your local SEO significantly. LSI keywords are search terms that are related to or similar to your target keywords. Search engines today employ semantic search to provide a more contextual and accurate understanding of the searchers' true intent.
This has changed SEO in that you must optimize your keywords not just for its target phrase but for your page's topic. One of the best free local SEO tools that can help you discover LSI keywords for your campaigns is LSIGraph. This tool focuses on getting you the most accurate LSI keywords.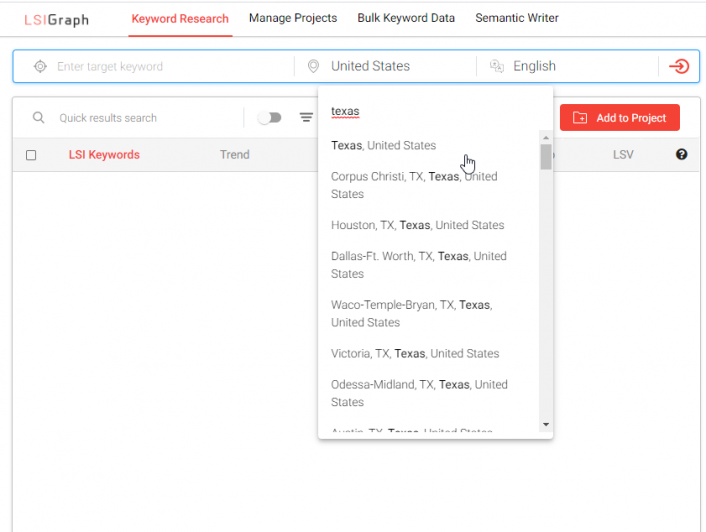 LSIGraph is one of the most popular keyword research tools with a database of over 36 million LSI keywords and counting. You will need extensive LSI keyword planning if you want to rank high for local searches since Google switched to full semantics search.
LSIGraph is easy to use as you just key in your target keyword, and the tool displays a list of related keywords. Note that LSIGraph has a premium option with additional features such as keyword search volume, keyword competition, cost per click (CPC), and Latent Semantic Value (LSV):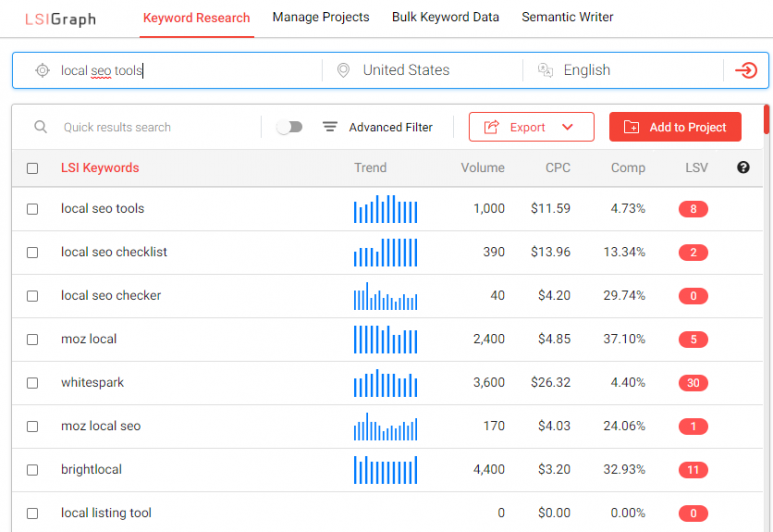 Search Volume – This allows you to determine how frequently a phrase or terms was searched within the past 12 months. This feature helps ensure your LSI keywords are up-to-date and relevant to the interests of your target audience.
Keyword Competition – This feature provides insight into the easiness or difficulty of ranking for a particular LSI keyword.
Cost Per Click – You need keyword planning not just for your content by for your local Ads too. LSIGraph extracts CPC data from Google AdWords to enable you to determine the value of a keyword.
Latent Semantic Value – LSV accounts for search volume, traffic potential, and keyword competitiveness from the tool's database in more than six years of service. LSIGraph has developed an algorithm that shows you how valuable an LSI keyword is.
The scale ranges from 0 to 100, with 0 being the least valuable and 100 the most valuable. When you optimize for local keywords with a high LSV, it'll be easier to rank, relevant, and drive highly qualified traffic to your site.
LSIGraph is not just a keyword research tool; it's also a keyword planning tool allowing you to organize your keywords list for every content and project.
SEOPressor is an SEO tool that scores the total SEO strength of your website and provides insight and recommendations on how to boost the same. It can help you optimize your on-page content to drive more traffic from local searches.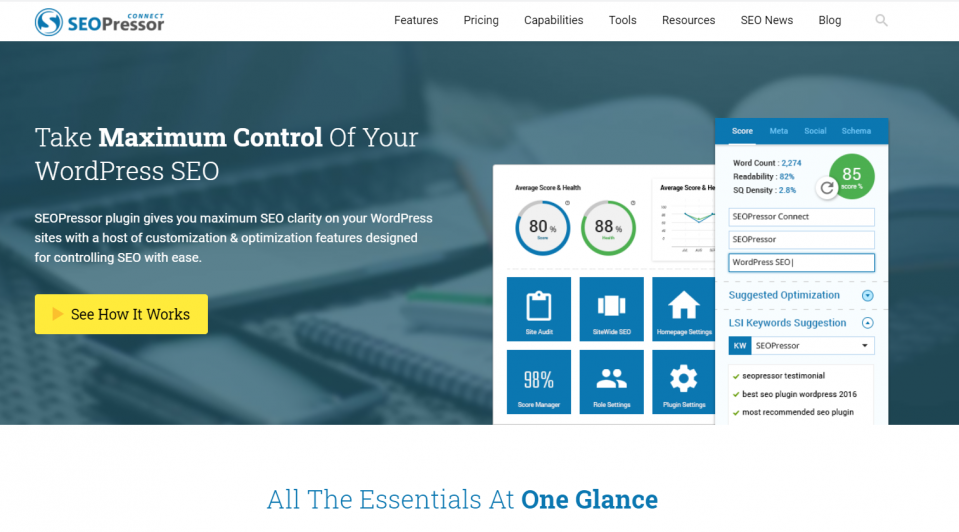 This plugin's impressive variety of features has positioned it as one of the best local SEO tools for local businesses. You can better optimize your content with three key features than SEOPressor provides. These features include the SEOPressor Score, Suggested Optimization, and LSI Keyword Suggestion.
SEOPressor score gives your content a score based on readability, word count, and semantic quality density. Suggested Optimization provides recommendations on how you can optimize your content for better search rankings. LSI keyword suggestion offers LSI keyword recommendations to use in your content and the ones missing from your content.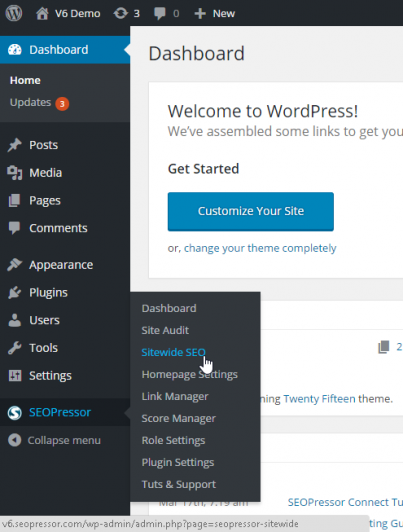 You can also maximize your exposure for local searches and publish local SEO through SEOPressor Connect. Simply navigate to "Sitewide SEO" on the SEOPressor menu, where you'll be auto-directed to the Local SEO page. Here you can fill in your address details, contact details, business operating hours, and publish local SEO.
Myles Anderson and Ed Eliot founded Bright Local back in 2009. It's a comprehensive reporting platform specifically developed for local SEO. More than 45,000 businesses, agencies, and freelancers worldwide use the local SEO services offered by Bright Local. Below are the local SEO features that Bright Local offers:
Audit Citation and NAP – This feature allows you to locate and monitor your existing citations (Names, Addresses, and Phone numbers) across numerous sites.
Google My Business Audit – This feature offers a detailed and quick audit of your Google My Business (GMB) listing.
Track Search Rankings – Allows you to track hundreds of target keywords across search engines, including Google, Yahoo, and Bing.
White-label Reporting – this is a client reporting system that easy to use via a customizable dashboard.
Monitor Online Reviews – user-generated reviews are a pivotal part of local SEO. Bright Local allows you to monitor your reviews across 20 websites, including Yelp, Facebook, TripAdvisor, Google My Business, and Foursquare.
SEO-Report Generator – generates SEO reports that are easy to read and analyze
Citation Builder and Cleaner – this service builds and fixes your citations manually across more than 1400 websites.
Moz developed Moz Local, and it has since become one of the most popular and best local SEO tools. This is due to the reputation built by the company over the last decade in the SEO domain.
Moz Local can help you boost your business's local visibility and ensure that your listings are accurate, visible across the Internet, and consistent. Moz Local also submits correct business location data to the major online directories and data aggregators.
This local SEO tool also aids you close duplicate business listings and easily update your business listings. Below are some of the feature offers by Moz Local:
Local Listings Dashboard – this feature helps you track, optimize, and manage your business listings. You also gain important insights into the performance and health of your listings.
Directory and Aggregator Submission – It submits your business listing in real-time to key data aggregators and directories.
Google My Business Sync – allows you to claim your GMB listing and synchronize changes to your GMB profile.
Real-Time Update Distribution – this feature automatically sends out updated basic/enhanced listing data across local search ecosystems.
Review Monitoring– Moz Local monitors your latest ratings and reviews on the most popular review sites. You can also respond directly o Google reviews.
Distribution Reporting – allows you to access the effectiveness of your business listings over time. It provides report metrics including Average Score, Listing Accuracy, and Listing Reach. You also have access to tracking PDF reports (automated) featuring weekly insights.
Moz local is reasonably priced with three pricing plans (essential, professional, and premium) starting from $99 per year per listing.
Local SEO Checklist is a free local SEO tool that's powered by Synup. This Local Search Optimization tool provides 40 options that detail SEO tasks that'll help you with site optimization for local search rankings.
The local SEO audit checklist helps you determine your website's aspects you'll have to optimize for local searches. The tool also has the following resources, which are all free:
Schema Scanner – this feature allows you to determine if you have relevant content with schema markup. It also lists your pages lacing schema markup.
Google Checker – This tool enables you to check whether your business listing meets Google My Business guidelines.
Small Business Checklist – a comprehensive list of the common tasks that small businesses must accomplish to materialize business ideas.
Local SEO expert Darren Shaw founded Whitespark in 2005. It has since grown into a full local SEO firm providing services and tools to help your business with local search marketing.
You can use Whitespark to build citations, earn reviews, track your rankings, and build high-quality backlinks. Below are the tools that Whitespark offers to help optimize and manage your local SEO campaigns:
Location Citation Finder – the local citation service enables you to discover the vital citation opportunities to increase your local search rankings.
Local Rank Tracker – helps with monitoring your organic and local search performance.
Reputation Builder – this feature enables you to review your business on review platforms and drive more traffic to your establishment.
Link Prospector – this feature enables you to automate your link-building efforts to discover more building opportunities.
Whitespark offers other local SEO tools, including Google Review Link Generator, Review Handout Generator, and Offline Conversion Tracker.
Conclusion
Using the local SEO tools detailed herein can help you optimize your site for local searches and stay ahead of your local competition.
Note that while these tools are advantageous, it's advisable to use them alongside other keyword research and link-building tools. Doing so will ensure that all aspects of your site's Google SEO are in place.