Are you planning to use LinkedIn to grow your business and gain recognition? Here's an article with effective LinkedIn marketing strategies to prepare you for 2022.
The right LinkedIn marketing strategy will work wonders for any B2B marketer looking to boost their personal brand or business.
LinkedIn is currently the world's largest resource for B2B marketing.
With over 660 million registered and active professionals, it would be surprising if you're not already on this platform and using it to its full potential.
This platform has all the resources and connections you need to kickstart your professional and marketing career.
Let's share with you how, but first…
What is LinkedIn?
Before we delve further into what LinkedIn marketing entails, it's important that you first understand what LinkedIn is in the context of social media channels.
You've probably heard the word LinkedIn mentioned alongside social networks like Facebook, Twitter, Instagram, etc. Well, LinkedIn is another great social media platform you can use as well. However, what sets LinkedIn apart from other social networks is that it's meant more for professionals to network and find even more connections to build their businesses.
LinkedIn is also crucial for businesses aiming to increase their brand awareness and get in touch with their audiences more.
Even so, some marketers don't yet realize that this vital platform is also a dynamic resource indexed by Google and frequently crawled by its bots. Because of this, it's even more important to optimize your personal LinkedIn profile and organization's page for the search engine giant. You never know when your profile might pop up on your target audience's screen.
Why Use LinkedIn for Marketing?
Unfortunately, not many marketers or businesses still know how to market on LinkedIn or the full potential of this social networking platform.
It's even more concerning that this tool is often the forgotten social media network.
Although business-focused, LinkedIn is still a type of social media. However, the difference when comparing it to other social media networks is its effectiveness for B2B marketing. LinkedIn marketing favors businesses of all sizes, which rely on its tools and services to succeed in the already highly competitive online space.
For that reason, we highlighted some critical reasons why LinkedIn marketing is crucial for B2B marketers:
1. Lead Generation
LinkedIn proves to be an invaluable tool—not only for generating more leads to businesses but also high-quality leads through the years.
If anything, this is reason enough to connect on this amazing social media platform today.
Sure, some businesses might be a little hesitant to connect with your brand, especially if they've never heard of you or your business. However, you'll find that many more businesses find connecting acceptable if they feel it adds value to their objectives.
LinkedIn also allows you to narrow down your potential connections based on their industry, location, and even the company. It's an effective platform to get your foot in the front door of the dream client you'd like to work for besides target customers you're looking to impress with your products.
Another great feature of LinkedIn is that it allows you to see who viewed your profile. You never know. A prospective client or customer might bump into your profile if you fit their search criterion. And they'll just need a little push to convert them into leads. Thus, the connection request button is very meaningful.
2. Brand Awareness
Social media connects people from all walks of life. However, unlike other social media networks, LinkedIn is designed specifically for business professionals in mind. Therefore, you have a platform where you can talk about your business, connect with other business professionals, share ideas in the form of posts, links, articles, etc.
Basically, you'll have access to an even broader market to build brand awareness with people that care about your business.
The platform has many available tools and services to grow your brand awareness. For instance, you can join relevant groups and stay active to spread more word about your business name and the products/services you offer.
3. Networking
You can never underestimate the importance of networking, especially if you're in the B2B industry.
While there's more value in in-person networking opportunities, they're not always realistic. There's hardly always the right time, motivation, or monetary incentive to attend numerous networking events.
Moreover, you never know who will attend those networking events or whether they fit within your target audience segment.
However, with LinkedIn, you don't have to sacrifice time out of your busy schedule or spend thousands of dollars to attend networking events. You can specifically target businesses you believe will benefit the most from your products/services.
You will also have access to other businesses that can benefit from connecting with your business.
4. Thought Leader
LinkedIn is undoubtedly the most effective channel you will find for professional content distribution. Additionally, there's no other social media platform that will help you establish your brand as an industry leader, making LinkedIn even more enticing—a must-consider option for your B2B marketing campaign.
Leadership and reputation ultimately give you more influence to identify and engage with other influencers in your industry. LinkedIn marketing provides you with the necessary tools to give your brand the marketing edge you need.
Effective LinkedIn Marketing Strategies for 2022
Just like using search engine optimization for your content and website, an optimized LinkedIn profile and pages will help increase your overall search visibility. You will appear in the search results pages, create even more leads, and win more conversions.
An effective LinkedIn strategy allows you to build strong connections with like-minded brands in your industry.
Therefore, to create more relevant connections and rank higher in the SERPs, here are the top ten steps to help you optimize your LinkedIn profile and web page:
1. Reach Out to Highly Targeted Connections and Niches
In any business niche, to truly be successful in your marketing campaign, you must learn how best to understand your target audience's tastes and interests.
What's the point of spending valuable time and resources marketing to people who have no interest in your product/service? For instance, you won't need to do much marketing (if any) on LinkedIn if the products you sell target teenagers who are still in school, for instance.
On the other hand, if your potential customers actually spend time on LinkedIn, then you might want to consider going into further detail describing your products to them.
The most effective LinkedIn marketing strategy here is to build strong connections with your target audience and then build relationships.
2. Grow Your Email Marketing List
If you're already on LinkedIn and using it to find your targeted audience or potential clients, then you know how important connecting to them is. For B2B marketing, it's highly recommended that you write highly personalized and well-crafted letters [to each of your connections], saying thank you for connecting with your brand on LinkedIn.
If they aren't already on your email marketing list, you can invite them to join your email list for even more personalized content.
It is imperative to have reciprocity in the message you're writing. You can start by telling your customers the benefits of signing up for your email list.
Let your user intent guide your messaging. Remember, you want the connection to feel as natural and seamless as possible. Don't make it look like you're demanding their email addresses. Make them want to offer you their emails and prepare to start receiving content straight to their inboxes.
3. Post High-Quality Content
Content creation is about writing high-quality and relevant content that your audience finds engaging and educative.
Also, unlike marketing on other social media platforms, marketing on LinkedIn doesn't require the use of sales and promotional content. Your content should focus more on adding value to your target audience's lives.
In fact, B2B marketers who value their audiences and put their informational needs first make up over 88% of the top content marketing performers.
Therefore, you must invest in high-quality content to share with your target audience in your LinkedIn profile. Your customers need content that will serve a purpose – whether to inform, guide, educate, inspire, or entertain them.
High-quality content and engaging content also improve the chances that visitors will share and post it on their social media pages, further increasing your overall reach.
BiQ Content Intelligence is one of the best online SEO tools you can use to draft, edit, and optimize your content before publishing on LinkedIn. This Content Intelligence tool will provide you with essential content-driven strategies to ensure you draft high-quality, SEO-driven content for your target audience.
What better way to ensure you meet your users' intent than by giving them the content they've been searching for on the internet. BiQ's Content Intelligence also has a real-time text editor that checks and grades your content as you create it, allowing you to make real-time changes and correct errors as you type.
It's the perfect tool to ensure you draft content that both the search engines and your target audience will find highly relevant and informative.
4. Optimize Your Profile for Search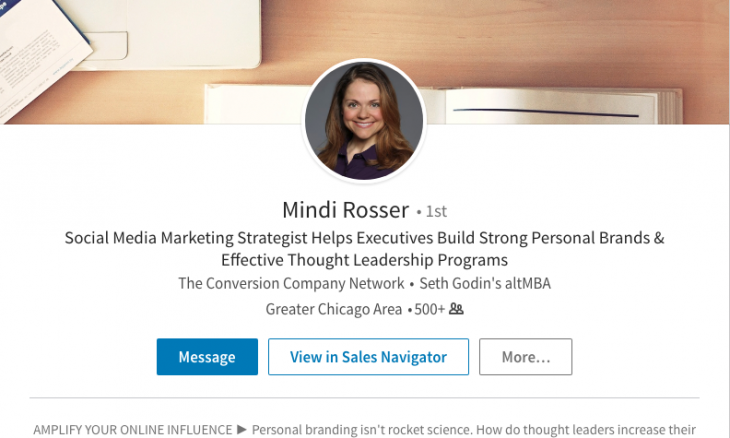 Did you know you can also use LinkedIn to create a custom profile URL for your LinkedIn account? Google and other search engines will rank customized URLs higher in organic search results, even for LinkedIn profiles and business pages.
A customized profile URL can be even more beneficial when you have many users searching for your business name or profile.
Backlinks also form the core of any SEO and Google's algorithm. Therefore, you'll need to create backlinks to boost your page rank and site visibility in the SERPs. And you can get backlinks from your LinkedIn profile easily. Simply link your profile to your website's blog posts, and you have a backlink.
BiQ Keyword Intelligence will provide you with critical data on the right keywords to target and use to link to your LinkedIn profile. With this Keyword Intelligence feature, you'll have access to relevant data on keyword volume, keyword, trends, keyword relatedness, keyword competition, and more.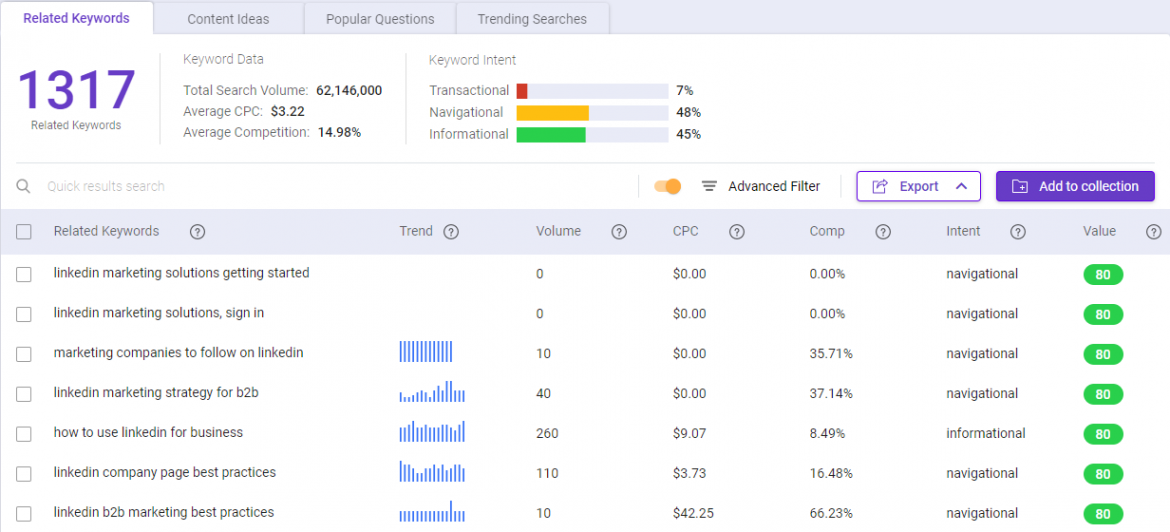 BiQ's Keyword Intelligence is the perfect SEO suite to provide you with the right keywords and key phrases to link back, based on their value. The higher your keyword value, the more potential traffic it will bring.
5. Join Groups and Stay Active
Like most social media platforms, LinkedIn also allows its users to create and join groups and participate in discussions relevant to their niche.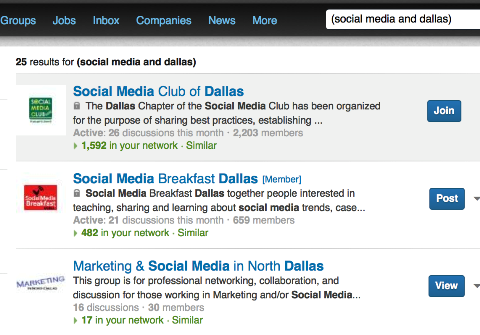 It's an excellent strategy to network with other professionals in your business niche. You can also focus more on communicating with your customers if you're more selective about the discussion groups you join.
Additionally, being a part of a LinkedIn group will help make your content more visible, thereby allowing you to connect with and interact with like-minded peers.
6. Update Regularly
Like other forms of B2B marketing, you'll also need to update your LinkedIn marketing and analytics dashboard to help you make more informed decisions for better results.
It's important that you track your LinkedIn KPIs, such as the number of followers, followers' demographics, engagement rate, impressions and reach, profile views by job title, etc.
Diving into deep waters without sufficient guidance has never yielded desired results.
7. Use Mix Media
Although LinkedIn is a professional platform, it doesn't mean you are restricted to using text-only posts.
Like other social media platforms, you can also be creative with what you post here to make your LinkedIn marketing even more engaging and interactive.
Adding visually appealing elements in your posts, such as photos, videos, gifs, infographics, etc., will help capture your target audiences' attention more effectively.
Therefore, it's always a good idea to add rich media elements into your LinkedIn marketing strategy to get an even bigger impact for both your organic and paid efforts.
8. Consider the Best Time to Post
What's the use of spending several hours creating great content if your target audience won't see it?
If you don't get your posting time right, even the best-written LinkedIn posts won't reach your target audience.
So, what's the best time to post content on LinkedIn? This information would maximize your content's exposure to professionals and potential clients on the platform.
This infographic from Oberlo recommends the best times and days to post content on LinkedIn to generate maximum exposure.
Pro tip: Tuesdays and Thursdays are usually the best times to post content on the platform. It's also best to post content in the early mornings (around 8 am), afternoon between 10 am to 10 pm. Posting in the evenings at around 5:30 pm has also proved to be very effective.
A word of advice. The best time to post content on LinkedIn depends more on your target audience and the region you're in. But you can always start with the recommendations above and track how they work out for you.
Keep testing, measuring, and optimizing. Eventually, you will find a time that performs best for your content.
9. Respond to All Comments and Messages
Another prerequisite for developing an effective LinkedIn marketing strategy is monitoring your customers' responses and messages and responding to all of them if possible.
You can also use these responses and messages to define your target audience by defining their job titles, geographic location, industry, etc. Ultimately, these messages will help you gain critical insights into your audiences' perceptions in regards to your content type, what you're doing right, what to improve, and more.
Therefore, ensure you always act upon all responses, messages, and questions from your customers in a polite, simple, and respectful tone.
10. Check LinkedIn Analytics
To ensure your LinkedIn optimization efforts are working, you must monitor and track your data regularly using LinkedIn analytics reports.
The social media platform provides LinkedIn analytics data for personal and company pages, allowing you to know the number of search appearances, profile views, and post views your profile has received.
Keeping an eye on analytics is the key to acing your LinkedIn marketing strategy and getting your desired results when using the service.
Conclusion
As you can see, the benefits of taking maximum advantage of LinkedIn marketing strategies are undeniable. LinkedIn will enhance your brand's name and help you build a credible and reliable image. After some time, your brand might even be recognized as an industry leader.
LinkedIn marketing can be a very powerful form of engagement method for individuals and companies when done right. So, use it well.