The Internet has become the biggest source of information. No matter whether you are a student or a professional, you always seek help from the internet.
There are millions of files available over the internet from which you can fetch your desired information. Because of such vast prepared information sources, the duplication of ideas has become common.
There are 75% chances that the content you are written has already been written by someone else. That is why a lot of persons do not think to be creative.
Plagiarism detection has become an essential part of many writers around the globe. The question is how to make the writings unique and plagiarism-free quickly.
In this article, we will come to know what is paraphrasing and the best paraphrasing tools. Also, we will check how it may affect our website's ranking factor.
What is Paraphrasing?
Paraphrasing is the expression of a statement that somebody has already said with a little change in words to make it unique. (Oxford Dictionary)
In simple words, you can say that you are going to make something unique. You will pick someone's statement and arrange his words in a unique pattern.

Further, you will use different synonyms in the original line or phrase. In this way, you will not have to worry that someone claims for that statement.
In short, Paraphrasing is generating variations in words to make them more attractive for the reader.
Most Critical Issue for Your Ranking
When you are working in the digital world, you might face some problems regarding ranking. Those problems will never let you rank in the higher positions of the search engine.
The most efficient way is to find those issues and solve them quickly. For this, you can use BiQ Content Intelligence. It is the best tool to analyze your website and work in the right direction.
You only have to go to the website and look for this specific section. Now, you only have to paste your published article's link in the search box.
In no time, it will show you all issues that you have to fix to boost your rankings. Keep in mind that you should switch the page to Analysis from the top section before starting the process.
The tool will show your keyword performance, overall SEO, and other critical issues. By resolving them, you can easily rank your website.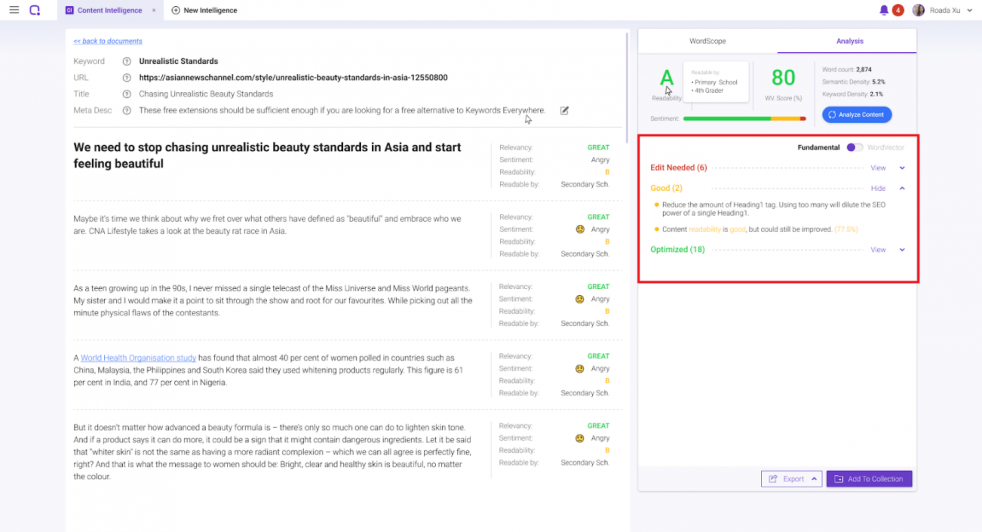 The most important factor that might harm your ranking is plagiarized content. So, you should remove it and make your writings unique on a priority basis.
For working on this issue quickly, you can Paraphrase it. The process will be simple because you only have to copy and paste the original content.
The tool will use different synonyms and arrange the words again. Therefore, you will get unique content as a result of this action.
How does Paraphrasing improve your ranking?
Plagiarized content is the most critical issue that will not let you move up. In this condition, Paraphrasing will work as a magical technique to support you.
It will create 100% unique content for your website. You can use it in your desired place without any fear. No one will be able to claim copyright on your writings.
With unique writings, you will be able to do proper SEO on your website. It will be a life-saving step for your website.
In short, it will be the best practice to save your website from de-ranking.
Best Paraphrasing Tools for Content Rewriting
A person can do paraphrasing easily if there are few lines to do that. When you have to make an entire article unique, you cannot do it without a tool.
It is better to get aid from a tool with which you can do it quickly and efficiently. There are many tools available on the internet for this job.
It is difficult to find the best tool for rewriting content and make it unique. This is where we come in and help you in the selection of the Paraphrasing tool.
In the upcoming sections, we will discuss a few of those perfect tools that you can use. Till the end, you will definitely know about the best choice for your job.
You will also get enough information on how to paraphrase a document. Let's start reading about these best tools.
Prepostseo.com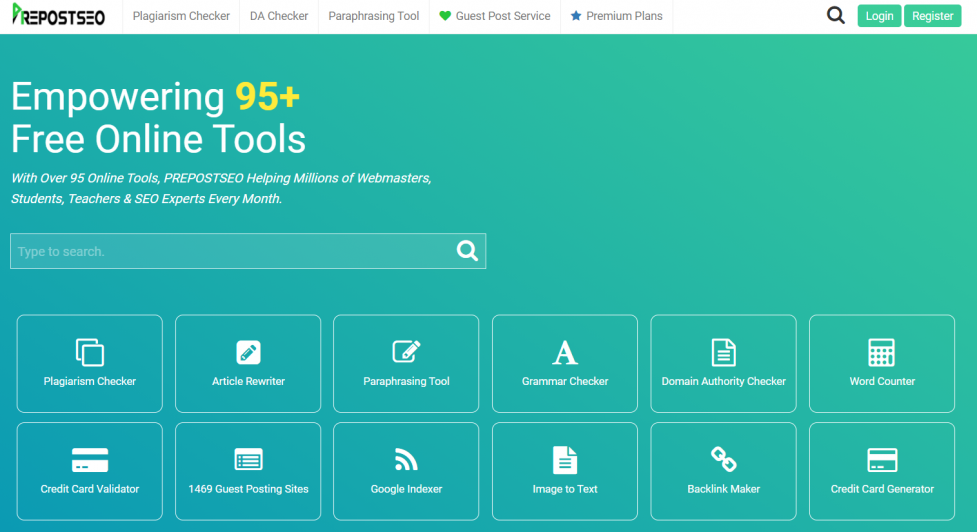 This is one of the best websites for getting your tool. You can do multiple tasks regarding your writings on this platform.
You will find the paraphrasing tool by this website at the top of any list. There are multiple reasons that we are going to discuss here in this section.
Features of Prepostseo Paraphrasing tool
This tool has multiple modes to work properly. You can choose any of them and start paraphrasing your content.
Simple mode is the first mode of this tool in which it will add synonyms of your words. The tool will choose the words on its own. So, there will be no manual addition of the user.
From the same bar, you can also choose Advanced mode. In this mode, you can check and replace the synonyms if you find them not good.
The third mode of this tool's working is AI mode. It has three subsections that you can choose from the above boxes. One of which is the same as the above actions.

But the fluency and creativity features are the best for rewriting content. With fluency, the tool will fix grammar issues and make your content error-free too.
The last mode that is named creative is used to rewrite the entire content. Almost 99% of the content will be unique from the previous content.
You can work with any mode of this tool according to your work demand.
Many paraphrasing tools just rewrite the content and provide an irregular or standard copy. But this tool is designed on the basis of advanced technology.
With its modern interface, it will provide you SEO-friendly content. Your content will be unique and fully optimized too. So, you will not have to worry about the optimization of your new content.
This tool is completely free to use. You would not need to worry about a premium subscription to the tool. You can start rephrasing your content without paying anyone.
You can rewrite as many articles as you can in a single day. Therefore, this tool will make your work quick as compared to any other tool.
Limitations of this tool
There are few limitations that you will find in this tool while working.
This tool will work properly when you are working in simple and advanced mode. But in the other two modes, you will find this issue.
You can not rewrite more than 5000 characters at a time. So, you will have to split your content into sections lesser than this number and check them one by one.
No doubt, this tool has the perfect layout for proper working. By scrolling your screen down, you will find Ads.
These ads may divert your attention from the actual work. It is also another drawback of this tool that restricts many workers to use it.
Rephrase-tool
This is another content rewriting tool. It has some features that support it to stand with the list of the top tools for this job.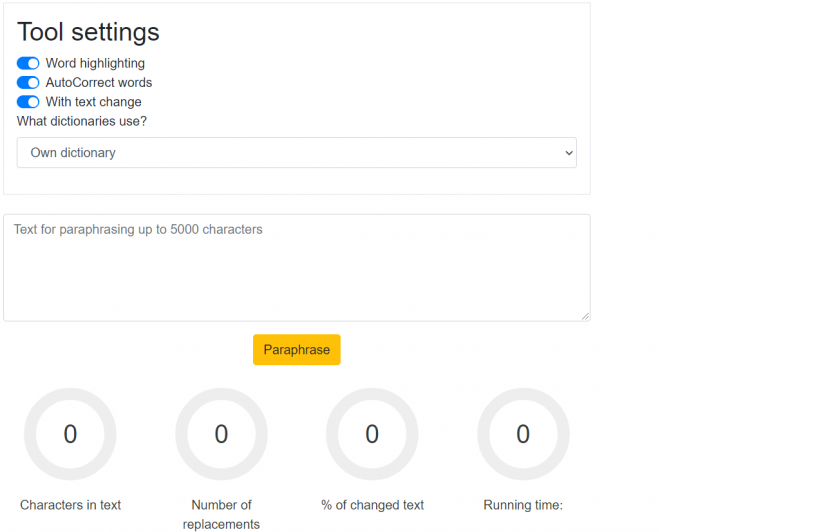 Features of Rephrase-tool
This tool does not demand you to have enough knowledge about this job. You will do it with a simple copy and paste of your content.
You will not have to do anything else except the above-mentioned. By clicking on the button, you will be able to see your original and rephrased content.

The tool has been made efficient and fast. It will enable you to get your new content instantly. Therefore, it will reduce your time.
A user who is busy with his work can use it for getting unique writings with reliable outcomes. In this section, it is better than the tool by prepostseo.
No Sign-up or Registration
A user feels irritating while registering before paraphrasing. With this tool, you can overcome this problem.
The tool will not restrict you from any feature in this case. You can use all its features without creating your account.
Limitations in Rephrase-tool
There are few limitations in this tool that you might find irritating. So, you should read them precisely from the below sections.
The biggest drawback of this tool is that you will find word count limitations in every mode. For example, you can check only 5000 characters at a time.
With the mode advancement, the characters count will reduce much. In this feature, the prepostseo tool is far better than this tool.
The tool will only highlight the words that you can change. You should have to do manual paraphrasing of your content.

For this, you can scroll your cursor on any of the highlighted words. It will show you a list of words that you can use to make the content unique.
Many editors avoid this tool usage because of this feature.
W3era.com
It is another popular tool to paraphrase the content. The tool has the capacity to convert the entire content and make it unique.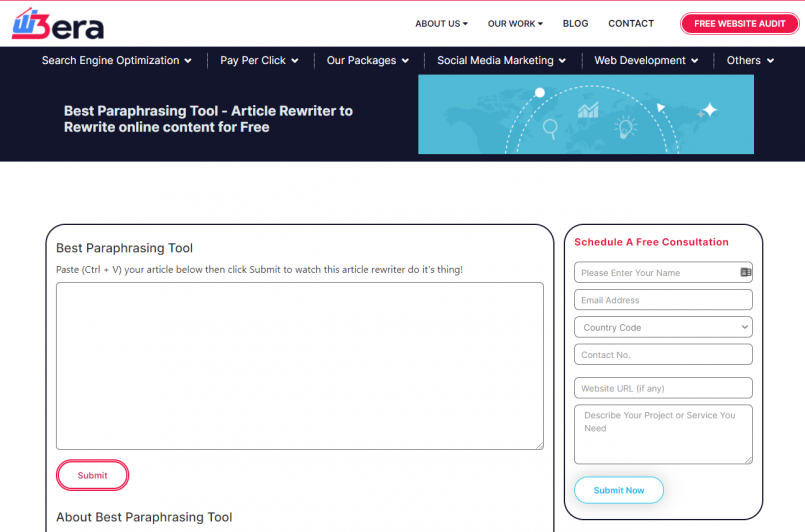 Features of the tool by W3era.com
This tool is designed with a fine interface to extract better results. It will check your content manually line by line.
Then, the tool will replace your words and use synonyms for creating a new sentence. The new lines may also be made by combining different lines of the original content.
It is better than the above two tools in this aspect. So, you can rely on it without any problem.
The main feature of this tool is fast working. You will not find this factor in many of the paraphrasing tools on the internet.
By pasting your content in the input box, you will get new content instantly. The tool will display an output box with new and unique text.
To use this tool, you will not have to register your account. You can use it freely without any hurdles. So, there will be no hassle for any user in this regard.
You only have to register your account if you want to get a premium subscription.
Limitations of the tool by W3era.com
There are some drawbacks of this tool that will restrict you from using it.
This tool is not providing free services. You would have to pay the authority to access all features of this too.
You will find both the above tools best and reliable in this regard. A user would not have to pay anything to the authorities of the tools mentioned above.
In the above tools, you can check original and new content at the same time. But you will not get this feature in this tool.
You will get input and output text boxes in different windows. That is why it will be hard for users to use this tool.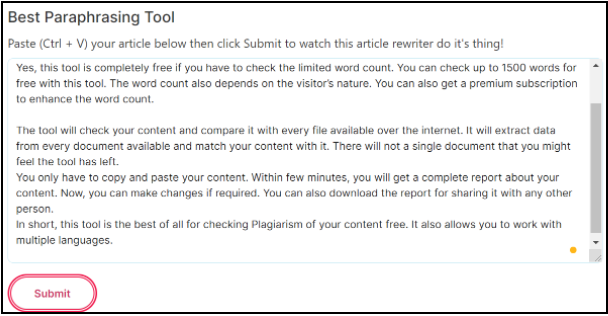 Small Screen
In comparison to the above tools, you will find its text box screen small. So, it will be difficult for the viewer to check the box properly and read the new content.
In this case, you might leave some mistakes in the new content. Therefore, you might have to face the worst outcomes with this tool.
Which one is the best tool from the above-discussed?
All the tools from the above sections are the best in their concerns. Almost every tool has distinct features that the other lacks.
Prepostseo tool is the best when you are considering the quality and word count. It will not restrict you in these sections.
In the same way, Rephrase-tool will be the best choice if you are looking for the fastest tool. The tool will work efficiently and quickly for paraphrasing your content.
In the last, the tool by W3era.com is the best if you want to rephrase the content line by line. This tool will rewrite the content manually by reading every sentence.
So, you will find all the above paraphrasing tools best according to your usage. You can use any of them without any fear of failure in your work.
Short Author's Bio: Asad Shehzad writes SEO articles for online business marketers and SEO tools users to make their Google rankings surge. His articles have appeared in a number of websites i.e., eLearning Industry, Calculators. tech and Inside Tech Box. He contributes articles about digital marketing, SEO techniques, and tech regularly.