Does your business have a functional lead funnel? Understand how a lead funnel works and how you can start generating more leads and convert prospects.
Running a business is a journey that follows a sequence of events to succeed. Based on the strategies used, some entrepreneurs may swiftly maneuver their way to the top. While others may spend years trying to make a meager presence.
For any business to penetrate through, it has to identify the right market, convert audiences into prospects, and then into actual customers. This is where the lead funnel comes into play.
What is a lead funnel and why do you need one?
Mapping a lead funnel is a systematic approach aimed at capturing your target market and guiding them through the various stages of a buyer's journey. It offers a beneficial framework that can help your business obtain clarity on your strategies and how to improve on them.
The process starts from brand awareness, through lead capture, converting a prospect, qualifying marketing, sales, and opportunities lead to converting at the customer level. From the succession, one can visualize the business journey from awareness to the conversion level.
Before creating a lead funnel for your business, you need to identify with each step and understand how your marketing strategies should shape and inform your buyer's journey.
But first let's discuss two basic types of leads: marketing and sales.
Marketing Qualified Lead (MQL): Awareness and Interest
MQL is a lead that has shown interest in your brand and has a slightly higher chance of becoming a customer.
One of the significant roles at this stage is to reach out to these prospects and educate them into making their buying decision.
In the process, there has always been confusion between awareness and interest in the marketing lead. While both of them are very crucial in the lead funnel, they target two types of prospects.
Awareness revolves around a lead who engages with your content, products, or services unintentionally.
Some of them may have found your website through a search query, submit their contact information, or downloaded freebie content. In most cases, they have a specific need they want to meet.
But since they are now aware of your brand, what you need to do next is to create rapport.
You can start by reaching out through their given contacts and providing valuable information that may persuade them to choose your brand. If you manage to make them aware of their pain point and provide a solution, you can win over them as customers.
On the other hand, there is less work required on marketing to a prospect that has already shown slight interest in your brand. They may have already been aware of your brand, and intentionally visited your website to gather information.
Depending on the strategies you use, the process of converting them into customers may take a longer or lesser time. To quicken the process, find out about your competitor's strategies and strive to surpass them. Concentrate on solving problems and clearly state that in your promotional materials.
Keep in mind that an interested prospect may not convert to an instant customer but have the potential for driving future sales.
Sales Qualified Lead (SQL): Evaluation and Taking Action
The main purpose of this level is to convert the MQL to SQL.
At this stage, often time your prospects are the people who already have a need but haven't made their mind on the best brand to partake.
There are various ways of converting your prospects into customers, and this includes presenting a demo, performing an assessment, or even making a call. You can even offer a special limited-time deal as a final push.
For an easy transition to the next level, one should analyze how the sales lead contributes to the buyer's journey.
A clear understanding of what happens in each stage can help marketers come up with actions that may help them progress to the next level.
Sales qualified lead funnel empowers a business to understand the challenges that thwart their attempts to high conversion rates.
From these lead funnel stages, one may recognize their downfalls and perfect them for the next level.
How to create a lead funnel?
Technology has brought about stiff competition in businesses. That calls for a more advanced approach to winning clients over.
A lead funnel is a vital strategy that helps companies to predict their marketing tactics. Here are three main steps on how to create a lead funnel.
1. Lead Generation: Get Found
During the marketing process, lead generation launches customer interest into specific services or products.
There are two major categories of lead generation: outbound and inbound. Outbound involves reaching out to prospects through events, phone calls, or cold emails.
While inbound focuses on attracting prospects to make inquiries about a brand through websites, social media, blogs, or content.
One advanced inbound lead generation strategy is through using PPC (pay-per-click) campaigns. This is an online advertising structure where advertisers pay when users click on online adverts. It is an enhanced business strategy as companies can earn from direct visits to a site.
For instance, Facebook is one online platform that has thrived through PPC. LinkedIn follows suit with a standardized pricing method payable through pay-per-1000 impressions (CPM) or PPC.
Organic search is another significant approach to lead generation. Also referred to as the natural search, it is an unpaid strategy for targeted website visitors. For every visit to a site, there is a specific purpose that the user wants to achieve.
For instance, one may use organic search to get information on the best baby food in the market. If you can manage to rank for the search and sell them on your brand as a solution, it would be an opportunity to convert them to clients.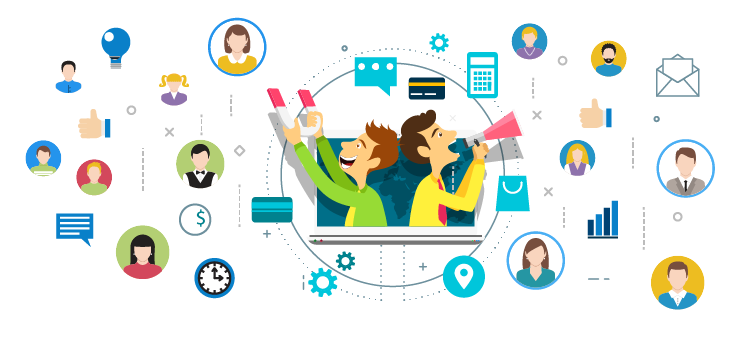 That's why a crucial way of winning clients over is through organic SEO content writing. This approach means creating optimized content for ranking and in turn organic reach to get you traffic and sales.
To create perfectly optimized content, we recommend using our handy SEO suite BiQ, and particularly our Content Intelligence feature.
All you need to do is insert your URL and keyword, then our tool will compare your content to the Top 10 ranking content in SERP and provide you with suggestions to improve your content.
For better sales leads conversion, you can also offer helpful guides as lead magnets. These can also include free services or items given to collect contacts like samples, subscriptions, e-newsletters, free events, etc.
Additionally, offline marketing plans also helps in enhancing leads by creating brand awareness. Some of them include billboards, TV adverts, signs, posters, and many others.
2. Lead Nurturing: Build Interest and Trust
If lead generation is about capturing your audience's contact information, lead nurturing is all about persuasion and influence.
At this stage, your intention should be to build and strengthen your prospect's relationships while nurturing them to become customers.
One convenient and effective way to nurture your leads is through using email campaigns. That means sending your prospects automated emails containing information that may influence their buying decision.
This is especially effective if you could segmentize your list based on their interest and where they are in the buyer's journey. Because according to Hubspot, proper email segmentation has actually increased the company's revenue up to an astounding 760%.
How they did it is by breaking down their email subscriber lists into several categories in an attempt to give precise solutions to all. Some of these groups are categorized by their purchase behavior, geographical location, interests, etc.
Of course, how you craft your email is just as important. Always make sure that you craft a personalized email that addresses your audience.
3. Lead Conversion: Convert Sales
These include strategies that businesses install to convert a prospect to become buyers or repeated customers.
One quickest way of moving your prospects down the funnel is through content writing. By creating educative content that communicates your brand value and benefits, you can keep them captivated and eager for the next lead funnel stages.
Dyson, for example, markets its appliances to people who are excited by new technology and state-of-the-art design. This makes the brand or service unique and offers something that other hairdryer brands simply don't.
Of course, there are times when some prospects add items to the shopping cart but abandon the process before closing the sale.
An automated abandoned cart email is ideal as a reminder to the lead. You do not have to wait long to respond to cart abandonment. Always make sure to send an email within an hour before your prospect seeks out alternatives from your competitors.
At the same time, cross-selling is another effective marketing tactic where companies sell complementary or interrelated items to an existing client. For instance, a car seller may also propose insurance coverage to his customers who have purchased a car.
This kills two birds with one stone. Because not only does this bring more sales for your business, but it also provides value to your customer saving them time from researching car insurance options.
Now that we have covered all three stages of the lead funnel, here are some best practices.
Best Practices to Create a Perfect Lead Funnel
Understand your target audience and their search intent
Search intent refers to the role of a user's search on a browser. When users carry out a particular search, they anticipate getting applicable information based on the question asked.
By using search intent, you identify with what your users need and enhance your brand presence by giving relevant information that matches the user's search query.
For SEO, this creates more traffic to your site which may translate to more leads. To discover credible keywords and their search intent, you can refer to BiQ's Keyword Intelligence. Here's how.
Type your target keyword in the search space. Select your preference from more than 35 languages and 100,000 locations. For this example, let's use the keyword "blogging".

BiQ will return results from the target keyword request. On the screen, you will notice an image that illustrates keywords in the keywords tab.
Check the information on the left about the target keyword which includes, PPC, keyword competition, the trend, volume of search results, and monthly capacity.
Filter your keyword options according to the intent, advanced include/ exclude filter, long tail, and relatedness.

You can also go to the content ideas tab. Here, you will get the top 10 ranked keywords in the SERP. If need be, you can filter your options like step 4.
Follow the next tab about the common questions requested by searchers in the search engine. Here, you will get important insights into how people ask questions related to your topic.
Finally, you can also choose to export your chosen keywords. You can save them as a spreadsheet or as a PDF document. Add to the 'My collection' tab for an outline of your saved keywords.
Use Chatbots and email to automate communication
Chatbots are programmed features that replicate a human voice by text chats or voice commands. Creating email chatbots may perk up your marketing efforts considerably. There is so much a chatbot can do for your brand, but you should create one with a purpose.
In your lead funnel process, choose a desirable persona that relates to your brand. Come up with a conversation illustration and make your chatbot sound more like a human. Ensure that the conversations reflect the tone of your company.
Target and Personalize your Messaging
Prospects respond better to individualized communication. Regular messaging ensures that your prospects identify with your company values. When you manage to target your market, you easily manage to give personalized solutions.
Also, it allows getting in-depth information on client preference and why they choose one brand over the other. This approach makes communication easier in all lead funnel stages.
Rule of Seven and Build Positive Touchpoints
The rule of seven says that a lead needs to come across an advertisement message at least seven times before taking any action. That explains how much time a marketer has to reach out to prospects for brand awareness.
Through the various marketing strategies, consumers interact with a certain brand to familiarize themselves. These areas get referred to as customer touchpoints. For a simplified conversation, you need to streamline your approach in the funnel leads.
Remember that most clients go through client reviews to make the final decision. Ensure that you represent your brand well by meeting them at a point of need.
Focus on Building Long-lasting Relationships
Long term customer relationships involve creating a rapport with your customers. If the right measures get put in place these unions may translate to brand loyalty. Like any other relationship, an organization has to nurture this union from the onset.
Focus on good communication and listening strategies. Remember that customers may tire from hearing too much about your brand. Come up with an engaging conversation with queries and answers. If you manage to make solid relationships, that translates to more business leads and referrals.
Track and Monitor your Funnel Performance
When you monitor your lead funnel performance, it helps you to recognize the downsides that block success. BiQ's Rank Tracking uses the latest technology to pinpoint the valuable keywords for your company and in the process enhancing your SEO rating.
From these ratings, you can measure your strengths and weaknesses and come up with a viable solution destined to optimize your lead funnel. Content writing comes hand in hand with SEO optimization. A successful website should be capable of ranking, getting traffic, and converting content to figures.
To help you create SEO content, you can always use our BiQ's Content Intelligence to create SEO-friendly content that will rank higher in SERPs and maintain a friendly tone of voice that converts.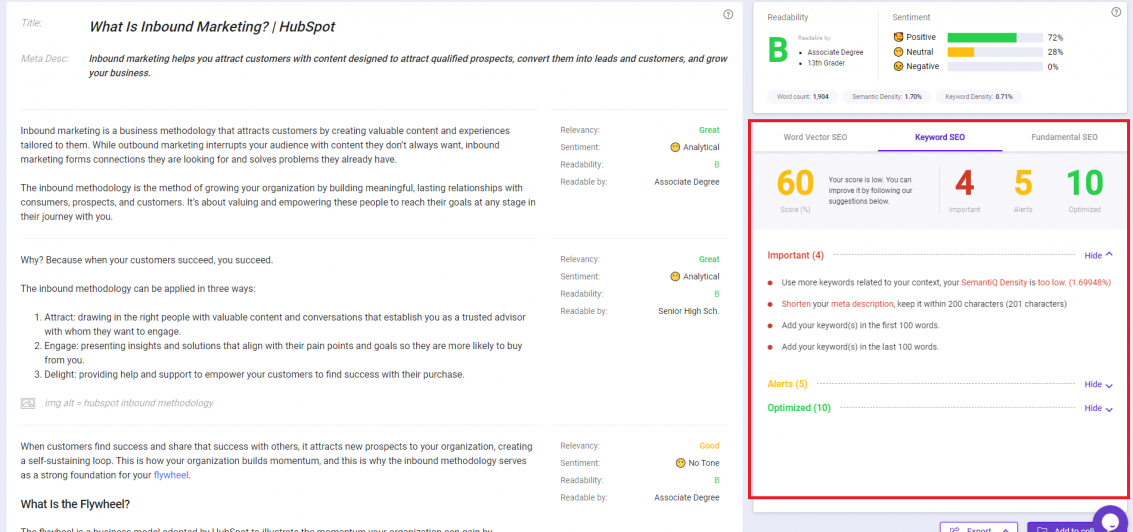 The Bottom Line
Creating a lead funnel for your organization helps you in restructuring your marketing efforts. As a result, the sales process gets less complicated and more successful. To create an effective funnel, you need to identify the role of each step in the funnel.
The overall success of your funnel depends on the attempt you make on each level. Focus on your brand growth by giving your clients viable solutions and creating lasting relationships.
A well-thought lead funnel would not only help you gather leads, but it should also convert them to paying clients. So prioritize building and optimizing your lead funnel today.