If you have a business, you should know what Customer Lifetime Value is and how much of an impact it would have on your business' sales and revenue.
There are many important marketing metrics.
However, most of them are short-term oriented. They're usually skewed by sudden traffic spikes and drops.
They can't give you a true understanding of your business and can confuse your marketing strategy.
Fortunately, there's a much more reliable way to overcome that…
Customer lifetime value (LTV).
It focuses on long-term customer retention and value.
"Gaining a customer can cost anywhere between 5X and 25X more than retaining one" – Harvard
LTV will help you increase your customers' worth and calculate how much you can spend on acquiring new ones.
You can then use this information to retain more customers and make your business more successful.
What Is a Customer Lifetime Value?
LTV represents the amount of money your customers bring you throughout the whole relationship with your business.
It concentrates on long-term profits, unlike other metrics.
That makes it the most important and reliable marketing metric because it isn't skewed by trends and traffic spikes.
You can improve it either by increasing your prices or keeping your customers working with your business longer.
Why Is It Important For Marketing?
The more your customer's worth, the more money you make.
Concentrate on your existing customers more than on acquiring new ones.
"Acquiring a new customer can cost 5X more than retaining an existing customer." – Huify
Let's look at the 3 benefits why you must increase your LTV.
1. Make more money by making your customers stick with your business longer.
"The success rate of selling to a customer you already have is 60-70%, while the success rate of selling to a new customer is 5-20%." – ClickZ
You'll generate more sales and have more satisfied customers.
2. Retain more customers by focusing on enhancing their experience.
"Increasing customer retention by 5% can increase profits from 25-95%." – SBT
It's a much more effective approach than targeting new ones.
3. Get more customers by satisfying your existing customers' needs and building strong relationships with them
"Loyal customers are 4X as likely to refer the business to others" – EM
Referrals are one of the best ways to acquire new customers.
"B2B companies with referrals have a 70% higher conversion rate, and they report a 69% faster close time on sales." – Extole
Satisfy your existing customers more and increase their LTV.
Drive more sales, get new customers, and have a profitable business.
How To Calculate LTV?
Calculating lifetime value isn't as scary as you may think.
If you have enough data, you can easily calculate it.
It'll help you get more insights on how much your customers are worth and how much you can spend on targeting new customers.
Let's look at 5 steps to calculate the LTV formula.
1. Calculate the average purchase value
Divide the total revenue by the number of orders.
This is how much your customers spend on average on one purchase.
Write down this value, you'll need it in the next steps.
2. Calculate the average purchase frequency rate
Divide the number of purchases by the number of unique customers.
However, be sure to select the specific time period. You can select a week, a month, or a year.

You'll get how often your customers purchase on average per specific period.
Write it down and continue to the next step.
3. Calculate the average customer's value
You'll now need both values you've calculated in previous steps.
Multiply the average purchase value by average purchase frequency.
You'll get the average customer's value for the specific period you've set in the previous step.
If you were looking for the number of purchases your customers make a week, you'd get how much your customer is worth a week.
4. Calculate the average customer's lifespan
This is how long your customers are working with your business. It's trickier to calculate, so we'll look at the two approaches.
The easiest one is to divide the sum of customers' lifespans by the number of customers. However, it's unlikely you have this data.
The second way is much more common.
Divide 1 by your churn rate percentage, which is the number of customers who cancelled or didn't renew their subscription.
If you don't have the access to your churn rate, you can calculate it.
Divide the sum of this year and last year's customers by this year's customers.
Divide 1 by this number and get the average customer's lifespan.
5. Calculate your customer's lifetime value
You need to calculate a profit margin first to get LTV.
Subtract your revenue by all the money it cost to make your product.
Divide that number by the revenue and multiply by 100 to get the percentage.
Multiply the result by the average customer lifespan and the average revenue.
You'll get the desired results – customer lifetime value.
However, calculate your average lifespan in years, because that's how the customer lifetime value is calculated.
How to Increase Customer Lifetime Value?
Constantly strive to increase LTV.
Retain more customers, get more sales and attract new customers.
We'll look at the 4 ways to do that.
Target The Right Audience
You can't retain customers without having some in the first place.
There are many strategies for acquiring new customers.
We'll start with blogging, which will help you gain publicity, get new customers and also retain existing ones.
"Marketers who blog consistently acquire 126% more leads than those who don't." – Neil Patel
The most important thing is to target the right audience.
Target the people that are ready to buy and persuade them that you're their best choice.
Perform Keyword Research
Choose the right keywords to target the right audience.
We'll be using BiQ Cloud Keyword Intelligence for that.
You can try it for free and follow along.
We've picked PPC campaign keyword phrase for example purposes.

Type in the keyword phrase and hit enter.
You'll get in-depth data about the keywords. You'll see the search volume, intent, and related keywords.

Focus on the audience with transactional intent.
They're almost ready to buy and you have the highest chances of turning them into customers.
Go to Advanced Filter at the top to filter the results.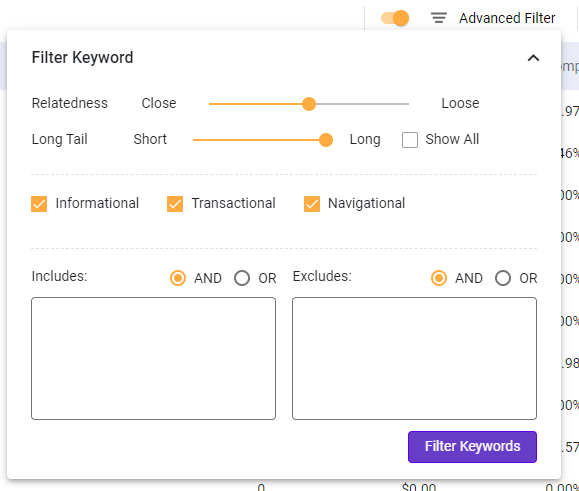 Select only the transactional intent and drag the long-tail slider all the way to the right.
Long-tail keywords are the most profitable so you should target them.
"The average conversion rate for long-tail keywords is 36%."- USM
Hit enter and you'll see the keywords you should target.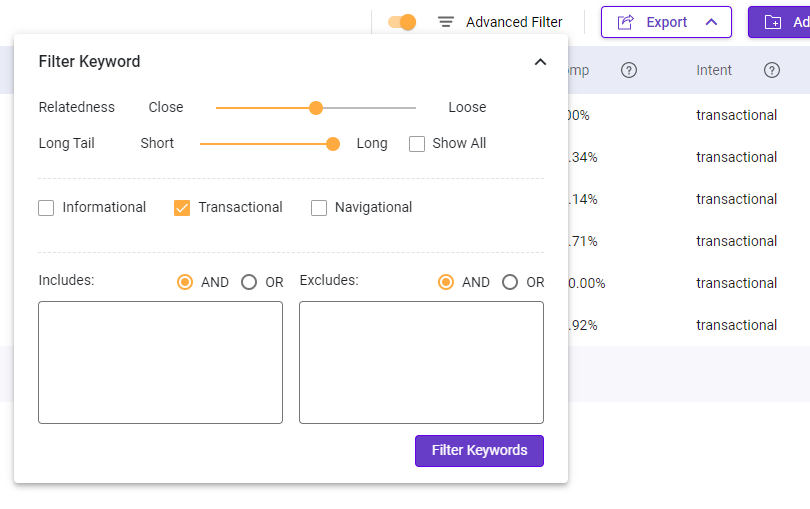 Create content and include these keywords in it.
They'll allow you to target the right audience with the highest chance of converting them into customers.
However, target the keywords with informational intent too.
They'll help you build a better relationship with your customers. You'll teach them something new and get closer with them, which can lead to another purchase.
This will increase your LTV and boost your sales.
High-End Customer Service
Customer service has a huge impact on your business.
"56% of people around the world have stopped doing business with a company because of a poor customer service experience." – Microsoft
You can't afford to lose more than 50% of your customers. However, it's worse than that…
"4 out of 10 consumers will recommend others not to frequent a business if they have had poor customer service from them." – DR
On the other hand, perfect customer service will come a long way.
"52% of consumers say they have made an additional purchase from a company after a positive customer service experience." – DR
It'll help you increase revenues, boost LTV and make your business more successful.
How to Perfect Customer Service
Focus on your customers' needs more than on your revenues.
That's the only way to perfect your customer service.
Aside from this, there are 3 other things you should follow.
Communicate with your customers. Stay personal, understand their situation and solve their problems.
"48% of consumers expect a response to social media questions and complaints within 24 hours." – Statista
Have a 24/7 customer service and answer promptly.
Stay proactive. Customers want companies to stay proactive and reach out to them.
Let's say your website is going to experience downtime.
Don't just sit back and wait for it to fix it to work again. Instead, reach out to your customers and inform them.
Stay in touch and inform your customers about what's happening.
Be positive. Your customers can be mad and very unpleasant, even aggressive.
You shouldn't try to fight back, instead understand their situation.
Be emphatic, help them solve the problem and stay nice.
Make them feel understood and cared for.
Follow the steps above and perfect customer service. Boost your LTV and retain more customers.
"Companies that excel at the customer experience drive revenues 4% to 8% higher than those of their market." – Bain
Build A Better Rapport
Your customers must trust you.
Establish trust and build a rapport with them. It's the only way to persuade them to buy.
The most effective way to do it is through email marketing.
It gives you the highest ROI and great customer retention.
"81% of businesses say that email drives customer acquisition, and 80% for retention." – Emarsys
Use email marketing to your advantage.
It'll help you increase your LTV and generate more revenues.
The 3 Ways To Increase LTV With Emails
We won't be coming into much detail about email marketing.
We'll just look at the 3 strategies you can start implementing today.
1. Promote your products
Selling through email is one of the most effective ways to sell. The reason is that emails are very personal.
You can address your customers by their name and segment your email campaign.
"Marketers who use segmented campaigns note as much as a 760% increase in revenue." – HubSpot
Show the right message to the right people and boost conversions.
2. Share discounts and coupons
Your customers want the best deal.
Sometimes they don't even need a product. They just see the discount and buy it anyway.
"7 Out of 10 People Reported Using an Emailed Discount in the Previous Week" – Blue Kangaroo
Send discount and coupon emails.
They'll help you convert more customers and drive more purchases from the retained ones.
3. Post useful content
Your emails shouldn't only consist of selling.
In fact, the majority of your content should be focused on building a better rapport with your customers and sharing something useful.
"40% of B2B marketers claim that email newsletters are the most important tactic in their content marketing strategy." – CMI
These emails will build a better rapport with your customers and prepare them to buy.
Focus your efforts on them to increase conversions.
Collect Feedback & Improve
You must constantly strive to improve.
Your customers are expecting only the best from you.
When you can't deliver, there can be serious consequences…
"After one negative experience, 51% of customers will never do business with that company again." – Newvoicemedia
However, most companies don't know about their flaws. They lose customers and wonder what's going on.
The easiest way to find out?
Ask your customer for feedback.
The 3 Ways to Ask For Feedback
Look for simplicity and speed.
Don't overwhelm your customers. Instead, make them feel like they're part of your business and you improve together.
1. Surveys
There's nothing simpler than surveys. You can set them up easily and start using them on your site.
You should then email your customers and ask them to fill it in.
"1 in 4 people will fill out a Feedback Survey sent through email." – SurveyMonkey

2. Social Media
Social media is the greatest medium for receiving surveys.
"47% of customers with a complaint will voice it on social media." – Sprout Social
Create a social media account and talk to your customers.
Listen to them, make the improvements and boost LTV.
3. Feedback Boxes
Your customers may face a small issue. However, the moment they get to the survey, they might've forgotten all about it.
Feedback boxes help you prevent it.
Get feedback from your customers the moment they're facing it and uncover minor issues.
This will help you make your products better and increase LTV.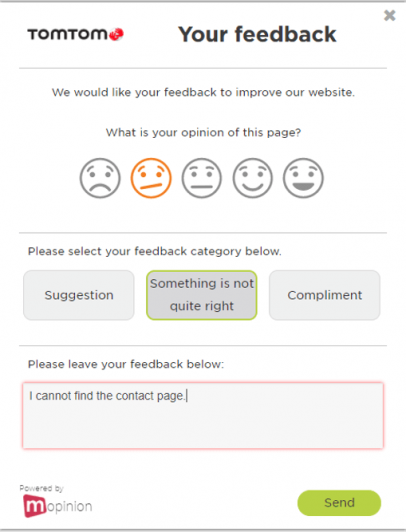 However, the most important thing is to take action.
Don't just read the feedback. Implement it immediately and make your products better.
"Every complaint ignored is 26 customers lost." – Outcry
It's the best way to stay ahead and increase LTV.
The Conclusion
Customer lifetime value is the most important marketing metric.
It focuses on long-term profits, which makes it more reliable than all other metrics.
Unfortunately, most marketers overlook its importance.
They don't care about it, nor calculate it.
Be different, stand out, and make your business more successful.
Follow the 4 strategies we've talked about and increase your LTV.
Retain more customers, make more money and get new people to your business.