Keyword difficulty tests how difficult it is to rank on first page of search results using specifically targeted keywords. You can use the metric to find high-traffic keywords that's easier to rank.
Keyword research is fundamental to any SEO procedure. It opens the doors to better ranking and efficient content optimization.
Yet, one thing that may get neglected by most SEOs is keyword difficulty.
What Is Keyword Difficulty?
Keyword difficulty is a crucial part of any keyword research undertaking.
Keyword difficulty can ignite your SEO by helping you choose the best SEO keywords.
Other common traffic-driving metrics are monthly search volume and keyword intent.
The metric tests how difficult it is to rank on the first page of Google search results using a specific targeted keyword.
If a keyword difficulty is high, it might take lots of time and resources to get to the first page of SERPS using that keyword.
At heart, the difficulty of a keyword denotes how much competition there is for that keyword.
More difficulty means that other businesses in the industry or niche are seriously targeting that keyword.
The said competitors could be industry giants that you aren't yet ready to take on.
The tougher the competition, the more challenging it becomes to rank for a particular keyword.
Keyword difficulty analysis is an effort to find keywords that have search volume with little competition.
Armed with this keyword difficulty data, SEO can be less stressful and less costly.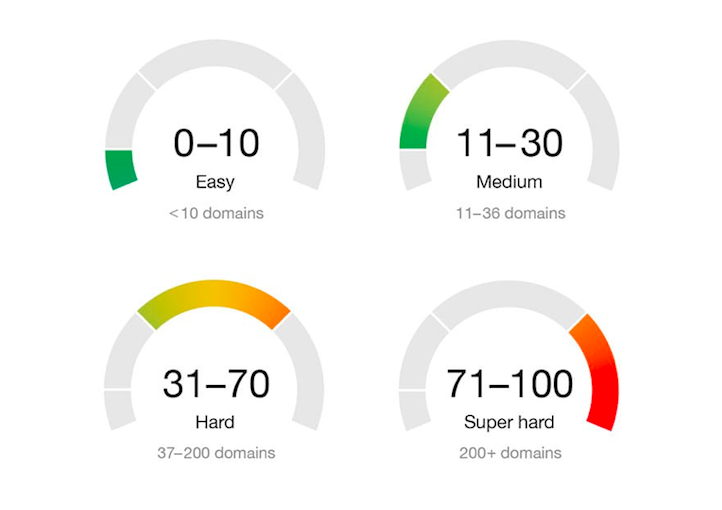 To estimate keyword difficulty, you must analyze keyword search results and look at the content, links, and keywords that the sites at the top of SERPs have.
The more popular these sites are, the more difficult it would be to rank for the keywords they use.
Without keyword difficulty analysis, SEO is dead.
You wouldn't know what to target.
You'd end up crushed by your competition.
Again.
And again.
The golden rule is this.
Do not target the extremely competitive keywords because it is hard to get ranked for them.
And do not choose extremely low competitive keywords since they have a disappointing search volume.
To that end, you have a very crucial balancing task.
Find the sweet spot between search volume and keyword difficulty, and the kingdom of search will be yours!
We'll reveal more later in this post.
You can use the keyword difficulty metric to find high-traffic keywords that are less difficult to rank for.
Search intent, content, and context should be your guiding principles.
Keyword Difficulty Score
How is keyword difficulty scored?
Google has said, time and again, that content and links are the primary determinants of your site's ranking in search results.
Keyword difficulty analysis relies on these same factors.
Since keyword difficulty checks the probability of getting on top of such results, it is influenced by the same metrics that affect SEO ranking.
Apart from content and links, you can scope down on relevance, user engagement, and so forth.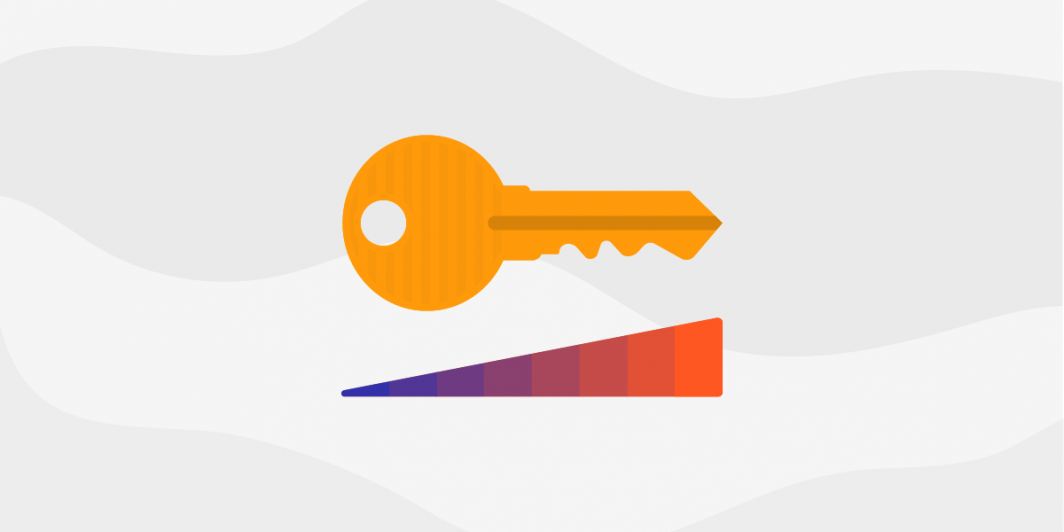 In any form of keyword difficulty analysis, you are bound to come up with three types of scores; lowly difficult, moderately difficult, and higher difficulty.
The difficulty level of a search term is measured on a scale of 0 – 100, where 0 is the lowest and 100 is the highest.
KDS >70 % – Highly Difficult
Any search phrase with a KDS metric of above 70% is extremely difficult to rank for.
They have aggressively high keywords competition. Their search volume is insanely high.
If you choose to target these keywords, you will need fierce SEO strategies like link building and competitor spying.
These are not keywords to play with if you are doing a short time promotion.
Results take a long time to show.
KDS 30-70% – Moderately Difficult
They are hard to rank for, but their difficulty is manageable.
Targeting these keywords is realistic.
And depending on your keyword intelligence, they can be highly profitable.
Search terms with a KD score of 30-70% will have a pleasantly high search volume.
Competition is there, but it's not stiff.
These keywords are the best when it comes to choosing the right keywords as you have a real chance to beat the competition.
KDS <30% – Lowly Difficult
These search terms are very easy keywords to rank for.
However, in most cases, these keywords do not have high or consistent search volumes.
But don't ignore them!
If you can identify low-key keywords with high search volumes, you'll hit pay dirt.
Target these keywords if you are a niche business.
Try to look for niche, unique, LSI keywords that are most relevant to your market and target them.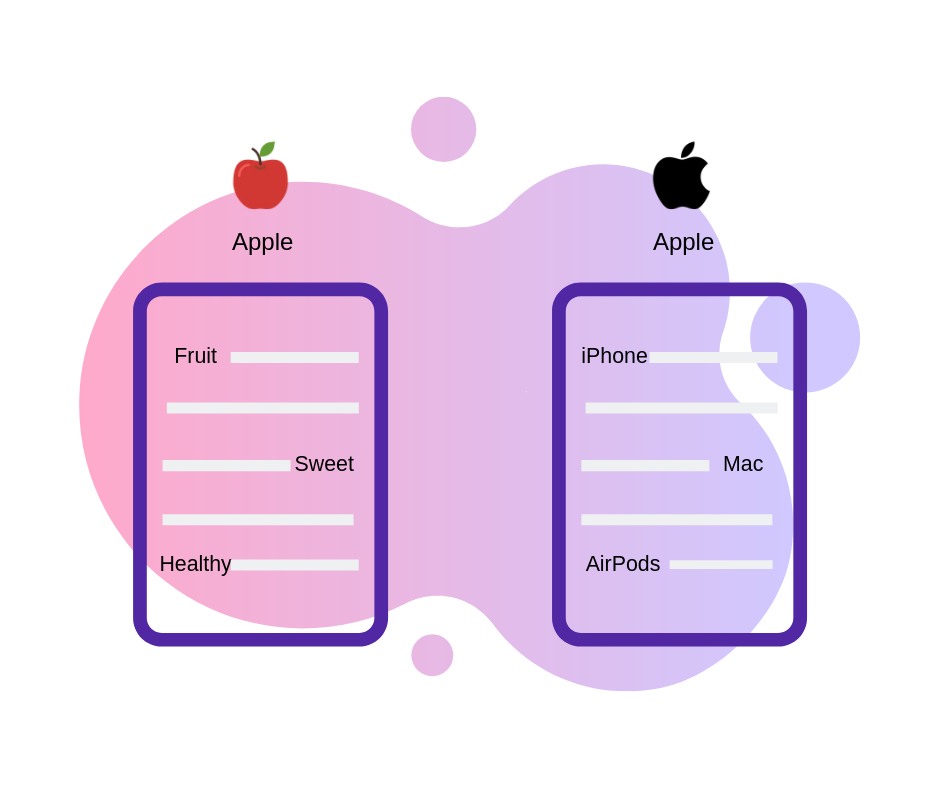 Because they are niche words, you may rank for them within 3 hours of publishing your post.
Factors That Affect Keyword Difficulty
The formula that keyword research tools use to calculate keyword difficulty varies by the tool.
However, the key factors that influence the difficulty score for keywords are the same.
As mentioned earlier, a keyword's difficulty indicates how easy or difficult it is to rank higher for that particular keyword.
We have also seen that keyword difficulty factors are similar to the SEO ranking factors.
Let's look at each much more closely.
Page Content
Content is the most instrumental factor for search engines.
And that is why it is also considered when calculating keyword difficulty.
If you have a page with high-quality, relevant content, it will rank well because Google aims to furnish users with the most useful results.
If a given target keyword has been used in several viral types of content, the search phrase is likely to have a KDS metric of KDS> 70%.
This doesn't necessarily mean that you should avoid such keywords.
You can target them, and you should!
But you'll need to upgrade your content game.
Optimize for relevance.
The content of your page should be relatable and useful to your target audience.
Optimize quality.
Try to meet or surpass the content quality of the other sites ranking for that keyword.
You can use BiQ Content Intelligence to create content that empowers you to rank for high difficulty keywords.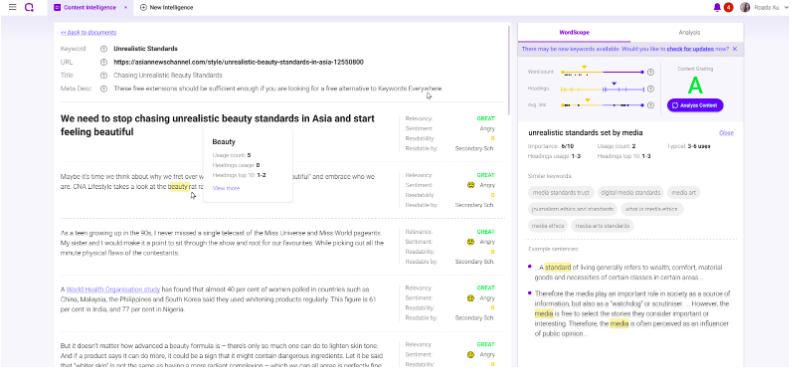 The SEO suite's content intelligence module gives practical SEO-related content strategies for your needs.
One iconic feature on this platform is the block editor with an AI writing assistant that can help you produce first-grade content.
You will be able to see Content Intelligence's real-time text editor as you write.
This is a one-of-a-kind tool that guides on keywords and composition.
Content Intelligence also provides a ton load of actionable recommendations.
It helps keep your writing on the right track and at par with your keywords' difficulty score.
BiQ Content Intelligence has customized metrics for quality.
You can expect access to custom metrics for good word counting, keyword density, related keywords, and much more.
It also allows you to use your content for faster improvements in SEO ranking.
With this tool, you can now enjoy real-time data-driven content creation to beat competition without breaking a sweat.
P/S: BiQ is the only SEO content creation suite that provides democratic cost management to users. That means that you pay only for the features that you use. BiQ is an equalizer for both startups and big corporations.
Search Intent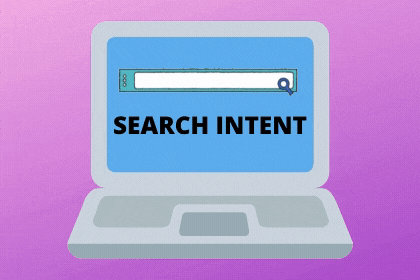 In any SEO undertaking, you should always find out your users' search intent before leveraging a specific keyword.
Search intent affects ranking.
It also affects keyword difficulty.
There are three types of search intents:
Informational – Searcher looks for information, for instance, "difference between SEO and PPC".
Transactional – Searchers are looking to buy, for instance, "buy SEO software".
Navigational – Searchers are looking to go to a specific place on the web, for instance, "BiQ," if they intend to find the BiQ homepage.
Transactional keywords that include words such as "buy" have a higher difficulty score than informational keywords such as "how" or "why."
Nonetheless, it is crucial to optimize content for all search intents.
Use transactional keywords for the product pages.
Pages such as the "about us" page and home page need more navigational keywords.
Blog posts require plenty of informational keywords.
The information search intent is easier to target than the purpose of navigation or transaction.
Depending on the purpose of your business, you may be able to provide more relevant information to your product and products.
For example, if your current SEO goal is lead generation, focusing on transactional keywords can be counterproductive.
Leads are gathered with navigational or informational keywords and nurtured with more informational keywords.
But at the later stage of the sales funnel, you must be ready to switch to transactional keywords.
Depending on your lead nurturing efficiency, your conversion potential might become immune to keyword difficulty scores.
Backlinks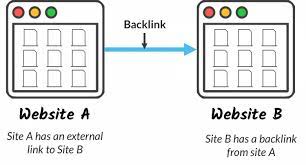 The quantity + quality of backlinks and the number of targeted domains is another crucial factor contributing to keywords' difficulty.
If a page has various high-quality backlinks, the keywords in these pages will be a challenge to compete with.
This will be a top-ranking page,
Your only chance of matching up to that competition is optimizing your link building strategy.
Search engines use links to discover new pages and determine how high a page should be ranked in SERPs.
When search engine bots crawl a web page, they extract content from those pages and index them.
It helps determine if they feel the page is good enough to be ranked for the keywords used.
When doing this, search engines look at more than just the content of the page.
The bots drill down on the number of links to and from external websites and those websites' quality and authority.
If these external websites are relevant and credible, you will rank higher.
If you get more links from other websites, you will ultimately be placed at the top of the Google search engine results page.
The Need For Comprehensive Keyword Analysis
Despite its critical importance, keyword competition score should not be the only factor to focus on.
Ideally, you should use it as a first filter to help you find words you can rank for easily and fast.
But don't forget other keyword metrics that affect ranking.
Keywords research and selection should be based on a comprehensive and detailed analysis of trends, volume, search intent, local ranking, and much more.
So how to find keywords that not only can rank, but are relevant for your content as well?
No SEO tool does this job better than BiQ's Keyword Intelligence.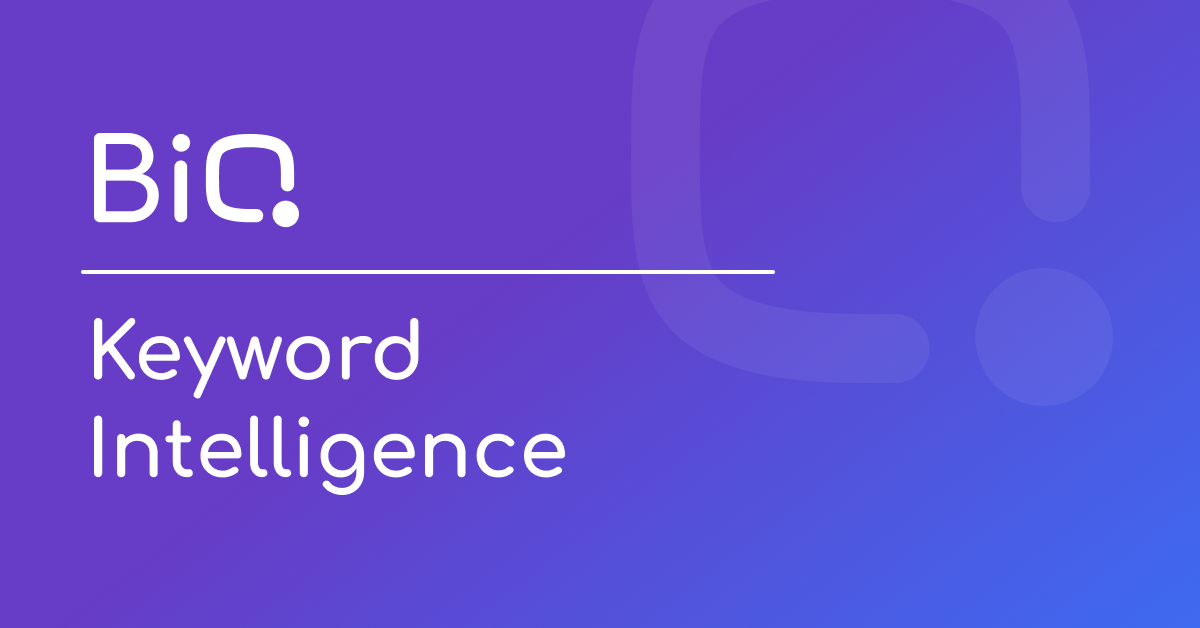 Apart from keyword difficulty, Keyword Intelligence will give you all the necessary analysis details to improve your ranking.
Keyword Intent
Earlier, we've talked about how search intent is a factor in the difficulty of a keyword.
Keyword Intelligence helps you know the searcher's intent. This changes the game in keyword research, helping you select high-value words that save money and time in SEO.
For example, a search on "digital marketing" would show this result.

From the example above, the keyword has high informational intent.
This indicates that searchers are looking to gain more knowledge on the keyword.
You'll know that searchers are looking for more information on the keyword.
Then, you can create informational content such as "what is digital marketing strategy" and "types of digital marketing".
You can also check keyword popularity based on their value.
A high-value keyword means it can bring more traffic to your website with less competition.
Local Keyword Opportunities
SEO is influenced by location.
Websites within a 100 miles radius might not rank equally for the same keywords.
That means that keyword difficulty metrics will differ too. As an SEO marketer, your number one goal should be to get to know your audience.
People in different locations search the web differently.
Even so, Google is always trying to bring the best customer experience through its search engine.
If someone types "electrician" in their search bar, they expect the results to be in their city.
Someone doing the same search two hundred miles away will see results for their location.
The results will be different.
If you are determined to deliver first grade high-quality content to your users worldwide, consider investing in advanced local SEO strategies.
Once again, BiQ's Keyword Intelligence makes things easier.
This SEO solution can help you take advantage of untapped local keyword opportunities.
The keyword tool will show you the list of relevant keywords the local people are using.
All you need to do is enter your target keyword and preferred location and language.
The keyword difficulty for your target keyword could be 70% in one location and 30% in another.
The search volume could be 1,000 in one location and 100 or less in another.
This points to the different needs of audiences in these locations.
BiQ Keyword Intelligence can help you choose the best keywords for your location – keywords with a high volume but lower competition through local keyword analysis.
Grid My Business can also help you to choose the best local keywords for your location and help you beat your competitors at the same time.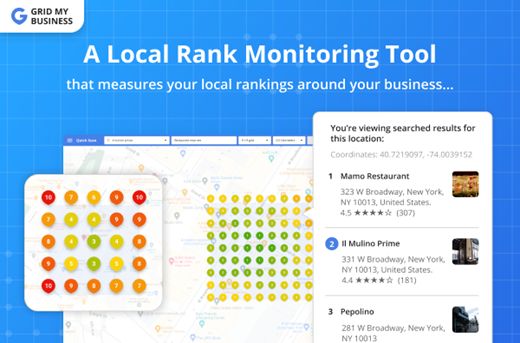 With Grid My Business, you can discover what keywords your local competition is ranking for. Just input their business or location into the tool and you will be able to see their rankings as well.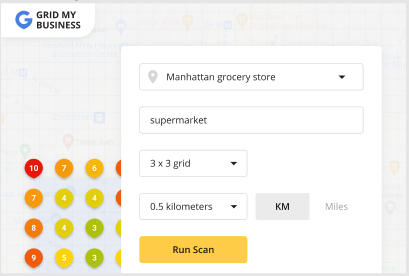 Take note of the search queries that they don't rank for or are ranking highly for. You can then use those search queries in your Google My Business profile and direct your competitors' clients to your own business instead.
Once you've done that, you'll need to ensure that you maintain your rankings and keep those potential customers coming. That's where the monitoring feature comes into play.
Grid My Business will help you monitor your rankings and provide you with regular updates so you can track your SEO progress and ensure that your business is always on the top on Google Maps and the SERP local 3-Packs.

Conclusion
Keyword difficulty is a crucial metric to consider when choosing your target keyword.
The metric affects ranking in search engine results pages.
Be sure to choose keywords with low keyword difficulty.
This will let you have an easier time ranking high on Google SERPs!