Every website owner should be using Google Optimize AB testing to achieve a higher conversion rate and increase the value of every visitor to your site.
Have you ever second-guessed if you are making the right marketing decisions? Like should I use "A/B testing" or "AB testing"? Or what headline would get the best engagement? Google AB Testing solves them all.
Well, all questions aside. When it comes to digital marketing, having the right data is important. Because without enough information, it can be like you are working in the dark. Lost without any direction.
There's however one simple solution that can shed some light on this and that is Google AB testing. To be clear, every website owner should be doing this, and here's why.
What is AB Testing?
AB testing, or more commonly referred to as split testing, allows marketers to compare two different versions of your web page to identify which has a better conversion rate.
Data science at work often involves experimenting with control (A) and a variation (B), which is basically a copy of your control page with one change element to see which works better.
With A/B testing, you can experiment with any element in your web page from titles and headlines to the marketing copy, and even the color of your button. The goal is to collect data to make important design and marketing decisions.
Honestly, all the best practices in the world can never predict how your customers will behave.
This is why many businesses stick to AB testing to get results proven by actual customers, and this even applies to big players like Amazon, Facebook, and Coca Cola which use it to achieve high conversion rates way above the industry average.
In fact, one of the most familiar "add to cart" buttons we often see today is the result of an A/B split test that was done back in 2011 showcasing the value of using red in a call-to-action (CTA) button.
Traditionally, CTA buttons have always been green in color as it is often associated with "go" just like at a traffic stoplight. That is until the marketing automation platform Performable ran a test on their "Get Started Now" button by introducing a red variation in comparison to their original green button.
The results of their test have been groundbreaking, as the red button showed a 21% increase in conversions compared to the green button.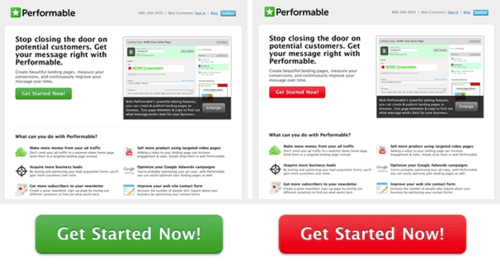 Then again, don't just take this case study at face value. Performable's bright red button doesn't necessarily work for everyone, as there are many other factors in the webpage that might have influenced their customer's behavior.
You should always conduct your own website's AB testing and this is where Google Optimize comes in as the perfect tool.
What is Google Optimize?
Google provides some of the best search engine marketing tools around and this includes its AB testing tools for a website known as Google Optimize.
Made accessible to all website owners for free, you can use Google Optimize to experiment with the different ways of delivering your marketing message. It is easy to operate and can be used by anyone, without the need for any web development skills.
The tool typically facilitates three types of testing, which include A/B testing, multivariate testing, and redirect tests.
However, in this guide, we will only focus on walking you through AB testing and specifically how you can use it to make data-driven design decisions. We will cover the full process here from creating your account, launching your first Experience, and how to analyze your results.
If that sounds good to you, let's begin!
Getting Started with Google Optimize
1. Create an account with Google Optimize
First, head on to Google Optimize and sign up for an account. After registering and logging in, you will be prompted to create your first Experience.
2. Set up an Experience
Before creating your first Experience, you need to identify a problem. Ask yourself, which webpage isn't converting as many visitors as you would like?
Then, try to discover the reason why maybe the page's CTA isn't obvious or perhaps your customer's behavior has changed?
Either way, you need to create a hypothesis and a potential solution on what you can change to improve it. Group up your team and get everyone's feedback on the cause of the problem, then make an educated guess on how you can improve it.
Once you've identified your problem and a potential solution, this is where you start your A/B testing to validate or invalidate your solution. To set up your Experience:
Go to your Optimize account (Main menu > Accounts).
Click on your website's Container to get to the Experiments page.
Select "Create experiment".
Enter an Experiment name that describes your hypothesis within a 255 character limit.
Paste the URL link of the web page you'd like to test in the editor page column
Select A/B test and click create.
In the end, your Experience should look like this with the highlighted columns filled up.
3. Create a Variant of your site
Next, you'll need to create the variation for your AB test. At this point, you'll need to have the Google Optimize Chrome extension installed to continue.
When creating variations, the Google Optimize visual editor can help you reorder elements, change copy, and/or rewrite aspects of your HTML/CSS code in your website's preview mode. It's up to you how complex you want your variation to be but remember, to keep it to just a single element.
You will also have to set your variant weighting, which is the traffic ratio you want to be distributed between the two pages. By default and as per our suggestion, it is best to remain at 50-50 and divide the traffic equally between the two versions to get more accurate results.
The variation showing the higher conversion rate will be the absolute clear winner.
4. Link your account to Google Analytics
To get the most out of your Google Optimize, you'd need to integrate it directly with your Google Analytics and all it takes is a simple click here.
Follow the steps as instructed and set it up on your website using either the Global Site Tag (gtag.js) or the Google Tag Manager (GTM).


Connecting it to Analytics will allow you to link it directly with any Events and Goals and make evaluating your metrics even easier. Otherwise, you can set up a new objective in the next step.
5. Define the Objective of your Google Analytics
If you have never set objectives before this, now's the time to create one. Setting objectives is especially important if you are looking to perform these AB split tests regularly.
It helps keep records for future references and allows you to evaluate your objectives. What are your expectations? It could be anything from conversion rates, a number of sales or subscriptions, or whatever goal you want your web page to complete. Keep your descriptions clear.
At this stage, your AB test is almost ready and should look like this: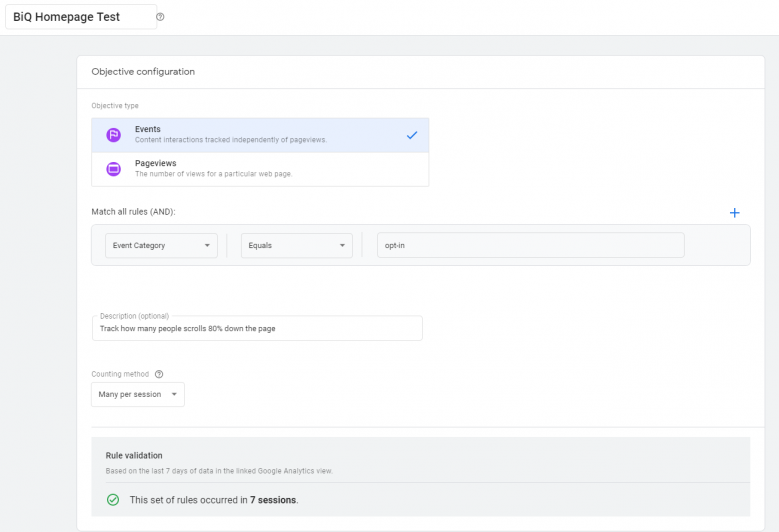 6. Customize your Targeting
Now technically, we could go live with our Google AB test by clicking on the Start Experiment button, but we'd really recommend that you take the extra step to set up your audience targeting.
After all, delivering better personalization has proven to have many benefits, from building key customer relationships to driving long-term revenues. Based on a study by Adweek, adding personalization to their webpage has reduced their acquisition cost by as much as 50% and increased their revenue up by 15%.
Using Google Optimize's audience targeting, you can create and test personalization designs to cater to specific groups of people, from returning visitors, visitors from specific UTM parameters, and even location.
Note that your Google AB test can also be scheduled in advance, which makes this feature super helpful when you are looking to prepare a different page for specific events, such as switching out your images and marketing copy over Black Friday or Christmas.
7. Start Your AB test and run it
Once you've finished creating your audience, your experiment is all set and ready to go. Just click Start Experiment and congrats, your first Google Optimize AB test is now up and running!
8. Analyze your results and pick a Clear Winner
Okay, let's assume a good amount of time has passed (we will go into this detail below), Now that you've run your experiment, let's take a look at the results.
There are two major ways you can analyze your AB test data, and that is through using Google Optimize or Google Analytics. If you'd like to keep things simple, let's first take a look at the Google Optimize reporting UI and you will see: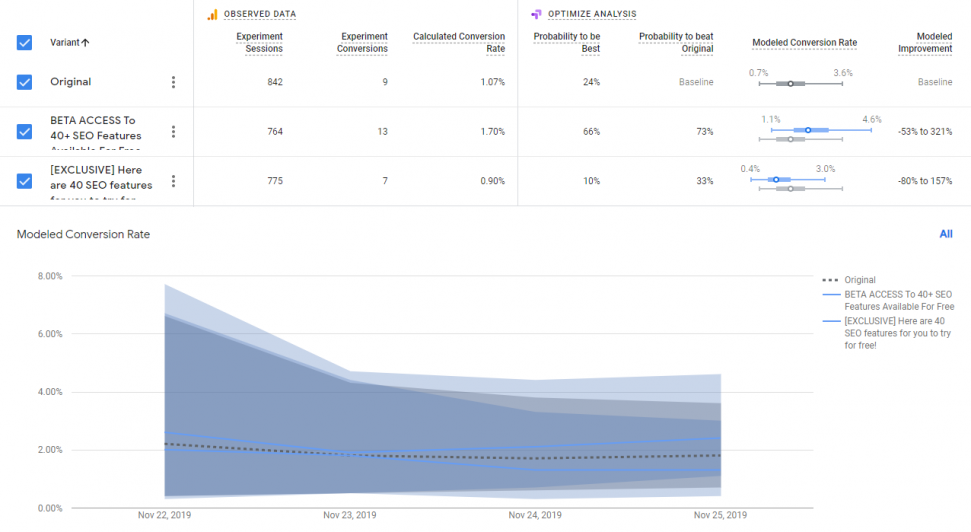 Summary Header that shows the Experience status and a summary of the results thus far including the leading variation, improvement, the probability to beat, etc.
Objective Card that shows the performance of your variants against your set objective. Do note that the graph will show more uncertainty in the beginning, but will gradually narrow over time as more data is collected.
Additionally, you can also access all the data concerning your experiments in your Google Analytics dashboard. Here, you can further analyze your experiment data by creating segments and adding secondary dimensions to your report.
Learn more about using Optimize data in Google Analytics here.
Okay, so we got you through the process of setting up your Google AB Testing with Google Optimize, but there are still a few things you need to watch out for.
Many people struggle with their first few A/B tests, and there's much more thought process that goes into setting it up. So if you are looking to run your test effectively and efficiently, here are five important tips!
Tips on How to Use Google Optimize Effectively
1. Allow your tests to run long enough
One thing that people often struggle with is knowing when your A/B test is done. And I don't blame them because as soon as you start your test, you can see data almost immediately.
Most of the time, it may just take you a few days to see what looks like a "clear winner" just like in the graph below.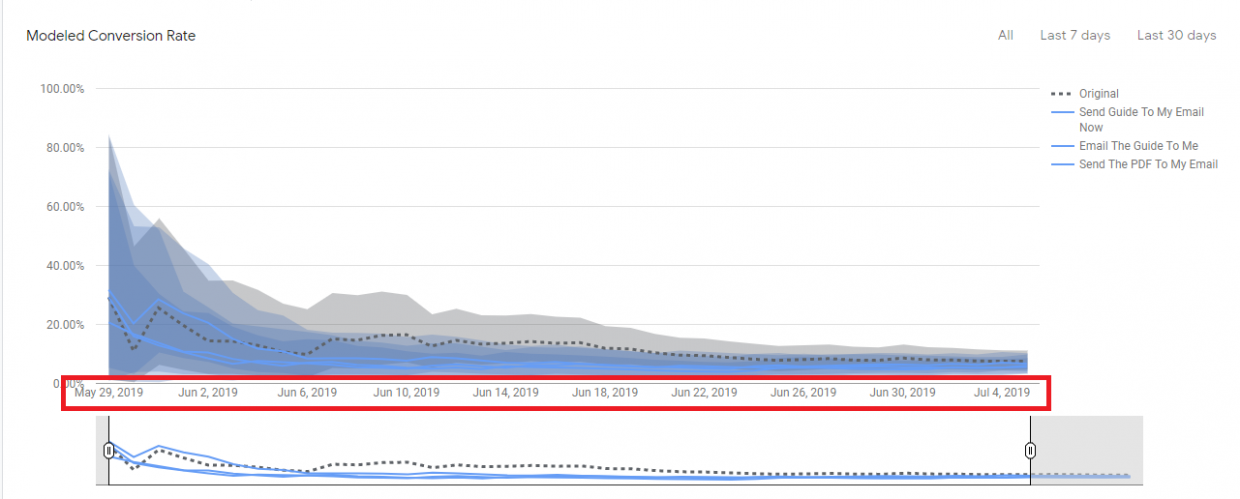 You can see that the variant represented by the blue line was doing significantly better than the original for the first two days. Exciting, isn't it?
But as tempting as it may be to implement the changes with these seemingly clear results, if you were to give your test some more time, you will start noticing that the conversion rates gradually averaged out to be almost exactly the same.
This is because the results, in the beginning, are just based on a small sample size, and even the difference of one or two conversions can make it look like a major impact.
That's why it's essential to let each of your experiments run for an extended period of time to collect a sufficient amount of data and reach a statistically significant conclusion.
As a baseline, we always recommend running your experiment for at least two weeks or aim for a target sample size of 500 as the bare minimum. But overall, the longer you run the test, the more accurate your results would be.
2. Test before launching a redesign
Next, always perform quality assurance on the variation you've just created before you split test, and certainly before you launch a complete redesign.
People who often visit your site are already used to your current layout. They know exactly where to click to navigate to the page they are looking for, or where to scroll to find the information they desire.
With a new design changing things up, this is bound to affect your returning visitors. And the last thing you'd ever want is to get tons of traffic to a website with a broken CTA button. So definitely check and double-check before you launch any new changes you make to your website.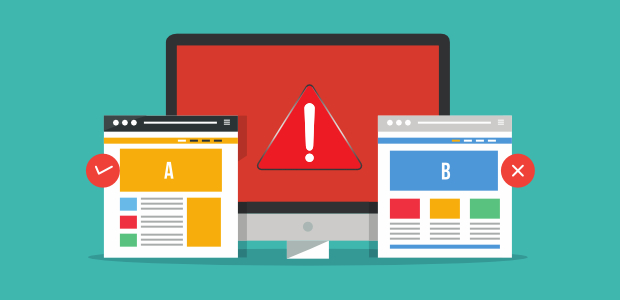 Also, one trick to make sure your Google Optimize is running according to plan is to conduct a small personalization test and employ installation diagnosis and the preview mode to monitor and verify that your Google Analytics test is running appropriately.
Remember, making minor changes can have a major impact, and it can work in both directions. And you certainly don't want to lose your traffic, so make sure to never skip this step.
3. Avoid testing everything at once
You might be tempted to test out all your ideas at once but this can easily backfire and you will just end up overbearing yourself with too many Experiences.
So instead, you want to note down in detail what are the changes you want to make and list them in order of priority and determine which would most likely bring the most positive impact.
Start experimenting with that first and gradually move down the list.
4. Consider the number of conversion goals
Similarly, it's also important to make sure you don't have too many conversion goals competing on the same page for your visitor's attention.
The more CTAs you have on a page, the more options each visitor has to weigh. And in many cases, too many choices can lead to decision paralysis and your visitors would often end up just leaving and making no choice at all.
You can however avoid indecision by consolidating similar conversion goals or choose to focus on just ONE conversion goal. Take this example by nameOn that wanted to redesign their checkout page to reduce cart abandonment.
The original page featured a few too many calls to action and many unnecessary ones like the email opt-in form and also buttons linking to product pages.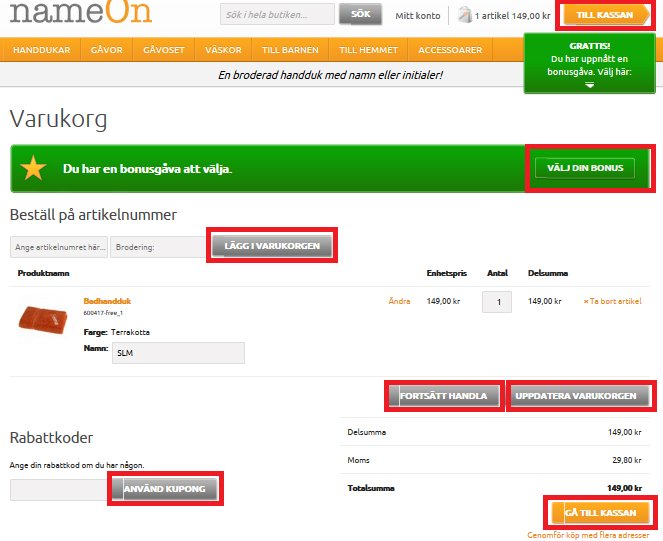 NameOn then simplified the page by removing all the buttons expert for the one that let visitors "Continue to checkout". And as a result, they see an increase of completed checkouts by 11.4% in which case proves less is definitely more.
5. Design Google AB Testing with Customer Insights
Your A/B test shouldn't be all guesswork when you can tap into one valuable resource — your customers. Besides, when it comes to creating your variants, ultimately your goal is to create what your customers actually want.
~ To find out what works for your audience through your audience.
Run a poll, send a survey or sit down and chat with your customers to get a better idea of what language they use when describing your service and understand what your users value. Then, implement your findings into your copy or new landing page design.
And there you have all the tips to maximize your conversion goals through Google Optimize AB testing. But still, that is just part of the equation.
A successful website is not only based on the number of visitors that perform the desired action, but it also depends on the number of daily visitors it attracts. So although A/B testing may have created high engagements, your page will only work wonders if it has high visibility.
To that, you have to ensure that your copy is well-optimized and contextually relevant to your target keywords. Like Google Optimize, there is one simple tool for analyzing your content and that is BiQ's Content Intelligence.
All you need to do is simply paste your URL link along with your keyword and it will help you analyze all the fundamental SEO factors, from the tone of voice to your usage of keywords.
Not only that, but it also analyzes your content's Word Vector by comparing your content to the current Top 10 rankings and provides you with suggestions that will further help improve your content to rank high.
Conclusion
As a key takeaway, it takes implementing an optimization strategy and making a lot of small incremental changes to place you over your competition.

By using a combination of Google AB testing and BiQ's Content Intelligence to continuously experiment and make data-backed improvements on your copywriting and marketing decisions, you will be able to build your website up for massive success.
Most importantly, don't just stop at learning about Google Optimize AB testing. Take action and start split testing all aspects of your website with Google Optimize today!