Looking for the best time to post on social media for maximum reach, exposure and engagement? Look no further because in this guide, we'll break down social media posting times on 7 major social media platforms.
We thought 2022 would be better but with the current situation that the world is facing, it is believable when one said that the "post-pandemic world" would be so different. 
Why? Because of the COVID-19 pandemic, businesses around the world were forced to shift their businesses online. Many new small businesses are appearing as through social media and online platforms are the "new way" to earn money.
So if you are a business owner or social media marketing strategist, this is the right article to guide you on the best time to post on social media.
Ready to jump in? But before that, let me just put this out there: there is no perfect time for every business to post on social media.
With that said, the best time or ideal time we are looking at here is in fact when your audience or followers are active or online and when your post will have the highest engagement!
Why is posting time important?
It is a fact. When you post on social media, only a fraction of your followers will see your content. And the reason behind this is because a post has a limited lifespan.
For example, a lifespan of a tweet is 15 to 20 minutes, a LinkedIn post averages a lifespan of 48 hours and a Facebook post has an average organic reach of 5 to 6 hours.
That's why understanding your follower's peak usage times is very valuable as it can increase your conversion rates, brand awareness, search engine ranking, engagements, and etc.
When people engage with your content (like, share or comment) in the early stages of your post, it will tell the platform algorithms that your content is fresh.
As a result, it will then see that your post reaches more people, in order to make certain that people are aware of the trending conversations. So, are you convinced now?
The question that you should ask now is, what is the best time of day to post on different social media platforms in 2022?
It's without a doubt that each social network platform has a different appeal to a variety of user personas, that ultimately creates different algorithms and peak times.
So let's dive deeper into the results of studies and the algorithms for each social media platform.
Best Time to Post on Facebook
Facebook is currently the most populated social medium platform in the world with over 2 billion active users.
According to Sprout Social, during pre- COVID-19 times, the best time to post on your Facebook business page was on Wednesdays at 11 a.m. and between 1 p.m. and 2 p.m as activity on the platform increased in the middle of the week.
Over the last couple of years, Facebook's algorithm has changed to place emphasis on friends, family, and meaningful connections. Hence, content that drives genuine engagement might be your best bet.
As Facebook usage increased during the lockdown, so did activity throughout the week.
According to SocialMediaToday, the optimal posting frequency is twice a day which is at 1- 4 p.m. and 6-10 p.m. on Tuesdays, Thursdays, Fridays, and during the weekends.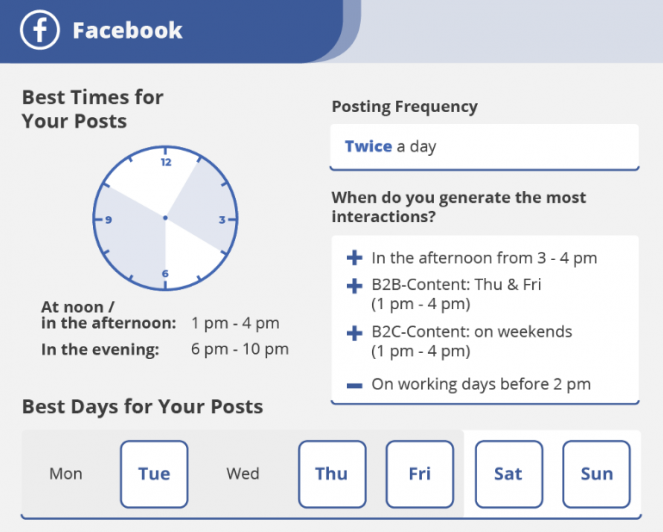 However, other studies also uncovered other optimal times you can experiment when posting on Facebook:
10-11 a.m. and 1-2 p.m. on Mondays, Wednesdays, and Fridays. Meanwhile, the worst time to post is after 5 p.m. on weekdays and weekends (Oberlo, 2022). 
11 a.m. and 4 p.m. on Wednesdays, while Thursdays, Fridays, Saturdays, and Sundays also have notably higher engagement rates (Uniclix, 2022).
The worst time to post on Facebook is early morning hours and also in the evenings, after 5 p.m. on Tuesdays (Uniclix, 2022).
All of these studies can be helpful to guide you in the right direction but all in all, the best time to post depends on a number of different factors which are specific to every business like the type of industry, location of audiences, and when they are online.
Best Time to Post on Instagram
With Instagram's new algorithm, timeliness has become an important factor.
Since Instagram is now prioritizing "new" content on people's feeds, your best shot at getting your content in front of your followers is by posting when most of them are online and scrolling the app.
200 million Instagram users visit at least 1 business profile a day. So when is the best time to post on Instagram?
While these are the best times to post on average according to Later, it's best if you find your own personalized best times to get the most engagement with your unique audience.
Best Time to Post on Twitter
There are approximately 330 million active users on Twitter and also 500 billion tweets made per day, which is an unbelievable 5,787,037 tweets per second! So how can you possibly stand out in a sea of million tweets?
Well, Twitter uses an algorithm that prioritizes posts it thinks people will want to see instead of posting tweets in chronological order. It is all about personalizations and using machine learning to sort content based on different rankings.
Usage patterns have remained relatively the same during COVID-19 times, and you can think of the best times to post on Twitter in 2022 is kind of like your usual working hours: 
As you can see, posting at the start of the workday until the end of the lunch break is desirable. Postings at these times may be a good strategy for you to try to obtain a consistent social engagement.
Although another source at Oberlo suggested that Wednesdays and Fridays at 9 a.m. and 7- 9 a.m. respectively are the best times, while the worst time to tweet is on Saturdays.
Ultimately, tweeting regularly can help maintain engagement with people from around the world and in different time zones although there's also a peak time as a lifespan of a tweet is for 15- 20 minutes only.
Best Time to Post on LinkedIn
With over 500 million members and a growth rate of about two new profiles per second, LinkedIn is the world's largest professional network used by recruiters, salespeople, and businesses for work.
Approximately 80% of social media leads generated by B2B marketers are made through LinkedIn while Twitter and Facebook are only 13% and 8% respectively.
If you are not marketing through LinkedIn, then you're doing yourself and/or your business a serious disservice.
The best time to post on LinkedIn is between 10- 12 p.m. on Tuesdays to Thursdays for a notable high engagement rate.
The SocalBakers recommend publishing between 9- 11 a.m. to catch users in the bursts of morning activity as posting early in the day will allow your content to keep its momentum when your audience checks in again at the end of the day.
The worst time to post on LinkedIn is during the weekends or after work hours because obviously, nobody is working.
Now that you know the best time to post on LinkedIn, you can attract the right audiences at the right time to generate sales leads.
Best Time to Post on Pinterest
Pinterest has a smaller number of monthly active users but it is a good platform to target if your target audience is female. Despite the more niche-specific appeal, brands and businesses can still reach a very targeted and engaged audience in the platform.
Posting on Pinterest also really depends on the type of pins you post, the boards you follow, and the types of audience.
Content quality is most important for its algorithm since Pinterest uses Smart Feed. It is designed to create a smarter feed for the user based on what they "care" and search for. In other words, it is based on an interest/ search-based feed.
To improve your Pinterest marketing strategy and to get your pins into more personalized Smart Feeds, Pinterest takes into account three things: image quality, meaningful descriptions, and consistent pinning to contribute to the Pinterest community.
The best time to post on Pinterest is on Fridays and Saturdays between 8- 11 p.m. (with a peak at 9 p.m.) and then in the middle of the night from 2- 4 a.m.
The worst time to post is in the evening after work- commute hours and during working hours.
Best Time to Post on TikTok
The infamous and iconic app TikTok is growing so fast every day and many brands are finding ways to use the app for business.
As stated by TikTok marketing statistics for 2022, 90% of users access the app on a daily basis which means you can post any time throughout the week. 
A 15-second video can gain a lot of views or engagement for your brand if you post at the right time.
In general, the best time to post on TikTok is early morning between 6 and 10 a.m. and in the evening after work, 7-11 p.m. Tuesday, Thursday, and Friday appear to be the days with the most engagement.
On the weekends, mornings from 7- 11 a.m. and dinner time from 4- 8 p.m. are also good times to post.
The app also gives you the option to upgrade to a Pro account which gives you the analytics for your TikTok videos. You can use analytics to learn the information of your audiences like gender, age, and location.
If you don't have a TikTok Pro account, worry not as you can also rely on the best times to post shared above.
Best Time to Post on Youtube
When posting on YouTube, keep in mind that YouTube is under the Google umbrella. If you're familiar with Google and SEO, you know that YouTube videos are often highly indexed and ranked in Google searches.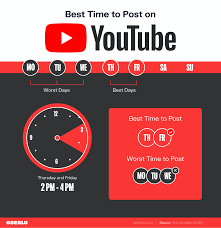 Based on Influencer Marketing Hub, the best days to post are Thursdays and Fridays from noon- 3 p.m. From Mondays to Wednesdays, the best time to post is 2- 4 p.m. and during the weekends, 9- 11 a.m.
Most people watch Youtube videos at a similar time when they watch television. In order to get a good ranking for your Youtube video on Google search, posting ahead of the peak viewing times will help your videos to be placed well for high engagement and viewing rate.
How to find your best time to post for the highest engagement?
Again, whatever your social media goals are, there is no perfect time to post your content on social media. The times listed in this article are based on industry average, and you will still need to take some factors into account and experiment.
Below are some of the factors you must consider when it comes to the timing to post for a high engagement rate:
1. Consider location and timezone
The time of activity for your followers and audiences can vary depending on their timezone. The more popular your brand, the more time zones you'll need to take into account.
Where are your customers located? If you want to target the United States and Canada, you would want to hit the EST time zone as it has the highest number of people. However, if your target audience is in London, you want to post within the GMT time zone.
2. Use similar content to test different times
Ideally, you would want to reach the majority of time zones without overdoing it. You can always choose to test similar content and post them at different times, this is a tactic you can try especially with Facebook and Pinterest.
However, note to not post more than four times a day in order to reach as many countries as possible without being overly repetitive.
3. Keeping an eye on the competition
Always keep in mind that you have competitors. You can track their progress and take note of when they get high engagement on their posts. The chances are, these times would work the same for you too.
Sometimes, the best inspiration for your social media content can come from your competitors, so always take note of what your competitors are sharing online and pay attention to their well-performing content.
One tool that can help you reveal your competitor's keywords is BiQ's Rank Intelligence tool. Using BiQ, you can easily discover your competitor's ranking keywords by simply inputting their website URL.
You will then be presented with all the keyword ranking data from your competitor's site. Set the parameters you want, perhaps you are only looking to steal their keywords that are ranking in the top 10, and with a search volume of at least 100.
You can export the data to CSV or even better, do the same steps for your own URL, and then you can download the data and further use this info to fill any content gaps.
Now that you know what keywords your competitors are ranking for, you can create content targeting those same keywords to steal it from them.
Or, if you are both ranking similarly for the same keyword, now you know where you should work on to keep or boost your ranking.
4. Stick with a consistent schedule
Scheduling your post can get you more engagement especially when you know when your audience is most active.
For instance, when your Instagram post gets a lot of likes and comments, that engagement will translate into Instagram bumping your post higher up on users' feeds and potentially getting a spot on the Instagram Explore page, which, in turn, could result in even more engagement on your post.
5. Performance tracking and analytics
To find out what is your best time, you need to keep track of your posting time and results.
So start a spreadsheet and record all your social media posting on different times and different days in order to find the highest engagement.
Note that larger audiences don't necessarily mean higher engagement, you have to keep track of when your audiences are most active, and also when you get the best conversion or sales.
At the same time, also keep an eye out during the holiday season, events, current trends, etc. In essence, just keep testing and compare the engagement rates and in no time, you will have more followers and engagement even when you're sleeping.

6. Create an effective posting schedule
To maintain posting frequency, you need to have a solid social media content strategy and schedule.
If you are managing multiple social media plaforms, the volume of hectic-ness will certainly be no joke. So invest in social media marketing automation and management tools like Buffer, Later or HootSuite to schedule posts at a future time.
What should you post on social media?
Use keyword research to plan your social media content
Knowing what to post for your content is not always easy. However, this can be made easier with BiQ's Keyword Intelligence tool where you can get evergreen content ideas by researching exact searches and queries that people are actually making.
Note that these are keywords you want to include in your social media post title, desciption, and tagging to get higher visibility when people are making a search directly on platforms like YouTube or Pinterest.
Here's an example scenario, let's say you are thinking of the right title for your workout Youtube video, should you target the keyword home workout or beginner workout? You can just do some keyword research with BiQ and see which returns a higher keyword volume with less competition.
With this data, you will be able to plan your title in a way that will help you get ranked and indexed in Google searches.
Besides that, you can also use BiQ's Keyword Intelligence tool to find more content ideas. After entering your keywords or phrases, you can also toggle to the content ideas tab to find more related ideas.
The trends tell you if the topic is emerging. Keep an eye on what's trending to capitalize on it to get engagement.
Understand your target audience when creating content
Naturally, when you target the right audiences, rewards will come rolling in but that is given if you understand what promotion works for your target audience.
So first and foremost, make sure you understand who your buyer personas are.
If you want to target audiences who are mainly working adults because the products you are selling are quite expensive, you should concentrate your social media efforts on LinkedIn, Twitter, or Facebook to target audiences at the age range of 20 to 50 years old.
Also, social media content is only effective when it speaks to your target audience. That's why always spend some time to understand their value and what languages they use when describing your product.
Most importantly, make sure your content drives emotions. It's usually for blog posts, but you can also analyze your social media copy emotion using BiQ's Content Intelligence and edit it to make your post appealing!
Our tool analyzes the reader's sentiment behind every line. All you have to do is simply copy and paste your copy in and trust that BiQ's tone of voice function will help you discover the right tone for your social media brand.
Conclusion
At the end of the day, social media marketing is a broad topic. It is not just about creating the most appealing post, but also when your posts actually reach your audience. And there's no perfect time for all.
To find your best time to post on social media, you must be able to optimize and experiment with what posting time gets you the highest engagement.
It is by taking the combined data provided by expert studies and your own analytics and research that you can build a clearer pattern of your own audience's behavior and the perfect timing,