Here are 7 ways you can use to find anyone's email address and what to do next.
If you're wondering how to find email addresses, you've come to the right place.
As a digital marketer, connecting with influencers, prospects, and other niche-marketers is a crucial day-to-day activity that can significantly boost your marketing efforts.
Statista survey found that nearly 306 billion emails were sent and received daily in 2020, and the figures are expected to shoot to over 361 billion daily emails in 2024. This means emails aren't about to lose significance any time soon.
However, not all the emails sent every day reach the targeted audience; in fact, only 8.5% of outreach emails receive a response.

Targeting the right person with your emails increases the chances of receiving a response and getting them to take a specific action.
But how will you find the email addresses of specific people you want to reach out to? Maybe you've visited their websites and even look in the 'About Me' section but couldn't find any.
If this is the case, we've rounded up some tips to help you find the email address of any person or company you wish to connect with.
Why Do You Need To Find Email Addresses?
Before we look at the techniques you can use to find email address of a target prospect, audience, influencer, etc., let's see why you would be interested in contacting them in the first place.
You want to send outreach emails to site owners and bloggers for link-building purposes.
You want to reach out to a niche-influencer who will help you promote products or services. You can also check our micro-influencer marketing guide here.
You want to target specific prospects via email –e.g., some companies you think might be interested in your products or services.
As a marketer, these are the main but not the only reasons why you would need to find someone's email. A rule of thumb is always to use reliable sources to find email addresses, so you are sure the emails you are getting are legit and up-to-date.
There are free and premium email lookup tools in the market, and you can pick any depending on the time you're willing to put into your email hunting mission.
The paid email finder tools will have a pool of emails matching specific profiles – all pulled from different sources such as company websites, personal connections, and social media profiles. Using such options can save you time.
On the other hand, you can do your email search free of charge and still get the same results in record time. It all depends on the volume of searches and who your targets are.
Whether you are using free or paid tools, mailing address lookup can take the guesswork out of your email outreach and other marketing campaigns, helping you connect with the right people and possibly build a lasting relationship.
That said, let's go email hunting…
How to Find Someone By Email: 7 Actionable Tips
Here are the seven ways to find the email addresses of anyone you want to target in your marketing campaigns:
Use An Email Lookup Tool
Try Google Search Operators
Use Twitter's Advanced Search
Form an Educated Guess, and Test It
Subscribe to Your Target's Mailing List
Reach Out On Social Media
Just Ask – Ask the Company Rep
Use An Email Lookup Tool
Email discovery tools provide perhaps the easiest way to find email addresses. There are a couple of email finder tools in the market, and we're going to see both the paid and free options.
Generally, there are those email search tools that have stood the test of time in the market. One is Hunter.io; however, it's not always perfect.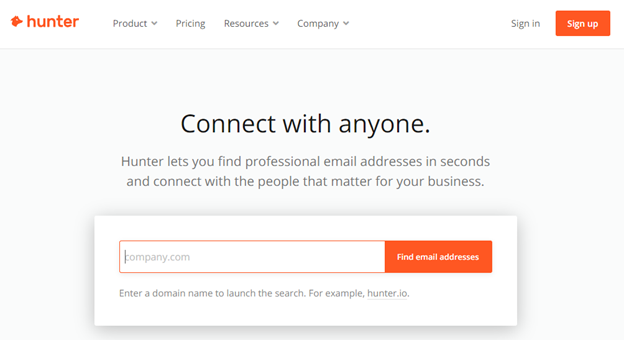 Below are the top three email address search tools in the market, alongside their pricing.
Hunter – up to 50 free searches per month. It costs $49 per month for up to 1,000 searches.
Find That Email – up to 50 free searches per month. It costs $29 per month for up to 500 searches.
Voila, Norbert – Free trial gives 50 free searches. Cost $49 per month for up to 1,000 searches.
If you are on a budget, below are the free email search tools you can use.
RocketReach: Sign up for free and use this tool to find email address of relatively high profile people, companies, or institutions.
GetProspect: This is a chrome extension tool that will help you find the email addresses of anyone you know their name site's domain.
The above free tools will find email address just like the premium ones; however, accuracy may vary. Always compare results from various sources for consistency.
The best email lookup tool is the one that fits your needs. It must have accurate information, fit within your budget, scale to your searching needs, and adapt to the tools you're using.
Try Google Search Operators
Apart from email address finder tools, you can also use Google to find the email addresses of anyone you wish to. Google search operators give you the option to make these results as specific as possible.
In case you don't know what Google search operators are, below are some examples:
Site:biq.cloud – limits results to those from biq.cloud.
intitle: outreach– return results with a particular string of words in the title. In this example, you'll get results containing "outreach" in the title tag.
"BiQ.cloud contacts" – this is known as the quote operator and will force Google to show search results with the exact phrases. If you search this on Google, this is what you'll get: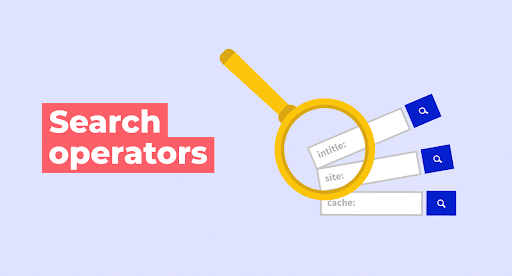 When there's no exact match, Google will return the most accurate results.
To find the email address, all you need to do is combine their name with a couple of strings that might return contact details. For example:
"Name + email"
"Name + contact me (or) contact information"
Site: companywebsite.com + name + email
Site: companywebiste.com + name + contact
Using these search operators to find email addresses will make your search a lot easier than just using plain keywords.
Remember to try different combinations, such as the target's name, title, or company name.
That said, this method may take up a bit of your time and might not be the most effective when doing several searches.
Use Twitter's Advanced Search
Twitter has over 330 million active monthly users, with more than 500 million tweets sent every day. This translates to nearly 6,000 tweets every second. Some of these tweets are from people exchanging their email addresses, business locations, etc.
Over the years, Twitter users have become savvy. Most have chosen to hide their contact details from bots by avoiding the usual "@" and "." and instead of using "at" and "dot" to send their contact details.
Luckily, you can use the Twitter advanced search to filter tweets with "dot" and "at." You can also narrow your search to find email addresses from specific accounts, hashtags, time frames, etc.
You can try a simple Twitter advanced search with the word phrases "email at" and "dot," as shown.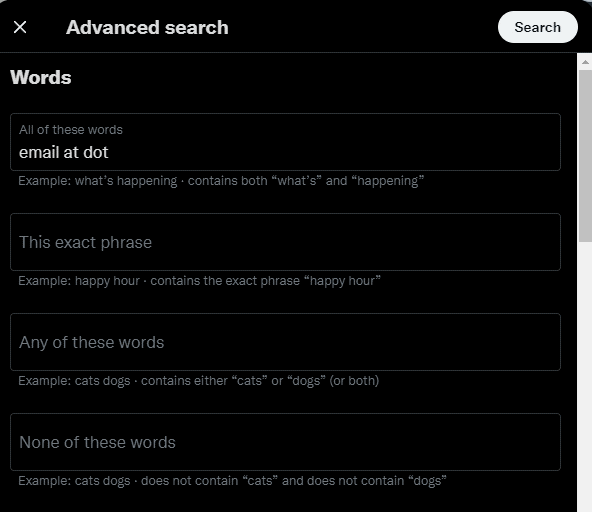 By clicking the search button, this is what you'll get (screenshot below).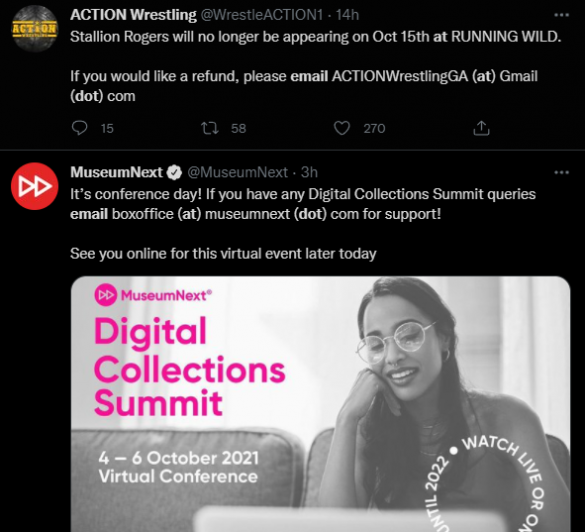 A rule of thumb is to use Twitter advanced search to check the email address of a specific person you want to target – preferably someone you know their Twitter user name or profile.
However, this technique may not work for everyone. For instance, you won't use it to find the email address of someone who's not on Twitter.
Form an Educated Guess, and Test It
If the code is hard to crack and the available tools can't help you find the email address you want, you'll need to get creative.
You can successfully use this method to find email addresses, provided you do proper research and have a bit of luck on your side.
If you are looking for prospects' email addresses, possibly most have not shared them across the various social media channels or personal websites. This means the email finder tools will be of little help.
Here, you'll need to come up with a couple of mock email addresses using a given pattern, for example, combining two names with a Gmail, Yahoo, or Hotmail (dot com) at the end, then testing it to see if they actually exist.
This method is time-consuming and may not always yield the expected results. However, it can be the only option you have when all the other methods have failed.
Another way to use it is to find the email address of someone working in a specific company. For example, if you know the email address of a co-worker or someone who used to work in the same company.
Subscribe to Your Target's Mailing List
Another easy way to get an email address is to check the site's blog for a mailing list. If there's one, you can subscribe to it, and you'll quickly get the target's email address.
However, some sites use generic "no-reply" email addresses. Here, you'll need to find an alternative email that allows you to reply to it. You can then ask an insightful question that will get your target to respond.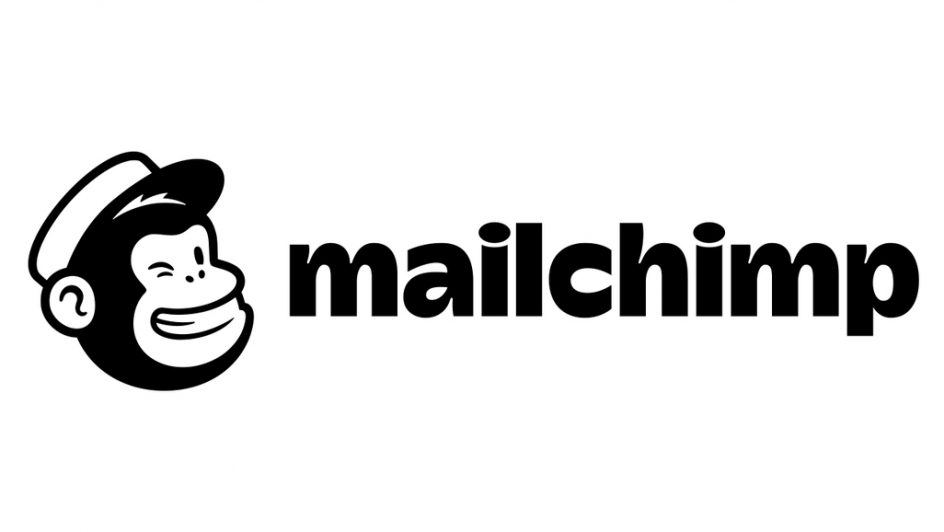 To find email address using this technique, the target must have a website, and you must know the name of that website. Often, this method will become an option if the target has not placed an email address on their "contact us" page or if the one that's there isn't active.
However, there's a disadvantage of using this technique to find email addresses. For example, the site owner might hire a third-party company or content team to handle emails to/from subscribers.
This means you'll need to build a relationship with the guys responding to the emails before you can tell them what you really want.
Reach Out On Social Media – Facebook, Twitter, Linkedin
If you know the prospects or people you want to target, you can use social media channels like Facebook, Twitter, and LinkedIn to reach out, build connections and luckily find email addresses.
The idea is to specifically target the people you want their emails, survey the kind of conversations they engage in and what they post. A rule of thumb is to side by their interests and create a common ground.
Before using this technique to find email addresses, you should first sort out the social media profiles under your targets' names to ensure you reach out to the right people.
Sites such LinkedIn may work well with professionals, and you can create a connection before proceeding to engage your targets.
Twitter is another place you can find email addresses by connecting and building rapport via direct messages or tweets.
Since most people don't publish their contact details on social media, you need to be patient and tactical to build lasting connections and successfully find the email addresses you need.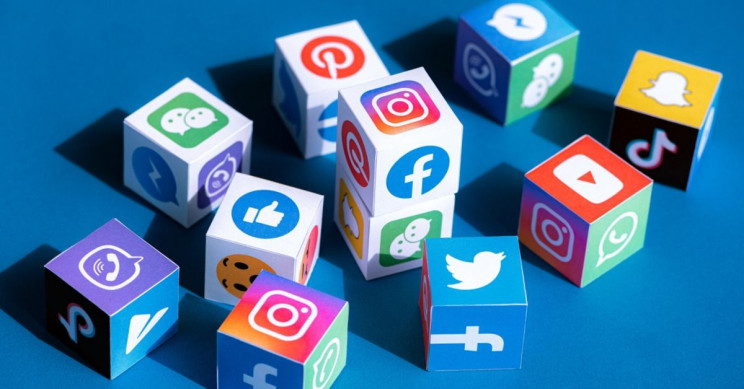 Just Ask – Ask the Company Rep
If everything else doesn't seem to work, or you don't have the time to create a playbook and watch everything unfold, you can cut to the chase and simply ask for the target's email address.
Suppose you target someone working for a company you know; you can directly ask a website admin or company rep for help.
You just need to prove that you are a genuine person with good intentions, and they may help you find the email address you want.
By asking, you may find email addresses of the people you won't otherwise have converted using the other techniques: for example, someone who's not active on social media or a busy manager who has no time to engage in Twitter politics.
However, this method is a shortcut and may not always work out – it all depends on how you approach the target or the immediate contact with the target.
Now that you know how to find email addresses using a wide range of techniques, you can mix and match them to get the best results.
How To Make Your Emails More Relevant and Effective?
Once you've got your email address, you must send emails that don't fall into the spam folder.
You need to create more effective and relevant emails that give your email receivers a better overall experience. In other words, you need to bridge the gap between what you want to achieve and what your subscribers are hoping to receive from you.

Here's a quick tip to identify what your subscribers really interested to hear from you; use Rank Intelligence.

First, enter your website URL into Rank Intelligence. Then, select the country where the audience is based.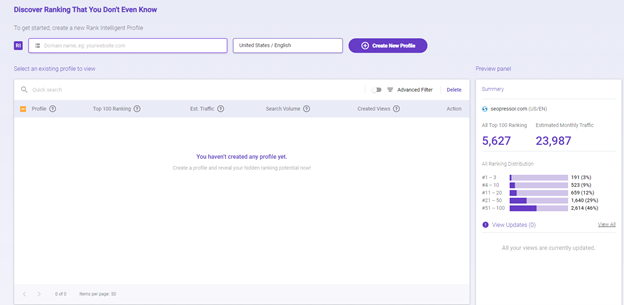 You will get to see all the keywords your website is ranking for together with the important insights such as search volume, cost-per-click, and competition, and so on.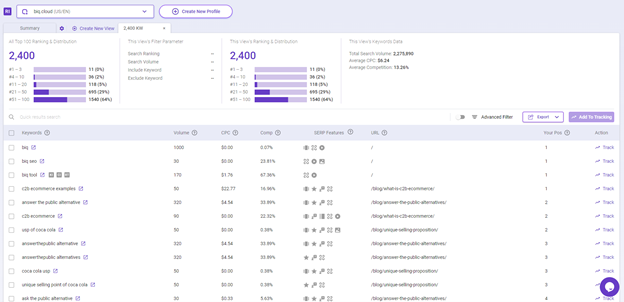 These insights give you some ideas of the search terms or topics that searchers are interested in when reaching your website.

From here, you should now be able to send content that you believe will prove useful for your subscribers. If the email content you send is relevant and useful for them, you will have a much better chance of converting them.

Pair that with a touch of content personalization, and you will see a greater conversion rate.
Conclusion
The methods we've highlighted above will help you find the email address of any influencer, prospect, or colleague you want to connect with.
Also, after working this hard to find email addresses, you should create emails that convert.
Regardless of the action you want the targets to take – whether to buy a product/service, join your link-building campaign or collaborate in the next influencer marketing campaign – your emails should be compelling, simple, and to the point.
Refer to our subject line best practices to draw inspiration on how to draft high-quality emails that get people to respond.
If you are also looking to run a guest blogging campaign and reach out to as many bloggers as possible, check out our guest blogging guide for further tips.