What is micro-influencer? Why micro-influencers are the most effective influencer marketing strategy? Check it out in this post.
Learn how you can use micro-influencer in your influencer marketing strategy.
Getting more customers for your eCommerce website in today's world has become more competitive. This has made marketers develop more creative methods of obtaining more customers for their online stores and eCommerce websites. These strategies include PPC, SEO, and many others.
All said and done. We've got to admit that PPCs are very costly, and they do not guarantee results in the end since 80% of online browsers actively ignore google advertisements. Although by doing this, Google places your business in a strategic position, it's not very helpful, especially if you are starting.
What about SEO, you may ask? Well, SEO is great. It's your best chance if you want to redirect targeted organic traffic that is sure to grow your site's traffic and boost conversions.
However, there is one problem with SEO. It takes a very long time to come to fruition.
You may need something that's a little bit faster. To achieve this, you have to take advantage of the micro-influencer.
Influencer marketing budgets are steadily on the rise. However, not all influencers can afford big shots like Kim Kardashian.
How do you go about achieving the best reach with minimum investments? We'll talk about this, but first;
What is micro-influencer?
Micro-influencers definition: A micro-influencer is the same as influencer marketing, with the major difference being that it's on a smaller scale.
It involves brands that partner with individuals who have a smaller following on social media to market their products.
These promoters post authentic, visual content instead of paid advertisements. The visual content is meant to be stimulating and engaging to the viewer. It is also meant to show that the products are authentic and genuine and that they work with is a more effective strategy than paid advertisements.
In micro influencing, brands often partner with individuals with one thousand to ten thousand followers who have a strong connection with their audience. They are particularly well informed in their niche and are often trusted with their audience, making them a better marketing shot.
Micro-influencers are often social media users as opposed to celebrities or public figures. They often focus on sharing their interests on social media and specialize in a particular vertical. They may have fewer followers as their audience, but; what they lack in numbers they make up in engagement.
A survey showed that over 82% of the people surveyed admitted that they would buy merchandise recommended by micro-influencers. Micro-influencers appeal to the people's ordinary desires that traditional influencers fail to reach. This is what makes them invaluable as a marketing asset.
If you are thinking about starting up an eCommerce website, or an online store, you should consider hiring micro-influencers for their numerous benefits. Who knows, you may end up saving some cash in the long run because many brands utilizing micro-influencers.
It may be the way to go for your business.
Why wait? Here are some reasons why you should start right away.
What are the benefits of micro-influencer marketing?
Influencer marketing is a shortcut.
Many influencers on social media platforms have taken a lot of time to get to where they are today. You'll have to put in more than twice the effort they put in to get halfway there. The other problem is that your competitors will be way ahead of you even if you begin now. You'll need a shortcut.
Since influencers have already done the hard work, the best step you could take is to collaborate with them. You'll have to pay them, of course; however, this is where micro-influencers come in. Their services are cheaper, but at the same time, they offer effective marketing campaigns.
Consumers trust people, not businesses.
Would you buy products or pay for services from a random ad on the internet, or would you rather buy products advertised by real people? There are many advantages to linking your company's advertisements with real people.
It allows your consumers to form a connection with the product through the influencer. That is real advertising power.
Micro-influencers are more effective since they can perform product and service reviews and provide an opinion about the product. If an influencer who has many followers has gained their audience's trust, they are more capable of convincing potential customers to make purchases.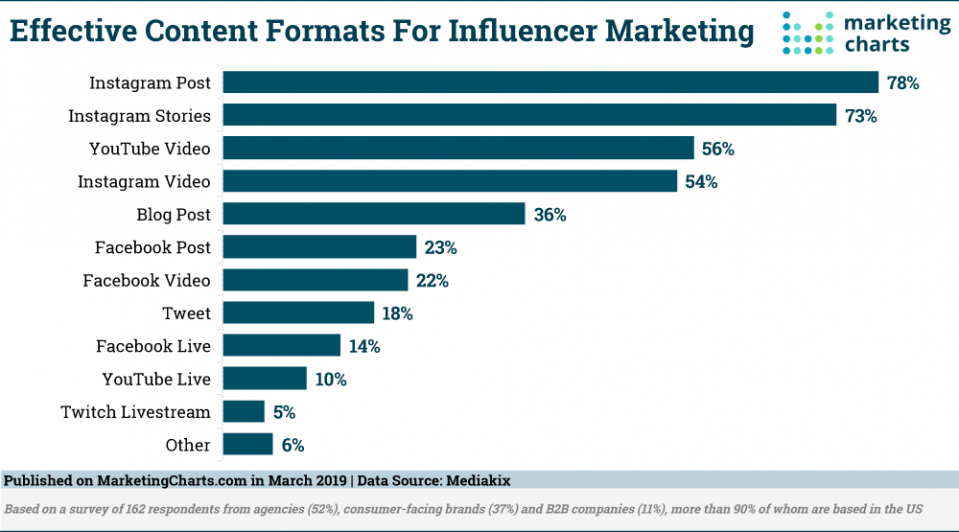 This is why this strategy is becoming increasingly trendy. It works better than simple ads.
It allows the influencer to be more persuasive.
The power behind influencer marketing is psychology. Influencers can use six persuasive techniques on their already interested audience to influence them to purchase products and services from your company.
Here are the six persuasive techniques:
Reciprocity: The customers feel indebted to the influencer after providing them with high-quality content about the product.

Commitment and consistency: The influencer's followers are committed to the channel, which means they are ready to listen to whatever the influencer says.

Social proof: People tend to trust other famous people. The higher the number of followers the influencer has, the more trust they can garner from their followers and the more equipped they are to market your brand.

Liking: People are more likely to comply with people they feel understand them well. This is useful since people subscribe to channels that they feel connected to. These content developers understand the users well and, in a way, are the user's friends.

Authority: People follow leaders. Content developers give out subtle cues that users subconsciously interpret as authoritative such as a luxurious lifestyle. This is why influencers are more likely to promote your brand.

Scarcity: Influencers make customers purchase more products by introducing the element of scarcity. This triggers peoples' intrinsic fear of being left out, which makes them purchase more products. For instance, an influencer could say that they have limited products when advertising your brand.
An influencer is simply that. Through the influencer's career, they have perfected the art of convincing their followers why their content is interesting and why they should keep listening to them. This is what makes them perfect for your micro-influencer marketing strategy.
Why micro-influencers are the most effective influencer marketing strategy?
While using micro-influencers may, at times, seem counter-intuitive, there are numerous reasons why you should use them to get better marketing results for your brand. Why should you use influencer's with a smaller following to grow your brand?
More targeted audiences
Micro-influencers focus on a niche. Therefore, it makes sense that you take advantage of this carved out a portion of the market with targeted advertisements to the targeted audience as a more effective marketing strategy.
For instance, let's say that you partnered with a celebrity to sell shoes. The product may reach several people due to the celebrity's fame. However, not all those people may be interested in purchasing shoes.
Working with celebrities and macro-influencers is great; however, Markerly's Sarah Ware noted that working with thirty to forty micro-influencers produced higher conversion rates.
Micro-influencers are more affordable.
Celebrities can charge up to 7500 dollars for one Instagram post. This can be quite expensive, considering that 97% of micro-influencers on Instagram only charge about 500 dollars. You could even compensate for smaller micro-influencers with free products for their troubles.
They have better engagement rates.
Think of it this way. How many instances have you seen an ad by a favorite actor and tuned it out? I have done it countless times, and the reason is not that complicated. While I may enjoy being entertained by the actor, I do not relate with them on a social level.
However, if I see an advertisement from my favorite YouTuber, I am more likely to try it out. I can easily connect with micro-influencers than macro-influencers because they market products that I can use and have taken the time to build their trust with their audience.
However, a study by Markerly on Instagram revealed that the rate of likes and comments decreases with an increase in followers' volume.
Keeping these studies in mind, Markely advised that brands pursue micro-influencers in the range of between one thousand to ten thousand followers. These influencers have better engagement with their followers and, consequently, more effective at marketing.
Authenticity
Micro-influencers are more authentic than celebrities or brands, helping more people relate better with them than celebrities or brands. Micro-influencers who post genuine product reviews or content are more likely to get more click-through than brands or celebrities.
With all the advertisements that users get every day, marketing through influencers could be a new and exciting approach. Instead of customers approaching your advertisement with a negative mindset from the onset, they'll be more curious to know what it's about.
How to find the right micro-influencers to work with?
If you want to find the right micro-influencers for your brand, you must first assess your company to determine what kind of audience you'll need to market to. Knowing your type of audience will help you decide which micro-influencers you'll need to work with.
Generally, influencers reach out to their audiences using these platforms:
Email lists and blogs
Podcasts
Social media
Communities such as Facebook groups
How do you find them?
1. Curated lists
You are not the only person seeking influencers. Since there is a high demand for marketing influencers, some people have compiled lists on the internet with information on freelancers and their niches.
Go to google.com and search for "top (add your niche) influencers," and take your pick.
If you want more targeted marketers, you'll need to enter more detailed information in your search. You could search for bloggers, social media influencers, and podcasters. It would be best if you also added your niche to get more relevant influencers.
2. Platforms and marketspaces
Since influencer marketing has become a booming industry, more platforms seek to act as middlemen and connect these influencers with people who may want their services. Even YouTube has one such platform. You can search for such platforms on google.
However, here are a few platforms we found:
3. Conferences and online summits
If you want a variety of influencers to choose from, then you should aim to attend conferences and online summits. Or, at the very least, you could get more information on these influencers, analyze their niche and their marketing success in the niche and then approach them with a proposal.
4. Build a genuine relationship with them
Once you've found an influencer, you should aim to build a genuine relationship with them. Begin by engaging with their content, adding value, and working together for mutual benefit. Do not approach influencer marketing solely from a money perspective.
It would be best to create a relaxed atmosphere where you and your influencer could work, share ideas, and even develop engaging content tailored for your brand or product. This will make the marketing come out quite natural and genuine.
To do this, keep in mind that you have to write well-targeted content engaging to the user. To achieve this, you could use BiQ's trusted and detailed Keyword Intelligence tool.
The keyword tool allows you to plan your content and use the right keywords to ensure that your content gets to the right audience. Doing this could help you reach more people who could add to the influencer's audience.
Search for and provide your influencer with the best keywords that could help potential customers find your content. BiQ's Keyword Intelligence provides you with all the keyword statistics you need to choose the right keywords you could use as your content's tags.
At the same time, you can use the Content Intelligence tool to optimize your content.
BiQ's Content Intelligence provides you with the best content-driven strategies which are SEO-friendly. While you write in the block editor, you will also be getting interactive writing tips to help you.

The AI-powered tool will also show you all errors in your content that can be further improved.

The 'WordVector SEO' will show your keyword performance. At the same time, the 'Fundamental SEO' tells you the on-page SEO performance.

They're a lifesaver if you want a quick insight into how your content is performing. It will unveil all critical SEO errors in your content.

Both the 'Important' and 'Alert' tab shows errors that have impacted your search rankings. Start fixing the errors in the 'Important' tab because it needs your attention more than the 'Alert.' You will see a list of errors and the actions you need to take to fix them. This will help your content rank higher and get an even bigger audience.
Conclusion
The best way to grow your brand is through small, consistent steps. However, sometimes your brand may need some help to get on its feet and run. This is where influencer marketing comes in. Micro-influencers can help bring more awareness to your brand.
It would be best if you were very careful when selecting influencers. Ensure that you invest in influencers from your niche who have a pretty good engagement with their audience. It won't hurt to do a little background research on the influencers yourself since making the wrong decision may cost you in the long run.
Are you using micro-influencer in your influencer marketing campaign? Or do you have any questions?
Either way, let me know in the comments.