What is content marketing? Content marketing simply defined is the strategy and process of designing, creating, distributing, sharing, and publishing content to attract traffic. Understand what are the types of content you can create and the 5-step process you should know before you start your content marketing.
What is content marketing?
Although most people today talk about content marketing like it is something new, the practice has been around for decades!
Often cited as the world's oldest content marketing is when John Deere first published The Furrow in 1895, an agricultural magazine published print advertorial which ran long before the term content marketing was coined.
After a few years, each issue of the magazine reached millions of people across the United States. The magazine is still being printed today, making it one of the longest-running forms of content marketing.
Also, brands like Michelin followed the same route in the early 19th century. The tire manufacturer started by publishing free travel guides to arouse interest in cars.
Known as the Michelin guide, it is still one of the most adored restaurant rating systems worldwide after more than a century of publishing.
Getting three stars from the guide means you offer outstanding cuisine that is worth a "journey."
From these examples, it is clear that good content stands the test of time.
No matter if it is a branded podcast or a how-to guide, creating content that shares stories, messages, and even helpful guides for your users will cement your brand's name in history.
That is the best content marketing definition.
That said, content marketing has evolved over the years to include smarter distribution tactics, greater emphasis on user experience, and sophisticated storytelling.
Not only do modern customers want more high-value content from businesses, but the content must also be designed in a way that feels organic, natural, and useful, and not overly salesy.
So, what is content marketing? A simple definition is that content marketing is the process of designing, creating, distributing, sharing, and publishing quality information for your target audience.
By designing an effective content marketing campaign, you can enhance brand awareness, boost revenue, increase conversions and establish yourself as a leader in your niche.
This guide here will give you a broader and wider view of web content marketing and show you how to craft a viable strategy.
Why content marketing?
According to Seth Godin (founder of one of the most popular blogs globally), "content marketing is the only marketing left."
It is highly sharable, instrumental, authentic, and great for the internet generation. And that's not all, check out these statistics;
Content Marketing Institute states that 8 out of every ten people are blog readers, and they spend 23% of their time online.
Statista reports that 27% of internet users in the United States are using ad blockers.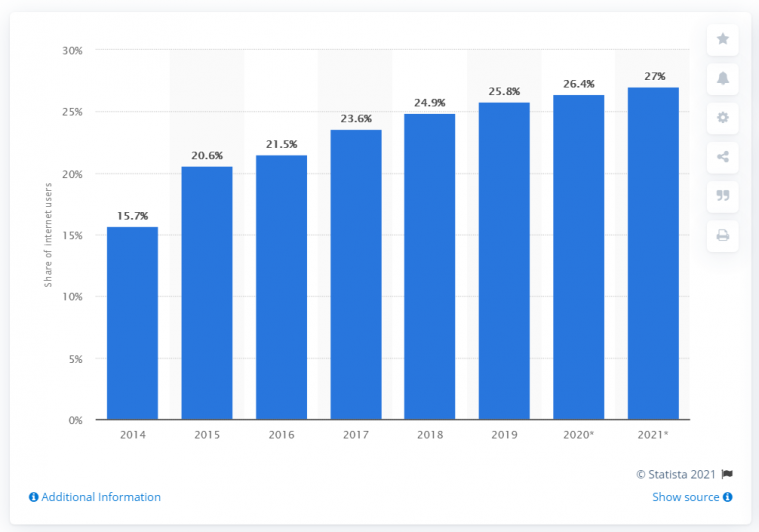 As you can see, content marketing is now a basic essential not only because it is ideal for generating leads, building trust, or developing customer loyalty, but because it is fast becoming the new normal for consumers to gauge a product or service's quality.
As a robust marketing option, they are helping to transform what clients expect from brands they do business with. 'As such, ignoring it is a surefire way of kissing your business goodbye.
Just imagine, what food, fashion, or travel company today can drive traffic without a good Instagram page, few influencer campaigns, or videos?
Software brands across the world are driving traffic through how-to tech videos and eBooks.
On the other hand, financial firms have come up with online knowledge centers and apps to help both businesses and individuals better meet their goals with a level of convenience and transparency never seen before.
Great videos with dynamic and well-thought-out tactics are showing clients that they deserve more.
Creating content to reach your customer is important now. To illustrate, here let's look at these 2 examples of successful case studies using content marketing.
Examples of Successful Content Marketing
There are many brands that are using content marketing to generate leads and sales. And here are some of the more successful examples that championed content marketing!
1. Patagonia
Patagonia is a leading outdoor clothing company in the United States that focuses on creating sustainable clothing.
True to its business mottos, the company actually gives away 10% of its profits to environmental groups.
Patagonia is also very well aware of who their buyers are and create all its content marketing that is highly targeted to the environmentally-conscious group at the expense of other customer bases.
However, this is highly paid off especially with its controversial "Don't Buy This Jacket" campaign which actually boosted the company sales.
Not only did they attract like-minded buyers, but they also successfully educated consumers to avoid other brands and buy from Patagonia instead.
The business creates content that is useful to its readers. The company blog "The Cleanest Line" posts more than just outdoor and athletic apparel. They also post about political opinions, environmentally friendly tips, and climate change which creates a huge differentiation from other brands.
2. Away Luggage
Another great example of how to develop content as a brand is Away Luggage and its iconic storytelling
The company has carved out its own niche in the luggage industry when it launched HERE, a blog awash with thoughtful, unique, and thoughtful travel stories through the angle of influential creative local people.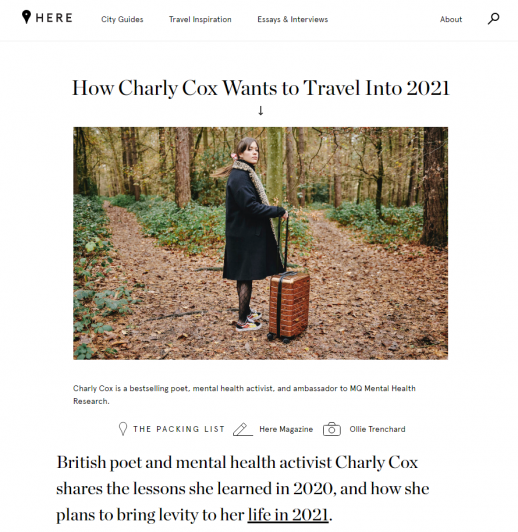 The blog has various sections including, interviews, city guides, and travel inspiration. If that is not a blog that will trigger to buy a suitcase, I do not know what will!
5 Types of Content Marketing
1. Blog
Blogs offer an effective type of inbound marketing and give a lot of room for the topic and objective.
With a robust blog, you can easily do things like; market other external and internal content and blog articles via links or add social share buttons and incorporate information.
A good example is Expedia's blog, known as Out There Starts Here. The blog shares travel-related data, including great places to visit, activities you can take part in globally, and hotel recommendations.
2. Infographics
A more visual type of content, infographics are a fun way to visually display information in an easy to comprehend format.
Using clear images, short statements, and simple wording, infographics offer a fantastic way to share content usefully.
They mainly work well when trying to simplify a complex or educational topic so that your readers can understand it. For instance, the infographic below is attractive, well organized, and easy to understand.
This content works well as many other websites would often share this or cite it in their own blog posts.
3. Podcasts
Recent research shows that 49% of 15 to 32 olds listen to a podcast every month. Because of that, firms and media houses are now creating and sharing their podcasts.
Now, podcasts offer a lot of room for creativity as they can cover any subject. As the creator, you can determine aspects such as who is on the podcast, cadence of episodes, where to advertise it, and how long the episodes should be.
A good example is Harvard Business Review's HBR IdeaCast. It features global leaders in both management and business. You can subscribe to receive all podcasts or pick a few that you want.
4. Videos
Video marketing offers an effective way to enhance ROI, boost conversions and help you develop relationships with your target audience.
According to research by Wyzowl, 69% of consumers like to learn more about a service or product through videos.
Besides, it is a very versatile content type whereby you can opt to share videos on landing pages, a co-marketers site, or social media platforms, on top of uploading it to YouTube.
New Relic's most popular video on YouTube is not a tutorial or a webinar but a funny video about coding. Check it out here;
If videos are crafted properly, they can be addictive and connect with your audience at a personal level.
Marketing via videos gives organizations a chance to quickly show their firm's essential aspects while incorporating stylistic images, spunky voice, engaging music, and fun graphics.
Now, every platform you go for to post your videos is different and has its own rules and regulations. For instance, clips posted to Instagram's feed cannot be longer than sixty seconds. If it is longer than that, you will have to post it to IGTV.
So do some research and know the platform you want to use to post your videos and any restrictions. This will make the creating and editing journey seamless and enjoyable.
If you plan to use platforms such as YouTube, make sure you optimize the videos for SEO. Craft interesting descriptions and titles and add a link back to your products, services, or website. Do not forget to give your audience a simple way to take action.
5. eBooks
Think of eBooks as long-term content that will not become obsolete anytime soon and, more practically, one of the most effective lead magnets in your sleeve. You can share ebooks with your target audience as a gift, as a way to say thank you, or in exchange for a newsletter sign-up.
The advantage here is that you can use them to offer in-depth insights into a particular topic. Depending on the structure or volume, they can act as a textbook or guide that you can refer to if you are not sure about something or want to solve something.
Linkedin's Secret Sauce is a fantastic example. The ebook is awash with hundreds of stats and tips, and insights on how the platform uses itself for marketing.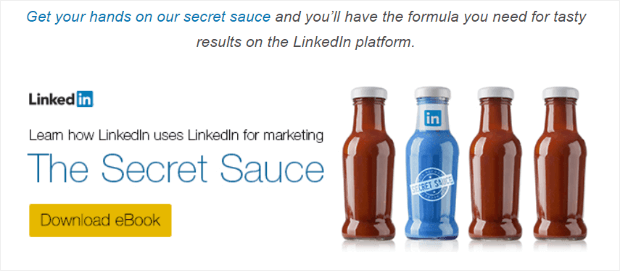 How to get started with content marketing?
1. Content marketing strategy
Crafting a viable content marketing strategy is all about content mapping. The approach is focused on creating content with your prospect's intent in mind. And to achieve this, you will need two crucial aspects;
Your buyer persona
Your buyer journey
Buyer persona refers to a fictional aspect of your target client. It will help you get a good understanding of your audience, enabling you to create content that addresses your client's behaviors, challenges, and needs.
The buyer journey refers to the process that your target prospects go through before buying. It involves three stages; awareness, consideration, and decision.
That said, it is imperative that you understand where your prospects are in the buyer journey. Having this information will help you craft a formidable content marketing strategy.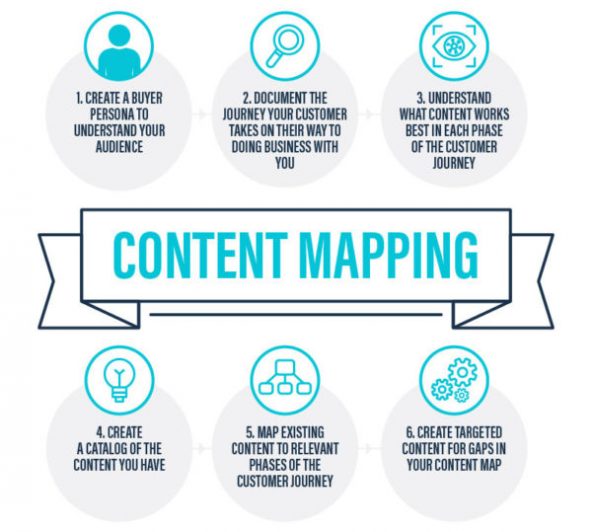 2. Conduct keyword research
If you are creating content online on the world wide web, you can never escape SEO and keyword research.
To start, create a list of keywords that are related to your business. For instance, if your company sells weight loss pills, craft a list with the actual search queries and phrases your audience use.
You can use tools like BiQ's Keyword Intelligence to find your keywords and its respective data. Our tool will show you related keywords, content ideas, popular questions, and trending searches about the topic.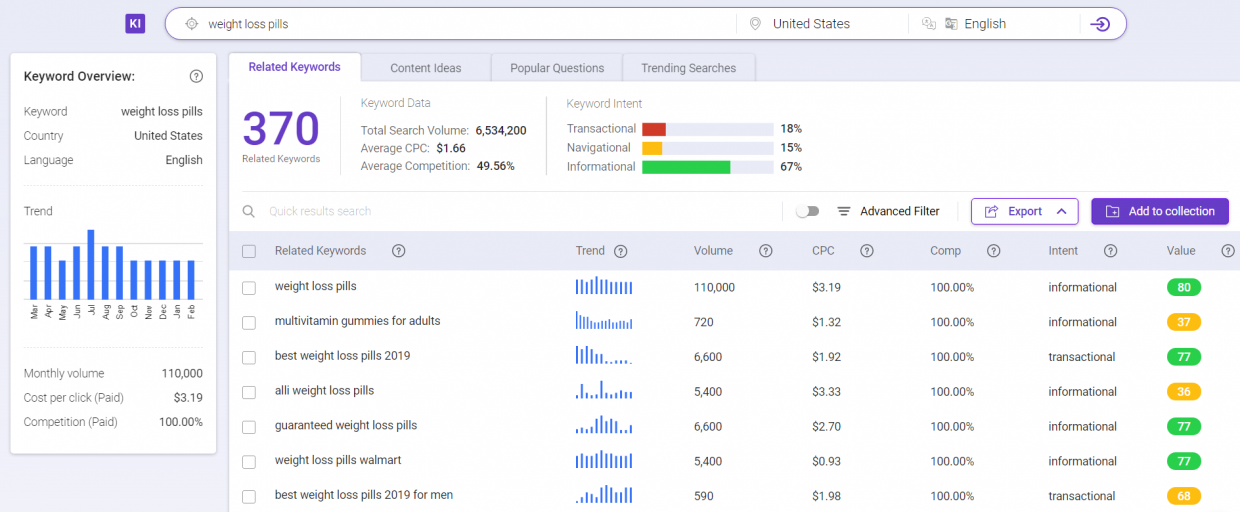 Besides the list of keywords, you use the same tool to do further research. Check out the content ideas and popular questions tab to further learn what questions users are asking about your keyword and craft out the outline for your post.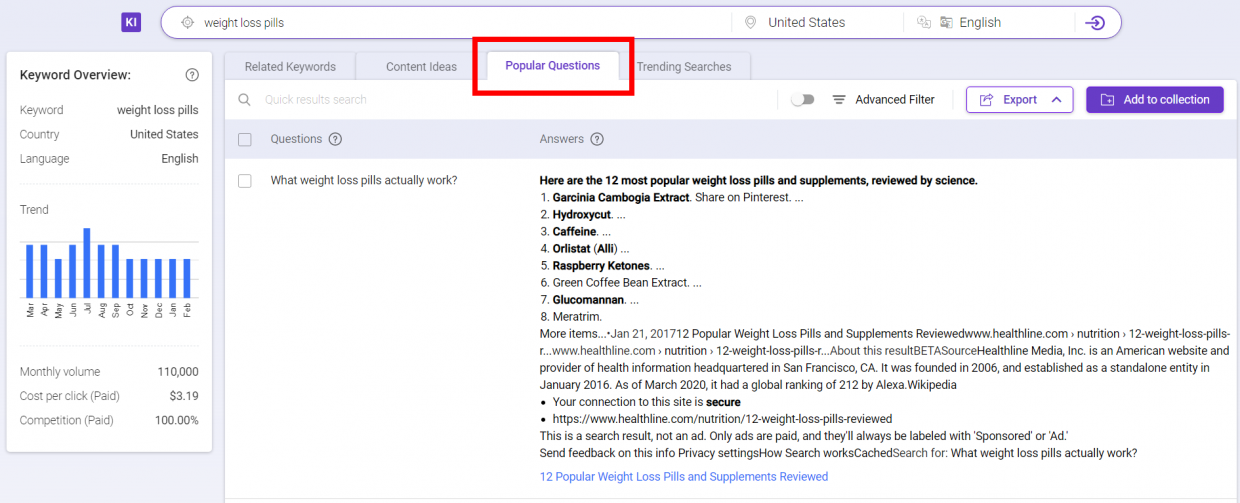 This will help you create quality content that truly answers your user queries. Additionally, you can also refer to other handy platforms like Quora, Buzzsumo, Answer The Public to further understand your audience's interest in a specific subject.
Another amazing way to craft content that answers your users' needs is to know what people are talking about. For this, you can use BiQ's Content Intelligence tool to compare conversations around competitors and clients.
3. Optimize your content
A part of quality content marketing is optimizing your content for Google and other search engines.
Cause while you may feel that your content has met user search intention, it can be meaningless if Google is not displaying your content for your target keywords or ranking it back on page 2 and beyond.
An excellent way to make sure your content is optimized is through using BiQ's content intelligence tool.
It will run a content analysis on your content, analyzing your content segment by segment for readability, relevancy and sentiment.
You can also check for any missing content gaps as the tool will also compare your content's WordGraph to the Top 10 ranking results for your target keyword.
Additionally, you can also repurpsoe your content for the best results. While many marketers focus on creating blog posts and articles, people comprehend data in different ways.
There are also many people who prefer tactile, auditory, or visual styles. So, keep this in your mind when crafting content to expand your visibility and create higher engagement.
4. Promote your content
According to a study Backlinko conducted analyzing over 900 million posts, a considerable number of posts rarely get backlinks and shares.
In fact, the study recorded an astounding 94% of blog posts are getting zero external links. The same survey also indicates that only around 1.3% of posts get 75% of social shares.
However, most of these marketers understand that backlinks and social sharing is important for your content to stand out in the crowd.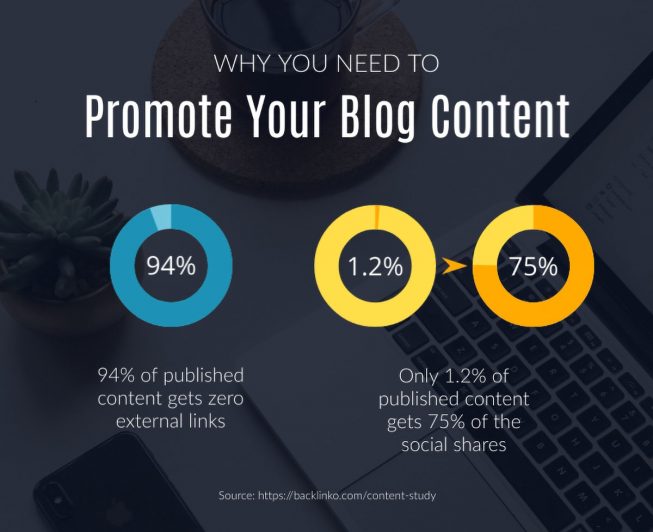 So why does that happen? Two main reasons.
The number of posts and articles published is too high.
A good chunk of the content published online is not promoted.
This is actually true because how can you expect a new piece to be shared across all social media platforms or draw backlinks by other sites and bloggers if you do not invest in promoting it?
Similarly, how can you expect other people to promote your piece if you don't push it yourself? It can be very discouraging to put in a lot of effort into crafting content, only for it to go unnoticed.
This essentially means that for your content to be noticed, you must promote it. Sadly, most content marketing efforts end when the content is published.
But any experienced content marketing expert will tell that any plan should include advertisement and promotion of that particular content.
Good examples of content promotion include a paid promotion, email outreach, PR outreach, and many other techniques. You can also try A/B testing to determine which ones work for your business.
Another angle is creating and branding links and then sharing them online through tools like Rebrandly. In other words, do not forget to advertise and promote your content after you publish. You can also repurpose the content for other channels and media to prolong its life.
5. Track your content performance
Last but definitely not least, you should always keep track of your content marketing strategy and performance.
Examining and promoting your content's performance is one of the most effective ways to determine what content resonates well with your target audience and then plan what articles to generate next.
By analyzing content, you will have a good idea about what draws interest the best, making it a bit seamless for you to craft content that interests your users. There are many tools online like Google analytics Google search console that you can use to gauge your efforts,
That said, the metrics that you should keep an eye on fall into the following aspects;
Company revenue: current leads, conversion rate
SEO results: keyword rankings, dwell time, backlinks, organic traffics
Engagement: mentions, comments, shares, likes
User behavior: bounce rate, pages per session, unique visitors
Conclusion
One of the main reasons why content marketing is revolutionizing digital marketing is that customers appreciate it.
In fact, content marketing creates 3 times more leads than outbound marketing and generates 6 times more conversion rates.
If these statistics are anything to buy, then content marketing has contributed heavily to the customer-centric environment we operate in currently.
From high-quality podcasts and videos to well-researched white papers, content is transforming the relationship between brands and consumers.
That said, with robust marketing, you can easily communicate to your target audience and double conversions. There are many ways to market with your content to increase revenue, build relations with customers and grow brand awareness/recognition.
Also, make sure you draw more value from every article you create. To start, use the tools mentioned in this guide to determine what type of content works best for your niche and then develop pieces to start boosting your bottom line.
Don't miss out! Now that you understand what is content marketing all about, it's time to start your own!