No matter if you are new to the copywriting world or if you're a seasoned copywriter looking for some inspiration, you've come to the right page. Read on to learn how you can replicate the success in writing a good piece of copy.
To the copywriting newbies, welcome aboard!
To the seasoned copywriters, we know why you are here. We know that writing a good copy is hard, but writing an effective copy is really hard.
So feel free to read on as we provide some world-class examples of good copywriting so you can get some inspiration from them.
If you're a beginner and you want to become a good copywriter, you should always start by collecting good copywriting samples. You can add them to your swipe file for future references.
If you're wondering what a swipe file is, it is basically a collection of copywriting examples used to improve your writing and to help you overcome any writer's block.
Here we start with 8 great copywriting examples that you should definitely include in your swipe files.
8 Great Copywriting Examples
When it comes to looking at copywriting examples, note that it is not only about referencing copy samples but it's also about dissecting and learning from these effective copywriting!
Don't just look to them for inspiration. Examine them line by line and word by word to analyze them and understand why they work! This will serve as a major leap board, instead of starting from scratch.
To provide the inspiration that you need, we've put together 8 copywriting examples retrieved from our swipe file and why they work. We've even included one of our own copywriting portfolio examples!
Whenever you feel stuck, feel free to return to this page to find the spark that you need.
Oatly is one of the brands out there that has been nailing their copy. This is because you'll always be greeted with a conversational copy be it on their website, opening up a new carton of their Oat milk or catching an advert or even in their social media.
They have a perfect brand personality that is just quite admirable. They are not only creative, but bold and original as well.
Usually ads in their nature are always trying to sell you something, so when a company drops pretense and is honest through humor, Oatly definitely stands out.
How to Apply Oatly's Personality to Your Copywriting?
Copywriting that is brimming with personality has the ability to connect with the audiences emotionally. After all, emotions are one of the biggest influences for sales.
Get to know your customers and what appeals to their emotions. Find ways to keep your audience reading your copy till the end. Just like the headline of the above copy, customers will keep reading to find out why does it taste like sh*t.
Lastly, try to make a mundane call to action extraordinary; like how they ask them to give it to someone they don't like if it tastes bad to them.
Notion is a collaboration tool that combines all your everyday work apps into one.
Their headline copy says it all with "All-in-one workspace: Write, plan, collaborate, and get organized. Notion is all you need — in one tool."
Their subheadline effectively shows their benefits and high value promise- which is helping you to get organised. It's simple and creates no confusion.
How to Make Your Web Copy Clear and Engaging?
If your target market is wide, you still want to go for a more conversational tone.
Make sure to use simple and plain English.
Begin your copy with a statement that communicates your mission. For Evernote, they managed to explain exactly what their product is all about in just 4 words: "All-in-one workspace".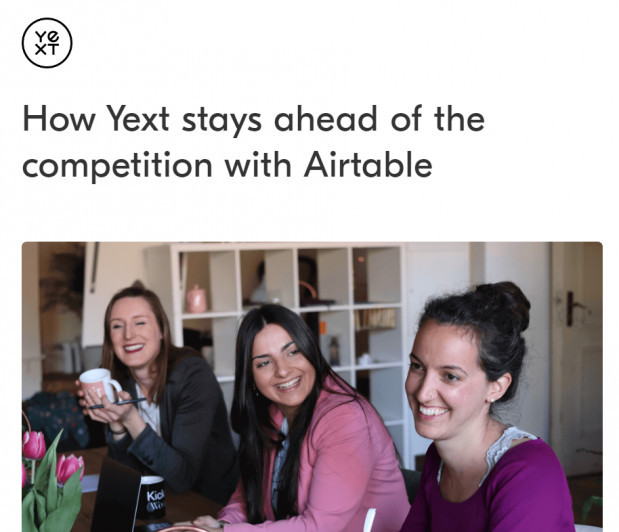 Airtable is a spreadsheet-database hybrid, with the features of a database but applied to a spreadsheet.
Because of the simple, colorful, friendly user interface, many businesses and people are using this database to get things done.
In their case studies webpage, you can find a lot of stories and testimonials on how Airtable has benefitted them.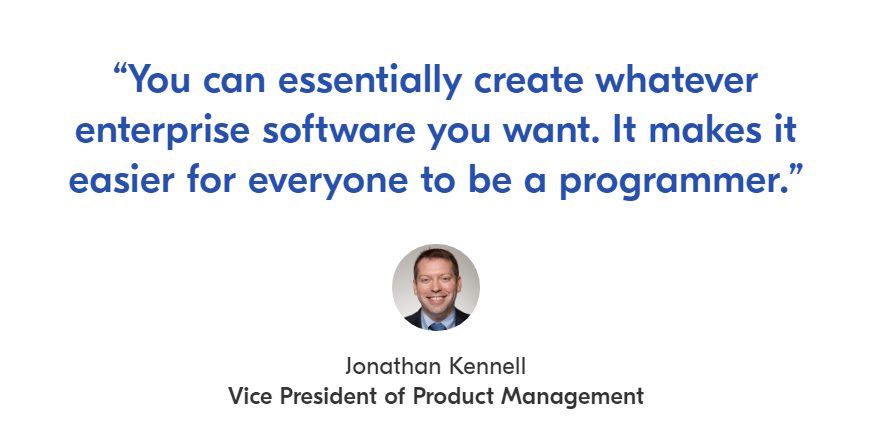 Essentially, the best copy is often written by your customers. Great copywriting knows how to feature stories and meaningful testimonials.
How to Incorporate your customers into your copywriting?
There's no more convincing message about your product or brand than when it is told by your customer in their success story.
So when it comes to your copywriting, always make sure you add or feature user-generated content like reviews, images or even success stories created by your users and customers.
This will promote authencity and most importantly offer a credibility boost which is sure tot drive conversion and sales.
Purple is a company that manufactures and sells mattresses and they have real good copywriters in their team.
We especially love their website copywriting because it is a great example of how to present the technical aspect of your product in addition with a desirable aura of high quality and modern technology.
The copy translated the features mentioned into tangible benefits, so that their customers can see and understand what their product has to offer.
How to Make Your Copy Persuasive like Purple?
Before you can start writing your copy, discover your customer's specific problems that they have with their current product or service.
Purple called their mattresses "game-changing" and a "breakthrough innovation", implying that their mattresses are the best out there and even better than the ones you're sleeping on now.
But of course, this is not without proof.
So if you have a competitive edge, make sure to highlight and place emphasis on how your product (and not your competitors) can help them solve their problem.
Also depending on your product and target audience, sometimes they would want to understand the creation process of your product, and by letting them in on this information, they can also better connect your products to the benefits.
This service is especially important for more expensive products.
Because this help your customers know that what they are purchasing are of good quality, as they learn more about what went into their product which makes it worth every penny.
"You are not here to do what has already been done." This Apple print ad was from 1997 and features just a single sentence and a picture of the Create button from the Mac OS.
Back in 1997, their ads were printed like in the "Think Different" campaign and were focussed on the minimalist copy style to inspire people to create.
Apple puts the slogan "Think Different" in pictures of revolutionary thinkers like Albert Einstein, Gandhi and more. It was viewed as one of the most successful ad campaigns of all time.
The "Create" ad is even simpler as it lets the Mac OS interface speak for itself. It indirectly turns a feature of the computer into a benefit by providing a new perspective to their Mac OS.
How to Inspire Your Readers Using Apple's Techniques?
Less is more. Consider if your copy will perform better with less content. Great copywriting doesn't have to be lengthty, but it should always be persuasive.
Get creative and figure out ways how you can incorporate your product's features as benefits. You need to present the benefits in a way which will help your customers see, and realize it. Once that happens, it will take away all hesitation to sign up or buy.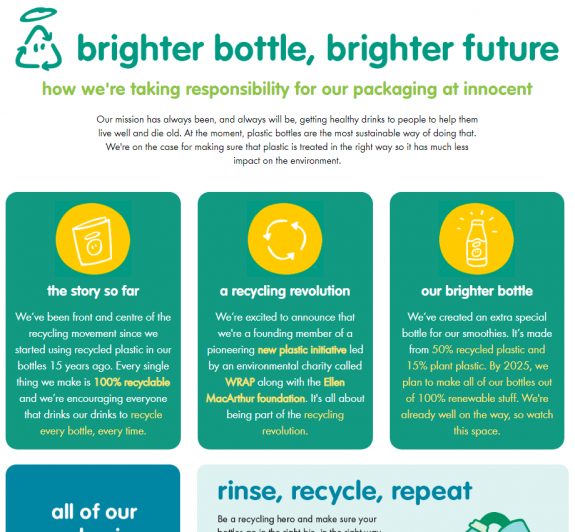 In their Recycling Revolution Webpage, Innocent Drinks stated that they are dedicated to doing good by using recycled materials in their packaging. They advocate for the environment by using treated plastic bottles so it has less impact on the environment. 
They outline clear sections in their copy that cover the past, present and future of their packaging. They also stated their mission in the page's first sentence.
How to Make Your Copy Transparent and Impactful Like Innocent Drinks??
As a brand focuses on transparency and accountability, they have audiences who focus on the processes behind their products. This gives a valuable meaning to their products.
Start your copy with a statement which communicates your mission like how Innocent Drinks's "Brighter Bottle, Brighter Future".
When writing your copy, you can consider the "how" of your products, in addition to the "what" and "why". Breaking the process of your products into easy-to-understand steps will help your readers understand your product better.
Meanwhile you must also communicate how the process aligns with your customer's values, answering their call for responsibility.
Start turning simple ideas or products into meaningful experiences.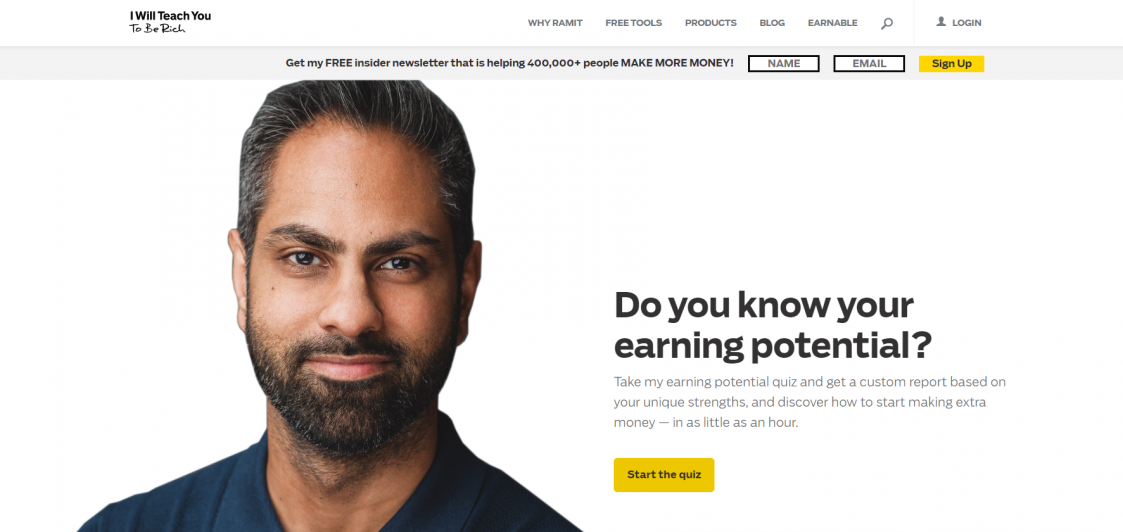 Like no other Ramit Sethi of I Will Teach You To Be Rich knows how to get into the mind of his target audience by questioning the readers while knowing what they want.
Everybody wants to be rich, but the problem is how? If the answer is simple, then everyone would have been rich by now. This is where Ramit Sethi comes in, to tell you that he has the answer to your problem.
He starts the copy by asking an unusual yet powerful question that most probably you've never been asked before. It piques the curiosity of the readers because they probably do not know the answer to the question too.
Hence, the button "Start the quiz" is a quick and snappy call to action where it is accessible and eye-catching. If you click the button, you are going to find out what your earning potential is.
How to make an Interactive Copy?
Good copywriting speaks directly to your audience and understands what is the problem their users are dealing with.
You can start by asking questions to imply that you know something your audience doesn't know the answer to. After that, let them know clearly how you can provide the answer with an engaging call-to-action button.
In some cases like in this website, it helps you realize your pain point, helping you find problems you didn't even know, and providing a solution for it.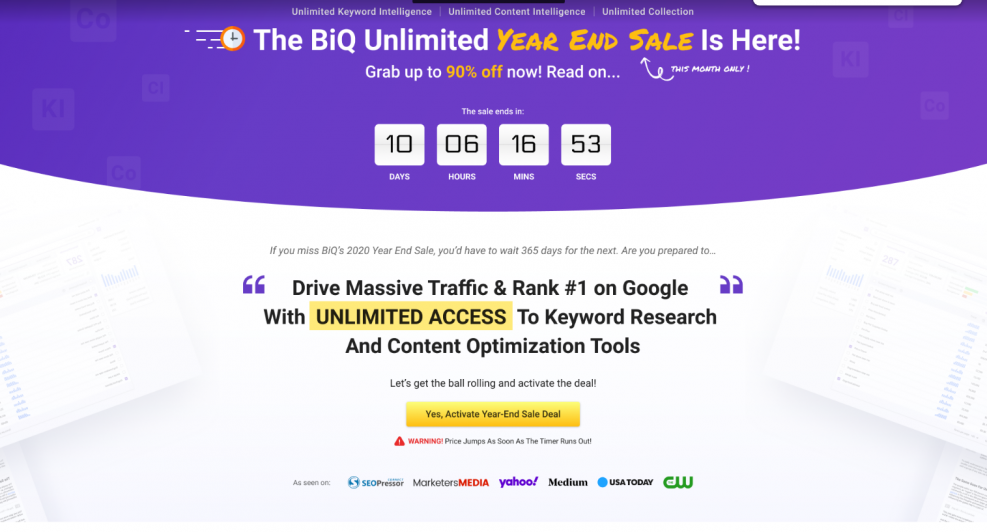 Lasly, we proudly show you an example from our BiQ Year End Sale!
This copywriting from our sale successfully converted 12% of our visitors to click on the checkout button, that's 1 in every 10 customers who visited our BiQ page.
How to write a Good Copy that can Convert?
A good copy shows a good understanding of your product or offer and translates that effectively to your customers.
Noticed how we had a line mentioning how BiQ has helped many users save money while getting 10 times more results. These immense benefits is on top of the 70% discount provided.
But of course, we pay attention to the words we use like instead of saying discount, we use words like "save" that stands from our usere point of view.
Again, if you are looking to boost conversions and ROI with your copywriting, nevere showcase your features but how your product or service will change your user's life!
3 Secrets to Copywriting Killer Web Copy
1. Manage your copy flow and command your audience attention first
Invest time for a powerful message that packs a punch, and drive your conversion with a strong call-to-action.
Take Answer The Public as an example:

Firstly, their headline lets their readers know what they can get without going into details about their service yet.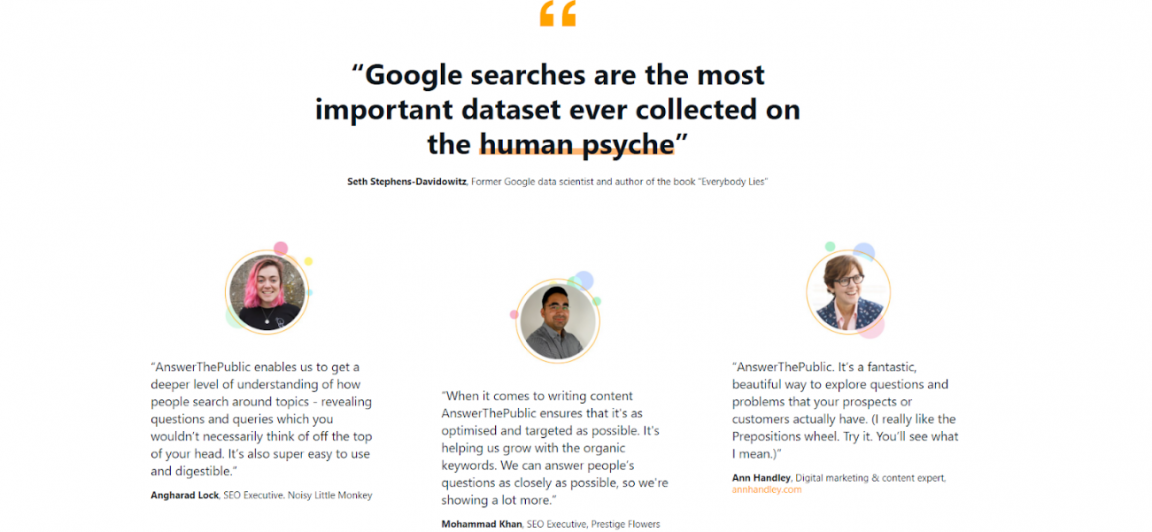 They then add testimonials from authorities and happy customers who've used their services before. This will get their readers to trust them.
They then list what their service is able to offer to the readers before stating the call-to-action button.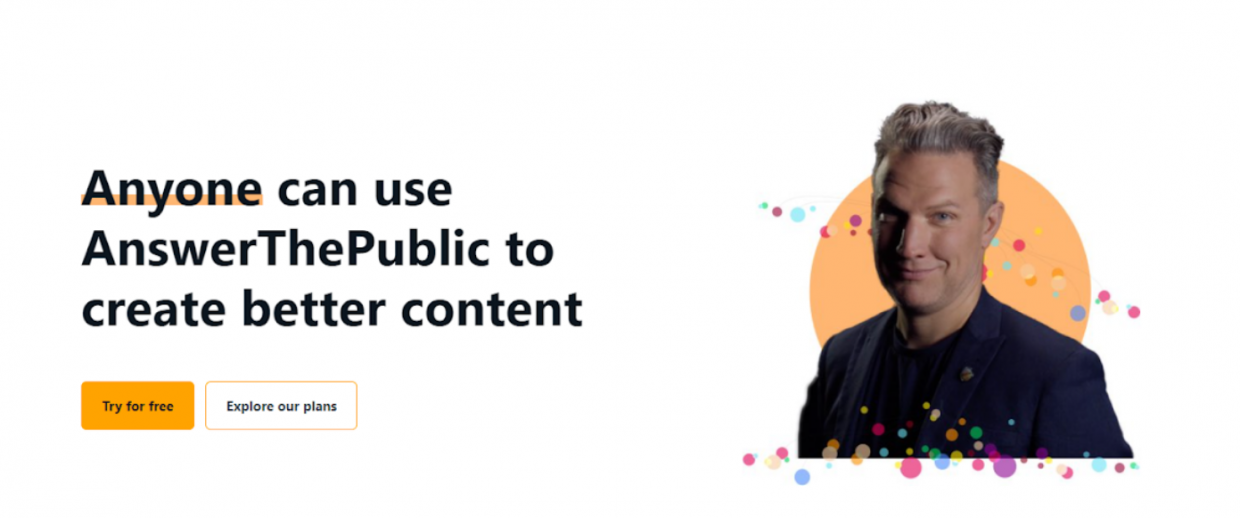 2. A/B testing your Copywriting
Sometimes we don't really know what works until we put them to the test through A/B testing, otherwise known as split testing.
This is a very powerful technique to find out what works best. It involves the comparison of performance for two subtly different versions of something customers will see.
For example, you can write two different versions of the same copy and then publish them on your website. For each visitor that visits your website, for instance, would see the B version.
Hence, you can determine which version to stick with and then A/B test other factors like length of copy, etc.
3. Optimize your copywriting for rankings
Why optimize your copywriting?
This is because you need to make sure that they have a high ranking in Google to get the best visibility.
When they are ranked high in the search page, it will indirectly increase your conversion rate as more users are able to see your copy.
To do that, you need to make sure that you are using the right keywords. Our Keyword Intelligence tool will be able to help you do that.
You can research your potential target keyword using BiQ's Keyword Intelligence. It allows you to gather data on keyword volume, trends, keyword competition, related keywords, and more.
What makes BiQ's Keyword Intelligence stand out from the rest of the keyword research tools on the market is the keyword analyzer feature. It helps you see why someone might be searching for the keyword in the search engine.
With this data, you will be able to plan your copy in such a way that speaks volumes to the readers.
You can sort the keywords based on their value, and the higher value keywords mean that it can potentially bring more traffic to your website at a lower competition.
To further strengthen your optimization for your copy, you can use our Content Intelligence tool.
Content optimization is an important part of any results-oriented strategy. Therefore, BiQ has created an advanced line-by-line analysis to help you analyze each paragraph individually and also its contribution to the overall content.
Here are examples of how you can benefit from the line-by-line analysis.
If the relevancy shows 'Edit needed', it means the paragraph needs optimization for it to be relevant to the overall content.
Relevancy: Edit needed
If remarks like these appear then it means the paragraph has a limited contribution to the overall SEO. You may want to modify the paragraph to better match your users' intent.
Relevancy: Good
When the Relevancy indicates Good, it means that your paragraph is doing well. Applying minor optimization will lead to greater relevance.

Relevancy: Great
Great relevancy value indicates the paragraph is contributing greatly to the overall SEO. Great job and keep up the good work!
Conclusion
The best copywriting doesn't start with the right words, it starts with understanding your audience and how to make them fall in love with your service or product.
Keep in mind that the aim of every copywriting is to attract your audience attention and inspire them to take action.
You can reference these copywriting examples, but at the end of the day, apply the copywriting nuggets to write for your audience.