Maintaining your website's SEO costs a lot these days when competition is no longer just about the physical store, but your online visibility as well.
Noah is the CEO of a real estate company based in Seattle.
He was paying $1,000+ monthly for several SEO tools that assisted him to dominate in local search.
Then came the COVID-19 pandemic that has hit his business hard. Noah found himself struggling to pay for the tools. Other expenses that added up made it even harder for him to be spending such a massive amount of money.

The chart below is a list of SEO tools that he subscribed to:

As a result, he had been paying $1,146 monthly for the past three years!

His money got burnt out on several tools of different functions. Despite not using all the features present in the tools, he still had to pay the full amount. For instance, he knew he doesn't need 20,000 pages to audit periodically, but he still had to pay in full.
Noah knew he could not stop his SEO efforts for fear of the online competition in the real estate niche. He needed an immediate solution to his problem, an effective one that is.
Our cold prospecting email reached him. After seeing several of our case studies on how we can help him, he quickly decided to jump over.

In just a few months, he managed to save thousands of dollars.
Noah sustained his business thanks to BiQ Cloud. The best part is when he saw a massive increase in traffic. Even when he only paid for less than $100 a month!
Hear it from Noah
"I was looking at spending $5,000 per month on average for our search engine optimization efforts if I were to include the cost of SEO tools, hiring SEO freelancers, and more.
Using BiQ Cloud helped cut my spendings to less than $100 per month. I even managed to see positive results in a week!"

What Contributed To Noah's Traffic Surge Without Spending More Than $100?
Noah understood the importance of content marketing to drive tons of new traffic and building relationships with his consumers. While content creation can be accomplished for very little money, the main cost would be time.
Other than planning and developing a new content strategy, the content team in his company needed to make sure the tools delivered the result that they wanted to see – ranks and traffic. Because of this, they had to consistently monitor and optimize the progress and performance of every content published.
Noah previously did subscribe to several SEO tools for research and content monitoring purposes. But doing so ate up his cost and time quickly because his team had to juggle between tools. Hiring a new staff would be the last choice he was looking at because that would cost him another $4,000 a month.
He vowed to find a better solution to ease the load of the content team, and most importantly, scale up their growth while keeping their cost at a bare minimum. That was when he stumbled upon BiQ Cloud.
When he started using BiQ, he saw significant improvement! Within a few weeks, the content creation, optimization strategy, and monitoring processes got streamlined!
Instead of spending hours researching for the next content, the team used BiQ's Keyword Intelligence to understand what their potential customers wanted.
BiQ's Keyword Intelligence module drills on the importance of targeting the right keywords or phrases based on search intent. This feature alone gave the team vital information about the keywords they should focus on, thus allowing them to make informed decisions.

The content team was also able to analyze the demand for a particular topic based on the trend and volume. The team could instantly tell the intent behind every topic using the keyword intent analyzer. Having this ability helped the team understand their customers way better than they used to.

When content matches the user's intent, visitors tend to spend more time on the website. It instantly leads to brand familiarity, which would naturally lead to conversions.

BiQ's proprietary AI-guided optimization enabled them to skip all the guesswork and create better content that ranks. With that, they managed to achieve perfection in their content performance as a whole!

The AI guidance ensures consistency in brand, message, and style across all content. The team got to make better, data-driven decisions that helped to create more compelling content for their customers. 

With BiQ's intelligent indicators, they could get an overview of how their content was performing in the eyes of both customers and search engines.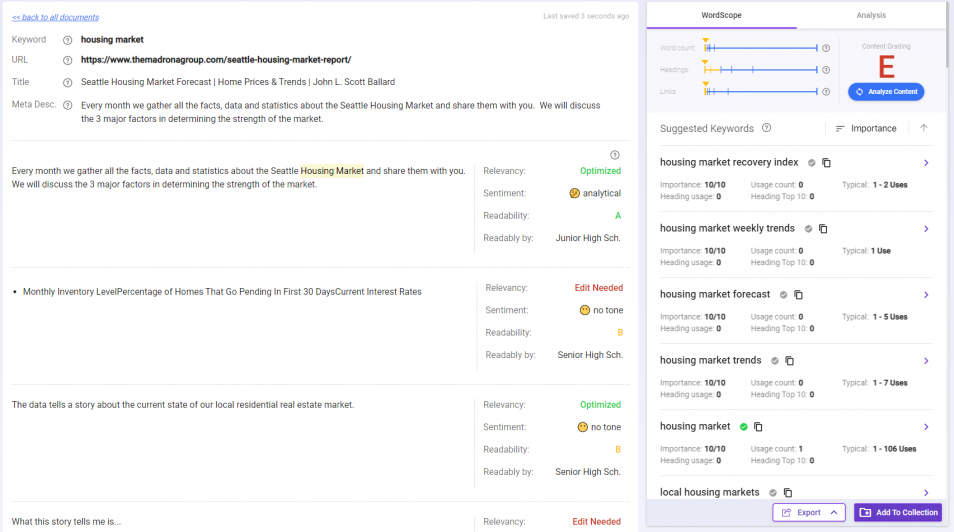 The line-by-line analysis allowed them to gain insights into which paragraph they could further optimize, modify, and rewrite. All these were made possible by separating big chunks of content into sections with BiQ's unique analysis.

Here's a breakdown of what the analyzer will show; relevancy value, type of sentiment, and readability of every paragraph.

The team may be using a content audit feature that other tools have, but at the very least, they wouldn't need to pay a fixed cost for 20,000 audits from then on.
Noah and his team just needed to optimize for less than 500 content per month. Technically, it would have cost them only $10 or less.
With BiQ, he was able to save a considerable chunk of his business budget because he only needed to pay for the features he used in BiQ.
Like the previous rank tracking tool that he had subscribed to, BiQ's Rank Tracking module also enabled him to track and monitor all his website performances across the search engine result pages.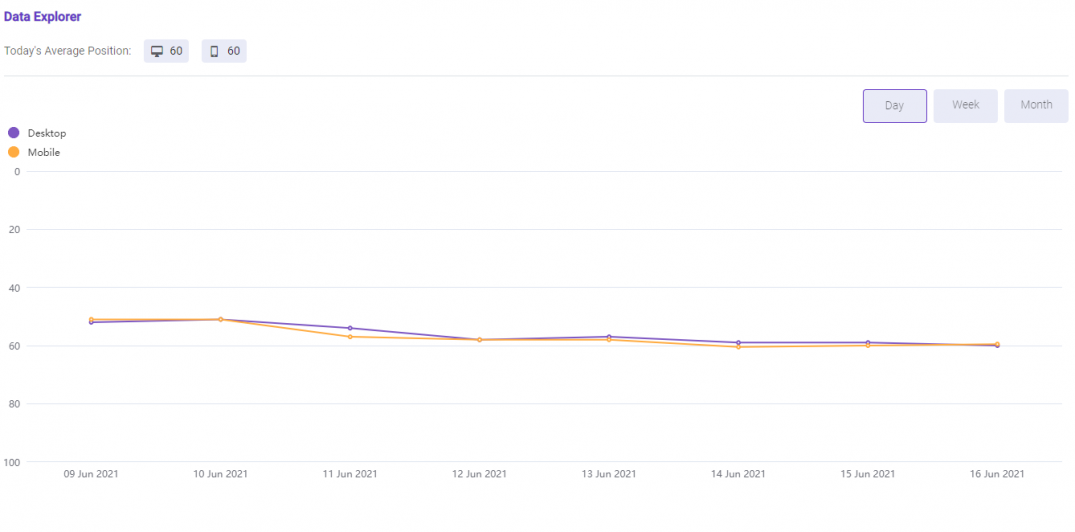 According to Noah, the content team had seen massive ranking improvements ever since they optimized their content following BiQ's optimization suggestions!

Just by deciding to use BiQ, Noah managed to save himself $48,000 a year. On top of everything, their website traffic even increased exponentially by 125%!