What is the ideal blog post length for SEO in 2022? Read on to find out how many words it takes to get the best blog post out there.
How Long Should a Blog Post be? Ideal Blog Post Length for 2022
One of the most frequently asked questions relates to the ideal blog post length when it comes to blogging. Are longer or shorter blog posts more advantageous to ranking positions and visibility?
In this article, we will talk about the ideal blog post length in 2022 and why and how the ideal blog length can help you with your SEO strategies.
Why do word counts matter?
When you start writing, you might ask yourself why it matters how long my blog is? Isn't it enough to rank if I have all the essential points already? Truth be told, it does matter.
Over the decade, content marketing has evolved, and it has become an important medium to grow your business. If you're up-to-date on the trends, you know that your blog's length directly impacts your organic traffic and ranking in the SERPs.
Here's the date proving this: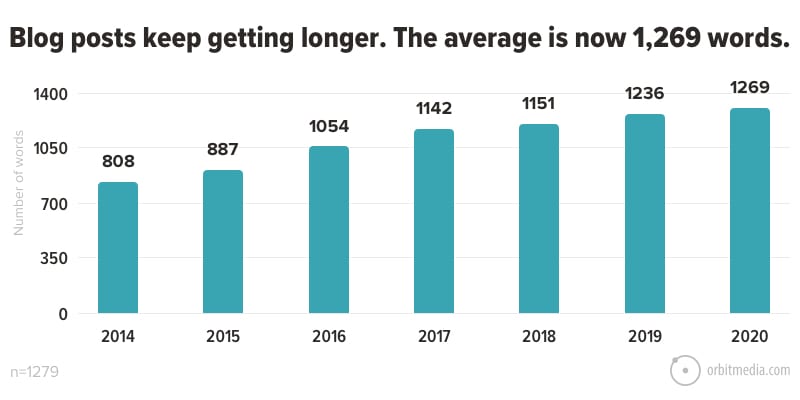 You can see a dramatic drop in short-form blogging and a steady rise in 1,000+ word posts.
With that said, word count is not a standalone factor. Word count only matters when you pair it with super-high quality content.
Anyone can produce a 5,000-word article, but if the content quality sucks, then the article won't be ranked too! But you shouldn't blindly follow the 'long-form content is better' advice too.
In some cases, it is. But in other cases, you'll cost yourself ranking and conversions. So, let's check out the difference between the two content forms to understand better which works for you.
Long-form vs. Short-form Content
What Is Long-Form Content?
Long-form content is typically any content with 1,000 words and above.
According to SEOPressor, blog posts with 2,000 words are only considered as long-form. CopyPress claims 2,416 is the average length of top-ranking blog posts. According to EduBirdie, a post with about 3,000 words converts best. 
As you can see, there are different opinions, but overall, a longer blog post length seems to be better as it can provide more value to the readers. As a result, the readers also get a more rewarding experience.
To receive, you must first give. People want insights and information, and length offers you the room to do so.
Some examples of long-form content are whitepapers, E-books, guides (e.g., how-to guides or step-by-step guides), resources (detailed references), and videos.
Pros & Cons of Long-Form Content
There are some pros and cons of long-form content. Let's look into them below.
The pros of long-form content
Has better ranking in search engines
According to a survey by Orbit Media, they found that bloggers who go big on their blog length are more likely to see results.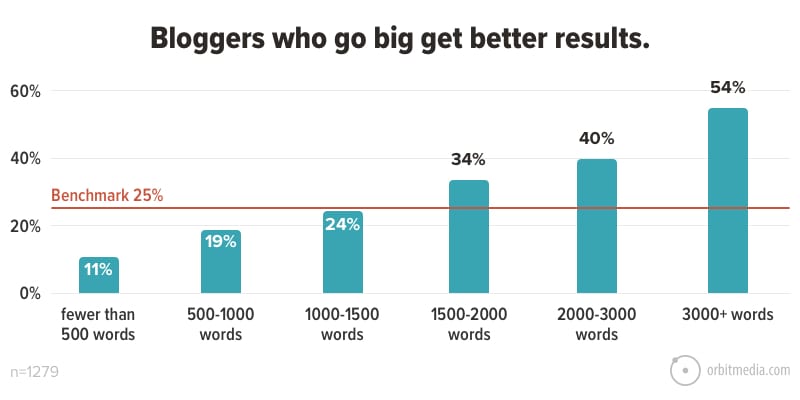 In fact, blog posts with 3,000+ words report "strong results."
Increase time spent on page
Yes, most readers indeed have a short attention span, but they still tend to spend more time on long posts than a short one. This is because it provides value to the reader.
The longer they stay on your website, the more likely they will be able to check out other brilliant content that you have.
According to Neil Patel's survey, people stayed on the long-form content page 40% longer than on the average page. Not only that, but they also looked at 25% more pages than the average visitor.
The con of long-form content
It's more challenging to write.
Creating a high-quality blog post takes more than just putting your thoughts or knowledge in it. It requires a lot of research on the topic and lots of effort to construct a story that flows.
Keyword research and research on searcher's intent is vital to rank in the search engines.
What is Short-Form Content?
The minimum blog post length is 300 words, while the guys at SEOPressor generalized short-form content as less than a 1,000-word count.
Anything below the minimum number of word count is guaranteed not to do well in the ranking as it is considered "thin content" by Google. It is nearly impossible to convey a message of high-value in so few words.
Generally speaking, short-form content is best suited for social media, mobiles, and tablets. Examples are social media content, infographics, listicles, and image-heavy posts.
Pros & Cons of Short-Form Content
There are some pros and cons of short-form content. Let's look into them below.
Pro:
People like to scan online rather than read. This is more crucial in the B2C blogs than B2B blogs as most readers have a short attention span, and they are more accustomed to "bite-sized" content. They have little patience for articles when reading on their mobile devices.
Con:
It's definitely harder to rank in the SERPs.
This is because of the limited length, and the search engine cannot scan your content for context and find out what your post is about. They rely on long-tailed keywords, and research has proven that short-form content rarely hit the top 10 Google search results.
Besides, there are fewer backlinks or linkings in general, Hence, lesser opportunity to rank.
If you are interested to learn more, you can check out our in-depth article on the differences between long-form and short-form content.
In summary, both can either work for you or go against you. So let's explore the mystery of what the ideal blog post length is. To begin, what is the purpose of your blog?
Ideal Blog Post Length Depends on The Purpose
How long should your blog post also depends on – what is the purpose of your content. You should ask yourself this question before starting to write.
Do you want to generate leads or achieve a high ranking? Is your goal just to share your opinions and observations on current events?
For instance, if your blog aims to educate your readers, then you'll need extra content to do so. Hence, a longer blog would be the best. It's tough to provide value to your audience in a 400 or 500 words article.
In an article by Medium, the author states the posts with an average read time of 7 minutes captured the most attention, which is approximately 1,600 words. They found up to 7 minutes, the average time spent on the post increased, which then reached a plateau and then a quick decline after that.
This information is meaningful because user engagement is one hugely important factor in SEO.
Hubspot found that the average blog post length depending on the purpose, has some notable difference:
For optimal SEO results, the ideal length ranges between 2,100 and 2,400 words.
For lead generation, it is higher: an average of 2,500 words.
Pillar pages – the page that acts as a catch-all for all of your content and structures it in a coherent story – contain an average of 4,000 words.
Listicles fall in the range of 2,300 – 2,600 words.
"How To" posts fall in the range of 1,700 – 2,100 words.
"What Is" posts – the ones that aim to answer a particular question – are in a lower range still, at 1,300 to 1,700 words.
Different SEO experts have different opinions on the ideal blog post length, but they all agree that long-form content is king.
Ideal Blog Post Length For Different Industries
Nowadays, it's hard to gain any real traction without going long-form, at least in most industries.
A study by Neil Patel managed to identify that the ideal length of a blog post based on SEO performance varies mostly by industry.
Financial technology is the hype in the 21st century, where E-wallets are the thing now. This topic is relatively complex and thus, requires depth to cover adequately. Go for around 2,000 to 2,250 words, and it should be sufficient to satisfy your readers.
The manufacturing industry is so big that it covers a ridiculous number of topics from chemicals to textile to machine and heavy equipment. This industry's ideal word count is 1,700 to 1,900 words as they do not really engage in much content marketing.
Retail has been a popular industry in most countries, where it drives the economy of the country. Due to the COVID-19 pandemic, the e-commerce industry has been booming.
You can explain a product or service sufficiently without an insane word count. Hence, 1,500 to 1,700 words is a good number.
It is no doubt that this is a very competitive industry. Just Google search "real-estate blogs," and you will instantly get 1,440,000,000 results. That's a crazy amount of competition.
To be at the top, you have to specialize and be an expert. Keep your blog post length to 1,800 to 1,900 words, and you should be able to top the rank.
If you look at the SEO experts like Moz, Hubspot, SEOPressor, or even our blogs at BiQ, you will notice that long-form content is king.
To stand out above the crowd, you can aim for 2,500 to 3,000 words, paired with high-quality content.
Due to the coronavirus pandemic, which started in 2019, the number of healthcare blogs has increased. There is also a lot of competition from large healthcare companies, so it's pretty stacked.
To get your content noticed or shared even, you want to create top-level articles packed with reliable data. Hence 2,000 to 2,150 words is ideal.
How to write a high-quality blog post?
No matter what is your blog post length, it is essential to create high-quality content. That said, let's look at the few tips to help you create ones.
1. Make sure it matches the audience's intent.
Once you know what your audience wants, you'll have a better idea of their intention when using specific search terms. Not only that, you will be able to identify new keywords you may have never thought of.
For every keyword you want to target, you'll need to consider the intention behind the search. You can use BiQ's Keyword Intelligence tool to help identify the keyword intent effortlessly.
Let's say you want to know the searcher's intent when searching for 'content marketing.' Type them into the keyword tool.
It will show you the estimated keyword intent percentages based on the total number of related keywords.
The keyword has an informational intent from the example above, which means the searchers are in the awareness stages.
Since the searchers are looking for more information, you can create informational content such as 'why do you need content marketing?' and 'top content marketing examples.'
Scroll down, and you'll be able to identify each keyword intent so that you can understand your target audience better.
That is a great help because it eliminates assumptions and guesswork to identify the searchers' intent.
Based on the intent of the keyword, you may also get an idea of the blog length that you should produce. For instance, you may need a 3,000-word guide for those looking for more information about certain topics.
But, for other intentions, you just don't. If someone is looking for your product or service price, are they going to be looking for your best pricing? Or are they going to be looking for a 2,000-word in-depth article on why your pricing is the way it is? It's definitely not the latter.
Now, it does make sense to consider the audience's intent before deciding your content's length. It will also help you create better content that matches your audience's needs and wants.
2. Improve the readability
No matter how long your blog post is or how good the contents are, it still needs to be easy-to-read for your readers. This is because it is harder to keep your readers engaged if your blog post word count is a lot.
Therefore, you need to improve the readability to keep your readers on your webpage and reduce the bounce rate.
What you can do is to keep your sentences short, use fewer sentences per paragraph and use easy-to-understand words. Most importantly, you have to divide your content with headings and subheadings. This will surely improve the readability of your blog post despite how long it is.
You can use BiQ's Content Intelligence tool to help you analyze the headings usage of keywords in your content.
When ranking your site, Google will use the Header tags to understand the contents of that particular page better. Headings also increase the page's usability making it more "scannable" to the readers, thus decreasing bounce rate when they get to read effectively.
Seeing the importance of including headings in your content, BiQ Content Intelligence shows you the heading's usage of keywords in your content as you analyze your content.
You also get to see the usage of that particular keyword from the headings taken from the Top 10 results of the SERP. The more you see it being used in the headings, it's a clear indication that you must not miss out on adding the keyword in your content.
Other than that, you can see your content's overall readability grade in the content tool.
Better still, you can check each paragraph's readability grade using the line-by-line analysis feature.
As you can see above, the paragraph is divided into sections, and you can see their relevancy, sentiment, and readability. Use these insights as your guide to improving your content's readability further.
Structure your content for better readability. The better the reader understands what you are writing about, the better it is. For further reading, I recommend you check out our post on making your content readable by your readers.
Conclusion
The takeaway is simple. Know your audience and your purpose of writing. Both short-form and long-form content have their perks if you know the purpose of your blog posts.
We should strive to find balance in all things. And the content length is one of those things.
It is undeniable that long-form content is a way to go if you want to write useful and valuable content for your readers. But don't obsess over the actual word count of hitting that magical ideal blog post length.
Instead, you'll want to factor your target audience into everything you do and put together a content strategy.
Also, make sure to focus on the quality of your content. This will ultimately help you achieve your goal, be it to increase organic traffic, sales, and conversions.
Now back to you: what's your usual blog post length? Are there any questions you want to ask?
Either way, feel free to let me know in the comments below.