As COVID-19 sets a new norm, here are 8 best work from home tools that helped me through difficult times. These remote working tools will see your productivity increase.
As we all know, it is due to the pandemic that all of us are forced to rely heavily on remote working tools. So I figured it would be a good opportunity to share with all of you a range of collective technologies that I live by during this period of time.

With the list of tools I am about to show you, it's a use case and how you are able to get them, I hope you'll maximize your productivity and engagement as we all go through this unprecedented time.

First, allow me to share with you a list work from home protocols you'll need to get you through the WFH period:

An organized workspace
A computer
A good internet connection
Video conferencing and chat apps
Earphones or a headset
A self-motivated, productive mindset
Are you equipped with all of the above? Great!

Then, I'll be breaking down the tools into categories that are easier to understand.

SEO & Email Marketing

1. BiQ Cloud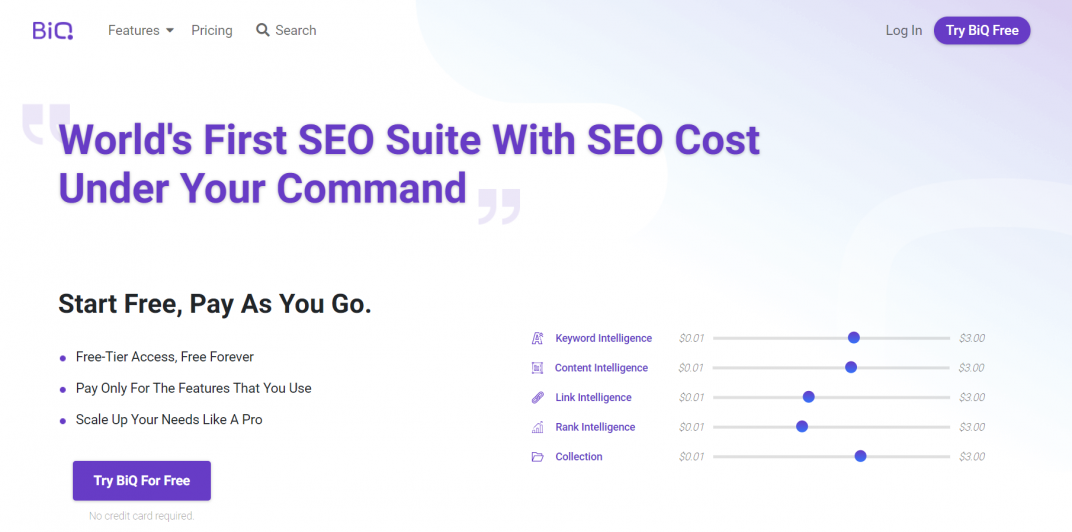 One of the SEO tools that I currently use is BiQ Cloud. What I love about this revolutionary SEO tool is you no longer have to pay for an entire suite for features you may not need.

It's groundbreaking because marketers are usually forced to pay a lump sum for a set or a package of SEO tools. But this is not the case for BiQ. This SEO suite is very much different from the rest of the tools out there because it allows you to pay only for the features you use.

Say if you are using just the keyword and content analysis, you're only required to pay for those features and not other features you're not interested in! To say that it's the world's first SEO suite that lets you control the price is an understatement.

The price flexibility is certainly a plus point to many of us marketers out there, especially in times of crisis where paying a few hundred dollars a month hurts the wallet.

Now let's talk about how this powerful SEO tool can help you to maximize your work productivity while working from home.

There are 4 main features in BiQ. They consist of keyword intelligence, content intelligence, rank intelligence, and rank tracking.

The first feature: Keyword Intelligence.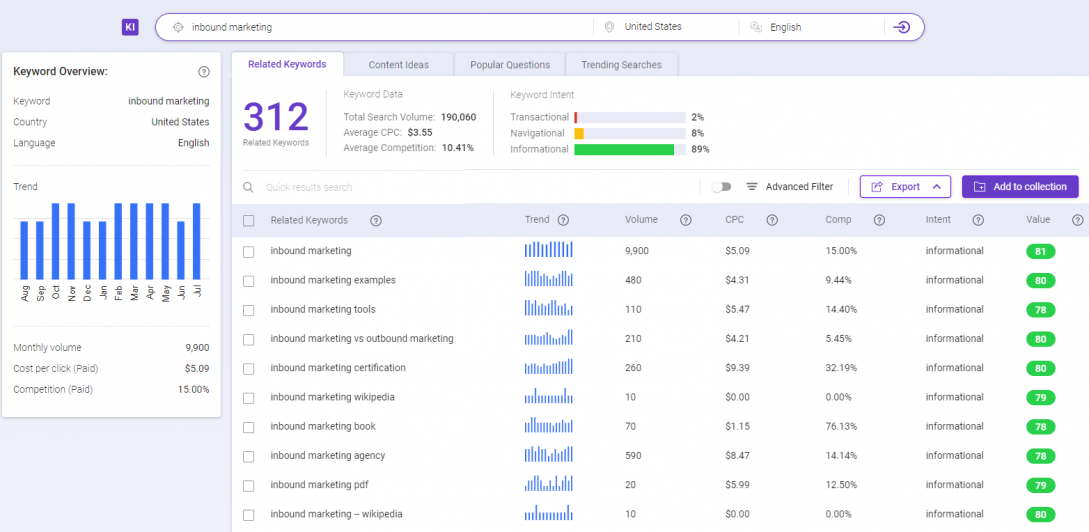 This feature drills the importance of targeting the right keywords or phrases based on the searcher's intent for your SEO strategy.

If we look at the keyword intelligence dashboard, there are 4 main tabs to help you in doing your keyword research. These are related keywords, content ideas, popular questions, and trending searches.

Each tab is packed with the analysis of the keyword that gives you vital information about the keywords you want to target, allowing you to make informed decisions.

Next, Content Intelligence.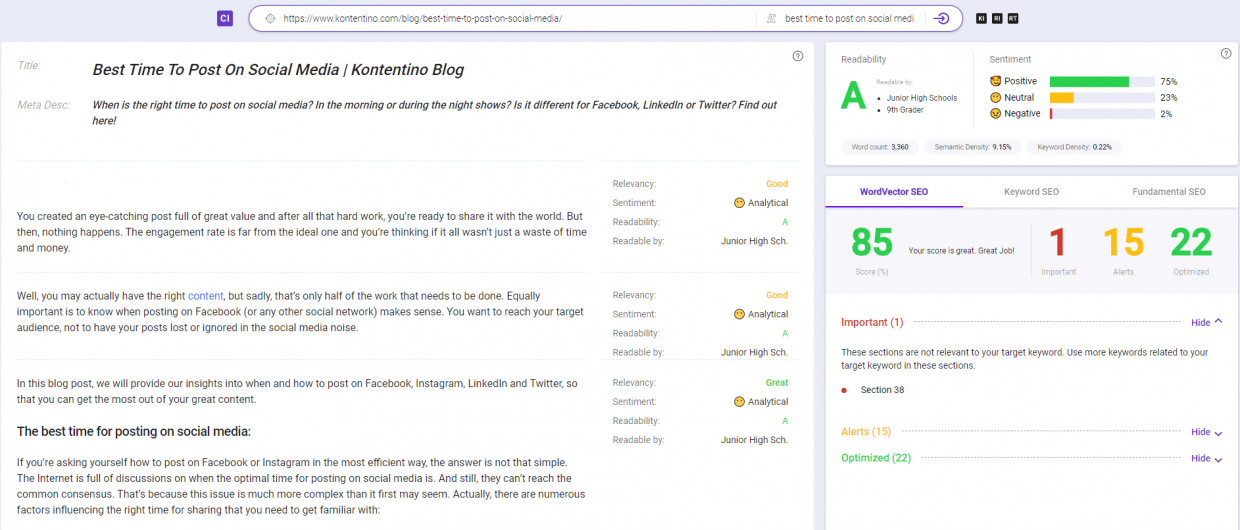 This module ensures consistency in brand, message, and style across all types of content is achieved.

Every approach found here helps you make further improvements that'll deliver incredibly powerful content at scale. What I love the most about this module is – you can get your content graded into either one of the 8 categories with sentiment analysis almost immediately!

The third feature is Rank Intelligence.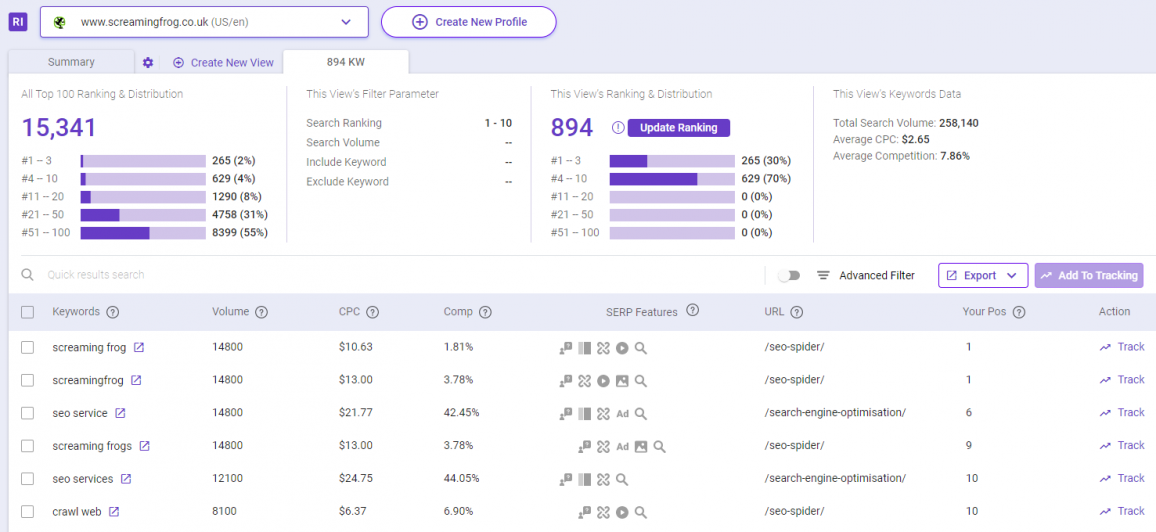 This module gives you the ability to scale insights and discover ranking opportunities you don't even know.

You'll also be able to identify featured snippet opportunities of your website while also hijacking your competitor's position zero.

And the last feature is Rank Tracking.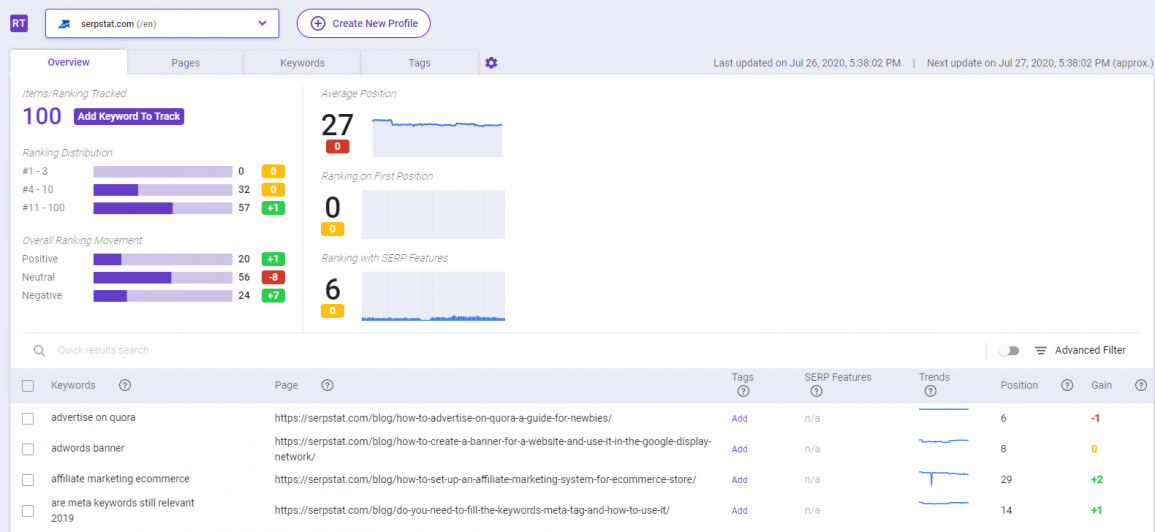 Tracking your keyword ranking is the best method to find out whether the strategies that you've done so far are working or not.

You may use BiQ to discover any keywords ranking for your website and add them to the Rank Tracking module. You can also see their last ranking positions and the performance change over time.

If you are eager to try all the features out, don't hesitate to sign up for a free BiQ account right away!


Like everything else during this crisis, data and analytics for businesses will also be directly impacted by COVID-19. Instead of completely ignoring your website and giving up before trying, you need to be playing a long game of 'showing up' online.

Because if you don't do so, how would you know what are the steps you should be taking to maintain your business on the right track?

This is the very time you should be reviewing your Google Analytics to:
i) Find out what terms people are using to find you,
ii) Identify what pieces of content they are most interested in right now,
iii) Review how devices (desktop/mobile) perform,
iv) Look how traffic sources perform or investigate what pages people are seeing the most/least
v) Keep an eye for opportunities
vi) Meet buying trends
vii) Audit your existing message so you don't appear tone-deaf to what is happening now

Through Google Analytics, there are a number of useful reports you can pull, including looking deeper into:

Landing Page behavior – What your users are doing on a specific page of your website, bounce rate, conversions, and more.
Traffic Acquisition – Learn more about where your web traffic is coming from at a high level.
Conversions report – One of the most important reports might be this one. If making conversions to leads is one of your goals (and we're guessing it is), this report can give you a little more information about how many conversions your website is seeing.
With the right reports in Google Analytics, you will be able to see what parts of your website are doing well and which could use some improvement.

3. Aweber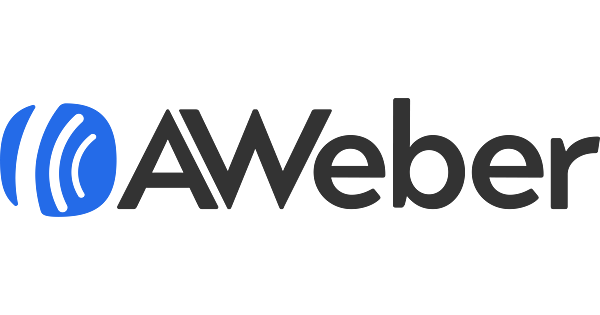 As the impact of the Coronavirus continues to vibrate across the globe, businesses are required to shift their marketing efforts in the face of this new normal. And because email marketing is one of the lowest cost, highest ROI digital channels, everyone is likely leaning heavily on email programs to stay connected with their users.

As for me, I am currently using Aweber. It is a simple but powerful email marketing software that helps me to build my email lists, send beautiful emails, and make sure I'm ever-connected with my users even during tough times. Well besides myself, our organization is a huge advocate of Aweber.
The platform is pretty straightforward and easy to understand. When a lead subscribes to your email list, you have the complete control on when and what update you want your subscribers to be receiving.

Unlike social media platforms like Facebook, we don't really have control over what we want them to see. With news updates happening every second, it's doubtful if the messages you want to be delivered are able to reach every single one of your audience.

Whereas you're guaranteed to have your email delivered to their inbox.

If you are just starting out on a website, I highly recommend using Aweber as one of your best work from home tools because they are cheap and are the best work from home tools for marketers like yourself. Here are some of the main features that made me a loyal fan of Aweber:

Automatic follow up emails – as soon as someone signs up, Aweber automatically shoots a welcome email without having to do it manually
Analytics & list management – easily measures email performance like open rates, email engagements and click-throughs
HTML templates and editors – creating the perfect email is just 5 minutes away!
Manage subscribers – quickly search, manage and segment your subscribers
Split test emails – may your best email win!
Hopefully, you're keeping in touch with your subscribers throughout this period with Aweber—just don't go overboard with promotional activities.

Communication + Video Conferencing

4. Slack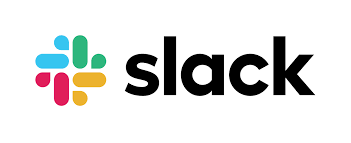 Slack is a messaging remote work tool that revolutionized office communication. Due to the pandemic, by March 25, some 12.5 million people were using Slack simultaneously, up from 10.5 million in just 6 days.

Being one of the world's most popular messaging platforms in office, I too have been using this Slack since the start of my career. The beauty of Slack in a crisis is that the platform becomes its own network.

Essentially, it:
Is a single workspace for the whole team (allows sharing of ideas, documents for marketers, codes for developers, images & videos for designers)
Has channels for topic-centered discussions
Allows unlimited audio, video calls, and webinar!
Enables file sharing and search
Integrates well with external apps (Google Drive)
Interactive (emojis and reactions) and easy to use (even if you haven't used it before, it takes literally 0 explanation for 98% of the people)
Accessible anywhere (mobile & desktop)
With Slack, a team reduces internal email (those that are super short and seem to waste time) while keeping everyone on the same page. Imagine having to communicate through emails and having to track back to a conversation that has taken place months ago.

Want to set up a room of people to share knowledge? You can, for free.
Set up a #studybase channel for your team perhaps?

Trying to organize your content team? Also free when you try to set up an #everything_content channel.

Now Slack might work for your team's work style, and it might not. As for me, it has definitely served me well. Definitely the best work from home tool that's worth checking out!

Task Collaboration Tools

5. GSuite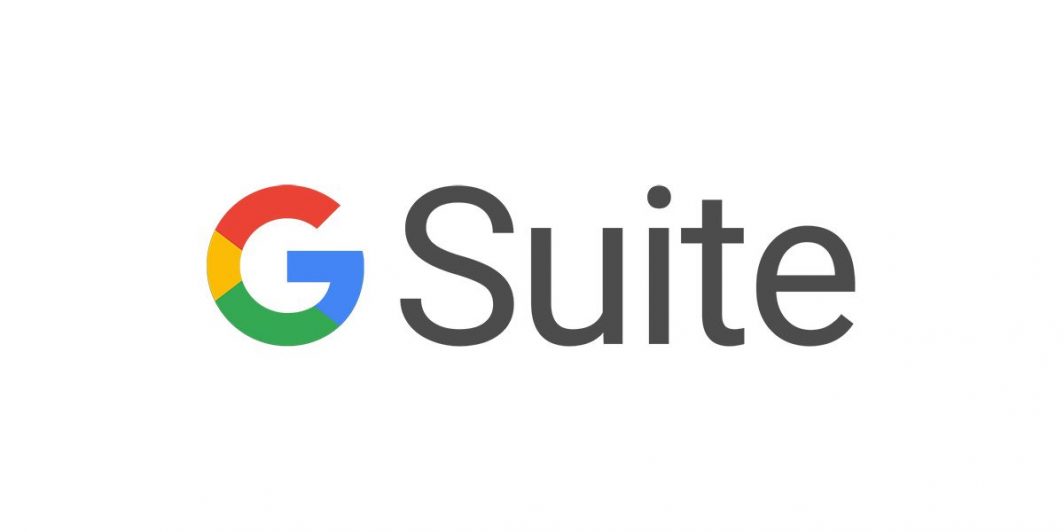 Many of us were caught off guard by the sudden need to have the majority of people to work from home. Fortunately for me, as an avid user of Google products, there was zero trouble when I had to work from home the very next day because everything is cloud-based!

Google Suite has the secure, reliable tools I need to continue productivity – remotely.
All you have to do is set up a Google account and you're ready to use the GSuite tools!

The strongest points of the GSuite are:

Google Drive is a central place to keep files
Gmail as a free email service
Google Calendar to schedule meetings
Google Docs to write documents
Google Sheets to create Excel spreadsheets
Google Slides to create PowerPoint presentations
Google Hangouts to hold effective video meetings
*Note: Google's CEO Sundar Pichai announced free access for businesses and schools impacted by the COVID-19 to their advanced Hangouts Meet-video conference which ordinarily would cost an additional $25

Having files accessible anywhere, on any device is one of the biggest reasons I've remained a loyal subscriber not only for work but personally too. Also just because I'm working remotely and not under the same roof as my teammate, it doesn't mean I can't continue to collaborate on important tasks and documents. Better still, in real-time!

Now, my company advocates for GSuite, but if you're a Microsoft-leaning team, you might gravitate towards Microsoft Office Online. Whichever works!

6. ClickUp


Project management is becoming a need during this tough time which sees why more people are flocking to sign up for project management software. Such tools help teams and managers become more productive by letting them do their tasks with ease.

Now this next task collaboration, work from home tool is definitely worth your attention. (It's used by startups and giants like Nike and Google!)

ClickUp is a cloud-based collaboration and project management tool suitable for businesses of all sizes and industries. The platform allows people to do their individual tasks, but at the same time, they can manage projects.

Don't worry about having noise all over because there is only smooth communication between teams. I cannot recommend enough that this is a wonderful task management tool and one of my favorites out there.

Reasons why it is a good remote working tool:

You're getting the best of both worlds: project management and task management tools
Edit docs in real-time
Box view that allows you to check whos working on what in one place (there's also list and board views)
Easily assign tasks to a remote team and check statuses
Setting priorities that allow users to see the things they need to accomplish first
Assigned comments generate a clear notification to a specific teammate
*Bonus: You'll also be able to chat with your teammates from the comfort of your home!

Whether your platform lacks key features, a sense of structure, or customization, you're set to run into some serious barriers managing projects for your team.
And the optimal solution is bringing the necessary tools, hierarchy, and flexibility all onto one platform – ClickUp!
Visual-Related Tools

7. Canva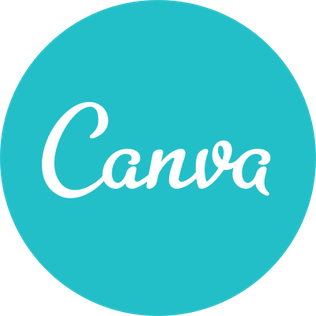 Canva is an online collaborative platform dedicated to people who aren't graphic designers (like me) and don't have funds to hire one for your various needs.

With Canva, marketers, bloggers, business owners, and individuals can create professional-quality designs quickly and easily. The platform promotes remote collaboration that features a variety of design and drag-and-drop tools, including millions of images, photo filters, free icons and shapes, and hundreds of fonts.

Canva is:

(i) Simple to use and very user friendly. (From Facebook Covers to Instagram posts, brochures, infographics, logos and etc – you can design anything and the end result will look great!)
(ii) Empowering users (by having a knowledge blog where beginners and professionals read for design tips and inspiration) 

I'm a big fan of this tool because it's been a lifesaver when I use it to help with the creation of image-based content for my blog and social media channels like: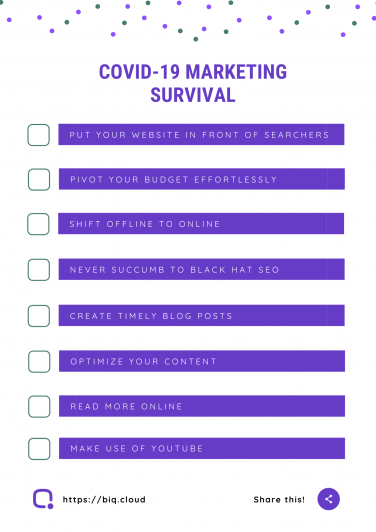 I've gone through the many phases of Canva, from the tool not having a video editing tool to one that allows for easy editing, and they recently provide moving stickers too!

Now everyone can design!

8. Wibbitz


With the widespread quarantines and lockdowns, it's more a blessing than ever that current tech lets us remain connected to one another. Businesses are under pressure right now and are forced to pivot their strategies quickly or risk serious financial complications.

Besides email marketing, video content is another great way to engage with your audience. With people stuck at home self-isolating, video content platforms have seen a spike in users and downloads as more people try to get their videos to go as viral as COVID-19.

Now, having a video content creation tool like Wibbitz ensures that content projects are still being worked on. It can be used by brands and agencies looking to quickly and easily tell beautiful stories through video. Better still, no professional video editing experience is needed! (Even a 7-year-old can do it!)

I dare say Wibbitz is the quickest and easiest online video editor for every team working from home!

Now, Wibbitz has enhanced its product with features and capabilities such as:
Variety of font options
Text highlighting and outlining
Background color and box styling
New options for on-screen alignment
Ready-made video templates
Drag and drop templates
Edit and produce videos on your own in minutes
World-class media library
It's no wonder that I have been a frequent user of Wibbitz for quite some time now. Over the past few months, I have created over 100 videos and the latest one related to COVID-19 being: SEO & COVID-19: Facts & Myths To Combat Marketing During Crisis and Content Ideas Amidst COVID-19's Social Distancing Period. These two blogs are meant to inform my readers about the SEO and content marketing implications of this crisis. (Do give it a read if you have yet to)

In case you missed them here they are:

Yes, You Can Still Work From Home With These Wonderful Tools.
I know. Working in a coronavirus world isn't easy. But hey, you've got this and we're all going to pull through this together.

With the above tools, it's easy to keep in touch and ensure that everyone is completing their regular tasks. You may even find that your team enjoys working remotely and make it a permanent policy, or continue using these tools when you things are back to normal.

So I hope these wonderful work from home productivity tools that helped me through COVID-19 are there to help you too!

If there are still other remote working tools that you think should be included in this article, just drop me a comment and I'll consider adding them in. Stay safe and stay connected!