Everyone and everything are impacted by the COVID-19 outbreak globally. But you have the opportunity to turn the crisis into a unique opportunity with these content ideas.
Hello everyone,
The world is changing as we speak.
Working from home during the COVID-19 crisis is changing our approach to marketing and content ideas
Experts believe the innovations marketers use during the outbreak may lead to lasting change, with technology playing an even bigger role in the future
COVID-19 related disruption can give marketers time to rethink their strategies

Practically the entire world has not gone through an era where we have to stay home to save lives. We are in the midst of a profound social and economic transformation that has been catalyzed by advances in automation, artificial intelligence (AI), and big data.

No one knows when will this end and as business owners, you're likely to be affected by this pandemic. But let's take a moment and count our blessings as we acknowledge how lucky the majority of us, reading this today, are working digitally.
Many of you are finding yourselves wondering if your current strategy needs adjusting based on current events unfolding. Yes, you should pivot your effort to where is right and serve the readers what they want to know.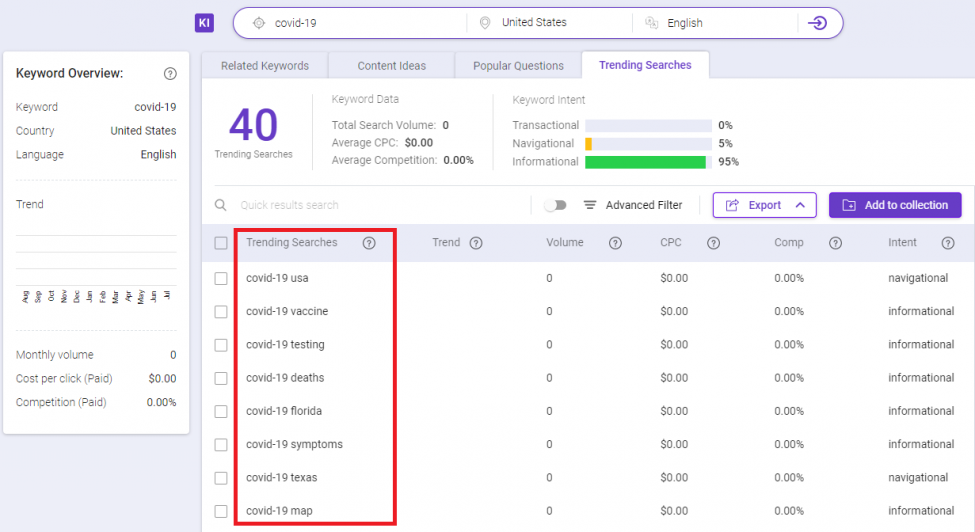 For instance, now is the time where you should be writing something that is newsworthy or relatable. Because doing so will warrant an increase in viewership and ranks on search engines.

So I took some time off and did some research using Google Trends to have an idea of what are the keywords that are gaining traction during the crisis. Here's a glimpse of what I managed to get:
COVID-19 Google Trends Search Term
As the tool suggests, we see a huge spike in the months of January to March of the term "COVID-19", since the deadly virus first emerged to the world.
My job today is to share with all of you some content ideas that you can read or write about amidst COVID-19's social distancing period. I'll be looking into several other potential categories as you read on. I hope they can help you produce high-quality content for blogs in the weeks or months to come.

Content Ideas Amidst COVID-19
1. Travel and Tourism

Around the world, I believe many if not all industries have been badly affected by the COVID-19 pandemic. Some even bear the impact of the downturn much more than others which sees the travel industry being hit the hardest.

With travel restrictions implemented in nearly every country, it's inevitable the travel, tourism, and hospitality industry will suffer tremendously. But there are still some key opportunities that you can hop on:


Here comes the million-dollar question: When Can I Travel Again? But the answer to this may be as hard as finding a vaccine.

The pandemic has forced most of the world's governments into total lockdown, refusing flights into their countries after the virus threatens to spread even further. Travel restrictions likely won't lift until there is a clear sign the pandemic has died down.

The results of the search term can be seen as increasing:
Travel insurance COVID-19
The global pandemic has made people questioning their travel plans and if their travel insurance covers COVID-19. Perhaps people want to make sure if they're covered if they get sick when they travel or maybe those who canceled their travel plans want to see what their insurance covers.
I won't be discussing with you if you should continue your travel plans in the coming months, but as we've all been warned, it's best to avoid traveling until the officials declare it safe to do so.

Life under lockdown could be misery for fellow travelers. People are searching for ideas to keep their love of travel alive so that when it's safe to get back out there, they'll all be in the right headspace to jump right back in. And the best way to be traveling without having to travel? Virtual travel!

For now, you can write about several virtual travel tours that can be done at home.

2. Medical & Healthcare
The ever-growing demands of the people on healthcare cannot be undermined. At times like this, any content surrounding genuine healthcare tips, for example, will surely garner attention. There will be a lot of questions about COVID-19. As the situation changes, you can help connect your readers to the resources and support they need.
Here are the next COVID-19 Google Trends search terms:

In the event of a deadly outbreak, our minds turn to vaccines. In fact, the best protection against this virus is a safe and effective vaccine. More than 30 companies and academic institutions are racing to create such vaccines, hoping to find one savior for the world.

So how about providing the public some good news for a change? Peter Diamandis has a blog that does exactly that.
How to make DIY Face mask
Covering your mouth and nose is one more thing people should do in addition to social distancing and hand washing to slow the spread of coronavirus. As the global spread accelerates, the do-it-yourself response to the shortage of personal protective equipment (PPE) is becoming increasingly popular.

There is no one design that is the consensus gold standard for a DIY mask. There are patterns floating around everywhere, and studies have shown that any face covering is better than nothing.

COVID-19 social distancing
6 feet. That's how much space required between two people for effective social distancing. It means limiting close contacts and avoiding large crowds and groups. Since it has affected our everyday lives, the search term for this particular keyword is sure to increase.

Content ideas such as do's and don't of social distancing or things to do during the social distancing period seem like good topics that will bring awareness to your readers. Even the article you're reading right now is an example of the keyword social distancing in it!
Coronavirus relief efforts
Governments around the world are rolling out financial relief measures and programs to support businesses impacted by the COVID-19 pandemic.
Public figures, high-end fashion brands, and conglomerates all over the world are contributing by donating millions of dollars to support communities affected by the pandemic.

One question that is sure to have a surge in search and likely to be on everyone's mind a lot: When will COVID-19 end? The short answer is, no one can say for certain.
It is said that the situation is likely going to get worse before it improves. In the meantime, keep practicing all of the hygiene and lifestyle habits you've been hearing over and over.

3. Business & Technology
Sometimes change is so vast and dislocating that it is hard to tell disaster from opportunity. Patterns of work are becoming more fluid and mobile which sees a great evolution of work in the near future.
Take note dear bosses: so long employees are equipped with your company's infrastructure, a usable laptop (and Wifi connection), just about anyone can work from home.

Moving on to the next category of the COVID-19 Google Trends search terms:
When the face-to-face meeting is not an option, the next viable options will be via virtual meetings. Video conferencing software like Zoom, Skype, Facetime, and Google Hangouts have since seen growing demands from users. COVID-19 has established an option for virtual participation as the norm, rather than the exception, going forward.
More and more companies, in a bid to contain the spread of COVID-19, are asking their employees to work from home. Fortunately, technology helps maintain cooperation and productivity.
Be it video conferencing, keeping track of work, or collaboration apps make remote working a smooth process. Plenty of apps these days provide great services, why not write an article about it when people are looking for them?

4. Work and Education
The COVID-19 Google Trends search terms are most relevant to us. While we know the impact of this virus will be far-reaching and prolonged, have you wondered what it might mean in the longer term for the work and education sectors?
In the coming months, governments will have to make difficult choices about their investments in education. So is the world of work that threatens the wellbeing of millions across the globe.
It's online learning's big moment and education is about to get revamped just as much as the industries that are going to work remotely. When it comes to education, a digitized online class isn't new but it is magnified by the pandemic and school closures.
Thankfully, we're fortunate enough to have unprecedented technology to answer the challenge we're currently facing.
With millions of people stuck at home to save lives, it is an opportunity to learn and develop new skills. There are literally thousands of virtual university courses (known as Massive Open Online Courses or MOOCs), online learning platforms (like Coursera) and one-off videos to help you exercise your brain and fight back the boredom – without spending a penny.

If you have 30 minutes to spare, there are tons of free online courses you could be tackling with all that time you'd spend at the gym or hanging out with friends.
While this time is challenging and traumatizing for many, it also represents an opportunity to take advantage of a valuable resource: time. Yet, many people are complaining that they aren't as productive as they want to be. Have tips to share? Spill it out in your next article!

Until we can all see the light at the end of the tunnel, the best we can do is to keep moving forward. What better way to do that than to remove the distraction of COVID-19 and get some work done?
Online marketing during coronavirus
No matter what industry you're in, or what type of business you have, now is NOT the time to halt your online marketing efforts. Online marketing will still be one of the most effective ways to reach your target audience.
Those who utilize this opportunity and invest smartly in things that matter most during the downtime will emerge victorious when all these come to a halt. Remember, the best defense is to do what is necessary to still be standing after the storm.
5. Home & Entertainment
With much of the world under lockdown, the time spent online has exploded. It's become a way for millions of quarantined people to pass their time and stay connected to others without spreading the virus. Here's how people are spending their time at home to keep themselves sane:
Shopping online during a pandemic
Shopping is an essential part of any country's economy. A survey by Search Engine Land found that people are spending on average 10-30% more online.
While online commerce was already making steady inroads in retail's market share, the pandemic has shut down brick-and-mortar retail drastically. E-commerce giants such as Amazon are set to benefit, as will the online channels of many established retailers such as Costco, Target and Walmart.
Although gyms have been forced to close their doors, many are following a home workout routine by fitness trainers and online resources.
Even if you're not much of a fitness fan, you may draw back from the prospect of staying indoors for a few weeks while barely raising your step count. Exercise is vital for our mental and physical health and is arguably more important than ever during periods of self-isolation.
Having fun isn't only for kids. Studies show that playing online games as an adult can do everything from help you to tackle your stress to boost your overall well-being—something that we all need during these heavy times.
So while we're all at home, why don't we actively help the fight against the COVID-19 by downloading some games?

* BONUS: Food & Beverages
Nothing – not even a COVID-19 global pandemic – should come between humans and food. Believe it or not, food has an amazing ability to bring people together. When people want comfort, many people turn to food. Let's see what people around the world are frantically searching for these days in the comfort of their homes.
Quarantine cooking recipes
Now more than ever, home is where many of us are seeking refuge and solace in light of the novel coronavirus. Gone were the days of weekends brunch and after work happy-hours with friends – people are opting to cook their own meals using ingredients they have on hand.
We'll see the rise of many talented cooks by the end of this pandemic.

People around the world are stockpiling in necessities and the first thing that gets taken off the shelves? Instant noodles. In Vietnam alone, instant noodles had a value growth of 67% as locals prepared for the worst-case scenario.
They are delicious, and as the name suggests, can be made in an instant. One need not be a chef to have a delicious meal. It's no surprise that the demand for this staple item across every supermarket is sure to get sold out.

*Silent prayers to those who mainly depend on instant noodles during this hard time.
Hand sanitizers and toilet papers are quarantine essentials during the COVID-19 pandemic. Who would have thought that people will be hoarding bread too?
If you've been on social media lately you know everyone and their brother is jumping on the bread-baking bandwagon, to varying degrees of success. Just look at the spike in search of bread!
Dalgona coffee, which originated from South Korea is one of the early "quarantine trends" that have cropped up during this uncertain period of time.
According to Google Trends, the phrase "dalgona coffee" was basically nonexistent until January 26 of this year, when there was a tiny blip of interest. And since March 1, Google search interest for dalgona coffee has spiked as you see in the picture below.
Did you try making your own Instagram-friendly drink too?

Food delivery has doubled since the coronavirus outbreak, according to data from Yelp. With cities around the world on partial or total coronavirus lockdown, delivery services have become a lifeline for customers. Consumers are calling to have takeout food delivered.
Besides the frontline doctors and nurses, let's hope these soldiers stay safe at war too.
Conclusion
We're embracing the culture of working from home and dealing with almost everything online. And we're doing it just fine. If you haven't, it's time for you to consider pivoting your efforts and switching over to online marketing.
See if any of the content ideas for blogs relevant to COVID-19 Google Trends mentioned above can be applied to your businesses. To save your precious time, do further research with a content idea generator; BiQ's Keyword Intelligence module (Content Ideas feature) and start creating your next best article.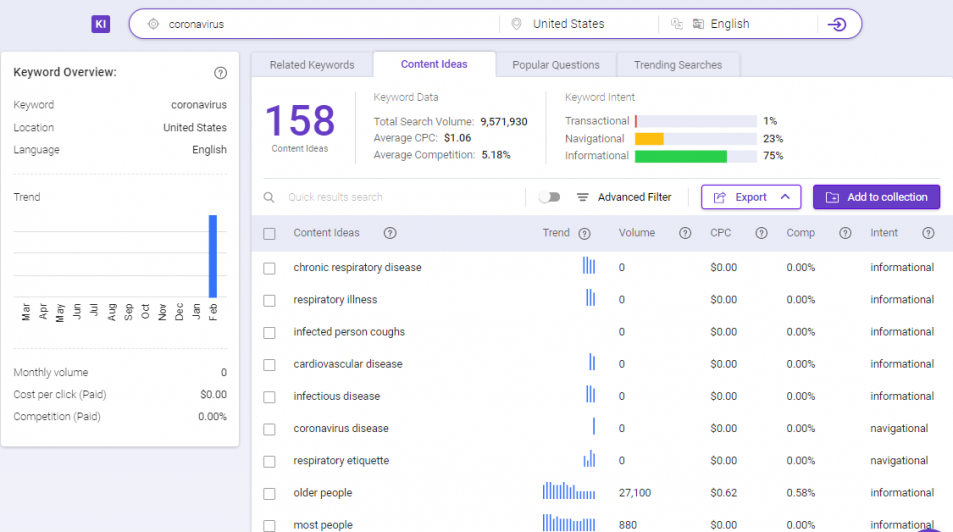 * Here's your instant access to BiQ's sign up page: https://app.biq.cloud/sign-up
As we come to the end of this article, "Content Ideas Amidst COVID-19's Social Distancing Period", here's wishing all of you well.
If you're not in the line of delivering the latest news of this pandemic, try turning your direction to creating or sharing topics that are positive and express hope. And if you want to send me an update from your part of the world, please reply in the comment section below and let me know how things are going.
We'll get through this.
Stay safe, always.