Here are 7 Paid & Free Alternatives to Grammarly Premium you should know in 2021. A thorough comparison is done to see which writing tools like Grammarly suits you best.
Looking for the Best Grammarly alternatives in 2021? Here are 7 You Should Know About.
If you're a writer, marketer, or blogger, the chances are that you've used Grammarly before. After all, it is one of the most widely-used tools for checking spelling errors, grammar, and plagiarism.
But you're not here because you want to continue using Grammarly— but for Grammarly alternatives. You're here because you're wondering if there's something better or perhaps cheaper than Grammarly.
In that case, you've come to the right place. I've listed what I think are 7 of the best free alternatives to Grammarly Premium for all of you searching for writing tools like Grammarly.
Without any delay, let's get into it!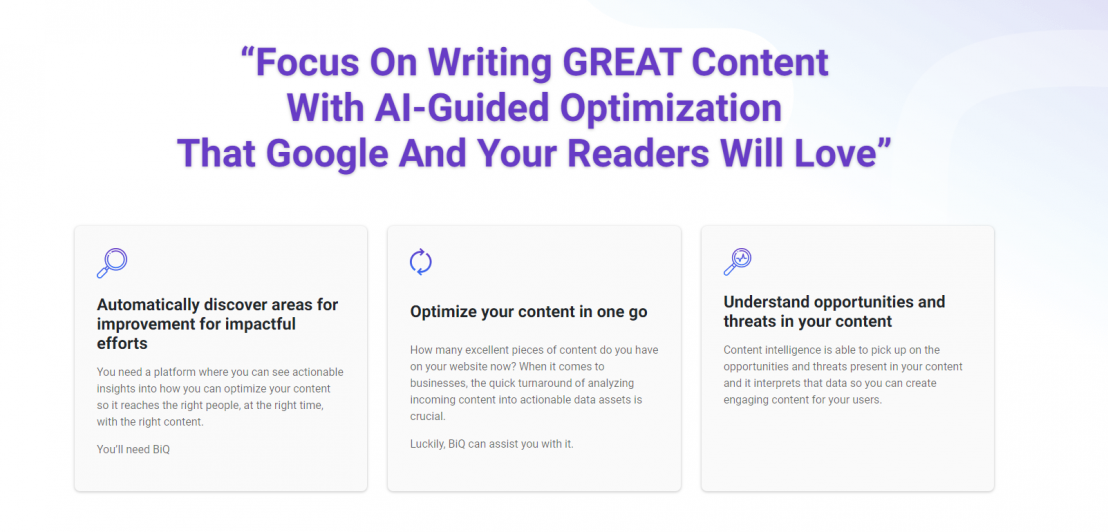 BiQ SEO Suite has gained recognition ever since its launch earlier this year. But don't let this detail be the reason you miss out on all of its wonderful potentials.
This tool, which gives you a free tier account upon signing up, is solely focused on one thing: helping you create content that converts.
All you have to do is just insert your URL, target keyword, hit on the analyze button, and see the magic work!
BiQ Content Intelligence is wholly dedicated to getting you better search engine rankings and Google-approved optimized content—and that's saying a lot. Best of all, you just need to sign up and get a free account to start using.
Unique Features
1. Provides actionable insights for content optimization
BiQ Content Intelligence focuses on how you can optimize your content for a specific audience, making it a powerfully versatile marketing tool.
You will be getting crucial insights into your overall content: readability grade, sentiment level, semantic density score, keyword score, and more!
2. Optimizes your content swiftly
Your content becomes an asset when it is fully optimized to draw visitors to your website. How quickly you get it done depends on many factors, but this tool seeks to cut down that turnaround time dramatically by analyzing and optimizing your content in minutes.
3. Shows you what works and what doesn't
Rather than doing the work for you, Content Intelligence teaches you what to avoid and what to include in your content for maximum user relevancy.
With the advanced line-by-line analysis, you analyze each paragraph individually and check its contribution to the overall content. With this, you can automatically discover areas for improvement.
4. Guided by AI
Artificial intelligence continuously adapts to and learns your preferred content style to continuously improve your conversion rates and turn your web visitors into repeat customers.
BiQ's own proprietary WordVector technology gives you personalized AI-guided suggestions after comparing your content relevance against the top 10 rankings.
5. Comes with other SEO-focused products
When you sign up for BiQ Content Intelligence, you also get to enjoy other products that come together with it.
If you are looking to find valuable keywords that give you more traffic, BiQ has Keyword Intelligence for you.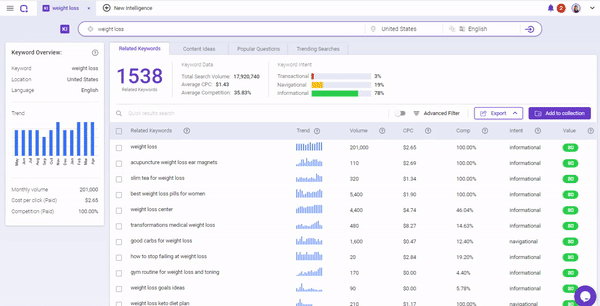 If you are wanting to do real-time content analysis for better SEO, there's Content Intelligence.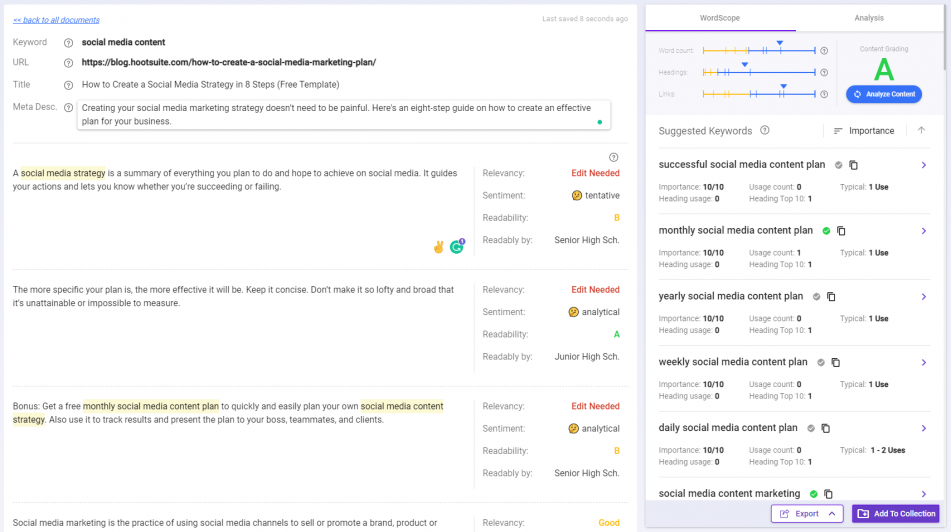 If you are ready to check your keyword rankings on search engines in an instant, there's Rank Intelligence at your service.

Or if everything's up and you'd want to track and monitor your website rankings in search results, try out the accurate Rank Tracking!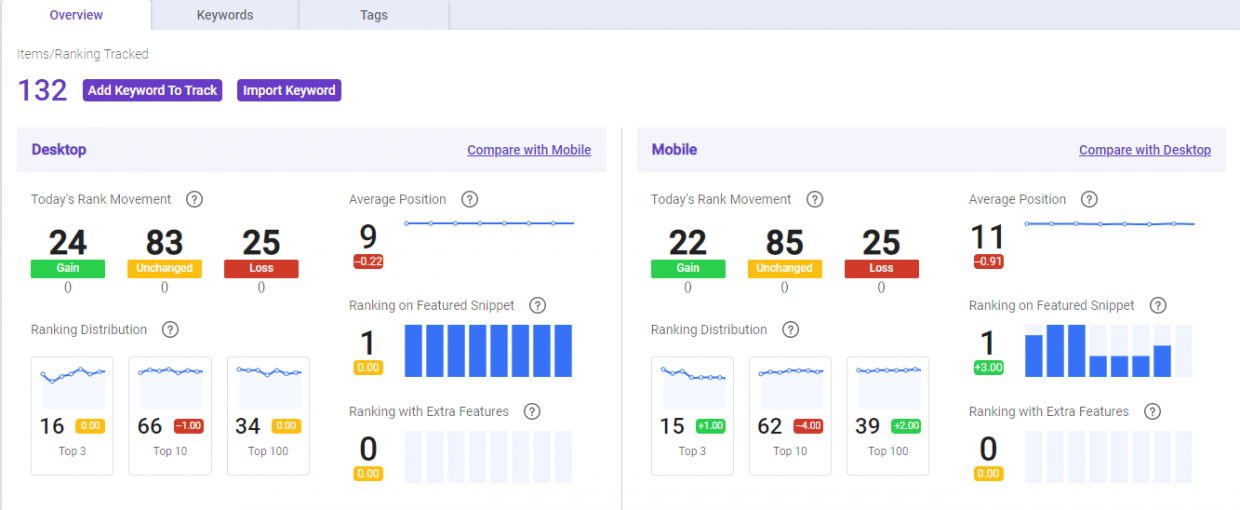 Just look at how many valuable products you'll be getting in ONE subscription!
6. Pricing
BiQ Content Intelligence is free to use upon account creation. Small, medium and large-sized businesses can take full advantage of its SEO-focused Grammarly alternative to get better rankings without dipping into the marketing budget.
Sign up for a free account right away: https://app.biq.cloud/sign-up
ProWritingAid is possibly the most advanced editor out there. It is a tool that both newbies and pro writers find extremely helpful, not just for editing but also for learning how to write readable, grammatically sound text.
Unique Features
1. Mentors you into becoming a better writer
If Grammarly has any direct competition, it is likely to be this option. ProWritingAid is a guru-level grammar and style editor that also doubles as your writing mentor.
It improves how you write in real-time. Features like Word Explorer helps you select contextually sound words at every stage of your writing.
2. Widely integrative
Aside from being a top-notch grammar and spelling checker, it can also integrate with a wide variety of writing tools such as Word and Scrivener.
3. AI-based algorithms tweak your writing as it learns
Unlike Grammarly Premium, which stops at correcting your writing mistakes, PWA's AI-powered algorithm actively learns your writing style and shows you your most common mistakes.
Best of all, ProWritingAid adapts to your specific writing style before recommending ways to improve it. It is by no means a cookie-cutter editor that spews out standard corrections—something Grammarly Premium is guilty of on multiple counts.
4. Comes with lots of editing tools
It achieves that using an impressive array of grammar checking tools, including Cliché, Alliteration, Reverse, and Collocation dictionaries, as well as a Contextual Thesaurus and a standard grammar dictionary.
ProWritingAid makes your writing more powerful by eliminating mistakes you typically wouldn't notice, like repetitive phrases and sentences, for example.
5. Real-time scoring
I personally enjoy its real-time scoring feature that tells you whether you're making your writing better or worse.
6. Pricing
The free version limits you to 500 words at a time and takes away some of the useful Word Explorer features.
The premium version is available in four payment tiers: $70 for a year, $100 for two, and $140 for three years, plus a lifetime access version at a one-time fee of $240.
If you need an inexpensive editor that will make your writing more readable and easy to understand, I highly recommend the Hemmingway Editor.
Hemmingway is one of the best free alternatives to Grammarly Premium available if you want to improve your text's readability. Writers love it for its simplicity, editing accuracy, and extremely affordable pricing.
Unique Features
1. Focuses on improving readability
The main goal of this writing tool is to make your writing as bold and clear as possible. The Hemmingway Editor might be a minimalist tool, but don't underestimate its ability to transform your writing.
2. It is easy to use
In a nutshell, you'll be hard-pressed to find a better (and free) alternative if you want something simple but powerful.
For starters, it is extremely easy to use. It allows you to paste content directly into the Hemingway Editor or even type within it.
Its editing functionality is straightforward too. It highlights structurally complex sentences in yellow and confusing or meandering ones in red.
3. Color-coded highlights
Purple highlights words with better synonyms, while blue highlights weak language and can be omitted or changed. Phrases highlighted in green are in the passive voice so that you can change these depending on your writing context.
4. Pricing
The Hemingway Editor comes in two flavors: a free online editor and a paid, downloadable app. The paid version is super affordable at $19.99 for lifetime access. Not many paid editors in this list cost so little, and nearly all of them require recurrent payments.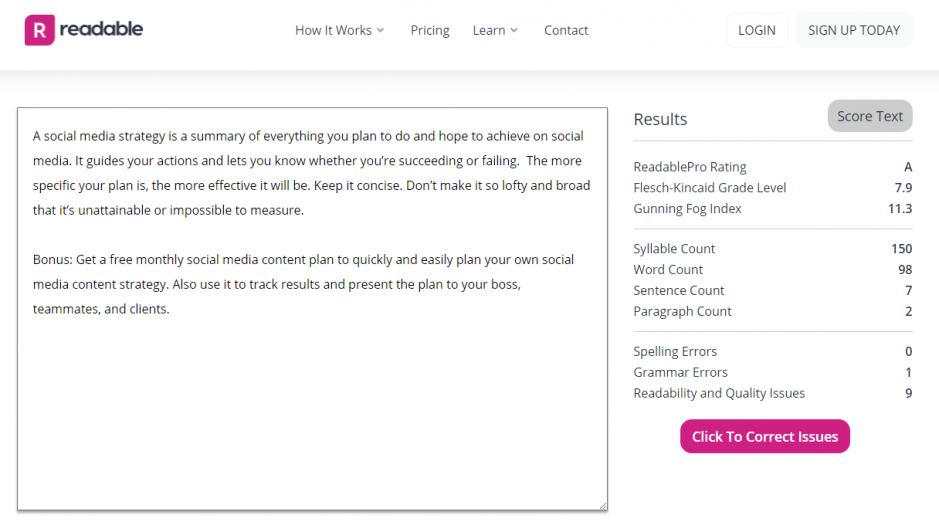 Readable quickly scans your text for errors in spelling, grammar, and readability issues, then suggests the best improvements to make your content more engaging. For bloggers, marketers, and writers of all skill levels, it can be an invaluable writing tool.
Unique Features
1. Uses a readability algorithm
Readable is the most important writing tool to have in your arsenal if readability is a big issue with your writing. Its readability algorithm has gone through thorough verification from over a thousand automated and hand-calculated tests based on formulas like the Flesch-Kincaid grade.
2. Real-time text scoring
It doesn't matter if you're typing out an email, updating a spreadsheet, writing a text, or editing a large file; Readable provides a real-time readability score that tells you just how engaging your content is.
3. Integrations and APIs available
For enterprises, Readable is a good option as it readily integrates with your content management software, plus it offers multiple APIs (including Dropbox and Slack) so that you can edit and perfect your writing wherever you are.
4. Multiple metrics
Aside from your writing's readability, Readable also checks stuff like the tone, quality, and confidence of your writing.
It can also help you improve your SEO by checking your content's keyword density so that it ranks highly on search engines.
5. Pricing
You can try Readable for free if you sign up for its 7-day trial, after which there are three pricing tiers to choose from: ContentPro for $4 a month, CommercePro for $24 a month, and AgencyPro at $69 a month.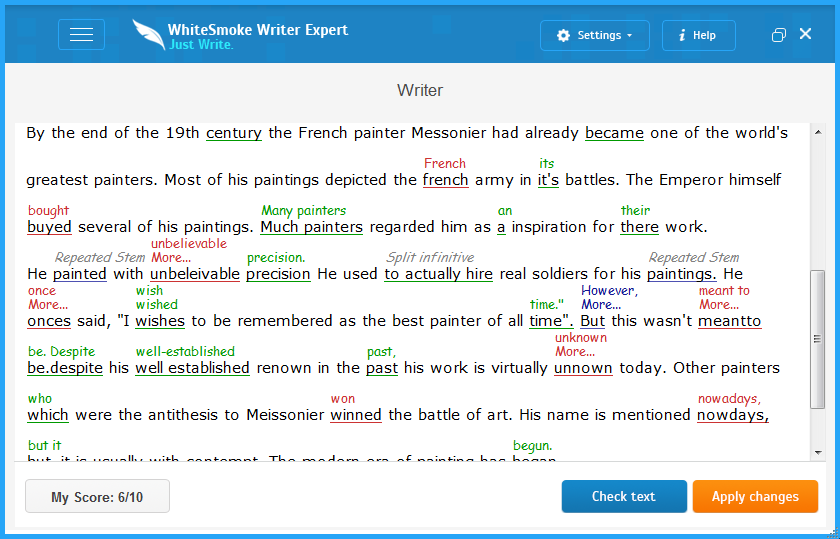 WhiteSmoke is a fully integrated writing tool that does everything from proofreading to checking the style of your content. This can be a seriously useful free Grammarly Premium alternative that you can pay to unlock more professional editing tools for any serious writer.
Unique Features
1. Quality proofreading
WhiteSmoke deals with everything from common spelling mistakes to word choices and even writing style. It touts itself as a professional grammar checker that won't let silly mistakes cost your reputation as a writer and potential customers as a marketer.
2. Highly tested and reviewed technology
The editing software has been acclaimed for its linguistic capabilities. It is one of the top choices for professionals in search of top-quality style, spelling, and grammar editing.
3. Several document templates available
With WhiteSmoke, you get access to over 100 templates for writing documents and letters. Apart from editing and proofreading texts, it also helps you organize them in the most commonly used professional templates to make your work easier.
4. Video tutorials and explanations
If you ever get stuck with a concept or have a hard time utilizing the tools, WhiteSmoke provides a catalog of video tutorials on the meaning of different errors and how to enrich your text through different writing techniques.
5. Equipped with a translator for over 50 languages
Not only will you be able to proofread texts written in English, but you will also be able to translate your content into over 50 languages. It is an extremely handy tool for all writing purposes, especially if you run a business with multilingual documents/clients.
6. Pricing
WhiteSmoke costs $59.95 a year, or you can splurge on the 3-year plan for a fee of $124.95 to save more money in the long run.
The Ginger Grammar Checker is the closest you can get to using a free Grammarly Premium alternative that sort of looks like Grammarly. It also works mostly in the same way, checking the accuracy of sentences based on your content context.
Like Grammarly, it checks language mistakes, spelling, repetition, and misused/overused words.
Unique Features
1. Error-free correction
Ginger promises to correct your text without the syntax, punctuation, and grammar mistakes its competitor Grammarly is often prone to.
2. Corrects all mistakes
Ginger fixes most of the grammar mistakes covered by other editing tools, and then some. It handles grammar issues like subject-verb agreement, consecutive nouns, and single/plural noun placement to make your writing as crisp and professional as possible.
3. Eliminates misused words and phrases
Any words you erroneously use in your content will be replaced with better words. Alternatively, the software will suggest removing any misused words that are not necessary to the context.
4. Highly integrative and easy to use
It is capable of integrating with most productivity tools and browsers. Once you've installed the software/plugin, Ginger is only a few clicks away, which is quite convenient if you write regularly.
5. Rephrases sentences
If it detects a sentence that's poorly phrased, Ginger recommends a rewrite that matches the context better. This way, it can dramatically improve the readability of any piece of content.
6. Dictionary and Personal Trainer
There is a dictionary within the software should you need to look anything up. Besides that, the editing tool acts as a mentor that consistently improves your writing by teaching you what not to do.
7. Pricing
The Ginger plugin is free to download and is widely compatible with browsers and productivity tools of all sorts. However, you can also buy the software at $20.97 a month, $89.88 a year, or $159.84 for two years.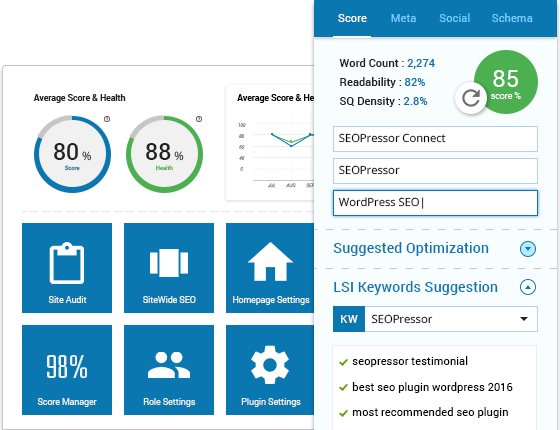 This WordPress plugin lets you optimize your content straight from your WordPress account before you publish it. Not only does it show you what to change about your writing, but it also allows you to gain a clear insight into your SEO and how it is affecting your conversions.
Unique Features
1. SEO Intelligence
Of all the tools we've discussed, this is the most SEO-focused. In fact, most marketers and bloggers use it as an SEO tool first and a content optimization tool second.
2. Semantics analysis
Still, as a writing tool, SEOpressor Connect is quite formidable. It helps you refine your writing by getting rid of redundancies like semantics—but it also tells you when and where to build semantic phrases for maximum conversions.
3. Link management
If your content has a lot of embedded links, then you might find this tool extremely useful. It aggregates all the links on your website in one place so that you can quickly check for broken links and replace them with active ones.
4. SEO Suggestions
Beginners will especially find this tool useful as it delivers useful SEO suggestions that will help you optimize your page for maximum visibility. It advises against common mistakes such as low word counts, low keyword densities, and lack of Latent Semantic Indexing keywords.
5. Pricing
You can get SEOPressor Connect for only $9 a month, which is currently the only available payment tier.

Recap Of Grammarly Alternatives
Here's a brief breakdown of what we've discussed earlier. Go ahead and sign up for one or two that suits your needs! 2021 will be even better with these tools.
Writing Tool
Main Focus
Features
Pricing
Free Trial
BiQ Content Intelligence
Content Optimization
– Actionable SEO insights
– Quick content optimization
– AI-based algorithm
Freemium
Yes
Pro Writing Aid
General Proofreading
– Writing mentor
– Full-suite of proofreading tools
– Real-time scoring
$70 / y
Yes
Hemmingway
Readability
– Readability checker
– Easy to use
– Text scoring
$19.99
Yes
Readable
Readability
– Tested readability algorithm
– Multiple writing metrics
– Widely integrative
$4/m
Yes
WhiteSmoke
General Proofreading
– Document and text templates
– Inbuilt translator
– Video tutorials
$59.95/y
No
Ginger
General Proofreading
– Error-free correction
– Widely compatible with productivity tools
– Personal trainer
$20.97/m
No
SEOPressor Connect
SEO optimization
– Centralized link management
– High-quality SEO suggestions
– Semantics builder
$9/m
No
I hope these (paid) and free alternatives to Grammarly Premium are able to help you out in 2021 and beyond. Let me know in the comments section if you have other tools that fit the description. I would love to know more about it.