Interactive content can take many forms and be applied across any marketing strategies a business has. Audiences will have to actively participate for this to work.
Learn why interactive content is the future.
Over the years, there's been a litany of sources claiming that the human attention span is declining, putting humans somewhere below the supposedly absent-minded goldfish.
But if you come to think about it for a second. If our attention span lasts only about 8 seconds, then how are Netflix binges even a thing? Why are more people spending several hours playing video games or watching soccer?
While it's true, the human attention span has declined significantly with the age of technology. But that's where interactive content marketing comes into play.
What we know for sure is that modern-day users love interactive content. And businesses that have mastered this content marketing strategy are reaping massive benefits from it.
What is Interactive Content?
Besides having a straightforward meaning, interactive content is basically content that involves and engages the person interacting with it. It involves the use of content to engage your customers based on their participation with your website.
It's kind of like a conversation between the brand and the user, but one in which you don't necessarily have to actively participate.
An excellent example is when you interact with an insurance company that offers free, instant quotes. You simply need to visit the website, fill in some information, then wait for the website to process and email or text you a free quote.
It's more of a one-on-one type of interaction between two parties. And it's very effective.
Over 90% of consumers report that they prefer seeing more visual and interactive content on websites they visit. That's HUGE!
That said, interactive content is more engaging than regular content because it encourages users to compare, compete, test themselves, and consume information a lot faster. Additionally, the brand achieves marketing results much quicker.
When appropriately applied, interactive content can help see your lead-generation skyrocket and avail a significant boost in engagement.
Benefits of Interactive Content
One critical fact about content marketing is that the moment it starts feeling like marketing, you're doing something wrong.
In its simplest form, a perfectly placed integrated message requires active engagement from the audience. Therefore, instead of passively reading or watching content on their IoT-enabled devices, customers get involved and receive personalized information.
Marketers can also glean immediate insights into their customers' current situations, whether it's to help with their marketing strategy, diets, or something else.
While all this sounds fun and exciting, most marketers avoid using interactive content with the assumption that it's complex and expensive to develop.
Well, here are some top benefits why you should implement interactive content in your marketing strategy:
1. Encourages Active Engagements
Businesses that offer an interactive customer experience instead of providing static content have recorded increased engagement rates. It's one of the greatest benefits of interactive content, which ultimately becomes a solution for most marketing situations.
For example, tweets with images have been known to generate 18% more clicks, 89% more likes, and 150% more retweets from users that engage with them.
Content marketing has evolved so much that it's saturated consumers with posts and stimuli on blogs and social media platforms, often lacking relevance or quality.
Today, brands have no option but to source for, create, and publish information-rich and creative content that captures their reader's attention. And what better way to solve this than with interactive content marketing.
Passive content now makes room for more interactive content formats, which increases the engagement times of customers and their involvement levels with your brand.
For example, when your customers read interactive infographics from your website, they'll be surprised by this new method of consuming information in a lighter and more fun way. It encourages your users to read the rest of your materials, grasp your message, and share it with their social network.
Additionally, you can analyze your consumption metrics to understand better if your customers actually consumed all of your interactive content.
2. Increased Data Collection
In this data-driven age, brands invest heavily in data collection, which is arguably the most valuable information for content marketers. Essentially, the more data you collect, the more accurate and relevant it will be, and the better optimized your marketing campaigns will be as well.
Interactive content allows marketers to capture relevant data from people who visit their websites. This has a major implication on your ability to personalize your marketing campaign and your sales team's efforts to address your prospect's biggest concerns.
But the problem for most companies is finding the most effective data collection strategies that users trust and respect.
Data breaches like Facebook/Cambridge Analytica have damaged people's trust in big corporations' ability to collect and protect users' personal information online.
Most consumers have become too wary about sharing their personal information, such as email addresses with companies while trying to avoid being flooded with hundreds of unwanted or irrelevant marketing messages. They are right to be picky about who gets into their inbox.
3. Brand Awareness
Like other marketing strategies, it doesn't hurt to invest in high tech or add a little pizzazz by associating your company with unique, desirable, and memorably valuable experiences. Interactive content marketing is one of the key strategies of boosting brand awareness and getting your products/services in front of the right audience.
The image above shows a lot of creativity from the brand marketers and just invites the user to engage with your content more. Not to mention, anyone else who sees this form of marketing would want to interact with it more.
Creative types of interactive content stand out with their eye-catching typography, playful animations, and colorful imagery. It just calls you to want to click it to see what else the brand might have cooking.
That's the whole purpose of implementing interactive content in your marketing strategies.
Types of Interactive Content
This section will share the different types of interactive content marketing strategies with you and how you can use them to publish and inspire your marketing production efforts.
Some of these marketing strategies, such as quizzes and calculators, are interactive in nature. Others, such as eBooks and infographics, can be turned interactive.
Here's a comprehensive list of the different types of interactive content you can use to inspire more engagement from your users:
1. Quizzes
Quizzes are interactive content formats that have already won millions of fans. They've become so popular over the years in the internet space that several brands turn to them to boost their marketing and engagement efforts.
You can use a quiz to question and entertain your audience, usually in a light and fun language. Moreover, it can capture critical insights into your user's maturity on subject matters when applied properly.
When you have creative and relevant quizzes, there's always a good chance that your marketing campaign will go viral. You just have to know the right buttons to push and questions to use in your quiz.
2. Polls and Surveys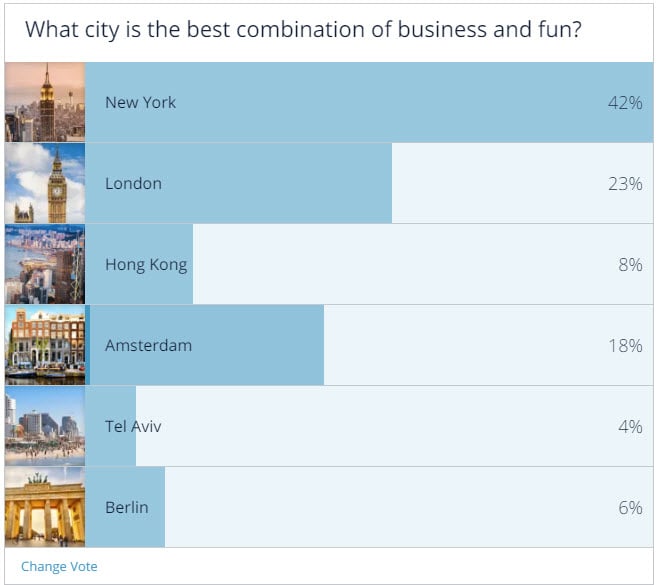 These are other tried and true strategies brands have been using for several years to engage consumers when interacting with their brands. Typically, polls and surveys are used to facilitate feedback from the audience and capture new user data.
The best part about these interactive content types is that you can apply them in a fun and interesting way to allow your audiences to participate in content your brand shares. It's also a proven method of capturing critical user data and engagement.
Not only does this make content interaction incredibly simple for consumers, but it also helps your brand to qualify leads that visit your system. If you presented the same questions in a standard web form, you would definitely see lower engagement rates.
3. Maps
Interactive maps became increasingly popular with the popularization of Google Maps. Today, maps can be used for a host of different purposes, not just to find directions.
Users can use them for entertainment or information sources, similar to interactive infographics, only that Maps have geographic data.
Even Netflix has once used interactive mapping based on Google Maps to illustrate the routes of narco-trafficking. It's just an excellent interactive content strategy that most businesses are yet to tap into.
There is also an interactive app that allows you to listen to thousands of live radio stations worldwide by rotating the earth. It's a way we get a glimpse of radio stations from around the world. And guess what? There are 8000 of them!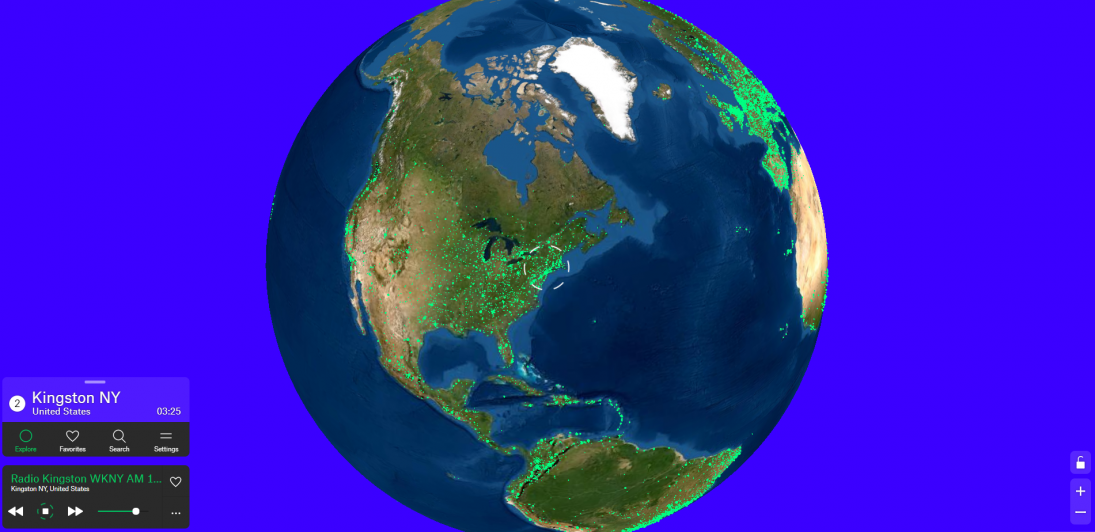 4. Interactive eBooks, White Papers, Reports
eBooks and white papers are packed with an abundance of information and data into a concise and compact design. But here's where the problem lies as well. Today's modern-day consumers want instant gratification.
Not many people would opt for eBooks or white papers simply because they're so detailed that you must dig deep to find what you're looking for.
However, studies also show that 76% of consumers were willing to share their personal information in exchange for white papers. So, this isn't the end of these long-form text-heavy interactive content strategies.
If you can make interactive white papers and eBooks, you can instantly supercharge your marketing strategies to be more engaging and fun.
Here's an interactive eBook example from the Do or Die book by Kokich.
It's just so interactive and specifically built with several supplementary materials that grab readers' attention. If you can apply this concept in your eBooks, white papers, and reports, you'll have a massive following that's supercharged and engaged with your brand.
5. Interactive Tools
Here's another popular interactive content format that comes in the form of tools and calculators. They're mostly practical tools meant to help users perform complicated online processes and equations easily and quickly.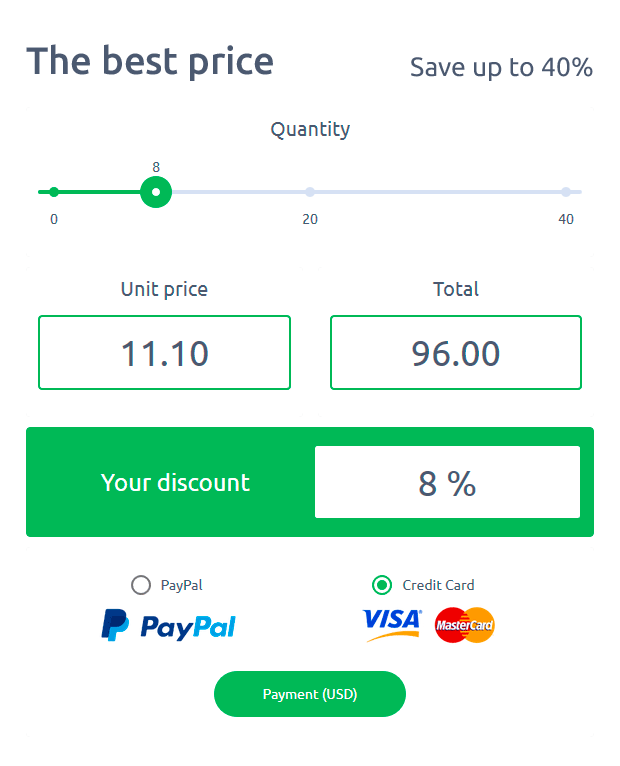 Most of these interactive tools are designed to make them attractive and eye-catching for ideal customers. You'll have much better engagement if your brand or products/services offer simplified solutions to complicated equations and evaluations.
An excellent example is a calculator as seen above.
6. Landing Pages

Landing pages have a clear objective in most marketing campaigns: to generate more conversions. Therefore, adding interactivity to these web pages can trigger your visitors' desires and convince them to drop their contact details and possibly convert them into leads.
Landing pages are the perfect example of what interactive content marketing does. They have proved to be very effective, especially when applied correctly and for the right audience.
7. Lookbooks
Lookbooks are very visual materials, usually composed of multiple photographs. Fashion brands and modeling companies widely use them to present products, photographers, models, and designers. But they fit perfectly in just about every niche.
Lookbooks are usually static and can come in printed form or PDF format. However, you can make them more attractive by creating interactive lookbooks.
People, especially your target audiences who're into what your brand does, will just fall in love with them and interact with them instantly.
Here's an excellent example from Editorial New: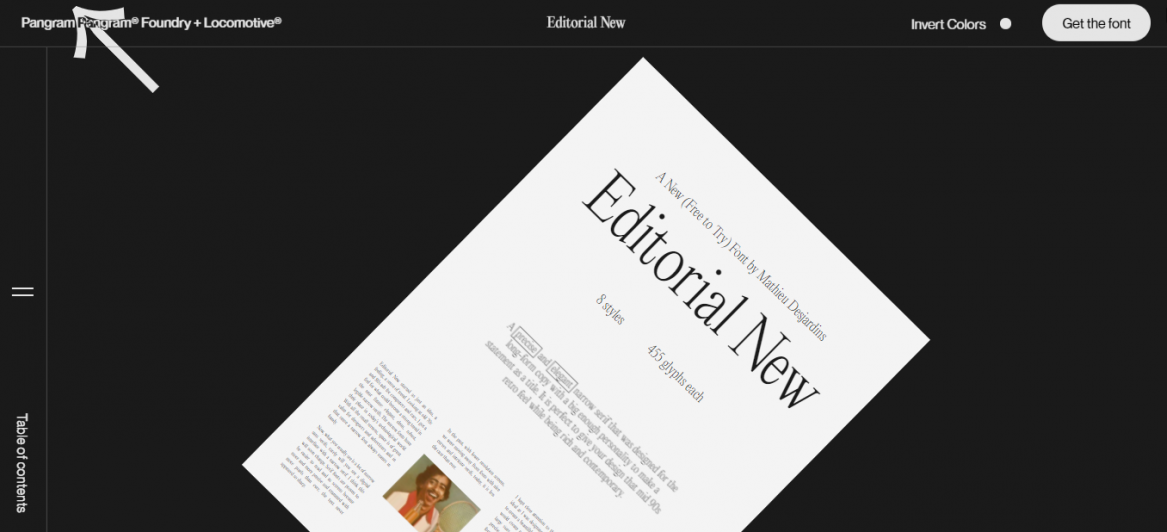 It instantly grabs your attention and has the perfect pitching message for users to tell what they are all about.
Marketing the Best Out of Interactive Content
Several marketers have declared interactive content marketing the future of all content. And that's largely because it works.
Here are some critical tips and strategies you must adapt to make the most of your interactive content marketing campaign:
1. Have a Valid Reason to Be Using Interactive Content
When applied properly, interactive content will enhance the longevity and appeal of your message. It doesn't serve as a substitute for your content. Therefore, if the features don't give your brand a marketing edge – like making you more relatable, engaging, memorable, distinctive, or useful – it's probably not worth investing the extra time and effort.
2. Match the Content with Your Audience
You must understand your user's search intent to implement an effective interactive content marketing strategy. It's one of the key attributes your content must emulate when planning to work with interactivity.
BiQ Keyword Intelligence is one of the best online tools that will help you match your user's intent with the right keywords. With this critical data, you'll have relevant information to get your interactive content in front of the right audience at the right time.

With BiQ's Keyword Intelligence, you will know whether your searcher's intent is informational, transactional, or navigational. You can then use this data to provide them with interactive content relevant to their search intent.
It's the best tool to eliminate assumptions and guesswork when identifying your searcher's intent. There's never a better tool to help you provide content that meets all your searcher's needs and preferences.
3. Optimize Part by Part
Businesses can also consider using a small pilot program to enhance their content interactivity if you feel going the whole nine yards is too intimidating.
Most marketing experts suggest that you optimize your buyer's journey part by part. Focus on one part and finish it before moving to the next segment.
In other words, ensure you create an interactive platform with every segment you complete and collect data based on subsequent user experiences.
4. Consider Working with Interactive Platform Providers
Using third-party tools is an excellent way of using other platforms to do the heavy lifting when developing tech-enhanced content. You can always use other platforms that are better configured and optimized to integrate your content's performance data with marketing automation systems.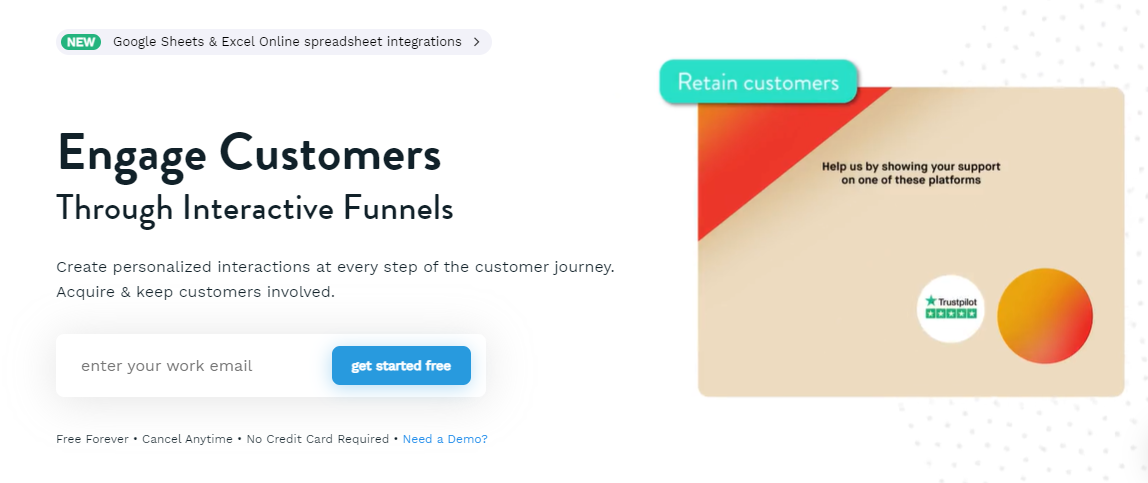 These can also be CRM tools and other content management solutions that are cost-effective and help you create and publish interactive content effortlessly. An excellent example includes Google Maps' JavaScript API, which allows you to create custom map overlays.
5. Always Track the Impact of Your Implementation
Above everything else, ensure you track your interactive content downloads, social shares, bounce rates, and other crucial data.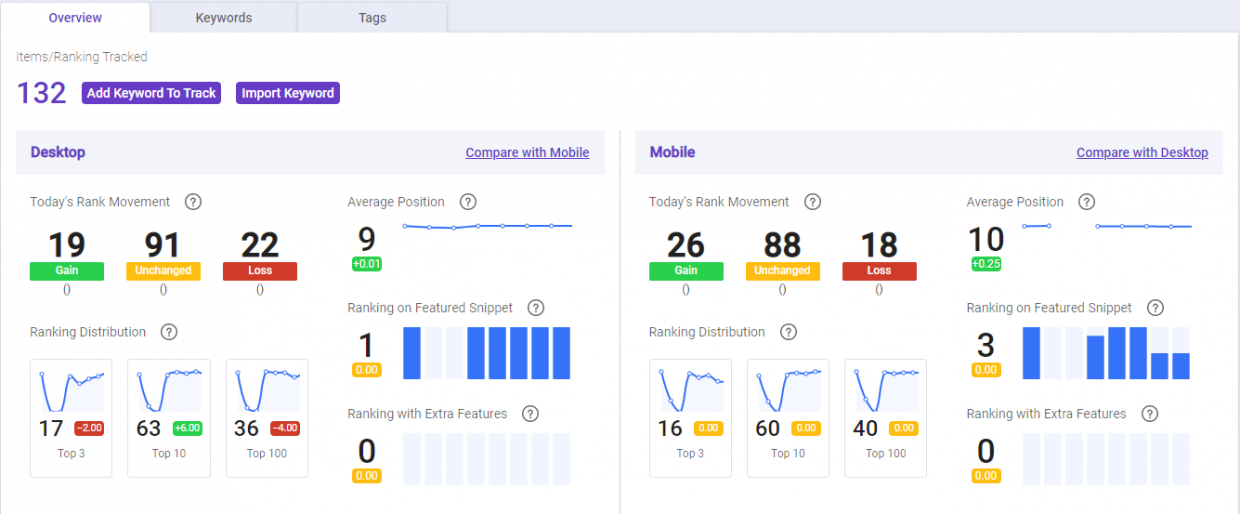 To track the performance of your ranking keywords, use BiQ Rank Tracking and use Google Analytics to check on your overall marketing campaign. This data will help you set initial performance benchmarks and work from there to boost your interactive content performance.
The performance monitoring tools mentioned above have sophisticated analytics and monitoring capabilities to keep your marketing team in the loop about your interactive content performances.
Conclusion
Depending on the kind of interactive content you want to create, this marketing strategy could bring massive improvement to your marketing campaign.
You just need to figure out the best types of interactive content strategies to implement and apply them to boost your content interaction and engagement. From the contents of this post, it's evident that we will see consistent growth in interactive content. So, what are you waiting for?