Incorporating these SaaS software can help your business grow into a formidable fort - BiQ tools, Maze, Engagebay, and Acquire, to name a few.
We are very lucky right now. For every business in the world, there's at least one useful SaaS solution. No matter how big your company is or what services it provides, the Internet offers you an array of feature-rich, advanced software solutions that can help you out tremendously.
Businesses are now spoiled with choices that allow them to better organize their documents, automate their processes, research the market, and collect data to make safer decisions. Gartner has predicted that this industry will reach a value of $143.7 billion by 2022. In a very diverse market where SaaS tools come in a large number, it can be hard to choose.
That's where this article comes to aid you. We've narrowed down the choices to the top-rated, most functional software you can use today.
1. Best project management software – Slite.com
Most of the things you do at work can be categorized as projects. Whether you're hiring new people, reporting on company metrics, or having meetings – it's all some kind of a project. With the rise in remote work in the past year, the need for a quality project management platform is more important than ever.
This is why, the ideal project management software should allow you to capture everything from recording, sharing documents, tracking the progress, writing, etc. The best-rated of them all today is Slite, software ideal for hiring, project collaboration, internal communication, etc.
Slite offers users features that can be used in a variety of projects. For starters, you can use their customizable project templates for:
Project management and documentation
Design
Remote work
Product management and development
Human management and resources
2. Best remote testing software – Maze.co
Collecting UX data is vital to the success of any business, including yours. Those who don't understand the importance of research or fail to implement the UX research process often struggle with unexpected issues and almost always fail.
Why is this, you might wonder?
Research data is invaluable for a business. Knowing who your target audience is, how they respond to your strategies, what they're looking for in a company, or what they use to find the products you're offering, is the strongest tool you have to improve and grow as an organization. Without this data, you're moving blindly, hoping that your strategies work.
For proper and easy data collection, Maze is an amazing tool to use. This site is full of ready remote testing templates that you can modify and share with your target audience. Once the software collects the data, it takes over a very challenging task from your hands – organizes it into a neat report.
In other words, using this software provides you with all the information you need to boost your strategies with minimal effort on your behalf.
3. Best complete SEO software – BiQ.cloud
Your business will need quality content regularly. Thanks to the BiQ SEO suite, this is made not only possible – but very simple, too. BiQ is AI-powered and cloud-based. With this tool at your disposal, you can boost your SEO strategy and take it to the highest level. It offers features that allow users to:
Craft and optimize their content
Find the highest-value keywords
Check for ranking data and SEO progress
Organize tons of data in a single place
One of the most popular tools is the BiQ Content Intelligence. It is filled with strategies that allow you to turn your text into an SEO-friendly piece of content. While writing in the block editor, the software will provide you with writing tips, grade the quality, and give you an insight into how well you're using keywords (and how relevant they are).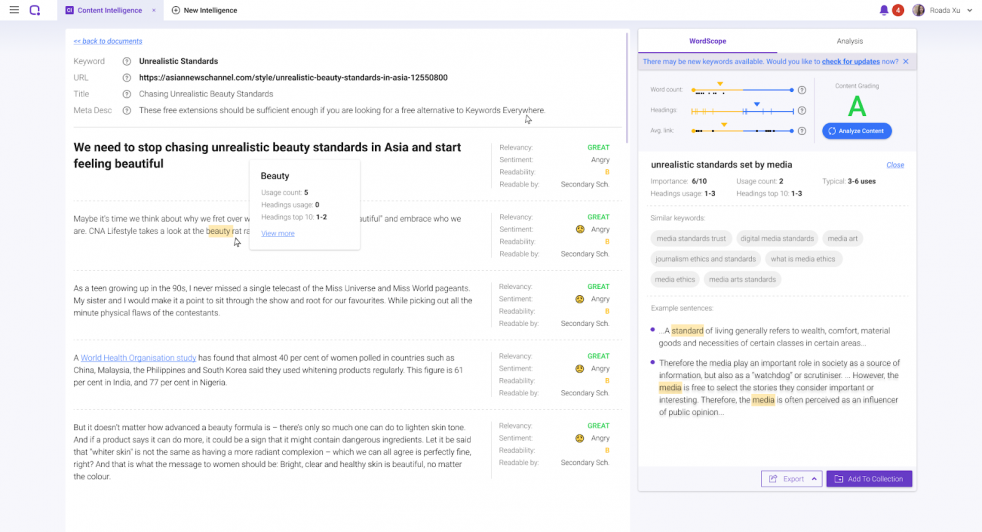 One of the most impactful strategies you can use in content marketing is narrowing the content gap between you and your well-performing competitor through Rank Intelligence.
After creating a profile, simply insert the URL of your competitor and set a parameter of how many keywords you would want to "steal" from them.
Once you have that, you can easily export the data out as a CSV to further sort through the keywords using a tool of your choice, like Excel.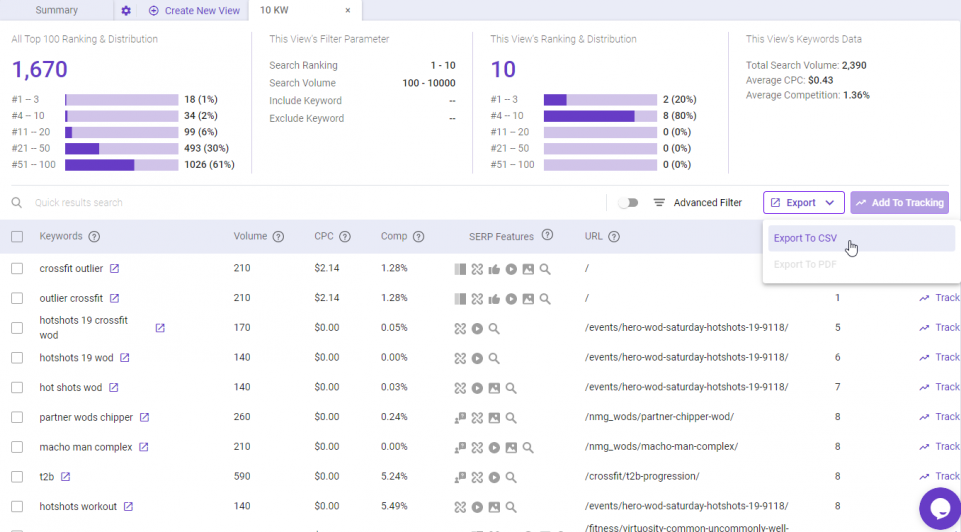 You can research your potential target keyword using BiQ's Keyword Intelligence. It allows you to gather data on keyword volume, trends, keyword competition, related keywords, and more.
What makes BiQ's Keyword Intelligence stand out from the rest of the keyword research tools in the market is its keyword analyzer feature.
It helps you see why someone might be searching for the keyword in the search engine. With this data, you will be able to plan your content in such a way that meets your users' needs.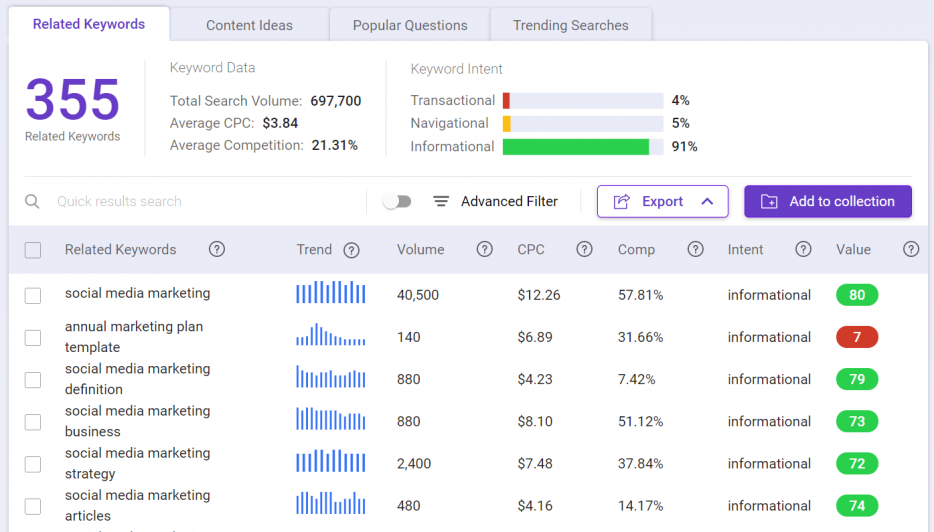 Another powerful BiQ tool – Rank Tracking, allows users to track their daily keyword and webpages rank movement automatically since the day it is added to the tool.
With BiQ's Rank Tracking, all it takes is to create a rank tracking profile for your website, and you can get a snapshot of your website ranking progress over time, view your ranking distribution, see your average ranking movement, see the ranking with SERP features movement, and so much more!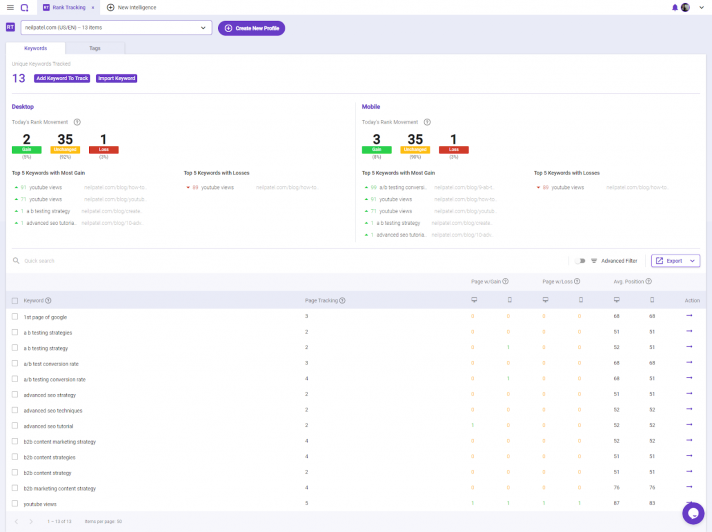 4. Best sales and service software – Engagebay.com
EngageBay is one very versatile solution. It's a marketing platform, but also a sales aid. It serves as a service platform, but also gives you a live chat feature. This software is designed to cater to the needs of small and medium businesses. As such, it's developed to enhance the user experience.
When you use EngageBay, your users can have a smooth live chat experience. Your customer support agents will get all the necessary customer information in the window, allowing them to increase the turnaround time and communicate more effectively.
On top of the live chat feature, you can expect to find their popular:
CRM software – users can store unlimited contacts and keep all consumer data at their reach at all times
Marketing automation – users can save valuable time by automating numerous marketing processes, such as sending automated messages to the target audience
Helpdesk software – allows users to resolve customer issues more efficiently and faster
5. Best customer support software – Acquire.io
If you're looking to improve your customer support on the most widely used contact method – the live chat – this is an amazing solution. Acquire is a multi-channel live chat product that provides almost instant help to all website visitors. According to Acquire, this tool 'brings conversations to life'.
You can find many features by using this tool, including:
Live chat history
Profile management
Real-time conversation
Intelligence message routine
Screen sharing
Chatbots
Co-browsing capabilities, etc.
6. Best software for human resource management – JotForm.com
How often do you need to create documents? Businesses handle all sorts of documents daily. Whether they choose to print them out or send them in a digital form, the documents need to look professional.
This is why you need the JotForm PDF Editor – software that allows you to easily create documents like invoices and contracts, and turn them into PDFs.
If you sit and calculate the hours spent on document creation, you'll find that most of your time within the company is spent on handling this. With over 600 ready-to-use document templates, JotForm allows you to minimize the time spent on creating invoices and contracts.
JotFOrm is compatible with all devices and offers features such as:
Functional integrations
Automated processes
Electronic signature widgets
Password protection
7. Best software for business intelligence – Analytics.Google.com
In your search for SaaS software, you'll come across this name more often than anything else. Google Analytics is used for as many as 30 – 50 million websites at any point. This is a freemium, highly popular, all-times-favorite web analytics solution.
The reason why it remains so highly praised among websites and businesses of all sorts is that it knows exactly what Google wants. Since your goal is to get higher in searches, this tool is the key to your success.
Businesses use Google Analytics to categorize visitors by traffic type, group their visitors to find out who the target audience is, and measure traffic metrics on the website. Some of the key features include:
Data visualization
Detailed reporting
Analytics intelligence
8. Best software for employee monitoring – Hubstaff.com
Employees need to be valued and motivated, but they also need to be monitored frequently to eliminate inefficiency. This is where Hubstaff comes in handy – it's widely used software to track employees' work, manage the invoices, create reports, and identify roadblocks that harm the company.
Hubstaff can be integrated with over 30 different apps such as Asana, PayPal, and Trello. It's available on iOS, Mac, Windows, and Linux. Some of its best features include:
Time tracking
Employee monitoring
GPS tracking
Online invoicing
Productivity measurement
Employee scheduling
Payroll software
9. Best for user onboarding and employee training – Userlane.com
Userlane is used to onboard new employees, but it's also a great tool for customer retention. This software provides an interactive experience by steering users through various processes. Businesses of all sizes use it to onboard the new users and train the new employees.
This platform eliminates the need for video tutorials or PDF documents used for these purposes. It guides users in real-time onscreen via interactive walkthroughs. It also eliminates any need for application knowledge. Since it's so simplified for users, everyone can become proficient in it instantly.
Look at this tool as a guidance layer. It's fitted on the top of the software app and requires no coding whatsoever. You get access to an amazing editor where you can create guides, helped by a Virtual Assistant that you can access on-demand.
Wrapping up
Managing a business of any size is not easy today. There are so many things to do, especially if you want your company to thrive online and reach a much wider audience. Companies no longer sell in-store only. They hire remote employees, widen their marketing strategies, and try to impress a big audience.
To make all this run as smoothly as possible and find out the best ways for your business to grow, you need some assistance. Luckily, software solutions like the ones above can provide you with all the aid you need to make things happen for your business.
Author's Bio: