Video email marketing is one of the most effective yet underutilized strategies. This article will talk about the benefits of video email marketing and how you can add videos into your emails.
As the world witnesses, a steady revolution of online marketing strategies, video popularity follows suit.
Close to a decade ago, it was a costly and complicated affair to produce any type of video.
Years later, with an influx of affordable and accessible video tools, the industry continues to thrive.
Video email marketing remains one of the most effective options, yet rarely used by marketers.
Probably, the market is not yet aware of the abundance of benefits in this venture.
The major reason behind the success is the video's capability to capture the viewer's attention instantly.
Additionally, video production is able to condense long content into digestible segments to the audience.
In a study done in the year 2020, 92% of marketers confirmed they were using video in marketing strategies.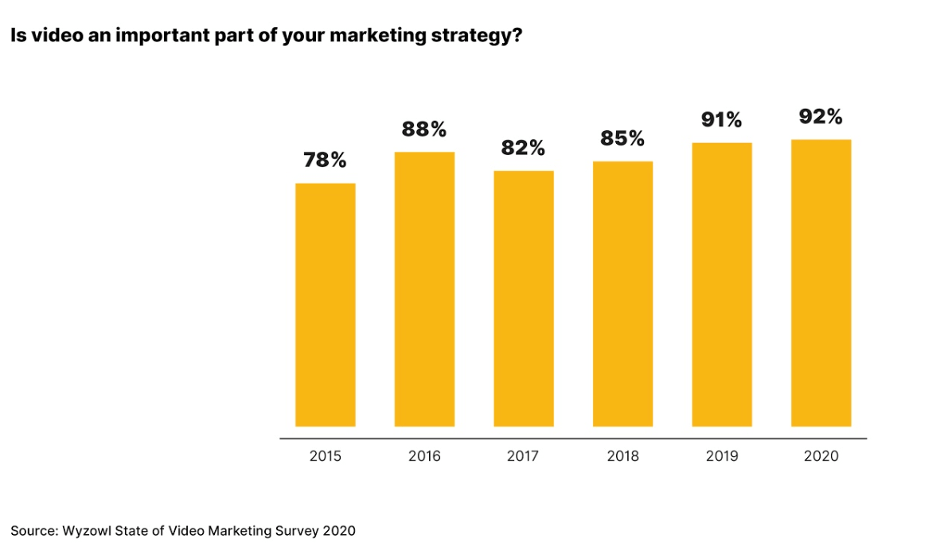 A similar analysis in 2015 reported a 78% usage of video for promotional purposes.
That depicts a huge growth within five years which also translates to more audience watching promotional videos.
Experts have said that watching a video about a product may sway at least 64% of the audience into buying it.
As we start a new decade, there is a higher chance of people spending more time watching videos.
There are various ways to share your video content in the market.
Join me as I discuss how to add video in your emails, ways of optimizing your video title, and the immense advantages surrounding it all.
What Is Video Email Marketing?
Using video in email marketing is not an entirely new strategy in the industry.
In reality, it refers to including videos in an organization's email campaign.
Video email marketing is a strategy that uses static images, GIFs, and embedded videos to enhance subscriber engagements.
Inserting a static image may get complicated to some marketers.
But you can include a visual that resembles videos and then add a play button.
That way, the image acts as a link that leads the audience to a landing page.
This comes as an extra benefit to your subscribers as they get a chance to sample your video.
Therefore, this approach is far much better than the normal text hyperlink.
There are two main techniques that you can use to add video to emails.
You can either embed video in email or use a video thumbnail visual.
Embed Videos
Embedded video is the process of hosting a video at a different location and then linking to it.
For instance, you may host your video on YouTube, but end up viewing it on a WordPress website.
In an SEO-oriented market, embedded videos strategy should be at the top of your top of the list.
When you embed your videos, they play the same role as backlinks.
As a result, they enable your videos to rank better on SEO and attract more traffic.
If you manage to create credible videos, your content may get popular as you improve the brand image as well.
Always remember that your online audience may not have all the time to view a lengthy video.
Thus, strive to make them two minutes long or less.
How to embed video in email?
When adding an embedded video, use HTML5 programming language.
Since the platform allows modification of web pages, it is an effective strategy to restructure and present your videos.
Note that not every email service provider acknowledges embedded videos.
So, ensure that you confirm if your email subscribers support the strategy.
In most cases, email servers presume video tags as spam material and block them.
When that happens, the platform sends a link to the video to notify you of the stumbling block.
Using Thumbnails
On the other hand, thumbnails refer to reduced versions of videos or images.
In a compact size, marketers find it easier to scan and systemize videos.
The good thing is that you can click on the image and expand it to view it better.
This works well with smaller pages and also enables viewers to see only what interests them.
For example, while watching a video you may notice a thumbnail that fascinates you.
If you find it captivating enough to click on it, that's an effective marketing strategy.
Hence, ensure that you create a great thumbnail for your video to generate more traffic for you.
Benefits Of Using Video In Email Marketing
One of the main reasons why marketers rarely use videos is the lack of enough content to share or skills to make a worthy product.
Currently, several courses support video editing and creation.
Some come with ready-to-use creation programs that enable an organization to develop a powerful video email marketing campaign.
Here are some benefits you will enjoy when you add a video through email.
1. Increase Conversions, Click-Through Rates And Email Open Rates
Video emails have a higher chance of increasing the click-through rate of a company.
A well-done video manages to appeal to the audience more than ordinary email campaigns and texts.
As a result, it may lead to more traffic and conversions in an organization.
2. Quick Digestion Of Information
A human being's mind processes content more rapidly.
This means that a video through email enhances the process of sharing necessary information.
As a marketer, this is a great achievement in getting your voice heard in the sea of competitors.
3. Reliable Market Penetration Tool
Properly done videos have a greater potential of going viral within a short time.
Bear in mind that viewers appreciate short, educative, and humorous video content.
Thus, try to perfect it and incorporate it with the right attitude to make a successful online presence.
4. Increase Trust And Brand Authenticity
The audience easily develops faith in a product depending on how the brand portrays itself.
Briefly share solutions and make your audience feel appreciated with your videos.
Represent your company well by coming up with a clip that touches on all the important aspects that affect your targeted audience.
If you create useful videos for your target market, they may always choose you over others.
How To Add Video To Email Marketing
Use Video As Bonus Content For Your Email Subscribers
Email subscribers remain your topmost audience in online marketing.
Therefore giving them a bonus in form of a video plays a great role in swaying them to your brand.
For example, if you send them weekly newsletters about a new product, you can include a link to a video that discusses more on the item.
For that reason, you keep your audience informed about recent happenings within your organization.
Videos can also perk their interest in the new product, offering them an enticement for reading your emails.
During the process, inform your subscribers about the values that resonate around your brand.
For instance, if your brand takes time to help the needy or support local industry, mention it to your audience.
Ensure that you attach the previous of your company reaching out to the vulnerable people mentioned.
By using this approach you not only manage to catch the attention of your subscribers but also increase your audience resulting in more conversions.
Personalize The Email Experience

In some cases, you may notice an accumulation of video content on your site.
Take advantage of the situation and start sending your audience customized emails on it.
Some people watch a small portion of a video but never finish.
You can easily analyze such a pattern from your website data.
When that happens, send them a personalized email to politely remind them to finish watching.
That makes them feel more appreciated by the organization as a client.
This would lead to increased click-through rate, brand loyalty, and increased views.
Progress Leads Through The Buying Process
The main purpose of using videos is to quicken the buying process.
Target your video email marketing not to your loyal clients only but prospects as well.
You can use the customer relationship management database to reach out to a new audience.
Attach forms on your video that may give more information about interested potential clients.
This makes it easier for your team to follow up on them later.
Publicize An Event Or Product Launch
If you are an event hosting company, record videos on previous functions and send them to your subscribers later.
In the process, you can brief them on how your brand operates, which may enhance more interest in your brand.
The videos also act as social proof to symbolize well-attended functions to the audience.
When introducing a new product in the market, video simplifies the launching process.
For instance, if you sell hair growth products, a video on actual people trying out your brand will keep your audience enchanted.
Here's an example of Appcues including a video in their emails to announce their new product.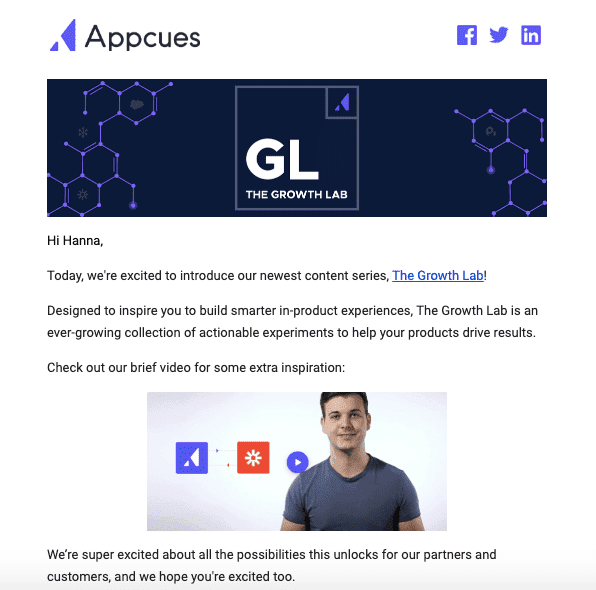 It is advisable to send your video through email before the actual launch.
That way, you manage to raise suspense, which is beneficial in promoting your product into the market.
Add Video In Email Subject Line
Subject lines have an important role in email marketing as they summarize the entire content.
Include the word "video" into your video email subject lines.
Adding interesting content to your subject line also instantly captures the audience's attention and entices them to open.
Note that you do not have to create new videos for all your email campaigns.
Instead, you can use old content and repurpose it to entice your audience every time they open it.
How To Optimize Your Video Titles
Although there is rising popularity in video usage, you need to come up with strategies to make it appealing.
Video email marketing is an intense process that requires timely planning, relevance, and optimization.
The fundamental idea behind all this is to enhance your video content and use it to drive your business.
Since your video title is the first contact link with your audience, start by creating content with an aim in mind.
Besides, include relevant keywords and build CTAs as a way for your prospects to follow.
This approach may boost your rankings on search engines and make it much easier for the online audience to locate your content.
Keyword research remains one of the most significant SEO factors in digitized marketing.
In most cases, the difference between well-performing companies to less productive ones is probably through the choice of keywords.
A dependable keyword research platform should guide marketers on how to rank better on search engines, ways of driving traffic to their sites, brand credibility, and profitable niches.
Additionally, it should help an organization to get related keywords that result in more SEO-friendly content.
BiQ Keyword Intelligence stands tall among the most influential keyword research avenues worldwide.
Keyword Intelligence helps marketers in getting related keywords that the audience uses to search for a product.
Once you've typed in the keyword you want to search, you'll be shown results including related keywords to the search keyword.
Another feature of Keyword Intelligence is also informing the searcher's intent behind the keyword.
Through a wide list of credible keywords, you can find one that perfectly suits your needs.
However, if you get confused in the process, choose your keywords based on the monetary value attached.
Note that the more you pay for your keywords, the higher the chances of boosting traffic to your site at an affordable rate.
Parting Shot
By using video in email marketing, you enhance your chances of connecting with the right audience.
Likewise the strategy works on giving a better return on investment (ROI).
It does not matter how much time and finances one spends on a single video.
Instead, a good-quality bears more fruits compared to the hustle involved.
Currently, emailing has a credible ROI rating in contrast to other online marketing strategies.
Thus, if incorporated well with a paramount video, it may make great strides in business success.