As a business, you should be building your social media presence. This article shows you the eight best ways to build a solid following using social media optimization.
Learn how to do social media optimization the right way and gain recognition for what you do.
Optimizing social media correctly can completely transform your business.
It has a 93% return on investment, more than 3.5 billion active users, and is one of the best ways to promote your products.
This number is constantly rising, so you can be sure it's not going anywhere.
Aside from all the benefits, there's also competition. And it's enormous. If you want to get on top and stay ahead, you must find ways to enhance your social media presence.
That's what social media optimization is about.
Today you'll discover eight social media optimization strategies to beat your competitors and supercharge your social media presence.
What Are The Benefits of Social Media Optimization?
Social media optimization or SMO has tons of benefits. It can help you with everything, from SEO to increasing your customer base and sales.
Let's look at the five juiciest benefits of social media optimization.
1. Improve Brand Awareness
Social media is one of the most cost-effective strategies to build better brand awareness.
It's also super straightforward; you create a post, apply all the steps we'll talk about today, and make it go viral.
It'll allow you to reach a wider audience, get more followers and boost sales.
2. Increased Shareability
Did you know that social media can help you with SEO too?
A company got over 130,000 shares to a poor-ranking web page in one study, and its rankings have skyrocketed – it's still ranking #1 on Google.
It's mighty if you can use it right.
3. Gained Business Intelligence From Customers
Social media is a great place to engage with your audience.
It can help you communicate with them, create contests or find out what your customers would like to see from you.
It's excellent for improving customer satisfaction and increasing repeated purchases.
4. Reach a Wider Audience
The more visitors you get, the more sales you make.
Social media is superb in helping you reach more people and build a large following. You can join groups, connect with others and attract more potential customers.
It can help you scale your business and 2X, 3X, or even 5X your customers.
5. Cost-Effective
The best thing about social media is that you can start today for FREE.
There are no costs as with other marketing channels like email marketing or PPC ads. You can do everything for free, and it's suitable for all types of businesses.
Social Media Optimization Strategies For Businesses
The more social optimization you do, the better results you get.
In this section, we'll look at the eight best social media optimization strategies for perfecting your social media presence.
They're all super simple, and you can start implementing them right away.
1. Analyze Your Audience
The crucial part of every successful strategy is knowing your audience.
This act is essential nowadays because we live in a fast-paced era. We don't have time for anything, and if we find something irrelevant, we ignore it.
Unfortunately, making your content personalized is trickier than it seems.
Lucky for you, we end this struggle today and help you tailor your content to your audience.
There is nothing easier for finding out what your audience likes than directly asking them. Go ahead, create a poll or publish a post and find out what your followers want.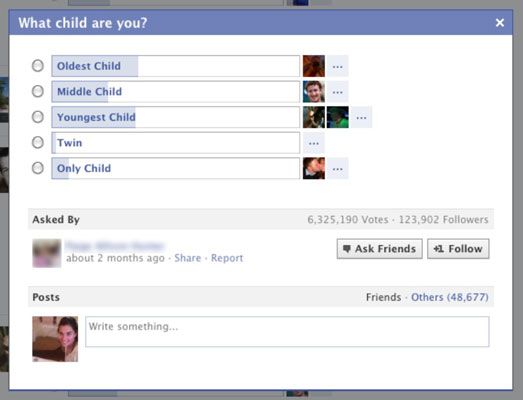 But before you submit it, make sure you're creating a friendly atmosphere and are writing in an easy-to-understand manner. You can quickly check that with BiQ Cloud.
Go to BiQ's Content Intelligence, fill in the target keyword, and hit enter.

You'll be presented with an editor, where you can paste your post's content. You'll then see the emotions your content evokes for each section and get detailed stats in the upper right area.
Write in a friendly tone and good readability score, then you're ready to publish your next successful post!
2. Conduct Keyword Research
When you understand what your audience wants, you must find out what they search for.
What are the exact phrases they type when searching for something? The easiest way to find out is by using BiQ Cloud.
Go to BiQ's Keyword Intelligence and type in your target keyword.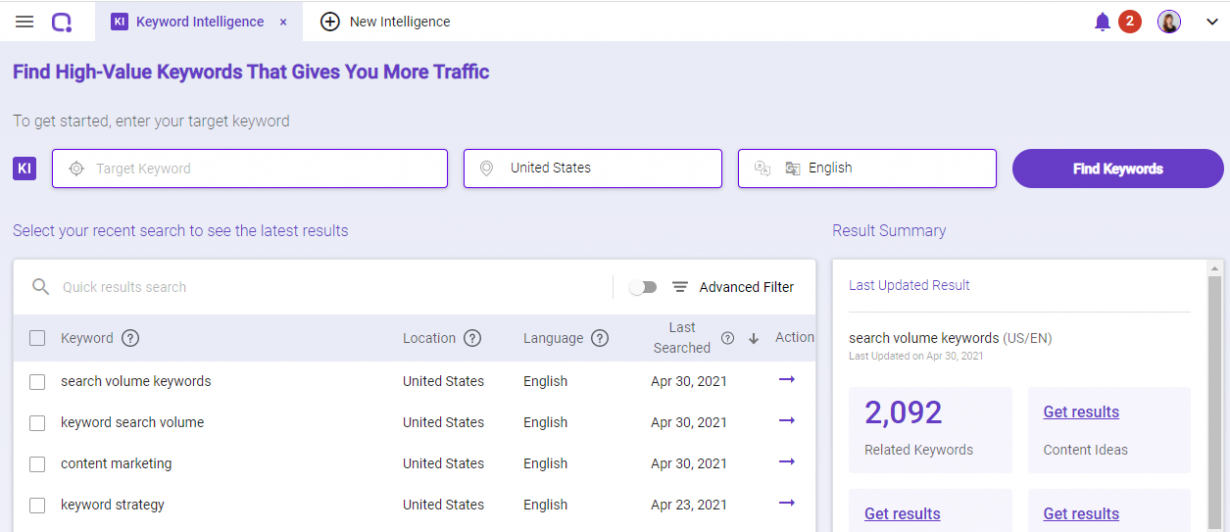 Hit enter, and you'll get a list of related keywords that people search for.

It would help if you also looked at the Popular Question tab in the upper menu. It'll allow you to find questions people search for, giving you ideas for social media posts.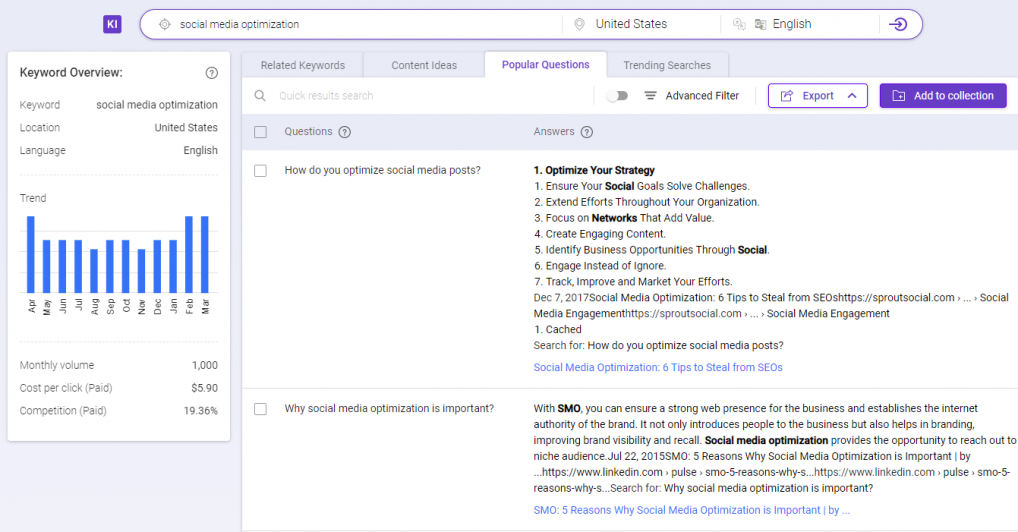 Target these terms, answer the questions and make your content super-personalized.
3. Choose The Right Social Media Platform
Choosing the right platform is as important as understanding your target audience. You must meet your customers where they feel the most comfortable.
If you're not sure which social media platform your customers use, choose Facebook.
It's the most popular social media platform, and you can meet everyone there.
But in some cases, choosing different platforms can be more beneficial. For instance, if you target photographers, you should probably head to Pinterest or Instagram.
These platforms are designed for that, and they have lower competition than Facebook.
You can find out where your customers hang out by asking yourself a question. "If I were [your target audience], where would I hang out?"
Get in the customers' shoes and find the best social media platform for your business.
After you found the right social media platform, it's time to optimize your profile. Be sure to upload a high-quality profile picture and write a proper biography.
4. Use Visual Content
There's nothing more potent than using visuals on social media.
This is because of the way we're built. We are visual creatures, and we perceive images & videos much better (and faster) than written text.
A rule of thumb is to always use an image or video in your social media posts.
It'll allow you to not only grab attention but also make your posts more shareable and increase their overall engagement.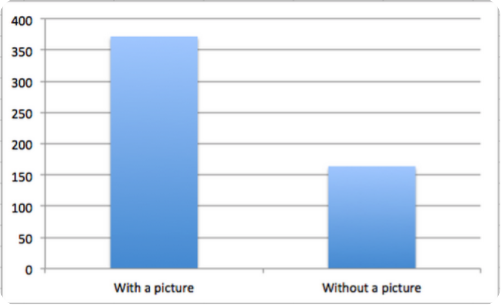 The study above is from BuzzSumo's study. They found out that posts with images get 2X more engagement than those without them.
But if you're looking to breakthrough in your niche, you should start making use of videos.
We are visual creatures, but we also like action. Videos combine both of these and can help you produce content your customers can't resist. That's why videos are consumers' favorite type of content on social media.
What's even more intriguing is that they can significantly increase your sales. 80% of people purchased after watching the brand's videos – it can be a gamechanger.
Leverage visuals include them in your posts on social media.
It'll help you grow your audience, lead to higher engagement and boost your sales. It's one of the best social media optimization tips.
5. Start Conversations by Tagging
Collaborating with other businesses is an excellent social media optimization strategy for getting more followers and increasing conversions.
There are multiple ways to do it, but probably the easiest one is to use tags in your posts. You can see an example of that below.
It'll help you create more opportunities for collaborations and help you improve faster. It's not limited to Twitter, though; you can use it almost with any social media platform.
Be sure to use it in your social media optimization strategy and connect with others. Help other brands, make new friends and increase your traffic.
It's that simple.
6. Add Social Media Sharing Buttons
If you want your customers to act, you must make it as simple as possible.
A great example of that is using CTA in emails. The difference between including a CTA and not including it is 1617% when it comes to sales.
The reason behind it?
Simplicity. None of the customers will manually go to your website, look for the product and buy. It's just too overwhelming and time-consuming.
The same applies to your social media and using share buttons next to your content.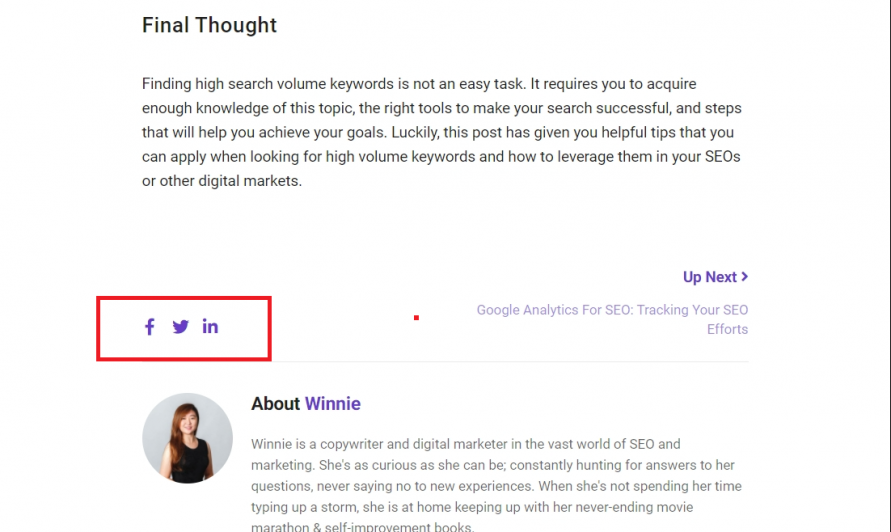 If you don't include share buttons next to your posts, you get no shares, no engagement.
The most common social media share buttons are Share, Follow, or Like.
Adding share buttons next to your blogs is one of the most straightforward social media optimization tips you can do.
It takes only a few seconds and will give you significant results.
7. Use Hashtags
Hashtags create a vital part of social media optimization.
It doesn't matter which social media platform you use. Each of them has some hashtag system in it. And there's no reason for you not to use it.
Hashtags are great for targeting a specific group of people.
For instance, if your target audience is into meditation, it searches for #meditation and reads more or sees inspiring pictures about the topic.
Another great thing about hashtags is that they are super fun to use.
You can play with them, use them throughout your post's text, and make your posts more engaging.

But if you're looking to use hashtags to your advantage, choose them wisely.
Choosing hashtags with millions of posts will probably get you nowhere. You'll fall behind your competitors and big businesses in your niche.
What you should do instead is to choose smaller hashtags – around 100,000 posts.
It'll allow you to get noticed, and maybe you'll even get the way on top and reap all the juicy benefits of using hashtags.
8. Stay Active & Post At The Best Time
Being consistent and releasing social media posts at the best time is one of the best practices of social media optimization.
If you're looking for an ideal number, it's around 1 – 2 posts a day.
It's enough to keep your brand in touch with your following and not too much to make you look like a spammer.
However, how often you should post is only a part of things.
It would be best if you also think about when to publish a post. Because believe me, it can make a massive difference in your strategy's overall engagement and success.
Posting on weekends is the worst thing you can do for most social media. This is because people are outside or going on trips. It can completely ruin the engagement and the overall success of your posts. But again, it depends on your audience.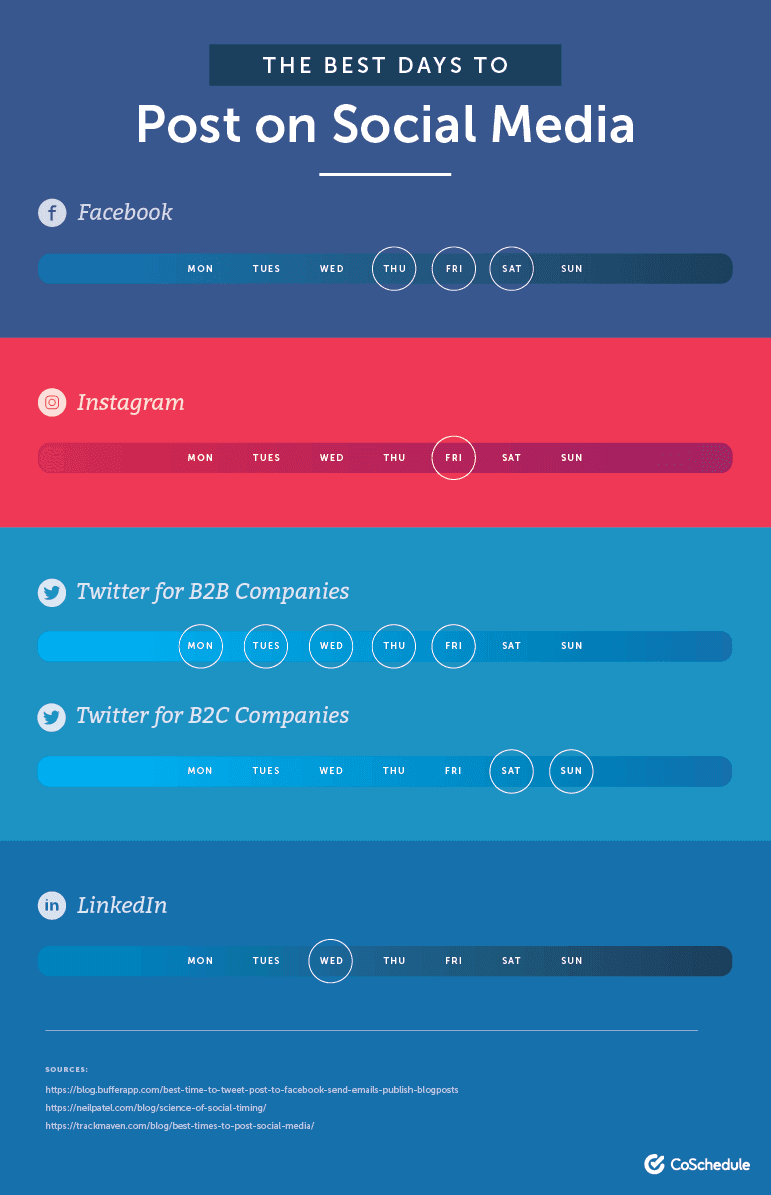 Days aren't everything, though; you should also consider the exact time of publishing your posts on social media.

Usually, the ideal time is around lunch when people have a break.
And of course, to not waste any time, you should use a software solution to schedule your posts automatically. There are many options you can choose from, such as:
Try them out, find the one that suits you the most and automate your social media posts.
Conclusion
Today you've discovered the eight best social media optimization tips.
They'll allow you to perfect your social media presence, get more traffic and make your brand more successful.
But, similarly to SEO, it's a long-term process, not a quick fix. It requires a lot of effort and patience, but the rewards are worth it.
Start implementing these strategies today and perfect your social media presence now.