Skyscraper technique is a link building strategy where you update your existing content to make it even better. Learn how to use the skyscraper technique in 3 easy steps.
Are you finding it extremely difficult to draw the attention of your target audience?
Well, you are not alone!
The marketing landscape is evolving very fast as the competition heats up.
As such, marketers are getting more innovative by experimenting with new marketing channels and fine-tuning their approaches to capture potential customers' attention.
From video content to infographics to listicles, people who are taking steps to identify the type of content that resonates well with their target audience are certainly doing well than those who are not.
So, what is the way forward?
The skyscraper technique!
Crafted to help marketers drive traffic, skyscraper technique has assisted businesses in earning millions of page views.
To help you design a viable skyscraper technique, this guide takes you through all the crucial details.
What is Skyscraper Technique?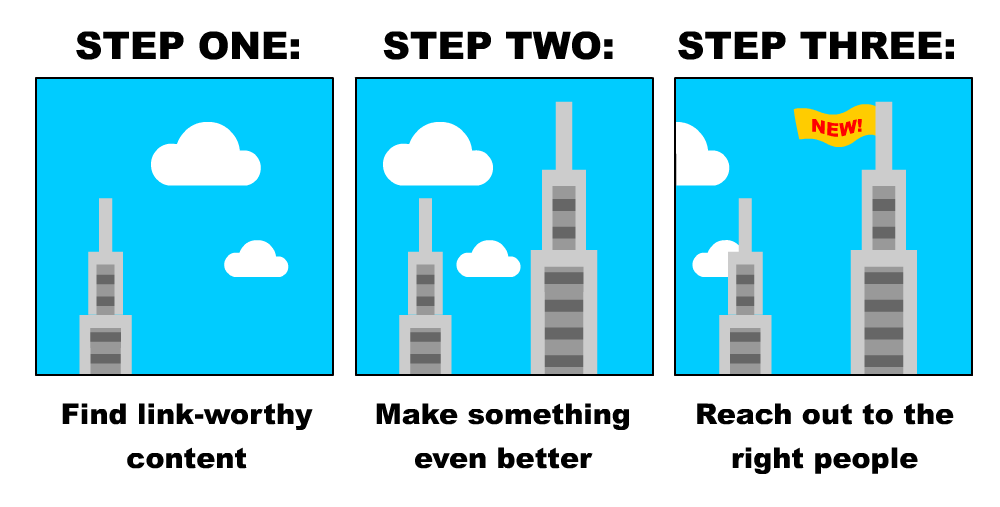 Skyscraper technique is the process of updating content to make it even better and use to get quality backlinks.
Designed in 2015 by Brian Dean of Backlinko, the method includes three simple main steps:
Find content that has a lot of links (skyscraper content)
Then turn it into something great.
Reach out to the right people to link back to it

Essentially you start by identifying a good but already written piece to offer the foundation.
Skyscraper content is exactly what it sounds like.
Essentially, you start with an already written article to provide the base (or foundation).
Then, you add floors or fine-tune the content to make it more in-depth and useful.
Once done, you will have a longer and more comprehensive piece (a skyscraper).
Now, most people prefer skyscraper technique as it allows them to use an already published piece by just brushing it up, saving a lot of time in the long term.
There is no worrying about doing extensive research when using an already published piece.
Similarly, you do not have to worry about duplicate content or plagiarism problems because you will be adding more content, opinions, and voice to make it top-notch.
Also, the new content will end up ranking higher in SERPs than the original piece because it is more in-depth.
And it will undoubtedly contain more links, related terms, and keywords that will earn it more visibility and traffic in Google.
So how does skyscraper technique work?
A content marketer starts by researching trending topics as well as popular pieces in a specific niche.
Then, they look for unique and better ways to craft content that communicates the same message from a different angle.
This may mean leveraging a more engaging or new medium, employing a better design, or updating the statistics.
After crafting the article, the next step is to reach out to sites or blogs linked to similar content to the same piece or a similar one and request them to link to it.
That said, many people have used the technique since it was invented in 2015. Some had great success, while some achieved not such desirable results.
Like Schrodinger's Cat, the skyscraper technique works.
And sometimes it does not.
It all boils down to your approach.
This guide explains how to use the skyscraper tactic to build quality backlinks and how to enhance your chances of success.
How to Use Skyscraper Technique
Look for content that can be linkable assets
It all starts with a viable content marketing approach.
Once you figure that out, it will be easier for you to pinpoint link-worthy content.
As mentioned earlier, the skyscraper technique's main objective is to create content so great, useful, and incredible so that people will find it extremely hard not to link to it.
The secret here is concentrating on "viral content ideas" that will help you rock Google SERPs.
So how do you find these viral content ideas?
What do you need to identify shareable and link-worthy pieces in your niche?
Any of these tools can go a long way in helping with that:
BuzzSumo: Use it to find shareable topics in your niche.
Ahrefs Content Explorer: Shares social metrics and onsite metrics to find better topic ideas in your industry.
Visual.ly: A good infographic directory sort by views helping users get the most popular infographics.
Google Alerts and Google News: Search for any keyword and discover what popular sites and journalists are discussing. Also, by setting alerts, you get notifications when something interesting is found.
Moz Open Site Explorer: You can use it to find trending pages with more links to your competition.
Google's top 10 search results for your target keywords can also help.
BiQ's Keyword Intelligence: Use it to look for keywords that are currently trending under the "Trending Searches", or for new topic ideas under "Content Ideas".
Use any of the above online platforms to find desirable topic ideas in your niche.
After that, you will be ready to move to the next step.
But before that, here is an example of how BiQ's Keyword Intelligence can give you content ideas.
Enter your keyword or phrase in the space given.

The tool will come up with a list of results. You can switch to the "Content Ideas" tab to view a list of topic ideas that you can write about.

If you want to see keywords that currently in trend, you can switch over to the "Trending Searches" tab.
Trending searches show you what trending searches people are searching for online.
What's more, all the keywords come with vital metrics that you can use to determine which topics you want to concentrate on.
Create even better, relevant content
Now check the articles that made it this far.
Analyze them and identify what makes them unique or special and why they are so good that almost everybody is linking to them.
What is the length of the articles?
What type of images are they having?
What are the keywords they are using?
After you understand what makes them great, come up with a plan on how to make it better.
If you are not sure how to approach that, there are four main ways to enhance existing content.
If you want to outsmart competitors, you must apply all four tactics. They include:
Make the content slightly longer: In most cases, crafting a piece that is a bit longer with more information will do the magic. For instance, if an article talks about "5 best weight loss pills," you can design a listicle with "20 best weight loss pills that actually work."
Design your content with the latest information: If the base article has cited research done five years ago, redo the research and fix it by citing the latest research.
Design your content better: Any visually appealing piece with great font and color and images and videos will definitely do well than an article with broken pictures or hard to read font.
Make it in-depth and thorough: Most pieces are usually shallow pieces with basic information. For instance, a listicle on the best weight loss pills can just be a list without offering any tangible details explaining why they made the list. You can win the game here by adding the number of pills and showing research and examples of why the pills made the list—craft something that will bring more value and insight to the readers.
That said, once you identify a piece that you can add more value to or the one that you can enhance the most, it is time now to start writing.
Don't forget to do more research on it to make sure you can reproduce the best content on the internet in that niche.
You can also use a tool such as BiQ's Content Intelligence to look for ideas on making the piece top-notch.
While you write in the block editor, you will be getting interactive writing tips to aid you.
You will not only see BiQ's Content Intelligence real-time text editor, but you will also get your "content grade" and keywords count that tells how relevant your article is.
You'll also quickly see if you've included enough keyword density.
When you insert a word or phrase that's included in the terms suggested by BiQ, you'll notice that it will be highlighted in yellow.
If your content isn't A yet, you can make the necessary edits to take it there.
But it's important to note that an A content grade does not represent that your article "will rank number one on Google."
The tool will also help you understand what's important to cover in your topic – assuming that you have the "best weight loss pills" keyword in mind and you need to know what goes inside your content.
The tool analyzes it with the top-performing organic content on Google.
All you have to do is run a Wordscope analysis, and it will give you similar keywords like prescription weight loss drugs, weight loss medications, and so on.
This means that you cannot satisfy readers looking for the best weight loss pills without writing about the related keywords.
You can also use the keywords to plan your outline.
Reach out to the right people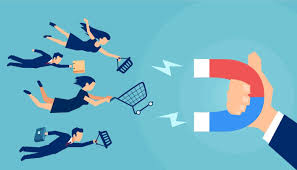 Going through that whole process and then failing to promote your final content would be unreasonable.
That is where reaching out to other people comes in.
According to research , more than half of B2B marketers say email is one of the most effective ways of revenue generation.
That is why email outreach is an important aspect of the skyscraper approach.
However, instead of emailing any person with a site or blog and desperately requesting a link, go for blogs and sites that already link to something similar to your fresh content.
Consider these questions when you want to reach out to an audience.
Who has a blog in your target niche?
Who is interested in what you are writing about?
Who is already linking to similar content? Can it even be the base content you used?
How do you find them?
You can try using Ahrefs.
It will help you find who is linking to your competition and then use Mailchimp or Hubspot to email them seamlessly.
Ahrefs will help you discover all the people that are linking to your competition and then export the list.
Next, analyze the list and come up with worthwhile blogs to contact.
You will want to scrap those where competitor content has been directly mentioned.
Now build an email template similar to this.
Email example
Hi [insert name],
I was looking for some articles about [your topic] and found this page: [insert URL]. I couldn't help but notice you've linked to one of my favorite articles [insert title].
I've recently published something similar on my blog. It's like [insert title you're referring to], but more in-depth and up-to-date: [insert your URL]. It could be worth a mention on your blog.
Thanks,
[Your name]
P.S. I'm a big fan of your blog!
Conclusion
Skyscraper technique is a fairly simple but effective technique that will help you top search results for a certain keyword phrase or topic.
Using simple online tools, you will easily discover what posts are trending, the topics they are covering, and their quality level.
And as a digital marketer, this information is gold!
Not only will skyscraper technique help you with amazing content ideas, but it also helps you design your content to match what your target market is already searching for.
That said, the skyscraper technique is just one of the many link building strategies there are out there.
Though it is an effective approach, blend it with other strategies to enhance your success.