This article breezes you through the best Ubersuggest alternative in 2021. These tools are mostly available in freemium subscriptions so go and try them out yourselves!
Are you having trouble using Ubersuggest? Would you consider using an alternative Ubersuggest alternative if you had an option to choose from?
Well, if you fall in this category, this blog is right for you.
Let's face it; it's only natural that what might work for your business and brand might not work as well for another business. The same applies to SEO tools.
Since its inception into the SEO industry, Ubersuggest has been a boon, especially to new bloggers, startups, and freelancers. The Ubersuggest website provides some basic SEO features that new bloggers can rely on.
However, as your website requirements grow, you will realize that the Ubersuggest website lacks some vital SEO areas. It can be frustrating to see that your SEO efforts and content aren't increasing your traffic or getting you the intended ROI.
Here's where you might want to start considering an Ubersuggest alternative and other professional SEO tools. You will find hundreds of SEO tools online that will help you find the right keywords and optimize your website that is very cost-friendly.
However, to know the best Ubersuggest alternatives to choose from the litter, you must first know what Ubersuggest is and what it offers:
What is Ubersuggest?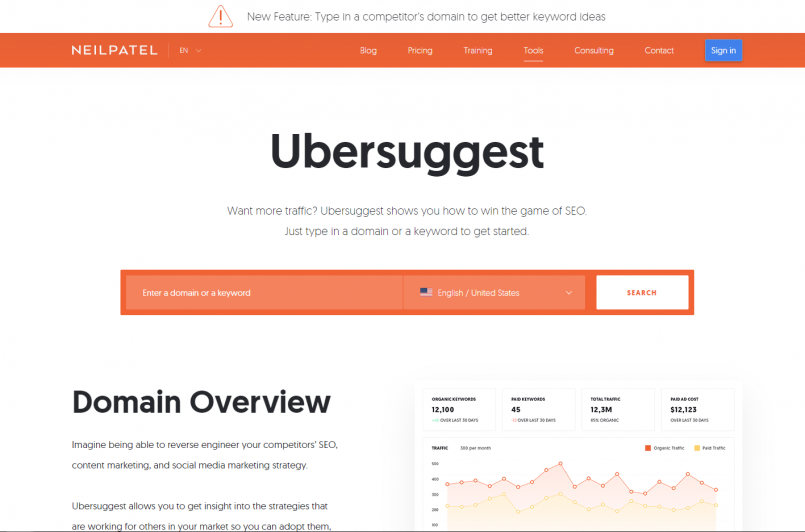 Acquired in 2017 by Neil Patel, Ubersuggest easily ranks as one of the best keyword research tools for freelancers. It has an intuitive interface that provides users with real-time data about their target keywords.
You can also use the Ubersuggest website to generate related and suggested keywords as well as reveal the top-performing competitors for your keywords, social shares, domain authorities, and traffic.
With Ubersuggest, you can:
Understand a broader searcher intent around core topics. This will provide you with critical data and a better understanding of what customers are searching for
Find inspiration for content ideas based on what your searchers are already looking for
Discover potentially profitable keywords you can target with content. You no longer have to keep second guessing which keywords will increase your web traffic and revenue and which ones are a waste of your money
Decide which keywords to avoid based on irrelevance, low search volume, and/or competition. Some keywords might look like great ideas initially, but you will soon realize that some are so popular it wouldn't make sense to compete for them
Ubersuggest is the perfect keyword research tool you can use to give your SEO even more boost by sorting data into high search volumes at a low competition.
Similar to Google's Keyword Planner, you can rely on Ubersuggest to provide you with data to understand where you're spending your money and what features are more effective.
With that said, here are some of the Ubersuggest competition options you should consider checking out:
Top 9 Ubersuggest Alternative Tools
This post will lay out the 9 best Ubersuggest alternatives for your SEO and PPC campaigns. Without diverting your focus, let's get into detail and explore the best alternatives you should consider:
1. BiQ Keyword Intelligence
BiQ's Keyword Intelligence easily ranks as the best Ubersuggest alternative for your keyword SEO value. This amazing tool allows you to save time and resources by providing you with great keywords and writing content.
If you're ever unsure which keywords to use, BiQ will sort your keywords based on their value, allowing you to use higher valued keywords that will potentially bring more traffic at a lower cost.
One of the greatest features of using the BiQ Keyword Intelligence tool is its keyword intent analyzer feature. You can use it to see your keyword's search intent and notify you why an online user might use a specific keyword to find your content.

Scroll further down, and you will find each keyword's intent. You can then use this data to understand your target audience better. Using the BiQ Keyword Intelligence tool above, you will find relevant keywords as searched by your target audience in the selected location.
2. LSIGraph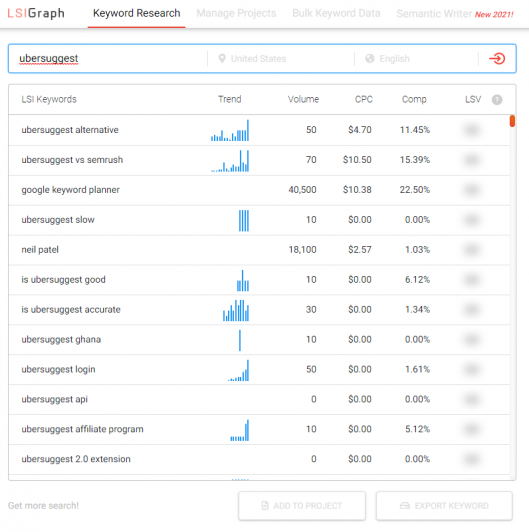 The LSIGraph keyword tool ranks as another great Ubersuggest alternative recommended by most SEOs and freelancers. It is a very basic tool that's extremely simple and easy to use. The LSIGraph is also very efficient, especially for users searching for keywords and other critical data related to your content.
Google has always suggested that pages rank better when they use keywords and related keywords in their content. Latent Semantic Indexing involves the search engine examination of focus keywords and other keyword variations.
And while some SEOs might not find the LSIGraph to be extremely valuable to their SEO efforts, it's quite effective and works perfectly to help marketers understand topics related to their target keywords.
In short, LSIGraph is an excellent tool and a great place to perform a quick keyword search to sprinkle in your web content to boost its performance in the SERPs.
3. Keywords Everywhere
The next best Ubersuggest alternative is the Keywords Everywhere tool. It is now a paid tool but still ranks top of the list of best alternatives to consider.

The Keywords Everywhere tool also has a browser extension that allows users to integrate it with their Google Chrome and Firefox browsers.
The screenshot above shows that the Keywords Everywhere tool will provide you with critical data of your monthly search volume, keyword difficulty, and cost per click. It is the perfect tool to help you monitor and track online competition for readers.
You can sort your keywords and use high-valued keywords with low competition.
4. Keyword Surfer
The Keyword Surfer tool fills up the gap left by Keywords Everywhere as another great freemium extension.
This could be one of the main reasons why Keyword Surfer garnered users' attention quickly when it first launched. Now, it ranks as one of the best Ubersuggest alternatives to provide you with the estimated number of traffic, exact keywords for your rankings, and word count for each page in a glance.
Of course, you can also view this data below each ranking result on the search engine results page.
This is quite interesting since you get both your keyword and backlink insights right from your browser. Keyword Surfer's word count feature is particularly interesting because most SEO tools do not offer it.
And while knowing the exact word count of a web page might sound trivial, it can help your content strategy and help you understand what content type your audience is looking for. Some users might prefer short-form content, while others might prefer long-form content. This feature allows you to know the best average word count to use for your future posts.
Keywords Surfer offers more than just the search volume, which makes it even more desirable and popular among SEOs and freelancers.
5. Ahrefs Keyword Explorer
This is another widely popular SEO and keyword tool that would be an excellent Ubersuggest alternative.
Most users consider Ahrefs for its backlink checking tool. But the platform does much more than that. You can use Ahrefs Keyword Explorer to collect, process, and store data, providing you with critical insights on your SEO needs.
Ahrefs also builds different SEO tools you can use to market your content and boost organic traffic.
In terms of keyword research, this tool has one of the largest and most accurate keyword databases in the internet space. You can access multiple keyword instruments within the platform, such as keyword difficulty projections, parent topics, keyword ideas, search volume, and a keyword generator.
Not many SEO platforms will boast of such a database, which continues to grow and expand, making it an even stronger tool to have in your arsenal.
Like most SEO service providers, Ahrefs is a paid solution. Therefore, it might not be as accessible to most beginner search marketers looking for something more basic. However, the tool is extremely user-friendly and allows even beginners to benefit from using it if they have the budget to afford its usage.
Anyone familiar with SEO and keyword optimization will advise you to try Ahrefs' services. It is well worth its price tag.
6. Google Keyword Planner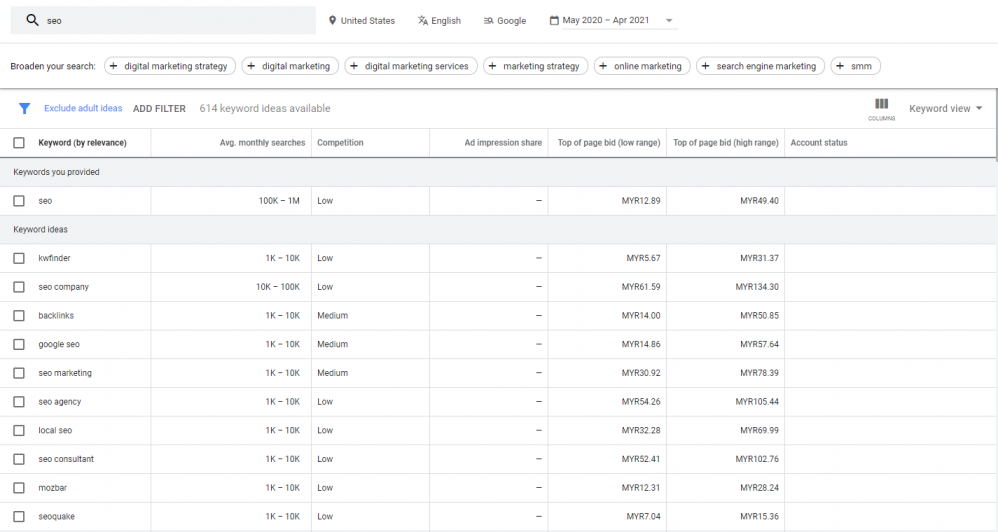 Google's Keyword Planner is one of the most trusted keyword research applications for a long time. Advertisers and marketers who use Google AdWords can access the Google Keyword planner tool. It provides users with relevant search advertising data when looking for PPC information.
One of Google Keyword Planner's best features is that it gets its search information directly from the search engine giant. This is one of the main reasons why most marketers lean on its use and keyword search data and prefer it to other applications.
You will find that most of the other SEO tools scrap search information from Google instead, making GKP a more preferred option to other keyword research planners.
The tool primarily accesses your average monthly search data, allowing you to examine your keywords based on exact match, broad match, and phrase match.
7. KWFinder
The KWFinder is another interesting Ubersuggest alternative you want to consider using, especially for its numerous keyword research capabilities, backlink analysis tools, and SERP analysis.
The best part of using the website is that it is free for all users but still provides similar features and capabilities as other platforms. However, you might have to consider checking out its pricing package if you intend to use the platform more frequently.
When it comes to keyword research, you simply type your target keyword or topic and let the program do the rest. It will spit out metrics for your desired keyword and perform high-level search criteria to ensure you get the best high-volume keywords for your website.
Its SERP preview is another amazing feature most professionals admire when using the platform. By providing you with factors like domain authority, citation flow, trust flow, page authority, and other critical features, you will be better positioned to strategize your SEO and PPC campaigns.
8. Jaaxy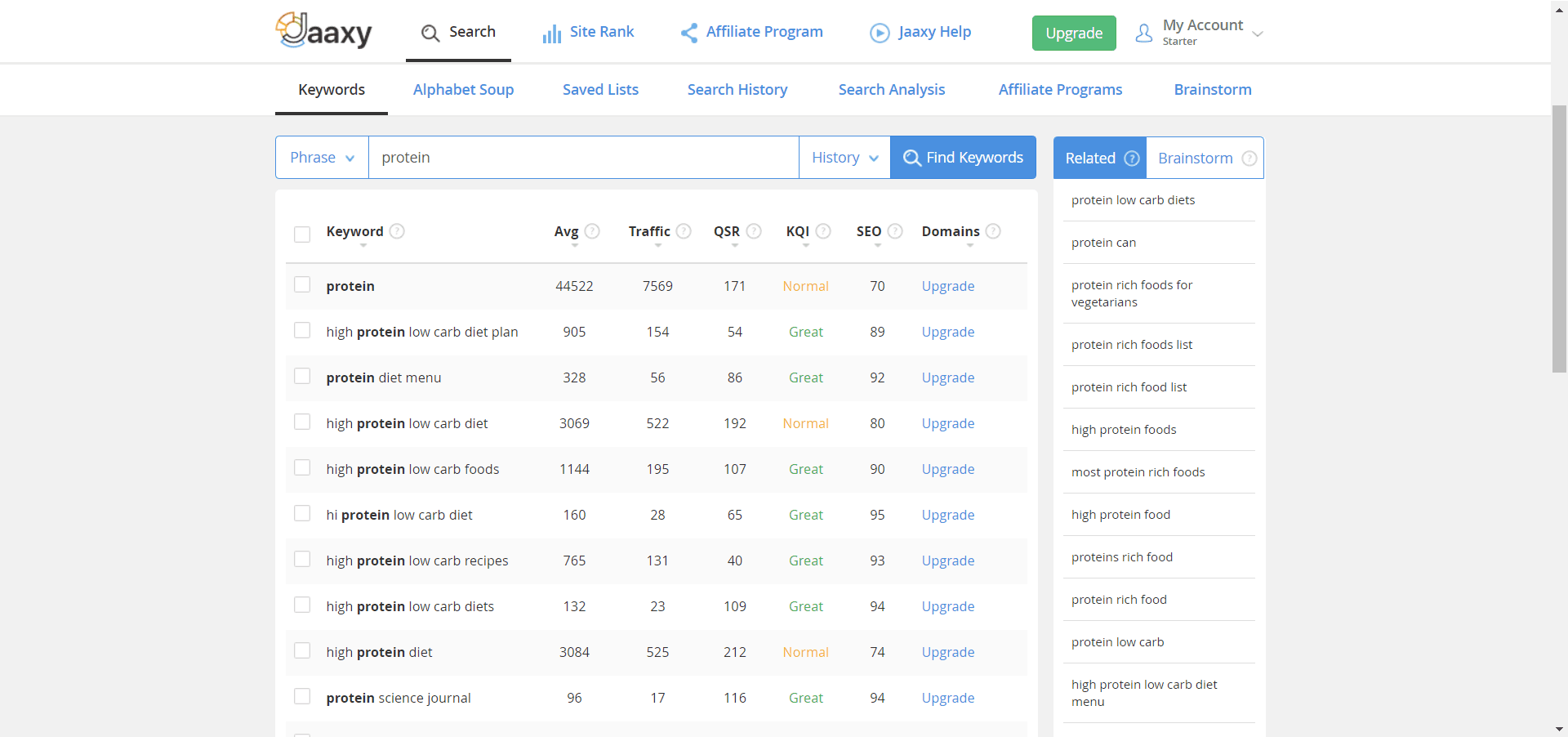 Jaaxy is another great keyword tool that rivals the Ubersuggest website. It allows users to browse up to 30 queries for free. However, unlike other tools, Jaaxy requires registration from users. You must first register and create an account with Jaaxy to use the 30 free searches.
Since it allows only 30 searches, it shows you your search counter on the search bar, allowing you to know when you are running out of searches. Its premium plan starts from $49 per month, which isn't too steep for most startup SEOs and freelancers.
9. AnswerThePublic
Answer The Public has been around for a while now and has established itself as a leader in the keyword research field. It is the perfect tool for SEOs in the content ideation process, and are looking for more direction and in-depth keyword research options.
Answer The Public will provide you with ideas, suggestions, and frequently search terms on specific topics. Afterward, the application will display your searches in neat visuals, showing searches related to different questions that people might ask online.
Answer The Public has appeared in many SEO platforms as the best and most widely recommended free tool for keyword research, making it a direct Ubersuggest competition. You just need to know how to tap into all its features to enjoy its maximum benefits.
Why is BiQ Keyword Intelligence the Best Ubersuggest Alternative?
As already illustrated above, BiQ Keyword Intelligence provides users with a more well-rounded approach to their keyword research experience.
Also, besides providing users with relevant keywords, the Keyword Intelligence tool will provide you with critical insights into your keyword volume, keyword trends, keyword competition, related keywords, and more.
You just need to find the right keyword information and use it to plan out your content creation process more effectively. The trick is to focus more on user intent and user experience first, then the search engine rankings and SERP later.
As Google morphs into a more user-focused platform, you will need keyword planning tools like BiQ's Keyword Intelligence to get your content in front of the right target audience. And the SEO tool knows exactly how to get this done.
Conclusion
As you can see, the tools above are fit for bloggers, SEO professionals, and freelancers alike. You just need to pick the right Ubersuggest alternative tool that works for you and use the case best while working on your keyword research right away.
Also, it is important to note that most of the advanced SEO and keyword planner tools are premium-based and will need you to make subscriptions to maximize their use. In such instances, it might be best to start with some of the basic free tools on this list to gain experience of their use before moving on to the paid options.
Again, whatever SEO tool you decide to use, it's ultimately your choice.