Creating an SEO-friendly title and meta description isn't as easy as you may think. But first, it starts with the ideal SEO title length, read on to find out what's the optimal length for different devices and tips to create engaging titles and meta descriptions to boost your CTR!
Quick Answer:
Optimal SEO title length: between 30 to 60 characters
Optimal meta description length: between 70 to 160 characters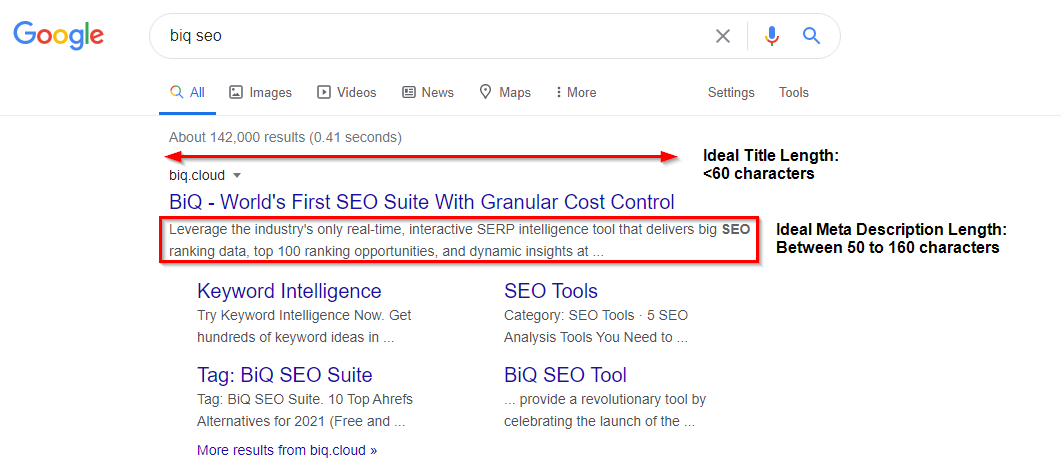 A look into Google SERPs
There are hundreds of millions of webpages on the internet; none of these pages are as important to digital marketers as the Search Engine Results Page (SERPs), and that's for a very good reason.
SERPs are the secret key to achieving success in your website's visibility and traffic.
This is simply because search engine results pages are the first thing users see when they make their queries. The higher your website ranks on the SERPs, the better the chances users will click through to the website. This is what makes SERPs the most valuable real estate on the internet.
However, there are two obstacles. One, the competition for just a portion of this valuable asset is fierce and cutthroat. Second, the query doesn't necessarily lead to a click.
All search engines, and Google use various criteria to rank relevant content on the result pages. Particularly with Google, the way they approach this is to end all search queries on SERPs.
Just take a look at a video result. Clicking on the video will not lead you to YouTube, but you will remain on Google instead.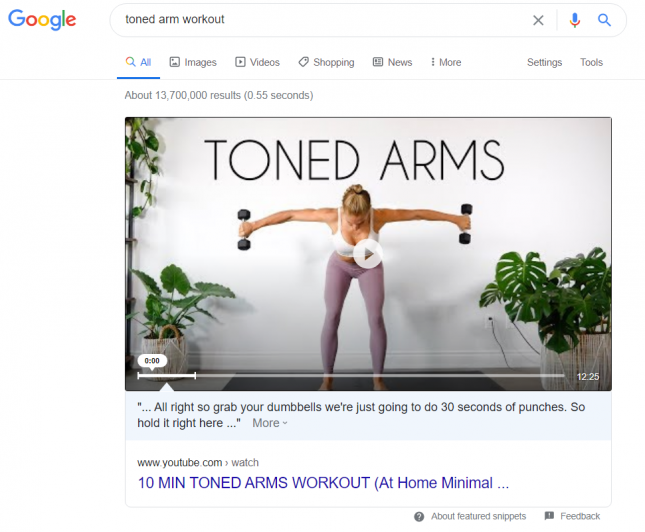 However, it's still important to focus on SEO and Google's search engine since it controls 91.38% of the global search engine market share.
For websites to get the best out of Google's SERPs, competitors have had to keep up with the algorithm updates regarding how the search engine works and the latest strategies to rank higher and get more visibility.
One of these strategies is through optimizing your website's title tags for the search engines. However, before we get into that, let's first understand the phrases "title tag" and "meta description".
What is a title tag?
A title tag refers to an HTML element used to specify a web page's title. They are displayed on SERPs as the clickable section for any given result.
Much like our regular headlines, using the right title tags can have various significant impact on your SEO, social sharing, and click-through rate.

You need to follow various rules when creating your title tags if you want them to serve you well. Google has some guidelines which, if followed, ensure that your website has better visibility and higher Click-Through Rates; however, we'll get to that a little bit later.
What is a Meta description?
A meta description refers to an attribute, an HTML element within your Meta tags, and is used to describe and summarize your page's contents to your users and search engines. Metadata isn't as important for SEO rankings as it used to be; however, it still impacts on-page SEO.
As with title tags, your meta descriptions have to follow specific guidelines set by Google if you want them to impact your website positively. Writing exceptional, relevant meta descriptions could mean the difference between a low and high click-through rate.
What are the optimal title and description length?
It works differently on different displays
Optimizing your website's SEO title length and SEO description length is essential in your website's title SEO.
However, the optimal length for titles and descriptions depends on the search queries and the various devices they use to view content on the web.
So when optimizing your title and meta description, what would be best is to avoid being cut off, with an ellipsis, mid-sentence. Or to at least have your important message placed in the front.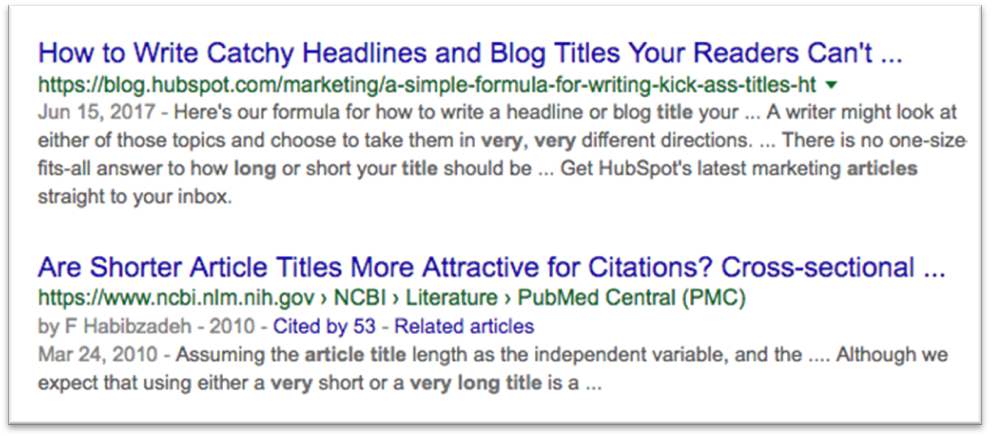 Before that, let's get into the details for each devices.
1. Mobile Devices
Optimal SEO title length
In the most recent update, Google has not only increased the number of title characters displayed on mobile devices, but it has also made them more than those displayed on desktops.
Google increased these characters from around 55 to 60 to 78 characters, that is 7 to 8 more than desktop titles.
Optimal SEO meta description length
The meta description length is not measured in the number of characters in a description but rather on the pixels' width. The optimal length for mobile meta descriptions set by Google is 680 pixels, which translates to around 120 characters.
2. Desktop and PCs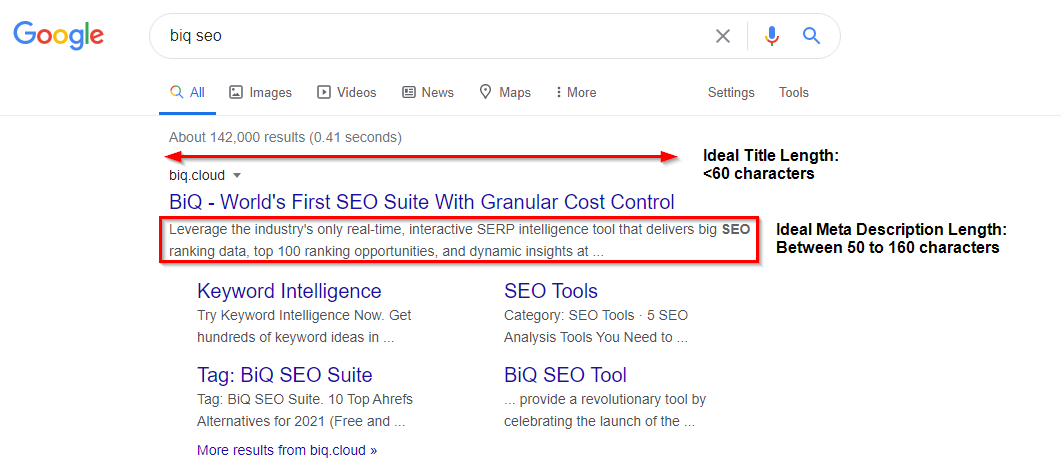 Optimal SEO title length
Google increased the number of characters displayed on titles from 55 to 60 back in 2019 to the current 70 to 71 characters. Although this may not seem like many characters, adding even one word to your title could make a massive difference in your SEO and click-through rate.
Optimal SEO meta description length
Google truncates descriptions to 155 to 160 characters. To get positive results, you should keep your meta descriptions relevantly descriptive and focus on answering the intent for search queries.
3. Tablet Devices
Optimal SEO title length
It might seem similar to desktop display but the maximum amount of characters for titles in pads is at 575 pixels, and that translates to 60 characters. Additionally, you should avoid creating titles shorter than 30 characters, or Google will opt to use one of your headings instead.
Optimal SEO meta description length
The range of characters displayed on a pad is roughly between 430 and 920 pixels, which translates to 70 to 150 characters.
Click behaviour and Interaction on Google SERP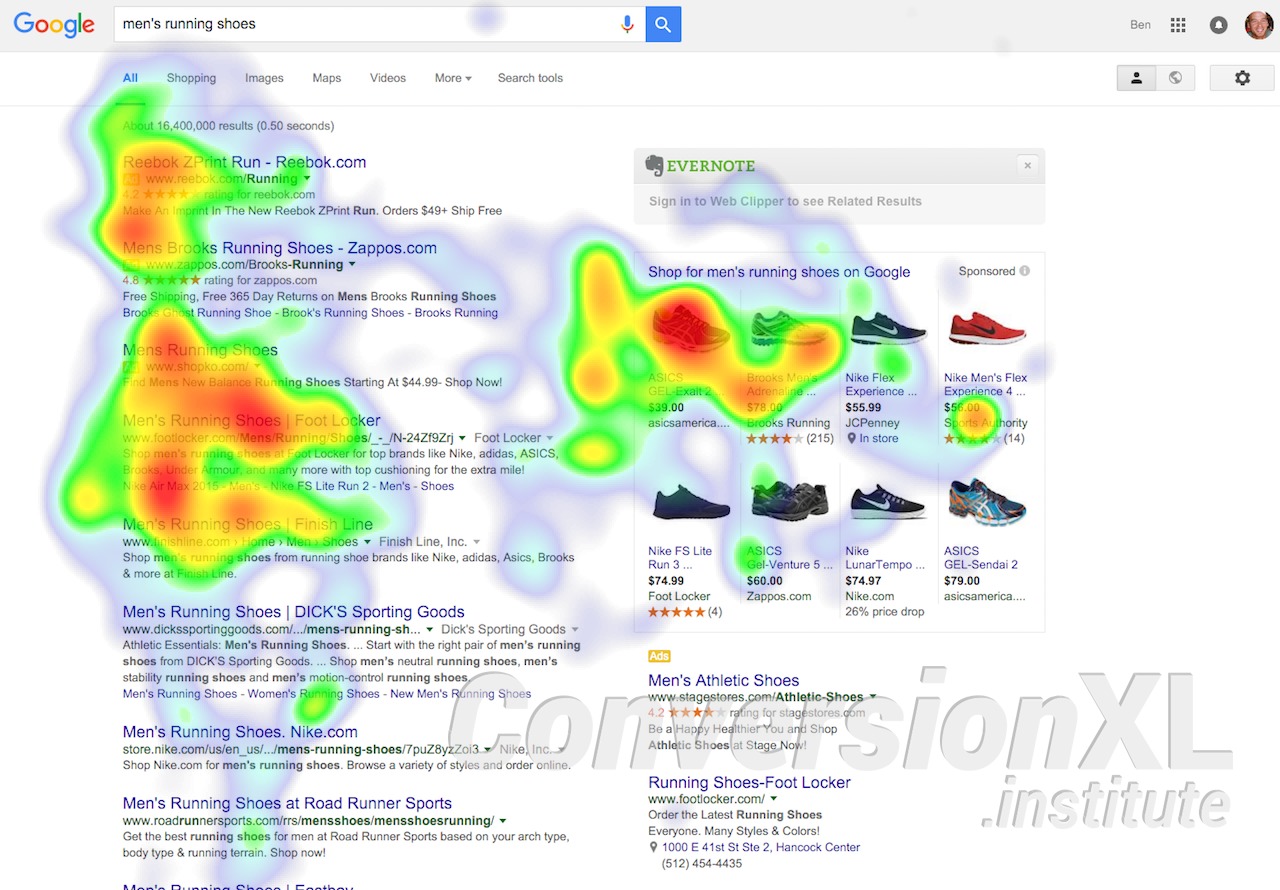 Title Tag
Usability reports indicate that internet users scan website headlines for information. This implies that headlines that are easily understood are better off than those with too much unhelpful vocabulary.
Since most internet users scan the first three and last three words in the headline, it would also be best to ensure that the headline has an average of six words or 50 to 60 characters.
The key is to include your keyword first, make them as short, as catchy, and as descriptive as possible and you will earn the click.
Here are some awesome title tags for inspiration:
Title tags: How to improve CTR by 20%
7 <Title Tag> Hacks for Increased Rankings + Traffic
Fun things to do in Miami: Check out 122 Miami Attractions…
Meta Description
As mentioned earlier, web descriptions generated by Google are dynamic. Sometimes, the characters displayed may come on a larger scale, and they may be few at other times.
However, the general rule is to use 150 to 160 characters in your description and you would want to optimize it by including your keywords because as you search, related keywords are often bold in the SERP.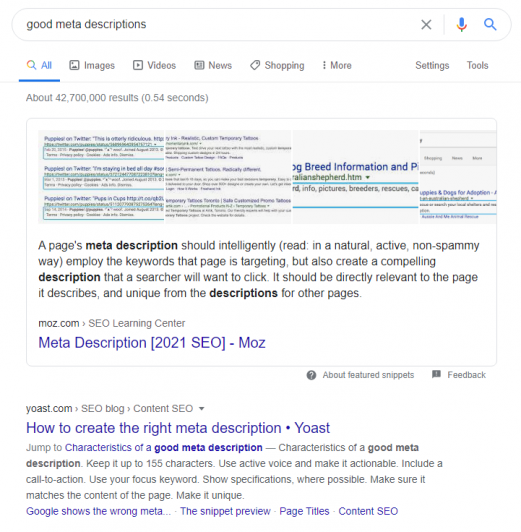 And this can be a good signal not just to search engine bots, but also users that your content is super relevant.
Best practices for a good title tag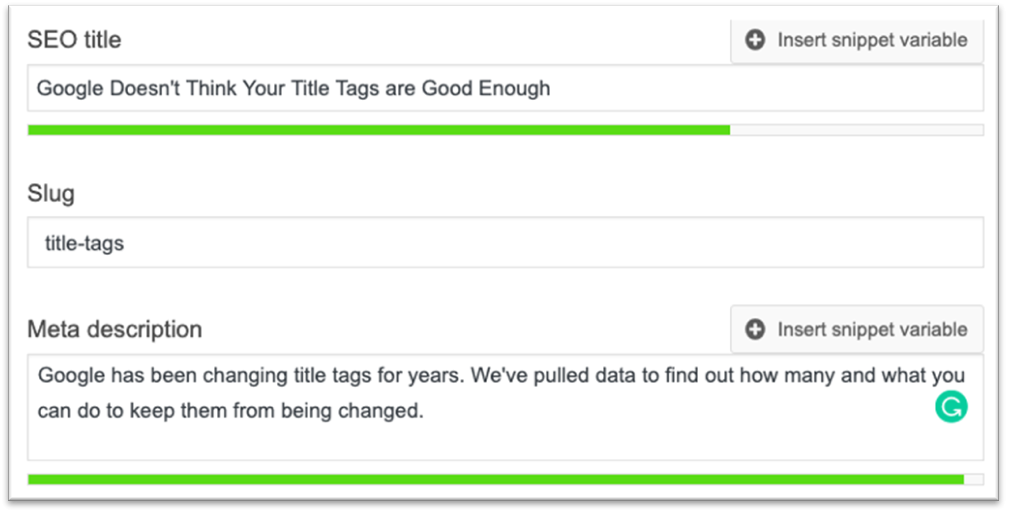 Headline or title tags are critical to your website's SEO and the search user's experience. Therefore, you must make sure to give some thought into optimizing your titles. Though the task might seem low-effort at a glance, it is a high impact strategy that will result in impactful ROIs in the long run.
So you might be thinking how do you go about achieving this? Here are 4 simple tips you can start.
Answer the search intent behind the target keyword
Search intent's relationship to SEO is like a moth to a flame. When a user keys a search query on Google's search engine, they already have certain expectations. The first thing they'll do is scan the titles to the websites and determine if they have the information they are searching for.
To create a great title, you have to use your target keyword in the title. There are three types of search intents as interpreted by Google and they are informational, navigational, and transactional. It would be best to ensure that the keywords you choose match the user's search intent.
Describe the content accurately
Your title should describe your content accurately since this is the first thing that users observe. They are seeking for answers, and you never want to overpromise.
Besides, if your title doesn't have any descriptive terms or doesn't seem to be straight to the point, chances are that the user will move along to a website with a more descriptive, optimized SEO title length.
It would be best if you used descriptive adjectives in your title to make your content more enticing. However, it would be best not to overdo it and risk your content thought to be spam. Be accurate in your description and let the readers decide for themselves.
Include your keyword first
Users often scan the first three words in the title, which is an important trick that helps them analyze the search engine results to make a quick decision. You must have an optimized SEO title length.
It is also crucial that you put your keyword as early on as at the beginning of your title description to help boost your search rankings.
Aim for something like Product name (if it's the same as your keyword), Minor product category, min product category, and then the brand name.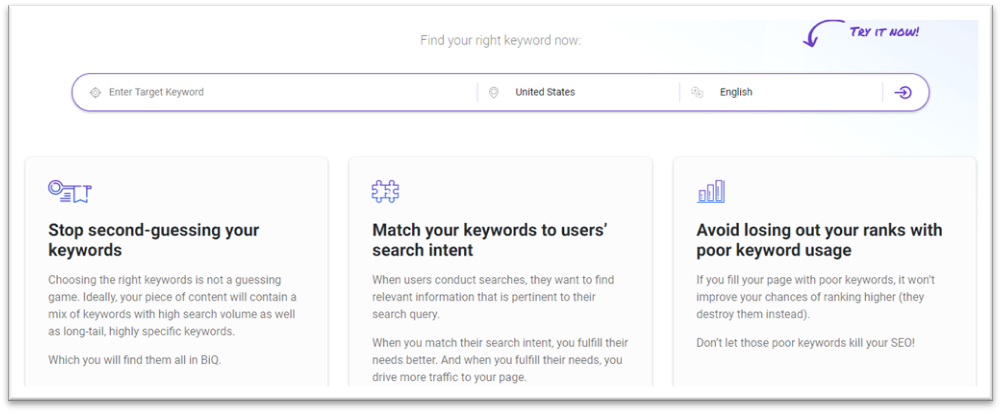 If you are looking to find the best high-value keywords with minimum competition in your niche, then you should try out BiQ's keyword intelligence. The keyword research tool provides you with various metrics that make your decision-making process more manageable.
Our tool also provides you with information on keyword intent. Having this information in your arsenal helps you plan your content better, increasing the time visitors spend on your website. The chances that the user finds the information helpful and overall customer satisfaction.
Aligning your content to your users will not only help you become an authority in your niche, but it will also boost your website's ranking on Google's SERPs.
Use curiosity gap to entice user's clicks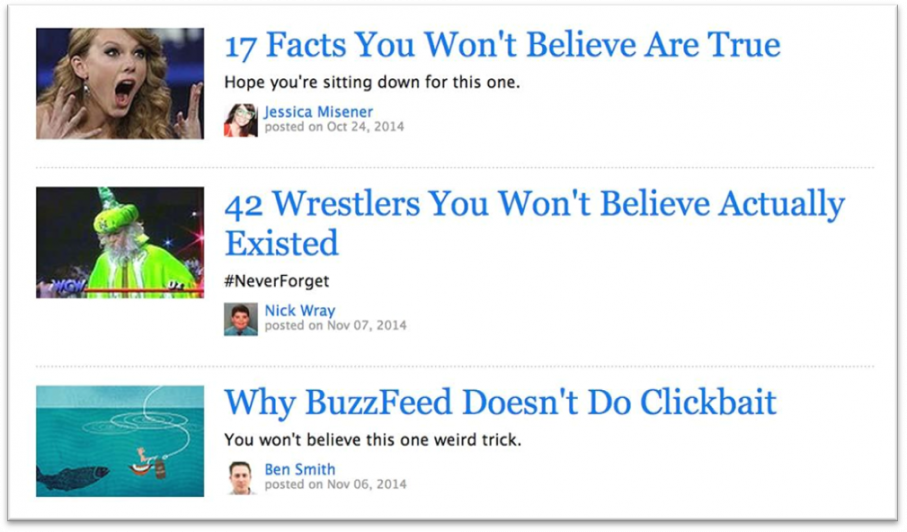 Great headlines are enticing, captivating, and irresistible. They should contain a balance of information and intrigue.
Headlines have to tease just enough to tempt your visitors to click through and, at the same time, be informative enough to help your readers decide whether they'll find the information useful.
This is the curiosity gap that'll leave your users ready to click through to your website. However, you'll need to stay versatile in your terminologies and wordplay.
Avoid being a cliché, charm your audience, and you'll attract visitors any day. Above all, you should aim to maintain your audience's trust.
Never let them down. And next let's move on to…
Best practices for a good meta description
After reading most websites' titles, the user will then choose the website with the most relevant information in the title.
Of course, they'll also read through the meta description to see what the content has to offer. In other words, readers will want an excerpt of whether the website covers the information they want or not.
So, what are the best ways of creating excellent meta descriptions?
Include your primary keyword and related terms
Your meta description can help you rank higher if it's lined with relevant keywords related to your content topic.
However, it would be great if you did not use just your main target keywords alone. Instead, line your meta description with related keyword variations to improve your SEO even further and spice up the text.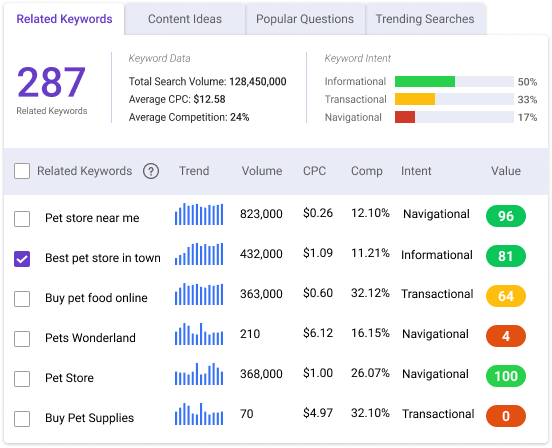 You could use BiQ's keyword intelligence to search for related keywords that you could add in your Meta description. Our tool will provide you with essential metrics besides these keywords to understand the number of people searching for the keywords and their search intent.
Understanding the user intent for queries and how many people search for the related keywords will give you better ideas on which keyword you use to get more relevant traffic to your website. That beats blind keyword placement at any time, and also give you an opportunty to rank for multiple keywords for a single content.
Be descriptive and conversational
Your meta description has to be very descriptive, conversational, and, most importantly, contain useful information that proves useful to the readers. It would help if you hooked your reader by expressing your site as well informed, professional, but still human.
Don't overdo your keywords
Google doesn't penalize long descriptions; however, they do penalize keyword stuffing. When you add too many keywords in your meta description, it creates a bad user experience.
Since search engines understand keyword variations, doing this could prove to be counter-productive. Seriously, it would be great if you didn't do this:

Remember: you are writing for people
Your meta description is your audience's first interaction with your content, and while you are creating your content to rank better for SEO, you'll need to think about your user's experience. You'll also have to think about the impression you create with your target audience.
Ensure that you come off as human, understanding, and ready to help your target audience. It would help if you also were positive and convincing but don't try too hard. Try to be too convincing, and you may raise doubt.
3 Awesome Examples of Title and Meta Descriptions
1. Tesla
Tesla's description manages to convey their company, values, ambitions, and what they produce in only 22 words, a purely artistic SEO title length.
2. Lonely planet

The meta description starts with a question that draws the reader in and then explains how it helps travelers in only 160 characters.
3. Reddit

Reddit makes a clear explanation of what it offers in the meta description, manages to include its mantra, and closes with a personal touch. All this is done in two sentences.
Test your Page Titles and Meta Descriptions
You must test your website's SEO title length and meta description to ensure its effectiveness and make any necessary changes where needed. And if you are using WordPress, we recommend you to use this handy on-page SEO plugin SEOPressor.
SEOPressor will help you runs on-page optimization on your website's content and provides you with actionable data you can implement to improve your ranking.
Most importantly, it include title and meta description implementation as well as a helpful preview display which will show you how your content's headline and description will actually appear on SERPs.
Monitor your rankings and optimize your title and description
Of course, lastly understand that SEO is a long-term process.
So monitor your rankings to know where you currently lie and the changes you need to work on if you want to improve.
See how your current title and meta descriptions land you, and make updates to boost your ranking and earn traffic.
Use BiQ's Rank Tracking to keep a constant track of your daily SERP ranking for your content and see what changes work.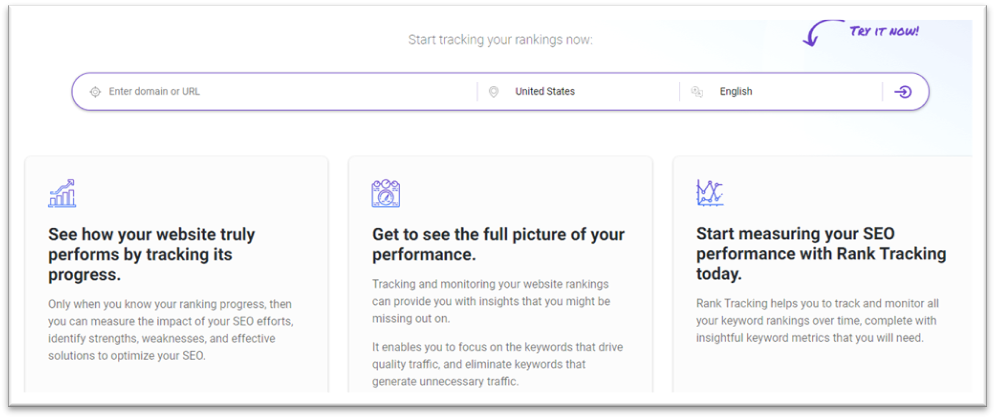 The research tool is quite easy to use, and it displays the data research in simplified categories. As a plus, you can also use this tool to observe your overall page ranking and sections you'll need to improve on.
Key Takeaway
Titles and meta descriptions are not only meant to boost your SEO rankings; they are meant to attract your audience and boost your website's traffic.
Therefore, you should always make sure that you are creating engaging titles and meta descriptions within the ideal length to make sure yout users won't miss the message.
Bookmark out post to keep updated.