Here's a review of the best Google website rank checker that you should know. These easy to use yet effective ranking checkers will bring your website to greater heights.
Ranking checkers are an essential part of internet marketing today. It would be a big mistake to publish content without targeting the right keywords.
It's like a doctor skipping the diagnosis stage and giving you a bunch of pills to guess what works for your illness. That could kill you.
Tracking average site performance and keyword rankings are a surefire way to improve traffic and outrank competitors in search engine results pages.
If the site suddenly drops from the 1st position in the keyword search ranking to the 40th position, this regular checkup will reveal that early so you can act quickly before revenue hits rock bottom.
Here are some of the best-recommended ranking checkers.
7 Best Google Website Rank Checker Software

How Does BiQ Rank Intelligence Do The Magic?
The world's only real-time Search Engine Result Page (SERP) intelligence tool, meaning you can find out exactly which keywords you rank for, including keywords you didn't even know you ranked for, in a click of a button.
Discovering keywords that your pages are ranked for is the first step of monitoring and measuring your SEO success.
BiQ stands apart from the rest of the tools introduced below because it is a personalized, AI-Guided SEO suite that gets you the rank and traffic.
1. Broader insights
With BiQ Rank Intelligence, you get deeper insights that are more than just about ranking.
Keyword ranking is an essential indicator of site performance, but it doesn't tell the whole story.
You may rank 1st on Google on a certain keyword but still have lower traffic than your competitors.
BiQ's Rank Intelligence will help you get to the heart of the matter.
The bonus keyword ranking insights you get with BiQ include:
The quantity of traffic that each keyword brings to the site
How your competition ranks for those same keywords
Search volume, cost per click, and presence for SERP features
The exact keyword ranking positions and ranking URL
2. Local ranking
BiQ Intelligence is a Google website rank checker solution that delivers comprehensive insights on local searches with zero error margins.
Location is everything, especially for businesses with a physical store. If your local store is based in LA and the traffic map shows more interest from searchers in Mumbai, that's a problem.
Local search ranking is one of the most significant newly updated capabilities on Google. It is more precise now and effectively sieves out irrelevant searches based on location.
To get started, create a Rank Intelligence profile by entering your domain. Then view your website rankings exactly the same way your local visitors do to understand your local SEO performance based on your targeted location.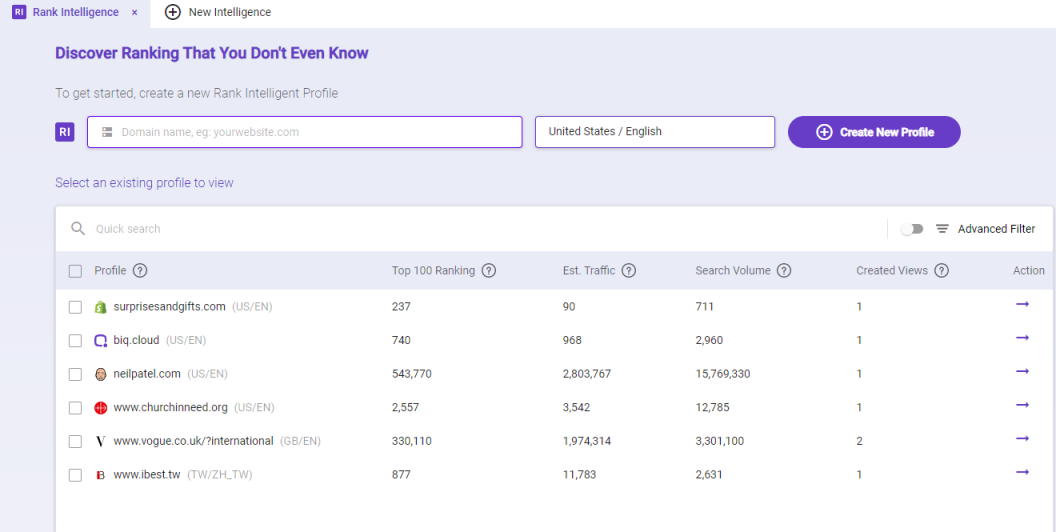 With Rank Intelligence, you can track your keyword rankings across multiple profiles, languages, and locations both locally and globally. Just start off by creating a profile. Then, enter your domain name and your preferred language or location.
Next, create a View based on the ranking position, search volume, and keywords. You'll be brought to your results once you've created a view.

Once you find out what your top keywords are, you can add them to your Rank Tracking profile to monitor them.
3. Track keywords in different languages and locations
You can check website ranking using localized IPs to get actionable intelligence on how to properly target local audiences.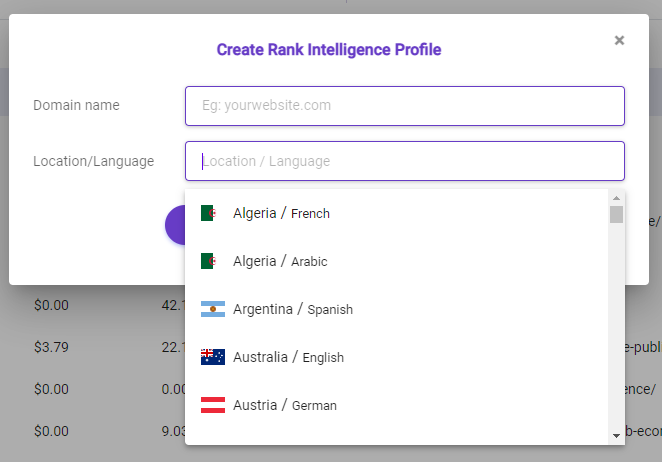 This rings true especially if you're running a local business. Understanding your local keyword's position will bring a huge impact on your website.
See the top results for local business websites and take advantage of the fully integrated platform with all the keywords that comes within the domain.
4. A featured snippet probability
Getting a featured snippet on Google SERPs is the dream of many marketers.
BiQ delivers insights on factors that could give you a ranking on position zero. These include related searches, knowledge graphs, videos, and images.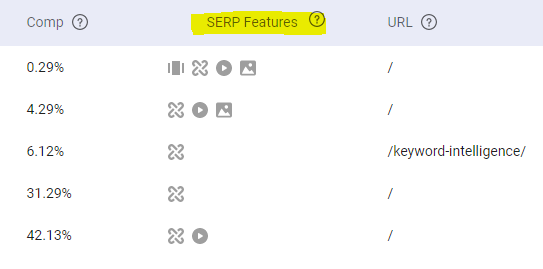 5. Competition Intelligence
BiQ can also run a little covert operation into what your competitors are doing with their keywords.
This function will reveal the keywords that they are using to rank on top of SERPs and ways to steal their strategies to create better content and outrank them.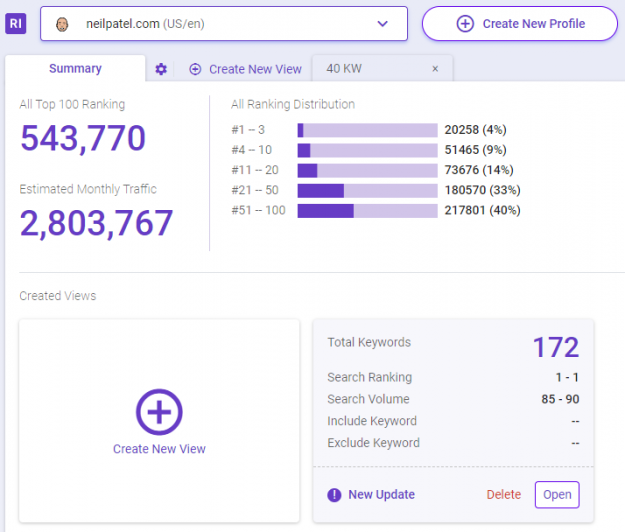 For instance, Rank Intelligence is able to tell me what keywords Neil Patel is ranking for that I don't. And this presents an opportunity to rank better than him in many ways.
So what are you waiting for? Go and try out BiQ's Rank Intelligence by creating a free account today!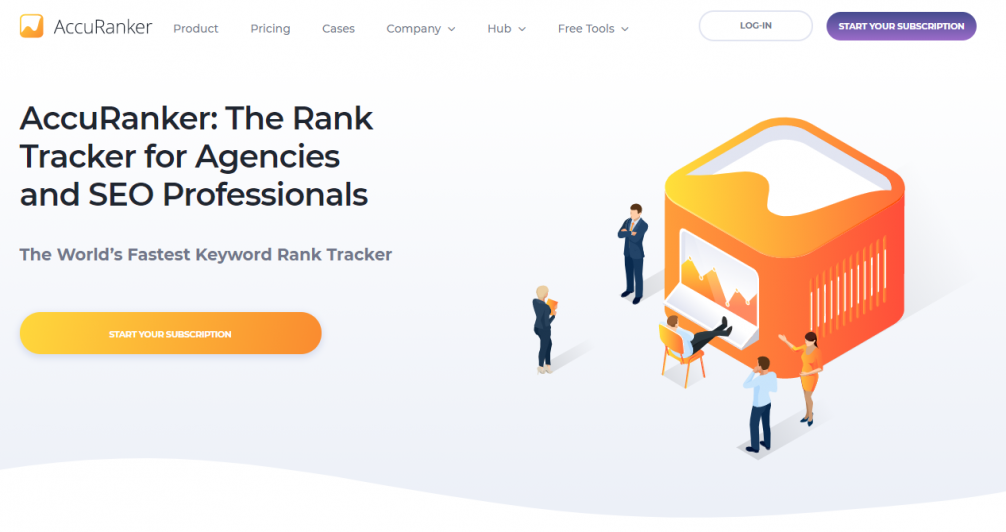 How Does Accuranker Do The Magic?
Accuranker is another reputable Google keyword tool that monitors search engine results and analyzes landing pages to provide comprehensive ranking insights.
You'll get keyword ranking updates daily and on-demand. Accuranker works for both Google and Bing Organic search.
1. Broad scope compatibility
Accuranker is integrable with a lot many SEO analytics and ranking trackers.
If you pair it with Google Analytics, you will get far-reaching data on raking to include the tragic amount for each keyword.
If you integrated Accuranker with your Google Search Console, you would find it easier to import keywords to get deeper into their performance potential.
Other platforms that Accuranker is made to work with seamlessly include Adobe Analytics, Google Sheets, and Data Box, among others.
Each integration significantly expands the capabilities of the rank tracker.
2. On-demand performance updates
You may get better control of your site performance with this Google website rank checker.
It is possible to configure it to send you daily notifications and digestible data on keyword rankings.
3. SERP history
Accuranker may reveal what SERP features you are ranking best for. These could be featured snippets, Adwords top, and bottom or local search.
4. In-depth analysis
Using Accuranker, it is possible to filter and segment ranking data on granular levels. This may lead to better organization and accurate actions on your part in ranking optimizations.
Its function and features are laid out in a straightforward way, which significantly improves navigation and software usability. It's a shallow learning curve.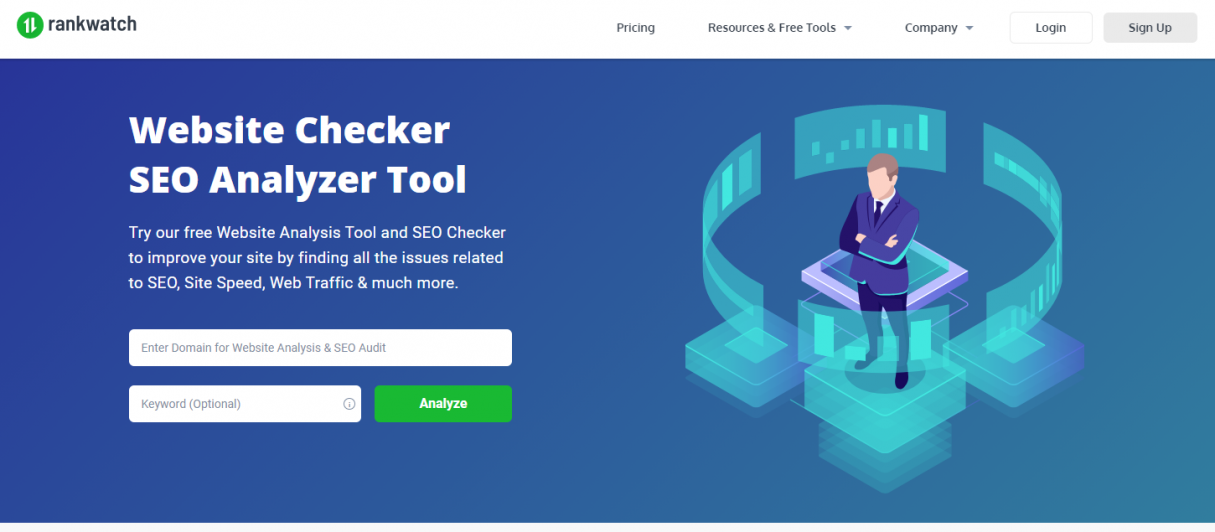 How Does RankWatch Do The Magic?
RankWatch is among the fastest-growing Google website rank checker tool. It shows all the details on keywords ranking and the website's position in search engine results pages.
You can also use this solution for cost-per-click performance measurement.
1. Rank Tracking
One can do all the rank tracking they need with the capabilities of this tool. It delivers consistent performance across all search engines.
You can narrow down the ranking insights to different geographies and city-specific results.
Daily tracking is made possible. With RankWatch, you can regularly measure your keywords' success every day to stay on top of changes in ranking factors.
Rank tracking is enabled across 170+ Countries with the ability to narrow down performance by languages and geography.
Further, you can generate ranking performance comparisons between desktop and mobile to uncover better ways to reach out to your audiences.
ON A SIDE NOTE;
* If you're interested to check out another Rank Tracking tool, BiQ's Rank Tracking product is here to serve you well too!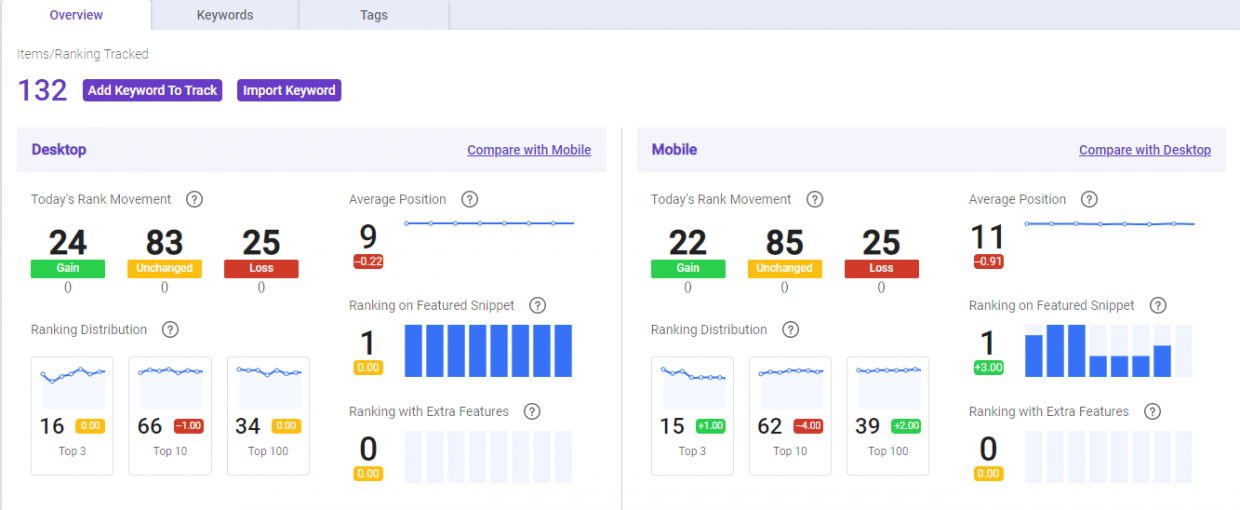 It allows you to see how your website and mobile truly perform by giving insights into your ranking progress.
Get to know your website's keyword ranking performance and overall visibility on Google's search engine result pages over time to understand what's working or not.
Now back to Accuranker…
2. Competitor spying
RankWatch can help you pull data on your competitors to find out what they are doing to stay ahead.
This Google website rank checker has an automated competition analysis function that could be a godsend for your keywords and PPC strategies.
Focusing on several SEO keywords, you can use RankWatch to analyze the leading organic domains in your niche in SERPs.
The Google website rank checker will be your magic mirror into your competitor's keywords and performance.
The spying reportedly works on paid competitors too. You can run checks on the best-performing ads in your niche and steal their keyword strategies.
How Does Ahref's Do The Magic?
Ahrefs detects the keywords your site is ranking for and can narrow down to country-specific ranking details.
With this Google website rank checker, you can track your site's performance and check out what your competitor is doing.
1. Desktop and mobile ranking updates
With Ahrefs, you can monitor Google rankings on mobile and desktop in over 170 countries.
You can search for site ranking data in different countries by multiple keywords.
You can view how your competition is doing in those regions by searching their URLs on their platforms.
2. Measure SEO performance
You can gain visibility into your overall SEO performance using Ahrefs. The tracker presents key SEO insights in interactive graphs. These include traffic and average SERPs position and organic click rates.
3. Track performance by different SERP features
You can check how your website performs in many SERP ranking features such as local pack, image pack, featured snippets, and more.
The solution empowers you to organize your keyword lists using filters & tags.
You can break down and visualize data on how you like or group keywords by tags to get broad visibility into the ranking process.
4. Competition monitoring
Ahrefs gives you the scoop on what your competitors are doing to get ahead in your niche.
You can track the performance of your keywords versus your competitors'.
The solution reports on the competition's search traffic, ranking progress, and SERP feature ranking performance.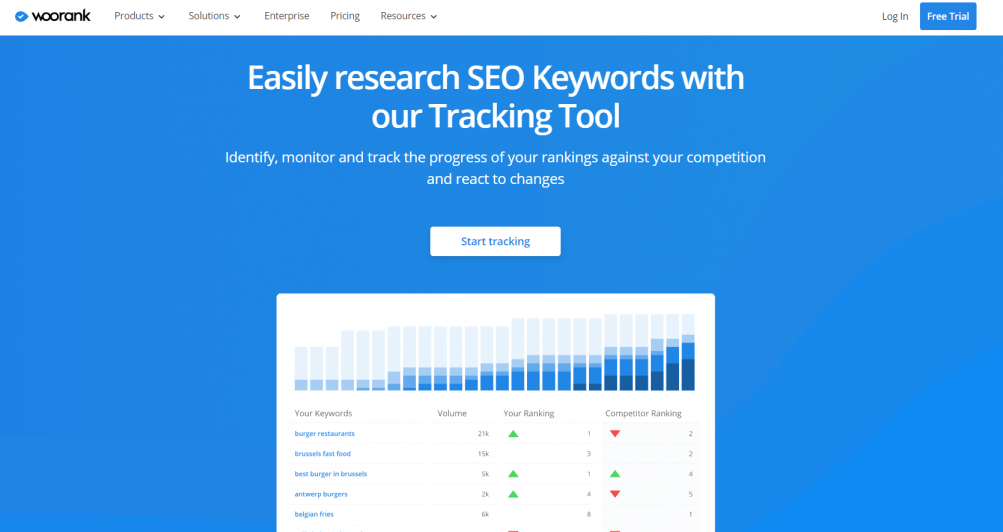 How Does WooRank Do the Magic?
WooRank's dashboard gives technical information on your site and allows you to add competitor sites' URLs so you can make comparisons and see how well your website ranks against theirs.
The website review function will give you details on your site's current ranking (not only in terms of keyword ranking but SEO as a whole).
It will give you positive feedback on what you're doing right, in addition to highlighting sections where you can make improvements.
1. Traffic volume and competition analysis
You stand to get more from your SEO endeavors when you observe which search terms get the most searches.
This data, joined with your present ranking position and competitor positions, will help you pick the right keywords to use to rank higher and drive more traffic rapidly.
2. Tracking ranking progress
When you begin monitoring a keyword on WooRank, you can generate details on that word's ranking history every day.
You will understand how each of your pages is ranking. You will know how your entire site is performing.
3. View high performing keywords used by competitors
Getting ranked high in search engine results pages implies that you must displace your competitors
On WooRank, you can see the current highest-ranking pages and the brands behind them for each keyword that you track
This empowers you to investigate how they're performing well, and so you can create a methodology to outperform them
How Does Advanced Web Ranking Do The Magic?
When using Advanced Web Ranking, you'll be able to automate updated reports on how well your website or page is ranking according to a schedule of your choosing.
If you need to generate results at the drop of a hat—as part of a business presentation or sales pitch, for example—you'll also be able to update the data manually by using the refresh option.
1. Extensive rank tracking
With the AWR Rank Tracker, you can monitor your site rankings in Google, Bing, DuckDuckGo Baidu, and thousands of other search engines.
With this Google website rank checker, it's possible to drill down ranking insights and view your site's performance in 170 different countries.
You can compare mobile versus desktop rankings for your online store and generate insights that help with targeting precision.
2. Mobile rank tracking
Globally, mobile advertising spend is estimated to exceed $247 billion by the end of 2020.
If you intend to focus on mobile like many other businesses, AWR might be the right solution to evaluate your current keywords' potential.
3. Local rank tracking
Local ranking is enabled too. Digital marketers using AWR can get country or city-specific ranking data for their sites.
It is also possible to narrow that further using GPS coordinates. This precise local ranking can be elemental in optimizing your PPC or SEO budget so you can get revenue from it.
Advanced Web Ranking analyzes ranking data measurements from various sources on one chart. You can compare key data points from your rankings, search console, and analytics all in one place.
4. Integration with Google Data
You can connect AWR to your Google Data. This will beef up the precision and reliability of ranking insights by leveraging extensive and additional data from Google Analytics, Google Ads, and Google Search Console.
5. Progress tracking
AWR makes it possible to track ranking patterns in a specified time frame.
You can monitor your improvement and analyze and fix changes that may harm your overall site performance.
You also get a broad array of performance goals to monitor, including average rank, Visibility, Voice Share, and Click Share.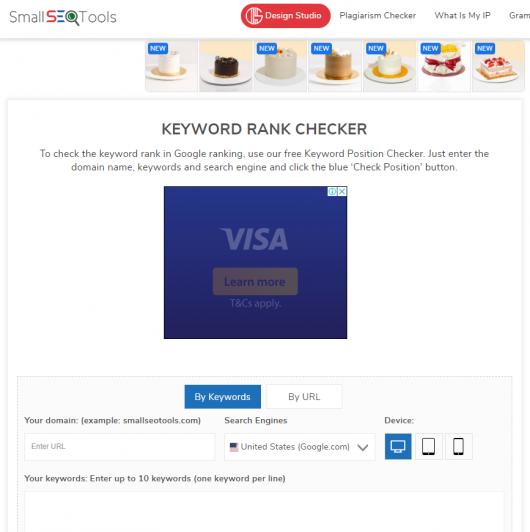 How Do Small SEO Tools (Keyword Position) Do The Magic?
Small SEO Tools is a keywords position checker that shows detailed search engine results for specific keywords and phrases.
You can use the solution to identify the ranking value of a keyword you have in mind before you structure content around it.
You can search ranking data by country. If the tool shows "1" in the ranking results, your site is currently #1 on Google in the searched country. If the results say "100," it means your site ranking is low at #100. Simple!
The Google website rank checker can help identify your site's position in Google search results for each specific keyword.
You can also use the solution to look at how your competitors are doing and the keywords they are capitalizing on.
1. Drive performance with ranking data
Ranking intelligence is a must-have ingredient for the best performance in SEO and PPC.
A Google website rank checker software is a solution that automates and speeds up the keyword ranking analysis process for you.
Most of the solutions listed above can provide comprehensive ways for measuring the performance of your keywords other than SERP rankings.
You can measure traffic volume for a keyword, for instance, or see how your competitor is ranking for the same.
Conclusion
These are all well-rounded Google-approved website ranking checkers. Amongst all, BiQ Rank Intelligence stands out with its broad rank tracking capabilities for keyword performance, local search, featured snippets, and important SERP ranking features.
On top of that, you get detailed competition spying and cost flexibility, which may both be significantly game-changing. Here's the signup link to BiQ's Rank Intelligence if you've missed it out on top: https://app.biq.cloud/sign-up
Over to you!