With the number of blogs cropping up on the internet, coming up with great content just doesn't cut it anymore, especially if you are looking to get more traffic to your website. So, how do you go about acquiring and maintaining the amount of traffic flowing through your website?
Writing SEO-friendly blog posts goes far beyond writing content and adding keywords, especially with the cut-throat competition on Search Engine Results Pages, SERPs. If you want your website to succeed, you'll need to outperform your competition.
If you want to increase your visibility, you need to create readable, engaging, and optimized blog posts to get more organic traffic and grow your rankings. The higher you rank on the search engine results, the more visible your website becomes.
This and writing great content will translate to more traffic and better engagement. In 2019, google was the dominant search engine in search traffic with a massive 92.71 %. Optimizing your blog for SEO could be the best thing you could ever do for your website.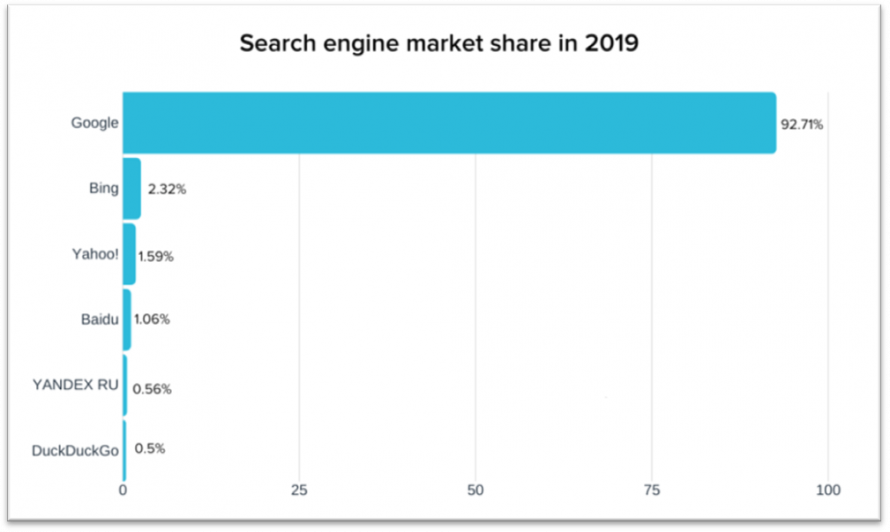 The entire process of creating SEO friendly content can be relatively taxing, and sometimes hard work may not guarantee the results. However, various tools can help you create engaging, optimized content that can grow your rankings.
Why should you use SEO blog writing tools?
SEO content writing tools are meant to investigate and give insights into creating the best and most optimized websites for better ranking on SERPs. The tools are intended to provide you with valuable, relevant keywords, backlinks, and other vital data to help you towards this end.
SEO blog writing tools are necessary for content creators and webmasters who want to monitor their domain and determine how they can optimize their website's visibility to relevant audiences. SEO tools can help you determine several factors that are important to your website's growth.
Keywords
Search engines use keywords to match users' search queries with relevant websites. Through keyword analysis, your keyword research tool should be able to help you determine the most pertinent search phrases with regards to your website.
A great keyword research tool can take you one step further by showing you how the keywords relate to your competitors. The keywords should have as little competition as possible.
The keyword research tool should provide you with the latest search phrases bound to redirect more traffic to your website. At the same time, the keywords provided should have as little competition as possible from your competitors.
Content
SEO blog writing tools could also help you develop engaging content that's captivating and relevant to the users' search queries. Optimizing your content to match the factors searched for by search engine algorithms could help your website gain more visibility.
For instance, you'll need to place your keywords in your content's titles, subtitles, description, and even in the tags. Using SEO content writing tools could help you optimize your content for search engine algorithms and gain more visibility.
Competition
Coming up with great ideas for your content can be challenging, especially if you have to do it over a long period. SEO blog writing tools can help you with this.
You could get an SEO blog writing tool that generates relevant and engaging content topics you can write about while following a set schedule. Statistics show that content creators who post every day get four times more leads than those who don't post as often.
An excellent SEO blog writing tool can help set you apart and give you an edge over your competition. Combining the strategic content creation ideas they provide and the strategic use of various key factors such as keyword placement and keyword density is sure to bring you more traffic and engagement.
Just SEO: keyword research tools and content ideas
If you are searching for the right tools you could use to generate great content for your website, you could use one of the SEO blogging tools for beginners and experts from the list below.
It would be best to ensure that your tool is useful enough to provide you with the best analytical data to create relevant and engaging content for your website.
BiQ Keyword Intelligence & BiQ Rank Intelligence (include competitor's keyword research)
BiQ's keyword intelligence
BiQ's keyword intelligence is all about providing you with the most efficient keyword analysis to help you boost your visibility with relation to search queries from potential customers. How does our tool help you achieve this?
BiQ helps you choose the most relevant keywords that you can use in your content. At the same time, the keyword analysis feature lets you adjust your search parameters by location. This makes you pinpoint the most relevant keywords that can bring you the most traffic in those particular locations.
The research tool also helps you find any related keywords that can be used to bring in even more traffic. You could also use this feature to discover trending keywords and keyword intent to help you plan for and create relevant content that can bring you even more traffic during that period.
BiQ's rank intelligence
Rank intelligence is one of BiQ's features that could be used if you want to grow your SERP rankings. You could use this feature to discover the content gap between you and your competitors. Resolving this gap with helpful content is sure to bring you more traffic and engagement.
You could also use this feature to create a keyword map from competitors who outrank you. If you use these keywords better than your competitors, you'll be more likely to surpass them, which is great whether you are just starting out or even if you are already established.
You could select keywords that have the best potential to optimize for the first-page ranking and identify all keywords worth tracking. You could also research your competitors and discover keywords they already rank for.
Having all this data at your fingertips can help you optimize your website to get better rankings.
Google keyword planner
This software is a free tool that you can use to research new keywords that you can use for your search campaigns to gain more visibility and bring you more traffic. The keyword research tool is excellent for beginners who want to learn how keywords work before their website grows.
Google keywords planner is great for Pay-per-Click, PPC campaigns. You can use this tool to discover new keywords related to your niche and estimate the searches they receive and how much it would cost you for PPC campaigns.
It is also great for generating ideas that can help you plan your content and marketing strategy. You could use this tool together with Google Docs to come up with a daily planner that's easy to share with your partners without being worried about creating a content calendar.
LSIGraph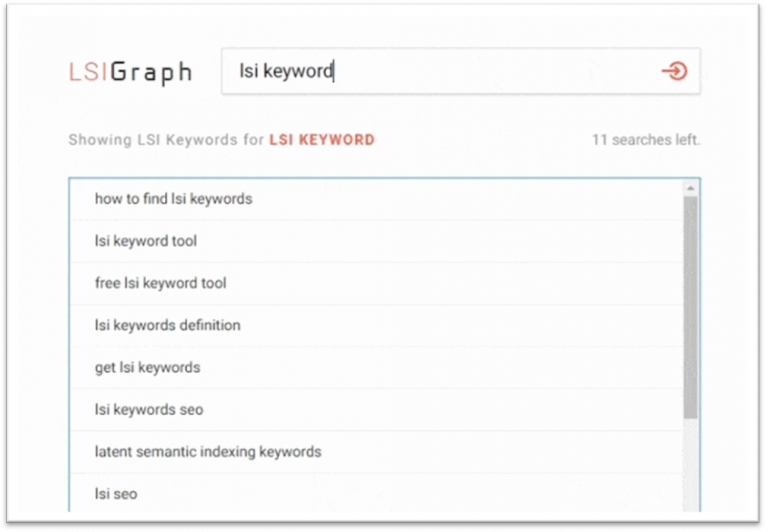 LSI keywords refer to keywords that are linked to the main keywords. They are often, or should often, be used in online content to help search engines better understand your website's content and how it's related to the user's query.
Keywords that work for your competitor's website may not necessarily, work for you; however, if you use LSI keywords, you'll be able to steer away from your competitor's content and create unique content that's still more relevant to your audience.
LSIGraph provides you with the top high-ranking content with incredible engagement rates. Researching this content will give you tips that you can apply to develop insightful, relevant, and engaging content that ranks better and is useful to your audience.
Ahrefs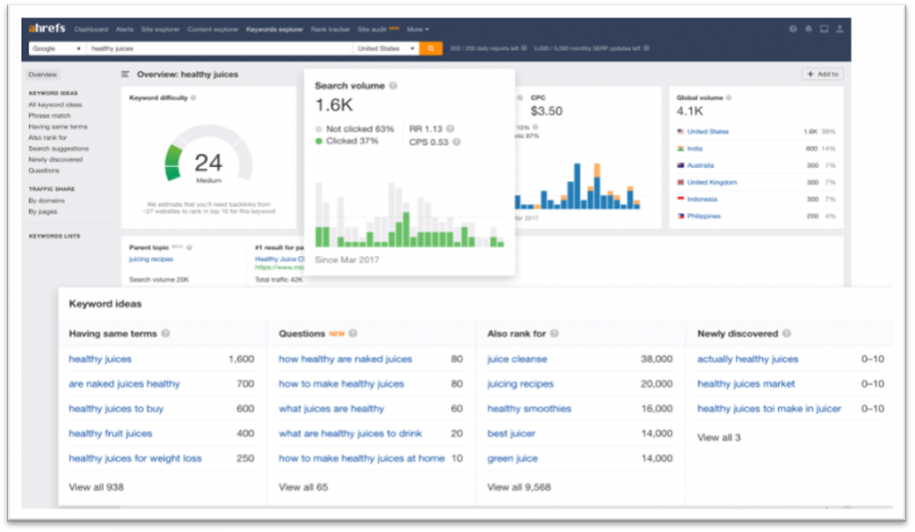 Ahrefs is an SEO blog writing tool that helps optimize your website, analyze your competitors, and know the keyword intent behind users' queries. You could use Ahrefs to research the top-performing content in your niche and even track your ranking progress.
When you enter multiple keywords on Ahrefs, the tools generate numerous ideas in six different categories that you can choose from. The tool gives you phrases that match your keywords, ideas that contain the same keyword terms, and keywords that top-ranking pages rank for.
The tool also provides you with search suggestions that are completed via Google's auto-complete, newly discovered search queries, and how your keywords may be phrased as questions.
You can implement all these suggestions in your blog to optimize it for engagement and better rankings.
Answer the public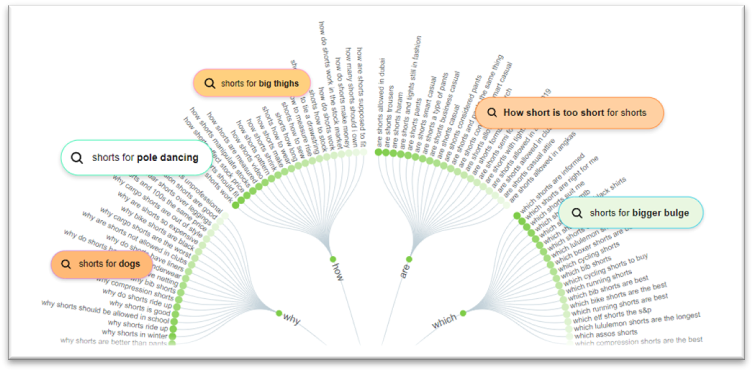 Answer the public is especially great with researching keyword intent. The SEO research tool helps content creators understand how and why users do searches on specific topics. These are some of the insights you wouldn't usually think off of the top of your head.
Having these insights helps you better optimize your content to fit your user's search intent by providing relevant information that's useful to your audience. By exploring these questions, you'll be better positioned to answer your audience's questions as closely and exhaustively as you can.
Just writing: Great content writing tools.
Researching for content to write is hard enough as it is; however, optimizing your website to suit your audience is no easy fit either. The following tools are meant to provide you with detailed data and insights on how you can come up with great content for your posts.
ProWriting Aid

ProWriting Aid is a writing tool meant to check grammar and style for novelists, bloggers, and business writers. The tool helps eliminate errors, grammar, punctuation and also help in optimizing word choice. ProWriting Aid is available for both windows and mac users.
ProWriting Aid has a free version and other premium subscriptions. However, the free version isn't as powerful as the real thing. The content you check is limited to only 500 words. If you want to check more words and get more suggestions, you'll have to pay for one of the other subscriptions.
Hemmingway app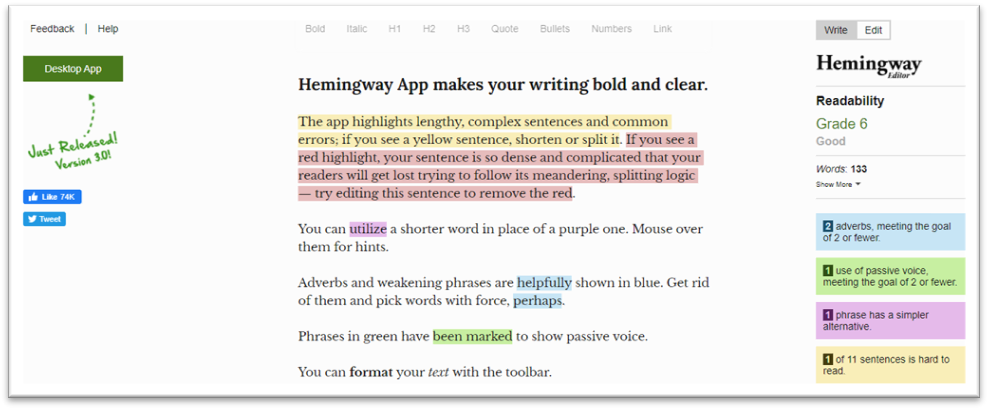 The Hemmingway App is a content creation and editing tool meant to help you create and polish your content. The tool helps you identify common errors affecting your content's quality, such as overusing weak adverbs, confusing sentences, too much passive voice, etc.
The tools' online version is completely free, and the creators intend to keep it this way. However, the software has a desktop version that has a one-time fee of $19.99. To use this tool, you could create your content in the tool or copy and paste it from your MS Word and make the required changes.
Grammarly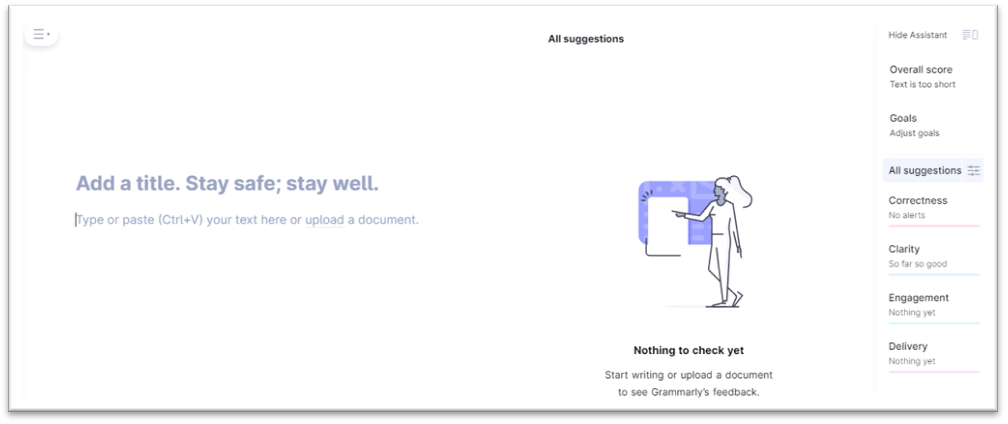 Grammarly is an online writing assistant tool that provides editing assistance based on AI, artificial intelligence, and natural language processing. The tool can be added to chrome as an add-on that provides you with instant feedback whenever you type anything on your browser's clipboard.
The app has a free version that corrects basic grammatical errors such as spelling mistakes. However, if you want a more in-depth analysis of your content, you'll have to pay for a premium subscription. If you are a serious writer, this is the best tool you could use for your projects.
Copywritely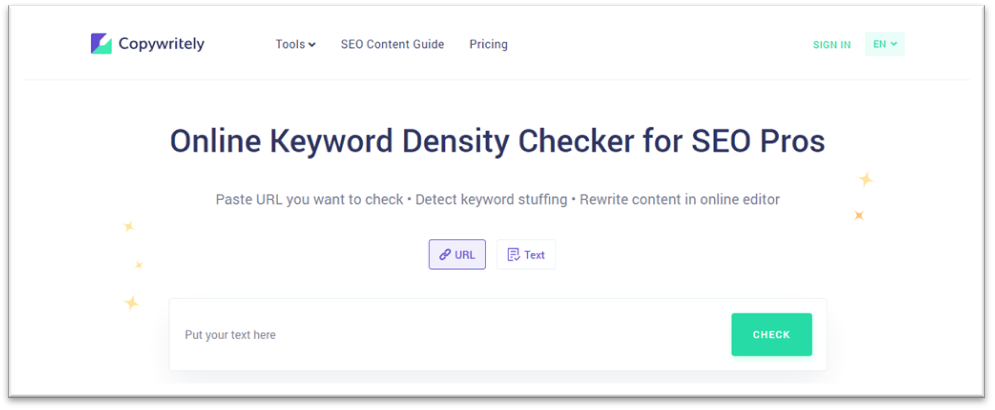 Using Copywritely is very straight-forward. All you have to do is copy and paste your content to the tool's keyboard and wait while the tool analyzes your content. After completing its analysis, you'll get your repost on keyword density, keyword stuffing and even monitor how your rankings grow.
The SEO tool has an online text editor feature that helps the authors rewrite sentences that sound spammy and check for duplicate content. The tools allow you to perfect and optimize your intended audience's content to make it more engaging.
Copyscape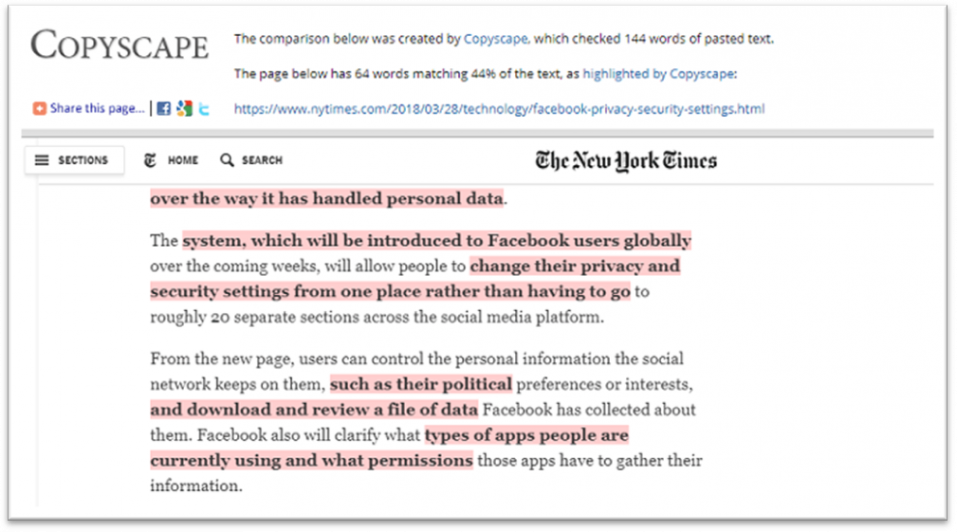 Copyscape is best known for checking for duplicated content. Content owners can use the tool to check whether their content has been reproduced. However, content creators can also use it to check whether their content is similar to any other content on the web.
Copyscape plagiarism checker is free to use. You'll only have to enter your website's URL, and the tool will scan the entire website to check for any duplicate content. However, to check your content before posting it online, you have to pay for the premium version.
All-in-one SEO blog writing tools
BiQ SEO Suite
BiQ's SEO Suite is an all-in-one blog writing tool that helps you research, analyze, create, and optimize your content to fit your audience's search intent.
The SEO content writing tool's features allow you to research your keywords and find the most relevant keywords relevant to your target audience and optimize your content to be useful to the users.
BiQ SEO Suite also helps you optimize your content to rank better than your competitors, lets you track your keyword ranking, and gives you insights on the steps you need to take to improve your ranking. Apart from all this, it also enables you to re-optimize your content post-publishing.
To re-optimize your content and make it better, you'll need to enter your target keyword and page URL.
After that, you'll get a full three-part analysis.
You'll get a paragraph-by-paragraph analysis that shows you the paragraph's relevancy, readability, and sentiment. Then you'll get your content's overall performance, including word count, keyword density, and semantic density.
Finally, you can switch to the analysis tab and check for fundamental SEO optimization and word vector.
You could use these insights to guide your SEO optimization. However, if you aren't sure where you need to start, you could begin by clicking the 'edit needed tab' to correct critical errors that hinder you from ranking higher.
SEM Rush writing assistant
SEM rush is another all-in-one SEO blog writing tool meant to help you generate ideas and create optimized content. The tool helps content creators and marketers in services such as keyword research, Pay-per-Click, SEO, Competitive research, etc.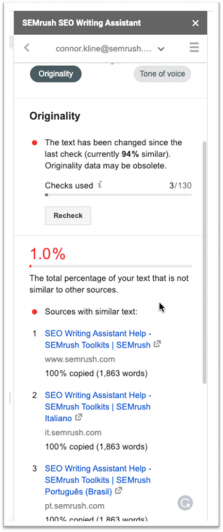 You could also use this tool to check for originality. It's one of the best blogging tools for beginners. You can get a free trial SEM Rush account with limited capabilities or go for paid accounts that go for $119.95, $229.95, and $449.95 for pro, guru, or business account, respectively.
SEOPressor WordPress plugin
SEO pressor is one of the best SEO plugins for WordPress. The plugin has powerful features that could help boost your rankings. If you cannot manage to hire an SEO expert every time you want an SEO analysis on your website, SEOPressor is the way to go.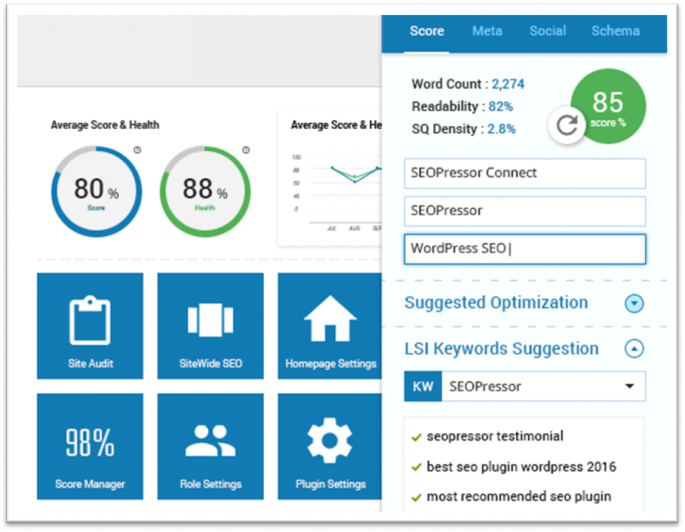 The tool avails you an SEO score, LSI keywords, checks for over-optimization, content optimization, etc.
Yoast SEO WordPress plugin
Yoast is the other WordPress plugin that could help you plan your SEO campaign, optimize your pages, increase your rankings in SERPs, and even improve your readability. The plugin has a free version; however, this version is a bit limited.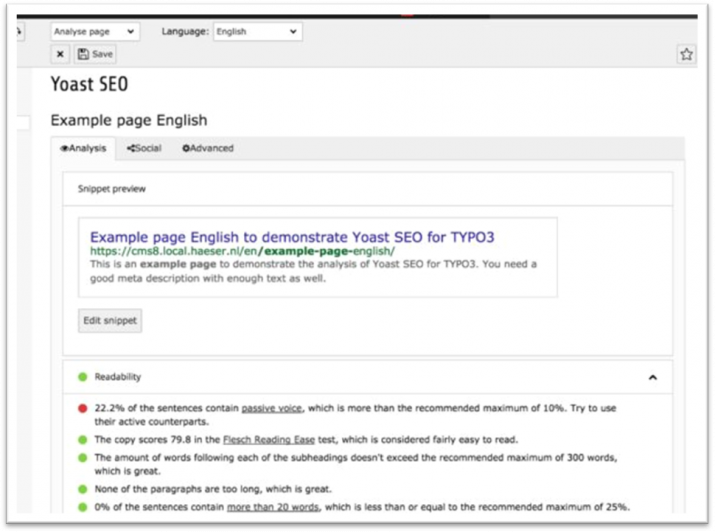 If you choose to use this plugin, you could go for the premium version that has more tools and relevant suggestions that you could use to grow your website.
Bonus tools to help you build a fantastic blog post
You could use Canva to create stunning visuals that'll help make your website more lively and energetic. The graphic design tool is incredibly intuitive and easy to use. You'll be able to achieve more with the visual tool than you bargained for.
Headline- Co-schedule headline analyzer
The headline analyzer tool could help you come up with the best headlines ever. The tool analyzes the weakest words that could make your headline look less impactful. It offers suggestions meant to boost your website's SEO and, consequently, your rankings.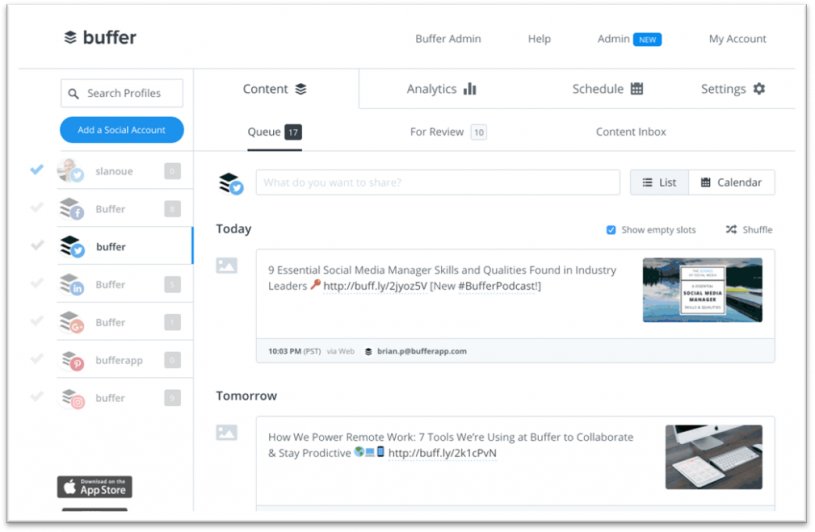 Buffer is scheduling software that allows you to monitor and post on social media platforms at predefined schedules. The software is excellent since managing social media platforms can be hectic at times. You could use this software and focus on more important matters.
Conclusion
Using these SEO tools could help you work faster, create more content and optimize it to reach your intended audience. Achieving all this could help you generate more traffic, engage more readers and make more conversions in the long run.