Want to know how's your keyword ranking has changed over time? Find out how Rank Tracking can help you to do so.
There is no doubt that keywords are one of the foundations when it comes to SEO. When we talk about keywords, we are talking about the words or phrases that people are searching for on the search engines.
Choosing the right keywords can help us to rank higher on the SERP (search engine result page) and generate traffic to our website.
That's why most of our strategies revolve around keywords, from keyword research to creating the content itself. Once we have done all the work and created the content based on the keyword that we believe will give us the best results, it's time to track your keyword ranking.
Tracking your keyword ranking is the best method to find out whether the strategies that you've done so far are working or not. To start tracking your keywords, you need a good rank tracker tool.
What is keyword ranking and why should you track it?
Before we begin talking about rank tracker tools, let's go back to the basics. In short, keyword ranking is the organic position of a search term when users are typing them on a search engine.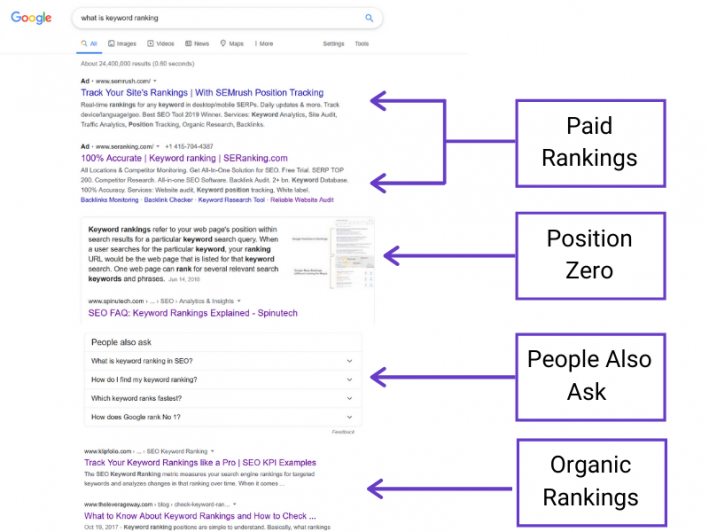 Honestly, many marketers, including me, find out that there are still challenges when it comes to tracking your keyword ranking accurately.
SERP has evolved and we no longer see the traditional ten "blue links" today.
Personalized and localized search results mean that Google will be showing results based on our location and search history.
The rise of semantically-related keywords making it harder to track the exact words that people are searching for to reach us.
But that doesn't mean we should give up on tracking our keyword ranking. Here are the reasons why tracking your keyword ranking is still relevant and important to measure your SEO performance.
a) Measure the changes in your keyword performance
Rank tracking is all about analyzing your keyword rankings based on the historical data and current rankings. And let me tell you this, ranking fluctuations happen all the time.
The first thing you want to do when you notice your ranking drops is to review your keyword rankings. When you track your keywords, you will be able to analyze how the rankings will affect your other metrics such as search volume.
Some rank checker tools allow you to track your rankings on the page-level. When you find out which pages are affected, you can prioritize your efforts on fixing the problem before you lose any more traffic.
b) Rankings give you insights for your SEO reporting
SEO reporting is important in measuring the success of your SEO performance because it helps to identify the performance trends and other SEO metrics.
While tracking rankings is important, the goal of SEO, in the end, is to increase online visibility, generate organic traffic, and improve conversions. Once you have all the insights, you will be able to analyze and determine if your SEO strategies are working or not.
c) Monitor your competitors
Being able to track your own site is just one part of measuring your SEO performance. If you want to find low-hanging keywords to target, then you need to take a look at your competitors.
If you're monitoring your competitors' rankings as well as your own, you will be able to identify the tactics and strategies they are using to compete with you.
d) Identify new SERP opportunities
Ranking number one on Google doesn't really matter anymore.
When you do a Google Search, the Search Engine Result Page (SERP) looks a lot different compared to a decade ago. There are Knowledge Boxes. There are Featured Snippets. There are People Also Ask sections.
Google has introduced a lot of new features in the SERPs that even SEO professionals are trying to figure out which ones to go for.
Now, which is the best tool that can help you do the hard work? Meet Rank Tracking by BiQ.
BiQ's Rank Tracking gives you objective and accurate insights into how well your website stands on the market. It allows you to track and monitor your website rankings in search results.
Previously, you've learned how to check all the keywords that your site is being ranked for on Google (including those that you aren't aware of) using Rank Intelligence. Simply select the ranking keywords you want to track and Rank Tracking will start to track their performance.

Start Measuring Your SEO Performance with Rank Tracking Today.
1. Track your website rankings in real-time
Imagine a world without any rank tracker tool… To track your keyword rankings, you need to list out all your keywords in an Excel spreadsheet and type in each keyword on Google. Now, repeat the whole process for the other hundreds or thousands of keywords that you have in your list.
It's tedious and time-consuming!
That's why Rank Tracking is here. It is designed to help you remove the manual work and automate the tracking process for you.
To start, simply enter your domain name and select your preferred location and languages.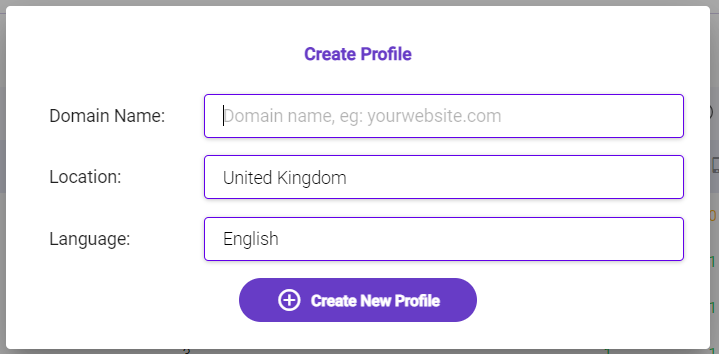 Once you've created your profile, it's time to add the keywords that you want to track. There are two ways to do this:
Manually adding your keywords that you're targeting for your content
Find the keywords that your pages are ranked for in Rank Intelligence and click the "Track" button to add them to Rank Tracking.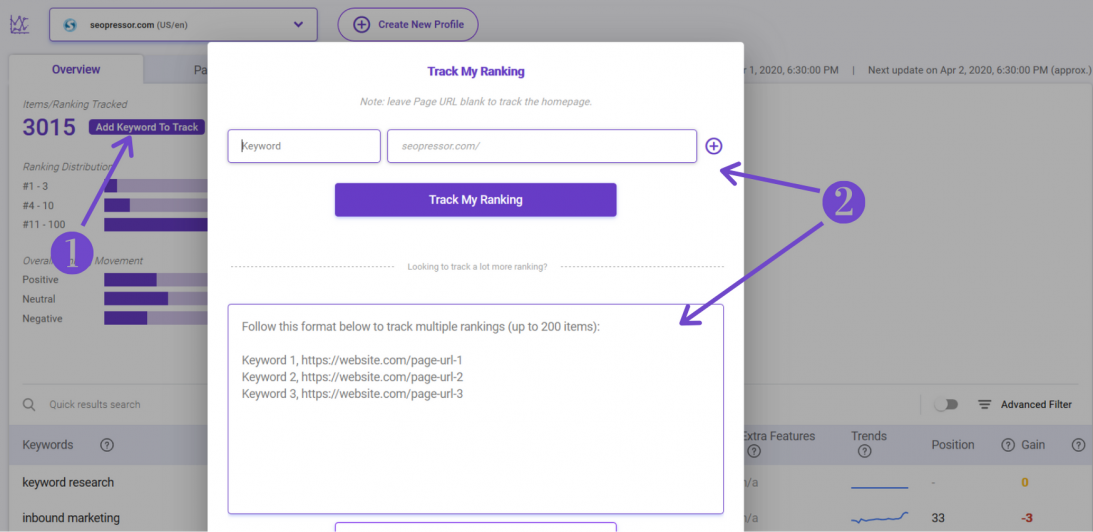 And that's it! The Rank Tracking will start tracking your keyword rankings on a daily basis. Whenever you want to check your ranking performance, just open your profile and you will see them all, all-in-one place.
2. Accurate Insights and reporting
If you are doing SEO for your clients, then you need to prove the campaign's success by reporting to them.
One of the metrics that you may want to include in the report would be the performance of the ranking. This includes how many keywords have started to rank since your last report, what are their last positions, and the performance change over time. Fret not, you can easily find all these data in Rank Tracking.
Let's start from the top. You will see daily rank movements on the desktop and mobile. Also, you will get to know the top 5 keywords with the most gains and losses.
At the bottom, you will be able to see a list of keyword that you have added to track in Rank Tracking. Each keyword shows how many pages are being tracked, ranking movement, and average position.

Click on the action and you will get a more in-depth analysis of your keyword tracked. Here is a snippet of how it looks like: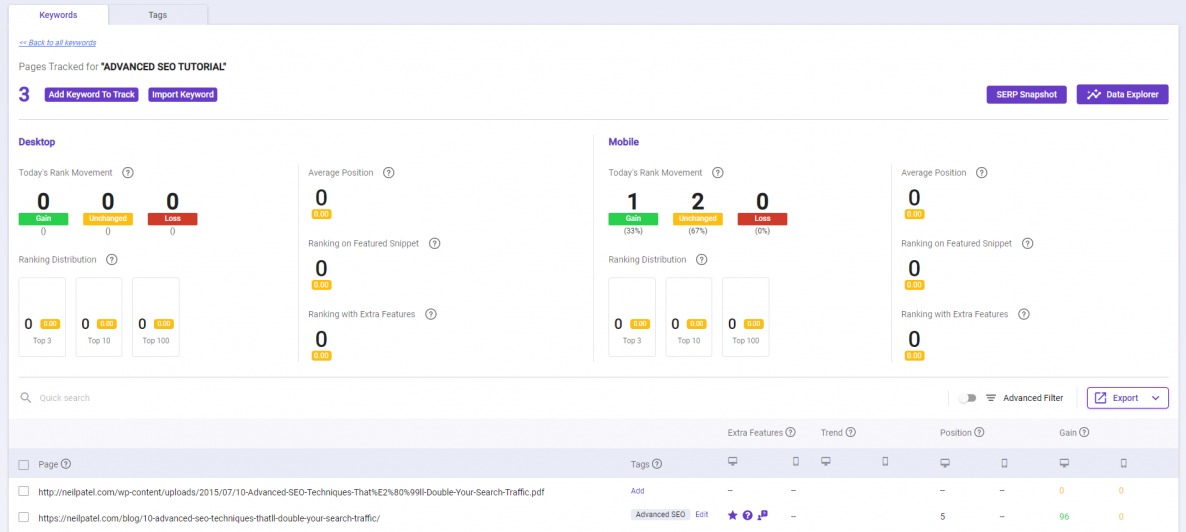 3. Monitor on page level to reduce ranking fluctuations
While the dashboard does an excellent job of giving you a high-level overview of your rankings, it's time to dive deeper into more detailed ranking information.
Rankings drops and fluctuations happen. What you need to do is identify them, figure out why they happen and fix the problem. With Rank Tracking by your side, that's easy to do.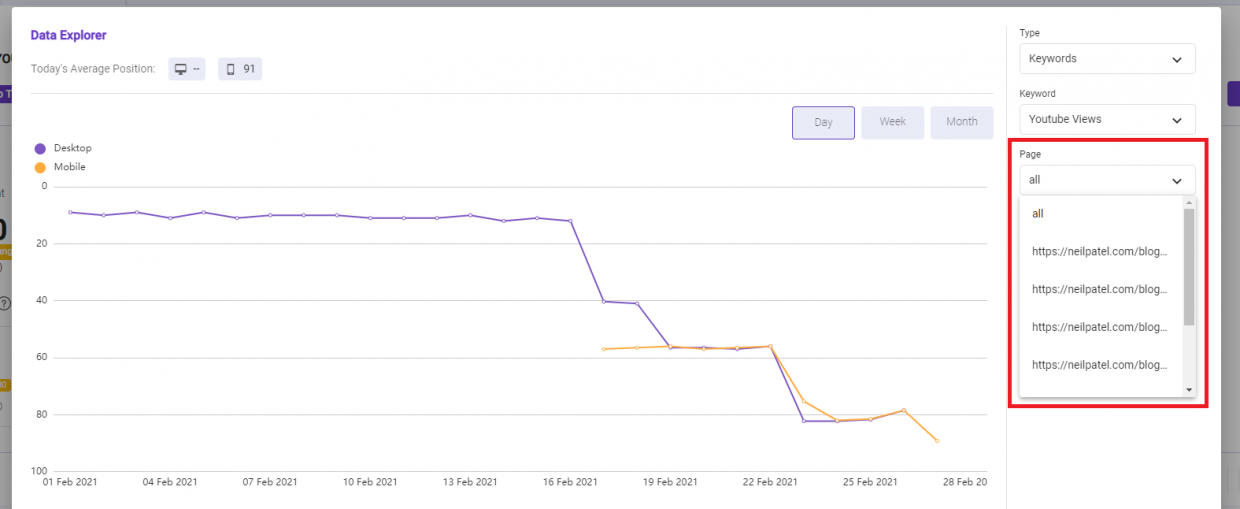 Check if the rankings drop is just a temporary blip or gradually dropping by comparing within days or weekly rankings.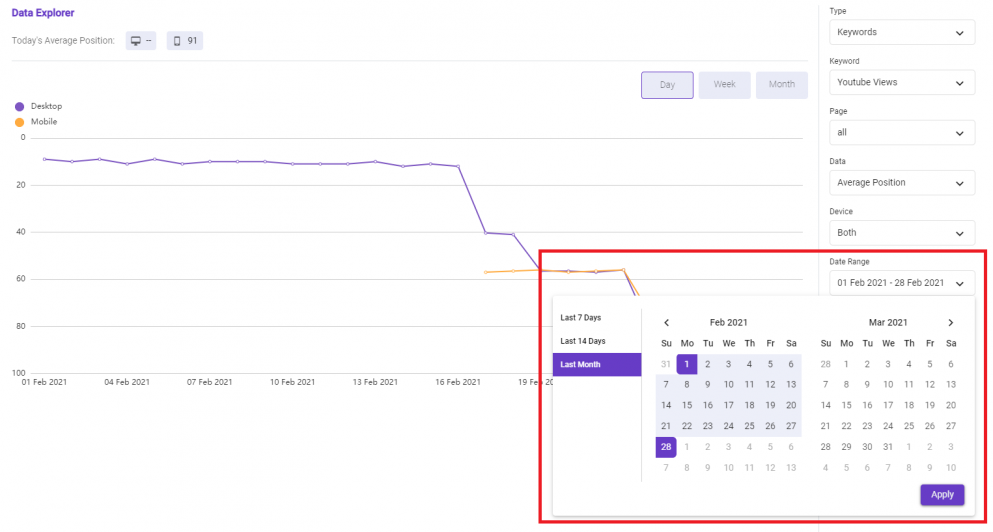 The ranking drops and fluctuations may happen due to some reasons such as algorithm changes and website updates. When you are able to identify to root causes, you will be able to bring your rankings back up again.
4. Go deeper into keyword level to reduce keyword cannibalization
If you've been running your website for quite some time, there is a chance that your website unintentionally targets the same keyword for multiple pages.
When that happens, Google will have to weigh the pages against each and chooses which ones it thinks to be more relevant. That's the basis of keyword cannibalization.
Worry not, you can now identify keyword cannibalization by looking at the keyword insight in Rank Tracking. 

Let's take a look at the "1st page of google" keyword here as an example. Since there are 4 pages that have the same target keywords, I can click the arrow button to find out the pages that are overlapping. 
It might rank higher now on the SERP compared to the other one. However, when users are searching for ways to improve their page authority and come across the blog, the bounce rate will increase and thus, affecting the conversions in the end.
5. Grouping your keywords with tags
The tag features in Rank Tracking allow you to divide relevant keywords into several groups, making it easier for you to track them. You can categorize them according to quality, content topic, and importance.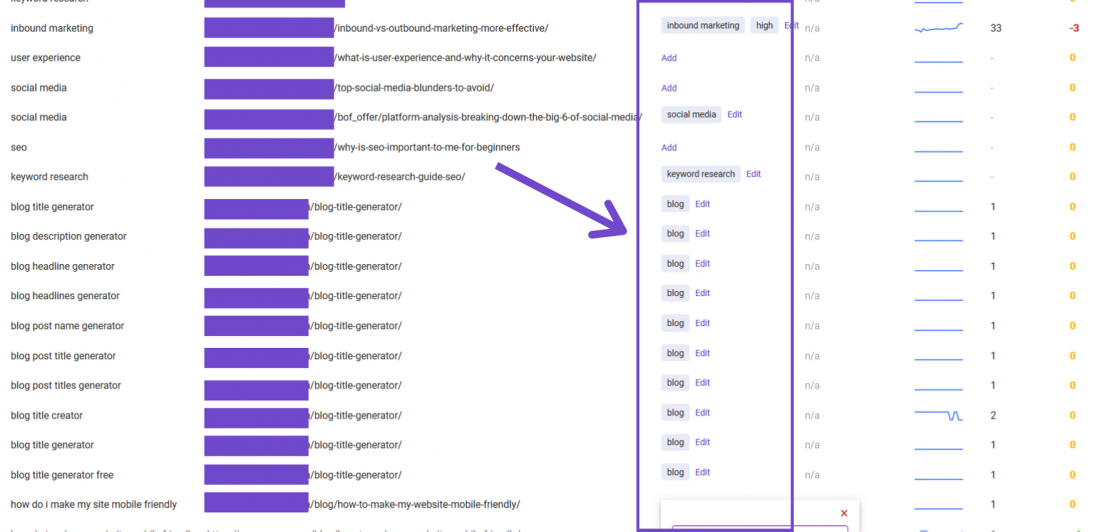 By prioritizing different keyword groups, you make it easier to analyze and evaluate the information from your monitoring processes. The different keyword categories will also let you know what keywords to keep and what not for your next SEO strategies.
Try Rank Tracking Today
And that wraps today's article. I hope you learned a thing or two on how you can use Rank Tracking to achieve your SEO goals.
Lastly, click here to get your free access to Rank Tracking.
If there's further clarification that you'll be needing from us, reach us on our email hello@biq.cloud or just leave a comment down below. We'll be happy to answer you.
See you inside.