How is marketing used in Quora? Learn how you can use Quora marketing to improve your brand visibility and awareness.
Discover how you can use Quora marketing to grow your business visibility and traffic.
Featuring more than 400,000 different topics, Quora is one of the best viable platforms for sharing knowledge with your prospects.
What's more, over 60 % of Quora of visitors come from search engines, and over 600 million people visit the site every month, making it one of the most visited sites on the internet.
With that in mind, not utilizing Quora to grow your audience will be unintelligent.
Besides, why do you think top digital marketers like Neil Patel write 2000 plus word long answers on the platform? Because it actually works.
Savvy businesses directly use Quora to engage their customers. The channel allows anybody to ask or answer questions, establishing a direct communication path with millions of users.
This technically means that building a marketing tactic on Quora should be a priority as it brings tons of marketing opportunities and resources.
Keep reading this Quora marketing guide to understand how Quora can help boost your marketing campaigns.
What is Quora Marketing?
Quora is basically a question-and-answer channel. It is a great tool for research on almost all subjects and an excellent place to build a network.
The site allows people to share their opinions on various topics and, in the process showing their expertise to the world. These can be professional experts, brands, or even individuals.
Unlike other types of marketing, you can't push your services or products. But it drives inbound traffic, that's, people who are actively looking for information or services that a company offers.
Though the platform has been around for only eight years, it has managed to seize the attention of marketers worldwide because of its effectiveness in exposing brands to broader audiences.
That said, if you answer queries often and provide quality and useful answers, you can easily become a top writer and gain more followers, thus exposing you to more people globally.
As a top writer, you will be included in Quora Digest mailing lists where people who subscribe to it will receive emails with your answer.
Why you need a Quora marketing strategy?
With so many businesses competing for the same pool of customers, you have to be creative when it comes to lead generation. That's where Quora comes into the picture. It is a great place to connect with potential customers that are both easy and free. 
That said, here are some solid reasons why you need Quora marketing for your business:
1. Gain a vast, new audience
If you know what to do on Quora and follow the Quora marketing guide's tips, your reach can easily go beyond the platform's user base.
This is because a growing number of websites now look for information from Quora. For instance, a search for 'site; Forbes originally appeared on Quora,' shows a wide array of posts that initially appeared on the website.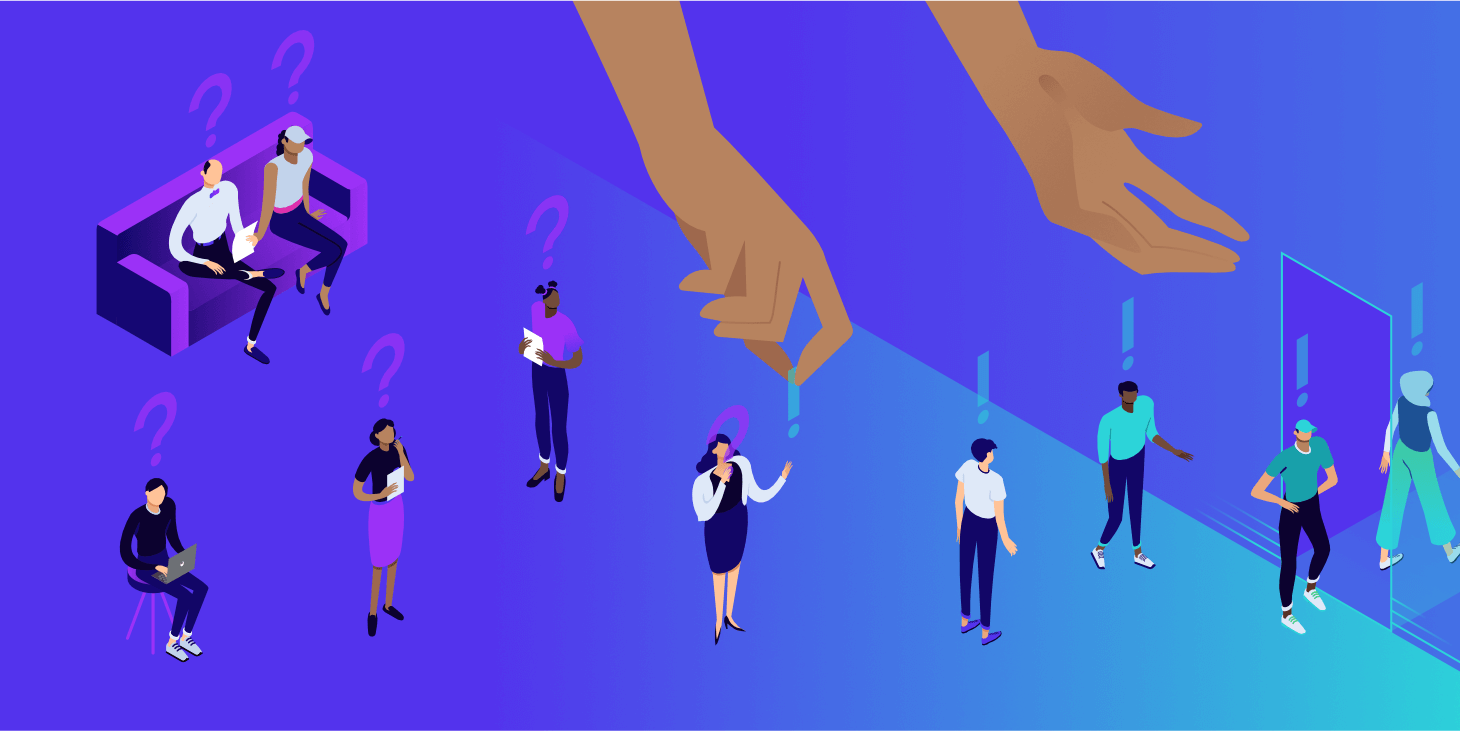 Also, averagely how much would it cost to get a backlink on a website like Forbes? That's a huge benefit the author got for posting on Quora. Now, the only way to get this type of return is to write on the site frequently.
For instance, as Nicolas Cole, a top writer, explains, when he started writing on the channel way back in 2013, he made a resolve to answer a question per day for a whole year. Then a few weeks into this journey, one of his answers got over 10,000 views.
Similarly, he was published in Fortune, Forbes, PopSugar, HuffPost, and TIME within that year. He also landed on Reddit's front page in less than a year, and his answers racked more than a million views.
This was mainly because of consistency. So, if you are looking for a quick fix that will help you land on highly authoritative sites like Fortune, there is none! Your only option is to begin writing now and stick with it.
2. Support existing and potential customers
Quora also offers a platform, whereas a business, you can handle your clients directly over their questions or concerns. Therefore, you can craft answers according to your marketing approach based on customer demands on the channel.
Also, you can create a marketing strategy to attract prospects to the website. You can ask questions or answer other concerns related to your industry to gain authority so on.
Furthermore, the website allows you to connect with clients and other authorities whose features or network can benefit your business in various ways.
3. Grow brand awareness
As mentioned earlier, Quora's main principle is; users ask different questions and other users answer. Topics on the site range from computer programming to finance to almost about everything you can think of. And users who answer the questions are normally professionals on the topic.
Therefore, the website is a go-to source for people who want their queries handled by experts. For instance, the screenshot below shows a user's qualifications who handled a question about programming and accounting.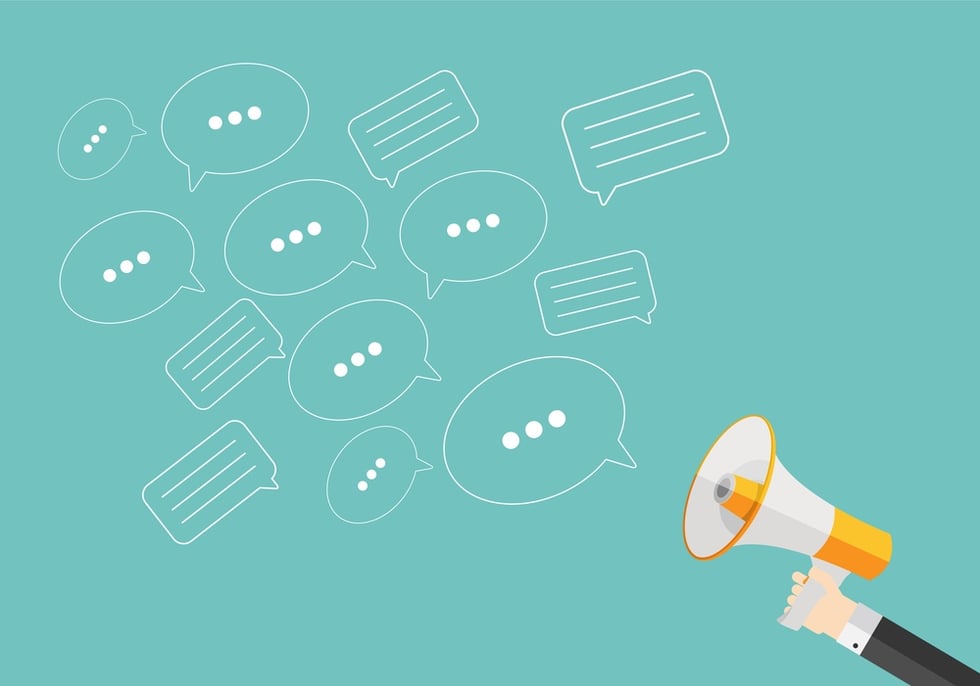 If we go into Kurt's profile, you'll see his experience and credentials make him exclusively qualified to write about the topic. Unsurprisingly, this is the type of authority, and credibility users on the platform expect.
This means that when a user searches for certain data related to your sector and finds answers from your brand, they see your firm as credible and authoritative in that subject matter.
This is particularly true if you get a top writer's status. The distinction is usually assigned to writers with the most views on a given topic or Quora questions.
Earning the top spot will help you gain credibility and continue to get more views on the site. Now, while becoming getting to the spot is a bit challenging, especially for popular topics, it can be a worthy endeavor to pursue once you learn the platform's ropes.
You will not only increase your exposure among users interested in your sector, but you will also cement your brand as a leader.
With the right approach, this can easily translate into leads and more sales for your company. So, answer questions that are highly relevant to your target audience, and you will establish yourself as an authority, then translate the credibility to exposure and finally leads.

4. Drive passive referral traffic
When answering questions on the website, you can include links to other relevant content, including your website. For instance, look at the answer to the question, "What is the best way to learn about stocks?"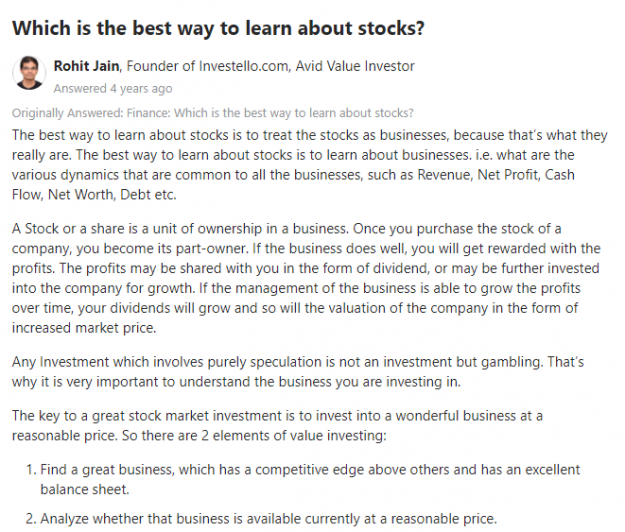 Rohit (the user) is the founder of Investello.com, a stock evaluation firm, meaning that he is definitely qualified to answer the question. In his answer, he provides a detailed overview of what consumers should know about the subject.
Then, at the end of the over 1000-word answer, he includes a link to his firm, explaining how it can help readers who want to know more.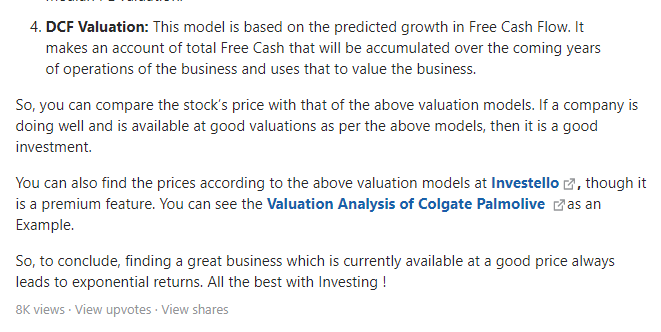 So, if a user finds the answer helpful and is interested in using the techniques he suggests, they will certainly click on the link leading to increased traffic to your site.
Best practices on using Quora for marketing
1. Create the perfect profile
It is a good practice to create a perfect Quora profile.
Here are some tips to creating one:
Add profile picture – it would be better to use a picture that can be distinguished from other profile pictures in a search or listing. Also, make sure you can actually see it. So a close up picture would be great.
Add your main credential – put your main credential at the top of your profile and add a tag line describing yourself.
Highlight your top answers – you could also highlight some of your top answers in your profile. This would be great to show your expertise in the field without boosting.
Link to other social accounts – if you are looking to enhance your company's exposure, ensure you include your website and other social account links.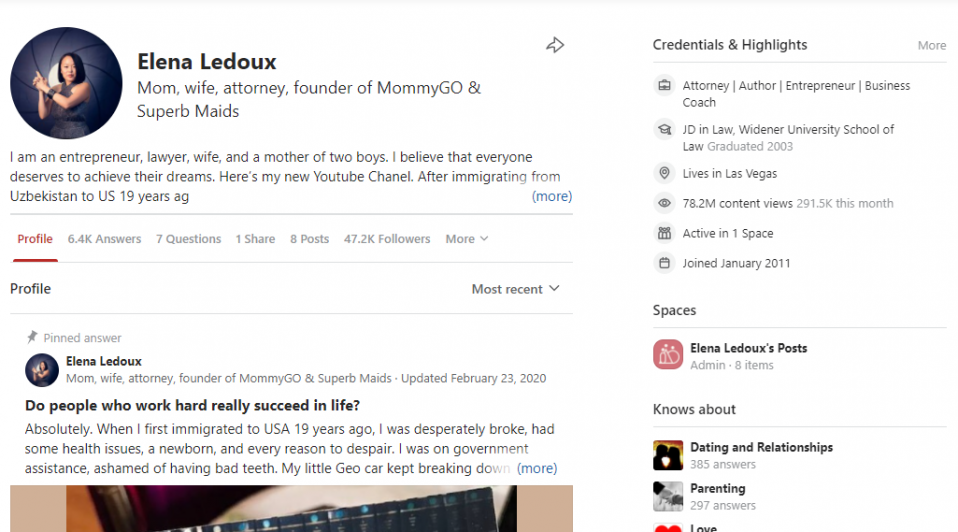 2. Find the right question
If you want to use Quora marketing, you need to have a strategic plan – that includes finding the right question to answer.
Our favorite strategy when it comes to finding the right question is through 'question targeting.'
To do this, you need to create a Quora ad account. Then a new campaign.
In the ad set level, select Questions and click the 'Bulk Add' button. 
Enter keywords related to any question that you will like to answer. Then, a list of questions will pop up along with their average views per week.
The image below shows results for SEO, content marketing, and keyword research:
Quora suggested questions
If any of the questions are related to your expertise and have a high volume of weekly views, that is a good chance for you to provide a detailed answer. Click on the relevant question, and it'll bring you right to the exact question.
More tips on finding the right question:
Look for questions with a high number of upvotes.
Go for recently-posted questions.
3. Craft the perfect answer
It is not enough to craft answers with shallow content if you want to market your brand. Concentrate on one question at a time and then look at the answers available. Your objective should be to add a new angle to the conversation.
Do not just restate ideas other people have talked about; you will not provide value, and your solution will likely be ignored.
However, if you come across a query with few answers or have another angle, start typing.
Here are tips on how to craft the perfect Quora answer;
Tell stories
Include images – to help get the point across
Include statistics, sources, and references – to support your answer
Include a call to action
Also, when crafting an answer, it is advisable to make it SEO-friendly. This way, they not only rank well on Quora but also on search engines.
You may use BiQ's Content Intelligence to create a great answer. Enter the keyword or phrases, and start writing your answer.
It will guide you as your write your answer. For instance, you will see the readability, sentiment type, and relevance of each paragraph to your target keyword or phrases. Use these guidances to improve your answer. 
On the right-hand side, you will see a list of keywords that are related to your keyword. Use them in your answer to increase the answer relevancy.
4. Write consistently
Besides the normal question and answer format, another way to engage the Quora audience is through writing content. Just log into your Quora account and then navigate your way to blogs. You will see a 'create a blog' section where you can include what you want.
Just like LinkedIn content or Facebook posts, the content usually gets circulated around the platform. You can also share the posts on social media to attract followers and readers. If you are unsure where to start, you can use BIQ's keyword intelligence tool to find topic ideas.
What makes BiQ's Keyword Intelligence stand out from the rest of the keyword research tools on the market is the keyword analyzer feature.
It helps you see why someone might be searching for the keyword in the search engine. With this data, you will be able to plan your content in such a way that meets your users' needs. 
5. Review your Quora analytics constantly
Using Quora actively is an amazing way to create thought leadership and credibility. The more content and answers you provide, the more your reputation and authority will grow.
Nonetheless, you must also know the type of effect your efforts are having on your goals. This way, you prove the ROI of your efforts.
Fortunately, Quora has a page where you can see all the Analytics of Quora questions you have answered or content you have posted.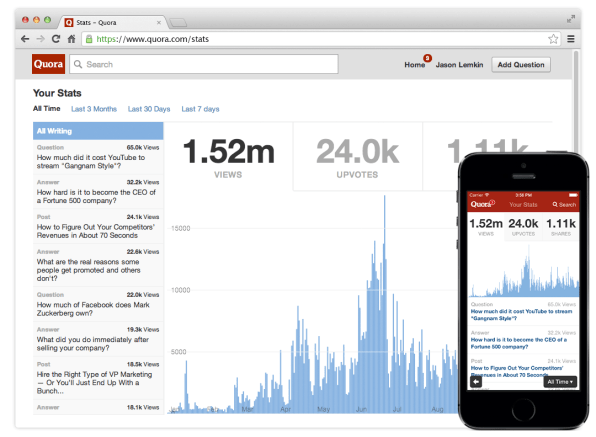 You can review everything from how many upvotes you got to how many people viewed your response. Similarly, you can add tracking links to answers to determine how many click-throughs your responses are getting.
6. Join relevant "Spaces"
By joining relevant spaces, you will learn more about what your industry users are saying, have questions sent directly to your inbox, and track topics.
To begin your search, key in your preferred topic into the search box. There, you will find relevant Spaces that you can join.
As you read through what others have written on a specific Space, you may think of something to contribute yourself. Or you may find content that you think would fit in that Space and decided to share it. This could your opportunity to spread the word about your offering too, but make sure to prioritize how others would benefit from them. 
It is important to become familiar with one's topic and in one's niche before expanding. With that, people will know your name and your expertise.
It may take some time to build an audience through Quora marketing, but it's worth doing it right.
Is Quora Reliable for Businesses?
Quora can be an effective and vital addition to any company that knows how to ask a question on Quora.
While there are many tricks and ways to enhance results, the secret to success here is to stay in tandem with the channel's main goal to serve as a reliable and helpful resource.
Do not spam Quora with useless content, or it will backfire your marketing strategy. Find a balance between offering valuable content while still motivating or inspiring people to visit your website where they can find more information.
I hope this Quora marketing guide helpful in your quest for an actionable strategy. Let me know what you think about the best practices in the comments below.