A marketing competitor analysis is an assessment of your current and potential competitors' strengths and weaknesses. Competitive analysis allows you to stay on top of your competitors at all times.
Marketing in a competitive niche is like a chess game.
However, instead of playing against one opponent, you may be playing against multiple opponents with varying degrees of experience.
Any move you make on your side of the board affects the other players' next move.
Naturally, your competitors will analyze your moves to try and predict your next move.
To beat them at this complicated chess game, you'll need a strong marketing competitor analysis.
Have a goal that you plan on achieving after a certain period and a strategy to see you through.
Plus, you could also use various tools that have been made available to counter-analyze your competitors' next moves.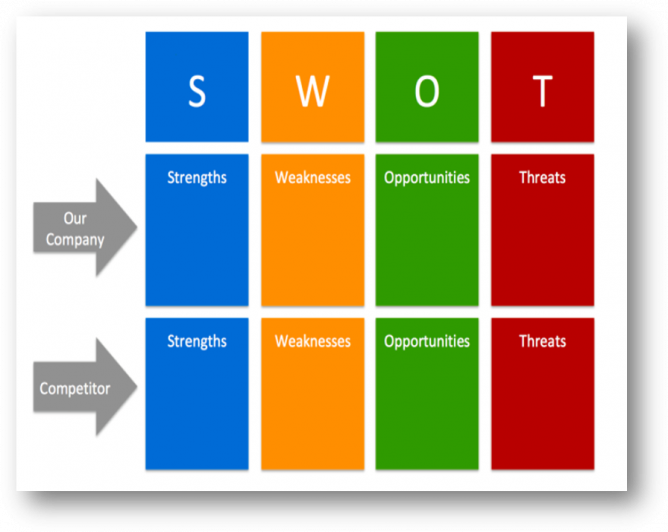 If you haven't run a marketing competitor analysis for your brand or business, then it's about time you did.
Competitor analysis has many advantages that can help you grow your brand, make even more conversions, and get ahead of your competitors.
The best thing about doing the competitive analysis is that it reveals your competitor's weaknesses, strengths, and strategies.
A marketing competitor analysis will better equip your business or brand to bear the storm during tough times or even prosper if you prepare it for any eventualities.
It also helps you better target your customers, take advantage of competitor pricing, track your competitor's products, open possibilities for tertiary markets, etc.
To put it simply, marketing competitor analysis helps put you one step ahead of your competitors.
You'll need to know how to do a competitive analysis.
But first, let's go through what competitive analysis is.
What Is Competitive Analysis?
A marketing competitor analysis refers to a strategic assessment of your current and potential competitor's strengths and weaknesses to determine if they are a 'threat' to your business.
Analyzing your competitors helps you develop offensive and defensive strategic responses to opportunities and threats that you may encounter in your niche.
The competitive analysis focuses on your competitors, their products, sales, and strategies used.
Analyzing your competitors' communication channels could also provide you with lots of insight that you could use to boost your conversions.
75% of marketers have stated that they've got a content marketing strategy.
And 41% of business professionals "strongly agree" that competitive intelligence is crucial for their company's success.
Looking at all the benefits that competitive analysis provides, it makes a lot of sense.
52% of businesses agree to have realized an increase in revenue due to competitive analysis intelligence on their competitors.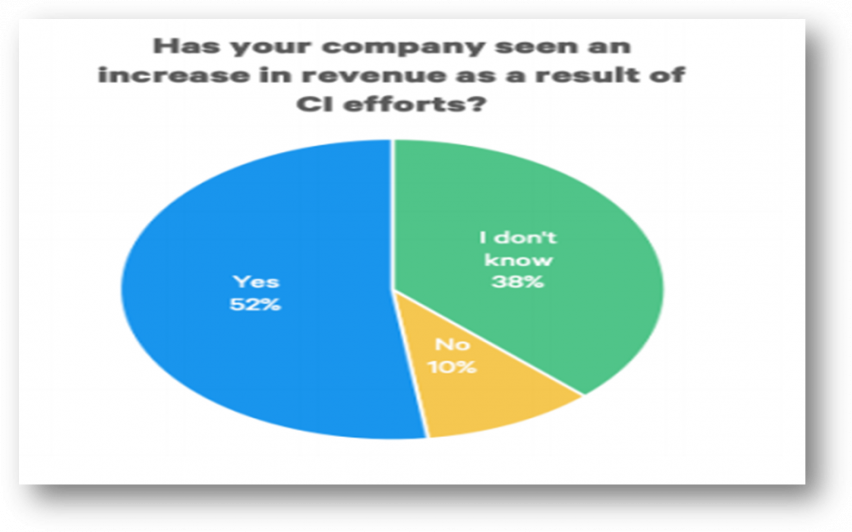 Is Competitor Analysis Critical?
Identify the strengths and flaws of your competitors
Competitive analysis helps you study your competitors to find out where their strengths and weaknesses lie.
Being privy to this information could help you get ahead by changing your strategies to take advantage of your competitor's weaknesses and building your walls to defend against any possible attacks.
Identify types of marketing strategies your competitors are using
Identifying these marketing strategies and what strategies work for which competitors could help you develop marketing tactics to incorporate in your marketing strategy to get even more conversions.
You could also develop counter-strategies that you could use to counteract your competitors to get yourself even more customers.
Quickly identify industry trends allowing you to strategize appropriately
A good marketing strategy is always based on current trends.
For instance, even though telephone marketing was a great strategy that has worked before, it's not the best marketing strategy at the moment.
Currently, the most optimum marketing strategies are social media, SEO, email marketing campaigns, etc.
By analyzing your competitors, you'll discover trending marketing strategies and marketing platforms that you could use to get more customers.
Now that you're aware of a marketing competitor analysis, you need to know how to do it.
How To Do A Competitive Analysis
There is a direct correlation between your company's competitor analysis frequency and its impact on your company's revenue.
The more you perform your competitive analysis, the higher your company's revenue.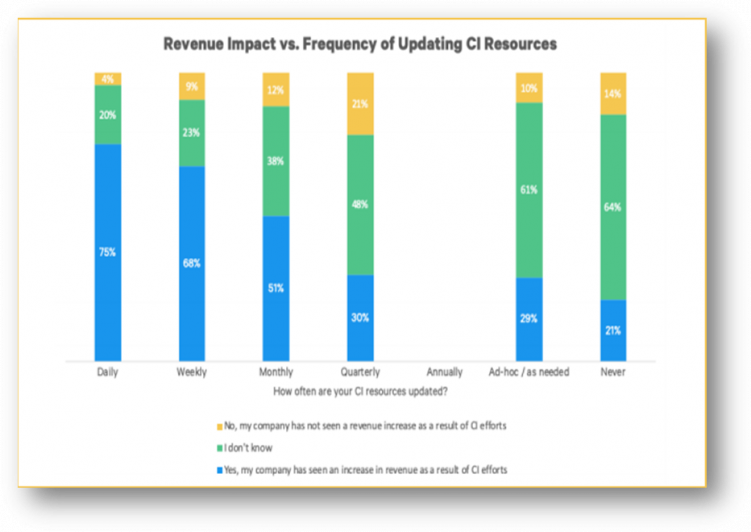 Determine Your Competitors
You'll want to figure out who your real competitors are if you're going to get an accurate marketing competitor analysis.
However, before you start your research, you need to determine your current and potential competitors, both direct and indirect, thoroughly to ensure that you get accurate results.
Your potential competitors are brands that are starting.
They may not be a big deal now; however, they may be the "it" brand in a few years.
You may need to study their marketing strategies to give yourself a new perspective.
There are two types of competitors that you need to be aware of when doing marketing competitor analysis:
Direct competitors
The term refers to businesses or brands with similar products as you and operates in the same economic area.
These businesses can replace you given the right circumstances, which make them your most immediate threat.
However, analyzing these competitors is more straight-forward.
It is much easier to expose the weakness in their products and strategies.
You could use this information to build your business or brand, get ahead and get recognition as an authority in your niche.
Indirect competitors
Indirect competitors don't have the same product you have.
Instead, they may have different products that satisfy the potential customers' needs.
Or they may be competing with you on a different level and still be affecting your conversions.
For instance, you may be competing with them for traffic, which could affect your leads and consequently your conversions.
Even though indirect competitors aren't an immediate problem, it would be best to analyze them keenly.
Adjust and strategize for the competitions depending on how severe the threat is.
Analyze And Compare Your Competitors' Products With Yours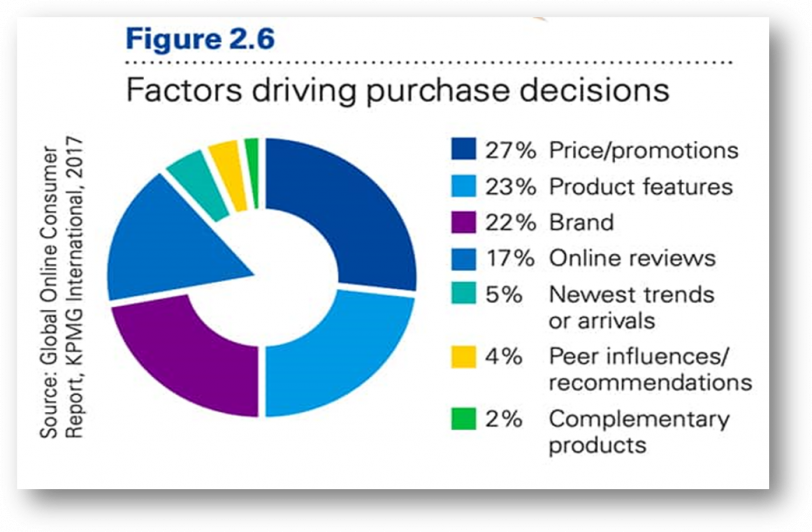 Several factors affect purchasing decisions.
The topmost factors are price, promotions, and product features.
Strategically, these are some of the factors you could look into if you wanted to boost your brand and get ahead of your competitors.
Products and services
The main goal of any business is to sell products, services, or both.
What separates a good company from a great company is its ability to produce various high-quality products or efficient services.
When performing a marketing competitor analysis, you'll need to analyze and compare your competitor's products and services.
Find out where they're slacking, and develop a strategy that you could use to get ahead.
You could find out how many products they produce, how good the products are, and their services' efficiency.
Pricing and features
Your product's pricing affects how many sales you'll make in a certain period.
One factor that goes to pricing your products is your competitor's pricing.
For instance, if you feel like your competitors are overcharging for a product with a market gap for affordable prices, you could lower your prices.
Your product's features can also play a massive role in your pricing.
If you know that you have a high-quality product with great features, you could price your product above industry standards.
Take Apple as an example.
Since they're aware that they produce high-quality products that consumers love, they can price them at higher prices than their competitors.
Peer Into Your Competitor's Strategy
Performing a marketing competitor analysis on your competitors can be a bit tricky.
You'll find yourself asking many questions that may not produce any significant analytical data immediately.
That's until you compile all the results together and get the bigger picture.
Some of the questions you'll need to ask yourself include:
What the sales and marketing process looks like?
What channels they use for marketing and selling their products?
What strategies do they use to get more leads on their online marketing platforms?
Are your competitors expanding their marketing or scaling down?
Do they have affiliate programs?
Do they have blogs?
How is their online content structured?
Finding these questions' answers will give you an idea of how competitive their sales process is and what strategy you'll use to compete and get or stay ahead of your competitors.
After performing your marketing competitor analysis and establishing that your competitors have a stable online market, you could use the BiQ SEO suite to analyze their web content to get the keywords they use.
Using BiQ's Rank Intelligence, you could analyze the content gap between your competitor's site and your site.
If your competitor is leading, you'll have to work on your SEO to reduce the gap.
If you are ahead of your competitors, you'll need to do everything you can to ensure that you keep your lead.
To get the analysis, you'll need to create your competitors' profiles using their URLs.
In this case, we've used amazon.com.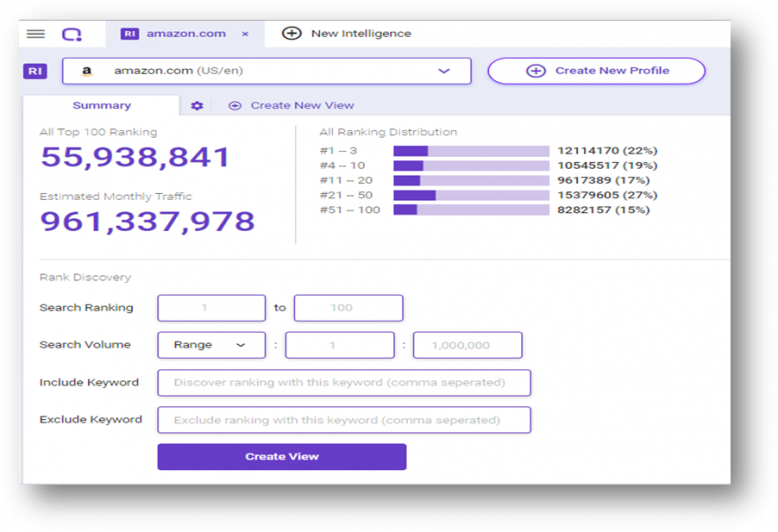 BiQ will present you with analytical ranking data from your competitor's website.
You may set the parameters to get the keywords you want.
For instance, you could set parameters for the top 10 ranking keywords.
Don't disregard the other keywords.
You can still use them to optimize your content.
You could also create your profile and get your ranking keywords.
Why would you need these two sets of data?
However, be sure to set similar parameters for your profile for better analysis.
You can export this data as a CSV to a tool that can let you sort them out.
That'll help you determine what keywords you may want to use and how your keywords compare with your competitors.
After doing your research, i.e., the keywords that your competitors rank for, you could begin creating new and more exciting content that contains your competition's keywords.
Doing this should boost your ranking and give you more visibility.
Look At Their Social Media Presence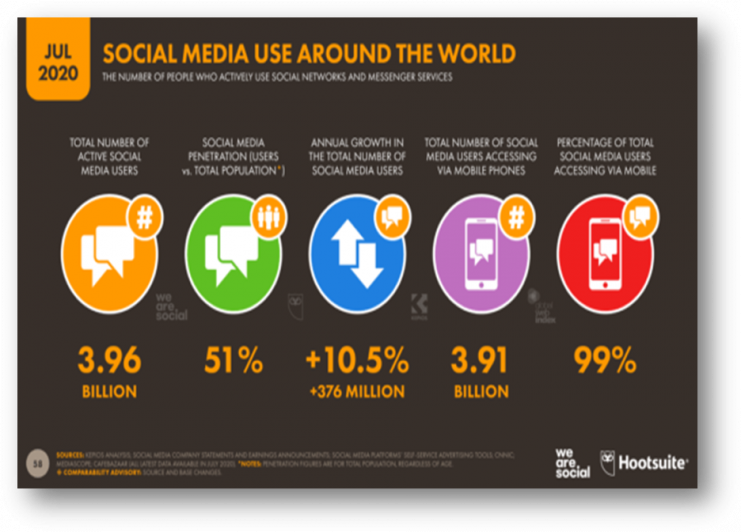 You need to check if your competitors have profiles on social media platforms.
A marketing competitor analysis of their pages could provide you with lots of insightful information to integrate into your marketing strategy.
The more social media presence they've garnered, the stronger their authority in the niche.
To grow better than your competitors, you'll have to gain more followers.
However, you'd not just want to get more numbers.
You'll need to form a strong bond with your followers, listen to their complaints and improve to make your services better.
Take note of your competitors' followers, their interactions, and relationships.
You'll need to check their social media presence and their engagement rates.
Analyze their interactions and find out if the followers are happy.
Ask yourself how your competition drives engagement on social media platforms, do they have social medial share buttons in their content, do they use call-to-action, etc.
There are 3.96 billion active social media users, and any content that your competitors post can reach a large percentage of these people.
To get ahead of your competitors, you need to improve your social media presence and build on your competitor's strategy.
Knowing whether posts their content or whether their content is syndicated could give you a clearer picture of who your competition is.
Content syndication amplifies one's reach.
And through this, you'll get to know how you can adjust your strategy to get ahead of your competitors.
Identify Opportunities For Improvement
A marketing competitor analysis on your competitors should provide you with information on what your competitors are doing, their strategies, and, when done well, their end game.
Although competitor analysis may be a rigorous task, it is something that you'll have to do at one point.
Creating a brand can be challenging.
However hard one tries, there are gaps that they may find hard to fill. After marketing competitor analysis, you'll notice some cracks in your competitor's marketing strategy that you can use to gain a competitive advantage.
It may be their social media marketing, their products, customer service, or even a flawed aftersales plan.
If you're selling the same product, you only need to show up and solve the customer's problems, and you'll have gained their loyalty.
When coming up with anything, building it from the ground up can be challenging.
It's a stringent process, and most people prefer to build their brands based on a structure that works.
Unless you have a revolutionary marketing strategy.
If your competitor's strategy works, you could adapt the design and make it better.
You could reach out to more customers, provide better services and make your business more customer-centered and you'd have worn their hearts.
Alternatively, you can also use RankingGap to discover keywords to improve on. Just enter your website and your competitors' inside, and you can see all the keywords you and your competitors are ranked for.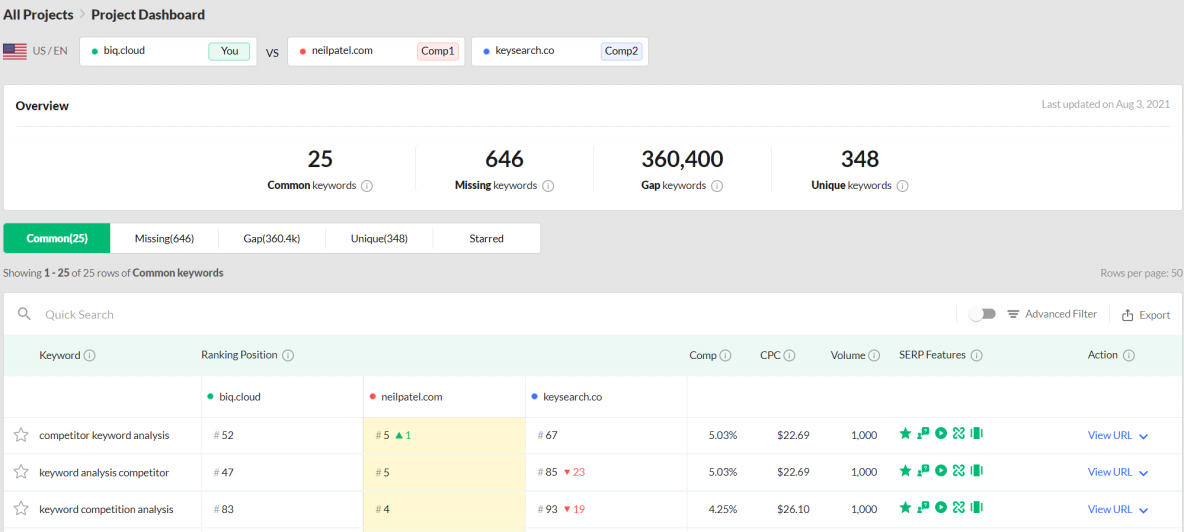 Look for keywords where your competitors currently outrank you, and improve on that content.
Using BiQ's SEO Suite to create fantastic content for your website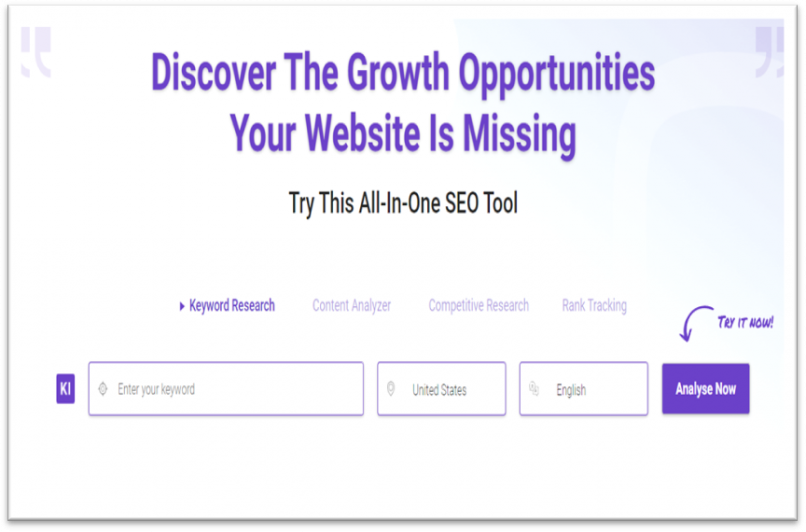 BiQ's SEO Suite is a great tool that you could use to create great content to market your brand.
After getting the keywords that your competitor ranks highly for, you could go ahead and create better content using related keywords and rank higher.
To do this, you'll have to use BiQ's Keyword Intelligence.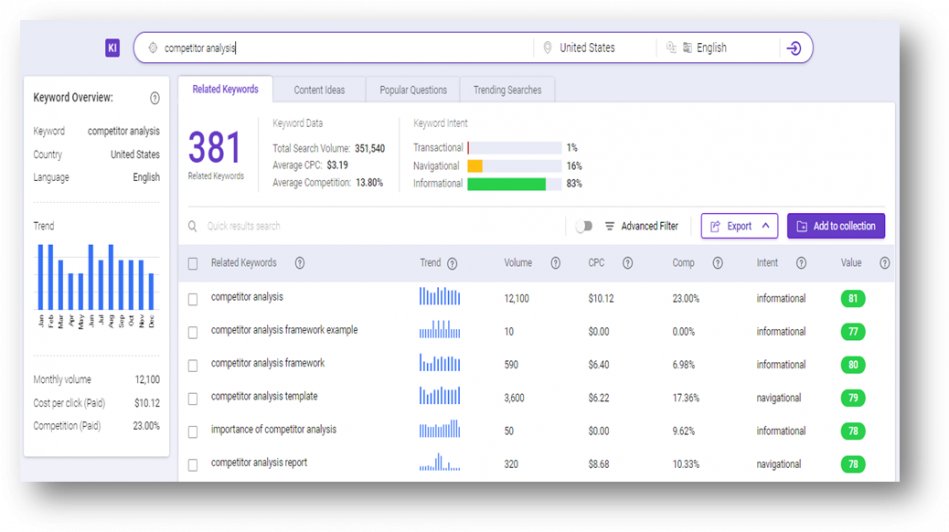 You can find keywords that may pop up in users' queries.
These keywords may not be the main keywords.
But they do carry a lot of significance and can be used to support your content and enable it to reach an even bigger audience.
As seen in the image above, the related keywords are ranked regarding their value and user intent.
Keywords that have a higher value have more potential for traffic than those that rank lower, and the intention of the keyword should help you choose keywords based on their intended use.
This could be informational, transactional, or navigational.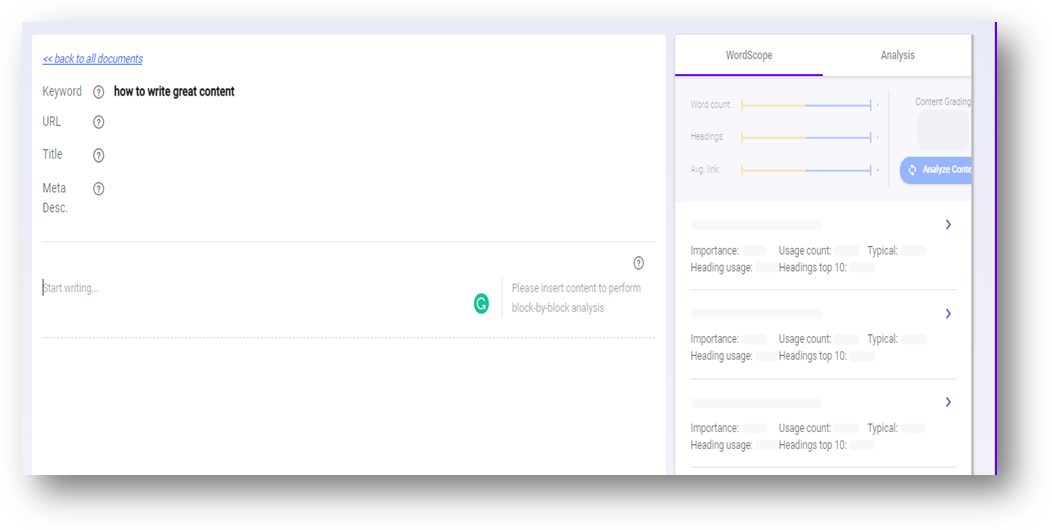 BiQ's Content Intelligence is meant to help you write SEO friendly articles by providing you with interactive tips, related keywords, and content grading, which is intended to help you write engaging content.
BiQ's Content Intelligence feature comes with a keywords density analyzer that analyzes your keyword density.
If you haven't gotten an A for your content, you could make necessary edits till you arrive at this grade, which will boost your rank in Google's Search Engine Results Pages.
Conclusion
If you want to rank highly and make more conversions, you'll need to perform an extensive marketing competitor analysis.
Doing this will help you find your competitors' strengths, weaknesses, and loopholes.
Statistics support the fact that if you do this, your company will realize an increase in revenue.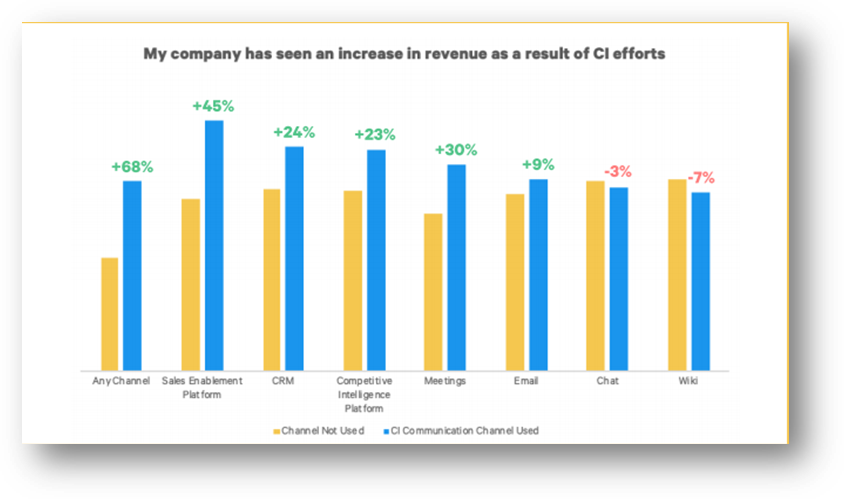 Now that you know how to do a competitive analysis, what are you waiting for?
The results are precise.
Analyzing the data you get can help you become more aware of your competitions' strategies and help you develop counter-strategies to help you get ahead of them.
How was your brand's competitive analysis?
I'd love to hear from you!