Keyword Discovery is crucial in building organic traffic. You will learn the most effective way to keyword discovery with the right tools to fight your way to rank first in the Google SERP.
SEO is not a quick fix. It is a long-haul marathon that requires deliberate planning, strategizing, and tracking to succeed.
Particularly, keyword discovery is a crucial process for anyone who wants to grow their brand and business online.
Though most competent SEO marketers can tell you the most popular and high-volume keywords from their niche with quick keyword research, not many can confidently tell you the best keywords your website should target.
Or more importantly, have the results to show for it.
Efficient keyword discovery, done regularly, is that valuable exercise of selecting the most suitable keywords for your website that will offer the greatest traffic potential.
Besides, with keyword rankings and trends varying greatly over time, the process will keep you on top of your keyword strategy to make sure your website is getting consistent traffic.
In this post, we will be guiding you through the full keyword discovery process complete with steps and tools. So let's begin.
How to Make Keyword Discovery Easy
Most marketers often start their keyword research using Google Keyword Planner.
Don't get me wrong, this is a decent first step in the keyword research process, however, the free Google keyword research tool still has a lot of drawbacks.

For one, the tool limits exact search volume data and instead displays the keyword volume using volume ranges like 100 to 1K or 1K to 10K.
These keyword volume gaps are extremely huge, and mind you that keywords with a search volume of 1,001 and 9,999 can both fall in the same category!
Unless you pay for advertising, it would be difficult to know which are the keywords you should target to get more traffic.
Secondly, the monthly search volume provided does not indicate trends. Google averages the last 12 months of search volume for their keyword volume data.
The trend is extremely useful information for you to plan your target keywords into your content marketing calendar.
Despite still being able to access this info using Google Trends, the tool uses a separate keyword volume mechanism based on relative keyword popularity.
Overall, Google Keyword Planner is simply handy in showing relevant keyword groupings rather than helping you identify the most strategic keyword opportunities for growth.
Discovering the best target keywords is a crucial process for anyone who is looking to grow their business, no matter if it is for online advertising or content marketing.
These tools and tips here can add much more value to your keyword research.
First and foremost, let's look at the tools.
7 Best Keyword Discovery Tools
Again, you can't just rely on Google Keyword Planner or Google Trends.
Cause while they provide you access to free information about Google search engine queries, almost everyone is using these Google keywords and you would have limited opportunity to differentiate yourself from the competition.
Realistically, you need tools that will gather important keyword metrics to help you navigate this competitive keyword landscape and let you make informed decisions around the highest opportunity keyword.
So let's dive into these 7 keyword discovery tools.
1. Google Search Console
No keyword data is as important as your own.
So if your website has been around for a while, a great place to start your keyword discovery process is Google Search Console.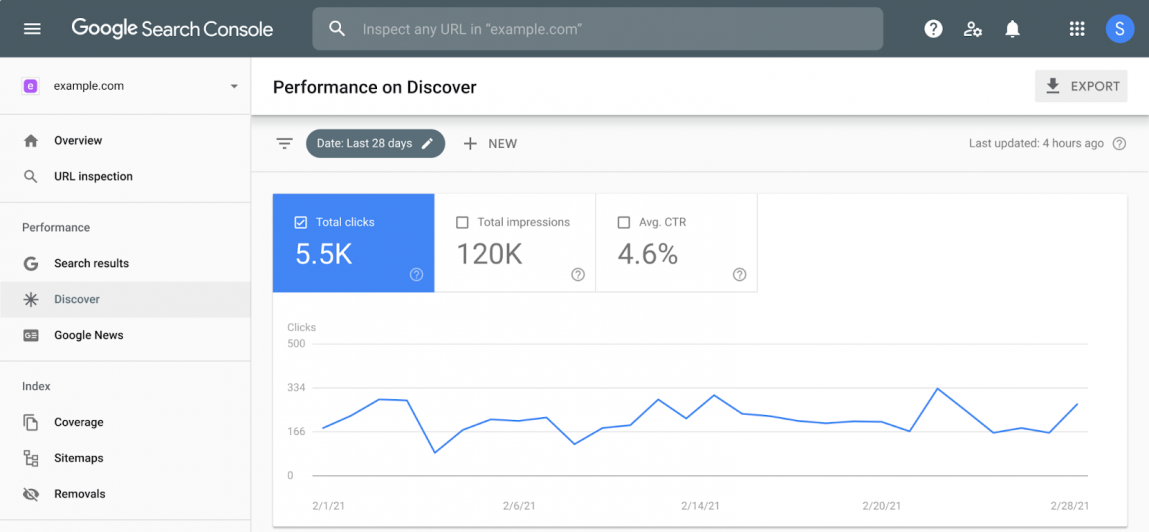 Simply known as GSC, this tool is one of the most effective ways to find out what your website is already ranking and showing impressions for.
This can be helpful when you want to optimize your page or understand how Google views your content, you can simply open up the performance report and check your post URL.
Most importantly, use this tool to compare your clicks-per-impression ratio and see if there is any need for improving your title and meta descriptions.
Your content may be getting high impressions, but a quick tweak may just help you further boost clicks on your SERP.
2. BiQ SEO Suite
The costs, competition, and performance of similar keywords can vary greatly from one region to another, so it's a good idea to look into specific location data too.
To further refine your results geographically, we recommend you use our BiQ Keyword Intelligence. The tool will allow you to analyze and discover hidden keywords from 102,030 locations refined to the city level, which will let you access local ranking keyword data.
Based on your target market, you can create multiple keyword views and get access to their exact search volume and keyword trends.

Alternatively, you can also use our BiQ Rank Intelligence to discover even more keywords or more specifically your competitor's ranking keywords.
There's a good chance that at least one of your competitors has figured out the best keywords for your niche and uncovering their keyword strategy can be a quick shortcut.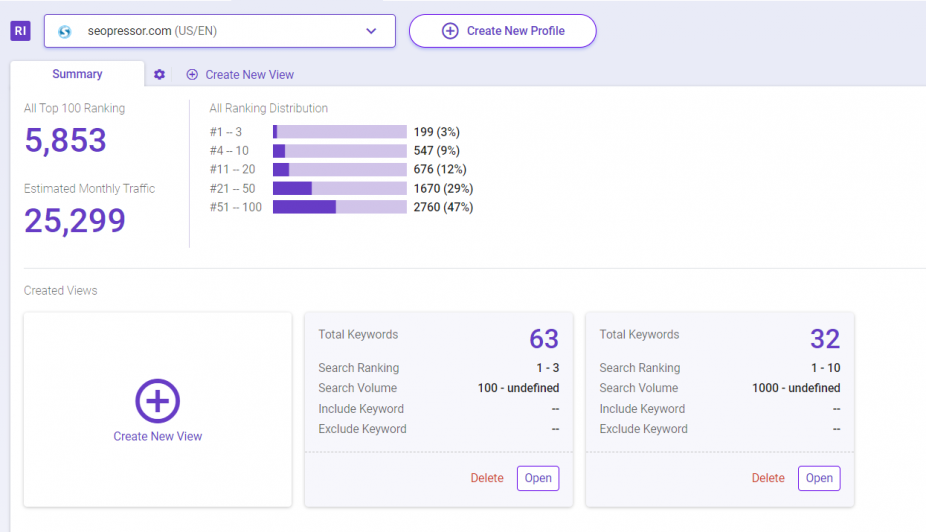 Using BiQ Rank Intelligence, paste the domain URL of your Top 3 competitors to do a site audit and discover their money keywords, and then create a plan to steal their keyword strategy, traffic, and audiences.
When revealing their keywords, we suggest that you aim for only the important keywords that are ranking between #1 to #20, with a minimum monthly keyword volume of 100.
Next, overlay the keywords in a spreadsheet and compare them with your keywords. Are there any common ground keywords that both of you are competing with, and is there any gap between the keywords on your site and the competitor? Take advantage of potential keywords where you stand a chance of over-ranking them.
3. Answer the Public
Free keyword research and visual tool, Answer the Public tool allows you to explore keywords from different angles.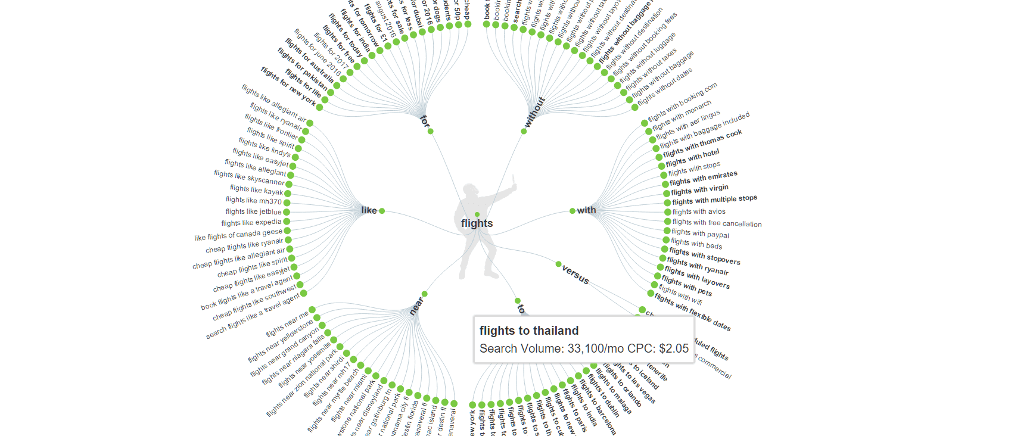 A question-focused tool, the tool makes the keyword discovery process simple and even fun! You can easily understand the search intent behind your target keywords through the search questions and suggested autocompletes Answer the Public provides.
This is our go-to tool when we are creating our content and drafting our outlines. It helps guide our thoughts in an organized way, which speeds up the writing process.
4. Ahrefs
One of our favorite tools, Ahrefs has a lot to offer when it comes to keyword discovery. Its site explorer allows you to uncover the ranking keywords of a specific page which is useful when it comes to optimizing your content for multiple keyword rankings.
Not to mention, you can also use their keyword explorer to brainstorm your seed keywords and generate a huge list of keyword ideas. The tool offers one of the biggest keyword data and you can get phrase matches to filter your keyword ideas.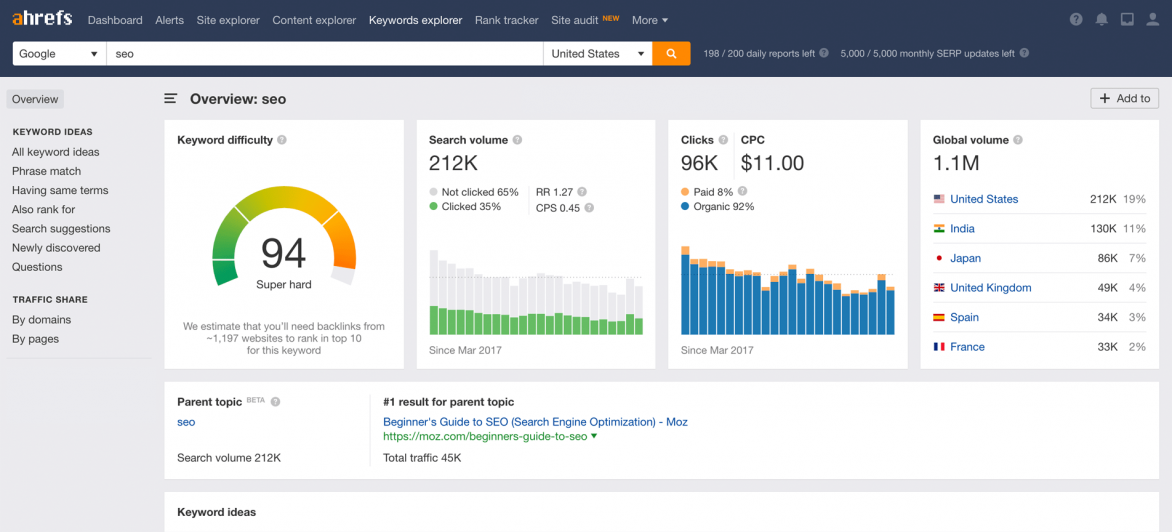 5. Ubersuggest
An easy and free keyword discovery tool to help you find profitable SEO keywords, Neil Patel's Ubersuggest makes the keyword discovery process very beginner-friendly.
It offers a clean interface that can help you quickly find and research keywords gauging two simple metrics: monthly searches and keyword difficulty.

Keyword research aside, the tool also provides a quick overview of the Top 10 results backlink counts and domain score to help you understand the big picture.
6. Google SERP and autocomplete
Not really a tool, Google SERP and autocomplete however can be one of the places where we have found our best ranking keywords.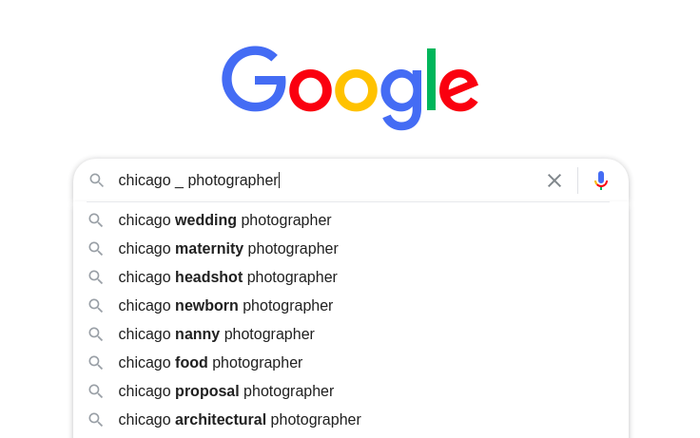 Simply typing your seed keyword here in Google autocomplete can get you many long-tail keywords that people are urged to search for.
Now that you have the tools, let's dive deeper into what to look for and how to analyze the keyword metrics to select your target keywords.
7. LSIGraph
LSIGraph is a powerful suite of tools for keyword research and content SEO that is both user-friendly and accessible. LSIGraph's Keyword Research allows you to easily find semantically-related keywords, and it gives you important metrics like search intent, search volume, keyword difficulty, CPC, and competition for each returned keyword.
LSIGraph also uses their proprietary Opportunity Score metric which calculates which keyword gives you the highest opportunity to rank with the least amount of effort.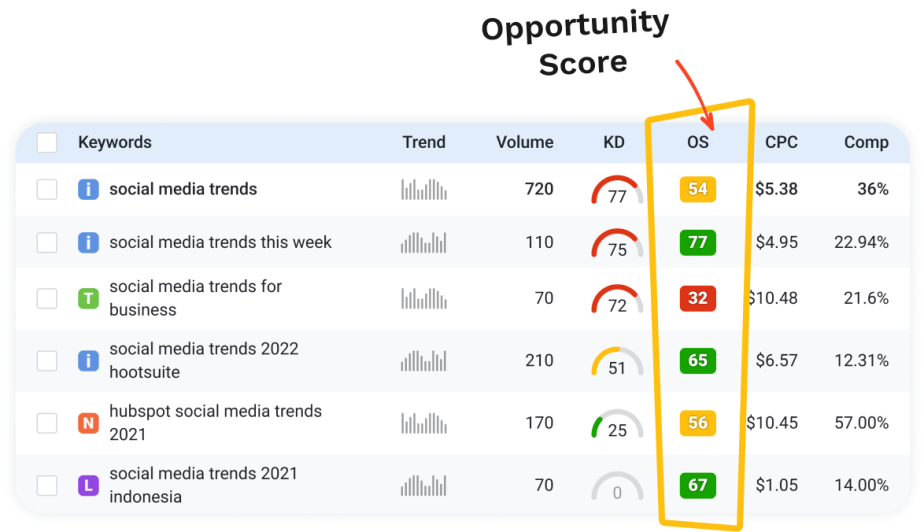 Analyzing and Selecting the Best Keywords
Selecting your keyword priorities can be the most difficult stage of the keyword discovery process. This is because you need to consider factors including how people are searching, if they fit into your target market, and exactly where they are at in their buyer's journey.
In this aspect, keyword data and metrics can help with your prediction. However, note that different keyword metrics can matter differently depending on your marketing goals.
For example, cost-per-click (CPC) may hold more importance for paid advertisers, while search volume and competitiveness might matter more to web publishers and content producers.
Depending on your marketing goal, you would need to rely on different keyword metrics when it comes to optimizing your existing content, explore new subject areas, or simply keeping up with emerging keyword opportunities.
Keyword discovery can be easier once you understand how everything works and here we have paired each metrics with tips we've been using for years. It'd give you better judgment and save a tremendous amount of time while accurately identifying the terms you should be targeting.
Now let's dive in.
Keyword Search Volume
As the term implies, keyword search volume is the average number of times a given keyword is entered into the search engine for a specific time frame. Most of the monthly search volume in keyword research tools is on a month-to-month basis.
As you can see here in BiQ Keyword Intelligence, the keyword "blogging" has a monthly search volume of 246,000. Meanwhile, all related keywords in the topic have a total search volume of over 1.76 million.
This total related keyword feature here can be handy when you are choosing between topics and would want to target a topic with more traffic potential first.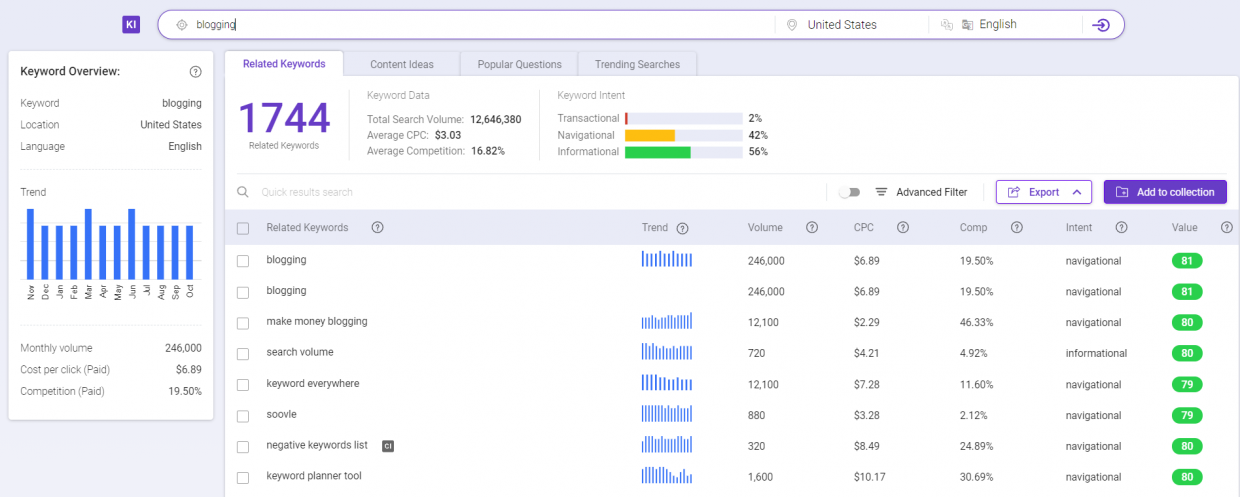 Usually, if you are just starting, you will often get the advice to not be overly ambitious and target keywords with decent search volume first. This, however, is at the risk of overlooking high-volume, low-competition keywords you might be able to rank at first.
So take into consideration your existing ranking keyword portfolio, the search volume, and the keyword difficulty when deciding on what keywords to target.
Keyword difficulty
Keyword difficulty (or keyword competition) is a metric that represents how competitive a given keyword is in terms of ranking.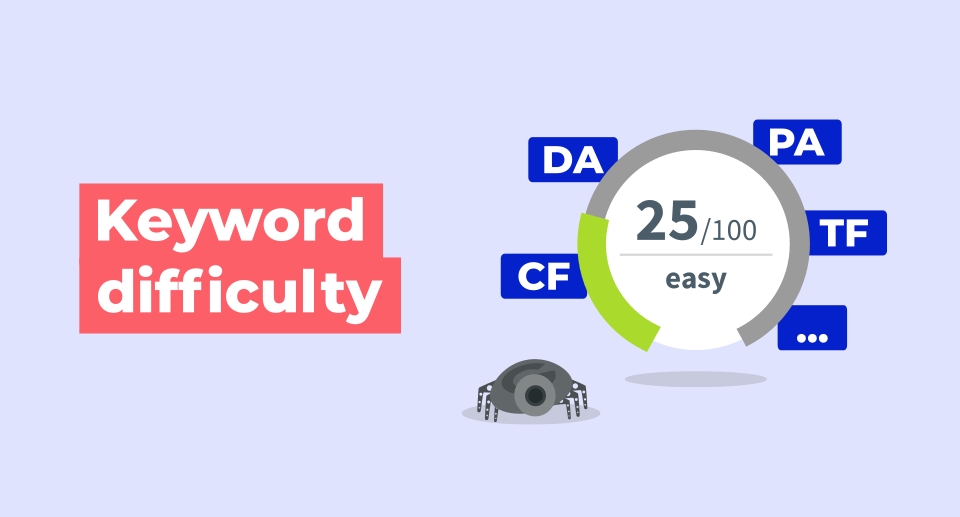 Different keyword research tools have their distinctive formula for evaluating the keyword competitiveness, but typically it will take into consideration the quality of the competitor's page including domain authority, backlink profile, and more.
For most tools, this is a percentage score between 1 to 100 based on the formula. Ideally, you want to find terms that score 50 or below as those are easier to target and rank. The higher the keyword competition, the harder it can be to rank for the search term.
Cost-Per-Click (CPC)
A key metric for paid search, cost-per-click is how much you will be charged every single time somebody clicks on your paid ad on the search engine results page that features the keyword. Adjust your ad expenditures accordingly to get the greatest possible impact for the least cost. What you want to avoid is overspending on keywords with low search volume.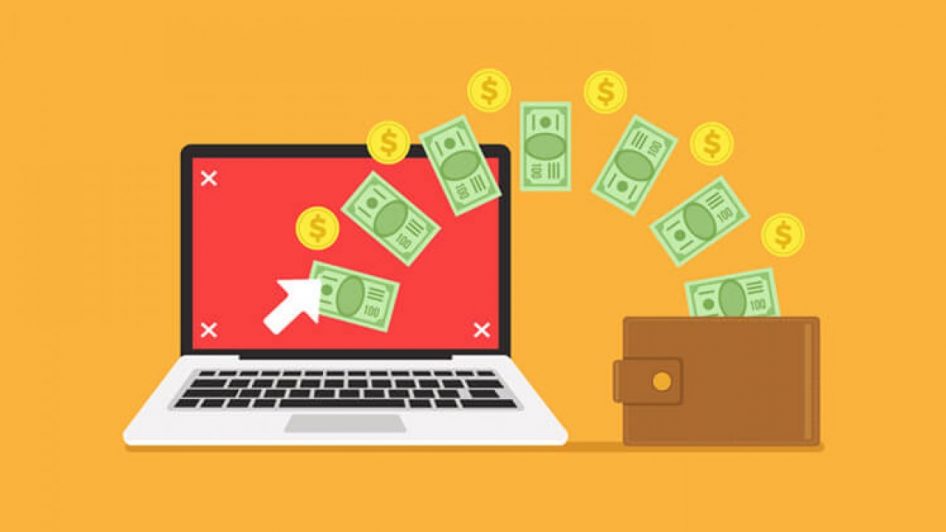 Using the keyword discovery tools from the list above, you can find relevant keywords that have lower keyword competition and similarly CPC to target instead.
Let your competitors fight over the more popular keywords while you bid on more specific phrases that have higher conversion rates at lower rates.
Search Intent
The answer to better keyword targeting and high-quality content, understanding keyword intent is about finding out the user's why behind an online search.
Using BiQ Keyword Intelligence, you can quickly discover the intention behind each keyword and use filtering to find only the keywords with your desired intent.

However, avoid targeting just transactional or buyer keywords, because you do want to get found for numerous terms, including those that are of informational intent to build thought leadership for your business and brand.
So instead, you should rely on keyword intent to drive more relevant traffic and help you create and plan your content in accordance with the marketing funnel.
With the right keywords and content answering their intention, this will help you increase your overall conversion rate and ROI.
Structuring Keyword Groups
Certain keyword tools like Ahrefs helps you group related keyword. No need to mine through long keyword lists to group your keywords manually. Not only does this improve efficiency, but more importantly this will boost your multiple keyword rankings.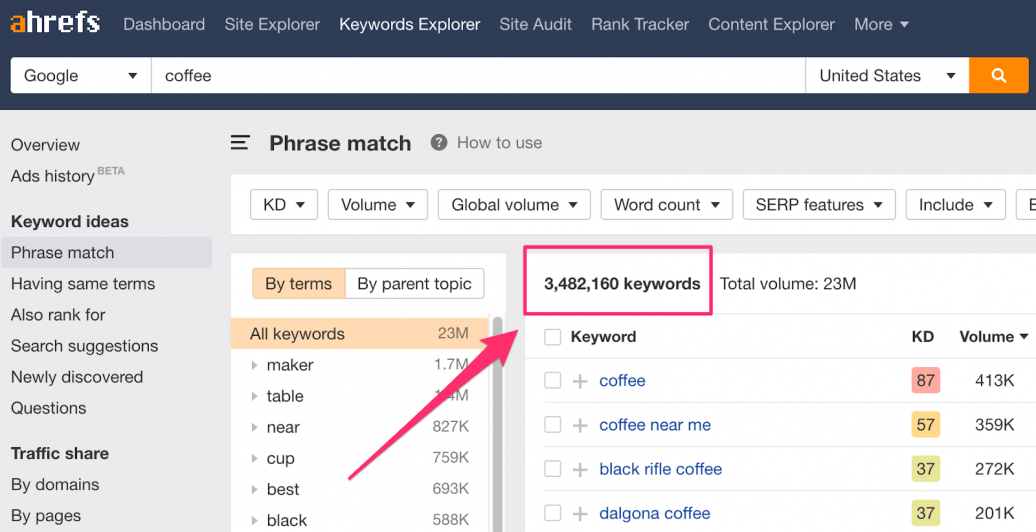 Leverage long-tail keywords
Many people try to go after broad, high-volume keywords but often end up not being able to outrank the competition.
Short tail keywords are challenging, and if you are just starting, it is wiser if you go for long-tail keywords instead. These long-tail keywords provide more insight into what the search is about, and can drive more qualified traffic to your site.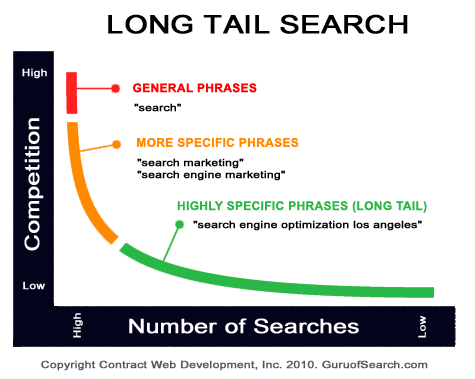 Besides, high is a relative term and 200 or 300 searches can still mean 100 potential paying users every month if the term is a good fit.
Identifying Keyword Gaps and Opportunities
Now you may also have existing content that is already ranking, in this case, keyword discovery is also about identifying keyword opportunities that your content might be missing.
To improve your content keyword rankings, you can use BiQ Content Intelligence. The tool will analyze your content to check your content relevance and identify which section of your content has missing keywords or content gaps.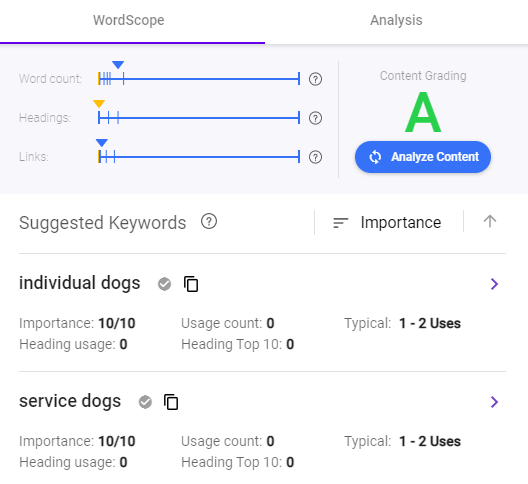 You can then reoptimize your content according to the suggestions provided to improve content relevance and WordGraph metrics to rank higher.
How to use the Keywords in your SEO Strategy
To rank for your list of target keywords, you need to create shareworthy, quality content that answers the search intent to boost your chances of top rankings.
However, to boost visibility and make sure Google understands what your content is about, you need to include your target keyword in your headline, meta description, and URL slug.
It also helps if you do a quick SERP analysis to find out what type of content Google prefers. Instead of a blog post, maybe it's a video or image, in that case, you need to create content that caters to the search results and users.
LSIGraph's
Plus, make sure you sprinkle the keyword and related terms throughout your content. Especially in the first and last 100 words of your content to make search engines show your content for the right keyword.
As an added boost, ensure that your page content is relevant and optimized using BiQ Content Intelligence because the tool also compares your content to the Top 10 ranking result for your keywords and provides you suggestions to fill in any missing gaps.
Final note: Be sure to build complete marketing or sales funnel to convert your newfound website traffic into qualified leads and paying customers so you can maximize your potential.
Conclusion
Keyword research is never a one-time deal, it is a continuous process of endless keyword discovery and finding new keyword opportunities and trends.
Following the keyword discovery process and tips we shared, we hope you will be able to make the best decisions about your target keyword campaigns and improve your traffic and rankings!