You can use the most profitable, high-ranking keyword in your content, and will still be insufficient to improve your SEO strategy. Why? Because you need to track your keyword ranking to stay on top.
You must track your progress.
Whatever it is, if you aren't tracking it, how can you know if what you're doing is working?
The same applies to your SEO strategy.
You must find a way to track your SEO efforts to see if you should keep going or adjust. The easiest way to do that is to track keyword ranking.
Keyword rank tracking will allow you to track Google keyword ranking over time and see if your strategies work.
It'll help you find out problematic areas, outrank your competitors and bring you more traffic. Learn more about keyword rank tracking and how to pick the right keyword tracker today.
What Is a Keyword Rank Tracking Tool?
Keyword tracking allows you to see how well you're performing.
It'll show you the highest-ranking keywords that bring you the most results. You can then identify why they work and apply the same strategies in the future.
It'll help you discover the problem areas too…
You can see where your competitors are destroying you and make the necessary adjustments. It allows you to track your progress over time, see how you're performing and adjust your strategy.
Why Track Keyword Ranking?
It's crucial to measure your Google keyword ranking over time.
It'll help you see if you're moving closer to your goal or should do necessary changes instead.
"What you can measure, you can improve."
The top three benefits of keyword tracking are:
Boost revenues by improving your rankings. Moving up one spot in organic search results in a 30.8% increase in CTR.
Monitor competitors to stay on top. If they're starting to beat you, it's time to use a new strategy or improve your content.
Troubleshoot traffic drops and stay on top. You can easily see if your rankings dropped and why, whether it was Google's algorithm change, traffic decline, or other issues.
Keyword rank tracking helps you track your progress, troubleshoot problem areas, and boost traffic & sales.
How to Track Keyword Rank
Tracking keyword rank isn't difficult.
We'll look at the two approaches– manual and automatic.
1. Track Keyword Rank Manually
Google is all you need to track keyword rank.
You type in the keyword phrase to Google and find your website in the search results. You'll repeat the process for every keyword you want to rank and write down your position.
However, this is very ineffective and time-consuming…
Google Search Console is a much better option. Go to the GSC and select the Performance tab. Filter the results according to the date and search type to see the most relevant data.
You can see the average position for all your keywords there. When you scroll further, you can see the specific keyword rankings.
Unfortunately, this is very limited and allows you to see only basic information. If you're serious about your business, you need more than that.
2. Track Keyword Rank With Tools
You must use keyword ranking tools to rank on the first page.
They'll allow you to see much more information and opportunities for improvements.
How To Choose a Keyword Rank Tracker
There are thousands of online rank tracking products on the market.
Picking the right keyword tracking software can be difficult. You should look out for these three things when considering the keyword tracker.
Accuracy – Google is constantly evolving, and most tools can't keep up with it. This results in inaccurate data.
Pricing – the majority of these tools provide all other SEO features you may not use. This drastically increases the price.
Features – find out if the product has all the features you need—stuff like local search, in-depth insights, or competitor analysis.
Unfortunately, most products are expensive and difficult to understand. They cost hundreds of dollars because you pay for the features you don't use…
However, that's not the case with BiQ Cloud.
BiQ Cloud is an SEO tool driven by AI. It'll allow you to track your keywords, improve your content and beat your competition. The best thing about it?
You pay only for the features you use.
You don't have to pay for everything like with other products. You'll pay for the features you use and save on features you don't.
It's an excellent choice for any business.
The Keyword Rank Tracking Strategies
When you've picked the right tool, it's time to track your keywords. Learn how to rank higher, improve your content, and beat your competitors with the three strategies below.
1. Get More Keyword Rank Insights
When you enter your domain into Rank Intelligence, you'll see all your keywords that rank in the top 100 of Google. 
You can then sort them by the rank position and traffic.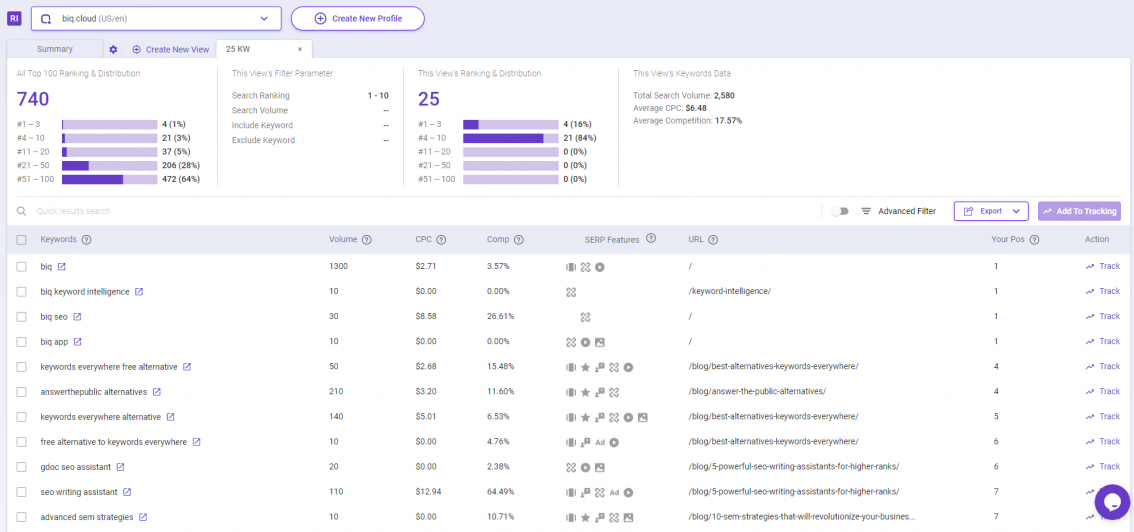 You'll see valuable metrics such as competitiveness, traffic volume, and which URL is ranking for the specific keyword. You can track your keyword's rank by clicking the Track button which will direct you to another tool called Rank Tracking.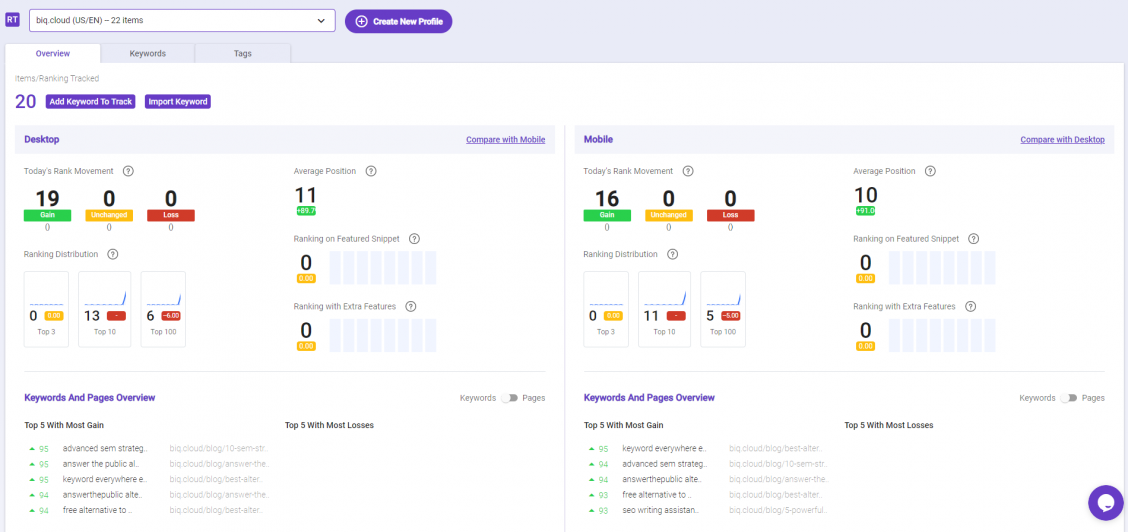 It'll also allow you to see the SERP features. It'll show you if your page ranks in the featured snippet, also ask section or video section.
You can then see how much impact it has on your ranking and improve your content for other keywords accordingly.
2. Fix Underperforming Content
Underperforming keywords tear you down.
Your goal should be identifying problem areas, fixing underperforming keywords, and ranking higher.
Go to Rank Intelligence and sort out your data by specific ranking position, like in the picture below.
You'll end up with a list of problematic keywords.
Fortunately, improving them isn't difficult. You can do it easily with BiQ Content Intelligence.
It helps you to analyze your content, highlight your issues, and suggest ways to improve and optimize your content.
3. Beat Your Competition
You're not ranking in the #1 position because of your competition.
They created better content. Your target audience likes it more. However, this can have a drastic impact on your results…
We've said earlier that moving up one spot in organic search results in a 30.8% increase in CTR. The opposite is true when moving down.
You must study your competitor's content and make the necessary changes to outrank them and improve your keyword rank.
The easiest way to do that is through BiQ Cloud Content Intelligence
Type in your competitor's URL into Content Intelligence to get a deep analysis of their site. See what's missing from yours and what they do differently.
You should then improve your website and rank higher.
You can learn more about competitor keyword analysis here.
The Conclusion
Tracking keyword ranking is important.
It'll allow you to see if your SEO strategy works, fix problematic areas and outrank your competition.
However, it's only a tiny part of search engine optimization.
It's a good indication of SEO progress, but it cannot give a meaningful insight without being tied to other metrics like page views and conversions.
The end goal of your SEO effort should be looking at the whole picture.