Your online marketing strategies are the determining factor that will make or break your business. Here are 13 e-commerce marketing strategies that will help you in 2021.
With these proven E-commerce strategies, you will learn how to bring traffic and sales to your site.
If you own an online shop, then you may have a clue about what e-commerce means. It is the art of selling and purchasing goods and services over the internet. That's why it's also known as internet commerce or electronic commerce.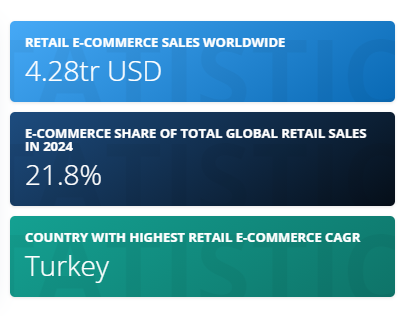 Over the years, e-commerce has transformed and developed massively, thanks to worldwide internet access and advent. Statistics indicate that approximately 1.92 billion people globally either bought or sold items and services online in 2019. The growth has accelerated since then.
Could you be owning an online business but have no clue of marketing strategies in E-commerce and their benefits? Then this article is for you. Maybe you have never done business online and want to start but have no idea how to attract and win clients. If so, continue reading.
But before we look into the various reliable E-commerce marketing strategies available today, let us look at the benefits of e-commerce.
E-Commerce Marketing Strategies Benefits
It doesn't matter whether your business is a startup or a massive brand in the market. Having an e-commerce website to market and sell your goods and services will work like magic for your business. Today, customers don't like going out to buy things. They love shopping in the comfort of their homes.
Here is what you will enjoy with e-commerce;
1. Brand Development
Are you struggling with broadening your brand? Then try creating a website for your business. Unlike a physical store, an online store is visible to many people globally and at the same time. Customers can also buy from your store at any time!
2. Convenient
Customers may fail to reach your shop because it's located several miles away. It could also be that they don't have the time to visit your store even though it's located next door. But with an online shop, clients can shop anywhere regardless of time.
3. Accessibility
If you market your online business on various platforms like social media and blogs, so many people will get to know and see it. Also, when optimized on Google, people will see it first when they search. The number of people that access your online store at once is massive.
4. Opens Up More Opportunities
Unlike a physical shop, there exist various e-commerce marketing strategies you can use to sensitize your business. More people will reach you, of whom some may become loyal customers or partners, creating multiple expansion opportunities.
5. Scalable
Have you ever thought of selling more goods and services and of a different kind than you are doing now? Then e-commerce is the place for you. A website is flexible for various things that help scale up your business. For example, you can add multiple payment options, different products, or shipment methods.
As a newbie in e-commerce or already an e-commerce trader looking for information, you are now aware of the benefits of owning an e-commerce business. But what about the strategies? Do you have any idea of how you can market your brand?
No need to worry; continue reading for more insights.
13 Top Marketing Strategies in E-Commerce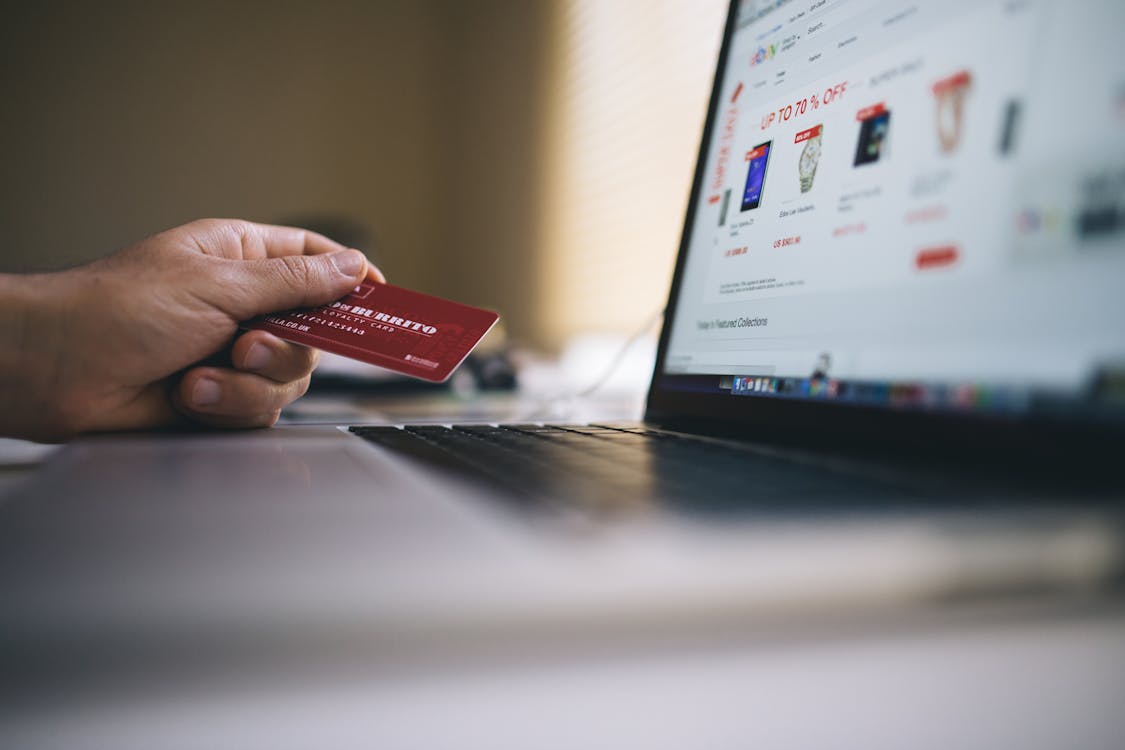 1. Optimize for Site Search (SEO)
Search Engine Optimization (SEO) ranks on top of the list of the best e-commerce marketing practices we have today. Are you wondering why? When you fully optimize your website and each product page using the appropriate keywords searched by your audience, you will reach millions of people.
For optimal results, you need to search for the right keywords. Fortunately, there exist various ways you can get the correct target keywords. For example, conducting a local keyword search using BiQ Keyword Intelligence.

It is an all-in-one AI Guided SEO Suite that helps you rank high and get more traffic, so it's safe to say that this would be the most advanced tool you'd find in the market.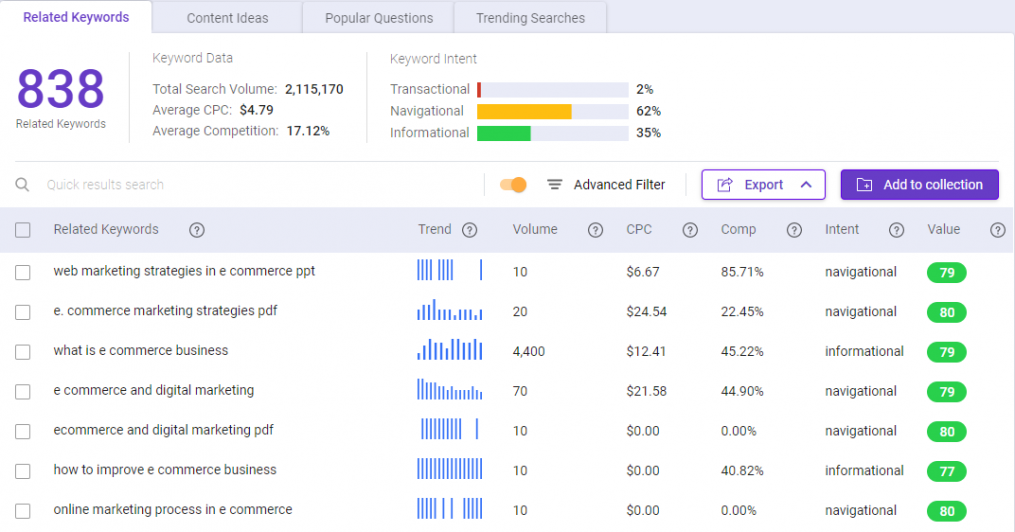 With over 2.5 billion keywords in its database, the related keywords of your niche will be presented to you in an easily understandable interface alongside important keyword metrics.

If you're looking for interesting ideas for your next blog post? Head to content ideas for a range of keywords you can target!

If you're eager to know what are some of the questions revolving around the content you're about to create, the popular questions tab is able to help you out!

Or if you'd like to know what are the current trends that people are looking for on the SERP, trending searches will give you an immediate and accurate answer!

All in all, with the availability of BiQ's Keyword Intelligence, you can use them for content creation, search engine optimization, pay-per-click advertising, or other marketing activities.

Ensure you incorporate all keywords, including those that the audience searches less. Reach out to that small clientele too. Consider the different dialects used and choose the keywords that will cater to them all. The more people you reach, the more clients you are likely to get.
2. Product Page Reviews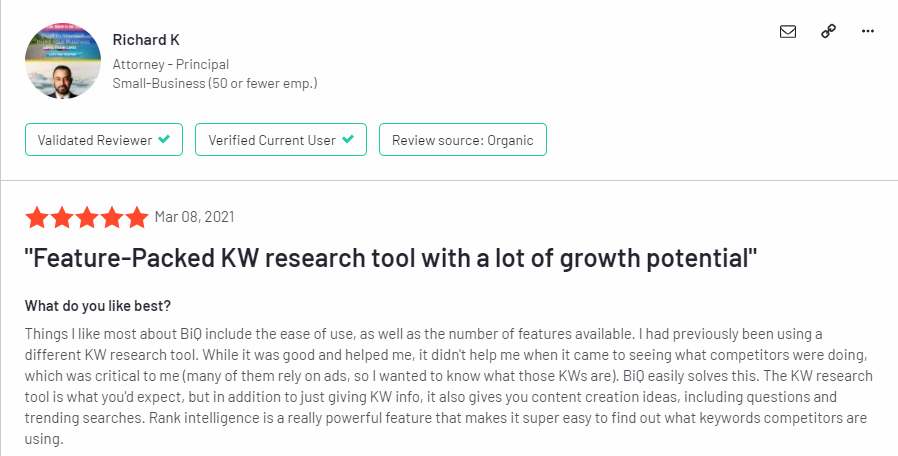 Do your listed products on your site have reviews? If not, it's a great mistake! According to research, 84% of online audiences trust online reviews like they trust their pals. Do you have trustworthy friends? Then opinion counts!
More so, 88% of buyers make decisions based on the product's reviews. Do you see why reviews are critical? If your products don't have reviews, your potential clients could be skipping them because they find nothing to help judge their decision.
Well-rated products with positive reviews get more buyers. What's exciting is that various Shopify and WordPress plugins such as Pixlee and Yotpo will help you upload your clients' reviews.
3. Utilization of Content Marketing
Most marketers regard content marketing blogging, but it's more to that. It also entails using lead magnets such as eBooks to attract potential clients to your online shop or site. Lead magnets should be constructed in a way that they lure customers into making a purchase or signing up for your email list.
Though you can do content marketing yourself, hiring experts for advice and strategy implementation could also help. But the simplest way to do it without busting your budget?
Work on content marketing with a reliable tool.
The secret of content marketing success partly lies in the usage of BiQ Content Intelligence.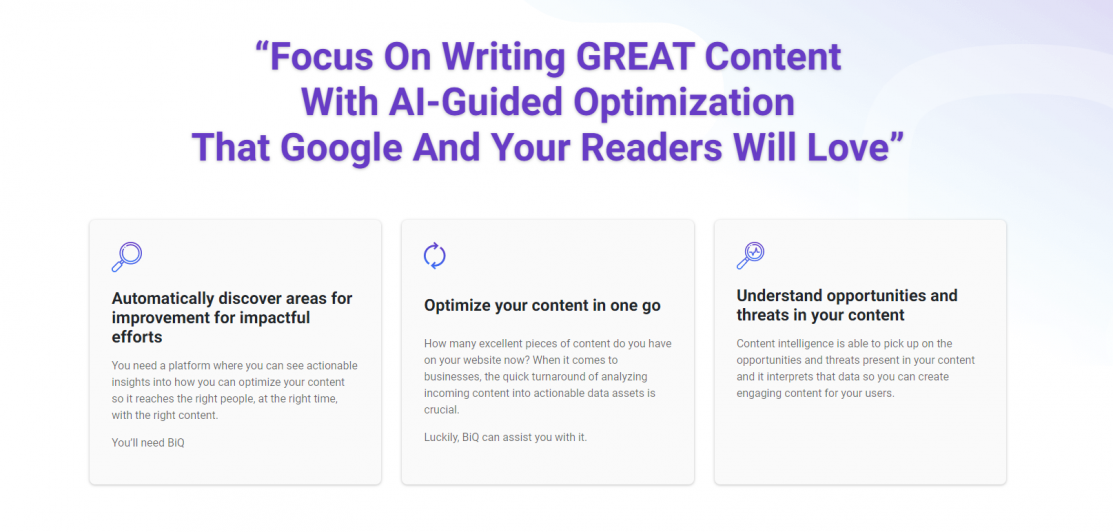 BiQ Content Intelligence shows you how you can take the guesswork out of marketing by making recommendations for a content strategy based on the integration and advanced analysis of multiple intelligence sources.

The content intelligence includes features like AI-guided optimization, advanced line-by-line analysis, sentiment analysis, readability rater, content performance tracking; all to better understand your customer's intent and behaviors.
You can start by entering your target URL and keyword in the search box.

BiQ's Content Intelligence will start to analyze your content and return you with a comprehensive result like this: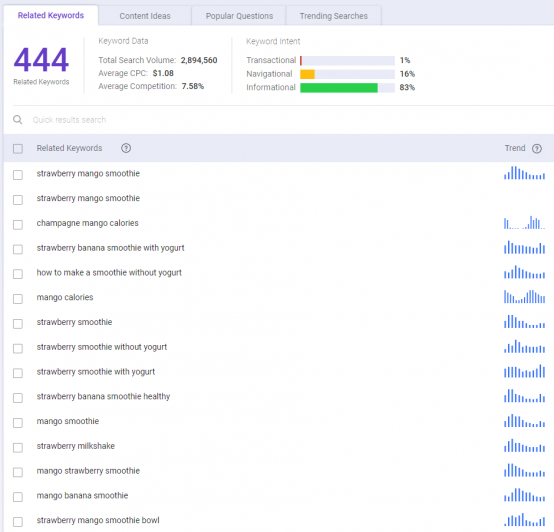 If you've signed up and tried this product, you'll understand that making use of Content Intelligence can solve a wide range of content marketing problems. These include alleviating time constraints, resource shortages, strategy uncertainty, stresses around data computation, and content recommendations.

All these pain points can be solved by the BiQ once and for all. It is certainly the perfect content strategy plan you'll need to have to help you win a much higher SEO ranking.
4. Email Marketing
Email marketing is another essential marketing strategy in e-commerce. Most e-commerce marketers undermine the power of email marketing, but they are wrong. When you write and send your customers valuable information like where they can get what they are searching for, you capture their attention.
You can also give them the information they need about a specific product that interests them. Accompanied by incredible visuals, you get to win their trust, and most of them end up being your customers.
Through emails, you can also offer suggestions and discounts to your clients interested in what you are selling. E-mails work out best when you personalize them, for example, by using the customer's name when addressing him or her. You can also send direct emails to your customers based on what they bought.
5. Establish an Instagram Account Customers Can Buy From
Instagram is a visual platform that works excellently with videos and images. Market your products on Instagram using clear and high-definition videos and photos of your brand, products, and other useful information. In return, you will catch the attention of many people.
As a result, you will get many followers who will always get notified when you post anything. Therefore, it is vital to create shoppable posts where clients can click on the photo and get all the information they need about it, including the purchase button.
All you need to do is link the photo or image you've posted with the product's page on your site where the client can buy or get much info about the product.
6. Affiliate Marketing
When you allow other marketers to market your products at a commission, you are in the right direction as an e-commerce business person. The affiliates help expose your products to avenues and platforms you would not have been able to, or soon by yourself.
Affiliate marketing helps your brand or products to spiral around quickly to the targeted audience or correct niche. Partnering with affiliates helps bring awareness about your business, creating an image for your brand.
People trust a renowned business or brand, making it easier to buy from it frequently. This e-commerce marketing strategy is cost-effective and helps broaden your audience and reputation. It also scales your sales and traffic.
7. Influencer Marketing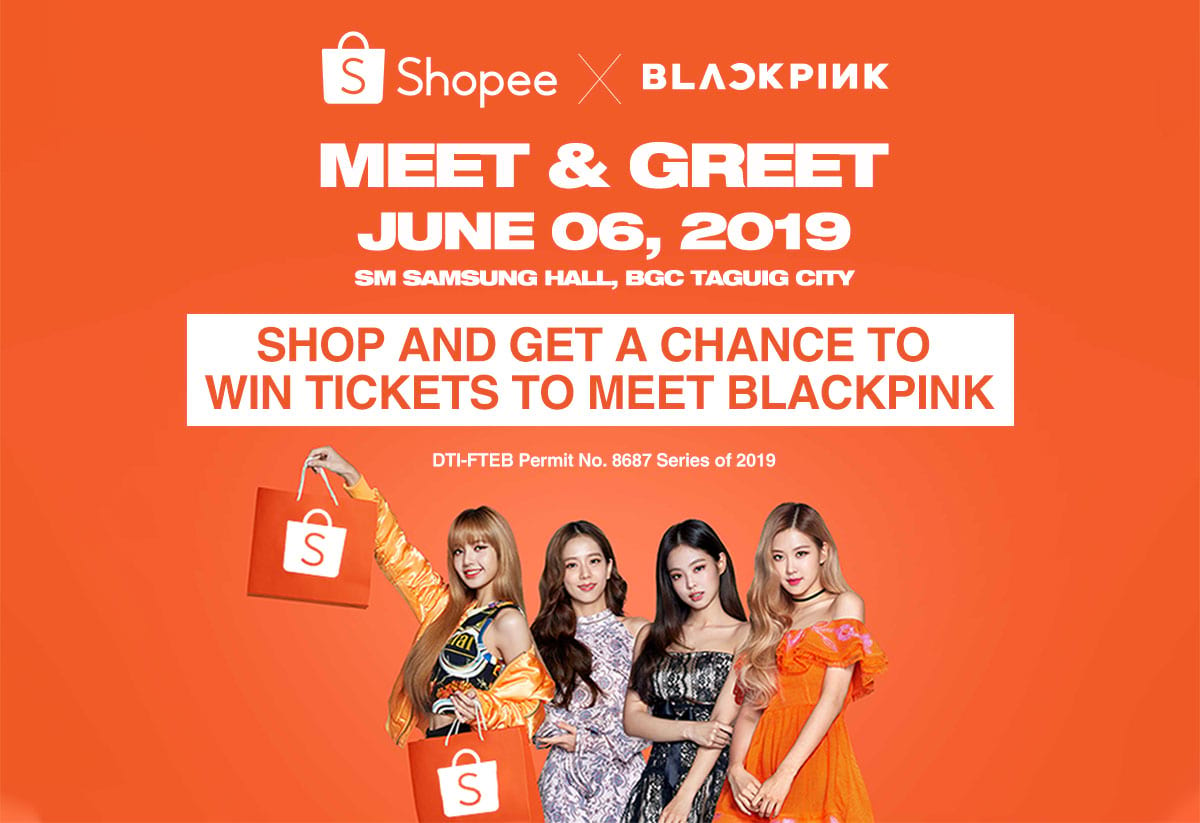 Do you know of any influencers in your niche? Influencers, like celebrities, usually have many followers or fans. If you have a product for such an audience, it will help if you hired such a person to market your brand or product.
Using influencers comes with a hefty budget, but it's worth the hustle. Some fans or followers are so loyal to the extent that they believe what their influencers say. Others use products because certain celebrities or high dignitaries use them.
If you have the budget, it's wise to embrace this e-commerce strategy. If your budget is minimal, start with the budding influencers who will cost less to recommend your products to their growing fan base.
8. PPC Marketing
Pay-per-click (PPC) is also one of the current best marketing strategies in e-commerce. It is an advertising system that uses a bidding system. When users take action on the placements you've bid on, you pay for them. You need to dig deeper into your pockets for this technique, but the results are incredible.
If you want to place your brand or products before your target audience, PPC marketing is the best way to go. With this method, you become more aggressive in reaching your audience.
9. Voice Search Optimization
Have you ever seen someone speaking to his or her phone, watch, or other smart gadgets? It may look awkward, but it's an essential feature that enables you to multitask. It's a hands-free technology aimed at refraining people from contamination or touching.
As an e-commerce trader, you need to incorporate this feature into your website. Allow your customers to ask or make orders via your site by speaking to it and not using hands. It means your customers will prefer ordering from your site when they have much to do as they can multitask.
Customers love being safe when navigating sites. If they feel touching the screen to give a command may get them contaminated, they would opt for a site they can speak to.
Keeping up to date with what people search for online can be invaluable to your business in this modern era. Whether you're looking to inform your latest paid search campaign or need some fresh, trending content for your blog, you can make use of Keyword Intelligence's Trending Searches.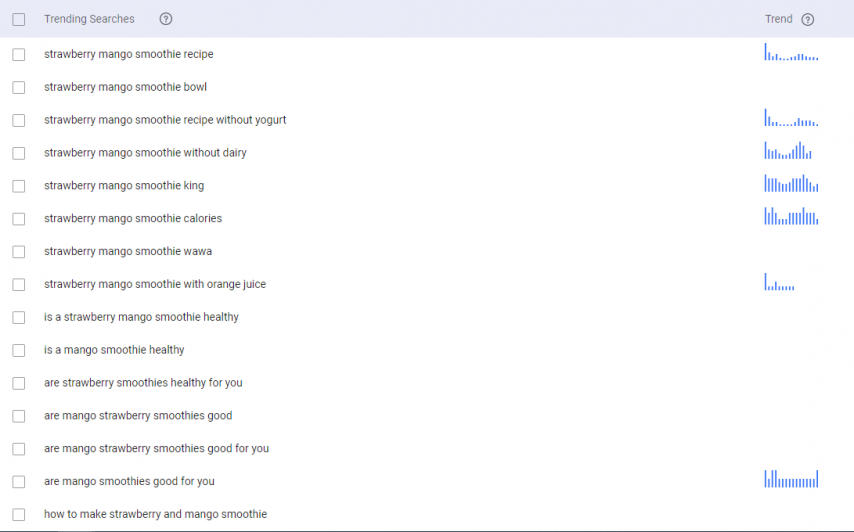 If you still decide to ignore voice search optimization, you're going to lose a source of profit right here!
10. Simple Checkout Process
No one likes complicated procedures, especially when making a purchase. Ensure the process of identifying, choosing, ordering, and paying for a product on your site is fast and easy. Some websites require a customer to register first before check out.
You could try simple check-out processes like introducing guest checkout. The customer does not need to register before checking out. Create a site that can remember your clients' details like email addresses and passwords to avoid inputting them again.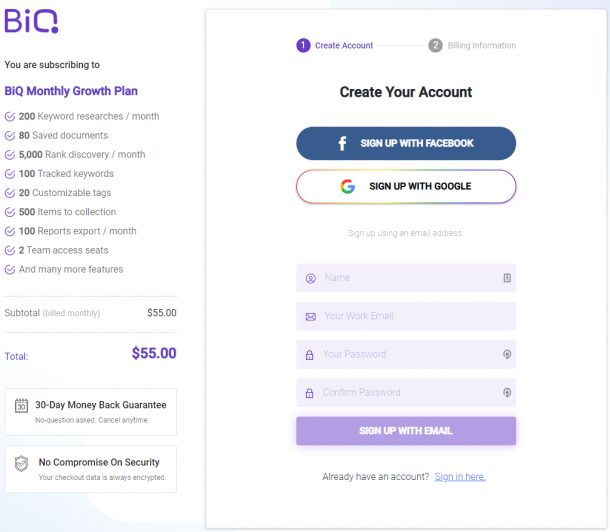 Other features like progress indicators inform the customer of the stage they are at during the checkout process. The client can tell what's remaining of him or her to complete the checkout.
11. Retargeting
Have you ever searched or bought something, and shortly after, found 'following' offers on your social media accounts or other pages you log into? These ads are not a coincidence, but a marketing strategy called retargeting.
Retargeting is impacting and interacting with any previous visitor to your site by sending them ads. You can send them ads to their social and search platforms like YouTube, LinkedIn, Facebook, and Google results.
The ads sent are to all people who visited your site or those who logged into your website's specific pages. You can also do email retargeting to send auto-responder or personalized emails to a user based on their interaction with your online business.
12. Personalized Customer Buying Experience
How would you feel if a brand adjusted its product to suit your needs and sends it through your preferred means? The experience is exhilarating! A personalized customer buying experience makes customers keep coming back to buy more.
Start creating products that meet specific customer needs. Make your business flexible to accommodate your customers' requirements and preferences.
13. Create a Mobile App
How long do you use your phone every day? People spend hours navigating and using their phones. Creating an avenue, they can reach you via phone is a wise idea. Having an app for your business means you are ahead of your clients.
Someone may think of navigating through your app on his or her phone as a way of killing time but eventually finds something that interests him or her. In the end, you end up making a sale or having a follower.
Mobile apps also make it easy and fast for customers to reach you or make a purchase. The app should also be easy to use and navigate for optimal results.
Are You Equipped With Either One Of The E-Commerce Marketing Strategies?
As illustrated above, your online business will thrive with successful e-commerce strategies like those discussed above. What may work for your friend may not work for you. So you must test the method that works out great for you.
If you have no idea of where to start, use the marketing strategies in e-commerce explained above as your base.