Learn how to submit your website to search engines like Google, Bing, Yahoo! and more. You should submit your website to search engines for organic traffic and learn how you can improve your website
If you just created a new website, it's likely that search engines won't promptly know it exists.
During the first few days or weeks, your chances of ranking in the search engines won't just be an improbability.
Ot will be an impossibility.
But one fact you must note whenever you submit website to search engines is that it takes time for search engines to find (and index) new websites.
If you search for a two-day-old website in Google today, the chances are that you'll be gravely disappointed.
Even after a few weeks online, you may still not see your site in Google, Bing, or Yahoo!
Now, that's interesting because all these search engines have a market share of over 96%.
It's likely this applies to you too.
The next step is to find the fastest strategy to submit your site to the search engines.
Here's a comprehensive overview of how to submit your website to search engines:
Why You Should Submit Website To Search Engines
If you're just starting your new business or blog post, then search engines are a critical source of free web traffic.
With the right search engine strategies in place, you can grow your brand online without investing a lot of money.
Unlike traffic revenue from ads, organic traffic is free.
You don't have to pay the search engines for that.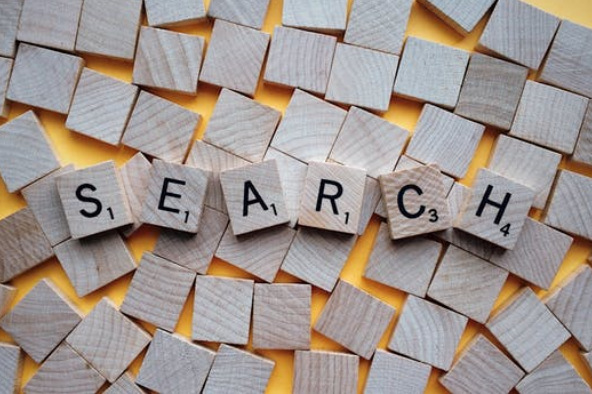 Several studies show that over 51% of all website traffic comes from organic search.
More importantly, a website submission process is simple, free, and gives brands access to several tools to help you grow your business progressively.
That being said, let's check out how to submit your website to search engines.
Search engines will probably find your site eventually.
But you might have to wait a while.
There are several submission tools that still exist for major search engines as a subset of your web tools.
When you submit your website to search engines, it tells themcritical information about your site.
But one of the most effective search engine strategies is to tell them about your site directly.
You will grab Google's web crawlers' attention faster and start getting ranked.
Google and Bing offer some of the best insights as to how you can view your website in the search engine's "management dashboards." But more on that later.
You can use several tools to test your web pages and alert you when there are potential problems or errors on your website.
Search engines offer their view on your websites, allowing you to make changes to improve them.
How To Submit Website To Google
Google is the largest, most popular search engine globally.
For most websites, this giant search engine is the biggest resource of your traffic.
To submit your website to Google, simply login to Google Search Console.
It's a free tool offered by the search engine to help website owners see how their site is performing in the search engine results pages.
Signing up to use this search console is free and easy.
You simply visit the Google Search Console site.
You can also use your current Google account to create a new account or sign up for one.
Google will then prompt you to input your website domain name.
It's best you use the URL prefix option as it's a lot easier to verify.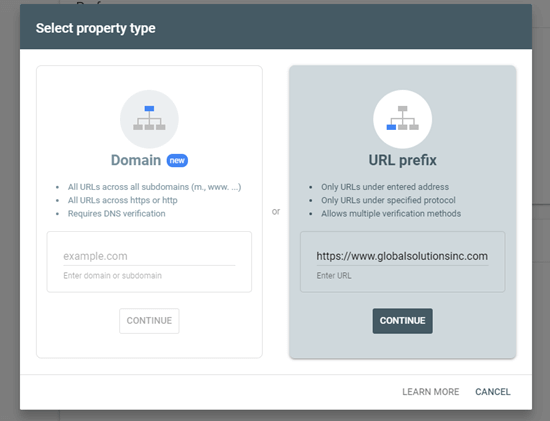 Use the HTML tag method to verify your site and submit it to Google.
Adding Your XML Sitemap To Google Search Console
You can find your sitemap by visiting: yourdomain.com/sitemap.xml
But what is a sitemap?
This is a file that lists all your site's web pages.
This particular sitemap lists all the posts on your personal blog.
If you don't see your sitemap using the process mentioned above, you can check your robots.txt file through yourdomain.com/robots.txt
Found your sitemap?
Good.
Your next step is to submit it through Google Search Console.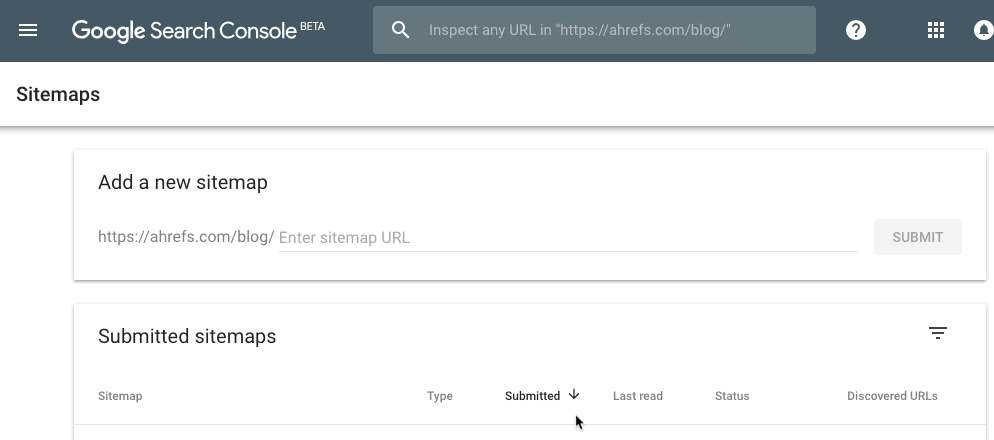 You'll need to add and verify your site in Google Search Console for this to be possible.
For those with multiple sitemaps, you simply need to rinse and repeat the same process.
An XML sitemap in WordPress provides a full list of all the content on your site, including all your blog posts and pages.
The XML sitemap helps search engine bots to discover and index your content faster and show it in the SERPs.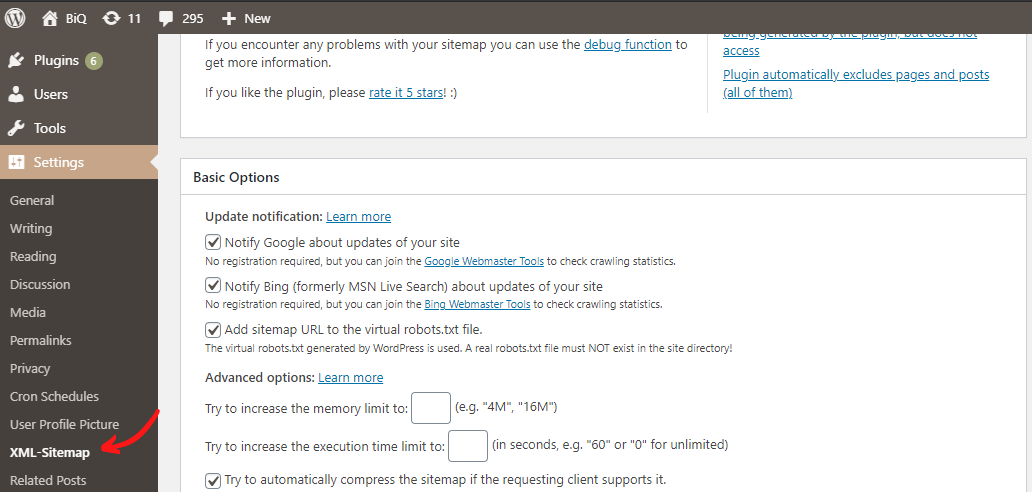 The WordPress 5.5 update added XML sitemaps as a built-in strategy.
However, most of these sitemaps are very basic and aren't easily customized.
Here's where SEO comes into play.
Here, you can use our all-in-one SEO strategies to complete your WordPress SEO toolkit.
It also includes a sitemaps generator.
With this information, you can customize your sitemaps by excluding duplicate or unnecessary content.
You can also have powerful custom XML sitemaps for news sitemaps, video sitemaps, and WooCommerce.
You'll have a bonus advantage in SEO even as your business continues to grow.
How To Submit Website To Other Search Engines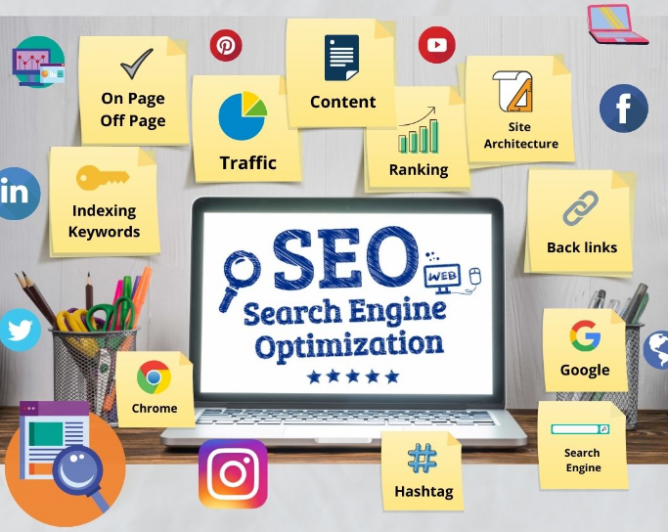 It's vital to remember that Google isn't the only major search engine you can use.
Therefore, it's important that you register website with search engines that people use.
These may include Bing, Yandex, Yahoo!, DuckDuckGo, and Baidu.
Here's a brief overview of how to submit your website to individual search engines.
How To Submit To Bing
To submit website to Bing, you'll need to head over to the Bing Webmaster tools for the best results.
Once there, you'll need to add your website, if you haven't already done so.
Fortunately, you can skip verification in this stage and import your website data straight from Google Search Console.
You can also submit sitemap to search engines like Bing, as you did with Google.
You will then click the "Submit Sitemap" button in the sitemaps tab on the top right corner of your screen.
This will open a pop-up window where you will enter your site URL in the sitemap.
But unlike Google, website owners can click into submitted sitemaps.
You'll see a re-submit button on the same web page.
If you're just looking to submit a site URL, you can use Bing's URL submission tool that you can find on the left-hand menu of the site.
It's as simple as simply entering your full URL link and hitting the submit button.
How To Submit To Yahoo!
If you've already followed the submit website to search engines to Bing layout, you've probably already done everything you need to submit it to Yahoo!
However, Bing has powered Yahoo!'s search results since 2010.
Therefore, the method of submitting to Yahoo! is to simply submit to Bing.
Submitting your website to Bing Webmaster tools automatically submits it to Yahoo!
How To Submit To DuckDuckGo

As of May 2020, DuckDuckGo had an estimated search engine market share of 2.32% in the United States alone.
But this is still behind Google's 87.69%, Bing's 6.49, and Yahoo!'s 3.11%, with a majority of online users now switching to search engines that prioritize privacy.
The good news is you don't need to submit your website or URL to DuckDuckGo.
The search engine uses over 400 sources for its search results, including Bing's search results.
That means if you've submitted your URL there, you don't really need to do anything else.
How To Submit To Yandex
As the leading search engine in Russia, Yandex has a search engine market share of over 60% in the country.
Not every website user has to submit their website to Yandex.
However, if you're serving online searchers in Russia, then it makes sense to use this strategy.
The entire process is very simple and straightforward.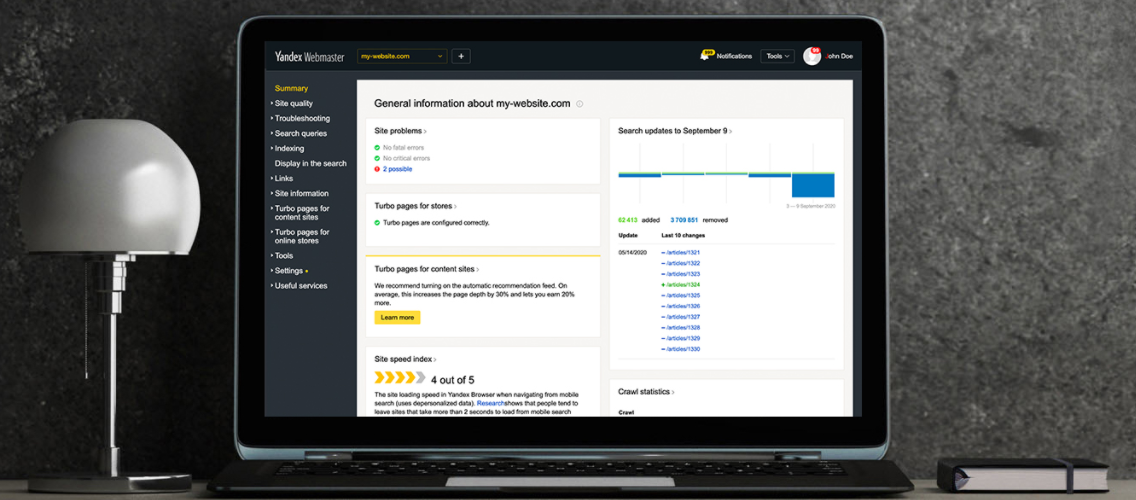 Simply visit Yandex Webmaster Tools.
f you've not already added and verified your website, you'll need to follow the steps mentioned below.
To submit your website to Yandex, you'll see a sitemap link on the site's left-hand menu.
Click this link, and you'll be taken to a web page where you'll add your sitemap as you would do in other search engines.
To get your new website indexed, ensure you head over to the "Reindex web page" tab.
Here, you can submit several URLs that are your highest priority for indexing.
What If Your Website Isn't Indexed?
Okay, before you can resolve this issue, you must figure out the reasons why it isn't indexed.
Simply copy and paste your URL into Google's URL Inspection tool.
Check the coverage error.
Once you've found the problematic web pages, ensure that it's excluded because of the noindex tag on your web page.
When Google knows about your website, it will tell you.
Only then can you know your website's rank results.
Another way to check if your web page is in either of the search engines mentioned above is by lifting some unique text from that page and placing it in the search box.
Remember to place it "in quotes."
Your web page will come up if Google has indexed your site.
You can also use the same command on Bing.
Most websites end up getting de-indexed for different reasons.
For one, the developer may accidentally leave a "noindex" directive on their sites when updating a code.
This is usually in the form of returning a "noindex" header in your HTTP request or as a noindex meta tag.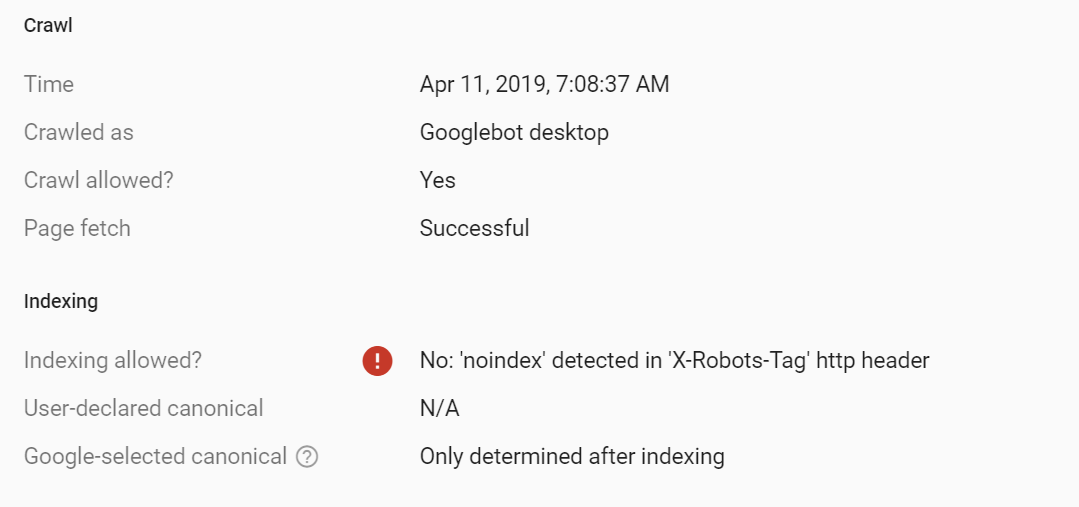 If your website has been de-indexed, you should remove the noindex directives then re-submit your website.
What's Next?
Sure, it could take several weeks or months for your site to appear on the search engine results pages.
But still, it's up to the search engines to index your website.
One fact is true.
You can't force Google or other search engines to index your website faster.
But with the instructions mentioned above, you can help search engines find you more easily.
Getting plenty of backlinks on your website is a sure way of speeding up the process.
You might also want to double-check that your website is visible to other search engines.
If you're not getting traffic on your website, it could be that it's ranking low in the search engine results pages.
It's vital that you use targeted keywords appropriately on your website's content.
Ensure that your website is keyword optimized and allows you to write more SEO-optimized content.
Use BiQ's All-In-One Tools To Optimize Your Website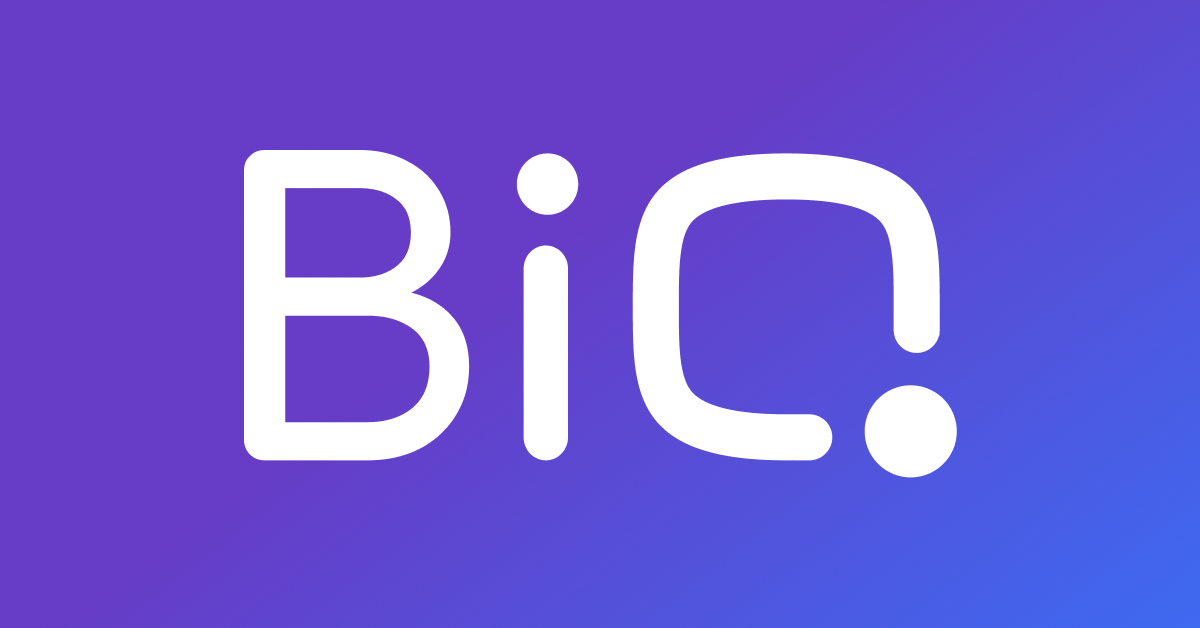 BiQ Cloud is the best keyword and content intelligence service for content creators and website designers looking to optimize their sites for the target audience and search engines.
With BiQ's Keyword Intelligence tool, you can optimize your research processes to determine all potential target keywords.
BiQ's Keyword Intelligence allows users to gather critical data on keyword competition, keyword volume, trends, and related keywords.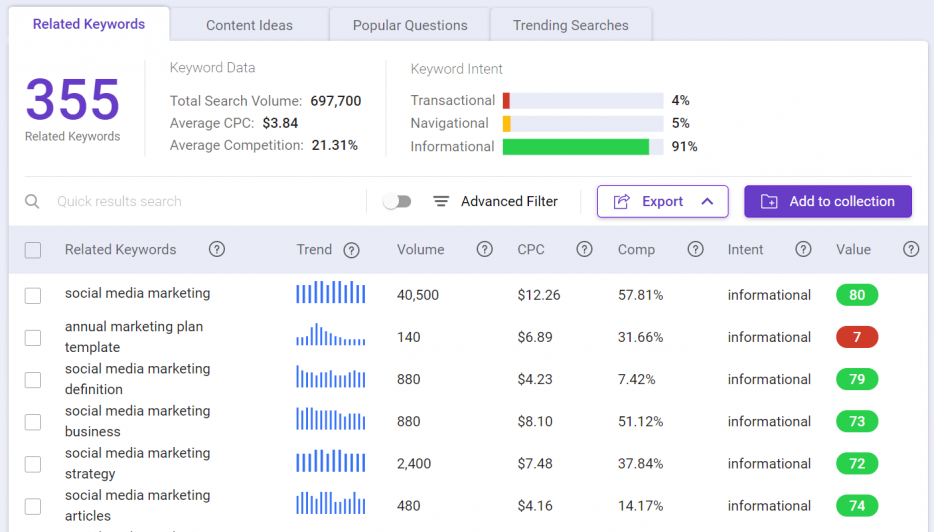 Its keyword analyzer allows you to find and use high-volume keywords to boost your overall rankings and site visibility.
BiQ's Content Intelligence tool also provides users with content-driven strategies aimed at helping them craft SEO-friendly content.
With Content Intelligence, you'll receive real-time content grade information with keyword counts for producing relevant content.

You'll also know the best keyword density and make necessary edits to make your content A-grade.
Do take note that having A-grade content does not mean your article will rank number one on Google.
BiQ's Rank Intelligence allows content analysts to identify all the keywords that are worth tracking.
Apart from the obvious keywords like brand name, you can use several other keywords to drive visitors to your website.
And Rank Intelligence makes this possible by providing you an overview of all the relevant keywords your website can rank for.
With an overview of those relevant keywords, you can filter and group your ranking keywords with different parameters through Rank Intelligence.
This allows you to select keywords that have the best potential to optimize for first-page ranking.
Finally, we have BiQ's Rank Tracking, which aims to help users monitor the keyword rankings on their pages.
Rank Tracking helps users understand what actions they have taken to improve their keyword rankings and SEO success.
Rank Tracking also allows you to track local search rankings in multiple countries and languages.
Just set your desired location and language when you create your profile.
There are over 100 countries and 35 languages you can choose from.
Conclusion
Upon starting a new website, Google will eventually find and index your website.
You don't necessarily have to tell them about your site.
The same is true for other search engines too.
Having that in mind, we recommend you try out the tips and tricks mentioned above to submit website to search engines.
It's also worth re-submitting websites that you want to change or update.
These SEO-friendly web designs should provide you with critical data that will get your site indexed.
You want to concentrate on getting ranked and improving your rankings to appear in the top 10 in SERPs.