Do you know what keywords you are ranking for? Learn how to find and track your ranking keywords using these online Google keyword ranking checkers and uncover low-hanging fruits you can optimize to easily boost your website traffic.
It's a controversial subject among SEOs. Although almost everyone unanimously agrees that keyword research is important to create an SEO-optimized article, many don't find the need to monitor their Google keyword rankings and see if their content has worked.
Despite the ongoing SEO debate about rank tracking, personally, we think it is still relevant and essential to track your Google keyword rankings, especially if you are looking to get good SEO data to boost your traffic.
So in this article, we will guide you through how you can use Google rank checkers to find your queries and keyword phrases that are already ranking well but can further maximize their potential to drive more traffic to your website.
But first, let's make sure we are on the same page about Google keyword ranking.
What is Google Keyword Ranking?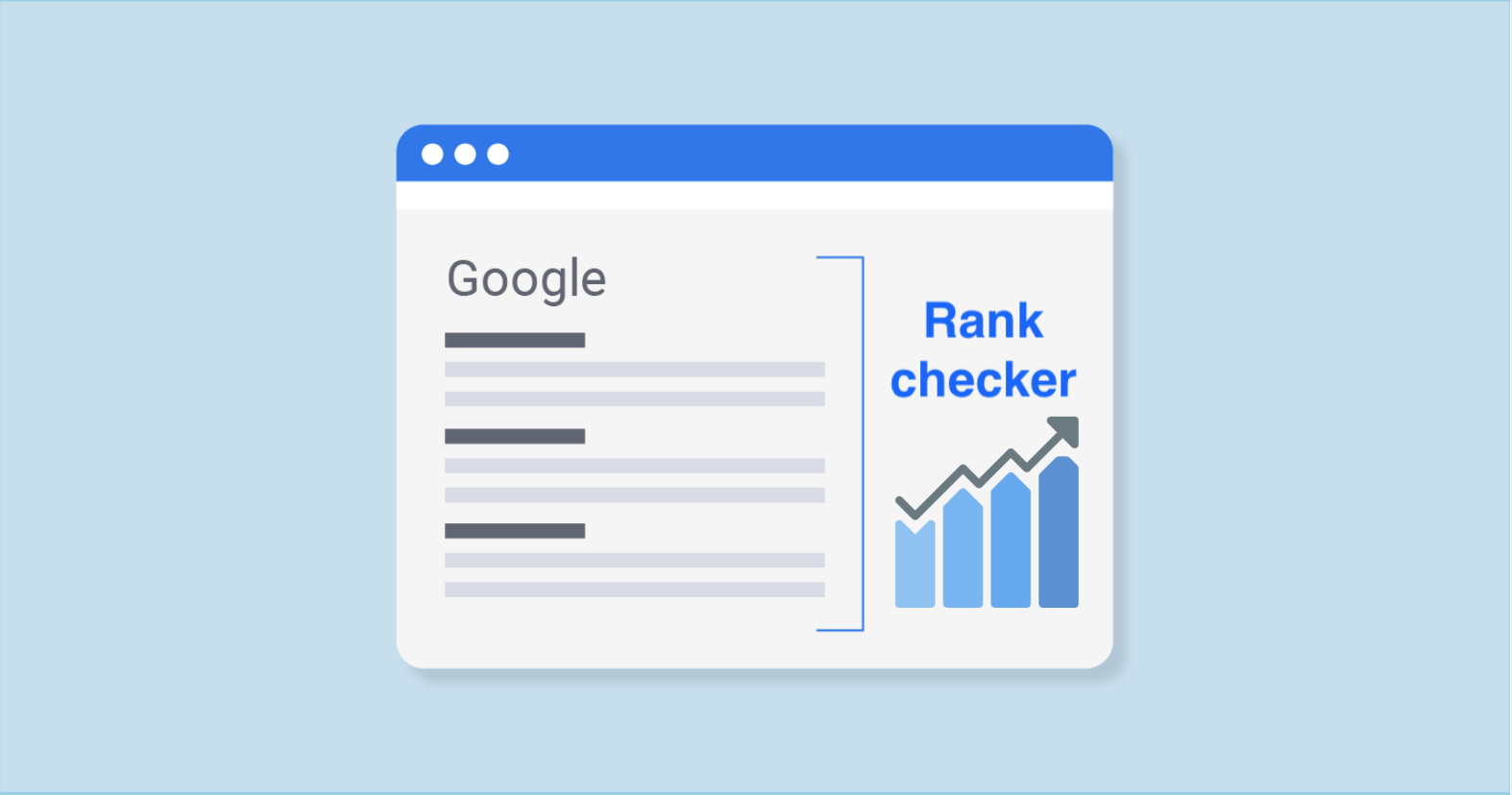 Google keyword ranking is the position that your website or page shows up in Google's search engine result page (SERP) for a specific keyword or phrase. For SEOs, the goal is to get the most coveted featured snippet or position #1 ranking for their targeted keywords.
Now, before we proceed, we have to acknowledge there are indeed many challenges with tracking rankings properly. Geolocation, personalization, and many more factors can affect ranking changes for users on an individual basis.
That's why tracking your Google keyword rankings manually is simply not feasible.
Despite this, Google keywords rank checker has come a long way, and there are now many tools available that can emulate various Google search scenarios and collect timely information about your website rankings.
And we will get to those tools in a while, after understanding how ranking data is capable of delivering an incredible wealth of SEO insights about your website and content that you can never get by just doing keyword research.
Why Answer "What Do I Rank For?"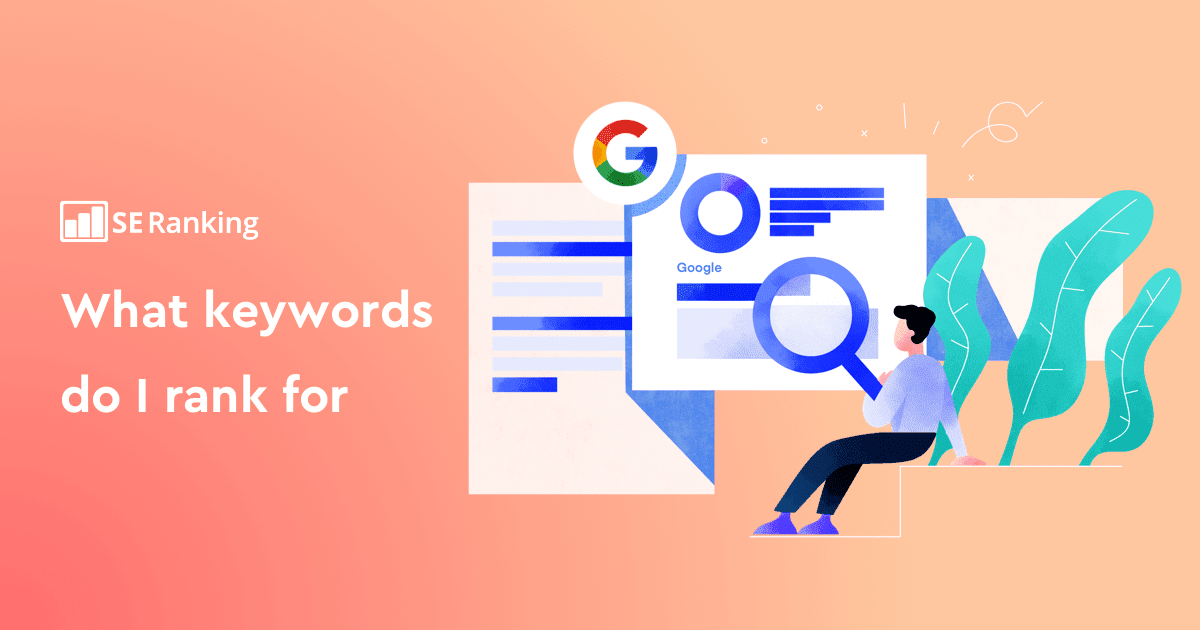 There are a few reasons to know what keywords you rank for, some of which you probably haven't even thought of. The more common one is, you can save a ton of time by identifying the keywords you already rank for then work backward.
For example, you may have done some keyword research and decided on two different keywords like "creative blog title" and "Google keyword ranking".
For each keyword, you found existing content on your website which ranks for related keywords, which are "creative blog ideas" ranking #8 on Google search while the other "SEO keywords" are ranked at #45.
The smart thing to do will be to put more work on "creative blog title". Because chances are it's more likely to rank higher on Google SERP than focusing on the latter.
That's just one scenario. Most importantly, tracking your keyword rankings can also reveal wrong page ranks for keywords which allows you to address the issue and improve your rankings and traffic.
So, how do you check your Google keyword rankings?
Search engine results pages (SERPs) have changed so much over the last few years that it is no longer about the first ten-blue links at the beginning.
We now have local results, featured snippets, answer boxes, people also ask, and it's not all that bad actually. These changes provide users with a fantastic search experience but for SEOs, this can spell disaster in rank tracking.
Then,, of course, you might find your content rankings if you search anonymously in Google, but that is simply not realistic. Understand that Google SERPs are always returning personalize results, and what you see for your SERP just might not be the same as another's.
So to check your website's Google keyword rankings, you need a tool that can tell you where a specific keyword ranks in Google SERP without manually going through 100's of search results and pages.
Fortunately, now we have many Google rank checkers. Most are easy to use and all you need to do is just enter your website URL link and the tool will discover all your current rankings.
But first things first, there's also a way to know ALL your organic Google keywords you rank for at a price that is free-of-charge, and that is through mining Google Search Console.
Google Search Console to find your Keyword Rankings
To find underperforming keywords in Google Search Console, simply go to the Search Results report and select the average CTR and position data.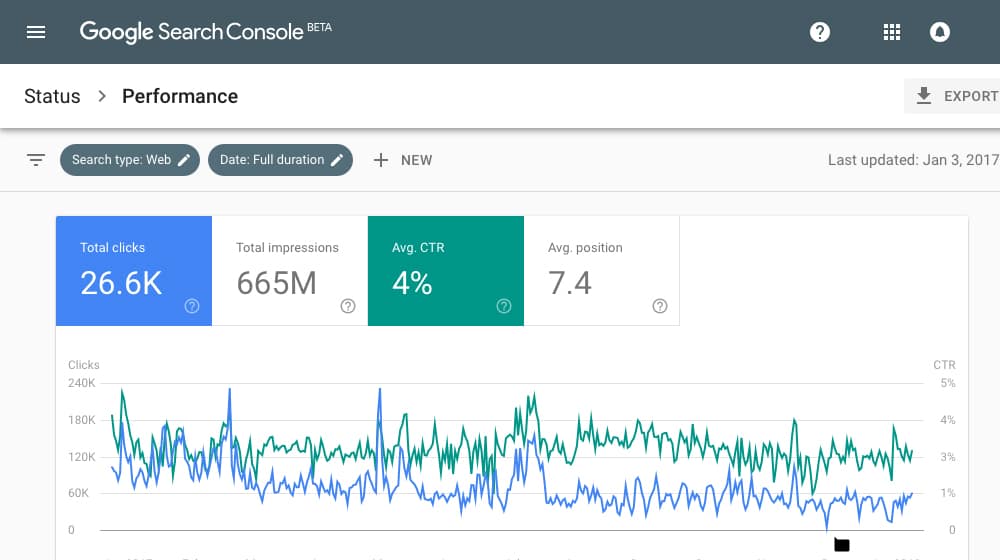 Then scroll to the queries report and set your average ranking position filter to smaller than 15, to find your existing content that is already ranking. You can also arrange your keywords according to impressions and CTRs to skim for good potential keywords.

From here, what you are ideally looking for is underperforming keywords with high traffic potential, such as those that rank between positions 3 to 8, that is already getting some traffic but could do much better.
These are the content you want to update and optimize to further push up the rankings or boost your CTR performance. (Don't worry, we got you covered on how to do this below!)
Besides, you also want to compile the keywords that are ranking between 11 to 13. These are content that is ranking high in the SERP Page 2 which you want to tweak and try to push up to the top 10 rankings.
Just in case you are not aware of how search results traffic is distributed in SERPs, here are the latest statistics from Smart Insights for Google organic CTRs in 2020. As you can see, ranking on top for your target keywords is extremely rewarding and certainly worth the effort.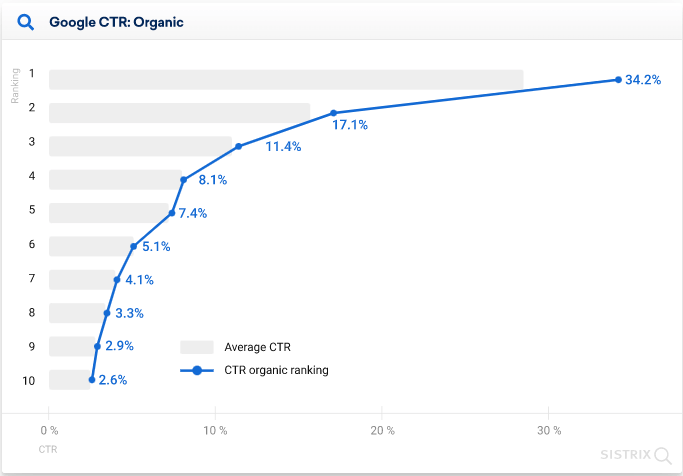 More Google Rank Checker tools you can use
So aside from Google Search Console, here we have also made a list of Google SERP rank checker tools we personally recommend.
Of course, you can just do this by simply using Google Search Console, but using these tools that are specifically designed to uncover your keyword rankings offer a different experience entirely, so make sure you check them out!
1. BiQ's Rank Intelligence & Tracking
With 4 modules offered in a single tool, BiQ SEO Suite is one of the most comprehensive tools out there that can help facilitate all your SEO needs.
Here, we will specifically look at their Rank Intelligence and Rank Tracking modules that you can easily use to discover and track all your Google ranking keywords.
First, create a new profile at BiQ's Rank Intelligence and fill in your domain name, language, and location. This will emulate a regular Google search and analyze your domain's ranking results in that scenario.
Soon, you will see a summary of your ranking performance including the total keywords you have in the Top 100 rankings, estimated monthly traffic, and your ranking distribution.
At this point, if you want to see all your ranking keywords, just proceed by clicking the "Create View" button. However, that is not our focus and instead, you would want to filter out only relevant keywords, set your parameters in the rank discovery section.
Specifically, if you are looking for keyword opportunities, you would want to get only your keyword rankings that are currently ranking in the position between:
Ranking #2 and #10 are the keywords you want to optimize to ranking in the featured snippet if it is available, or simply to push it up higher in rankings.
Ranking #11 to #15 are keywords that you'd also want to consider reoptimizing and strengthening your internal link and banklinking profile to boost the rankings to Top 10.
Once you have your keywords, run your content through BiQ's Content Intelligence and optimize based on the suggestions to fill in your content gap.
Next, you also want to input these keywords into BiQ's Rank Tracking to keep your tabs on your optimization results. Yes, you can continue to track your keyword rankings on Google Search Console, but that is along with every other keyword your website ranks for and it will take some filtering before you can actually get to them.
Note that reoptimizing can make a major impact both ways, so you want to keep track of your optimization efforts and quickly react when your keyword rankings go south.
Besides, BiQ's Rank Tracking also includes your historical rank data which will allow you to pinpoint the cause of any keyword ranking fluctuations so you can determine if it is caused by an algorithm change or from your optimization efforts.
2. SEMrush
A brand and SEO tool that many marketers are familiar with, SEMrush also offers a complete rank tracking solution, covering not just Google search results, but your website's keyword rankings on Bing as well.
Additionally, you can also make the choice to search for the keywords your whole website is currently ranking for or to only check out the keyword rankings of an individual URL.
Using the SEMRush interface, you can get a bird's eye view on your overall website keyword ranking distribution, and monitor how many keywords have improved and how many have declined over time.
3. RankingGap
Here's a tool that I would say, is one of the most useful when it comes to discovering Google keyword rankings. RankingGap is a keyword gap analysis tool that is relatively new if you compare it to SEMrush and the likes, but it definitely works on what is needed to discover valuable keywords.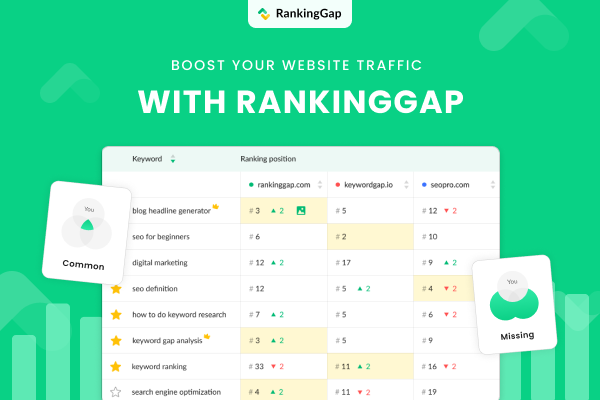 What it does is that the tool extracts all the keywords that you and your competitors are ranking for in the top 100. Then, all that's left for you is to compare the ranking performances and decide which keyword you want to steal or optimize to outrank your competitors.
4. SERPWatcher
We're a huge fan of Mangools and their SEO rank tracker SERPWatcher also makes it at the top of our list because it offers great UI.
Like BiQ, SERPWatch lets you track the website's ranking keyword positions through domains and location. Above that, the tool also allows you to track keyword positions based on the device your audience is using, whether it is desktop or mobile.
5. Alexa
You might be surprised to find Alexa on the list but they also offer a "Competitor Keyword Matrix" that shows phrases, popularity, and competition.
One of our most favorite features is that it groups keyword phrases into clusters which makes it easy for keyword targeting and can also give you information on how you should present your content silo to boost your chance for ranking keyword groups. 
Okay, so now that you started checking your rankings and got your high potential keywords, now it's time to tackle the important question: What do you do with it?
Creating Great Top Ranking Content
Once you have found your low-hanging fruits, there are generally two approaches you can take to improve them and that is: to optimize or to create a new content silo?
Reoptimizing your existing content
Reoptimizing is generally for pages that are already ranking high, perhaps between positions 4 to 10 on Page 1 or between positions 11 to 13 on Page 2. The goal here is to revisit and update the content to push the rankings further up.
Note that you don't want to create a new page to confuse Google or rename the page URL and lost all its historical data.
Because a lesser-known fact is, the longer a page exists, the higher chance that it's going to rank in the top 10 results of Google's SERP. This was proven through a study done by Ahrefs, where they found the average age of the page ranking in 10th place is 650 days.
That's almost two years and it gets longer up the ranks.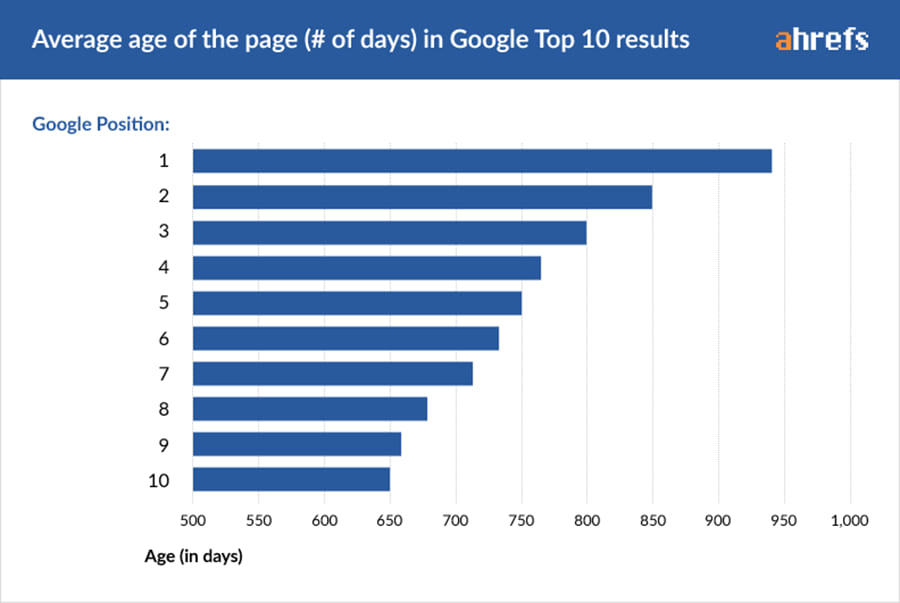 Besides, placing for rankings anywhere between positions 1 to 15 for meaningful, competitive keywords is a telltale sign that Google finds your content relevant to the target keyword, and you never want to change that.
Although it is ideal that you optimize your content while creating it, it's never too late to better optimize your content. The web is a living medium, and keeping your content updated is also a positive signal by Google books.
So use content analysis tools like BiQ's Content Intelligence to check if your written content is high-quality and truly optimized. Our tool is intuitive to use, and you just need to provide your URL link with your targeted keyword, and it will analyze your content's Word Vector.
This compares your content to the current Top 10 ranking results in SERP for your keyword and analyzes if there are any potential content gaps. Alternatively, you can also just start writing using Content Intelligence and it will analyze your content as you write in real-time.
It is also possible that the keyword you chose is too competitive and you need to scale back your ambition in which case you can use Keyword Intelligence to try and find long-tail keywords that are less competitive until you've built up more authority.
Create New Content Silo
Another tactic you can take is to create new content and form a content silo. This is perfect for keywords that you are seeing high impressions but low click-through rates. 
Often this is because your content is ranking for multiple keywords, even just those that are somewhat related. For example, a post on "social media strategy" might also be ranking for a keyword like "social media plans" on position #11.
In this case, what you want to do here is leverage on that, and create content that targets the keyword's search intent directly. Create a blog post on "social media plans" and then interlink your existing content to this new content.
Conclusion
So if you have yet to start monitoring your ranking keywords, start today, or else you might just be missing on your top traffic driving keywords. And of all the Google Rank Checker tools on this list, we really recommend you to give our BiQ SEO Suite a try!
We're sure you'll fall in love with it, especially with its extensive usability including keyword research, content analysis, optimization suggestions, and a few other really cool things.
Most importantly, it's FREE so sign up today and you can get started on uncovering your keyword rankings and even your competitors, so you don't miss out on these big re-optimization opportunities for higher rankings and more traffic!