Google Keyword Planner is a convenient tool that blends Adwords Traffic Estimator and Google Keyword Tool. If you want to drive more traffic flawlessly, Google Keyword Planner is your best bet!
The fact that you landed on this page means you already know something about Google Keyword Planner and want more information about it.
Or you are entirely blank about it and want to know how it can help.
Well, you are in the right place.
Google's Keyword Planner is a convenient tool that blends two popular Google Ad tools, Traffic Estimator and Google Keyword Tool.
It comes with an easy-to-use workflow guide to help users find the right keywords.
So, if you want to drive more traffic flawlessly, Google Keyword Planner is your best bet.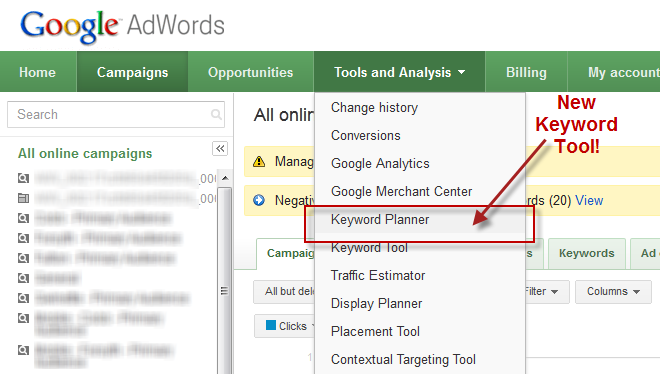 How Google Keyword Planner Can Help
Keyword research is an important aspect of SEO today.
It involves figuring out phrases or popular words that are pertinent to your industry or business so that you figure out what to rank for.
Most marketers begin the process by creating a list of words or phrases that are suitable for their venture.
After that, they start analyzing which phrases will work well for their individual site's pages and campaigns.
Keyword research helps business owners better comprehend the demand for certain keywords.
It also helps them to understand how difficult it would be to compete for them in paid and organic search results.
Here is where understanding and knowing what the competition does to rank well comes in handy.
The insights will help you fine-tune your optimization campaigns and strategies to rank better in search engines.
Keyword research should also show you various ways browsers may be using search engines to find information or products online.
It should help you find content ideas, keep updated on industry trends, and learn more about your target audience.
So, what is the end game here, or what do you stand to gain?
By doing appropriate keyword research using Google Keyword Planner, you should be able to develop targeted and useful content to help direct conversations and traffic to your site.
Here's what Google Keyword Planner offers:
Discover new keywords
See monthly searches
Determine cost
Organize keywords
Create new campaigns
While the tool offers a great way to start your new campaigns and research, there are also other alternatives that can help you do more than just keyword research.
But more on that later.
How To Use Google Keyword Planner
1. Access Keyword Planner
To use Google Keyword Planner, you must have a Google Ads account.
However, that does not mean you need to run any adverts or enter your billing data.
If you do not have a Google Ads account, click here and follow the prompts to create one.
Once done, log in to the account and click on the wrench button at the top of the page.

Then, click on "Keyword Planner."

2. Choose your tool
The next screen has two options.
The first one is "Discover new keywords," and the second one says, "Get search volume and forecasts."

Discover New Keywords
Use the "Discover new keywords" option if you want to figure out keyword opportunities.
The option will help you identify new keywords,
It will also provide insights into different search terms that your audience and potential customers are using to search for what you offer.
If you want new opportunities or want to get keywords being used by your competitions, this is where you start.
All you have to do is key in a product, industry, or topic that you want related keywords for.
Then whatever you key in the search box, the tool will show related keywords for that.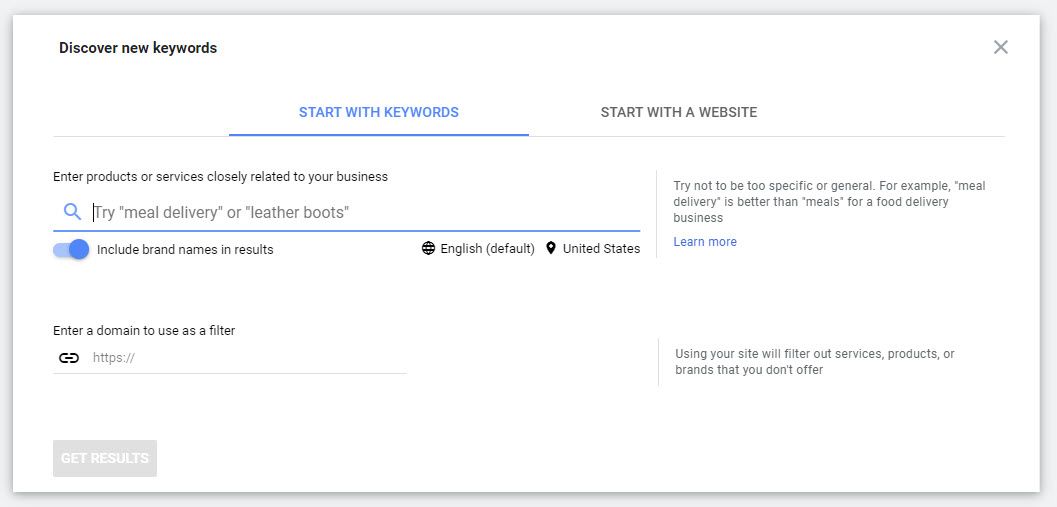 Get Search Volume And Forecasts
If you have a list of words that you want to analyze and see how they will fair, go for "Get search volume and forecasts." 
There are no keyword suggestions here.
Instead, you will get insight into the estimated number of impressions and clicks you could receive in the next month if you run ads with the keywords you typed.
Also, you will have data on your average CPC, CTR, and estimated costs.
Now, when you click on "Get search volume and forecasts," a search box will appear.
Here you can enter a group of keywords or individual keywords separated by line breaks or commas.
If you are the impatient type, you can upload a spreadsheet to quickly move keywords into the tool, then click get started.
Three tabs will come up: Historical metrics, Negative keywords, and Forecasts.
Click on forecasts if you want to see forecast data.
Then depending on the keywords, you keyed in, the tool will tell you.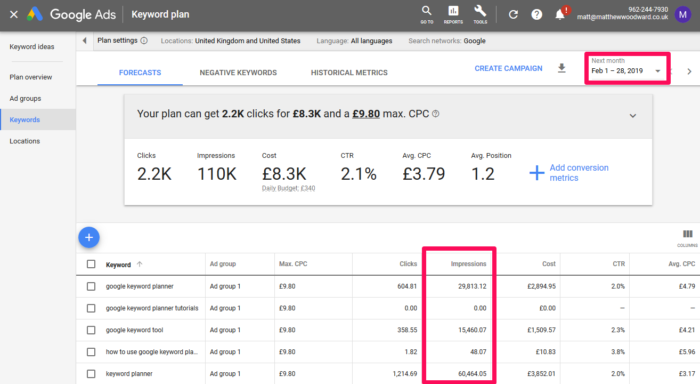 Clicks per day if the keyword triggers your ad
Impressions
The average cost for a certain keyword per day
Click-through rate (CTR)
Average CPC
What it will cost you for an ad click
3. Use The Filter To Narrow The Focus Of Your Results
The tool has a filter that can easily help you eliminate keyword ideas that are irrelevant to your industry and identify only those that relate to your products, services, or industry.
To do this, start by clicking the "Add filter" icon at the top of your results, then click or tap on the "keyword text" icon from the drop-down menu that pops up.

The next drop-down menu will give you two different options; Go for the "contains option."
It gets rid of any keyword ideas that do not have certain words that you want to include.
The feature allows you to narrow down the keyword suggestions to only phrases that describe a specific service or product that you offer or identify questions your audience is asking.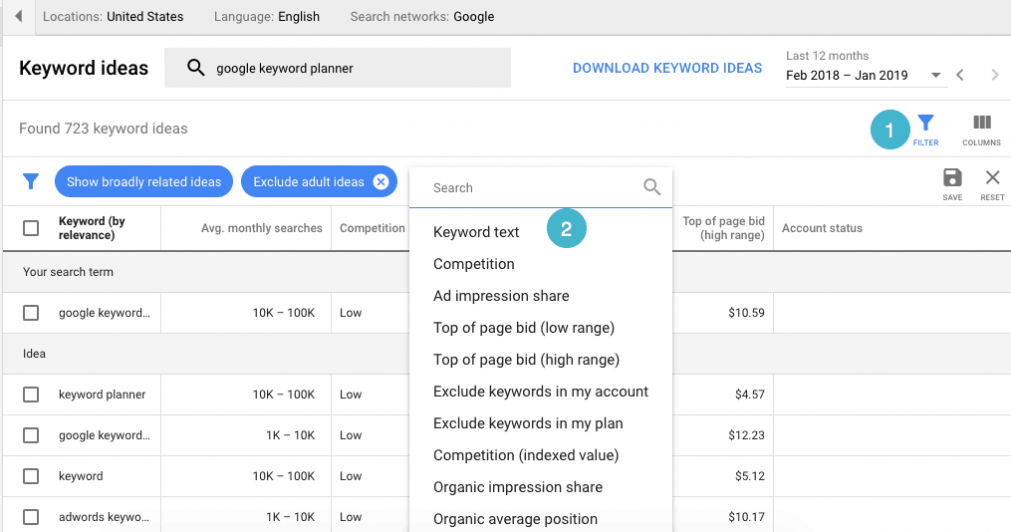 For instance, a business that sells pet-related supplies can use words such as "pet" or "dog" as the primary keywords.
However, you'll want to narrow the results to keywords that are only related to pet products.
To do this, add the filter "keyword contains" to include keywords such as "rewards," "snacks," and "treat."
Doing that will make sure the results you get has the words "rewards," "snacks," or "treats".
To figure out the questions your target audience uses when searching for what you offer, add a new "keyword text contains" and filter for the words  "why," "how," "where," "when," "what," and "who."
4. Analyze The Keyword Ideas Section
To identify high volume, low competition keywords, you must download keyword ideas into a spreadsheet.
Let's say your business deals with outdoor gear.
You will want to create content for people looking or searching for the word "hiking boots."
You searched for the keyword-on-keyword planner and showed over 800 keywords.
Obviously, all of them are not useful.
So consider downloading the list to find the best words.
Particularly, you will want to analyze the terms in "Keyword Ideas."
They include:
Keyword (by relevance)
Avg. monthly searches
Competition (number of advertisers that are bidding on that keyword)
Be on the lookout for seasonal keywords.
Words such as Halloween costumes can easily get 100,000 searches in Oct and less than a thousand in May.
But Google Keyword Planner will not differentiate between May and October.
It will generalize the searches as 100,000 searches per month, which can be misleading.
5. Choose The Desired Targeted Keyword

The Google Keyword Planner is not only suitable for identifying keywords but also guide users to make appropriate decisions.
The trends and search volume can easily help do that.
All you have to do is key in the keyword or phrases that you want the data for and then look at the results.
The data is ideal for marketers who have a list of keywords in mind and just want to evaluate their performance metrics and refine their list.
Limitations Of Google Keyword Planner
While Google Keyword Planner is one of the most robust and effective tools for keyword research, it also has limitations.
You can only use it if you have a Google Ads account.
Similarly, the filter option no longer has the "exact match," word group," and "broad match" options making it hard to find useful and pertinent keywords.
If you want to evaluate search trends, this is not the best tool.
It averages 12 months of search volume to give monthly search data, which is not enough.
The tool has lesser filters than most keyword research tools, like BiQ's Keyword Intelligence tool.
This makes it difficult to concentrate on phrases that are most relevant and useful to your audience.
Also, data is only collected from Google's servers.
Data from other search engines are not considered.
Google Keyword Planner also doesn't show monthly searches for keywords anymore.
It only shows the average search volume per month, which is very cloudy.
It also offers fairly shallow recommendations compared to other similar tools.
Google Keyword Planner vs. BiQ Keyword Intelligence
Google Keyword Planner tool is one of the most powerful yet free SEO tools for keyword research.
Nonetheless, its main goal is to help users looking to get data to run PPC (pay per click) adverts on Google only.
It does not consider other search engines.
However, if you want robust SEO performance and explosive keyword research, it is highly recommended that you go for BiQ's Keyword Intelligence tool.
It will not only boost your performance online but also enhance your social media presence, paid traffic, and content.
What's more, more digital marketing professionals prefer BiQ.
All you have to do is type any word or words.
It will give you comprehensive data about its CPC and search volume.
The tool is designed to give exact keyword recommendations that are similar to the target keyword.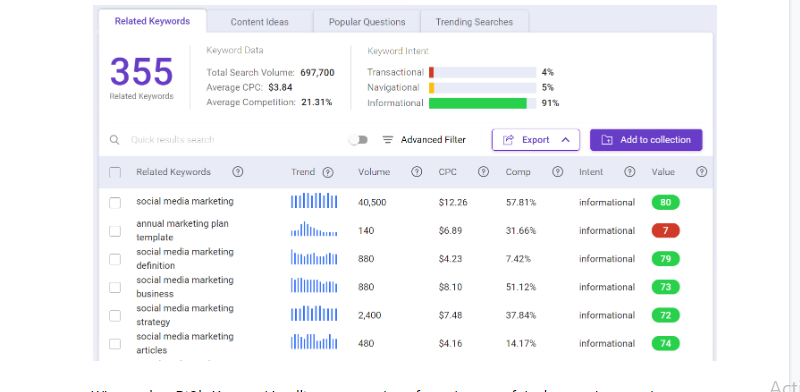 You can also use Keyword Intelligence to find topics that are trending in your business.
After you searched for your keyword, click on the "Trending Searches" tab.
This tab will show you the latest keywords and topics that are related to your searched keyword.
You can also use BiQ Keyword Intelligence to identify keywords with high commercial value.
We'll use the keywords "plumbing service" as an example.
This is what pops out in the results.
As you can see, most users that are searching for this keyword have informational intent.
But since you're looking for keywords with high commercial value, let's look for keywords with transactional intent instead.
Adjust the filters to display only keywords with transactional intent.
Now you'll have keywords with high commercial value only.
When you add these keywords in your content, you're able to meet the users' search intent, helping you to rank higher and display targeted ads to them.
Conclusion
If you are looking for more traffic from search engines, you must first perform keyword research to get an idea of what people are searching for, as well as the right keywords that can help you rank.
Now, Google Keyword Planner is a very powerful tool.
Any marketing expert would recommend integrating it into your marketing campaign.
It is awash with invaluable benefits that you cannot get with any ragtag and bobtail keyword research tool.
However, it has its limitations, particularly lack of accurate search volumes is a notable one.
Fortunately, there are other potent keyword research tools, such as the BiQ's Keyword Intelligence, that can solve such problems.
Unlike Google Keyword Planner that uses data only from Google servers, BiQ combines data from all the search engines to create accurate keyword ideas, long-tail keywords, search volume estimates, and more.