If you run a website, keyword research will be the first thing you'll learn to grow your traffic. Learn the 7 successful keyword strategies to boost your organic visits.
When appropriately utilized, keyword strategies will yield excellent results eventually. They come back like a boomerang and help improve your content marketing strategies and effectiveness.
But growing your website traffic isn't as simple as you'd think. It is the first step in any SEO keyword strategy. Even so, without people visiting your website, you won't sell anything. Ideally, there are several keyword strategies and channels you can use to boost your web traffic.
A keyword research strategy is done to increase your chances of success. But if you Google this title, you'll realize that most of Google's recommendations are to find high search volume keywords with low difficulty. However, this may not be the best approach for all businesses.
Basic Metrics of Keyword Research

Keyword research and analysis aren't necessarily just for growing organic traffic and SEO. As a refresher, keyword metrics commonly associated when you do keyword research include:
Keyword
Competition
Trend
Search volume
Intent
CPC
But while these metrics are based on the search engine data, they represent people's desires, needs, and wants. Think of keyword research as a way of determining your topic's popularity and what searchers care about.
You know people aren't interested in your topic if they aren't searching for it on Google. And if they aren't interested in your topic, it won't help you grow traffic no matter how good the content is.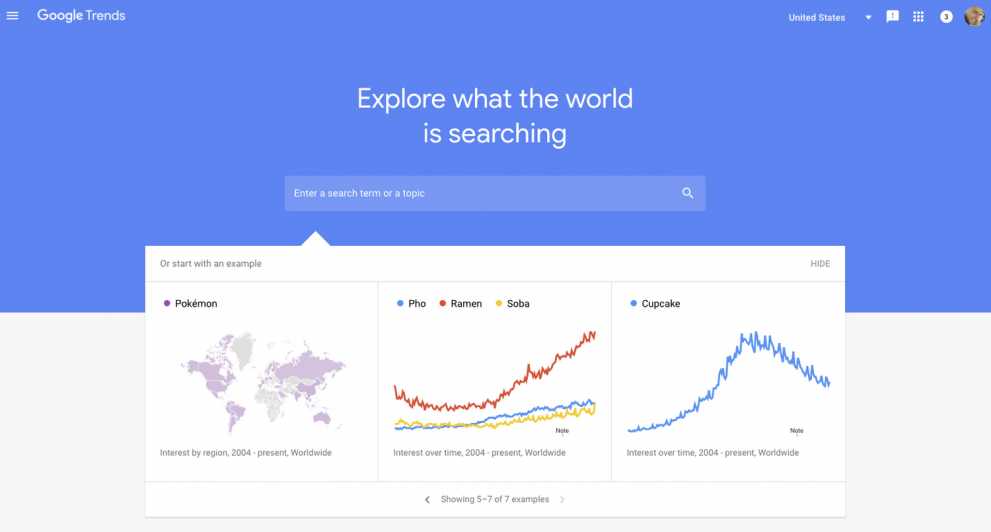 Take the term Coronavirus, for example. If you wrote a compelling article about the Coronavirus in 2018 and published it all over the internet, it wouldn't gain much attention (or any for that matter). After all, no one was searching for the Coronavirus in 2018. It just wasn't a relevant keyword then. Therefore, it wouldn't get much traffic.
By this point, you should get a rough idea of what keyword research and strategy are. It's a critical step in your content creation process that you cannot overlook, especially if you want to boost your ranking higher in the SERPs.
BiQ's Keyword Intelligence is one of the best online tools you can use to find the right keywords to target. Using this tool will boost your search for potential keywords significantly.
BiQ Keyword Intelligence provides you with critical data on keyword volume, keyword competition, trends, related keywords, etc.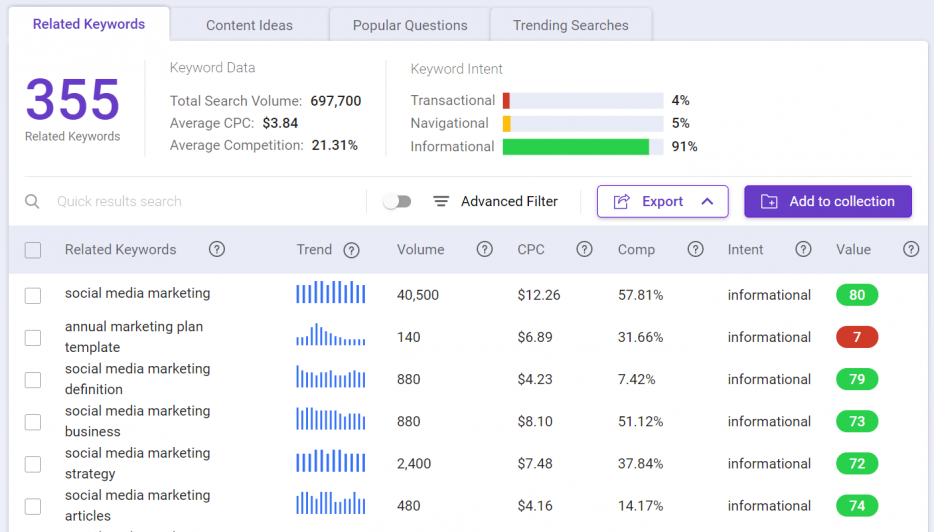 The Keyword Analyzer feature stands out from other keyword research tools by helping users understand why people might search for specific keywords instead of others. With this data, you can plan your content better and in such a way that you meet your users' search intent.
7 Keyword Strategies to Grow Your Traffic
Building a solid SEO keyword strategy is more than just researching for some keywords. It's got more to do with consumer behavior and your business than search engine algorithms.
Therefore, you must have an effective keyword strategy composed of several elements that meet your business's audience through the right approach.
Here's where we come in. Our team compiled a list of 7 keyword strategies you can use to grow your organic traffic and improve site visibility starting today. After several hours of intense research, here's what we found:
1. Identify Your Seed Keywords
Seed keywords are typically 1-2 words that searchers often use when looking for content in the search engines.
Depending on your industry or niche, you can also identify a list of subtopics to use for your content, provided they are effective enough to attract more traffic to your website.
If, for instance, your focus keyword is "digital marketing," your seed keywords may include content marketing, social media, and SEO. These are seed terms (head terms) you can use to support your focus keyword.
Most content marketers would plug their seed keywords in the keyword research and analyzer tool to find even more keyword ideas.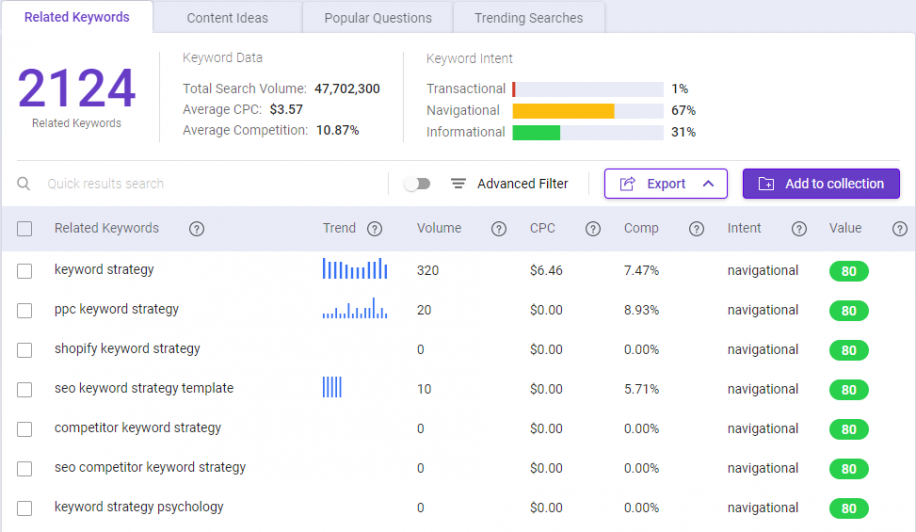 From the above example, if you enter the head phrase "digital marketing" in the keyword analyzer, you'll find several keyword variations you can use to support your head term.
BiQ Keyword Intelligence is an effective tool to use in this area. It's particularly great for finding long-tail keywords. The tool will provide you with a list of related keywords and their relatedness to your main keywords.

If you're still unsure which keywords to use, you can sort all the keywords based on their value. Everything else will follow below, allowing you to determine the most relevant keywords to support your data.
2. Do Competitive Research on Keywords That are Working for Your Competitors
Whether you're an established business or a new brand in your industry, you probably already know who your competitors are. You also know how stiff competition can be, especially in highly competitive industries and specific products/services fields.
Here, you can use a more advanced keyword research methodology to improve your ranking on the SERPs' first page.
Keyword gap or content gap analysis is the most effective methodology you can use to find the most relevant keywords your competitors are more likely to target. The idea behind keyword gap analysis is to find a list of relevant keywords that your competitors are already targeting and ranking for.
It will be almost impossible to determine the keywords your competition is ranking for without an effective tool like BiQ Rank Intelligence.
BiQ's Rank Intelligence provides you with enough critical data to discover the content gap between your website and your competitors. This makes it one of the most impactful strategies to help you narrow the gap between your content and that of a well-performing competitor.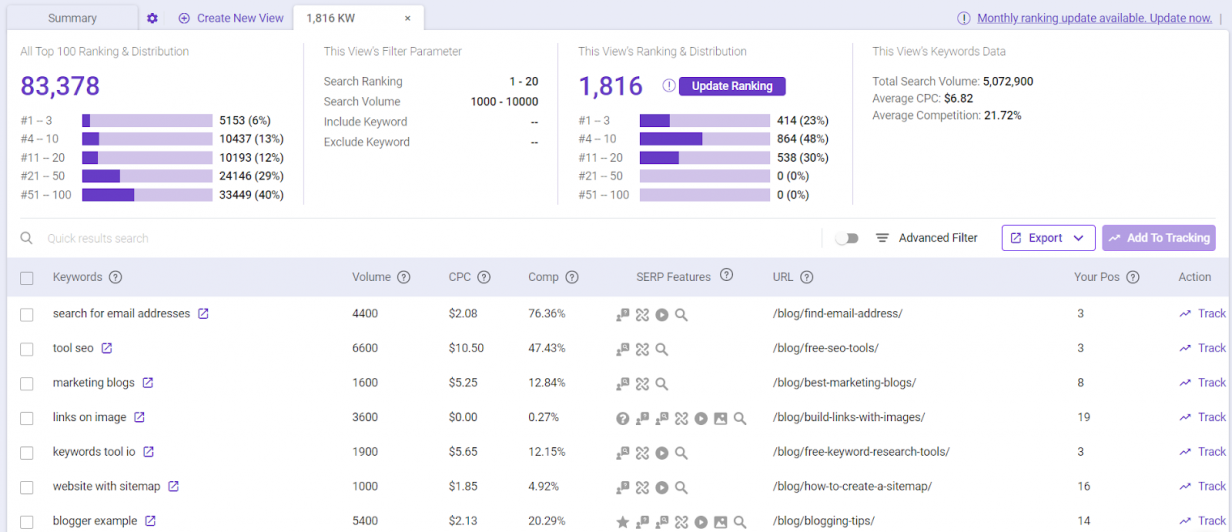 Admitting that your competitors are performing better than you can be difficult to accept. However, this fact allows you to study and know your enemy well enough, thereby giving you a huge advantage.
If you're ranking for both the exact keywords, you'll now know which key phrases rank higher than the others and which ones to keep to boost your overall rankings in the SERPs.
A more focused tool in the area of competitive research would be RankingGap. The tool lets you simultaneously compare up to 5 websites to find out the best keywords. It's the perfect keyword gap analysis tool to capitalize on the keywords your competitors are already ranking for and set them up in your content.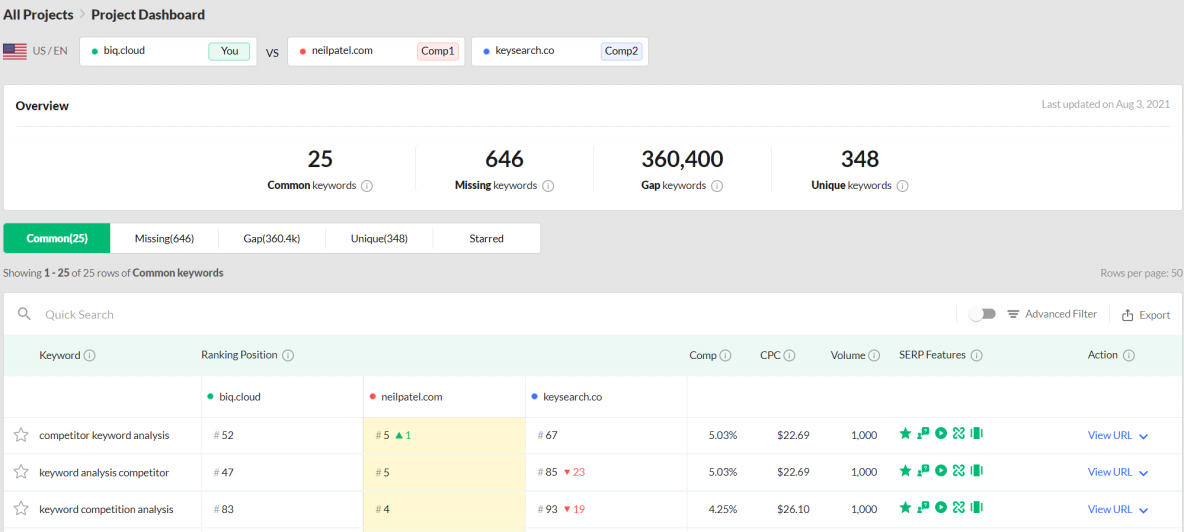 With the keyword gap analysis tool, your competitive research will be much more refined by the Common (keywords that you and your competitors share), Missing (keywords only you don't have), Gap (keywords only some of your competitors rank for), and Unique (keywords only you are ranking for) keyword views.
3. Seek for High Volume, Low-Difficulty Keywords
Ultimately, this should be every content marketer's goal. But the online space isn't that easy, especially for specific keywords and industries.
Using the high volume, low-difficulty keywords approach is one of the most effective strategies you can use for your content. As the name implies, these are keywords with a high monthly search volume. They also aren't too difficult to rank high for in the search engines, making your work relatively easy and straightforward.
You can combine these keywords with other keyword research types to boost your overall rankings and site visibility. For instance, if you are a coffee shop owner, you wouldn't have imagined ranking for "coffee drinkers" or "coffee shop menu."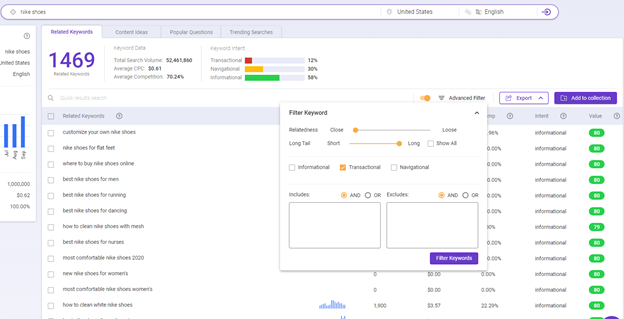 However, it makes more sense to rank for these things if your business is in line with them somehow. Both key phrases have high search volume and are easy to rank for, thus improving your website's rank.
4. Put Importance on High Commercial Intent Keywords
Whenever online users search for anything on a search engine, there's always a specific purpose for the searches. This is referred to as search intent.
Knowing your audience's search intent is crucial for keeping your customers happy and making them stay on your website long enough to purchase. For example, high commercial search intent is a search with an increased likelihood of leading to a product/service purchase.
Therefore, when someone searches for a "burger shop near me." The searcher is likely looking to buy a burger. Now!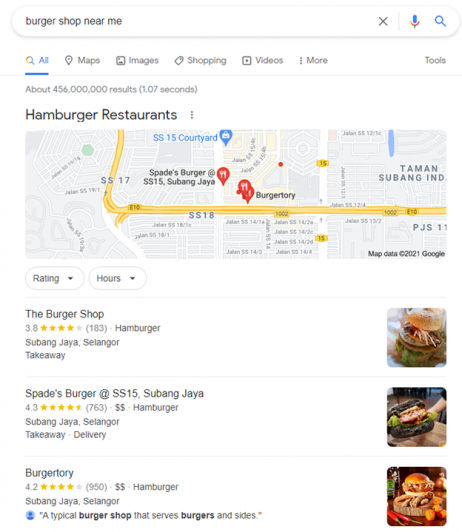 That's why you'll notice Google providing maps in their search results of burger shops near your area. These will show up at the top of the search results page with a list of the best burger shops in a particular location.
Keyword research is especially great for identifying and acquiring more qualified traffic and fast. It's one of the most effective strategies to get your web page to match user intent, thereby improving your chances of converting visitors.
BiQ's Keyword Intelligence will check your keyword's intent by providing you with estimated keyword intent percentages for every keyword you type in the keyword tool. This tool analyzes the total number of related keywords and phrases for your focus keyword and provides their intent.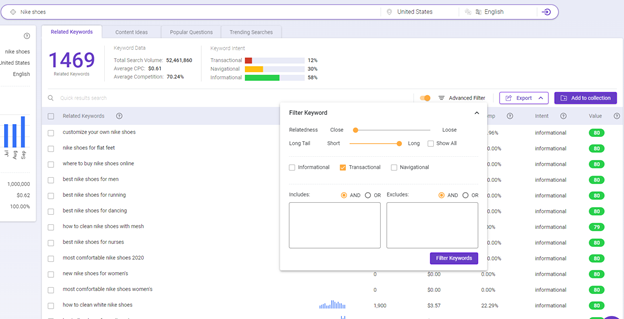 Keywords may have informational, navigational, or transactional intent, based on what the online user is searching for.
This information is crucial for ensuring you provide your target audience with exactly what they're searching for. It's one of the most effective strategies for winning conversions and possibly making sales.
If you're interested to learn more, here's an entire blog about using commercial intent keywords: How to Use Commercial Intent Keywords to Achieve High Conversions
5. Know the Popular Questions Being Asked in the Community
Not every online brand has the budget to hire an expert SEO firm to handle their SEO strategies. If you fall under this category, you can still win by using this SERP keyword strategy.
Search for communities and groups that are related to your niche and industry. Reddit and Quora are usually the top choices here. But you can also find groups on Facebook and LinkedIn.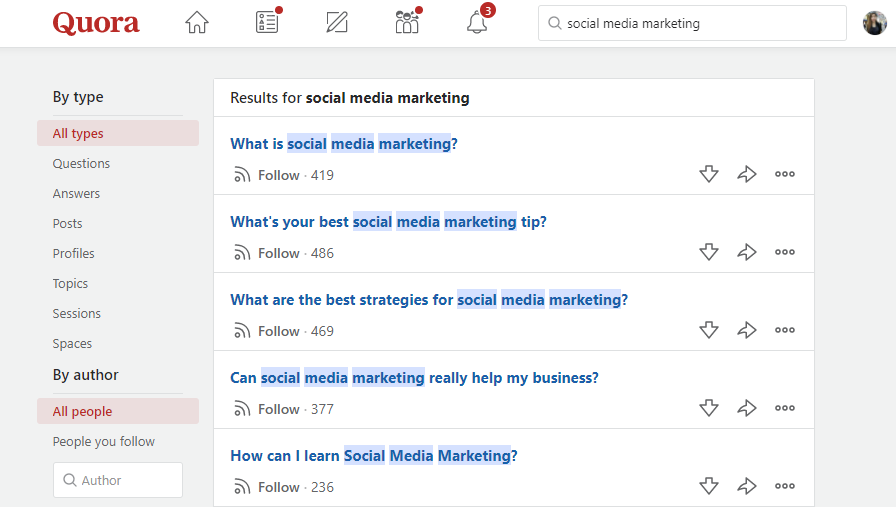 The idea here is to find common questions, pain points, and other issues that your products/services can solve. If you have many people asking questions related to your products/services, you should have a lot of answers for them. It's one of the most effective strategies for boosting content engagement around your products/services.
The best part about this SEO keyword strategy is that it's relatively simple. If people are searching and asking for it, then there's a demand for it. Your job is to provide it.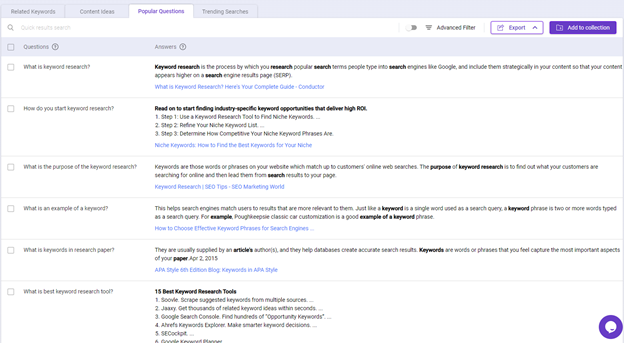 To ease your job, BiQ Keyword Intelligence has a Popular Questions feature that will provide you with a list of questions searchers are likely to ask. This feature shows questions searchers frequently ask in the search engine and how they relate to your keywords.
6. Do a search in the Search Engines
If you get this section right, you will likely rank very well in the search engines. The key is to promote your content strategically by performing intensive keyword research about your topic. It may seem strange to view the search engine as an SEO keyword strategy tool, but the fact is that Google won't treat you as a relevant or authoritative website until someone else does first.
And the only way you can do that is through the search engine.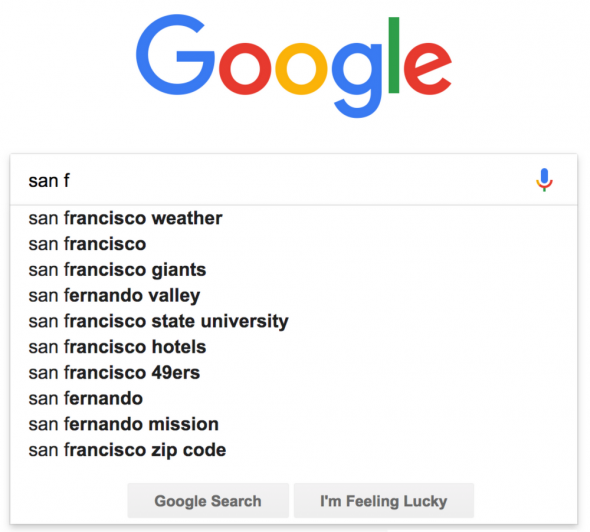 You can do searches that are related to your keyword to determine what results come up and why. It's an excellent strategy for determining why the top-performing websites are where they are and what keyword strategies they used.

Do this Google keyword search right, and you'll have all the data you need to beat your competitors in the SERPs.
7. Use Social Media
Utilizing the power of social media is another critical strategy that will get your content to new heights. The key here is to align your social media efforts to provide more relevant context to your focus keywords.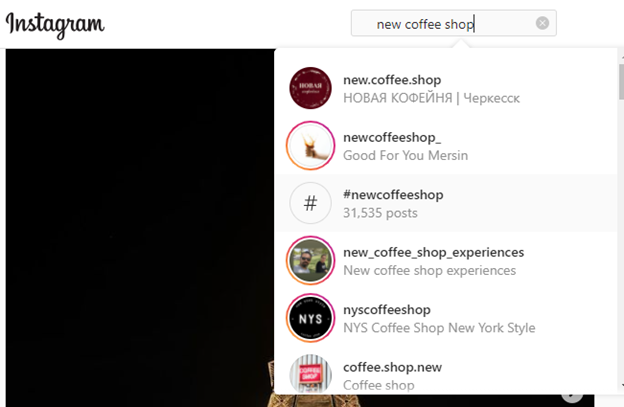 Social media is also an excellent platform to research for high-volume keywords and topics people want to read about. Just like in forums and online communities, people always talk about what they're interested in. Your job is to use social media to determine the best keywords to get your content to the right audience.
Conclusion
There you have it, seven critical keyword research methodologies you can use to boost your website rankings and visibility. There are just too many keyword strategies to do your keyword research. But you can choose to combine multiple methods to get even better results.