Facebook plays a very important role in expanding any business in terms of visibility and traffic. Here are some essential Facebook marketing strategies to use in 2021.
Digital marketers and business owners leverage a wide range of Facebook marketing strategies to engage with customers, reach a new audience, and drive sales.
With more than 2.7 million active monthly users, Facebook is one of the most promising social media channels. Businesses, large and small, are keen to infiltrate this market and get their products or services to as many users as possible.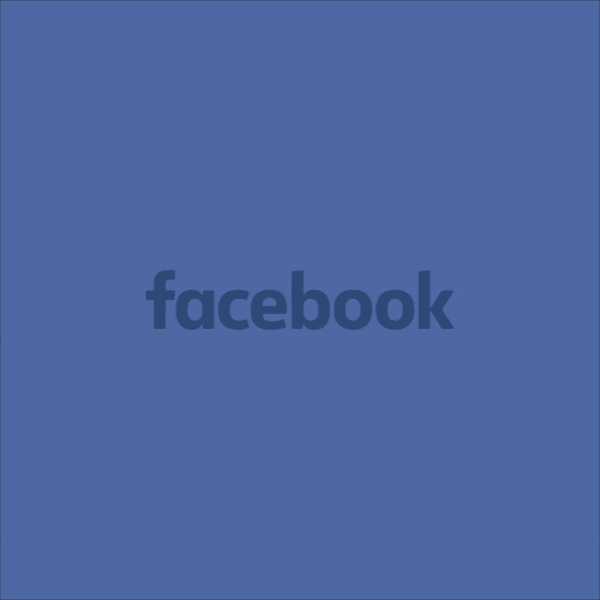 But since Facebook is a social platform meant to bring family and friends together, poor Facebook marketing techniques are likely to be dealt a blow.
Facebook has also been moving more towards user experience; hence, you need the right Facebook marketing strategies to promote your business and reach the target audience. So here's how to use Facebook for marketing.
1. Why Post on Facebook? – Understand your goal
Before using Facebook to run your marketing, the first step is to define your goals.
Every brand, business, or company has some specific objectives, varying from time to time.
If you are to go for Facebook marketing strategies that support your business goals, you'll need to align your marketing to your specific business objectives.
93% of marketers use Facebook advertising to engage their audience/communities, increase brand awareness, or boost sales and lead generation.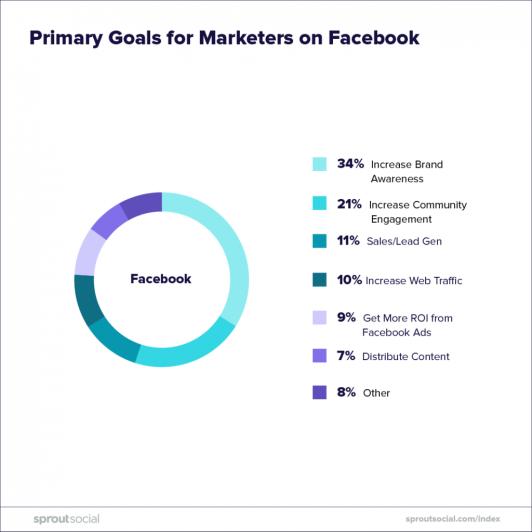 The idea is to develop smart goals that are measurable, attainable, and realistic. If, for example, your company is new to the market, and you want to gain traffic to your site, you'll start with marketing strategies that will boost your online visibility.
You'll then build rapport and foster engagement with your audience before asking them to take action, for example, visit your website, share your posts with their Facebook friends, etc.
To make the most of your Facebook marketing strategies, you should structure your goals. Where possible, state them in descending order, from the most important. This allows for proper prioritization and will give more clarity to your marketing.
2. Define your Facebook Audience
With Facebook marketing, knowing your audience is key to success. Facebook has also made this process relatively simple. Not only will you access the demographics of your Facebook fans, but you can also choose who to target with your marketing campaigns.
Most people will execute their Facebook marketing strategies without regard to whom they are targeting. This results in posts or ads that don't convert – primarily due to poor targeting and low engagement levels.
Whether you are planning to run paid ads or organic posts, Facebook has the option where you can choose whom to target based on the basic demographics.
Metrics such as age, gender, and location will accurately segment your target audience. But before you can use the platform to sort out the people you want to target with your Facebook marketing strategies, you first need to define your ideal audience.
Using the same demographic metrics used by Facebook when defining your audience will make the work easier for you.
However, targeting your audience based on the demographics alone may not consistently deliver the best results, especially if you're considering other Facebook marketing strategies such as paid advertising.
In this case, your Facebook marketing strategies would need to be a bit more specific.
You can do this by narrowing your target market, e.g., defining your audience's interests. For example, if you are running ads, go into the ad settings, then browse the "interests section."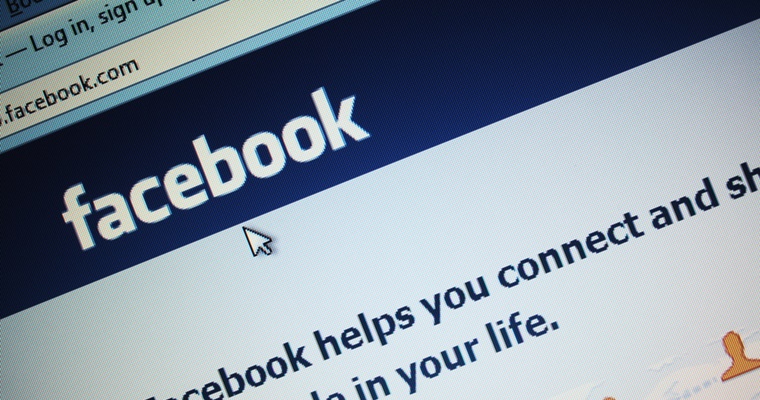 3. Know the best time to post
The most effective Facebook marketing strategies pay keen attention to the small yet significant factors such as the best time of day to post or engage your audience. This is because most people will spend an average of 50 minutes on Facebook each day.
The more accurate your time comes within the audiences' 50-minutes range, the higher the chances they will see your posts and even interact with them.
So how do you know if your target audience is online? Well, it depends on a couple of factors, e.g., the age and occupation of your target audience to the location of your business or prospects.
While this is one of the Facebook marketing strategies that's fairly studied, there are still many disparities in what time marketers should post on Facebook.
These are some of the studies that have been published on this topic:
Hubspot reports that the best time to post is on Thursdays and Fridays from 1 P.M to 2 P.M
CoSchedule recommends posting late into the week or on weekends from 1 to 4 P.M, while
Buzzsumo found that off-peak hours yield the most favorable results.
As you can see, all these stats vary, but each makes sense since they have been tried on a different audience and are pooled from a diverse set of case studies and experiments.
A rule of thumb is to experiment with your target audience before settling on a few good days or times of the day.
4. Plan your content mix
As much as you want to get your brand or business to the target audience, it's always recommended to make your posts valuable and informative. Unfortunately, this is one of the Facebook marketing strategies that business owners and marketers overlook.
Crafting effective Facebook marketing strategies narrows down to understanding your audience's pain points and finding the most suitable way to show them that you've got the solution and that you're the right person to fix their problems.
But these people won't trust you if they don't know you or value your business. It would be best if you gave the audience more value by informing and educating them more often. It doesn't need to be anything special, provided your intentions are clear.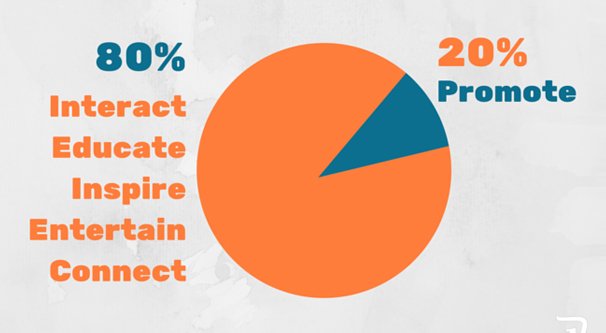 Once the audience has known your brand and is comfortable consuming your products or services, you can push in a few promotional contents to get them to take a specific action.
To make this even easier, you can use the 80/20 rule, which means 80% of your post to educate and inform your audience while the remaining 20% to promote your business.
The 80/20 rule is a universal success rule and one of the essential Facebook marketing tips that will help you stay relevant and within the context of your marketing objectives.
Remember, Facebook marketing strategies that are more value-centric yield better results than those that are utterly promotional. With valuable posts, you are more likely to attract prospects that will hang with you for the long haul.
5. Optimize your Facebook Page for Engagement
For Facebook marketing strategies to work, your Facebook page should be well-optimized and visible to your audience.
This means completing all the details on your page, adding relevant and attractive images, and posting content that's relevant and engaging.
The best Facebook marketing strategies focus on the quality of content, the form of delivery, and its impact on the target audience.
Below are some tips you use to enrich your Facebook marketing strategies and make your posts stand out from your competitors:
Tip 1: Use BiQ Keyword Intelligence to choose the right keyword to target
The BiQ Keyword Intelligence will help you gather relevant data about the keyword you want to target, from the search volume, keyword competition, trends to related keywords.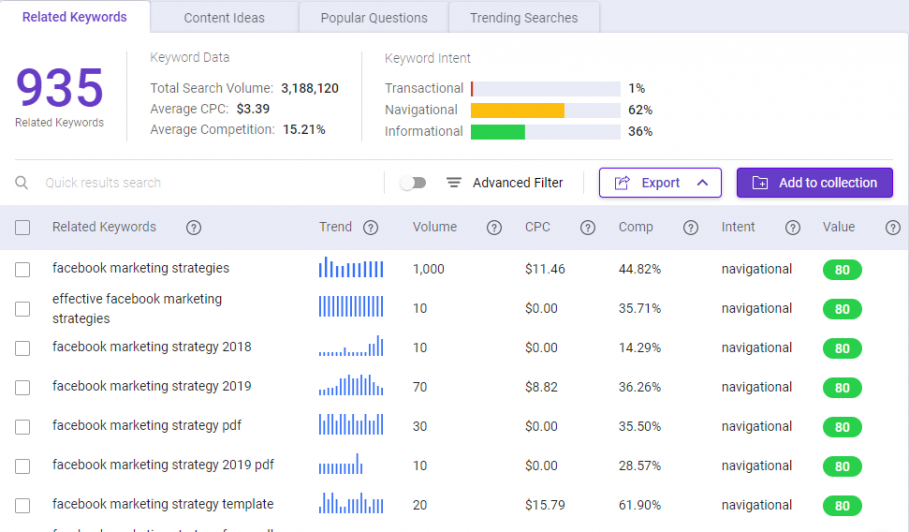 These metrics will better guide your Facebook marketing tactics, so your posts are engaging, informative, and relevant around what the audience wants to see.
Also, doing keyword research around the topic you want to post about will help you communicate better with your prospects and reach a bigger audience.
TIP 2: Use BiQ Content Intelligence to understand what's important to cover about a topic
If you have the keywords you want to target in your Facebook marketing strategies but are not sure of the content to fit into the posts, our BiQ's Content Intelligence will be helpful.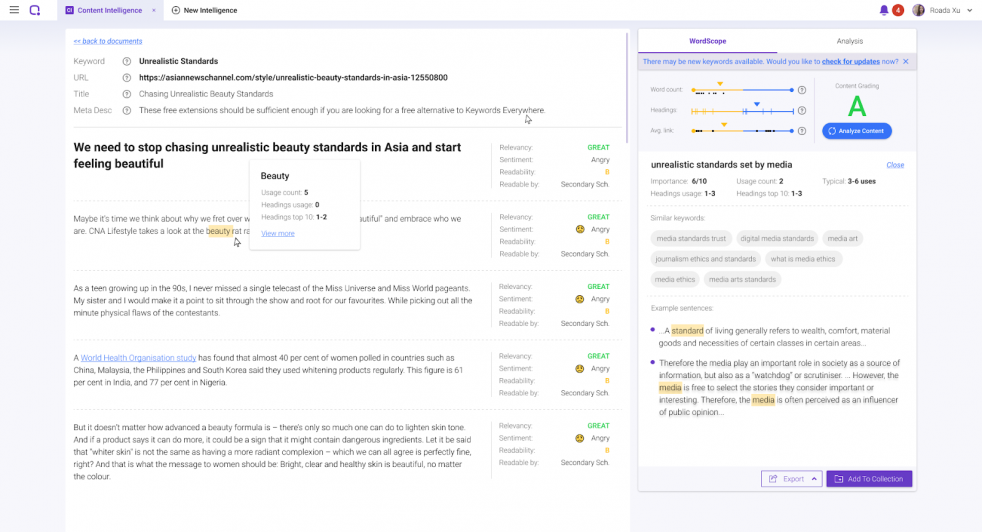 Use this tool to break down the keyword into similar keywords, terms of usage, and example sentences.
This way, your content will be well-optimized, and you'll engage your audience better and get them to interact on your page, share, and like your posts.
6. Create a Facebook Group
To take your Facebook marketing a level further, consider creating a Facebook group to bring your audience together. This is one of the Facebook marketing strategies that most brands and businesses use to build a backlog of loyal followers and potential customers.
The idea is to offer value and let your audience contribute freely to the topics of their interest. Your Facebook group will act as a channel where people help each other, gain knowledge, and refer to you for help.
Here, you'll be helping your audience and, at the same time reminding, them that you're always there for them and ready to help sort their most pressing issues.
For example, our BiQ Facebook group gives users a space to connect and get the latest information about our services.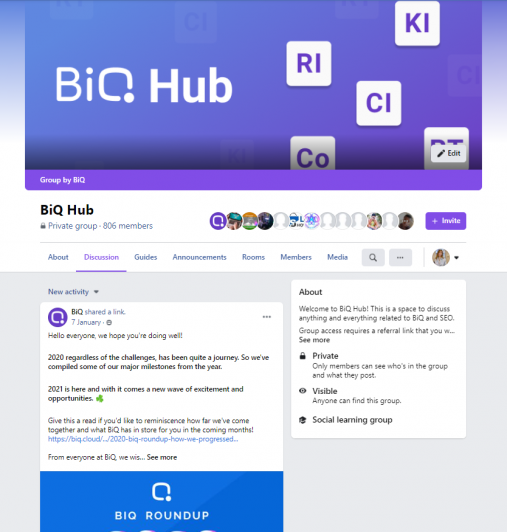 7. Work on Active Engagement
Your Facebook marketing strategies won't make an impact if your posts don't drive an active engagement. One way of making your posts more engaging is to give your audience the option to share their thoughts or give suggestions on a given topic.
Some of the most successful brands incorporate this ingenious technique into their Facebook marketing strategies as a way of getting comments and even soliciting responses from their target audience.
Every engagement with the audience should also be personalized. There are several ways you can personalize the conversation in the feedback/ comments sections. For example:
Refer to your fans/audience by names
Get to know how they are doing before answering their questions
Embrace their diverse thoughts and encourage them to contribute to the conversation
Have a personality to keep
This screenshot from Starbucks' coffee shows how you can engage your audience with a great personality.

Another way to drive engagement is to use Facebook polls. Unlike the other Facebook marketing strategies where you're contributing to the conversation, here, your audience is the center of attention, and they'll surely love it.
8. Factor in Facebook ads Strategy for effective Facebook marketing
If all your Facebook marketing strategies rely on organic posts, then you're only going to reach a limited number of people. This is because Facebook prioritizes posts from the users' inner circle – friends and family.
Research shows that a post's average organic reach is 6% of the page's total likes. This means that Facebook ads should be part of your Facebook marketing strategies.
With Facebook ads, you pay for your content to reach a larger audience, and by doing so, you are increasing the chances of targeting the right group of people.
Targeted Facebook ad campaigns are some of the most effective Facebook marketing strategies used by small and large companies alike. Signing up for a Facebook ad campaign also gives you access to Facebook Pixel.
Facebook pixel is a unique code you place on your site, and you can use it to track conversations, retarget specific audiences, and build a new audience for future ads.
9. Use Facebook Business Manager to Track Your Results
Not all the Facebook marketing strategies you'll come across will work for your specific case. Therefore, it's advisable to track each marketing strategy to see what works and what doesn't.
Facebook offers you a way to manage both paid ads and organic posts. Using this tool, you can track your Facebook marketing strategies, collaborate with teams and marketing agencies.
By keeping track of your posts' performance, you can effectively improve the weak links and even replace your old marketing techniques with any of the Facebook marketing strategies we've discussed.
Conclusion
If you can correctly execute the Facebook marketing strategies above, promoting your brand or business shouldn't be challenging.
When it comes to marketing, you are only as good as your strategies. That said, all these Facebook marketing tips don't work off-the-shelf, meaning you'll need to modify a few things to get the expected results.
Either way, you want to get started with the Facebook marketing strategies that make the most sense to your business, and then keep track of the results as you get along.