Creating a Youtube channel is an essential step for your businesses and should be implemented immediately. Learn the Youtube SEO optimization tips for maximum reach.
Have a Youtube channel but don't see any results? Make sure you have Youtube SEO optimization in place.
Getting started on YouTube can be a daunting experience, especially if it's your first time uploading or promoting a video. But then again, the benefits of being on YouTube far outweigh the challenges. Therefore, you shouldn't let your initial nervousness limit you from investing fully in one of the most powerful online channels the internet has to offer.
Like with other online platforms, YouTube is just perfect for promoting your brand and products/services. As a brand, you probably already have a better understanding of who your target audience is and the products/services they'll likely find value from your video content.
The best part about using YouTube SEO is that it's very easy to set. The entire process is quite simple and straightforward. Do this right, and you'll start realizing quick wins using the platform.
What Is YouTube SEO?
It probably seems weird viewing YouTube as another search engine platform like Google or Bing. But when you think about it for a second, it actually makes a lot of sense. Specifically, if you view it as a search engine for videos.
YouTube is also driven by a search bar that's somewhat similar to Google's video search results. However, as its own search engine, YouTube SEO optimization has its own SEO best practices.
Put simply; YouTube SEO is the process of optimizing your videos and YouTube channels to rank high in YouTube's search results for a given query. With that, we compiled this comprehensive list of how to rank YouTube videos fast.
These YouTube SEO best practices should help to kickstart your YouTube channel and bring more traffic your way:
Learn How to Get Your YouTube Videos Seen In 5 Steps
When applied correctly, YouTube video content can reinforce your marketing and branding efforts. YouTube SEO optimization is also one of the best marketing strategies to entertain, educate, and connect with your audiences.
However, to truly make the most of this video content opportunity, you must implement these five steps into your content optimization process.
1. Define Your Goals
Before you do anything else, we advise that you consider what you are hoping to achieve from your YouTube video. This strategy will help you decide the best videos to create and share with your target audience. You will also understand your target audience better, thereby establishing a strong connection with them.
For instance, if you run an SEO service, then your audience will most likely be content marketers and advertisers looking to start or boost their YouTube presence. Therefore, posting "how-to" guides and tutorials on your channels is an excellent strategy to get your audience to click on your video to see what content you've got for them.
It's also vital to keep in mind your reasons for starting the YouTube channel to begin with. Perhaps you're looking to spread the word about your brand or its mission to boost awareness. Or maybe you're looking to increase your product/service sales and use your YouTube channel to boost client engagement.
Generally, having a clear objective of your intentions with your YouTube channel means you'll be better positioned to create optimized content your target audience will want to associate with. And by association, we mean subscribing to, commenting on, or sharing your video on their social media platforms.
The secret is to focus on useful, highly informative, interesting, and engaging content that your audience can relate to.
Therefore, you want your video content to be about something you're an expert in, so your viewers can see you as a trusted and reliable resource for information.
2. Create Your YouTube Channel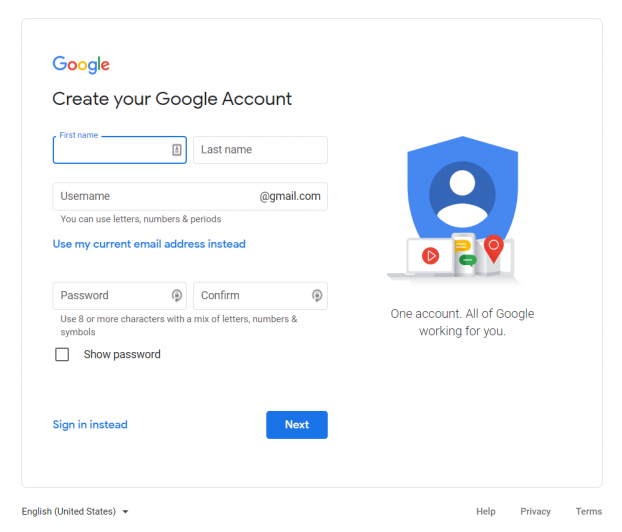 To start a YouTube channel, you must first have a Google account. Content marketers can create a new Google account or use an existing one to start using the service.
Once you've created a Google account or logged in using an existing one, you'll be prompted to name your channel. It's always best to use your brand or business name, as it will be more recognizable. Your business name is what will define your presence on YouTube. It will also make it easier for your audience to find you.
Remember, inasmuch as YouTube is its own search engine, it's powered by Google, the world's largest search engine. Therefore, it's crucial that you consider specifically how your audience would search to find your business offers.
After identifying your business name, you'll be prompted to the Terms and Conditions page. Once you've read all the terms and agreed to them, you'll officially be a proud owner of a new YouTube channel. Now, here's where the real work starts.
You can do a little housekeeping and system tweaking before you begin promoting your new channel. After all, you'll be looking to make the best first impression on your audience.
BiQ Cloud is a brand that has established itself as a leader in content creation and optimization and uploads regular videos on YouTube to help marketers better understand their traffic, leads, and content engagement.
3. YouTube Channel Icon and Art
Your YouTube channel icon is basically your profile picture on the YouTube platform.
To make your channel more recognizable, you'll want to upload your brand's official logo. However, if you don't have a logo, then it's best practice to use a high-quality image that professionally represents the brand.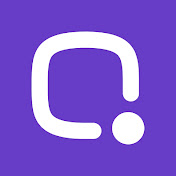 You can also help your YouTube channel stand out from the crowd by using a customized channel art. Fortunately, YouTube offers a great walkthrough process for this, complete with the recommended dimensions and how the channel art will display across different devices.
However, you must remember to be mindful of the channel art you choose. We recommend using a simple art design or pattern consistent with your business's branding or an image that accurately represents the business.
Another important note is that your channel art will appear differently across different devices. Therefore, your job is to test how it looks across different devices and ensure that everything looks good.
4. Fill in the About Section
This section provides you with an opportunity to advertise yourself to your audience. Tell people who you are and what you do, where they can find you, and how they can get in touch with you or your business.
The about section is perhaps one of the most important aspects of your YouTube channel. So, use it sparingly and pay attention to the content you use in this section.
It's also wise to link all your other social networks in this section to allow your subscribers to follow you on multiple channels. Ensure that you include the link to your official company website as well, so people can connect easily with you and possibly sign up for your mailing list.
Of course, you must also ensure you're using the correct image size in the about section to prevent distortions or cropped image sizes.
5. Begin Creating and Uploading Videos
So, you've finally completed all of the steps above and are finally ready to start creating awesome video content for your audience. This is where the fun part begins.
Hopefully, you've already gathered all your gear and are ready to start shooting some interesting video footage about your brand or product/service. If you don't have the recording equipment you'd like to use for your video shoots lying around, you can always improvise.
Todays' smartphones have incredibly powerful cameras and can take high-quality videos that your audience finds very useful.
You also want to portray confidence in your content creation and have fun while shooting the videos. Remember, the greatest videos are the ones with good energy. You can feel the energy coursing through your veins as you shoot. Your audience will be able to feel it, too, while watching your video.
If you're not having fun shooting your video, they'll probably also not have fun watching it. YouTube also offers some great built-in editing tools to help polish your videos before publishing.
YouTube SEO Optimization for Maximum Reach
Just like you'd want to get your websites in the top spots in the SERPs, you'll also want your YouTube videos to rank higher up on YouTube's SERP. However, it might take a while before you can rank high up on YouTube SERPs.
Our job is to make it easier for you. We've created some strategies you can use to improve your content visibility on YouTube:
1. Optimize Your Description, Title, and Tags
Do you know how Google encourages you always to optimize your headlines and titles for written content? Well, the same applies to YouTube.
It's also best practice to include your target keyword in your video title. This allows your audience to immediately know what your content is about and how they can benefit from your video. Be clear and precise about the message you intend to pass across in your video.
The same is also true when optimizing your tags.
Tagging in YouTube allows you to include relevant keywords and other content below your videos. This also helps your videos to get more views and possibly subscribers and content shares.
BiQ Content Intelligence is one of the best online SEO tools you can use to check whether your video titles and taglines are optimized or not. You can also use BiQ Content Intelligence features to craft tags and headlines that are super-relevant to your topic. This tool provides you with the perfect opportunity to use LSI keywords related to your target keyword.
BiQ Content Intelligence allows you to draft the best headlines and tags to ensure your videos are SEO-friendly and optimized for YouTube. That's what makes it a critical tool to use when creating your YouTube videos.
2. YouTube Keyword Research
For YouTube, keyword usage is a bit different from what you're used to on other search engines like Google or Bing.
SEO experts like Brian Dean recommend using Google to search for different keywords related to your video content. Then see if any of the keywords you find can bring your video results.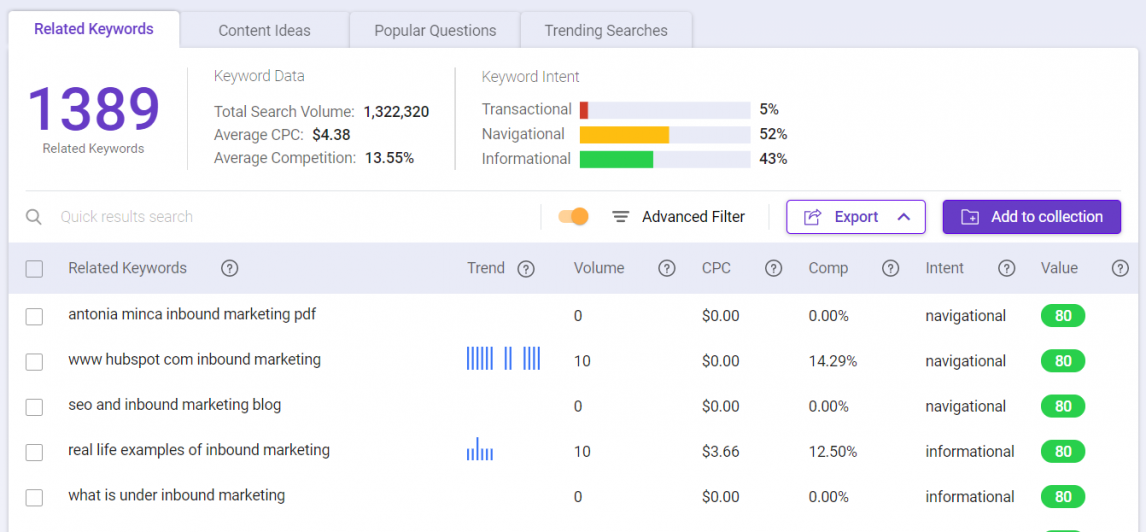 BiQ Keyword Intelligence can also help you check how many monthly searches your keywords get on YouTube. Along with a detailed keyword list, The tool also provides you data for:
Keyword volume
Cost per click
Competition
Keyword Trend
Search Intent
As a general rule of thumb, the video keywords you select should have hundreds of monthly searches. The Keyword Analyzer feature in BiQ's Keyword Intelligence also allows you to sort your keywords such that you'll have high-volume keywords with low competition at the top of your list.
Just like you would perform keyword research for written SEO processes, you should do the same for your YouTube SEO.
3. Focus on User Experience and Engagement
Your website user engagement and experience is another critical feature you should monitor and track closely after publishing your posts.
YouTube offers nine engagement reports aimed at helping users to measure their videos' overall performance. You'll want detailed insight into data like subscriber reports, share reports, etc. These metrics will help you perfect your YouTube SEO optimization and observe better practices to improve your current results.
4. Say Your Target Keyword in Your Video

Here's one effective tip straight from YouTube itself. When writing the content you want to use in your video, ensure you sprinkle your target keyword in there as appropriate. Remember, you don't want your keywords to sound as if they're forced. Your audience can easily notice this, which won't work well in your favor.
It could also result in higher rankings for that target keyword as YouTube bots almost immediately crawl it from your video.
5. Use Compelling Thumbnails
While your video thumbnail isn't necessarily a ranking factor YouTube uses directly, this doesn't make it any less relevant. A compelling video thumbnail can have a huge impact on your YouTube SEO. For one, it will lead to more clicks, meaning better SEO.
A compelling thumbnail tells your audience what your video is really about, thereby allowing them the opportunity to know what to expect from it.
6. Use Playlists
Yes! YouTube channel owners can also create playlists for their audiences. Your viewers aren't the only ones with this powerful feature on YouTube.
Building keyword-rich playlists for your viewers is another great way to strengthen your video SEO. Not to mention, it will also get you more search traffic and engagement with your video content. While using playlists might seem like a small tactic, it can significantly increase your view time and retention.
7. Promote Your Video
The concept here should be relatively simple. After publishing a masterpiece content, your next task will be to promote it throughout your social networks. Send it to your friends and family members to share with their friends who will share it with their friends.
You want to get as many people as possible out there knowing about your video. Utilize channels like Facebook, LinkedIn, Quora, etc., to promote your content.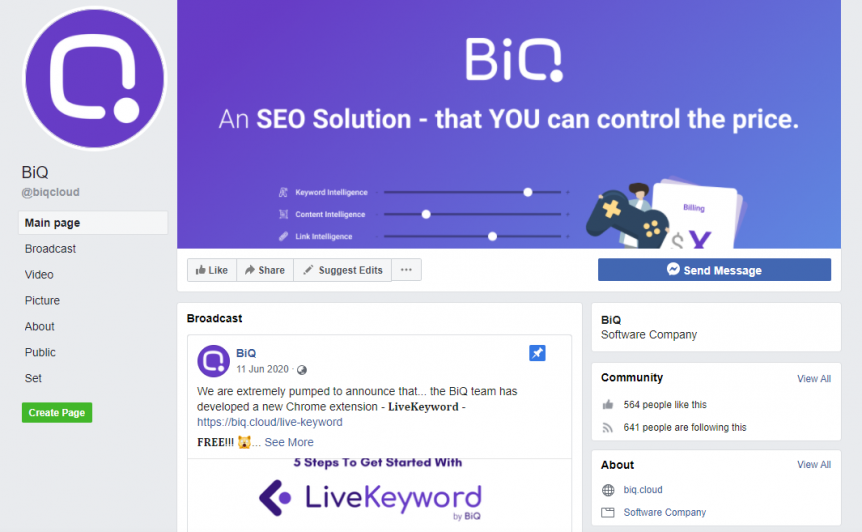 BiQ's Facebook Page provides users with some amazing video and content promotion ideas you could benefit from.
Conclusion
Creating a successful YouTube SEO channel isn't rocket science. You can easily start your own YouTube channel today in a matter of minutes. The best part about the process is that you don't need to break the bank to make great videos. A good smartphone camera will do.
The best YouTube channels stand out because of their unique value proposition. You have to go the extra mile to create video content that people love. Offer them something unique and give them a reason to see more of your posts and interact with your videos.