Here are the top 8 content marketing trends you need to watch out for in 2022.
Here are the top 8 content marketing trends you need to watch out for in 2022.
Content marketing is just one aspect of your digital marketing strategy. But it has come a long way with regards to broadening the horizon of marketers. It has gotten to a point where it's not enough anymore just to write and create content.
When you write, it must be for a purpose. Your content must have some relevance and meaning to the target audience.
However, writing alone isn't enough, especially with the way people consume content today because…
Content marketing trends are ever-changing and evolving.
In an industry as fast-paced, the only way to stay ahead of the competition is to keep an eye on the relevant content marketing trends.
Whether you are a marketer or business owner who needs an overview of the new changes in content marketing, this post will keep you updated on what to keep an eye on in 2022. 
8 Important Content Marketing Trends You Can't Ignore in 2022
How is content marketing going to change in 2022? 
Let's discuss the biggest content marketing trends we're going to see in 2022:
Trend #1: The Augmented Reality (AR)
AR is poised to increase significantly in 2022 and the future. 
Studies even show that by 2022, there will be an estimated 3.5 billion mobile AR users worldwide. This represents about 44% of the population and about 18 billion in projected revenues from Augmented Reality ads in social media.
But what exactly is augmented reality?
This is the overlay of information to the real world. AR basically allows users to see virtual information or items while looking at real things.
Marketers can take their branding materials like brochures or print ads to the next level by adding a virtual component.
How?
Here is an example:
By 2022, marketers should expect AR's prevalence to increase. Some marketers are already grasping the opportunity to capitalize on this content marketing strategy and stay on top of the competition. It would be wise to jump on this train too.
Why?
AR makes it possible for your customers to see a demo of your product and feel like they're actually using the product. Done well, you will help in convincing them that your product is the best fit.
Other than that, you can also increase engagement with your customer by allowing them to interact with the product, or creating interactive games.
As a content marketer, it's crucial that you capitalize on user-generated content now when you still can.
The advantages of using content that has already been created by your customers are numerous. For one, and perhaps the most obvious one, businesses get a break from the pressures of producing their own content.
UGC also allows businesses to show their products and services to consumers in a more authentic light. The brand will feel more relatable and less sales-y.
GoPro uses Instagram to source and shares its users' photos and videos worldwide using its camera.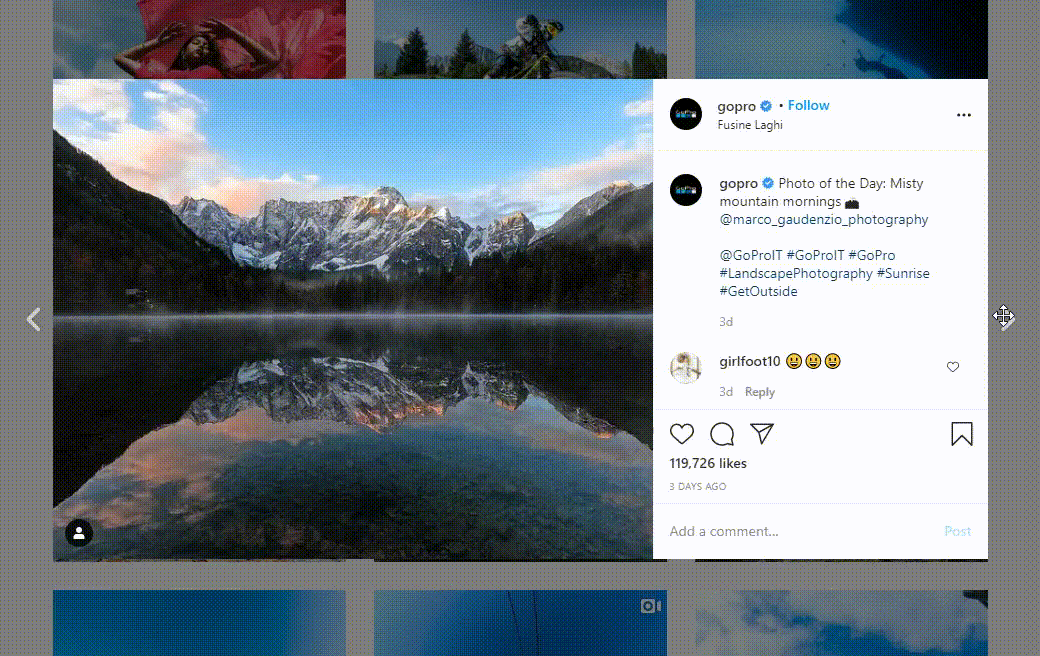 This UGC campaign lets GoPro show off its capabilities while engaging with its community of users.
Additionally, users will appreciate you for featuring their creations and ideas on your company's channels.
This makes user-generated content one of the most effective content marketing strategies to lock down going into 2022.
According to a recent study, 79% of consumers find UGC to be more influential than brand content when making purchasing decisions.
UGC not only engages your target audience more, but it also allows you to deliver more content with less time and resources. Therefore, be sure to tap into your marketing community and industry for ideas and pieces.
Determine what inspires your consumers to share content and how you can engage them to create and share more user-generated content for your content marketing campaign.
Ensure you make this a part of your content planning process for 2022 for the most effective marketing campaign.
Trend #3: Social Commerce
Since they came into existence, social media platforms have become hugely dynamic and a force to reckon with in digital marketing.
With constant technological changes, feature advancements, and utility evolution, social media delivers one of the most ingenious and superior consumer experiences.
Similarly, consumer demands are always changing and are just as volatile, making it even more difficult for businesses and social media platforms to cope with them. Customers are always looking for the best one-stop-shop, where they can satisfy all their browsing and shopping needs.
Currently, social media is the counter-mechanism that satisfies these needs through its integration of shopping experiences. This is where social commerce comes into the picture.
Social commerce uses networking websites as vehicles to promote and sell products and services.
Here are some of the interesting stats I found on social commerce: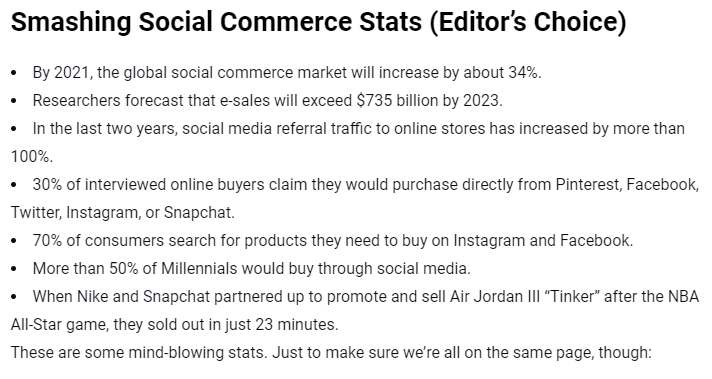 Social commerce is a much-needed element that all businesses must adopt. It shortens the consumer's journey of researching, finding, evaluating, comparing, and purchasing products from different websites and web pages.
When applied effectively, social commerce can easily convert a consumer's point-of-inspiration into a point-of-sale, allowing users to buy products in real-time with fewer clicks through social media.
Instagram's checkout allows users to buy your products without leaving the app. You just need to tap on the product, and you will proceed to payment.
Source: Instagram
It's as simple as that!
Trend #4: Short-Form Video
One of the most significant content marketing trends in 2022 that we are observing is for marketers to invest in creating short-form videos.
This content marketing trend is enjoying a favorable environment thanks largely to the rise of TikTok. Other social media platforms like Instagram have also been forcing video creators to stick to one minute or less since 2016.
While this may sound somewhat "dictatorial," instant gratification is actually nice and one thing that content consumers really appreciate. Short videos provide just that.
Depending on what you are saying or doing in the video, if you want your audience to stick around, you may need to end it almost after it begins.
Creating short-form videos that engage consumers depends more on knowing what works. Remember, not all videos will qualify as great.
It should be something your clientele isn't ready to spend more time on. You want to get them intrigued by the video but just give them a taste of what you are really "selling" in a fun and more engaging way.
Here are some types of content you can create:
Product tutorial – teach viewers how to use your product
Behind-the-scene clips – go behind the scenes and let viewers see how a product is made
Testimonials and interviews – get your existing customers to speak for you
Teasers – short teaser videos make viewers feel curious and want to know more about what's coming next
BTS, the world's biggest boy band, releases a 29 seconds teaser of its new song releases, Dynamite, a few days before the official music video releases:
The song later topped the Billboard Hot 100 for two consecutive weeks. It helps to create buzz and build anticipation of your products.
Be sure to study which topics work best for your videos and website. Which topics resonate well with your audience? Which content gets the most traffic and shares? These are the ideas you must implement in your short-form video.
Look at BiQ's Keyword Intelligence to get general ideas of the current trending topics relevant to your industry.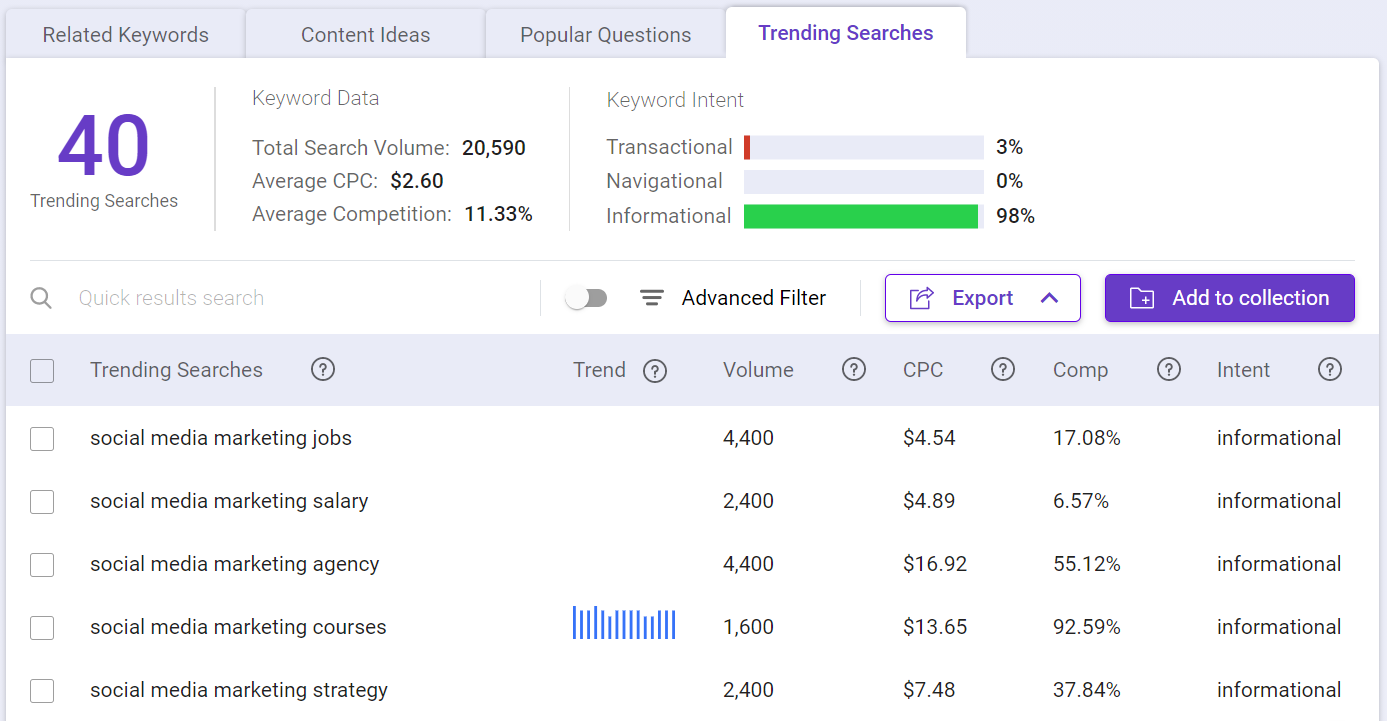 Check out the search volume to guide you on which topic has a demand in the market.

From here, you can start to create your short-form video that your audience will want to stick around and watch.
Trend #5: Podcasts
Podcasts have become increasingly popular in recent years. Today, they are one of the most widely regarded and most effective content marketing trends available.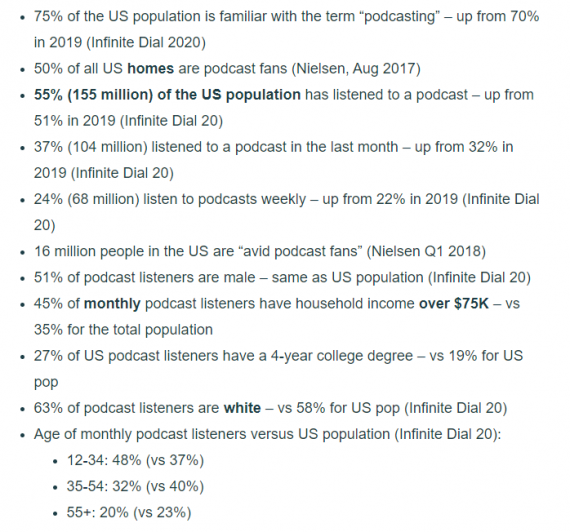 Podcasts are pretty convenient too; not just because they are informative, but because they provide consumers with relevant information about your business while on the go. People like listening to podcasts when taking walks, driving, or taking the bus to work.
The best thing about podcasts is that they can be about literary anything: sports, books, entertainment, history, and industries and events related to them.
They clearly have the potential to promote massive brand visibility and engage your customer base. That's a feature every business would 'kill' for.
Don't just create podcasts for the sake of it.
This tool should be used to share meaningful and valuable materials that resonate with your audience. Also, ensure that the content you share is relevant to your brand and contributes toward meeting your brand objectives. Think of it as a modern equivalent to guest blogging.
You may also consider turning your top-performing content into a podcast. It will save you time from creating from scratch.
Use BiQ's Rank Intelligence to discover your high-ranking content. See the content that is ranking on the first page with a decent search volume.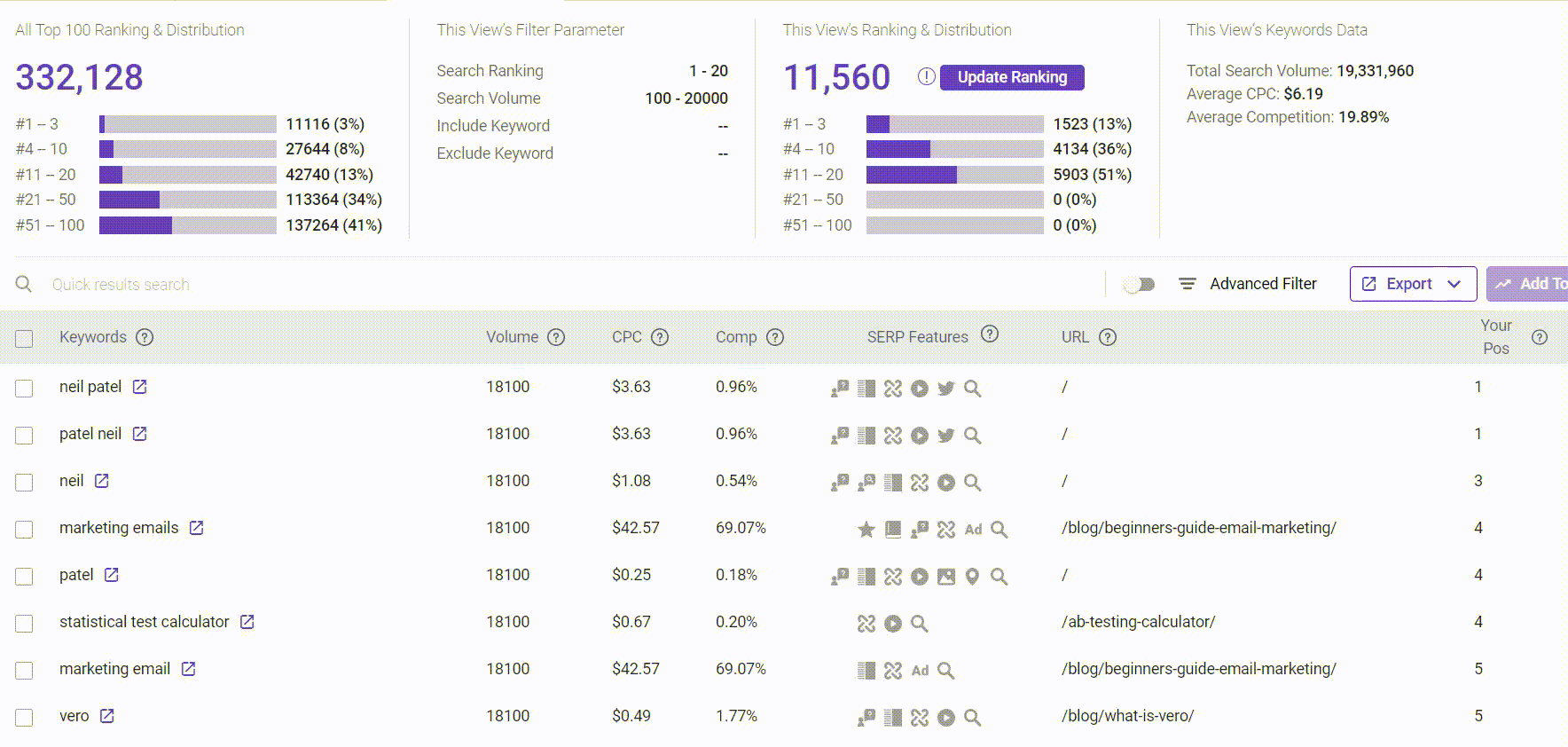 Once you identify the content, it's time to turn the content into a podcast.
The best part?
You can see which content is ranking for which keyword in the search engine. It means people found the content through that specific keyword. So be sure to optimize your podcast for that keyword.

Trend #6: More Live Streams
Live video streams also tick the list of the most effective digital marketing trends for 2022. 
Live streams have become more popular with the continued advancement of technological devices. This trend owes its popularity to social media platforms that rank as the most effective digital marketing trend.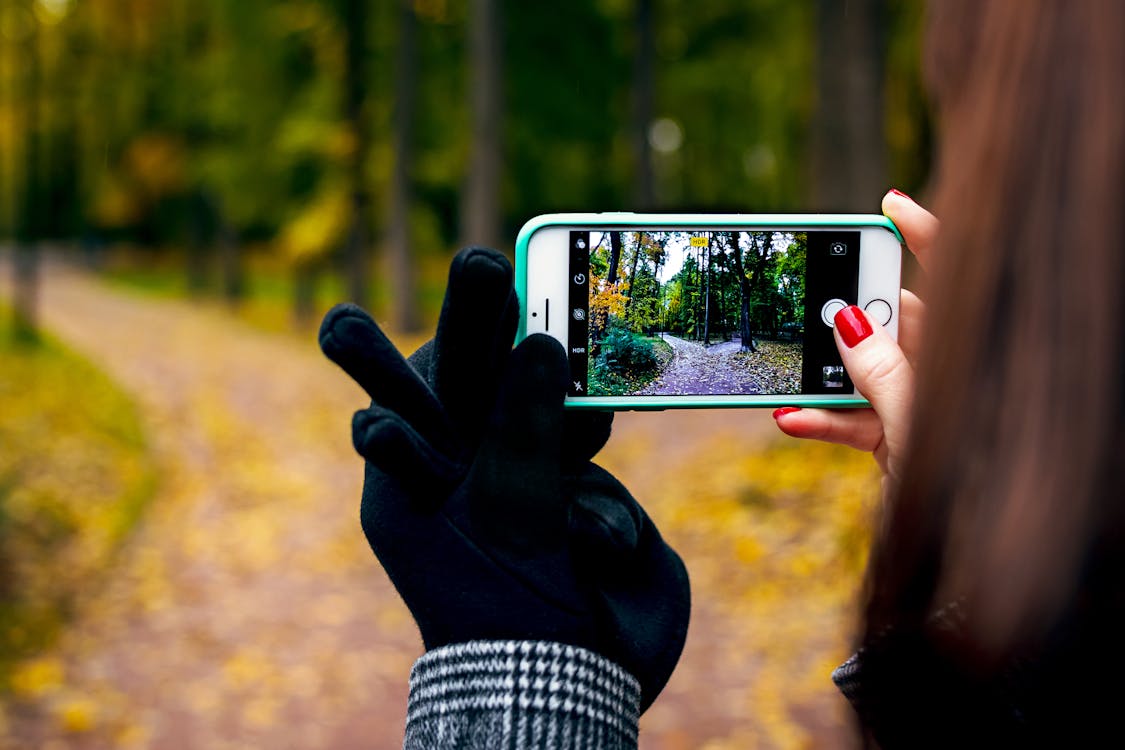 Live streams enable businesses to connect with their consumers directly and in real-time. This allows your company to show its so-called human side and prove that you are much more than just a name.
People always feel more attracted to and want to engage more with businesses that genuinely care about them.
There are no scripts with live streams, which enables more natural conversations between businesses and consumers.
They can be in Q&A forms where people ask questions and you, the business, respond, and vice versa. You can also organize a stream of presentations, events, announcements, behind-the-scenes glimpse, etc.
It also helps to create a list of questions before starting a live stream. You may find popular questions that are related to your topics in Keyword Intelligence.


You may see each question comes with its answer. This helps you cut the time off since you can directly get the answer in the tool.
Social media platforms take precedence with live streams as platforms like Facebook and Instagram live have integrated live streaming services.
Also, ensure you choose your time slot wisely to allow your audience to engage with your content more effectively.
The next content marketing trends would definitely be familiar with.
Trend #7: Dynamic Content
Dynamic content changes regularly to suit the customer's behaviors, preferences, buying habits, etc.
In dynamic marketing, the texts and pictures always vary depending on the customer segmentation. And the result is a more personalized experience for the consumer.
This makes customer interaction with the business more interactive and engaging.
The key feature of dynamic marketing is that it doesn't just suggest products and services in the ballpark of what the consumer may be interested in. It also offers other direct recommendations.
Marketing agencies do this using data they collect from consumers. Your marketing campaign will rely on this heavily to deliver content that matches your user's desires.
Your primary objective here is to try and push your consumers closer to making purchases, and dynamic content plays a critical role in seeing this through.
Check out Keyword Intelligence's keyword analyzer to learn the different user intent behind every keyword. This will help you better understand the buyer's journey. Thus, providing relevant content to different stages.

For example, a keyword with 'informational' intent looking for more information on a certain topic.
So instead of bombarding them with promotional content, you could provide them informational content such as a how-to guide, or a useful checklist.

Trend #8: Messaging Apps on Social Networks
Mobile messaging apps have taken the application world by storm as some of the most popular mobile messaging apps like Facebook Messenger, WhatsApp, and Snapchat record an unprecedented number of users.
Businesses can expect this trend to continue into 2022 as these messaging apps continue to thrive and provide several new opportunities and challenges for content marketers. And the price: billions of active monthly users, including Generation Z and Millennial consumers.
With over 3 billion consumers spending several hours every day sharing emotions and texts on these messaging apps, you must consider how they will impact your content strategy.
As marketers, you must have known how important is one-to-one marketing since it gives a better response than one-to-many.
Direct messaging allows marketers to personalize their messages and make their audience feels more connected to them.
For example, using chatbots allow you to customize your messages in response to the choices that your audience clicks.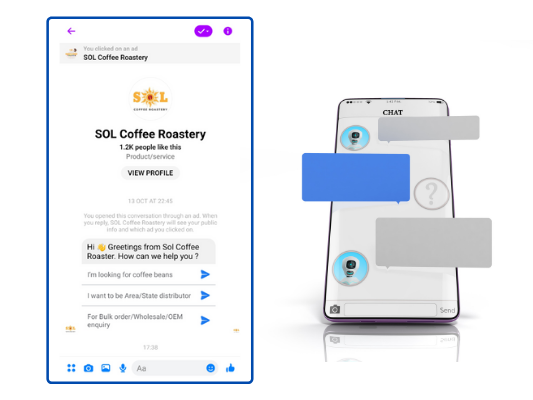 Chatfuel, a chatbot creation platform, reported that high-quality chatbot conversations are getting between 80 to 90% response rate.
"Obviously, numbers vary across the board - and better bot experiences with more engaged audiences are getting 80-90% response rates. While even the least favorable experiences are in the 35-40% range." 
- Dmitriy Kachin, Chatfuel 
It is also important to compare the risks of staying in the social dark when your competitors are pursuing messaging apps in their content strategy.
If anything, the over 3 billion potential consumers who spend several hours on these mobile messaging apps should be a motivating factor.
The Bottom Line
When it comes to content marketing, 2022 and the coming years will be full of stiff competition. But you can get an edge over the competition by staying up to date on the content marketing trends.
You may want to sit down and revise your content marketing strategy. Go through the trends in this article and identify which are relevant to your business.
Would you like to add to this list of content marketing trends in 2022? Drop them in the comments.