Ranking on the SERP, and generating traffic and sales isn't just simply creating a website for your business. There's a strategy, and that is to get your competitor's keywords for your website.
You spent hours researching content your customers would love.
You've crafted a perfect post and published it. Then, you felt the disappointment…
You got beaten by your competitors.
They outranked you, stole your customers, and beating you in sales. However, it doesn't have to be that way…
You can prevent it by performing competitor keyword research.
Competitor keyword analysis will help you understand your competitors better. You'll learn about why they're beating you and ways to overcome it
You'll discover the strategies that work, rank higher, and boost sales.
What Is Competitive Keyword Analysis?
Competitive keyword research works by reverse-engineering your competitors' success.
It'll help you see their strategies and what keywords they target.
You can then understand why they're beating you, make necessary changes and improve your strategy.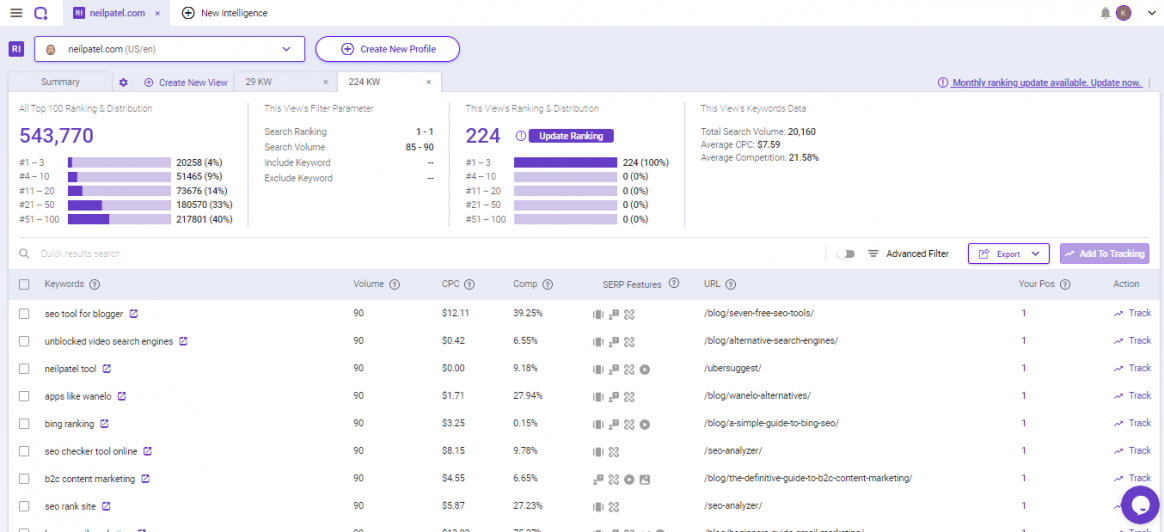 In BiQ's Rank Intelligence, you get to discover all the top-ranking keywords that your competitor has, take them, and use it in your own content.
What Can a Good Competitor Keyword Analysis Give You?
There are three great competitor keyword research benefits:
Increase your traffic – discover high-performing content ideas from your competitors and drive more traffic
Steal profiting keywords – target the keywords that drive the most sales
Rank higher – fill in the content gaps, establish yourself as an authority, and rank higher
Competitor keyword analysis will skyrocket your SEO, make your business more profitable, and help you rank higher.
Learn how to do it properly with these 5 tips below.
How To Do A Competitor Analysis
What Is The Best SEO Tool For Competitor Site Analysis?
You can't do a competitor analysis without proper SEO tools. However, which one should you pick?
We've compared the three of the best competitor keyword research tools.
1. BiQ Cloud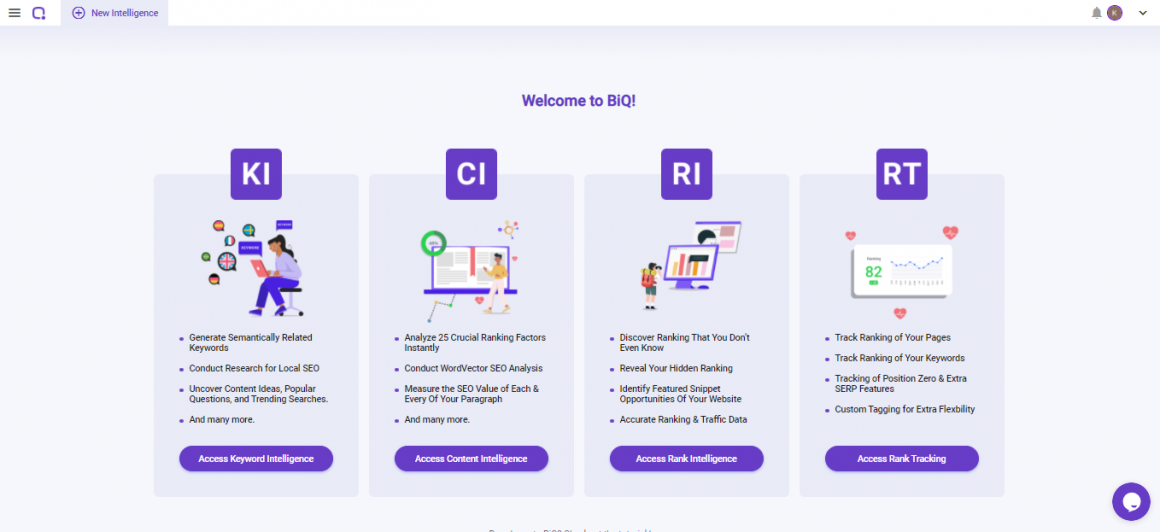 The number one tool for competitor analysis on our list.
Whether you're a big company or a start-up, this tool won't disappoint you. The top features of BiQ Cloud include:
Excellent customer service
AI-driven content intelligence for content improvements
Deep keyword research and rank tracking
The cons of BiQ Cloud are:
It's not as intuitive
Relatively new in the market
This tool combines a large database with AI for the best results. It's one of the best tools for competitor analysis. The best thing about it?
It's highly affordable.
You pay only for what you use. You don't need to pay for all the fancy features you don't use.
It's the only tool that provides that much flexibility. It can be a game-changer for your business if you give it a shot.
You can learn more about BiQ Cloud here.
2. SEM Rush
The most popular and versatile tool for SEO. The top features of SEMRush are:
The largest keyword database in the world
Great pay-per-click planning
Precise site audits that reveal and explain every issue
It's an excellent all-around solution for SEO. However, there are some cons you should be aware of:
The backlink tool doesn't capture all backlinks
Technical issues occur frequently and you aren't able to access the website for hours
Doesn't have an inbuilt SERP analysis feature
The starting price is $99, which is pretty expensive.
3. SpyFu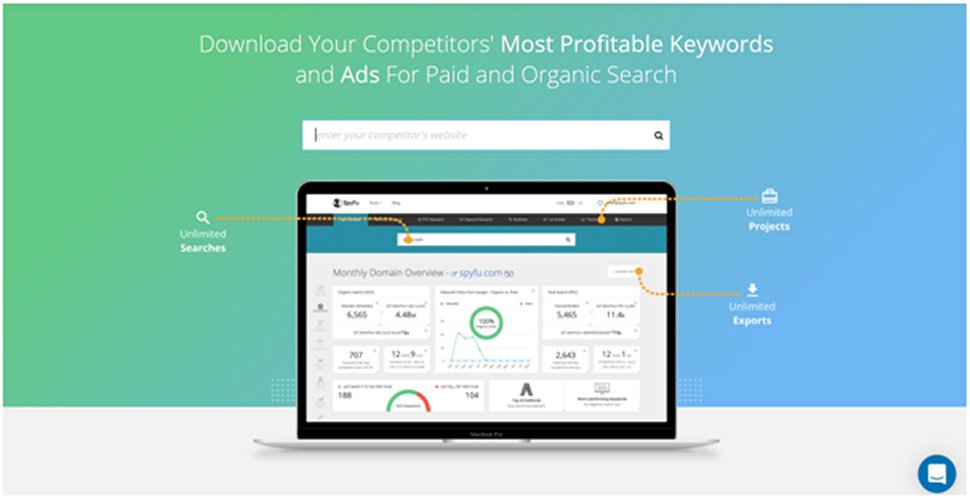 SpyFu is an SEO tool that's built for competitor analysis.
The top features of SpyFu are:
Paid keyword research
Competitive organic search data
Backlink tracking
The cons of SpyFu are:
Difficult to do competitor analysis for a small website with low traffic
Keyword recommendations can be very confusing
A free version is very limited
This tool is similar to SEM Rush, however, it concentrates more on competitor analysis. The starting price is $39, which is much more affordable.
4. RankingGap
RankingGap is a new tool that's specifically built for competitor keyword analysis.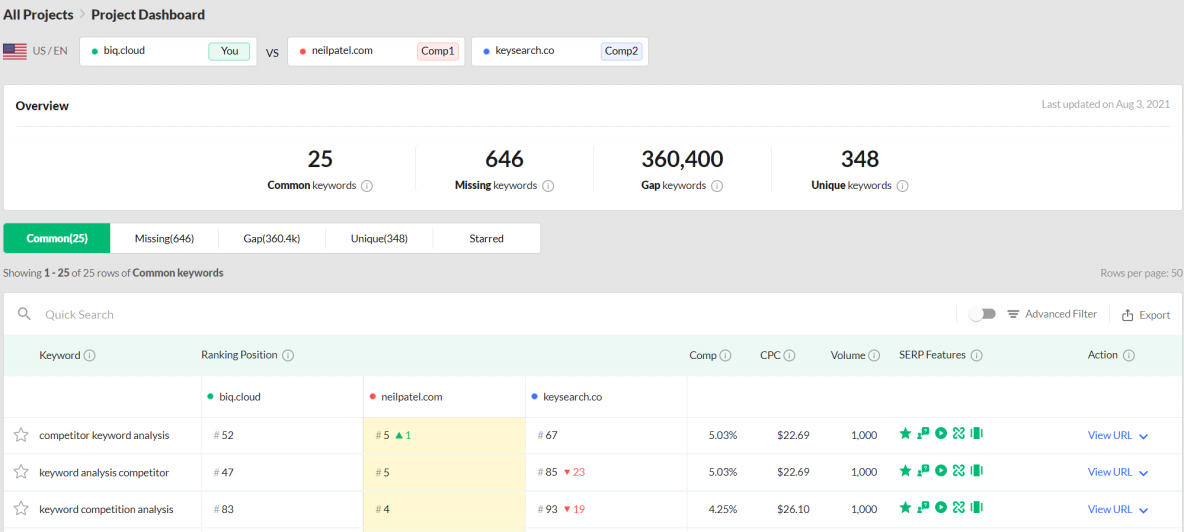 The top features of RankingGap are:
4 keyword views to analyze your competitors' keywords; Common, Missing, Gap, Unique
Star your favorite keywords
View Page URLs and titles you didn't know you rank for
This is a new tool that was recently launched, where the prices are also very affordable.
What Goes Into A Competitor Analysis?
There are 3 stages of competitor analysis.
They'll allow you to identify your competitors, steal their strategies, and rank higher.
We'll be using BiQ Cloud throughout the strategy walkthrough.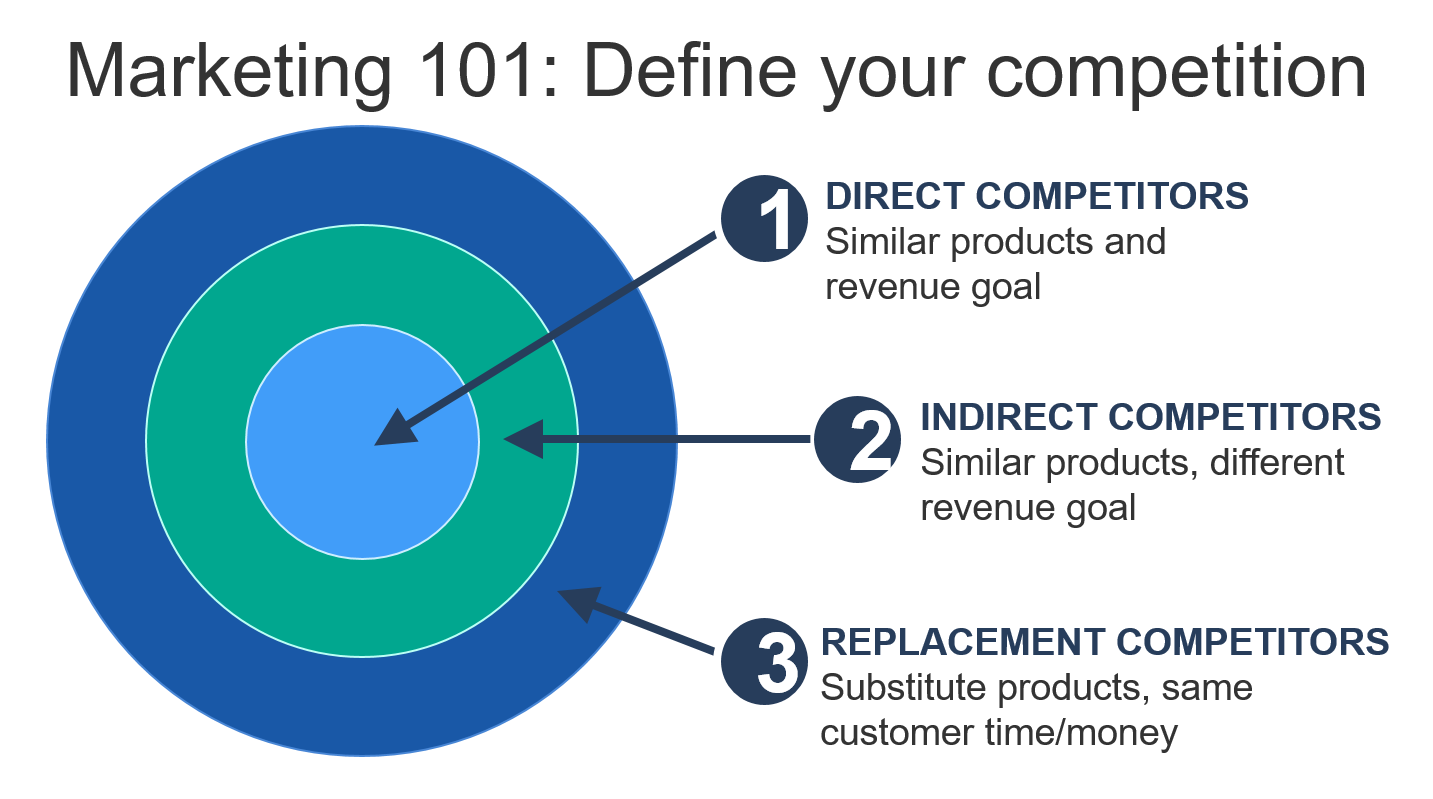 1. Identify your competitors
You must first understand who's your competition. You should divide them into three categories:
Direct competitors – businesses selling a similar product in the same category as you
Example: McDonald's and KFC
Indirect competitors – businesses selling a different product, but in the same category
Example: Pizza Shop and Sandwich shop
They sell something different, but can still satisfy the needs of your customers.
Replacement competitors – businesses selling a different product in a different category
Example: McDonald's and Supermarket
Your customers could decide to spend their money and make homemade burgers, instead of going to McDonald's.
You should focus primarily on your direct competitors. They're your biggest rivals. However, don't ignore the other types.
They can change their tactics and become your direct competitors.
The easiest way to find your competitors is through Google. Pretend you're a potential buyer and try to find your website.
Write down the first 5 competitors that showed up. However, be realistic. It's impossible to compete with sites like Wikipedia when you're starting.
2. Improve your content
You've created a post about the same topic as your competitors, yet they outranked you.
Why?
Studying every word in your competitor's post is impossible. A much better option is to use BiQ Cloud content intelligence.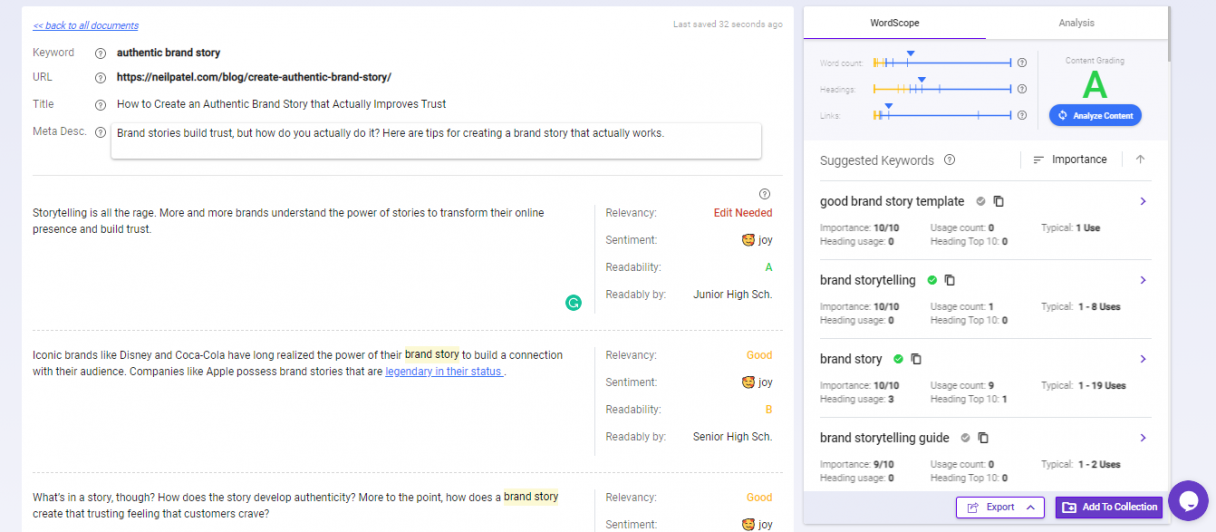 Type in your competitors' post URL into the bar and you'll get a deep analysis of their content. You can then see what's missing, what they do differently, and improve your posts to rank higher.
Find keywords you don't rank for
Go to the BiQ Cloud rank intelligence and type in your competitor's domain. Filter the results to see the keywords they rank for in the top 10 results of Google.
Find the keywords you haven't used in your SEO strategy and create content so you can rank for them.
However, pick each keyword wisely.
What Keywords Do My Competitors Use?
There are four things you should look for in keywords.
They'll help you pick the keywords with the highest ROI and ranking potential.
1. Keyword types
There are two types of keywords.
Short-tail – general, 1 – 2 words, "pizza delivery", "sneakers"
They have a high search volume but are difficult to rank for. The kind of audience who searching for them are at the top of the funnel – they aren't ready to buy.
Long-tail – specific, 3+ words, "white Nike running sneakers"
They tend to have lower search volume and low difficulty. The people searching for them are at the bottom of the funnel.
They know about the product and they're ready to buy.
"The average conversion rate for long-tail keywords is 36%"- Neil Patel
You should start targeting the long-tail keywords. They're much easier to rank for and drive more sales.
2. Search intent
Search intent helps you understand why a person searched for the specific term. There are four types of search intent:
Informational – want to learn something, "Who is…"
Navigational – looking for a specific website, "BiQ Cloud"
Transactional – want to buy a specific product, "Buy MacBook"
Commercial investigation – deciding which product to buy, "Best SEO tools"
Your content should match your readers' intent.
"Optimizing for search intent increased traffic by 3100%." – Moz
You should teach them something new when they have informational intent. However, your content should be different for transactional or commercial investigation intent.
These people are ready to buy if you give them a good reason to.
3. Keyword difficulty
Keyword difficulty tells you how difficult it is to rank for a specific keyword. You can then use this information and decide if it's worth ranking for.
When you're just starting, it's wise to target low-difficulty keywords.
Later, you can move on to the more difficult ones.
4. Traffic volume
The more traffic a keyword has the higher chances of conversion. However, you must match the searcher's intent properly.
Filter the keywords by type, intent, and difficulty. After that, pick the ones with the highest traffic and try to rank for them.
Be careful about one thing though – trends.
Trendy keywords have super high because it's trending, but then they can also suddenly collapse. To avoid mistakenly choosing a once trending keyword with a less than impressive average traffic volume, you can check this and all previous information within seconds with the BiQ Cloud keyword intelligence.
Competitor keyword research has never been easier.
Competitor keyword analysis will help you see why your competitors are beating you. It'll help you rank higher, bring you more customers, and make your business more successful.
Start ranking higher today with BiQ Cloud's here.