Check out these 8 best blogger outreach tools you can use today to build relationships and drive traffic to your website.
Here are the 8 best blogger outreach tools that can skyrocket your traffic.
Looking for ways to boost traffic to your blog?
I know how frustrating it is to write blog posts and see no results. You work like hell, yet there's no improvement, no traffic…
Fortunately, there's a way to fix that.
In fact, Backlinko used the strategy we will talk about today to grow his blog to 300K visitors per month.
The strategy I'm talking about is blogger outreach.
We'll look at how to perform blogger outreach and show you the best blogger outreach tools.
What Is A Blogger Outreach?
Blogger outreach is about putting yourself in front of other bloggers.
The reason to do that?
To connect with other bloggers in your industry, build more backlinks, increase brand awareness and boost traffic and authority.
Blogger outreach consists of five steps.
1. Define Your Goals
If you want to be successful in anything, you must set goals.
In fact, studies reveal that people who set goals perform better than those who don't.
You must ask yourself – what's the point of doing blogger outreach? There can be many reasons such as:
Boost traffic
Improve rankings
Increase brand awareness
And so on…
When you set the goal, it's time to find bloggers for blogger outreach.
2. Find Bloggers To Reach
Okay, now is the time to find bloggers you should reach out to.
The easiest way to do that is by Google search.
Simply type in informational keywords of your niche to Google and look for blogs.
If you're in a weight loss niche, you could do something like this:
It'll easily help you find bloggers for blogger outreach.
3. Reach Out In A Personal Way
The best way to reach out to bloggers?
EMAIL
There's no better way to reach out to other bloggers than emails. It's also super easy. In fact, it can be as simple as this:
This is a blogger outreach email for a guest post.
But, there are also other blogger outreach types such as:
Link request
Share request
Partnerships
The core of the email is the same; you just need to tweak it a little.
4. Track Your Progress
Tracking progress is crucial to know whether the strategy works. Unfortunately, most bloggers fail to do that (because they don't know how).
But, that can lead to poor results.
You may never find what drags you down, don't improve strategy, and never be more successful.
Nevertheless, we'll look at the tools that can help you measure the progress in the next section.
8 Best Blogger Outreach Tools You Must Try
Doing everything manually is very time consuming (and ineffective.)
Instead, there are a few blogger outreach tools that can automate and speed up the whole process.
I'll talk about 8 blogger outreach tools that will help you do just that.
1. BiQ Cloud
BiQ Cloud is an all-in-one SEO toolkit.
It has many features; however, we'll be looking at just two.
Content Intelligence
Rank Tracking
It won't help you find the right bloggers to reach out to, compile email addresses, and send 1000 emails at once.
(You can easily do that manually)
But, it'll help you with something more critical:
Improving content's quality (especially important if you are writing a guest post)
Tracking effectiveness of the strategy
Let's look at these two in more detail.
Content Intelligence
Go to BiQ's Content Intelligence and type in your target keyword. You'll get to a writing editor, as you can see below.
You can see the stats in real-time while you write on the right.
Better still, it gives you a breakdown of your keyword in terms of usage, similar keywords, and example sentences.

They should be the go-to-source that shapes your article as you write. For example, if you're writing about "blogger outreach campaign," you will see similar keywords like "blogger outreach process." In other words, you might want to talk about the blogger outreach process in your content because that's what the audience is interested in too.

You can also switch to Analysis to see SEO-related errors.
Fix every error and strive for "A" content grade and readability.
It'll make your content more pleasurable for the readers and even help you rank higher in the search engine.
Rank Tracking
Go to BiQ's Rank Tracking and create a new profile. You'll have to fill in your website's URL and hit enter.

You'll get an overview, where you can see things such as:
Total items tracked
Today's Rank Movement
Top 5 Keywords with Most Gain
Top 5 Keywords with Losses

At the bottom fold, you will see the list of items that you are tracking together with its pages, tags, SERP features, trend, position, and gain.

To view the pages you are currently tracking, click on the action button of the keyword you are currently tracking.

You will see the pages that are currently tracking for the keyword, as shown in the picture below.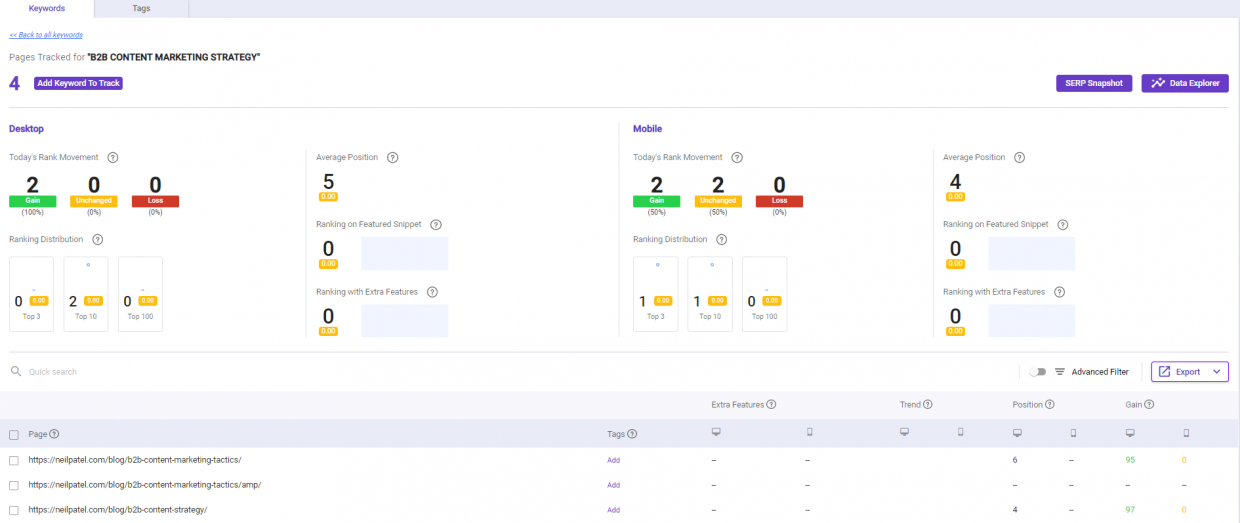 Play around with it and track all the essential keywords.
It's handy if you, for example, create a guest post on another website and want to see what impact it had on your rankings.
BiQ Cloud is an excellent tool that will suit all your needs.
2. Buzzsumo
Buzzsumo is another popular blogger outreach tool.
Unlike BiQ Cloud, it won't help you with improving content and track rankings.
But, it can definitely help you find the right bloggers to connect with.
Find The Right Bloggers
Go to the Find Influencers section and type in the informational keyword of your niche.
(Use broad keywords, not specific ones, e. i. cooking, weight loss)
And Buzzsumo will generate the list:
You can use their Advanced filter to sort the result and show only the most relevant bloggers.
The most important metric to look for is the Number of Retweets.
Bloggers with a high Retweet Ratio are more likely to share your content on their Twitter account.
(Focus on bloggers with a Retweet Ratio of at least 5%).
Find What Works
You found the right bloggers. Now is time for writing content.
Let's say your blogger outreach was successful, and you agreed to write a guest post.
You must produce content that is relevant and successful.
(Or you risk sabotaging the working relationship with other bloggers)
The way to do that is through Buzzsumo's Competitor Intelligence.
It'll help you zero-in on other websites, track their key metrics and things like best marketing channels.
It can also show you what kind of content works.
That way, you can know what type of content you should produce for a guest post to see positive results.
It'll help you produce high-quality content that works.
That can further enhance your chances of working with the blogger in the future.
3. Klear
Klear is one of my favorite blogger outreach tools.
It'll help you to do everything from finding bloggers to measuring the success of your outreach campaign.
Here's how you can Klear:
Finding Bloggers For Blogger Outreach
Finding bloggers has never been easier.
You just need to type in the name of your niche and hit New Search. It'll show you the most popular bloggers in your niche.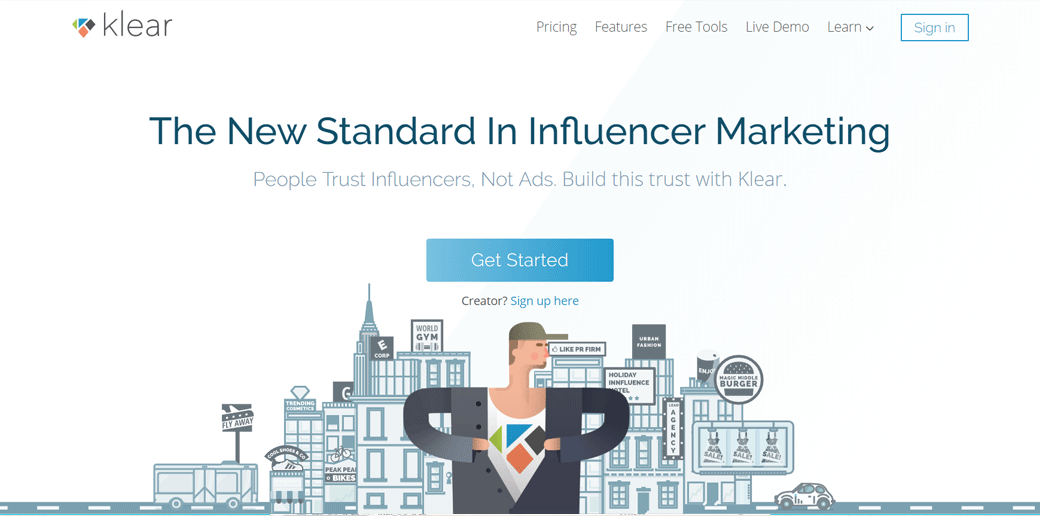 But, what if you aren't satisfied with the results?
Maybe you want to find bloggers with a smaller audience or specify the search further. You can do that with the Filter.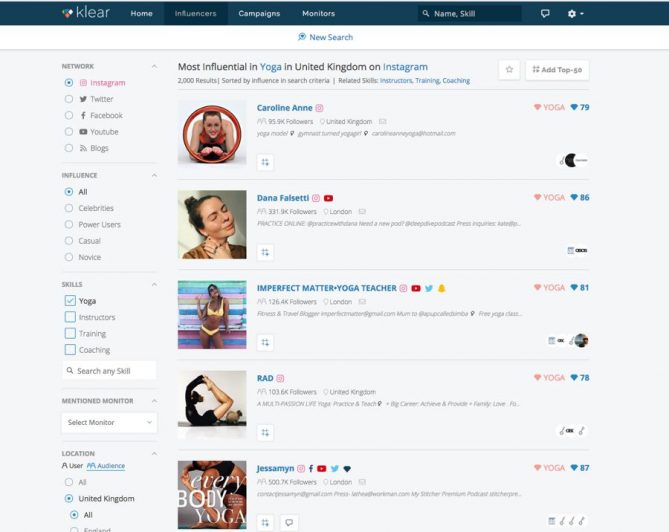 It'll help you list out only the most suitable bloggers to connect with.
Analyze The Bloggers
If you find the right bloggers, it's time to analyze them.
It'll help you get to know them better and see valuable metrics about them and their audience.
You can also get to know their audience better.
If you got the right bloggers with the right audience, it's time for the blogger outreach.
Manage Blogger Campaign
You can easily manage your campaign and see an overview of actions.
You can also take advantage of a handy feature – Connect. It'll help you connect with influencers so they can join your campaign.
They can do that directly from the Klear.
Track Campaign Success
Lastly, it's time to evaluate if everything is working. For instance, it can help you with estimating the outreach campaign's ROI.
You can also automate manual tasks and see all campaign-related content, including Instagram stories and Brand mentions.
4. Ninja Outreach
If you're looking for an email outreach tool, this is it.
Ninja Outreach is designed for blogger outreach and sending scheduled emails, follow-up campaigns, and performing social media outreach.
We'll be looking specifically at these things.
Find Bloggers
First, you need to find the right bloggers you can send emails.
You can easily do that by typing your niche's name into the search and sorting them by followers, domain authority, etc.
You can also use Smart Tags to set the type of content you want to see.
Send Scheduled Emails
If you got a list of the bloggers, it's time to send emails.
You can quickly choose what type of bloggers you want to send emails to in a Schedule a Campaign section.
You can also set the number of emails you want to send a day.
Lastly, you'll need to specify the date and time, and Ninja outreach will send scheduled emails automatically.
You can also set up follow-ups that can automate the process further.
It's a great blogger outreach software that will help you, especially with the email outreach part.
5. PitchBox
Pitchbox will help you do everything from its app.
You don't have to go to Gmail nor perform a manual Google search. You'll have everything on a silver platter right in front of you.
Create a Campaign
Click on the Create Campaign button and select the name of the campaign and related keywords.
(Keywords will be used to find leads in Google)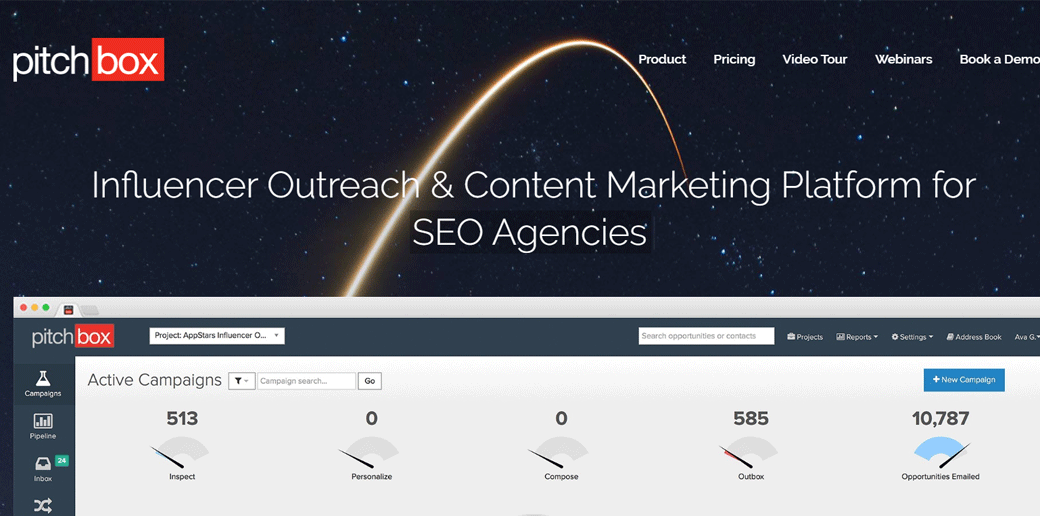 Now is the time to create email templates.
You'll simply type in the name of the campaign, your email, subject line, and the body of the email.
You can also create multiple emails for the follow-ups.
Find The Right Leads
When you're done crafting emails, it's time to find bloggers to send these emails to.
You can do that in the Workflow section of your campaign.
You'll see a list of websites with in-depth stats like Domain Authority, Facebook and Twitter following, etc.
You can click on the specific page to preview it in the Pitchbox.
If it looks like a good fit, you can hit Move to Personalization to add it to your email list.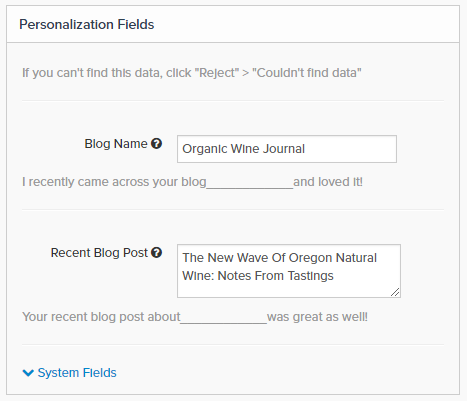 Send Automatic Emails
You can then go to email settings.
You can start sending emails and follow-ups to the websites you added to your list from there.
(Pitchbox automatically identifies email, name, etc.)
If bloggers reply, you can see it in the Email section.
You can read the email, reply, and start working together. You'll also see more details about the bloggers on the right.
Lastly, you can look at the stats, adjust the strategy and improve your blogger outreach strategy.
It's an excellent blogger outreach tool, especially if you're looking for a do-it-all solution.
6. BuzzStream
BuzzStream is considered by many ones of the best blogger outreach tools.
It'll help you with the whole process – from collecting emails to generating reports about the campaigns.
Collect Bloggers
Finding the right bloggers is similar to previous tools.
You'll need to go to the Discovery section, type in the name of your niche and hit search.
You can use the Filter to sort the results.
You can minify the list to only the most suitable bloggers, analyze them further and add them to the database.
Send Effective Emails
It's important to segment the bloggers into smaller groups. It'll allow you to be more specific and send super-personalized emails.
Create and choose the right templates and send personalized emails.
You can also use email scheduling.
See Detailed Report
Lastly, you must also track the effectiveness.
It'll help you see what bloggers are most likely to work with you so that you can concentrate more on them.
You can also see the Relationship stages to monitor how well your campaigns perform.
7. Hunter.io
Every blogger outreach tool specialized in something different.
Hunter.io specializes in finding blogger emails and contact info, so you can easily email them.
How To Find Bloggers Contact Details
Go to Hunter.io and type in the website's name.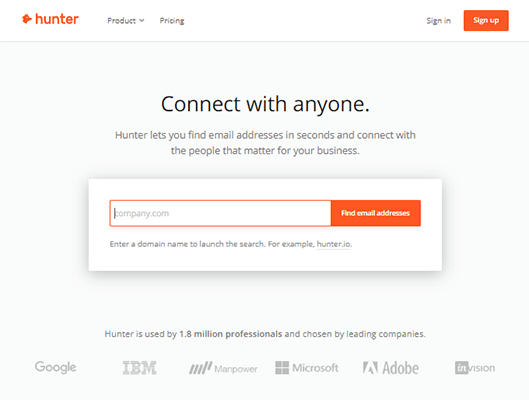 It'll generate a list of emails, and you'll also see the most common email pattern, score, and verification to see if the emails are valid.
You can also do the same from anywhere on the Internet. You just need to download the Hunter.io Chrome extension.
Track Email Campaigns
You can integrate Hunter.io with Gmail and G Suite.
It'll allow you to see whether the bloggers opened the email and notify you when they reply.
All you need to do is install the MailTracker, and you're ready to go.
It can help you send follow-ups or decide what to do with people who took no action.
The best thing about it is that the Gmail extension is free.
Email Templates & Personalization
You can also choose from thousands of high-converting templates.
You just need to go to Hunter.io Templates and pick the one that suits your needs the most.
This will allow you to create super-personalized emails that work. And trust me, personalization is CRUCIAL…
Lastly, you can also schedule emails. This is crucial because it will allow you to send multiple emails at the right time easily.
To set it up, go to Sending Window inside Hunter.io and choose the right days and time.
Hunter.io is a great blogger outreach tool, especially if you're looking to send perfect emails.
8. Snov.io
Snov.io is very similar to Hunter.io
It's cheaper and has a higher Google rating, though. Let's look at the whole workflow and how to use it for blogger outreach.
Email Finder & Verification
Download Snov.io Chrome extension and perform a Google search.
You'll then hit Get Emails By Domain, and you get a list of bloggers that you can use for blogger outreach.
It'll automatically compile everything into a list with personal details.
You can also verify these emails (or upload your email list) and get rid of incorrect emails.
Create Email Campaigns
This is where Snov.io shines.
You can easily create campaigns with follow-ups emails and organize everything in a visually pleasing diagram.
You can also look at the statistics such as sent emails, opened emails, and click-through rate.
Gmail Integration
You can have all of that information directly in Gmail.
It'll allow you to track emails and see whether the recipients opened the emails and the CTR.
It's a great tool that will, similarly to Hunter.io, help you perfect your emails and make your blogger outreach more successful.
Conclusion
Blogger outreach is a great way to boost traffic and authority.
We've talked about 8 best blogger outreach tools that can help you speed up the process and increase success chances.
Every tool specializes in different things – there's no one-fit solution.
Which tools will you try first?
Or did I forget to mention your favorite tool?
Either way, let me know in the comments below right now.