As content marketing becomes dominant, businesses are heavily relying on content intelligence to optimize their marketing strategy. BiQ SEO Suite is your secret of success.
Appearing on the top of the search results is extremely important if you wish to sell a product/service successfully on the Internet, right?

It's the dream for businesses who need a strong online presence (which is everyone). If your site is there to greet searches with great content marketing at the top of the Google search results, you'll get floods of traffic and major visibility.

This is why SEO plays a really important role for anyone who wants to excel online. SEO (Search Engine Optimization) is a process essential for improving your online presence, attracting enormous traffic, and boosting your ranking on the search engine results page.

It is not wrong to say that businesses will need to make use of SEO suites or numerous content intelligence services to effectively work out their marketing strategies. If you are still looking out for the one tool that suits your everyday needs, then you're at the right place, at the right time.

Introducing, BiQ – The world's first SEO Suite that gives you granular cost control.

What is BiQ? How Unique Is It Among Other SEO Suites?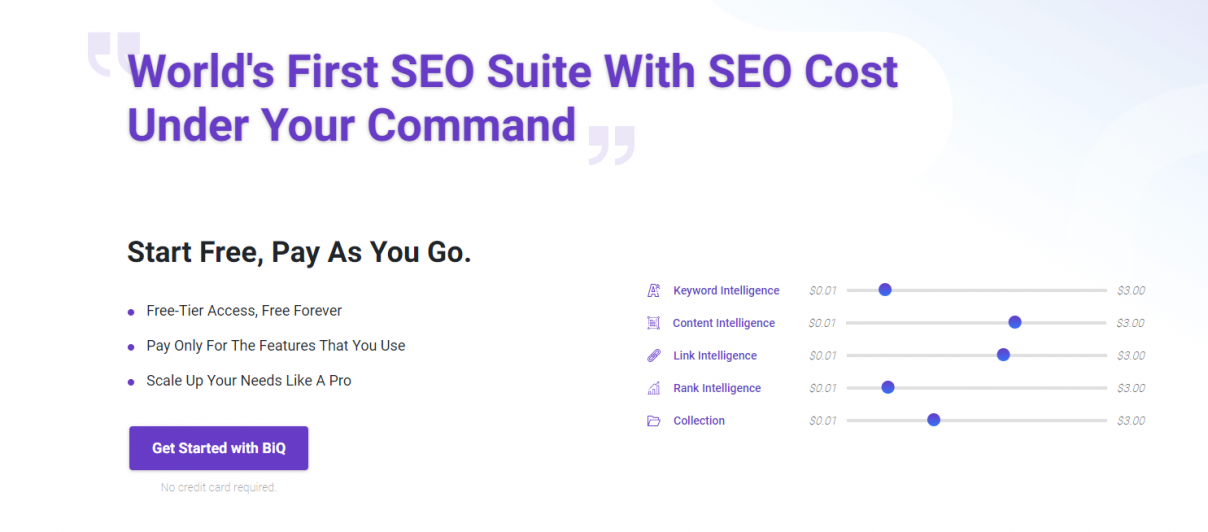 BiQ positions itself rather differently than other conventional SEO tools available in the market. With the tool's intelligent capabilities, you'll never have to worry about having to jump from different tools and paying a high amount for each of them offering different abilities.
Not only can you work on your SEO efficiently, but you'll also be able to pay only for what you use. Yes, BiQ is the world's first SEO suite that puts cost control back in the hands of users. That's cost efficiency done right!
Safe to say, this SEO suite is a saving grace for all small-to-medium businesses, freelancers, and even agencies. The modern-day SEO suite revolves around these features from an SEO perspective –

– Keyword Intelligence
Keyword Intelligence drills the importance of targeting the right keywords based on the searcher's intent for your SEO strategy. The results returned will give you vital information about the keywords you want to target, allowing you to make informed decisions.

– Content Intelligence
Content Intelligence shows you how you can take the guesswork out of marketing by making recommendations for a content strategy based on the integration and advanced analysis of multiple intelligence sources. 

– Rank Intelligence
Rank Intelligence allows you to leverage data for site analysis and uncover opportunities that'll allow expansion and control of your search landscape. The best part is enabling you to discover rankings that you don't even know you stand a chance for.
– Rank Tracking
Rank Tracking gives you objective and accurate insights into how well your website stands on the market. Knowing what keywords you rank for and why your competitors overtake you are critical to gaining the competitive advantage you need to win.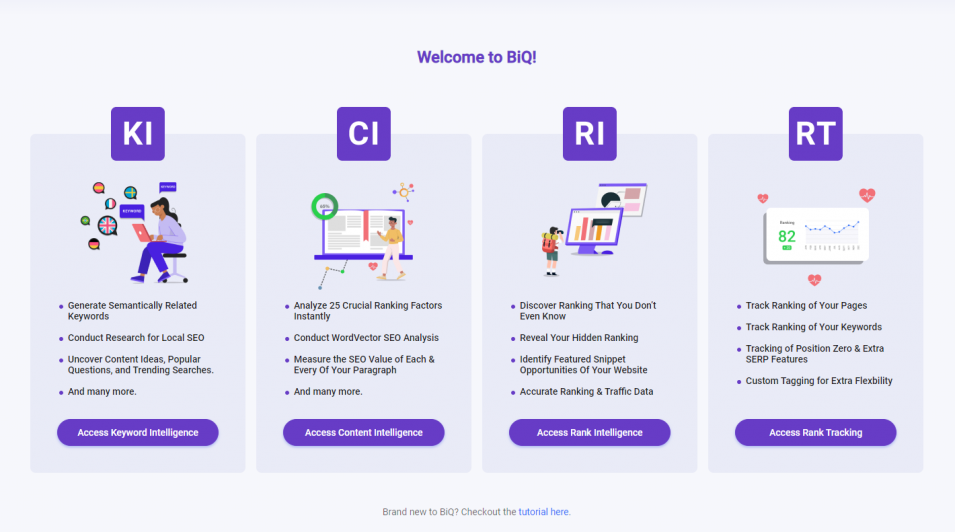 Imagine subscribing to all of these tools individually outside, it'll cost you a fortune, right? No matter how many people you ask, high costs will always be one of the main concerns when doing SEO.

On the other hand, some of you may only need to use one feature but the brand forces you to pay for an entire package that consists of other features you don't even use.

With BiQ, problems like these won't arise. It is an alternative that saves you from paying $200 or $2000 monthly. No more being bounded by the monthly subscriptions for the secondary features you barely use.

Getting all these features yet not having to abide by a costly pre-set subscription plan, nothing gets better than this right?

The best part? You can start using BiQ for free today!

Other features are in the lineup for the next phase so subscribe to BiQ today and stay tuned for more of these wonderful features.

The Power of Content Intelligence in the Year 2021
Pretty sure most of you are aware of this: Artificial Intelligence (AI) has influenced various industries and companies far and wide. There is no doubt that AI, machine learning, and data science have become the most powerful and forward-looking forces in technology over the past decade.

Now, a prominent content strategy, along with artificial intelligence, is highly proficient and provides a good result for content marketers. Businesses can maintain not only quality content but target specific audience as well.

The point is that the path to the top of the SERPs isn't done by manipulating the engine anymore.

It's done by creating quality content. Content intelligence is the tool that marketers needed to really understand how to create the most impactful content at any point in time. Instead of trying to insert a certain number of keywords, writers will be able to just write on a topic based on the keyword instead and let the engine do the rest.

However, although the content is being produced at higher rates, many marketers still struggle to engage readers with their material.
If you are looking to make content entirely focused on your target audience, it's time to let the technology of CI (Content Intelligence) be your patron. Content intelligence in the most basic form can be seen on Google Analytics. Being a vital part of Google Analytics will assist you in measuring the efficiency of your digital marketing strategy while providing you insights into users' data.

Content Intelligence by BiQ is a tool that gives you the exact recommendations for all your content strategies based on their advanced line-by-line analysis. (More on this below)

Why Content Intelligence Now?
AI is opening doors to so many opportunities. In the field of content marketing, the incorporation of content intelligence is inevitable.

Do you know today's content marketing consists of more than 70% of marketers that are investing more in marketing technologies for an improved and further reached result?

The benefits of getting your content optimized for both humans and search engines:

It gives a greater user experience
It helps to generate new customers
It increases customer retention
It magnifies a website's authority and relevance
It improves a website's ranking in search engines
The emergence of hyper-personalized content has crafted new dawn in the field of the content marketing process where the contents are being made with the help of real-time data and artificial intelligence.

Of course, AI can't replace your valuable team of writers. You still need people to create content. However, AI can surely make the process more streamlined and easier for your team.

With the help of AI and the elegant method of optimizing the search engines, you can now effortlessly create a bridge between the audience's needs and the offered content.

Furthermore, the assistance of AI-powered tools allows you to create content strategies that are actually backed by data, not gut instinct, in a fraction of the time and at scale.

At its heart, content intelligence answers the question "What do I need to write next that will maximize engagement with the audience and help the business achieve its goals?"

With that in mind, let's check out how you can make use of BiQ's Content Intelligence for better content optimization!

Up until here, you might ask;

"How can the BiQ SEO Suite make my content better?"

Content Intelligence shows you how you can take the guesswork out of marketing by making recommendations for a content strategy based on the integration and advanced analysis of multiple intelligence sources.

The content intelligence includes features like AI-guided optimization, advanced line-by-line analysis, sentiment analysis, readability rater, content performance tracking; all to better understand your customer's intent and behaviors. 

You can start by entering your target URL and keyword in the search box.


BiQ's Content Intelligence will start to analyze your content and return you with a comprehensive result.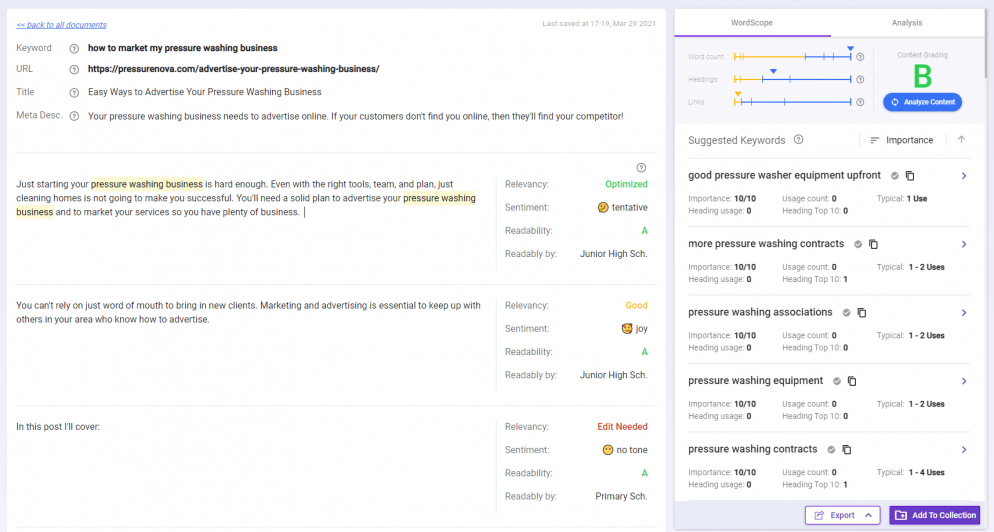 Your results will be shown as seen in the screenshot above. Let's get the basics sorted first, shall we?

At the top of the analysis, you will be presented with your content's Title and Meta Description:

The title is the element that summarizes your content. It serves as a great opportunity to increase click-through rates to your website, so make sure it gives an accurate, concise, and compelling summary of what your content is all about.

The meta description is a short summary of your content found on the web page. It gives you the opportunity to tell what you're offering.

This is how the title and meta description appears on the search result page:


Next, you will see paragraphs separated by a line and their own analysis. Here is a quick breakdown of the analysis:

Relevancy – Shows how relevant this section is to the targeted keyword

Relevancy: Edit needed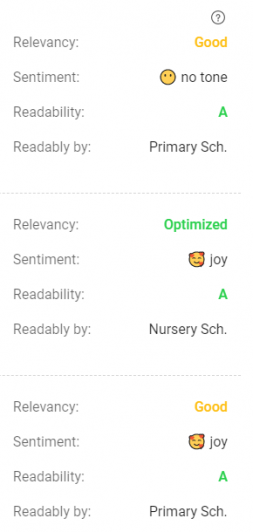 These sections are not relevant to your target keyword. Use more keywords related to your targeted keyword in these sections.

Relevancy: Good

When the Relevancy is Good, it indicates these sections are considered relevant to your target keyword. Use more keywords related to your target keyword in these sections to further improve the relevancy.

Relevancy: Great
Great relevancy value indicates the paragraph is contributing greatly to the overall SEO! These sections are highly relevant to your target keyword, great job!

Sentiment Analysis – Sentiment Analysis is the analysis of someone's emotions behind the words. In simple words, it helps you categorize pieces of writing as positive, neutral, or negative. There are 9 tones present:

Analytical,
Joy,
Fear,
Tentative,
Angry,
Sadness,
Confident,
No tone
Understanding your reader's emotions is essential because it allows you to see what specifically made them react positively or negatively.

Let's take a look at the example below.

Sentiment : Confident

When readers read the paragraph above, they will feel confident. This is because they have proof to support their elaboration.

Sentiment: Analytical
The paragraph is geared towards analytical because it mentioned statistical data at the start of the paragraph.

Such information allows you to produce content that is both relevant and valuable to your readers. If you want to make your readers feel confident about your content, edit them, and make them feel so.

Sentiment analysis will also guide you in building a strong customer experience by avoiding unnecessary emotions in your content.

Other than that, by analyzing what works for your competition, you can identify what strategies are working and see in detail where you can excel and improve.

Analyze the first ranking website, and check what sentiment they are trying to deliver to their readers. What you can do next is – apply the same strategy to your content.

Readability – Tells you how easy it is to read the section. It takes into account the number of syllables in a word and amount of words in a sentence as its base measurement

Readable by – Tells you the education required to understand the content

Word Vector SEO and Fundamental SEO
Hover a little lower and you'll see 3 main tabs: Word Vector and Fundamental
(i) Word Vector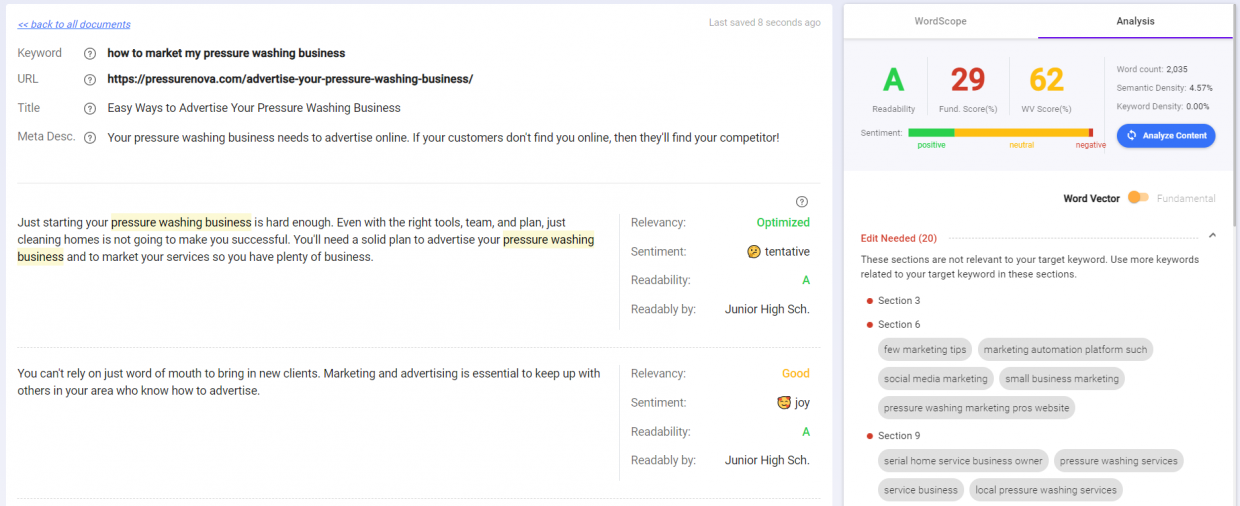 Word Vector is an AI model pre-trained by Google. It is an algorithm that helps Google learn about the relationships between words, based on examples of actual language usage.

BiQ realized the importance of Word Vector in today's SEO world. Thus, BiQ created Word Vector SEO to help you to analyze and improve your content relevance against the top 10 rankings.

Word Vector SEO will analyze your whole content and show you which section of your content needs editing to increase relevancy.

Clicking on any of the "Sections" will automatically lead you to the paragraph that needs your immediate attention. Now you can easily know which paragraph needs more work!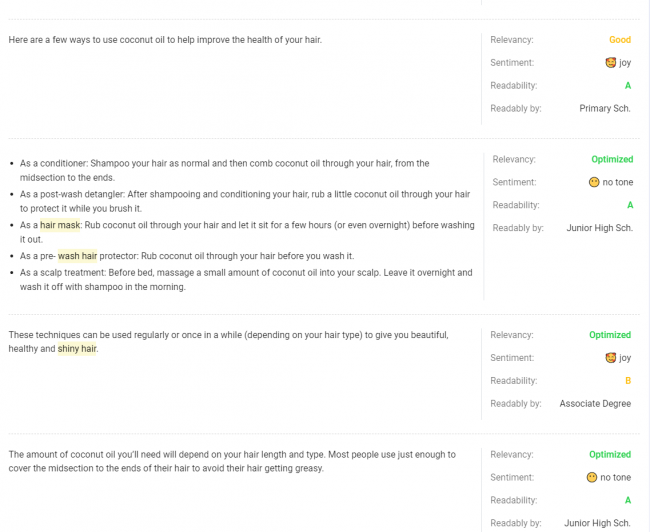 Make sure all the paragraphs are relevant to your target keyword so that you'll have higher chances to rank high on the search engine results page. So, go ahead and optimize those paragraphs that need editing.

(ii) Fundamental SEO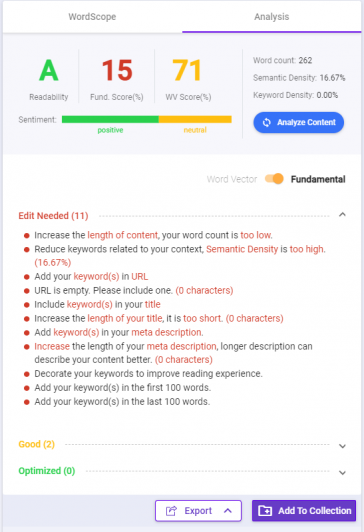 'Fundamental SEO' will look into on-page optimization.

You will be presented with important insights on how many items need your immediate attention or items that need extra precautions to improve your ranking.

In all 3 sections, you'll see the "important", "alerts", and "optimized".

The essential score shows how relevant your content is when compared to the Top 10 results. The higher the SEO score, the better your content is.

"Edit Needed" represents sections that are not relevant to your target keyword. It is advised that you use more keywords related to your target keyword in these sections.
"Good" are sections that are considered relevant to your target keyword. You should use more keywords related to your target keyword in these sections to improve the relevancy.
"Optimized" means these sections are highly relevant to your target keyword. Great job!
Quickly explore these features in BiQ freely by signing up for your free BiQ SEO suite account here.
Use BiQ – The Best Content Marketing Strategy You'll Ever Need
Dwelling in the content intelligence market can solve a wide range of content marketing problems. These include alleviating time constraints, resource shortages, strategy uncertainty, stresses around data computation, and content recommendations.

All these pain points can be solved by the BiQ SEO Suite once and for all. It is certainly the perfect content strategy plan you'll need to have to help you win a much higher SEO ranking.

We know that you have a craving for excellence. Let us make your writings much more goal-oriented and target-driven.

By proficiently highlighting the parts that need improvements, this tool always secures the best online ranking for you. The entire BiQ SEO suite provides you with a better insight to check the efficiency of your content. Now go ahead and quench your thirst for touching excellence!

Start exploring the unfamiliar areas, and identify content that converts potential customers to buying customers.

If you are interested to know more about this tool or if you have more questions to ask, feel free to drop me comments below! I'll be more than happy to assist you so you can get started with BiQ.