Is your social media marketing efforts working? Are you getting the eyeballs and sales from Facebook or Instagram? Here are 13 best social media practices every marketer should follow to create the results you want.
The biggest goal for marketers is to reach their target audience. And with social media platforms being the go-to place for a huge portion of our audience, brands and marketers need to be available.
To get their attention, however, can also be tricky. You can put in a huge effort, maximize your campaigns, and post every single day, but this would not necessarily translate to significant results.
What you need to do instead is to focus on the 80/20. To have a social media strategy and learn from successful brands and their social media best practices.
One more thing is to always, always analyze and optimize. Because if you don't optimize your social media, then chances are that you'll not witness a lot of success in the field.
After all, social media is probably the most challenging marketing space, according to 49% of digital marketers surveyed on Ascend2.
However, don't lose any hope yet. 43% of the people surveyed still believed that social media is the most beneficial marketing platform.
If you are here, then it means that you want to learn a little bit more about the intricacies of social media marketing. So let's begin.
13 best social media practices you can apply in your marketing strategy.
A mix between evergreen and more current tactics, these are some of the most practical social media strategies you need to be using in 2020 to get the best results.
1. Know all there is about your audience
A marketer should always have one essential piece of information, and that is their target customer's traits and demographics.
Without knowing who you are selling to, marketing or promoting your products or services effectively would be close to impossible!
So you want to know your audience with as much detail as possible.
For that, you could analyze your various buyer demographics and traits using tools that are provided on such platforms. Engaging with your audience directly also may help you learn a little more about them.
Most importantly, create a profile of your buyer personas and make sure you know this person like the back of your hand. Because this information will help inform all your social media marketing strategy and advertising.
Also, keep your buyer persona updated. Take their feedback and find out how they perceive your products and services' value, as well as what they are looking for.
2. Choose the social media platform
After you got your buyer demographic craft out, the next step you need to make is to pick the right social media platform.
Evaluate your business capacity and select the social media platform or platforms based on where most of your buyer demographic is.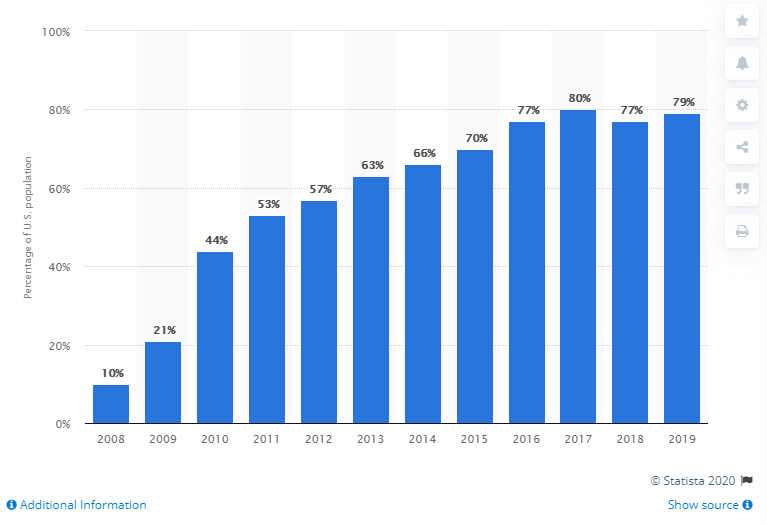 For instance, if you are a business in the United States, you can consider video marketing. Because statistics show that 73 % of American adults use YouTube, making it the most popular social media platform out there.
On the other hand, 18-29-year-olds make 79% of the demographic using Facebook, while Instagram is more popular with women. Therefore, you should research each platform to see which one is for you.
Make sure that your social media campaign platform and activities align with your target buyer audience.
However, one thing that you'll have to avoid is spreading your resources too thin by subscribing to all the social media platforms out there.
It's okay to start and focus on just ONE platform that is most suitable for your brand or business. Target the social media platform with the highest percentile of your target demographic and maximize that opportunity.
But if you have enough resources that you're able to allocate to managing the social media campaigns, then go for it! Being on multiple social media platforms is a great way to do cross-channel promotion and make sure you are always on the mind of your audiences, no matter where they are.
3. Keep an eye on your competition
Be on the lookout for your competition. Because you need to have a competitive social marketing strategy to stay in the game.
So follow your competitor's social media platforms and be the first to know and analyze your competition's social marketing activities, i.e., what type of ads they place and how often they post new content.
You could then implement your competitor's changes that you think would work for you while at the same time avoiding those that you feel won't work out.
For a general guide on social media competitive analysis, here are 7 steps you need to perform:
Identify who your competitors are on social media
Know which social platforms they're on
Know how they're using those platforms
Understand how well their social strategy is working
Benchmark your social results against the competition
Identify social threats to your business
Find gaps in your own social media strategy
However, try to be as authentic as you possibly can. Otherwise, you may lose your audience's trust.
4. Listen to your brand messaging
Listening for brand messaging refers to checking out for brand mentions and analyzing their context in terms of keywords, topics, competitors, or industries.
Doing this could help you gain some insights about your company, which you can then act on to get a better reach and build more trust.
You could also listen for brand names and products, your company's name, industry terms and trends, competition, etc.
You could then identify influencers and marketers on these platforms to give your product or company some reviews, endorsements, product placing, and descriptions, which may help you get better visibility.
Alternatively, you could also use this tactic to further understand your competitor's brand messaging and use that information to make your brand stand out!
5. Plan your social media content
Having a social media marketing strategy is excellent since it can help you stay focused and let you know whether you are achieving your goals.
You could begin by setting short, concise, and attainable social media marketing goals. Then, maximize your marketing performance by doing some data-driven analysis, which you can then use to tweak your social media marketing strategy to get better results.
A social media marketing calendar will allow you to audit your existing social media presence and gauge its effectiveness. Doing this will enable you to make the necessary changes to ensure that your posts are relevant and targeted to the right target audience.
To help you with planning your social media post and content, you can use our BiQ's Keyword Intelligence to get keyword and content ideas.
Simply type your main keyword and navigate to the "Content Ideas" or "Popular Questions" tab and you will be able to access different ideas related to your keyword.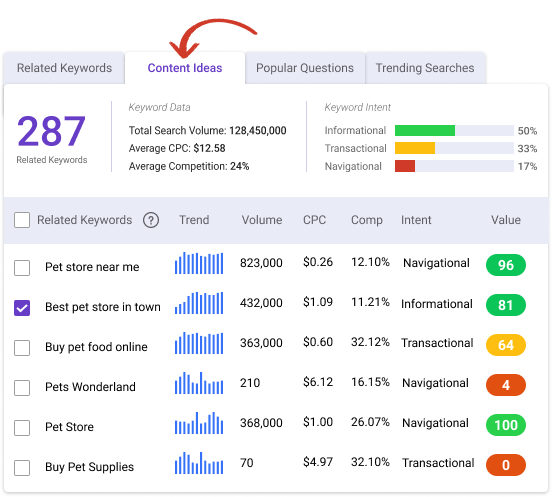 Also, remember to use these keywords when creating your titles or tags to let them be easily discovered by your audience!
Planning your content will help you develop and maintain your social media voice and tone. It sets some form of a basis for your marketing and enables you to maintain reliable, consistent branding.
To increase conversion of your social media posts, always remember to apply engaging call-to-action phrases, direct messaging, ads, promotions, hashtags, captions, and replies.
6. Create social media content following the rule of thirds
When it comes to social media, there's a common rule of thirds that many social media marketers use as guidance, and that is to create content:
promoting your products or services
interacting with your audience
sharing relevant industry tips and news that could be beneficial to your audience.
All social media posts should be aimed towards promoting your business values and converting your audience. Using this simple rule could help significantly boost your social media marketing strategy.
Doing this helps your target audience keep in touch with your business online presence and stay updated on any new products, services, or changes you may have made.
You could also share insightful posts regarding your industry. Sharing these posts portrays your dedication to keeping your audience informed and presents you as an expert in the field.
This also creates a positive brand image as you will come off as someone who cares enough about helping their audience solve their problems regardless of making a profit.
Once again, use BiQ's Keyword Intelligence to provide you with relevant keywords with informational intent that you could use to create new content for your audience.

Our keyword intelligence tool allows you to filter any relevant keywords that you can use to produce engaging content for your readers.
You could also post humorous, personal stories of yourself to help your audience connect to your company on a personal level.
Most importantly, experiment with your readers and mix up the content to discover what works best for your audience.
7. Create social media content surrounding trending topics
Creating social media content surrounding trending discussions has several benefits. The significant advantage is that it enables your social media posts to be more visible since the keywords present in your posts and tags align with your audience's online searches.
The other benefit is that doing this helps you stay in touch with current affairs. It also provides you with relevant ideas for your posts and communicates this idea to your target audience. Keeping in touch with what's trending helps your audience relate better with your posts.
You could use Google Trends to find trending keywords that you can create content around. Provided by Google, this is a search trend feature that provides you with information on how often a particular keyword has been searched relative to the site's total search volume over a certain period.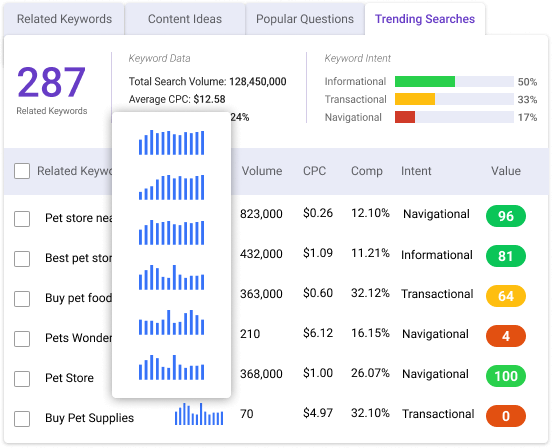 At the same time, you can also find this trend information for each keyword using our tool. Discover seasonal keywords or when the keyword is like to have a higher search volume, and plan your social media content for then.
Creating social media content around trending keywords at the relevant timing will help drive substantial traffic to your profile, and website.
8. Respond actively to all comments and mentions
Actively responding to your audience's comments and mentions not only keeps your audience engaged but also creates credibility and reliability.
It also communicates that you value your customers and their feedback. Doing this not only protects your reputation, but it can also attract new customers.
That being said, you may encounter some negativity with some users who may leave some negative feedback.
It would be best if you do not take these negative reviews to reflect your company's brand. It would help if you instead took the negative feedback with humility and sincerity.
Apologize for any inconveniences caused and promise to help the customer have a better experience the next time you work together. A good response always respects the customers as well as our own business value.
9. Schedule the ideal post using data
Although different sources insist that there are specific times that you should post to get maximum reach to your client. The claim is subjective. What you have to do is analyze your data and target audience.
Identify your best time to post content
You could do this by posting your content on different days and at various times and analyzing this to come up with your best time to post content.
To start, you should try posting short content in the morning since people are a bit busy and want scheme-able content at this time of the day.
Optimizing your images
You should also optimize your images to find the appropriate image sizes for your content.
When choosing your social media marketing images, you should always go for mobile specifications rather than desktop specifications.
Why? The reason is quite simple. Mobile image specifications work for both mobiles and desktops. But here's a handy cheat sheet from iCharts that covers everything.
Using relevant hashtags
Using hashtags helps make your content more discoverable.
However, you don't need to use several hashtags in every post. It would help if you studied your competition and other social media marketers to help you get the best strategy to make your content more visible.
It would be best to ensure that your brand remains relevant to the content you post.
10. A/B test your messaging
Your audience is very diverse. So, naturally, it may be a little hard to find the right messaging criterion that suits them all. However, there is a way you can go about this.
You could split your audience into different categories and try to find the best messaging format.
A/B testing is vital for your social media marketing because it allows you to test your audience's response using both messaging variants. The end goal is to discover which variant is more effective and produces better results.
When it comes to doing A/B testing, always be clear about what criteria you are testing. Is it the image or the copy? And always use UTM tracking so you can track each performance.
11. Measure results and adjust your strategy
The best thing about online marketing is that it provides you with quick results to analyze and make the necessary changes to your marketing approach. All businesses are about growth, and you can only do this by scrutinizing your previous strategies using various metrics.
To measure your strategy's effectiveness, you have to examine how the plan links to your objectives. If your social media marketing strategy works effectively and helps you achieve your goals, then the strategy is optimal for your social media marketing.
12. Automate some processes using social media tools
Don't be afraid to invest in some social media tools. Automating some processes using social media tools is also among the best social media practices.
Using social media tools allows you to be consistent, especially if you have multiple accounts. It gives you control over the type of content you share, and when you choose to share it. It's also reliable since it provides a scheduled time when your audience expects to see your posts.
Using tools like Follwerwonk or Agora Pulse will help you save time to allocate to other aspects of your social media marketing campaign.
13. Build relationships with your clients by sounding human
One of the best social media practices is quite simple: sound human, warm, and get straight to the point.
Sometimes you may feel like you should write automated headlines and sound how you think a company's message may sound like. However, by doing this, you may lose your audience even before you get to the core of your message.
When you're sending messages to your customers or just writing content, you should try your best to sound human. Failing to sound human in your posts and messages can have more significant consequences, especially in marketing. Fortunately, there is something you could do about it.
You can use BiQ's Content Intelligence to get a quick analysis of your tone of voice and the readability of your content. Especially if you are writing 2000-word long content, it can be super helpful since it will analyze your content paragraph by paragraph.
Key Takeaway
Start using these best social media practices today, and you're sure to improve your social media marketing skills significantly.
These marketing strategies do work, and it's the easiest way you could create and keep a connection between you and your audience.
And do you have any best social media practices of your own that we have missed? Share it down on the comment section below.