Digital marketing is any form of marketing that involves electronic devices. Here's a list of the best 10 digital marketing tools to take your digital marketing strategy to the next level in 2022.
If you're new to the digital marketing niche, you are probably wondering what it is and why content creators and marketers regard it with such high esteem.
Well, digital marketing is simply advertising delivered using digital channels.
Digital channels may include mobile applications, emails, search engines, social media, websites, web applications, or any new digital channels in the industry.
So, what is digital marketing?
Here's a much simpler version.
Digital marketing is any form of marketing products/services that involve electronic devices.
For this reason, digital marketing has been around for this long (because electronics have).
Another critical factor to note is that you can do digital marketing, both online and offline.
It isn't necessarily restricted to content marketing, Google ads, retargeting, or social media.
Thanks to the evolution of the digital era, Google and social media platforms such as Facebook can generate more revenue than any traditional marketing corporation because they control more eyeballs.
Simply put, digital marketing matters and has proved to be the most effective marketing tool because it's where the attention is.
10 Best Digital Marketing Tools You Can Use
With Americans spending over 11 hours daily on their electronic devices, there's not much space left for traditional marketing.
Even billboards no longer get the attention they used to some decades back.
People now spend much, if not ALL, of their time online.
And while digital marketing tools help you execute a proper marketing strategy, they don't do the work for you.
Having the right technology stack can help you zoom past your competition and establish yourself as an authority brand in your industry.
Some digital marketing tools, such as email marketing, analytics, CRM, and web forms, are fundamental.
On the other hand, other tools like design tools and keyword rank trackers are more specialized.
I've outlined a comprehensive list of the best 10 digital marketing tools to take your digital marketing strategy to the next level in 2022.
1. BiQ
Top of my list is BiQ.
BiQ is one of the best All-in-1 SEO tools that delivers huge SEO rank checking, rank data, and keyword research.
BiQ is the first SEO suite to demonstrate pricing and allow users to scale as their needs grow.
BiQ is also the world's first digital marketing tool to let users pay only for what they use.
You get full control over what you spend by not paying for products/services you don't use.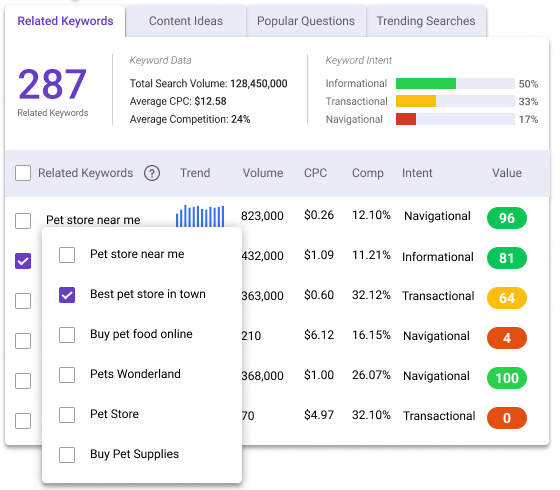 Everything you need for the best website optimization process is here.
BiQ's team focuses on providing its clients access to digital marketing softwares based on a selection of ranking opportunities, keyword ideas, and traffic potential.
Some features of BiQ's digital marketing software include:
Keyword Intelligence
Clients can research potential keywords using BiQ's Keyword Intelligence.
This allows you to gather critical data on keyword trends, volume, related keywords, keyword competition, and more.
BiQ's Keyword Intelligence has a keyword analyzer feature that makes it stand out from the other keyword research tools in the market.
The keyword analyzer feature helps you understand why an online user might search for a specific keyword in the search engine.
With this information, you can plan your content to meet your target audiences' needs most effectively.
Content Intelligence
With BiQ's digital marketing and analytics features, you can achieve semantic content excellence for high rankings.
It's now more important than ever to refine your content strategies to meet the minimum requirements for today's highly sophisticated search engines.
As Google continues to deliver only the highest quality content to its searchers, content creators are forced to produce high-quality content that meets Google's ranking metrics.
BiQ Content Intelligence provides its users with the content analysis to boost their online visibility and ranking in Google.
Rank Intelligence
BiQ's Rank Intelligence allows users to identify the best keywords that are worth tracking and using on your website.
This can be immensely helpful for content creators looking to decide which keywords to track actively.
BiQ's Rank Intelligence provides you with an overview of all keywords you are ranking for and that searchers can use to identify you.
Rank Tracking
BiQ's Rank Tracking feature helps fill in any missing data or time lag that you would otherwise only see in the Google Search Console.
With this tool, you can quickly identify keyword gains or losses and use this data to respond promptly.
Additionally, the rank tracking feature notifies you in real-time when something crucial occurs, like when a competitor steals or uses your keywords while they're in trend.
You can try any of BiQ tools for free here!
2. Google Analytics
Next on the list is Google Analytics.
As one of the top free digital marketing analytics tools from Google, Analytics is one of the most effective tools to have as part of your digital marketing strategy.
The best part of using Google Analytics is that it takes just a couple of minutes to pass its code to your website.
Afterward, you can track every action made by every visitor on your website.
As a result, it's considered one of the best traffic tools to have in your arsenal from the very start.
Google Analytics can also significantly impact your digital marketing strategies if you know what you are doing.
For instance, knowing where your traffic is coming from.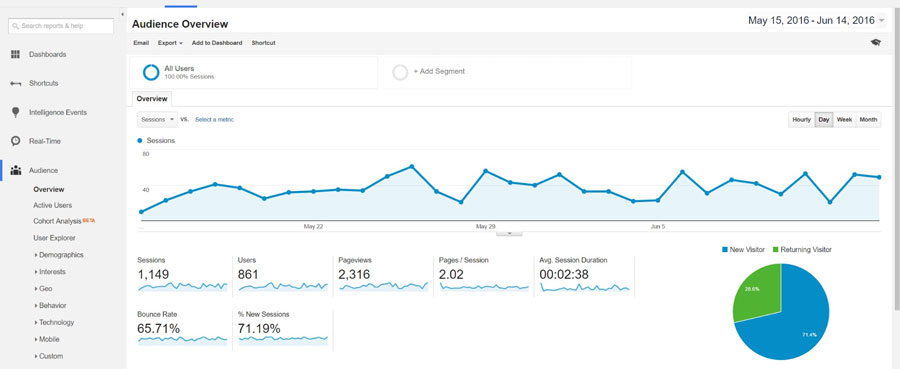 Maybe you've realized that one of your social media campaigns is driving a lot of traffic to your website.
You can use this information to adjust your future digital marketing analytics and strategies to capture similar results in other marketing campaigns.
Maybe you realize that some set of keywords are outperforming the others.
Again, you can focus your attention on these keywords and ensure you use them to create more content down the road.
Here's a digital marketing and analytics tool that you cannot afford to ignore.
Basically, it's always wise that you install this tool early to start collecting extremely valuable data from the get-go.
3. Google Ads
Google Ads is another popular option for advertising your brand on Google's SERPs.
Its payments are always based on either a pay-per-call or pay-per-click structure.
Google AdWords also hosts Google Keyword Planner that allows researchers to find which keywords to use in their ads and other content.
Ultimately, Google AdWords helps users to funnel more prospects to their websites.
Therefore, Google Ads are an excellent way to display products/services on Google's SERPs for very specific queries.
Google Ads provides the best online advertising platform for advertisers to bid on certain performing keywords.
It allows marketers to rank their content and ads higher in Google's search engine results pages.
By the way, did you know that 93% of all online interactions start with a search engine?
It's no wonder marketers strive to please SERPs to improve their rankings and website visibility.
4. KISSmetrics
Here's a digital marketing analytics tool that can track, analyze, and optimize all your digital marketing performances.
KISSmetrics allows you to know what's working in your content marketing strategies and what's not.
It's good to want to spend more time optimizing your online marketing strategies.
However, it's even better to make marketing strategies that are actually working and have a real impact on meeting your digital marketing objectives.
KISSmetrics allows you to track and analyze every strategic move you make on your website.
The program focuses on all the tactics that provide advertisers with the best ROI.
With KISSmetrics, advertisers can easily determine which marketing strategies are the most effective and which ones to stop using in their future campaigns.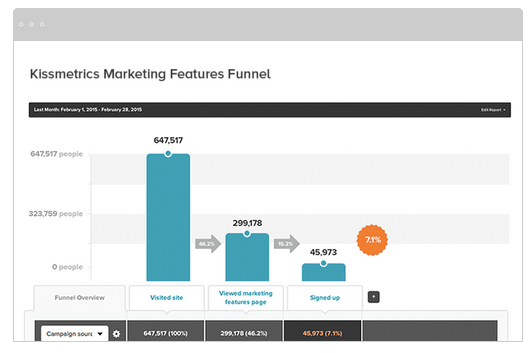 Starting at $120 per month, KISSmetrics doesn't come cheap.
However, it's one of the most effective digital marketing tools to think about to get your business up and running.
The insights you'll receive using this tool will be invaluable in ensuring your company's growth.
When used effectively, this analytics tool can help increase conversions through your entire website.
5. Trello
Trello has made a name for itself as one of the best organizational tools to help you and your marketing team extensively.
As one of the best digital marketing tools around, Trello helps users to manage projects and online marketing teams to stay on the same page throughout the project.
Therefore, it helps save your team time and frustration.
You can share blog posts and video posts on the platform before publishing them to get your team's feedback.
Trello allows your team to review the post and weigh in with their thoughts to make any necessary changes to strengthen your content.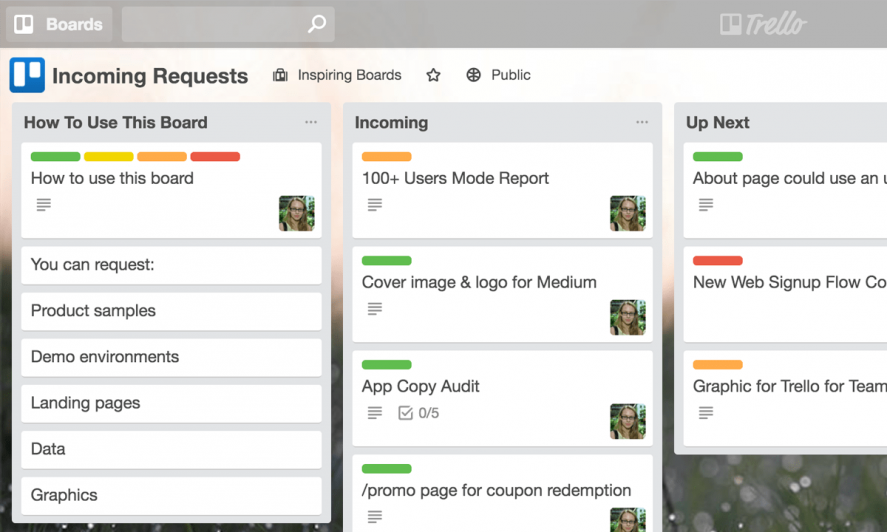 In the past, before Trello, and other similar tools, email was the best platform to collaborate with team members.
While email is still helpful, it can lead to confusion, frustration, and missed messages.
With Trello, you share all your online marketing strategies in one place.
While Trello isn't the only digital marketing tool of this type, it's certainly hard to beat considering its many features and simplicity to use.
6. AWeber
AWeber is another trusted and reliable digital marketing tool that's been in operation for 18 years and counting.
This email marketing tool provides a wide range of features that help businesses grow.
It has a very user-friendly interface that integrates easily with other applications on different websites.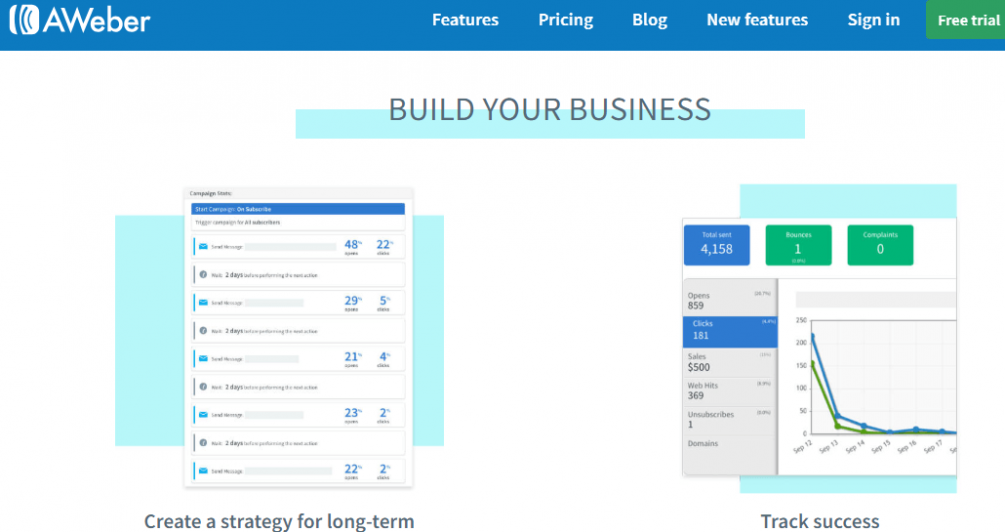 Some of its main robust features include:
Generating automated email sequences
Pre-designed email templates
List management
Email tracking
Access to autoresponders
Ability to A/B tests
AWeber is the best email marketing and automation tool to help grow your email list.
The tool also sends professional email newsletters to your target audience, making it one of the most effective, must-have digital marketing tools.
7. Wistia
This video hosting website has a long-standing reputation for allowing its users to create professional videos in minutes.
Wistia also comes with advanced tools to help content creators make the best videos for their marketing campaigns.
You'll get a customizable player that allows you to choose how you want your video player to look like when viewers see it.
It also has detailed digital marketing and analytics features to help marketers make the most of their video marketing campaigns.
Wistia allows you to make, market, and measure your videos how you want.
Its videos can also adapt to any screen, be embedded in emails, and even be shared on social media.
Moreover, it gives you control over who can use and post your videos.
In simple terms, Wistia is the video marketing software to use in your video marketing strategies.
It slows video hosting on websites and optimizes all your videos for better ranking on Google SERPs.
8. Canva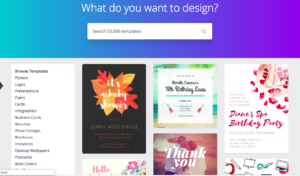 Canva is another digital marketing tool that uses the drag-and-drop feature.
It allows users to create optimized images using customer pictures, shapes, fonts, and icons from the Canva catalog.
This web-based design tool offers an aesthetically-pleasing and simple way to design personalized logos, images, graphs, and presentations based on your brand's needs.
Canva also cuts out any need for an experienced designer since it enables its users to create their preferred unique image needs using the platform's vast image collection.
9. Hootsuite
Social media plays a huge part in ensuring any company's success today, regardless of age, size, or industry.
Therefore, it's a fact that your social media marketing must thrive for your business to be considered successful in this digital era.
Hootsuite is the best marketing tool to help you manage all your social media accounts on one platform.
With this tool, you can schedule all your social media posts in advance, saving you loads of time and frustration.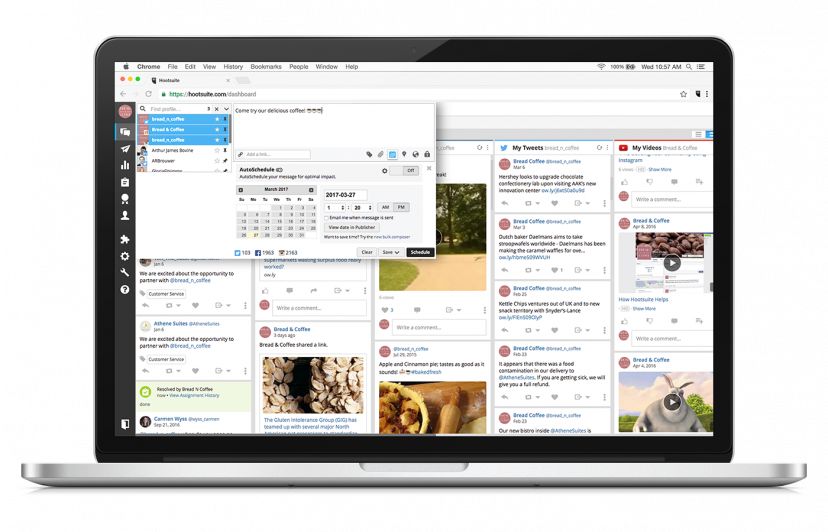 Hootsuite is one of the best digital marketing analytics tools to help you identify leads for your sales team and influencers for your marketing team.
It also allows you to take advantage of pre-written responses and reply to mentions and comments through the dashboard.
You no longer have to visit each platform individually to respond to users with this social media tool.
10. Slack
Slack is the platform to use if you are looking for a digital marketing analytics tool to focus all your business conversions in one place.
It operates in channels that are designated for certain information only, thereby allowing businesses to focus their collaborations between their employees and teams.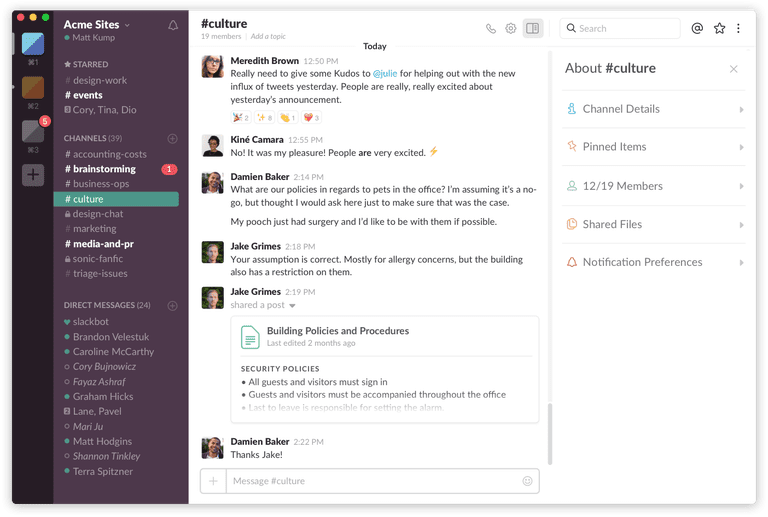 Slack is an excellent marketing tool for networking and meeting other people in the digital marketing space.
It allows users the freedom to join or leave channels whenever they want.
Slack has wide-ranging integrations and several other tools to help marketers tackle an unlimited amount of integrations, making it even more powerful.
Conclusion
To survive in today's digital marketing landscape, you must be intuitive, persistent, and social media savvy.
Most importantly, you must be a jack of all trades.
Knowing all these digital marketing tools is only half the job.
You must also know how to use them for the most effective digital marketing results.
A lot of other digital marketing tools didn't make this list but are just as good.
I'd personally recommend using BiQ for the best, most comprehensive, all-in-one digital marketing tool.
If you have your own favorite tools, drop a comment below!